Looking for the best cheap vegan foods, inexpensive plant-based recipes, and dirt cheap meals? You've come to the right place! The idea that vegan food is expensive is a myth. Well, it can be, but it certainly doesn't have to be! Check out all the budget-friendly vegan foods and recipes below. Money-saving meal ideas galore!
It feels like every week we hear people say that vegan food is for those with huge disposable incomes, or that it's hard to eat nutritiously on a budget. And we get it, fancy vegan cheese and Beyond Burgers can be crazy-pricey. But there are plenty of affordable foods that are vegan. In fact, many vegan staples are among the most affordable foods out there!
Plus, have you ever checked the cost of bacon or that steak at your favorite restaurant? Meat ain't cheap, y'all! And when it is, you can be sure someone else is paying the price.
The Cheapest Vegan Foods
So, we thought that now would be a good time to show our aspiring plant-based friends that how affordable plant-based food can be. We're going to help you out by sharing a few of the top budget-friendly foods to stock in your kitchen if you want to save money of food.
While there are more than just eight staples out there (you can read about more in our 15 vegan pantry staples post), the ones we've talked about below are ones that we tend to use the most frequently and which can be found for reasonable prices at most supermarkets.
1. Rolled Oats
Why You Need It: Oats are one of the most affordable foods on the planet—especially when you buy them in bulk! I buy organic rolled oats in bulk at Whole Foods, a notoriously more expensive grocery store, for just $1.29 per pound. If you're not used to shopping in bulk, that's cheap.
Not only that, but oats are rich in fiber and widely recommended as a healthful breakfast food that can help lower cholesterol and beyond.
Oats are so versatile and can be enjoyed raw, cookies, blended, baked, and even just thrown straight into your morning smoothies for an extra filling fiber kick. I have a super-sized jar that I keep on my kitchen counter filled with old fashioned rolled oats (purchased from bulk bins). I use them all the time, and encourage you to do the same!
Use Oats for: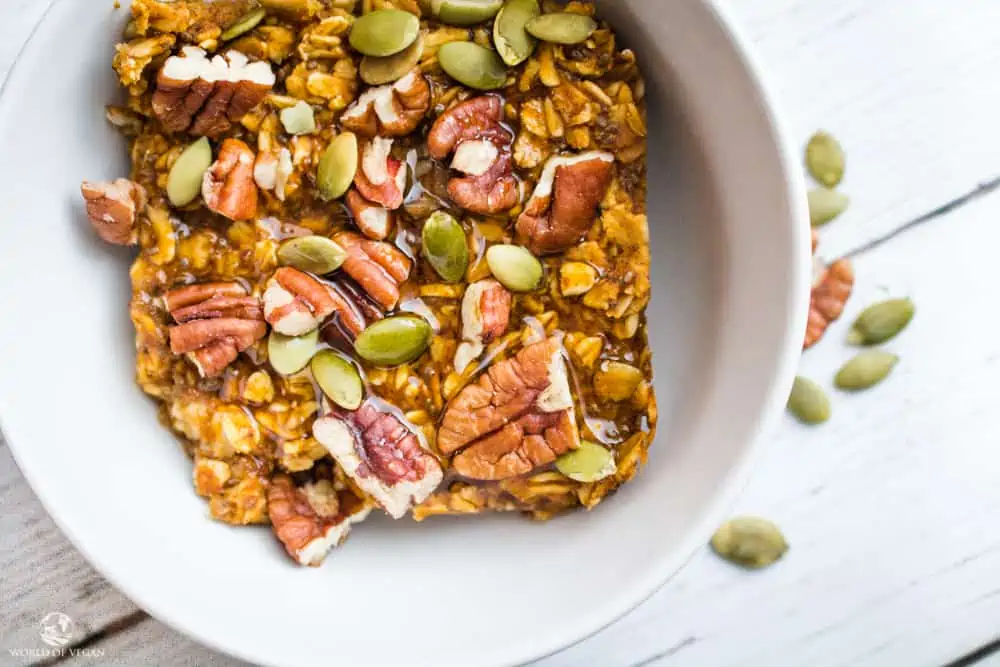 2. Bananas
Why You Need It: Bananas get kind-of a bad rap as a "boring" fruit. Sure, they do not have as exciting a flavor profile as something like jackfruit or mangoes. But trust us when we say that bananas have your back whenever you need to sweeten up a recipe or need a plant-based binding agent (hello, easy egg replacer!).
And we're aren't just talking about banana bread when we talk about sweets—bananas can provide some natural sugar for everything from smoothies to baked goods, and are a surprisingly strong egg-alternative for both desserts and dinners.
Use Bananas For:
3. Tofu
Why You Need It: We know, we know—another vegan blog talking about tofu?!
But guys, it's just so versatile! Tofu is mild enough in flavor that you can season it with pretty much anything and it won't taste like tofu. A lot of people don't like tofu's texture, but did you know that tofu comes in different levels of firmness? Silken, Soft, Firm, Extra Firm…take your pick depending on your preference. You can crumble, chop, shred, and even blend tofu to make truly delicious meals—some of which you'd never guess contain tofu!
And did we mention that tofu is an excellent source of plant-based protein? Yup, yup it is.
Use Tofu For:
Check out our round-up of the best vegan tofu recipes here.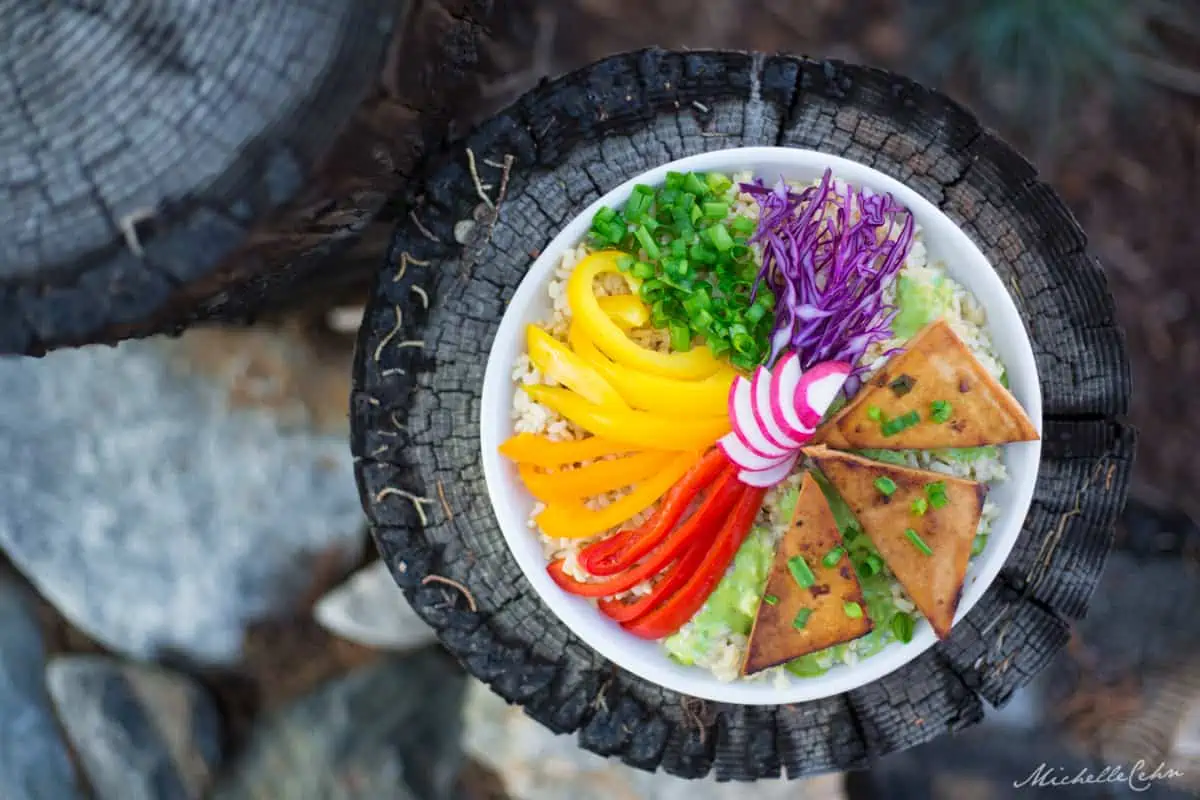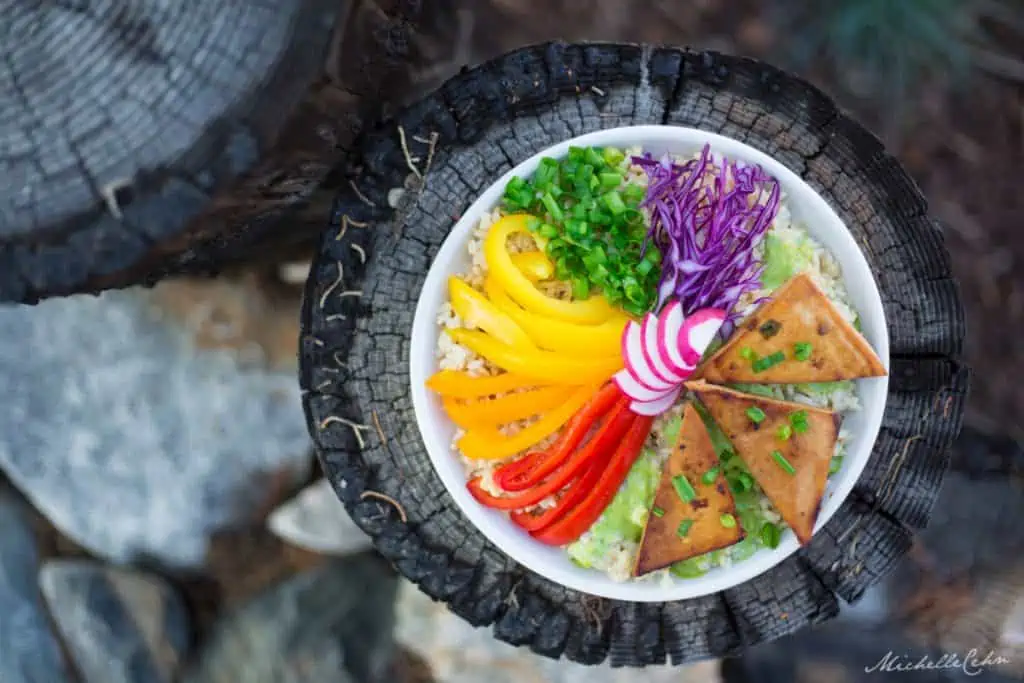 4. Chickpeas (a.k.a. Garbanzo Beans)
Why You Need It: Folks, you need to have chickpeas in your kitchens at all times.
They're like the Swiss Army knife of vegan ingredients and it's pretty easy to MacGyver chickpeas into any recipe to make it thicker, creamier, or more protein-packed.
As an added bonus, they are super-duper cheap. While prices vary from region to region and store to store, we would wager than chickpeas are one of the cheapest and most satiating protein sources out there, not to mention incredibly versatile.
Oh, and did we mention that chickpeas are really a two-for-one kind of ingredient? When you buy a can of chickpeas, you can also use the aquafaba in the can (a.k.a. the chickpea water) for a variety of cooking and baking needs.
You can usually get a 16-ounce can of chickpeas for less than one dollar, but your savings will be even greater if you by dry chickpeas in bulk and just cook them at home (you can cook them pretty quickly if you have a pressure cooker!).
Use Chickpeas For:
5. Lentils
Why You Need It: Everyone thinks of lentils as some special ingredient only for health nuts, but in reality, they're more like beans' smaller, disc-shaped cousin. They're a must-have if you're looking for a protein-rich meal that costs mere pennies.
While you may see lentils frequently used in Indian cuisines, they're also incredibly useful when used in other regional cuisines as well. From lentil-based pasta and bread to soups, dips, and even brownies, there's practically nothing that you can't make with lentils.
As an added bonus, lentils are actually pretty affordable (from around $1.00 to $1.50 a pound) if you buy them in bulk or at a non-specialty market. I personally love dumping them in veggie soups and stews!
Use Lentils For:
6. Nuts (Or Seeds) & Nut Butters
Why You Need It: For those days when you just don't have the time to search through the grocery store for tofu and other vegan-friendly products, nuts, seeds, or nut butter can be the versatile and protein-rich ingredient that you need.
Who would have thought that just by soaking, boiling, or grinding nuts and seeds in your blender that you could cook such a varied range of vegan-friendly fare?
Nuts and seeds are a must-have if you want to make homemade nut milk or nut butter (and save some serious coin in the process), bake gluten-free breads and desserts, or even whip together vegan cheeses that taste as good as their dairy-based counterparts.
But hold up—some nuts and seeds can be extremely pricey, so keep an eye on that price-per-pound! If you fill up a bag of pine nuts you could easily be looking at a $50 line item on your grocery receipt. Don't make that mistake. Shop for the most affordable nuts and seeds (sunflower seeds are one of the cheapest!) at budget-friendly stores. As with many of the other products on this list, try to buy in your nuts and seeds in bulk to stretch your dollars the furthest.
Use Nuts For:
7. Sweet Potatoes
Why You Need It: Sweet potatoes are kind of perfect. They're rich in nutrients, have a decent amount of fiber, are sweet and satiating, and are versatile beyond belief.
More importantly, they're one of the most nutritious items you can get in the produce department without breaking the bank. Sweet potatoes have a super-long shelf life (especially when you keep them in the fridge) which can help if you struggle with a lot of unused produce waste. This also makes them great if you're planning to make them later in the week or want to use them over the course of a few weeks.
I love using sweet potatoes to make sweet potato toast and stuffed sweet potatoes, but really, your imagination is the only thing keeping you from using sweet potatoes in more recipes.
Use Sweet Potatoes For:
8. Corn Kernels, Corn Flour, and Corn Meal
Why You Need It: If you think corn kernels are just for making popcorn, you're thinking too small, my friends. If you grind corn kernels into corn flour or corn meal using your food processor, you've just opened up a world of new culinary possibilities for yourself.
Corn flour and corn meal are wallet-friendly bases for any manner of recipes, from bread and tortillas to polenta, but are usually subtle-enough in terms of flavor that they won't overwhelm any other spices or ingredients that you mix in with it.
Use Corn For:

…And So Many More
This is just the beginning. There are infinite uber-affordable plant-based foods that you can load your grocery shopping cart with to fuel your body without emptying your wallet. Think: potatoes, carrots, celery, beans, rice, pasta, and beyond. aa
If you need a little help eating healthfully on a tight budget, we've got you covered with our Plant-Based on a Budget Meal Plans! In these meal plans, we walk you through everything you need to know to eat vegan without going broke.

Dirt Cheap Meals & Recipes & Snacks
The following recipes are both plant-based and budget-friendly! If you want to save money but still eat well, give these a try.
This budget vegan foods and recipes article was written in collaboration with Taylor Barbieri and Michelle Cehn. We hope you'll share this resource with anyone you know who could benefit from dirt cheap vegan meals! Please note that this article contains Amazon affiliate links, and shopping through these links supports World of Vegan.