Welcome to the sunny realm of smoothie perfection! If you've been searching for a refreshingly sweet and wholesome treat to invigorate your mornings or satisfy those afternoon cravings, look no further. This extraordinary banana peach smoothie recipe is about to become your ultimate go-to concoction.
Packed with an explosion of tropical flavors and a ton of essential nutrients, this delightful blend not only has a tantalizing taste, but it's also a nourishing powerhouse for your body. This vibrant fusion of bananas and peaches is divine.
If you ever dreamed of a yummy banana peach smoothie without yogurt, this is it! So, grab your best blender, and let's unleash your inner Smoothie Master!
Why This Banana Peach Smoothie is So Awesome
If you're always impatient for peach season, this summertime smoothie will become a new favorite! Besides the flavor, there are many reasons why you'll be delighted with this drink.
3 Simple Ingredients: Peaches, bananas, and dairy-free milk…oh, my! Rich and creamy, sweet and satisfying. Use either frozen peaches and fresh banana or the other way around. Very versatile.
Super Quick & Easy: Chop, blend, and pour. There's nothing to it! Only five minutes and you'll have yourself a filling and super tasty treat.
Perfect Breakfast or Snack: The best thing about a smoothie is that you can enjoy it any time. Make it ahead of time and keep it in the fridge so you can sip it throughout the day.
Fiber-Filled and Fruity: Both peaches and bananas are bursting with sweetness and 5 grams of fiber. This brightly colored beverage is both delicious and healthy!
How to Make a Smoothie with Peaches
Smoothies have a little formula. (For anyone who gets excited by math, you'll love this!) Blend one medium piece of fresh fruit and one cup of frozen fruit with a cup or cup and a half of plant milk and you've got yourself a dreamy, luscious fruit smoothie!
Creating this smoothie is just the same. We're using peaches, bananas, and plant milk to whip up our most beautiful beverage yet! The slightly orange/pink hue is hard to resist, especially with such a fantastic peachy flavor.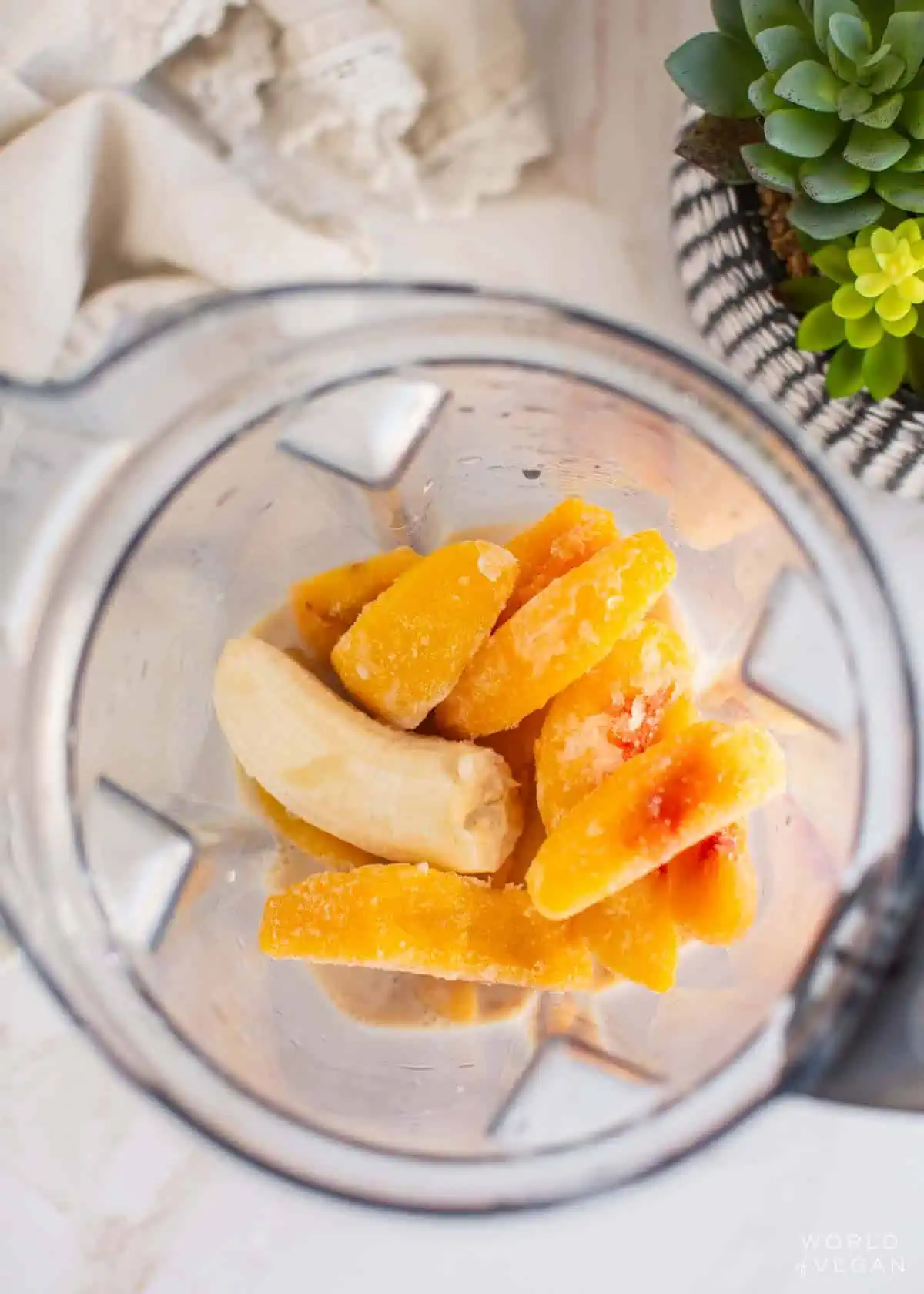 Helpful Tips and Suggestions
Making this peach banana smoothie recipe is not only fun and incredibly tasty, but it's also a great way of using up the little bits of extra pantry staples. Those few nuts or seeds at the bottom of the jar will now have a home on top (or blended into!) your smoothie.
Peach Cobbler Smoothie Bowl Suggestion: Reduce the dairy-free milk by ½ cup to create a thicker consistency. Pour the smoothie into a wide, shallow bowl and garnish with thin peach slices, pecans or granola, a dollop of dairy-free whipped cream, and a dash of cinnamon, cardamom, and nutmeg.
Not Sweet Enough?: Use sweetened instead of unsweetened dairy-free milk. Or, feel free to add a tablespoon or more of a sweetener of your choice (such as agave) or a couple of soaked, pitted dates to the smoothie.
Appetizing Add-Ins: How about tossing in some tasty toppings such as a spoonful of seeds (flax, chia, or hemp), shredded coconut (for a hint of the tropics), dried fruit (banana chips, pineapple, or apricots), or even a little bit of apricot nectar? Garnish with a few chopped nuts (almonds, pecans, hazelnuts, walnuts, or pistachios) or nut butter. Yum!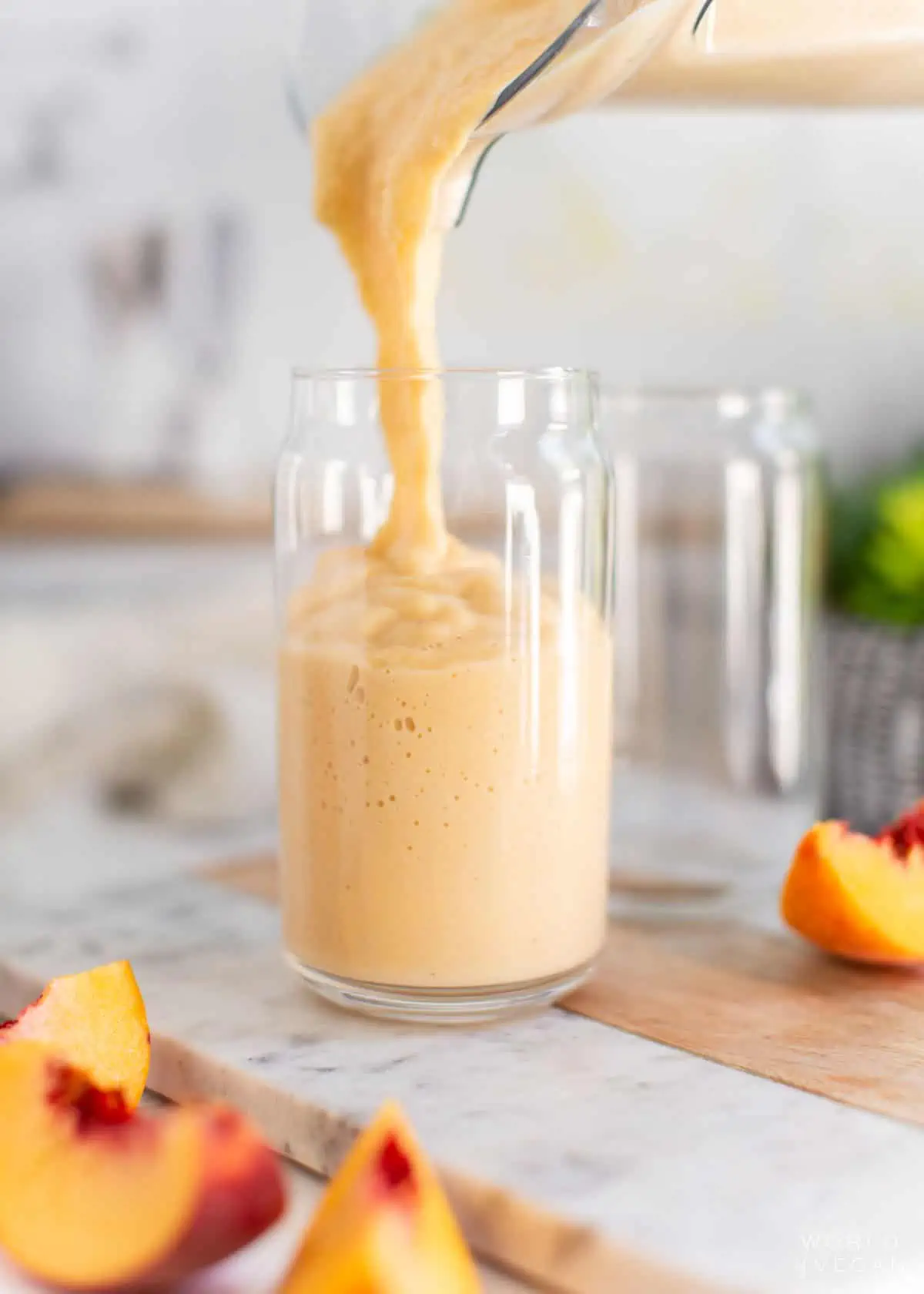 How to Freeze Fresh Peaches
If you'll be picking your peaches fresh and then freezing them, make sure you allow the peaches to ripen fully (soft, slightly squishy, and smelling strongly of peach) before slicing and freezing.
Peel the skin off of the peach. Cut the peach in half and remove the pit. Chop into quarters or thick slices. Wipe off excess liquid gently and place into a freeze-safe bag or container. Freeze overnight for best results.
Benefits of Using Peaches
What's so great about peaches? We had no idea that this adorable butt-shaped fruit could be so fabulous for your health. If you only love these fuzzy fruits for the flavor, you'll be happy to know there's a lot more to love!
Did you know that peaches are high in fiber? A medium peach has at least 2 grams of fiber, half insoluble and half soluble—that's pretty awesome!
High in antioxidants such as vitamin C, vitamin A, potassium, and niacin. If you've been searching for way to get in more vitamins E and K, peaches are a great choice!
There are brand new studies showing that peaches may help lower the incidence of histamines entering your bloodstream. That means fewer annoying allergy symptoms such as coughing, sneezing, and itching.
Peach and Banana Smoothie FAQs
Do you peel peaches for smoothies?
It's totally up to you! After removing the pit, the fuzzy skin can be left on more fiber and nutrients or taken off if you'd rather not include it. Both ways taste great. If you're not using a high-powered blender, you may want to take off the skin to help with ease of blending.
How do you freeze peaches for blending?
Good question! Peel the skin off of the peach. Cut the peach in half and remove the pit. Chop into quarters or thick slices. Wipe off excess liquid gently and place into a freezer-safe bag or container. Freeze for up to 3 months.
How I store my leftover smoothie?
Simply pour into an insulated container and refrigerate until ready to drink. If you want to save it for more than a day, we'd recommend pouring the remaining smoothie into an ice cube tray and freezing. To enjoy your smoothie another day, blend up the smoothie cubes with a little plant-based milk, juice, or peach nectar to bring it back to life.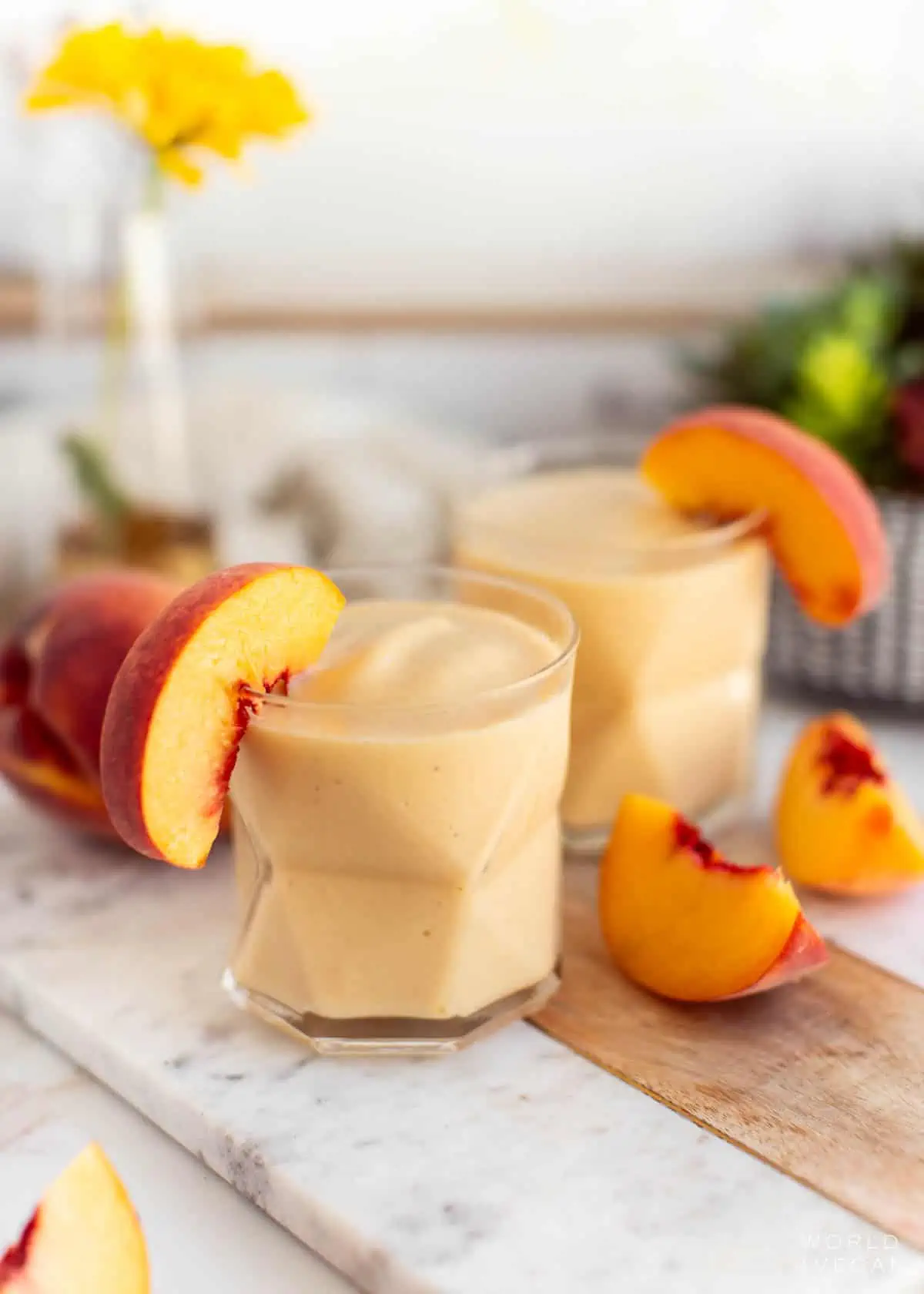 More Sweet and Delicious Smoothie Recipes To Try
Bottoms up to this banana peach smoothie party! Whether you're sipping it poolside, on a bustling morning, or as a guilt-free treat, this creamy concoction is sure to put a smile on your face. Remember, this smoothie isn't just a drink; it's a ticket to a tasty and health-promoting paradise. Enjoy this peach banana bliss! 🍌🍑🍹
Servings 4 (32 ounces total)
2 ½ cups frozen ripe peach slices, or 3 medium to large peaches
1 large ripe, brown-speckled frozen banana
1 cup plant-based milk
¼ teaspoon vanilla extract, skip if using vanilla milk
To a blender, add the sliced frozen peaches, plant-based milk and banana. Blend for one minute or until smooth and creamy.

Pour the finished smoothie into four 8 oz. or two 16 oz. glasses. Garnish with peach slices, if desired.
To Peel or Not To Peel – It's totally up to you whether you would like to remove or keep the peel. If you're using organic peaches and you have a high-powered blender, then keep the peel on for an extra boost of fiber!
Calories: 80kcal | Carbohydrates: 18g | Protein: 2g | Fat: 1g | Saturated Fat: 0.1g | Polyunsaturated Fat: 0.5g | Monounsaturated Fat: 0.5g | Sodium: 94mg | Potassium: 240mg | Fiber: 3g | Sugar: 12g | Vitamin A: 336IU | Vitamin C: 7mg | Calcium: 81mg | Iron: 0.4mg