We all love a good box of chocolates for Valentine's Day—and there are plenty of vegan options for that—but there is also a whole other world of vegan candy options available to sweeten the holiday this year.
While the grocery store offers several vegan options for the occasion, (Wonka Sweetarts Lollipops, Ring Pop Cupid packs, and Wonka Valentine Fun Dip), I am excited about this round-up of vegan, all-natural and organic candy that is free of chemicals and dyes. Most of them are also gluten-free and Kosher certified!
From lollipops and chews, to hard candy and gummies, there is something for everyone on this list.  Pick a few favorites below and create a candy bar display or bouquet to woo your sweetheart this Valentine's Day!
Top 10 Vegan Valentine's Day Candy
These chewy coconut milk caramels are totally seductive—and totally vegan! Each caramel is individually wrapped and you can order them in tubs, bags, and gift boxes.
The folks at YumEarth have it covered with an assortment of red lollipops in a variety of natural fruit flavors, including pomegranate, cherry, strawberry, and watermelon. They also have delicious organic Candy Drops that pack a tart and sweet punch that will have you and your loved ones puckering up.
They also offer a wide variety of other vegan candies. Their current line of vegan candies include: Lollipops, Hard Candy, Fruit Snacks, Licorice and Sour Beans. In fact, all of their products are vegan except for their Gummy Bears and Worms and Candy Corn. 
Sjaaks makes some of the best vegan chocolates around, including truffles (which would make a great gift for a loved one) and these heart-shaped fair trade chocolates that are perfect for sharing with friends or attaching to Valentine notes. 
These fun, fruity chews are full of flavor. Their superfruit mix includes cranberry, raspberry, and blueberry flavors, and with a name like lovely, it's the perfect Valentine's Day candy to inspire love. They also have a sour variety if you feel like puckering up.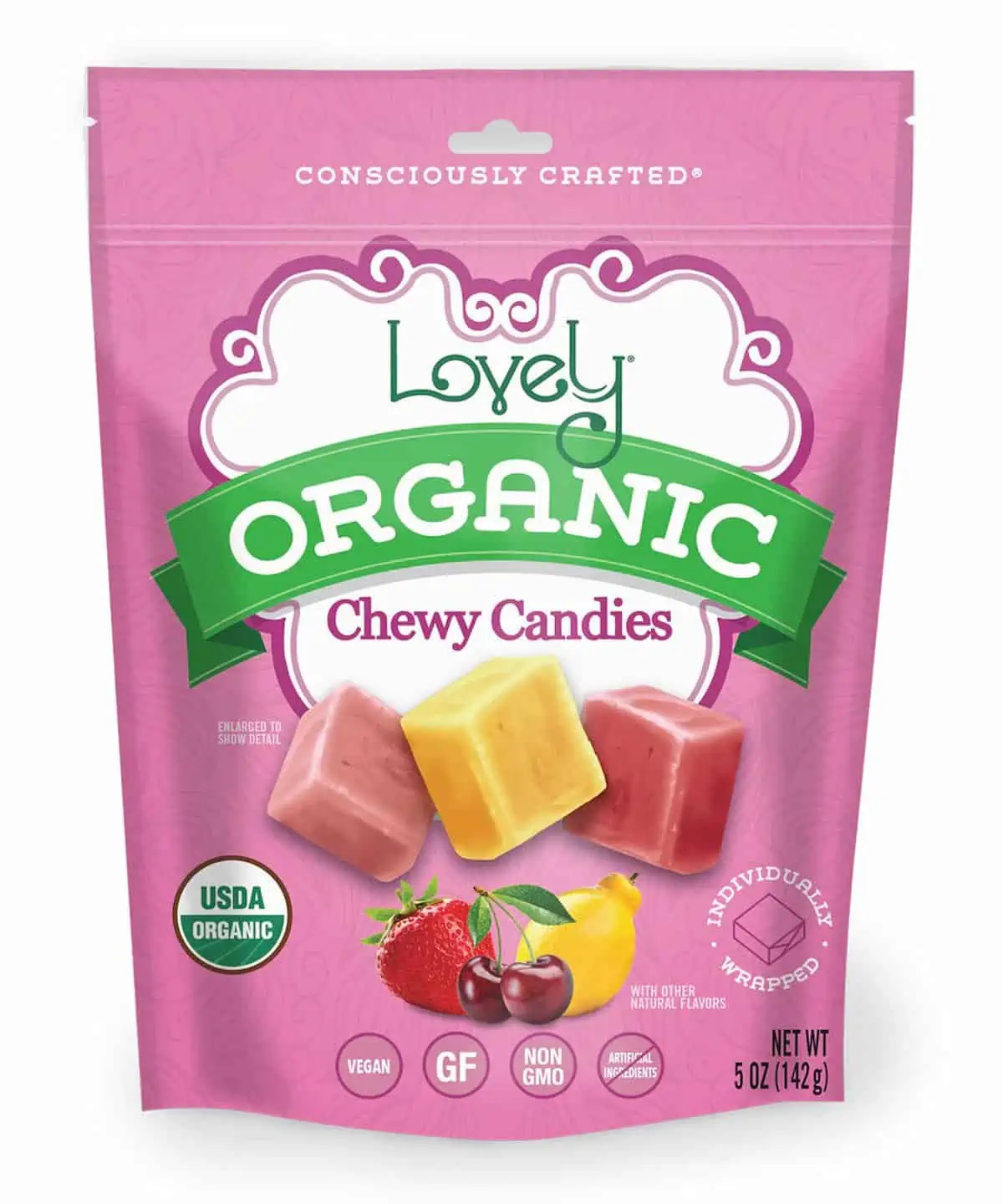 No Whey Foods offers several vegan valentine candies including Strawberry Ganache Sweet-Hearts, Strawberry Love Bites (dried strawberries smothered in semi-sweet chocolate), Loveable No-No's Candy Coated Chocolate Tube, a variety of chocolate heart-shaped lollipops, and several different vegan chocolate box options!
Fresh breath is always a good thing when Cupid is near this Valentine's Day, but these mints take things to a whole new level! These Cinnamints spice things up with natural cinnamon oil and mint from fresh mint leaves.
These adorable bite sized hearts are bursting with real cherry and watermelon flavors. Yum!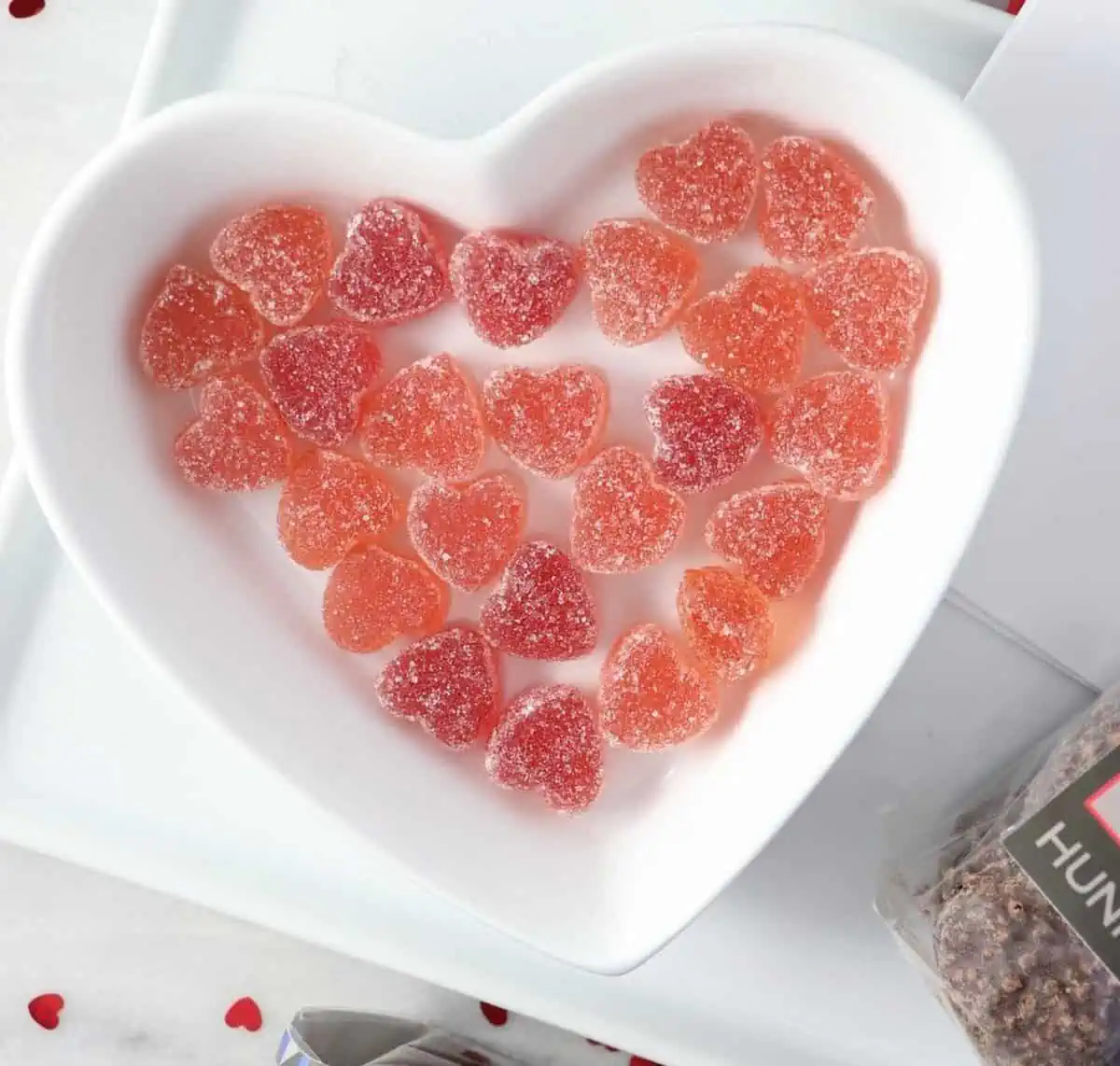 These fun lip and rose-shaped lollipops are perfect for showing your affection this Valentine's Day. Naturally flavored with a spicy cinnamon and other delightful flavors, these pops are a natural segue to Valentine kisses and fresh bouquets!
These cherry flavored Jube Jel candies shaped like hearts are a Valentine's Day classic and accidentally vegan! They're smooth, chewy, and are sure to make any recipient smile with glee.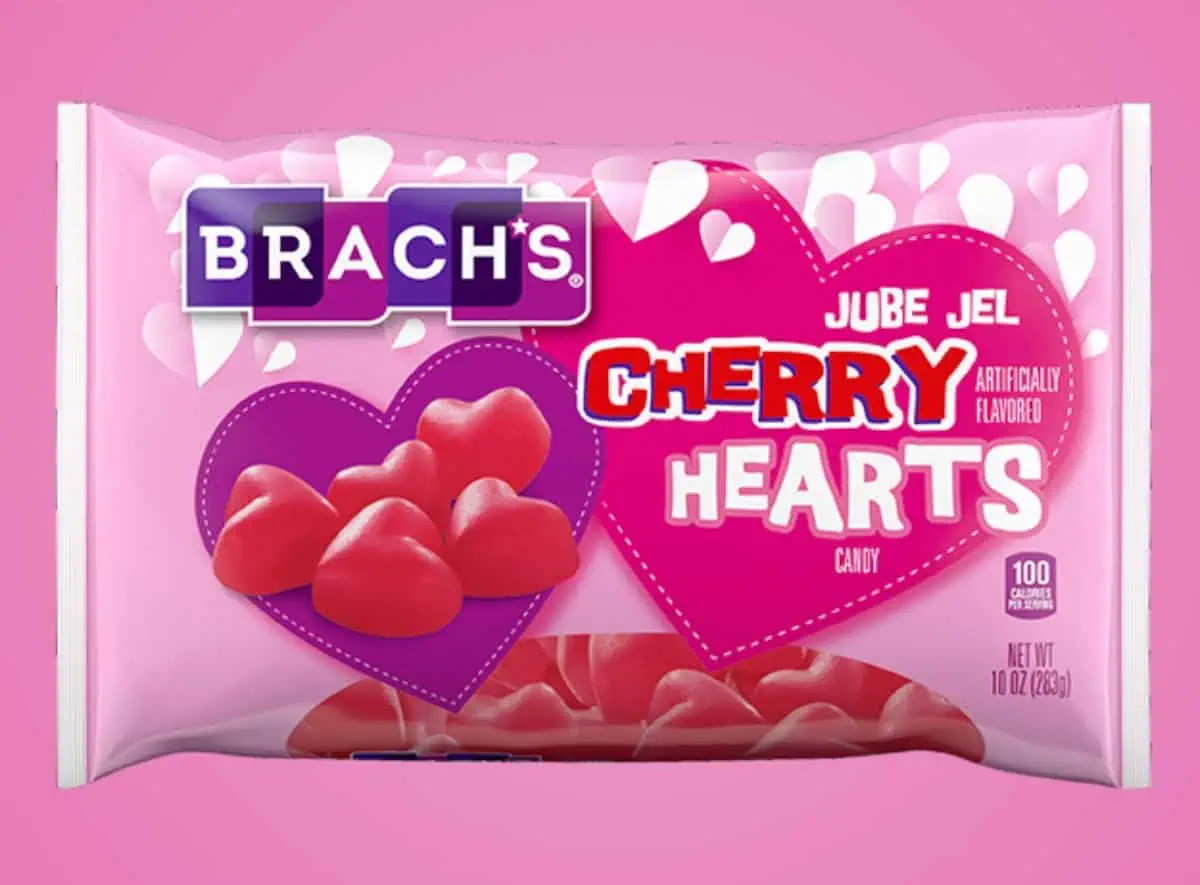 These gluten-free gummy bears are perfect for celebrating a vegan Valentine's Day and a treat everyone can enjoy! They are chewy and delicious, come in a variety of flavors and are made with plant-based colors and no artificial flavors. Surf Sweets also offers loads of other vegan candies for every occasion. 
What are your favorite vegan Valentine's Day candies and traditions? Let us know over on Facebook or Twitter!
For more family-friendly vegan recipes from Stephanie Dreyer, subscribe to the VeegMama newsletter here.