Chickpeas, chopped veggies, and an additional curious ingredient combine to create a seriously scrumptious salad! A mix of fabulous flavors, bright colors, and a cool, fresh texture make this quick chickpea quinoa salad incredibly irresistible.
When the days are warm, we seem to gravitate towards foods that are crisp and cold. This is the perfect, plant-based dish for days when you just want to enjoy a simple, satisfying meal and not have to put in much effort. We love to share recipes that blend nutrient-dense foods with delicious dressings because we care about the health of your body (and your taste buds)!
How to Serve Up Your Salad
Salads are incredible for so many reasons, but the best argument I've found is that you can include new or different ingredients so easily. Since salads are just a mix of various foods (in this case, veggies), adding or subtracting an item is no problem. Here are several super quick ways in which you can revise this recipe:
Opt for Oil-Free – If you're trying to cut down on oil, you can easily substitute a little bit of avocado instead. Or, if you'd like this to be completely free of added fats, use a couple of tablespoons of zesty vinegar (apple cider or rice wine would work well) in place of the oil.
Change Up the Chickpeas – When you're not game for garbanzos, go for other protein-boosting beans such as black beans, kidney beans, or even fresh peas. You won't lose any of the fiber or nutrition and you'll be giving this recipe a mouthwatering makeover.
Go for the Greens – Beans, grains (pseudo or otherwise), and greens go so great together! You'll have the satisfying, hearty texture of the quinoa salad paired with soft, squeaky greens that have loads of extra vitamins, minerals, and soluble fiber.
Simple Storage for Your Fresh Chickpea Quinoa Salad
How long does quinoa last in the fridge, you ask? Any leftover salad can be easily stored in a covered container in the refrigerator or freezer. It will last refrigerated for around 3 days and in the freezer for up to 3 months. To reheat from frozen, simply place your container in the fridge overnight or on the counter for a few hours.
When ready to eat, either pop into the microwave for a minute or two or heat in a skillet on medium, stirring often until desired temperature. Because this salad contains delicate vegetables (cucumber and tomato have a higher water content), freezing and reheating might cause them to become a wee bit wrinkled. This doesn't affect the flavor, only the texture. If you're okay with it, then feel free to freeze.
Perfect for Food Prep
Because this delightful side dish is so simple to mix together, consider using some free time to:
Rinse, cook, and cool quinoa.
Make a fresh batch of beans or open a can of chickpeas.
Wash and chop up your veggies.
Mix up your dressing.
Store each ingredient in a separate bag or bowl in the refrigerator.
When it's time to assemble your fresh chickpea quinoa salad, you'll have all of your ingredients at hand and ready to go. Mix together and scoop small portions into separate storage containers so you're all set with a grab-and-go lunch or dinner side. (Remember to keep your pantry stocked with staple supplies!)
Equipment You'll Need
1 15-ounce can chickpeas, drained, rinsed, and patted dry
½ large English cucumber, chopped into small pieces
1 cup cherry or grape tomatoes, halved or quartered
1 cup cooked quinoa, completely cooled or chilled
¼ red onion, very finely diced
¼ cup fresh parsley, finely chopped
Dressing:
¼ cup extra-virgin olive oil
1 small lemon, juiced
1 clove garlic, finely minced (or ½ teaspoon of jarred pre-minced garlic)
¼ teaspoon basil
¼ teaspoon oregano
¼ teaspoon thyme
¼ teaspoon salt
¼ teaspoon pepper
Add the chickpeas, cucumber, tomatoes, quinoa, red onion, and parsley to a serving bowl.

In a small bowl, add the olive oil, lemon juice, garlic, basil, oregano, thyme, salt, and pepper and mix well. 

Pour the dressing over the chickpea mixture and toss until evenly mixed and coated.
If desired, add additional salt to taste.
Calories: 134kcal | Carbohydrates: 11g | Protein: 2g | Fat: 10g | Saturated Fat: 1g | Polyunsaturated Fat: 1g | Monounsaturated Fat: 7g | Sodium: 105mg | Potassium: 195mg | Fiber: 2g | Sugar: 2g | Vitamin A: 370IU | Vitamin C: 20mg | Calcium: 24mg | Iron: 1mg
View this post on Instagram
Ready to investigate the key ingredient of such an interesting dish? Let's get down to the nitty gritty.
How Do You Pronounce Quinoa?
According to the Merriam-Webster Dictionary, this strange pseudo-cereal is traditionally pronounced, "KEEN-wah", but can also be called "quin-OH-ah" (rhyming conveniently with Rocky Balboa). Can you believe it's not a grain at all? In the Incan language, is it translated to "mother grain", which is where the slight confusion comes in.
What Is Quinoa?
So now that we've given it the right name and we know that it actually isn't a grain, we really need to call it a seed. The tiny little seeds are from the flowering plant of the amaranth family and are considered a complete, plant-based protein. Did you know that it's native to Peru and is closely related to beets, swiss chard, and spinach?
Quinoa is gluten-free and an excellent source of magnesium, manganese, phosphorus, and folate. It's also a good source of protein, fiber, iron, copper, thiamin, and B6, which means it has at least 10% of the daily value of that nutrient.
When cooked, the texture should be soft and slightly fluffy, with a nutty, earthy flavor. There are several types of quinoa available, including white, red, black, and tricolor (a mixture of all three). It has a similar cooking technique and time as making a pot of white rice.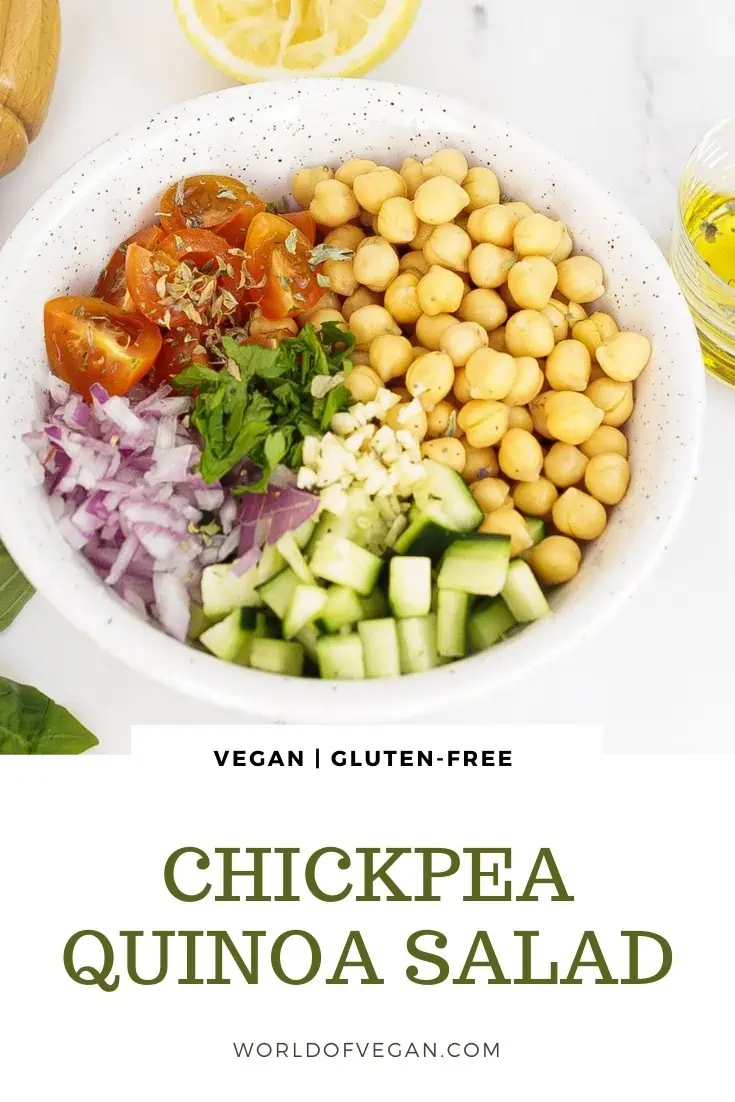 Is Quinoa Better Than Rice?
People often ask if they should replace quinoa for the rice in their diet. It's really up to you and your nutrient requirements. While both are gluten-free and have around the same amount of calories, the quirky quinoa does have a few advantages over rice (and even more dramatic when compared to white rice):
Higher in Fiber – 5 grams for quinoa vs. less than 1 gram for rice, per cup.
Higher in Protein – Quinoa has double the amount per cup than white rice.
Lower Glycemic Index – This means that it does not spike your blood sugar quickly.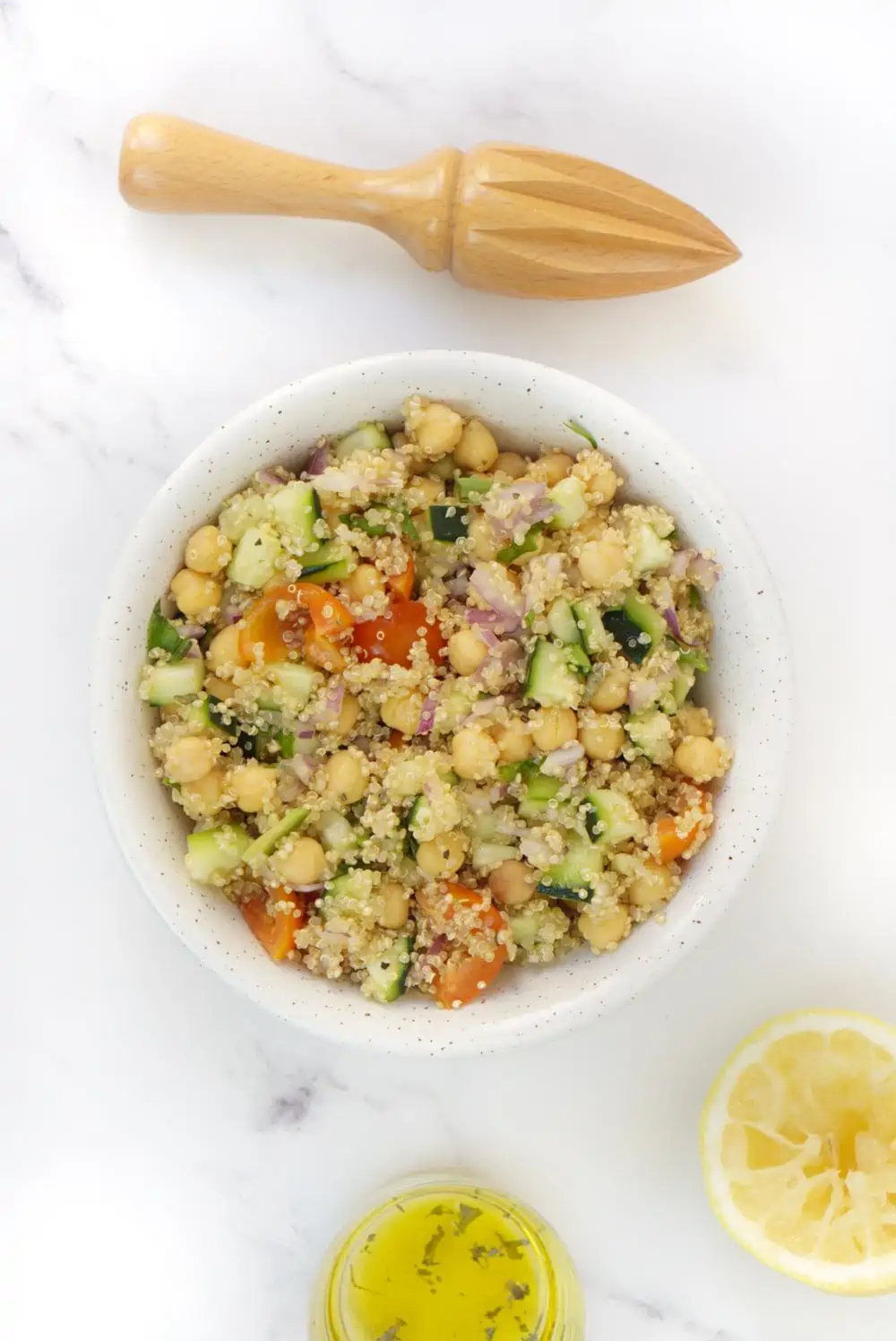 More Glorious Whole Grain (and Seed) Recipes to Try
Fresh Chickpea Quinoa Salad recipe by Michelle Cehn, copyright of World of Vegan™. Article written by Gina House and edited by Amanda Meth. Please note that this article may contain affiliate links which supports our work at World of Vegan.