Coffee time is the best time, don't you agree? Taking a coffee (or tea) break is synonymous with relaxation, but it's also awesome for promoting productivity. There's a good reason why there's a coffeeshop on almost every corner. If you're looking to fuel up, the first step is to find out what's vegan at Starbucks.
Whether it's a super small, hole-in-the-wall Starbucks or the biggest, baddest Starbucks your eyes have ever encountered, you'll need a game plan. The options can be overwhelming at first (no matter which location you visit), so this guide will be your best friend.
With our Starbucks vegan handbook, it's possible you'll discover delightful hot and cold drinks you've never heard of and learn tips and tricks that will get you the best beverages and the tastiest snacks, all without dairy or animal products. Let's get started!
Vegan Options at Starbucks
Did you know that you can order (almost) anything at Starbucks vegan? Here's how to hack the Starbucks menu so you can ace your next road trip and order like a vegan boss when visiting the biggest coffeehouse chain in the world.
Why order a vegan drink at Starbucks, you ask? Starbucks goes through a whopping 93,000,000 gallons of milk every year. This not only causes an unthinkable amount of suffering and has devastating effects on our environment, but it also contributes to unhealthy cholesterol and casein consumption leading to numerous human health issues.
When you follow the steps below, you can order all your favorite beverages in a way that's animal friendly, kinder to our planet, healthier for your body, and still tastes great. It's a win-win-win. So why not make your next Starbucks order vegan?
What's Vegan at Starbucks?
We're happy to say that there are so many delicious drinkable options at Starbucks right now. Although we know there could be improvements (vegan sauces, dairy-free whipped cream, and a bunch of baked goods), it's a thrill to be able to visit this popular corner cafe and order a hot, iced, or fruity beverage that's vegan-friendly. Here are some FAQs and answers to get you started:
Is the mocha sauce at Starbucks vegan?
Yes, it is! With only four simple ingredients of water, sugar, cocoa, and natural flavors, it can be considered vegan-friendly.
What drizzle is vegan at Starbucks?
At the moment, the only sauce that is vegan is their mocha sauce. The caramel sauce/drizzle is not vegan, but the caramel syrup is only made with sugar, not dairy.
Are Starbucks bagels vegan?
According to their current Health and Wellness Fact sheet, the Plain, Cinnamon Raisin, Sprouted Grain, and Everything bagels are vegan.
Is the Chai at Starbucks vegan?
Well, the answer is yes and no. If you're ordering a Chai Latte, then it's a no-go because of the dairy. But, if you're having a hot chai tea (using a tea bag), then it's a yes. You can ask for a plant-based milk to add into it and perhaps a simple agave sweetener or sugar.
Are there any gluten-free options at Starbucks?
The Kind granola bars and the Marshmallow Dream bars seem to be the only gluten-free options but, sadly, they are not vegan.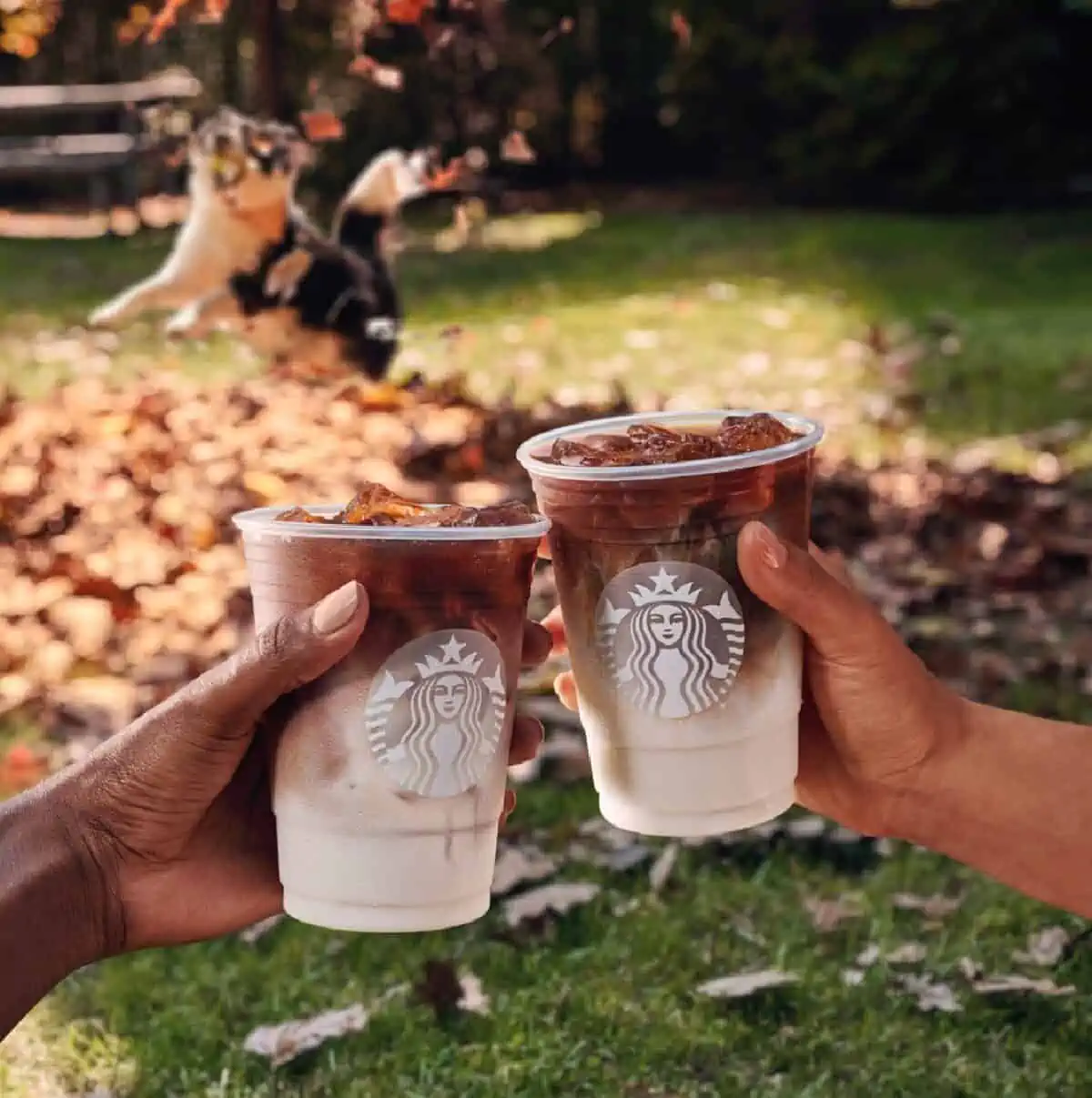 How To Order Dairy Free at Starbucks
Step One: Plant-Based Milk Swap
Just ask your barista to replace dairy milk with soy milk, almond milk, coconut milk or oat milk.
Step Two: Leave Out the Animal Products
If ordering food, request no cheese, no egg, and (of course) no meat.
Step Three: Say No to Beverage Boosts
For beverages, hold the following non-vegan ingredients:
Caramel Drizzle (caramel syrup is vegan)
Cinnamon Dulce Topping (contains butter)
Java Chips (in certain Frappuccinos)
Protein Powder (in smoothies)
Pumpkin Spice Sauce
Whipped Cream
It's as easy as that! You can always just ask your barista to make your drink vegan (without dairy, honey, or other animal products), but the steps above will give you an idea about what to look out for.
Starbucks Vegan Coffee Options
For either hot or iced coffee beverages, ask for a plant-based milk (almond, coconut, oat, or soy) and cane sugar to be used, if you want a creamy or sweet addition. You may wish to take notes or order online before you go to because there are just so many choices to consider.
Hot Coffees
Americano – Espresso topped with hot water.
Brewed Coffees – Blonde Roast, Decaf Pike Place, Pike Place, or Veranda Blend
Café Latte
Caffe Mocha – Ask for no whipped cream.
Cappuccino
Caramel Macchiato – Substitute caramel syrup for caramel sauce.
Cinnamon Dolce Latte
Espresso
Espresso Macchiato
Flat White
Peppermint Mocha Latte – Order with no whipped cream or dark chocolate curls.
Starbucks Reserve Latte
Starbucks Blonde Vanilla Latte
Iced Coffees
Iced Coffee
Cold Brew
Iced Caffe Americano – ice, water, brewed espresso
Espresso or Shaken Espresso Iced
Iced Caffe Latte
Iced Cinnamon Dolce Latte – Ask for no whipped cream or cinnamon dolce topping.
Blonde Vanilla Latte Iced
Iced Caramel Macchiato – Ask to substitute caramel syrup for caramel sauce.
Caffe Mocha Iced – Order with no whipped cream.
Iced Peppermint Mocha – Request no whipped cream or dark chocolate curls.
Already Vegan Iced Coffee Options
Brown Sugar Oatmilk Shaken Espresso
Chocolate Almondmilk Shaken Espresso
Toasted Vanilla Oatmilk Shaken Espresso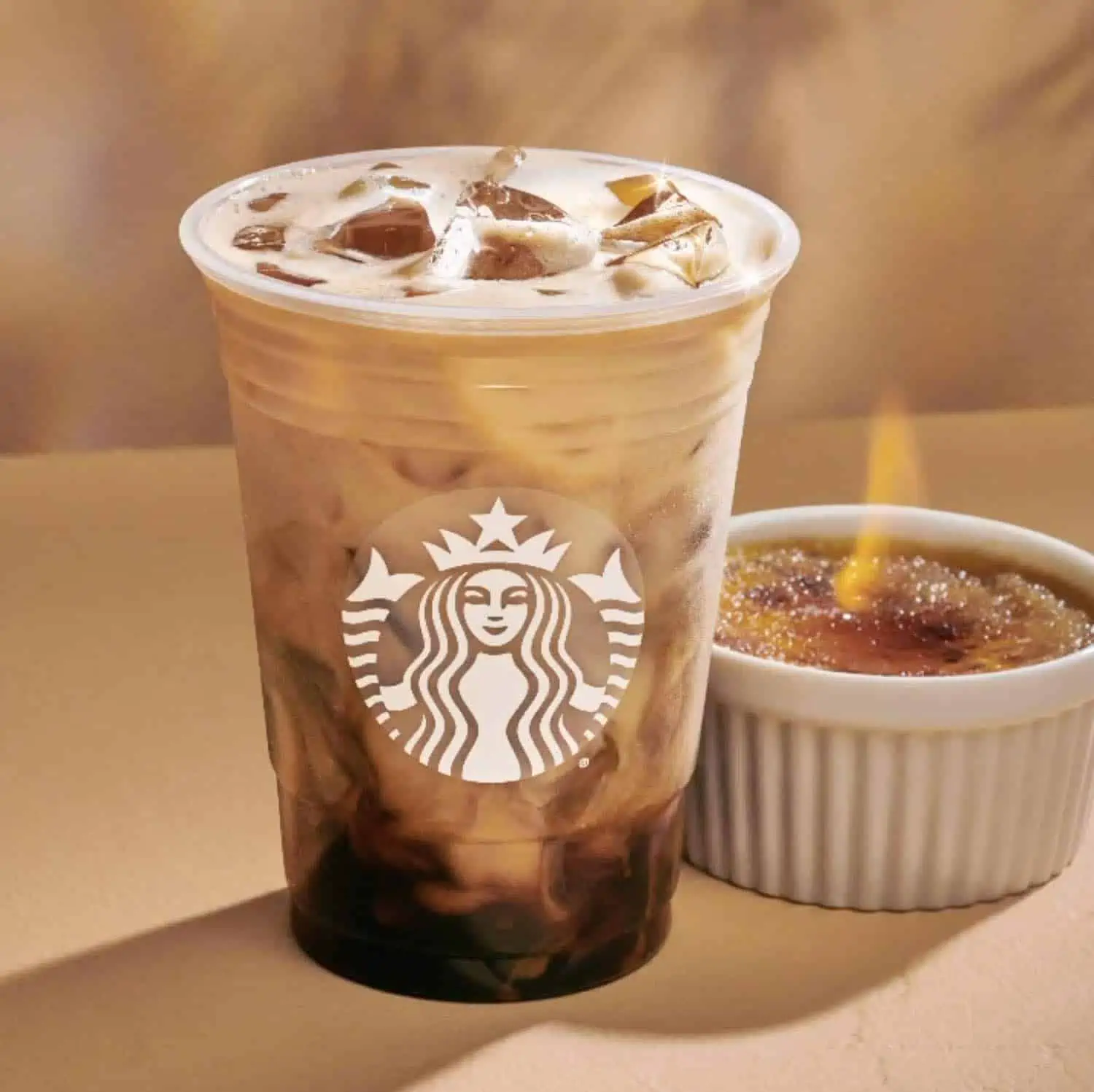 Vegan Starbucks Drink List
The beverage list for Starbucks is impressive, so we'll try to break up it into easy-to-find sections for you. Whether you're searching for hot coffees, iced teas, creamy lattes, zesty lemonades, or vegan Starbucks frappuccinos, we'll help you find what you're longing for. Just keep reading!
Hot Teas
If you like your tea with milk and sweetener, ask for a plant-based milk (almond, coconut, oat, or soy) and cane sugar to be used.
Chai
Earl Grey
Emperor's Clouds & Mist
Jade Citrus Mint
Royal English Breakfast
Hot Tea Lattes
Request non-dairy milk to be used in these lattes.
London Fog Tea Latte
Matcha Tea Latte
Royal English Breakfast Tea Latte
Iced Teas
For all of these iced teas options, you may wish to choose the cane sugar as a sweetener and/or a non-dairy milk of your choice. Finally, bottled teas (like Teavana Black or Green) are sometimes offered (depending on location) because they're a good to-go option.
Iced Teas – Black, Green, London Fog, Matcha, Passion Tango, and Peach Green
Cold Tea Lattes – London Fog and Matcha
Iced Tea Lemonades – Black, Green, Matcha, Passion Tango, Peach Green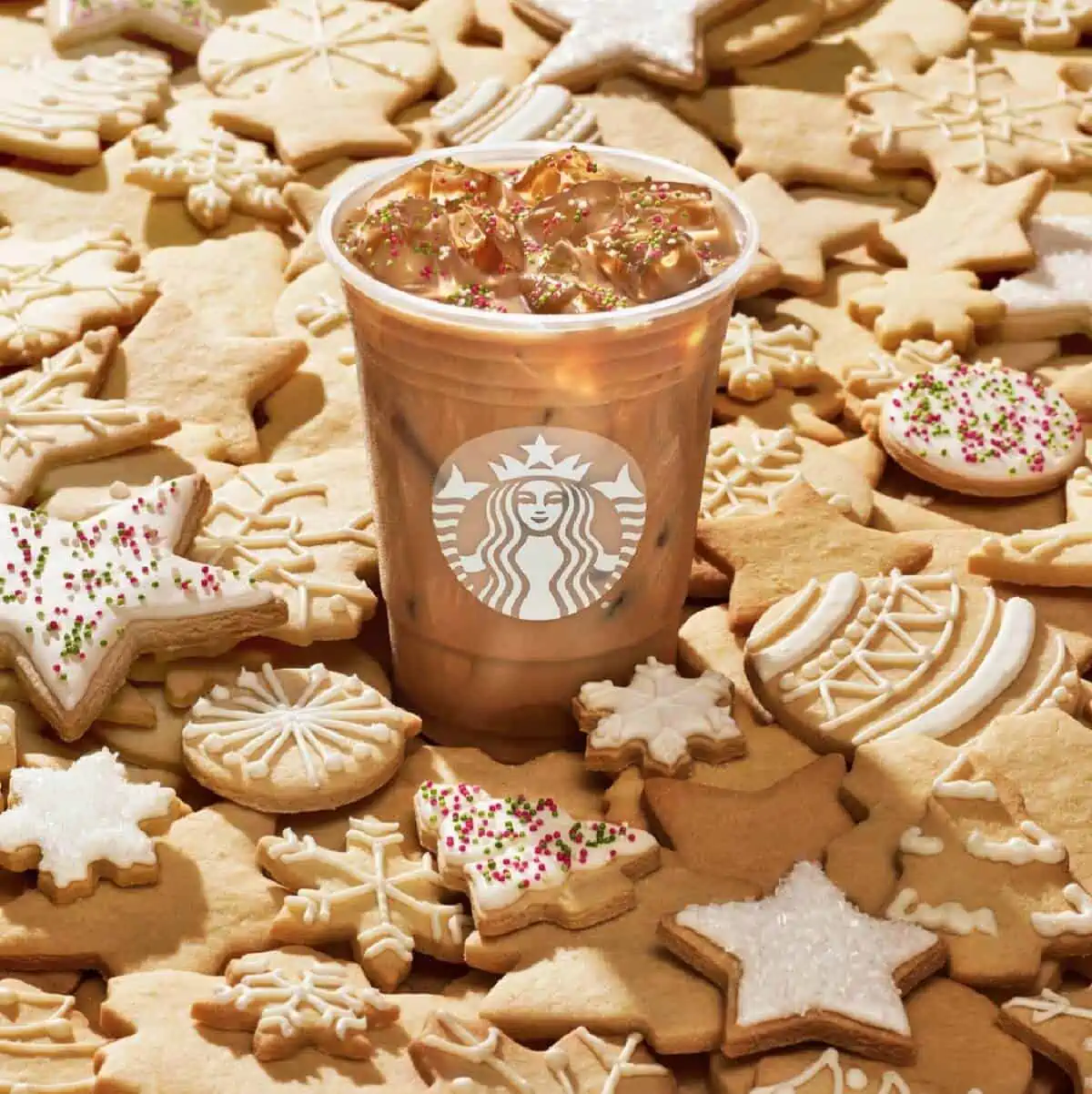 Non Caffeinated Drinks at Starbucks
Don't worry if you're not a die-hard coffee drinker. There is actually a huge selection of both hot and cold beverages that are completely free of coffee or caffeine. A number of the Starbucks vegan drinks for spring and summer are sensational!
Caffeine-Free Hot Teas and Beverages
Cinnamon Dolce Crème – Substitute with non-dairy milk and ask for no whipped cream or cinnamon dolce topping.
Hot Apple Juice – Request steamed.
Hot Chocolate – Ask for a plant-based milk and no whipped cream.
Mint Majesty Tea – Herbal tea
Peach Tranquility Tea – Herbal tea
Peppermint Hot Chocolate – Order with your choice of non-dairy milk and no whipped cream or dark chocolate curls.
Vanilla Creme – Choose a non-dairy milk and ask for no whipped cream.
Caffeine-Free Iced Teas
Iced Teas – Passion Tango
Iced Tea Lemonades – Passion Tango
Fruity Beverages
Lemonades – Kiwi Starfruit, Mango Dragonfruit, Strawberry Acai, and Plain Lemon
Fruity Drinks – Kiwi Starfruit, Mango Dragonfruit, and Strawberry Acai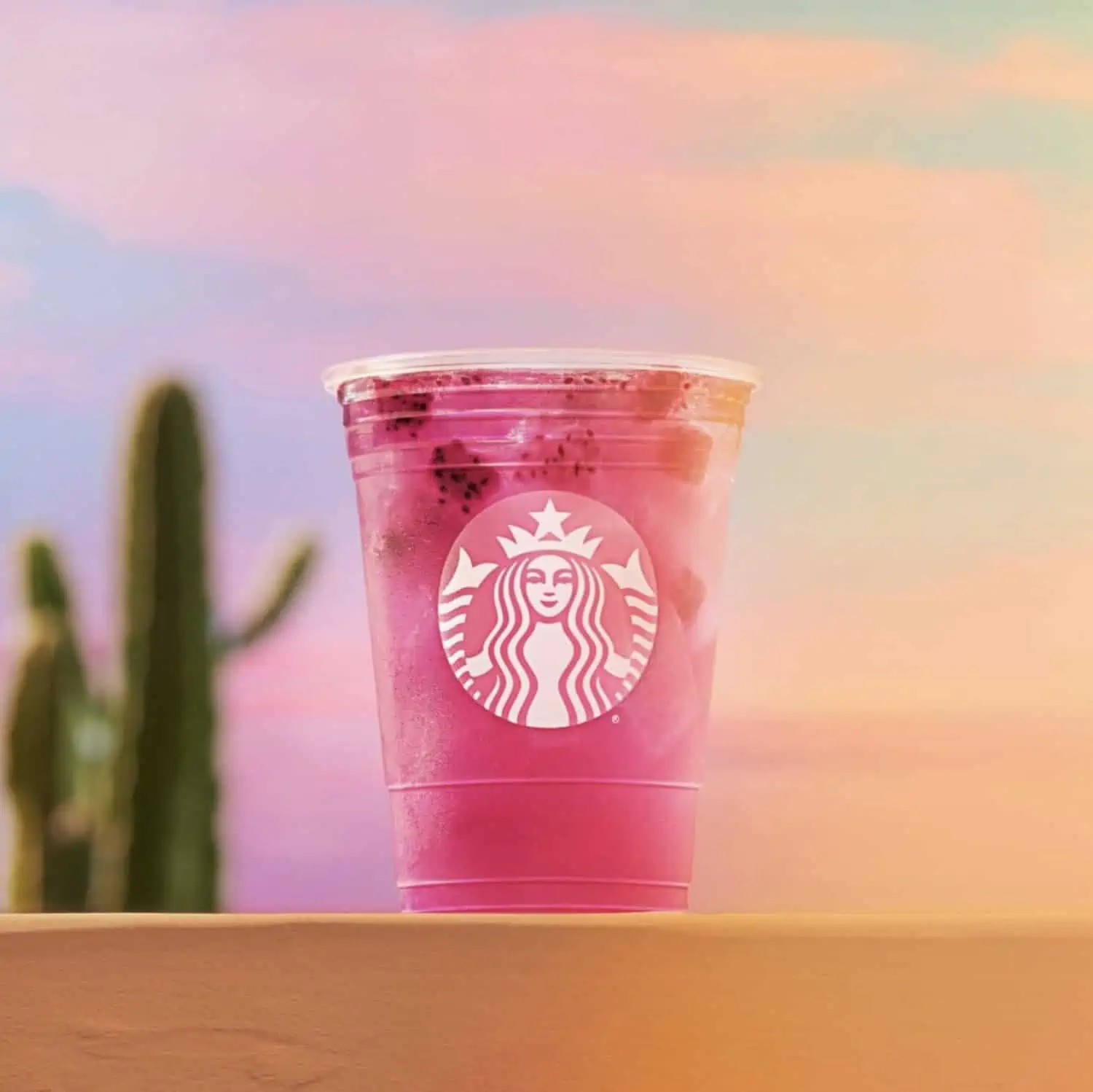 Vegan Starbucks Frappuccinos
For every one of these creamy, dreamy frappuccinos, remember to ask for non-dairy milk and absolutely whipped cream (until they start offering an oat or coconut whipped cream).
Mocha Frappuccino
Caffe Vanilla Frappuccino
Strawberry Creme Frappuccino
Matcha Creme Frappuccino
Best Specialty Vegan Starbucks Drinks
These specialty blends are all the rage and also caffeine-free. They're colorful, super fun, and downright delicious if you're vegan or not. It's time to give one (or all of them!) a try!
Dragon Drink (mango dragonfruit and coconut milk)
Golden Ginger (coconut milk with ginger, pineapple, and turmeric)
Pink Drink (strawberry acai and coconut milk)
Star Drink (kiwi starfruit and coconut milk)
Strawberry Lemonade Blended (ice, lemonade, creme frappuccino syrup, and strawberry puree)
Very Berry Hibiscus (blackberry flavor with hibiscus, sweet ginger, and lemongrass)
Violet Drink (very berry hibiscus refresher with coconut milk and ice)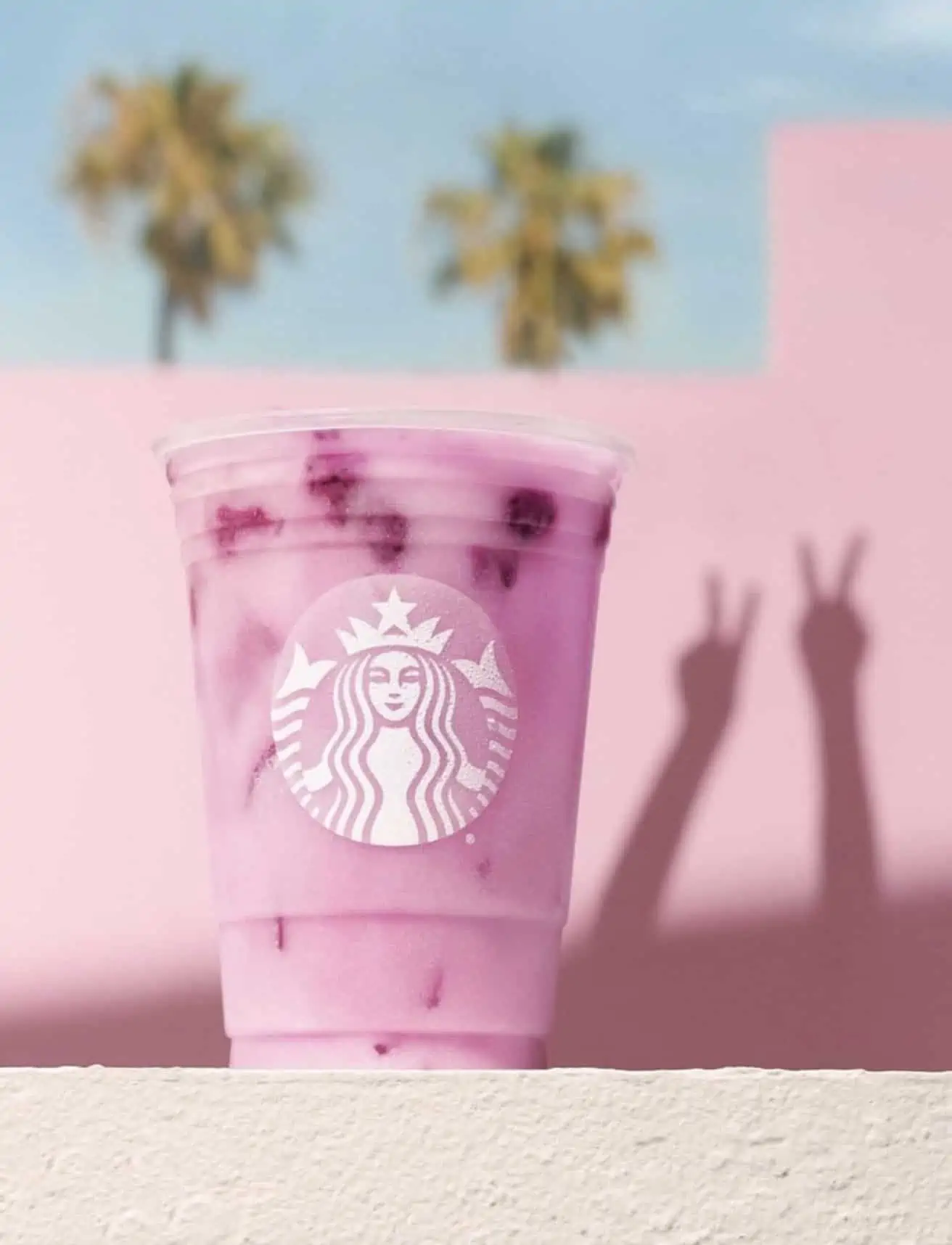 Starbucks Vegan Food Options
This popular cafe also has a wide selection of vegan Starbucks food choices, and approximately 60 million people visiting Starbucks every single week, it's wonderful to know that much of their menu can easily be made plant-based to accommodate vegans and health-conscious consumers. Cheers to that!
At the moment, you can order food items such as:
Bagels – Cinnamon Raisin, Everything, Plain, and Sprouted Grain (add avocado spread or Justin's nut butter)
Chickpea Bites & Avocado Protein Box
Oatmeal – Rolled & Steel Cut Plain (with brown sugar, dried fruit, and nuts) or Blueberry (with nut medley, blueberries, and agave nectar). Request non-dairy milk on the side if you'd like extra liquid.
Strawberry Overnight Grains – Includes oatmeal (in coconut milk), cooked steal cut oats, red quinoa, and chia seeds with coconut shavings, strawberries, and toasted almonds.
Is the Impossible Breakfast Sandwich at Starbucks Vegan?
Although you'd assume it would be, it's the same situation as Dunkin' Donuts with their Beyond Sausage Breakfast Sandwich. They add both egg and cheese to the sandwich before serving and, unless you wish to pick them both off before eating, you may want to forget about ordering this particular item.
Snack-y Vegan Food at Starbucks
There are tons of tasty choices for Starbucks vegan snacks. At least half of the sweet and salty snack selections are vegan-friendly and dairy-free. Just take a quick peek at the back of those pre-made packages and skim the list for milk, egg, or meat ingredients. You're likely to be pleasantly surprised with their vegan offerings—chips, cookies, and candies, oh my!
Here is a sound sampling of some of the treats on display:
Avocado Spread
Bananas
Hippeas White Cheddar Chickpea Puffs
Justin's Nut Butters (Classic Almond or Hazelnut Butter)
Kettle Potato Chips (salt and vinegar, simply salted, sweet potato)
Peter Rabbit Organic Fruit Pouches
Squirrel Brand Mixed Nuts
Starbucks BBQ Potato Chips
That's It Fruit Bars
NOT Vegan at Starbucks
These items at Starbucks contain dairy and cannot be made vegan:
Caramel Brûlée
Caramel Drizzle/Sauce
Chai Latte (Chai syrup used in the latte contains honey, but the chai tea that comes in a teabag is vegan-friendly.)
Cinnamon Dolce Topping
Creams: Irish Cold Foam, Salted Caramel, and Vanilla Sweet
Dark Chocolate Curls
Frappuccino Chips
Light Frappuccinos
Pumpkin Spice Sauce
Sauces: White Chocolate Mocha, Caramel Drizzle/Sauce (caramel syrup is vegan), Dark Caramel Sauce, Pistachio Sauce, Caramel Brulee Sauce
White Chocolate Mocha
Make Your Own Homemade Vegan Drinks and Desserts
If you're frustrated with the lack of luscious vegan desserts and wonderfully warm (or cool and creamy!) drinks, we know just the thing to tide you over. Take just a few minutes to make one or two of these deliciously decadent recipes, settle into your favorite comfy chair, and enjoy in your own environment. Set the speakers to some soothing jazz sounds and enjoy the peaceful ambiance!
Historic Vegan Moments in Starbucks History
You can find out more about the small steps that have been made towards beverages that are dairy free at Starbucks and and dairy free Starbucks food offerings here.
1997 – Soy milk was finally added to the menu.
2015 – Coconut milk was added as an option.
2016 – Almond milk became a menu item.
2020 – On the Starbucks menu in Canada, oat milk was added and a Beyond Meat breakfast sandwich (though not vegan, it is ovo-vegetarian).
2021 – Oat milk was added to all of its US menus nationwide. Also, the first dairy free Starbucks holiday beverage was offered, Iced Sugar Cookie Almondmilk Latte.
2022 – Eagerly awaiting more vegan news from Starbucks!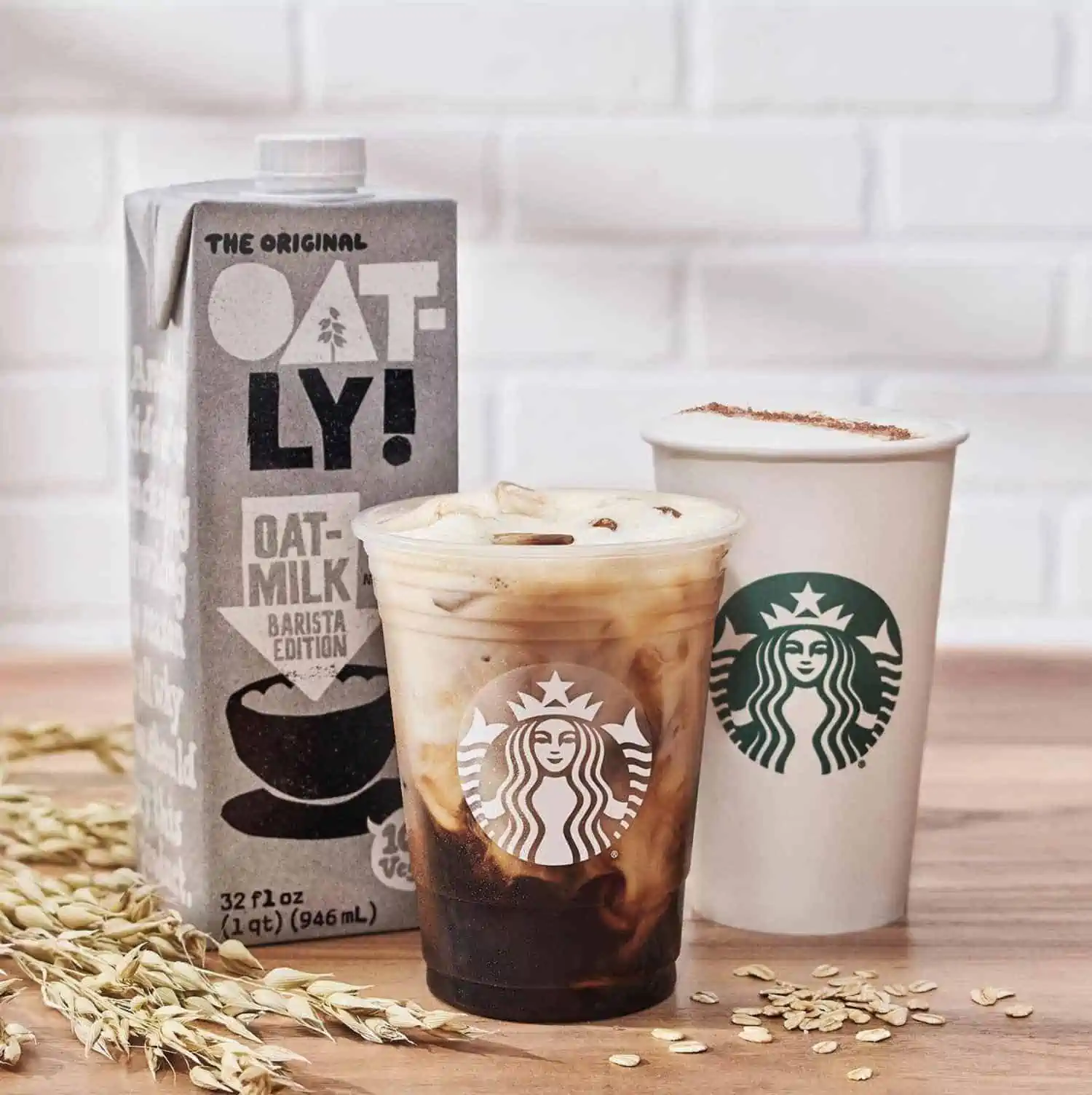 Fascinating Facts About Starbucks
Only Starbucks Certified Coffee Masters wear black aprons.
Starbucks has its own record label called Hear Music.
The name of the coffee shop was inspired by the first mate in the book, Moby Dick, by Herman Melville.
Starbucks partnered up with Feeding America and aims to share 100% of its leftover food with the homeless.
How to Use the Starbucks Nutrition Page
Check out the Starbucks Health and Wellness Fact Sheet to make sure that you are purchasing a vegan-friendly item. The menu items offered at Starbucks might change often (especially during the holidays), so you may want to double check before you visit.
Browse the Starbucks menu before ordering. You can also print out the certified vegan option menu (on page 4) here.
If ordering Starbucks online or through a delivery service, make sure you clearly specify any substitutions you would like. If you're worried that your request may not be honored (or seen by the server at Starbucks), it might be a better idea to go there directly to order.
Be careful when new and exciting seasonal products are offered at Starbucks. Double-check the allergens and ingredients to make sure the item is vegan before purchasing. Although some holiday items may seem to be vegan drinks at Starbucks, many times the toppings or extras added on are not vegan-friendly.
Creating a Kinder and More Accessible Starbucks Vegan Experience
Although this semi-cozy, high-end cafe does not yet have a specific vegan Starbucks menu to order from (we hope someday!), we can still keep our fingers crossed that our passionate vegan pleas will be heard. Since there are so few vegan-friendly coffee or sweet craving choices on the fast food front, let's hope that they will continue to step up their Starbucks dairy free drinks and add at least one vegan bakery item soon. Wouldn't it be a dream to be able to order a vegan cappuccino, vegan latte, or a vegan frappuccino without any fuss or extra charges? In the meantime, we can always write to, call, or contact the managers of any location to make our requests.
This video was a collaboration with Vince Lia. You can watch our next video about how to order vegan at Chipotle and check out his plant-based recipes, inspiring videos, vegan shirts and more at VinceLia.com.
What would be your most wished for food items on a vegan menu at Starbucks ? Let us know on Facebook, Twitter, and Instagram!
Have you found any other vegan food at Starbucks menu options to be veganizable? Did you find something delicious or unique that we missed? Let us know by tagging #worldofvegan and sharing your favorite vegan-at-starbucks creations with all of us!
Fun Coffee-Inspired Recipes
How To Order Vegan Coffee and Treats at Other Fast Food Chains
This article is not sponsored and we are in no way affiliated with Starbucks. At the time of this article, the menu items mentioned above are vegan. Since restaurants constantly update their menus and add or take away items, please keep this in mind when ordering your food. There may be new Starbucks vegan options that are not listed or items listed here as vegan, which are no longer vegan. Take care to double-check.