This strawberry jam may be the easiest recipe you'll ever make. With just three ingredients—frozen strawberries, chia seeds, and sugar—you can whip up the most delicious, flavorful topping in minutes.
I love making this strawberry jam on weekends and serving it up with these vegan waffles. But it's so versatile that I started making bigger batches and storing it in little jars in the fridge so I have it on hand as a topping for all sorts of things!
Spread it on toast, spoon it over pancakes, dish it up on some ice cream, mix it in with yogurt, swirl it into lemonade to make strawberry chia lemonade… you can use this strawberry jam in so many ways. Here's how it's done.
1 12-ounce bag frozen strawberries
2 tablespoons granulated sugar
2 tablespoons chia seeds
In a small pot over medium heat, add all the ingredients and boil gently, uncovered, for 10-15 minutes, stirring regularly. As the strawberries soften, using a fork or potato masher, mash them to to achieve your preferred amount of "chunkiness."

Remove from heat and store in an air-tight glass container (such as a small mason jar) in the refrigerator, or serve immediately atop waffles or pancakes.
Calories: 35kcal | Carbohydrates: 6g | Protein: 1g | Fat: 1g | Saturated Fat: 0.1g | Polyunsaturated Fat: 1g | Monounsaturated Fat: 0.1g | Trans Fat: 0.01g | Sodium: 1mg | Potassium: 17mg | Fiber: 1g | Sugar: 4g | Vitamin A: 2IU | Vitamin C: 0.2mg | Calcium: 25mg | Iron: 0.3mg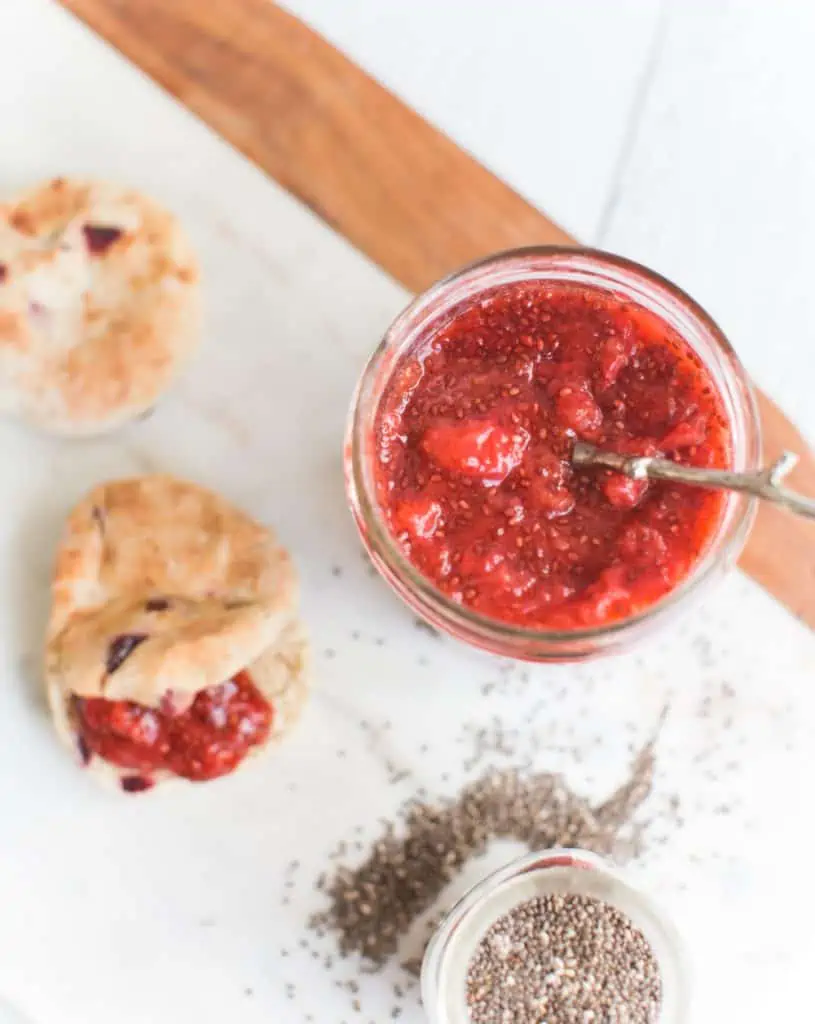 Frozen vs. Fresh Strawberries
If you have fresh strawberries on hand, you're welcome to use them in place of frozen strawberries in this recipe. I chose frozen for several reasons.
Frozen strawberries are available all year long.
I always have bags of frozen strawberries in my freezer for smoothies and recipes like this!
Frozen strawberries are often picked when they're perfectly ripe and frozen right away as compared to fresh strawberries that are typically picked early so they won't go bad on the journey to the grocery store and then to your kitchen.
Frozen strawberries are usually less expensive than fresh strawberries.
Whenever I buy fresh strawberries, there's a good chance at least one will get moldy (so frustrating—I despise food waste!)
Star Superfood: Chia Seeds
Chia seeds are teeny tiny, but they're packed with nutrients—including vegan essentials like Omega-3 fatty acids, iron, and calcium. They are also high in fiber and protein and antioxidants, and many other nutrients to keep your body healthy and happy.
In this recipe, chia seeds do more than just give the jam a hearty nutrition boost. Chia seeds come dry, but when you add them to liquid, they absorb it. Chia seeds can actually absorb 12 times their weight, and become gelatinous, which is why they make an excellent egg replacer in baked good recipes. In this recipe, they help thicken up the sweet strawberry sauce and create that jelly-like jam vibe.
If you've never used chia seeds before, now is a great time to start! You can pick up a bag at your local grocery store or on Amazon and mix them into (or sprinkle them on):
Your morning cereal
Orange juice or other liquid beverages
Oatmeal or overnight oats
Smoothies
Ice cream or banana nice cream
…and more. Nutrients, here you come! Just give your chia seeds a chance to absorb liquid before you eat a lot them otherwise they'll absorb liquid in your body, which can be not-such-a-great-thing.
Homemade Is Always Better!
Sure, store-bought jam will last longer in the fridge. But friends, I promise you, nothing compares to the fresh stuff! The smell as the strawberries soften on the stove is divine. This strawberry chia jam is a delightful way to feel like a homesteading pro without much effort at all.
If you're a lover of strawberries, I hope you'll give this a try. Who knows, it just may become a staple in your home as it has in mine!
This Strawberry Jam Will Pair Beautifully With:
Strawberry chia jam recipe and photos by Michelle Cehn for World of Vegan. Please note that this article contains affiliate links that support our work at World of Vegan!