Wondering how to juice peaches? This is a wonderful way to give a boost of nutrition to your body is to add fresh juice into your daily diet. Our peach juice recipe is simple, easy, and very appealing. Pick some perky peaches, thickly slice, and add to the juicer. Squeeze in a little lemon and a touch of sweetness and you've got the perfect pick-me-up.
If you're unsure when peaches are in season in your area of the US, this ripening chart will help. Remember to use ripe peaches whenever possible. Trying to juice unripe peaches isn't recommended. You'll be left with less juice overall and also a slightly bitter, sour taste to your creation. Feel free to use frozen, thawed peaches without guilt.
You'll always have a peach of our hearts if you try this recipe. Juicing is fun, sometimes messy, but always worth it. Recruit any kiddies or anyone young at heart to help if you're not feeling up breaking out the juicer alone. Don't be intimidated, just peach for the stars!
Why This Peach Juice Is So Peachy Keen
Drinking freshly prepared juice is such a quick and healthy way to absorb extra nutrients and give your body a big vitamin boost. Here are more reasons why we love this juice:
Luscious and slightly tangy
Healthy
Hydrating
Easy to digest
Quick to make
Full of antioxidants
Good source of vitamin C
Dairy-free
Gluten-free
Soy-free
Perfect as a morning before breakfast pick-me-up or sweet snack.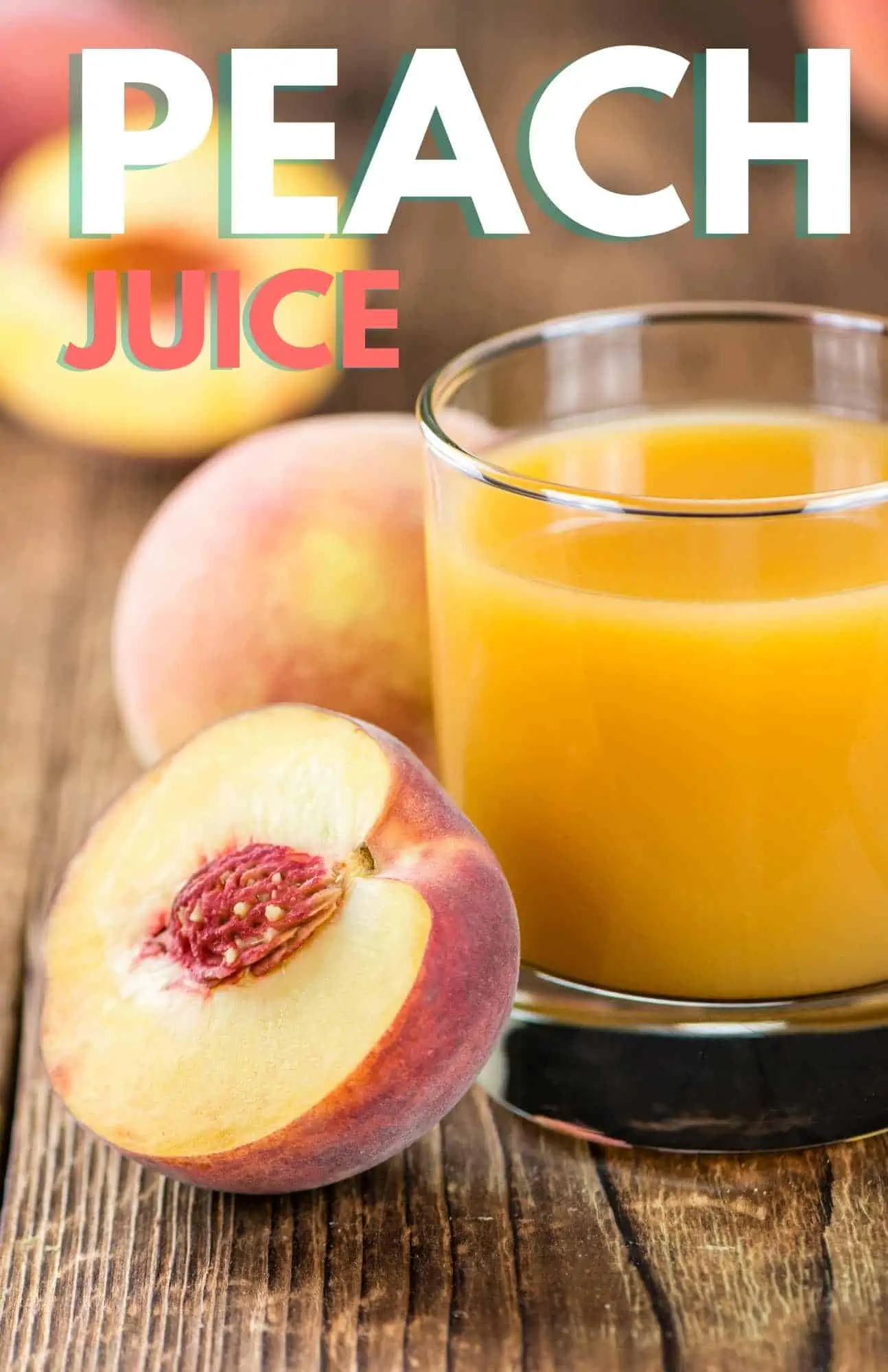 Star Ingredient: The Perfect Peach
Peaches are an often overlooked fruit. We're here to promote all of the positive, peachy particulars. When ripe, this golden, slightly fuzzy fruit is fabulous!
Low in calories
Good amount of fiber (2 grams per peach)
1 gram of protein
Rich in vitamins A and C
A bit of vitamins E, K, niacin, folate, iron, choline, potassium, magnesium, phosphorus, manganese, zinc, and copper
Can You Juice Peaches?
You sure can! Because stone fruits don't have a high amount of water content, they usually give a little less juice than other fruits. But, it's still possible and we ap-peach-iate every single drop we can get! Although peaches are sometimes best blended into smoothies, they can also be particularly pleasant just juiced up.
How To Make Peach Juice
Making fresh juice in your very own kitchen is a peach of cake! The key is to use the sweetest, freshest peaches that you can find. If you're unlucky in the peach picking department, try using frozen peaches that are thawed overnight. Because frozen peaches are picked at the peak of ripeness, they tend to have a better flavor than slightly unripe peaches.
Thoroughly rinse the peaches. Pat gently to dry.
Peel (optional) and then cut the peaches into thick slices.
Add peach slices to the juicer about two at a time.
Collect the juice, add the lemon juice and sweetener, if desired. Whisk well.
Enjoy immediately!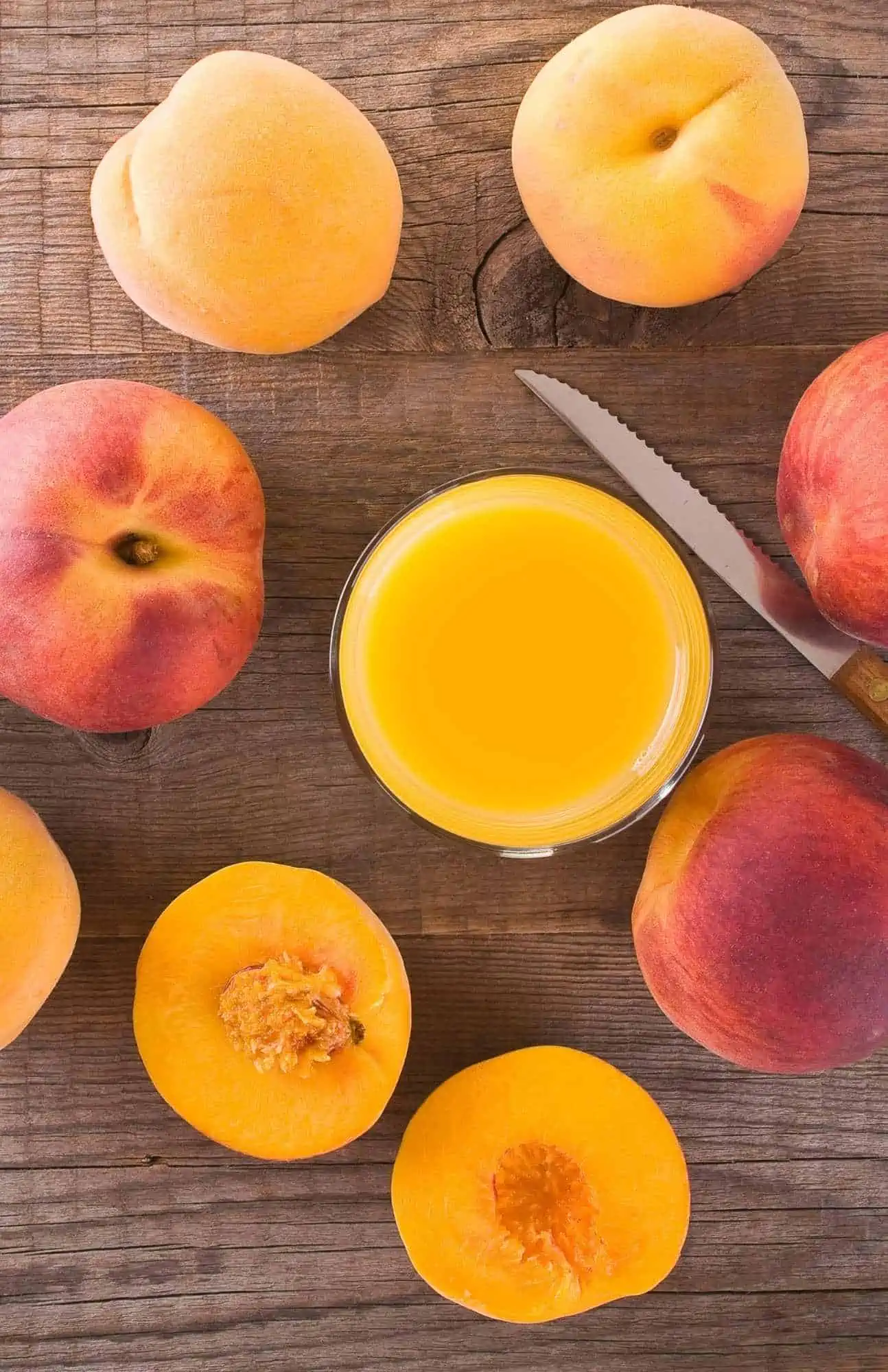 What Is Peach Juice Good For?
Besides being a heavenly, hydrating beverage, there are a couple of ways to use peach juice in other recipes. Consider adding a splash of sparkling water (peach or lemon flavored would be tasty!), club soda, or even a lemon-lime soda in place of the water for a special occasion spritzer. Serve in a fancy, fluted glass with peach slices on the side and a sprig of mint.
You can also swap out plant-milk for peach juice in a smoothie recipe (especially strawberry!) or even mix the vibrant juice with a bit of white balsamic vinegar and olive oil for a fantastic fruity dressing!
How Do I Store Any Leftover Peach Juice?
Homemade peach juice will stay fresh in the fridge for up to 3 days. Make sure to shake before drinking, since the juice might begin to separate a little. This is totally normal and a quick shake will bring it back together again.
You can also freeze the remaining juice by pouring it into an ice cube tray. Freeze overnight. You can then place the peach ice cubes into a freezer-safe bag or container for future use. Excellent for adding to seltzer water, fizzy drinks, iced teas, or lemonades. The frozen fruit juice cubes will last up to 6 months, if stored properly.
Equipment You'll Need
If you already have a juicer, there's not much else that you need. Once you get the juice extracted (fast and fun!), just add in the sweetener, lemon juice, and fancy liquid of choice.
Juicer (or Blender and fine-mesh sieve)
Cutting Board
Sharp Paring Knife
Peeler
Small Whisk
2 cups sweet, ripe peaches (thawed frozen will work, too), (16 ounces)
5 teaspoons powdered cane sugar, or to your taste
½ teaspoon fresh lemon juice
6 ounces water, seltzer water, or club soda
Fresh mint or peach slices for garnish, optional
Set up your juicer and measure out the other ingredients, set aside for later.

Peel and thickly slice the peaches. If you only have frozen peaches, thaw them overnight in the fridge! They should be already sliced and ready to go.

Turn on the juicer, add the peaches, and collect the extracted juice.

Add the remaining ingredients to the fresh peach juice. Stir or whisk well. Add garnishes, if desired. Enjoy!
No Juicer? No problem! – If you don't own a juicer, you can still make this recipe. Simply use a blender to blend the peaches together and pour through a fine mesh sieve, cheesecloth, or nut milk bag to obtain the juice. Then, add in the remaining ingredients. You may have a little less liquid compared to juicing, but you can use more peaches, if desired.
Calories: 169kcal | Carbohydrates: 41g | Protein: 3g | Fat: 1g | Saturated Fat: 0.1g | Polyunsaturated Fat: 0.3g | Monounsaturated Fat: 0.2g | Sodium: 49mg | Potassium: 379mg | Fiber: 5g | Sugar: 36g | Vitamin A: 1004IU | Vitamin C: 14mg | Calcium: 18mg | Iron: 1mg
If you try this peach nectar juice recipe, let us know what you think by leaving a comment and rating below! Be sure to follow along on Pinterest, Instagram and Facebook for even more vegan recipe inspiration.
More Juicing Recipes With Peaches
A fun way to keep your peach juice flavor fresh and appetizing is to mix it along with other fruits. We love these combinations. Just blend and enjoy!
Orange Peach Mango Juice – Add the juice of an orange and a cup of frozen mango to make a delicious chilled smoothie.
White Grape Peach Juice – There are two ways to serve this beverage. Either freeze a half-cup of green grapes and add to the peach juice in place of ice cubes for a cooling drink or add 2 cups of fresh grapes along with the peaches while juicing.
Homemade Peach Juice Q&A
Can I still make this recipe if I don't own a juicer?
Yes! Simply use a blender to blend the peaches together and pour through a fine mesh sieve, cheesecloth, or nut milk bag to obtain the juice. Then, add in the remaining ingredients. You may have a little less liquid compared to juicing, but you can use more peaches, if desired.
Is it possible to make this peach juice without the added sugar?
You can easily replace all of the added sweetener in the recipe by juicing one or two large sweet apple (sliced and/or peeled) along with the peaches. The best apples to use include Fuji, Gala, Ambrosia, or Juici. This method will give you more liquid, so you can reduce the amount of added water to the final juice. Just make sure the combined juices equal 12 ounces total before adding the lemon juice.
Does this peach juice recipe work with canned peaches?
You probably could, but the resulting juice may not taste as fresh or have the same consistency. This juice recipe depends solely on the ripeness and sweetness of fresh peaches. If you're not able to get fresh, ripe peaches where you live, you can buy frozen peaches and allow them to thaw overnight in the refrigerator. We find that these peaches work even better than fresh. If your peaches aren't quite sweet enough, feel free to use extra sweetener. If you do use canned peaches, you may want to reduce or eliminate the added sweetener.
More Fresh and Fruity Drinks to Try
This Vegan 100% Peach Juice recipe and article was written by Gina House. How to Juice a Peach photos from Canva. Edited by Amanda Meth.