What is it about tapioca that gives such comforting, at-home-with-grandma vibes? There's definitely something about its creamy, bubbly texture that appeals to our inner child. This dairy-free and vegan tapioca pudding recipe is the perfect plant-based version of the class favorite and will have you feeling cozy in no time.
Savoring spoonfuls of sweet vegan pudding sounds like the perfect way to spend a self-care day. Grab your best bowl, find your favorite book (or movie), and give your belly the best dessert its had in months! Add a few pieces of fresh fruit on top and you may find that most of your cares just melt away.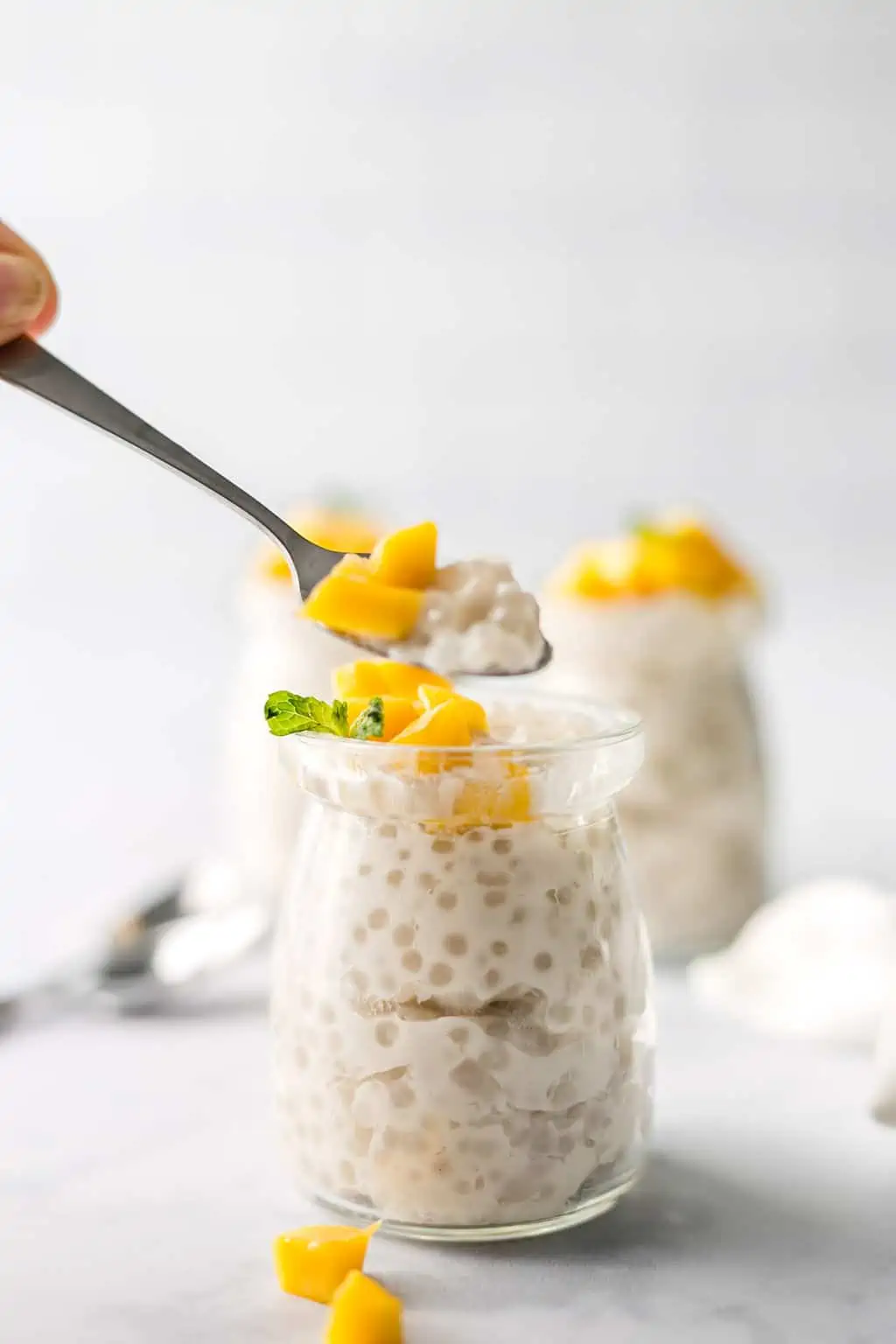 What Is Tapioca?
For those of you who have never heard of (or tried) this interesting ingredient in all of your life, let me give you the 411 on tapioca:
Tapioca is made of dried starch from the cassava root (mmm…the chips are soo good!).
It is a pure starch with little nutritional value, but also has no fat.
Whatever form it comes in (pearls, powder, or flakes), it is gluten-free and grain-free.
The best uses of tapioca include: tapioca puddings, breads, desserts, and as a thickener or binding agent.
Tapioca comes in several forms, including:
tapioca pearls (small pearl and large pearl)
boba (aka "bubbles")
powders (like tapioca flour or tapioca starch)
tapioca flakes or granules
tapioca pudding snack packs (most aren't vegan, but you can make your own with this recipe!)
In this recipe we use small pearl tapioca which can be found at many grocery stores and online.
Is Tapioca Vegan?
If you're a tapioca fan, you'll be pleased to hear that it is 100% vegan. Derived from the starch of the cassava root and processed without the use of any animal products makes this ingredient completely vegan! It can thicken and have similar consistency to gelatin, but does not contain any gelatin, dairy, or eggs!
Keep in mind that tapioca itself is vegan, but it may be added to non-vegan foods such as pudding made with egg and dairy products or bubble tea made with milk. Check the ingredient label to be sure, or make your own vegan tapioca pudding (recipe below) and boba tea to play it safe!
Star Ingredients In This Vegan Tapioca Pudding
Tapioca Pearls
This recipe calls for small pearl tapioca (like this), which are small, perfectly round hard balls made of uncooked tapioca. When you cook these, they absorb liquid and flavor and turn into chewy gelatinous balls that make up a delicious pudding. 
Note that the size of the tapioca pearls will determine the cooking time. If you use a size other than small pearl tapioca you may need to adjust the cooking time (follow the package instructions).
Plant-Based Milk
We add a cup and a half of plant-based milk to this recipe. Any dairy free milk will work! Almond milk, soy milk, cashew milk, flaxseed milk, and beyond. It can be sweetened or unsweetened, vanilla or plain. Those slight differences in flavor won't significantly impact the pudding in the end, since we are also adding sugar and vanilla extract.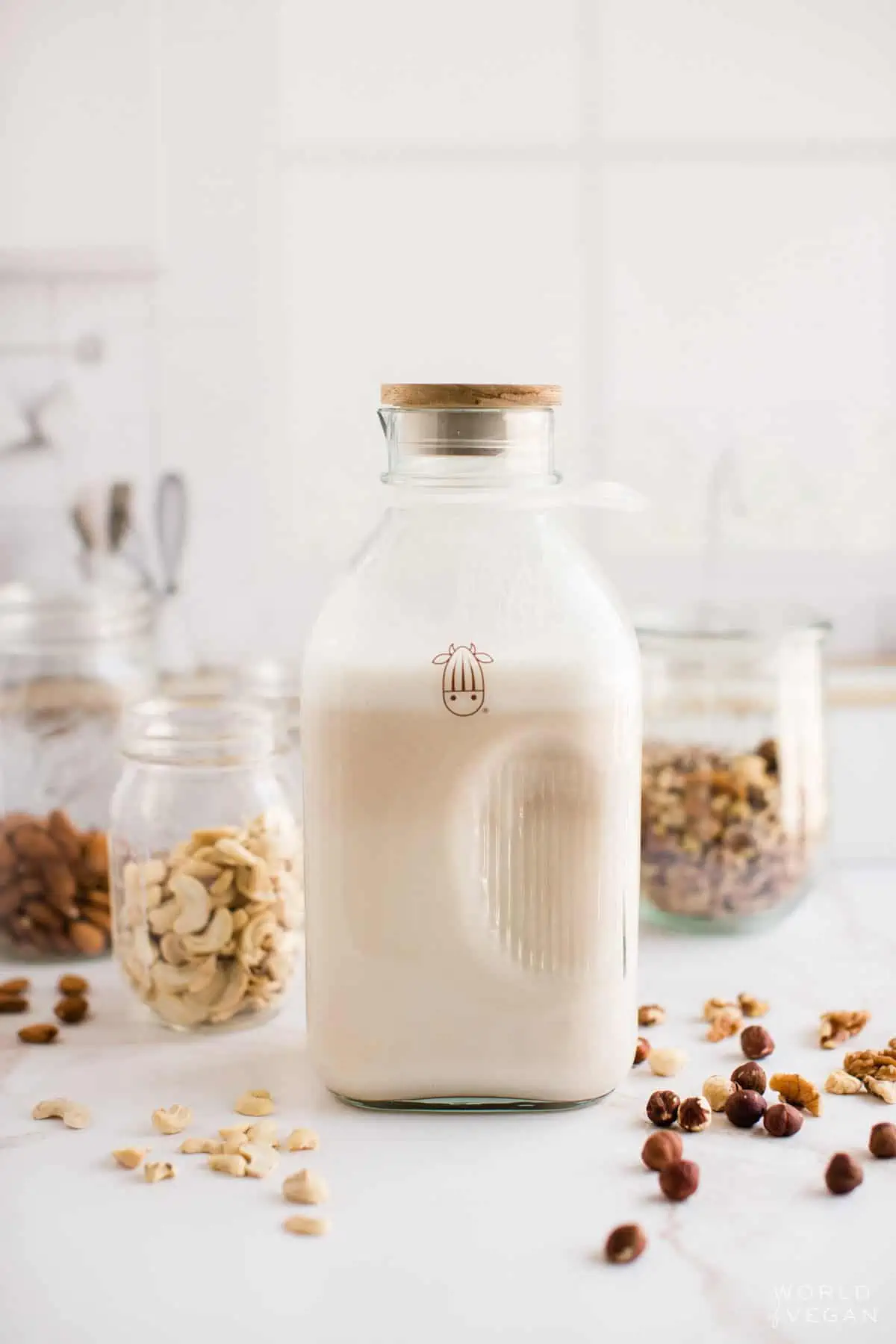 Full-Fat Coconut Milk
The coconut milk is key in this recipe, and it's important to get the full-fat kind! Avoid the low-fat labels. This creamy milk will create the thick creamy pudding when combined with the other ingredients. The tapioca pudding will have a slight coconut flavor, which we love!

How to Serve Up Your Vegan Tapioca Pudding Recipe
Tapioca pudding has such a simple, neutral flavor that it's easy to add all sorts of toppings and it will taste terrific. Be bold, be brave, and be daring in how you partake your pudding!
Bring on the Berries – Berries are the perfect tangy topping for your tapioca. Blueberries, blackberries, raspberries, or even cherries are a good choice. You might consider our Strawberry Rhubarb Compote, too.
Sprinkle With Some Cinnamon – Cinnamon sugar is a sensible option that adds extra sweetness and little bit of spice. Just mix ¼ cup of granulated sugar with 1 tablespoon of cinnamon (Vietnamese is lovely!) and you'll have the most delightful dusting for your dessert.
Coconut Cream Is Always a Dream – You may have noticed that I add coconut whipped cream to almost every dessert. The simple reason is that I love it and I think its creamy, thick texture is just the thing to make any sweet course complete.
Tango With Mango – Mango makes a wonderful match with this particular pudding! After the tapioca has cooled a little, feel free to include any amount of chopped fresh (or defrosted frozen) mango. If you're eating the pudding warm, I would add warm mango and cool mango for a cold pudding. For extra zest, squeeze a tiny bit of lime juice on top.
Always Choose Chocolate – If you're a chocolate lover, you're in luck! There's no simpler way to make this pudding more pleasant than by adding dairy-free chocolate chips or chunks. For this recipe, stir in one cup of chips or chunks just before the pudding is done cooking. Make sure that you mix well.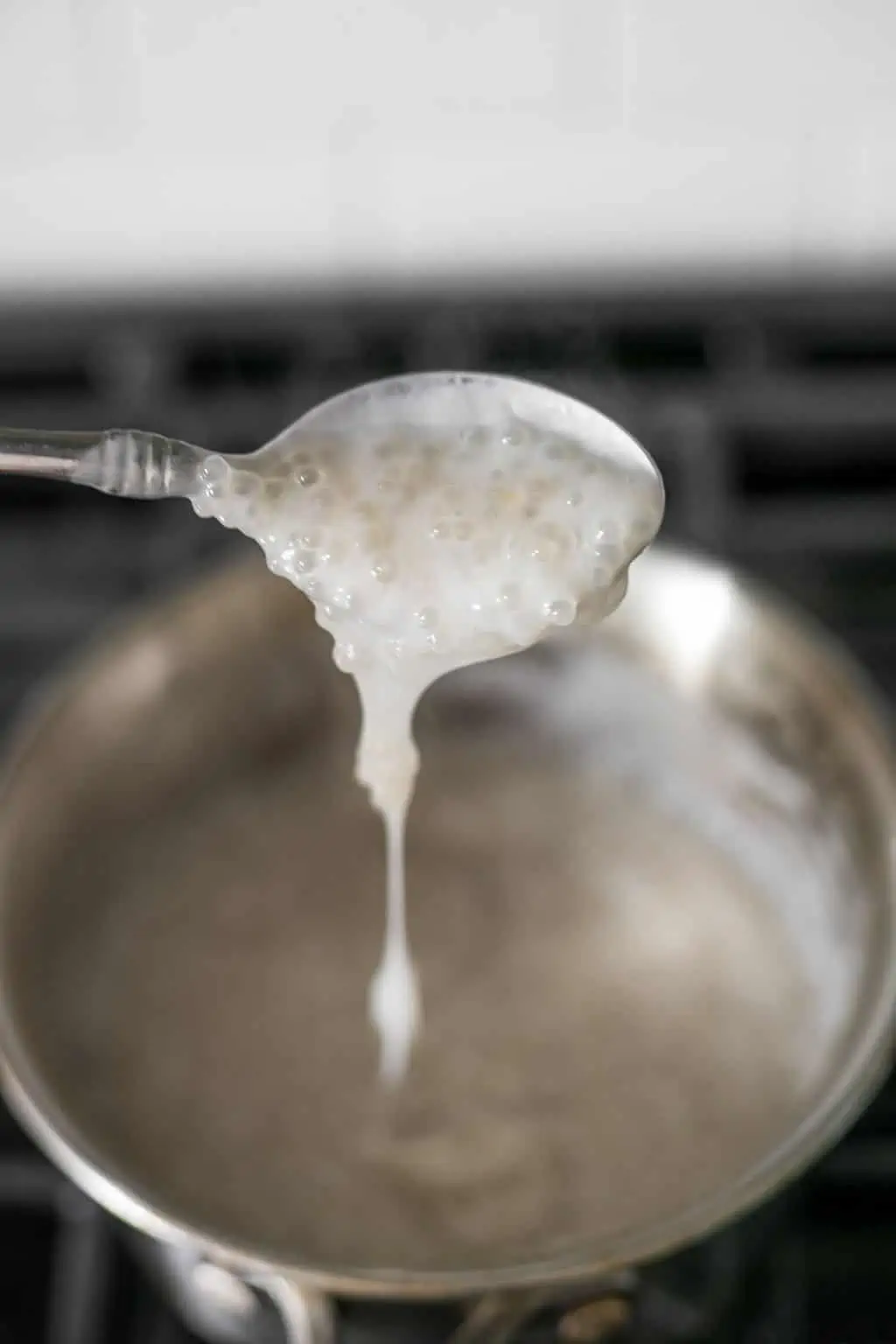 How to Store Leftover Tapioca Pudding
If stored in a covered container in the fridge, this vegan tapioca pudding recipe should stay fresh for a couple of days. If you'd like the pudding to last a little longer, I would suggest spooning out several portions into separate containers (like ramekins) instead of keeping the pudding in a single serving. Make sure to cover with a small plate, plastic wrap, or cloth.
Tapioca is also one of the few puddings that you can freeze. The freezing process won't affect the texture or flavor very much at all. Place in a covered freezer safe dish, silicone bag, or freezer bag. Seal tightly. It will last up to three months if stored correctly. Thaw in the refrigerator.
More Delicious Vegan Dessert Recipes
1½ cups plant-based milk, any variety
½ cup small pearl tapioca
1 13.5-ounce can full-fat coconut milk
¼ cup granulated sugar
½ teaspoon vanilla extract
⅛ teaspoon salt
In a medium saucepan, add the plant-based milk, tapioca pearls, coconut milk, sugar, and vanilla extract, and salt and whisk until well combined. 

Turn heat to medium-high and bring to a boil, whisking regularly to prevent sticking.

Once boiling, reduce heat to the lowest setting and allow to simmer for 30 minutes, stirring occasionally. 

Remove from heat, transfer to a glass container, and allow to cool. Refrigerate for at least two hours before serving. 
Tapioca pudding is traditionally served cold, but it's actually delicious straight off the stove! Feel free to spoon yourself a ramekin of vegan pudding before you refrigerate the rest.
Calories: 161kcal | Carbohydrates: 17g | Protein: 1g | Fat: 11g | Saturated Fat: 9g | Polyunsaturated Fat: 0.4g | Monounsaturated Fat: 1g | Sodium: 104mg | Potassium: 106mg | Fiber: 0.1g | Sugar: 6g | Vitamin C: 0.5mg | Calcium: 65mg | Iron: 2mg
This Vegan Tapioca Pudding recipe was developed by Michelle Cehn. Vegan food photography by J.J Steele, and the article was written by Gina House and edited by Amanda Meth.