If you're a fan of cornbread, you're going to love these vegan cornbread muffins! They're insanely easy to make—we're talkin' just a few minutes of active work—and are very budget friendly. They store beautifully in the freezer so they're also great for weekend batch cooking and meal prep. And did we mention they're absolutely delicious? They've been tested in many kitchens with 5-star reviews across the board.
Whether you're getting into the fall or winter baking spirit, serving these up on Thanksgiving or at holiday parties, pairing with a chunky warming soup, or enjoying them during football season for game-day gatherings, these are perfect literally any time.
These are a spicy spin on the vegan cornbread recipe from The Friendly Vegan Cookbook. My husband always calls dibs on the corner pieces of cornbread, so I thought I'd try spooning the cornbread batter into muffin tins so every one could be like a corner piece.
And guess what? The vegan cornbread batter transitioned from bread to muffins perfectly. It even makes a perfect dozen muffins. And they got even better with an added kick of spice from diced jalapeño.
These vegan jalapeño cornbread muffins check every box, so gather up the ingredients and let's start baking!
Star Vegan Cornbread Ingredients
Ground Flaxseeds (Flaxmeal)
Instead of eggs, we're using our go-to alternative: ground flaxseeds mixed with water. You can find ground flaxseed meal at the grocery store and it's one of those staple ingredients I always have in my kitchen (store them in the fridge). This recipe calls for two tablespoons of ground flaxseeds mixed with water, and when you let that sit for several minutes, it will thicken and gel up slightly and will act just like eggs in the recipe.
Cornmeal
This is cornbread after all, so of course we'll need cornmeal! Cornmeal is essentially ground up dried corn. It's a more course grain than flower, but combines beautifully with all-purpose flour in this recipe (1:1 ratio) to create the perfect vegan cornbread muffins.
Jalapeños
Jalapeños kick up this cornbread with a nice dose of spice! Definitely remove the seeds before dicing up your jalapeños though unless you want really spicy bread. The majority of the spice of these peppers reside in the seeds—but even with the seeds removed there's a good amount of spice the muffins!
Corn Kernels
These are optional but they do add a nice textural element to the muffins, so I prefer adding them in. You can use frozen corn kernels or canned corn. If using canned corn, strain them fully before adding (you can even pat them dry so they don't add extra liquid to the recipe).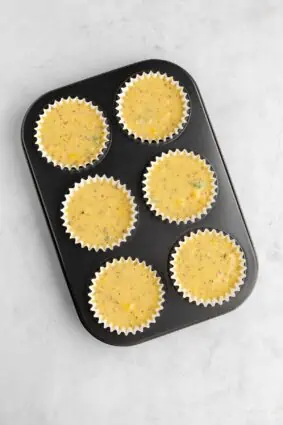 Simple Ingredient Swaps
Not A Fan of Spice?
If you're not a jalapeño lover, simply leave them out. I've made this recipe without jalapeño many times and it's absolutely delicious! The recipe (minus the jalapeño) stays the same.
Make It Cheesy!
Have a hankering for some cheesy goodness? If you can get your paws on a some vegan cheddar cheese, feel free to shred it up and mix it in with the jalapeño and corn kernels in Step 4.
Share Your Creations
Did you make this recipe? We'd love to hear about it! Leave a star rating and comment below or tag us on social media (@vegan on Instagram and @worldofvegan on Twitter) sharing your creations. Cheers!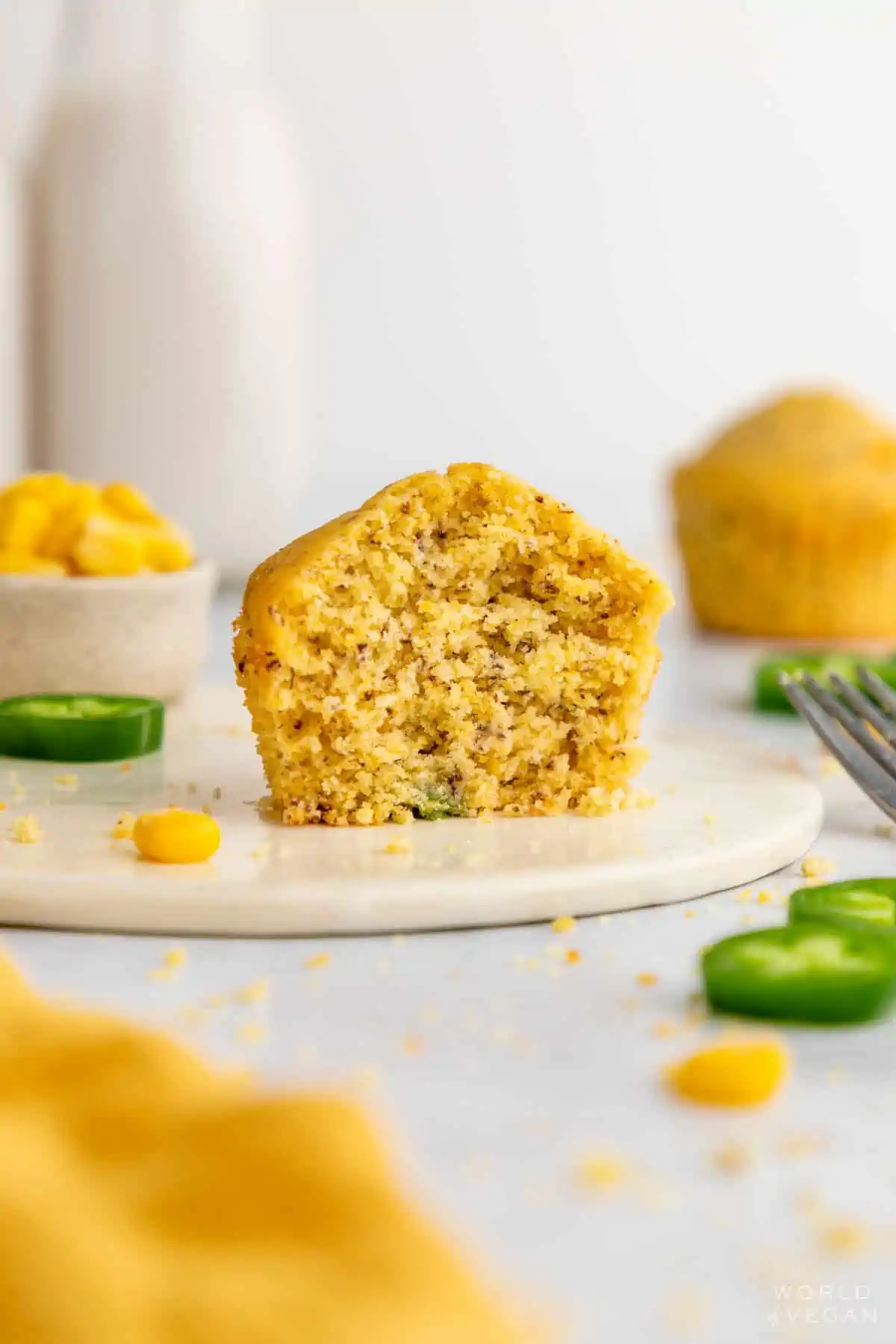 More Fall-Inspired Recipes
Whether you're preparing for a vegan Thanksgiving dinner or just eager to cook up some cozy foods for fall, we've got lots of recipes perfect for the season. Check out our…
More Comforting Corn Recipes to Try
2 tablespoons ground flaxseed meal
¼ cup water, plus 1 tablespoon
1 cup all-purpose flour
1 cup cornmeal
1 tablespoon baking powder, plus 1 teaspoon
½ cup granulated sugar
1 teaspoon salt
¼ cup canola oil
1 cup soymilk, unsweetened, plain (other plant milks will work too)
2 jalapeños, seeds discarded and diced
¼ cup corn kernels, frozen or canned, optional
Preheat the oven to 425 degrees F and lightly grease a muffin pan (or line with one dozen cupcake liners).

In a small bowl, whisk together the flaxseed meal and water. Set aside for 5 minutes.

In a large bowl, combine the flour, cornmeal, baking powder, sugar, and salt.

Pour the canola oil, soy milk, flaxseed meal mixture, diced jalapeño, and corn kernels into the large bowl, and mix by hand until combined.

Pour the batter into the prepared muffin pan and bake for 18-20 minutes, until the edges of the top become golden brown and a toothpick pierced into the center of a muffin comes out clean.

Remove from the oven and allow to cool for 30 minutes before serving.
These cornbread muffins freeze beautifully, so if you have extras (or make them in advance), simply store them in the freezer in a sealed container and thaw and allow to return to room temperature before enjoying.
Calories: 181kcal | Carbohydrates: 28g | Protein: 3g | Fat: 7g | Saturated Fat: 1g | Polyunsaturated Fat: 2g | Monounsaturated Fat: 3g | Trans Fat: 0.02g | Sodium: 318mg | Potassium: 102mg | Fiber: 2g | Sugar: 9g | Vitamin A: 104IU | Vitamin C: 4mg | Calcium: 92mg | Iron: 1mg
These vegan cornbread muffins are adapted from the vegan cornbread recipe in The Friendly Vegan Cookbook by Toni Okamoto and Michelle Cehn. Photos by Kaylie Grace. Recipe and photos copyright of World of Vegan.