Small steps add up in a big way for both physical and mental health, which is why you can still treat your inner child to plant-based nuggets in superfoods. It's the ideal balance of taste and nutrition that you'll want for grab-and-go meals, quiet nights at home, and random snack attacks.
This delicious healthy hack is my go-to for an extra nutritious take on the quick lunch wrap classic. Flour tortillas are the conventional choice for an edible wrapper, but you can ditch most of the carbs and calories when you swap them with collards instead.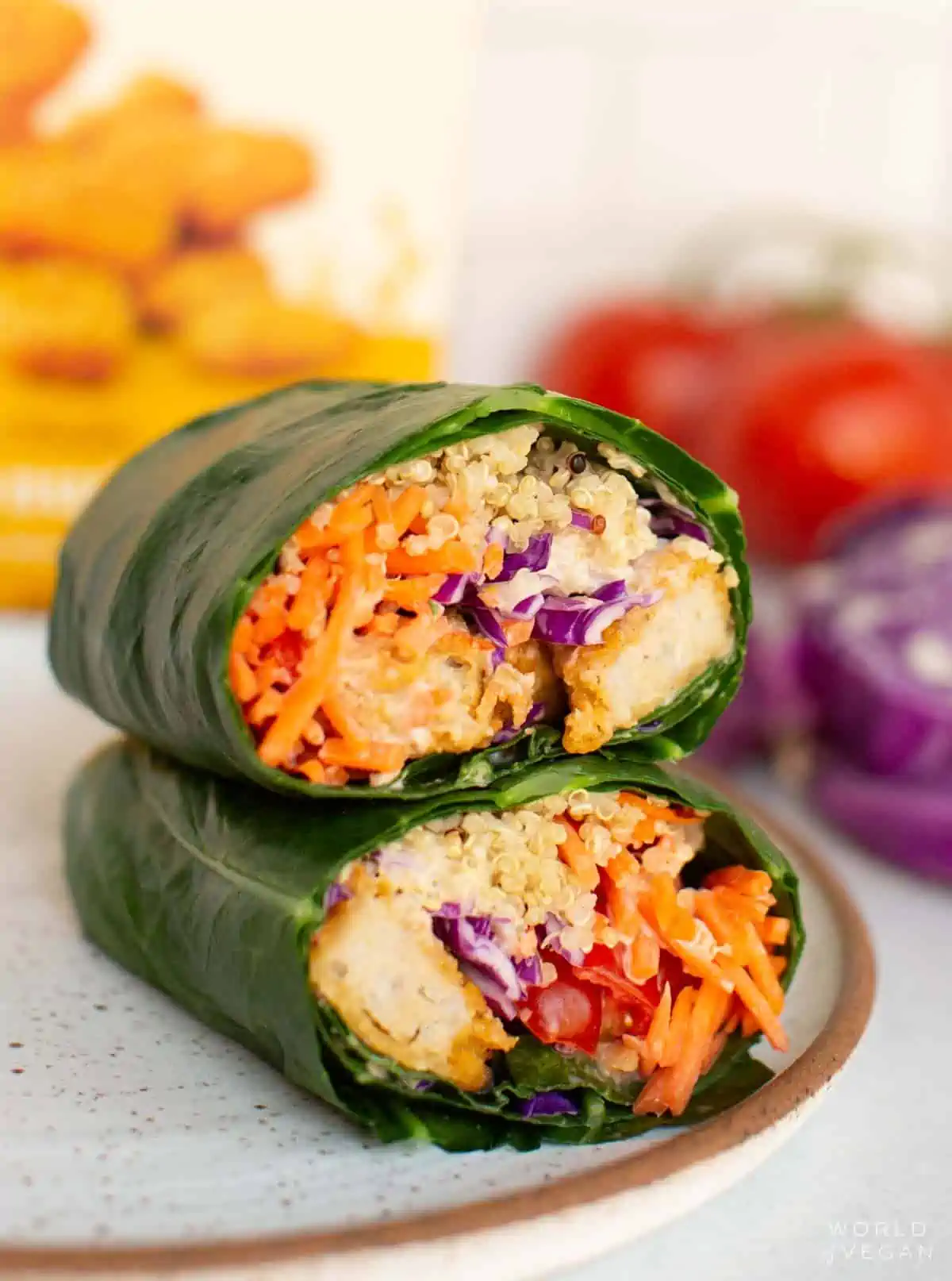 Why You'll Love This Recipe
Adaptable for any diet. Vegan or vegetarian? Of course, we've got you! Gluten-free? Check labels for your nuggets and you're good to go! Whole foods, no salt, no oil? Use this formula with your own homemade staples! Anyone and everyone can enjoy this recipe.
Super satisfying. While traditional flour wraps are high in carbs, they're mostly empty carbs that will leave you hungry again in no time. Collard greens, on the other hand, are high in fiber and complex carbs to keep you full for hours.
Make-ahead masterpieces. We're all busier than ever but that doesn't mean you can't take time to eat well. These collard green wraps can be prepared up to 2 days in advance so they're ready to roll anytime.
Kid-friendly. Granted, it might be tough to convince super picky eaters to take that first bite, but they'll be hooked on the crispy crunch of meatless nuggets smothered in creamy ranch dressing. This is a great way to ease them into eating (and loving) their veggies.
Key Ingredients
The beauty of such a flexible formula is that anything can be replaced, swapped, or modified based on what you have on hand! Use this opportunity to clear out the vegetable crisper, freezer, and pantry for a super thrifty meal. These are my favorites if you need some inspiration:
Collard greens: While you can eat collard greens raw, they're more flexible and better for wrapping once lightly blanched. Collard greens are healthy superfoods full of antioxidants, in addition to being a good source of iron, vitamin B-6, and magnesium, vitamin A, vitamin C, and calcium.
Quinoa: This quick-cooking complete protein is my go-to for any whole grain needs, but cooked brown rice, couscous, or even cauliflower rice would be great ideas for shaking up the routine.
Shredded cabbage, carrots, and sliced tomatoes: Go ahead, veg out! You can add as much as you'd like here, including thinly sliced bell peppers, olives, avocado, snow peas, sprouts, mushrooms, and more.
Plant-based nuggets: There's no shortage of plant-based chicken nuggets available in most supermarkets these days. You can always have some ready to go in the freezer for quick-fix meals, or go the extra mile to make your own vegan nuggets from scratch. These tofu fries also would make a great addition!  
Vegan ranch: Everything tastes better with creamy, tangy ranch dressing on it, right? Drizzle and dip to your heart's content! It's a healthy indulgence that makes he whole meal more satisfying.
Tips For Success
You probably don't even need to read through the instructions to understand how this effortless recipe comes together. Before you dive right in though, here are a few tips to ensure the best results possible.
Cleaning collard greens properly is critical for full enjoyment. It's hard to recover from a big clot of dirt or grit in your meal, no matter how fresh and beautiful it is otherwise. To do so, fill up a large bucket or pot with cool water and swish the whole collard greens around in it. Let them soak for 10 to 15 minutes, give each one a light scrub, and pull them out. Dump out the water and all the dirt that's collected at the bottom. Gently rise the leaves to remove any remaining grit and dry thoroughly before using.
Raw collards a bit too fibrous for your tastes? Blanched collard wraps are just as healthy, tasty, and more easily digestible. To blanch the leaves, simply drop them into a wide skillet or large pot of boiling water for a couple minutes, until they turn bright green. Drain and immediately drop them into a bowl of ice water to stop the cooking process. Swish them around to thoroughly chill. Drain and pat dry before using.
Don't limit yourself to just one leafy green wrap; there are plenty of other plants in the garden! Try Swiss chard, whole cabbage leaves, sweet potato leaves, taro leaves (ALWAYS blanched), or large mustard greens as alternative wrappers.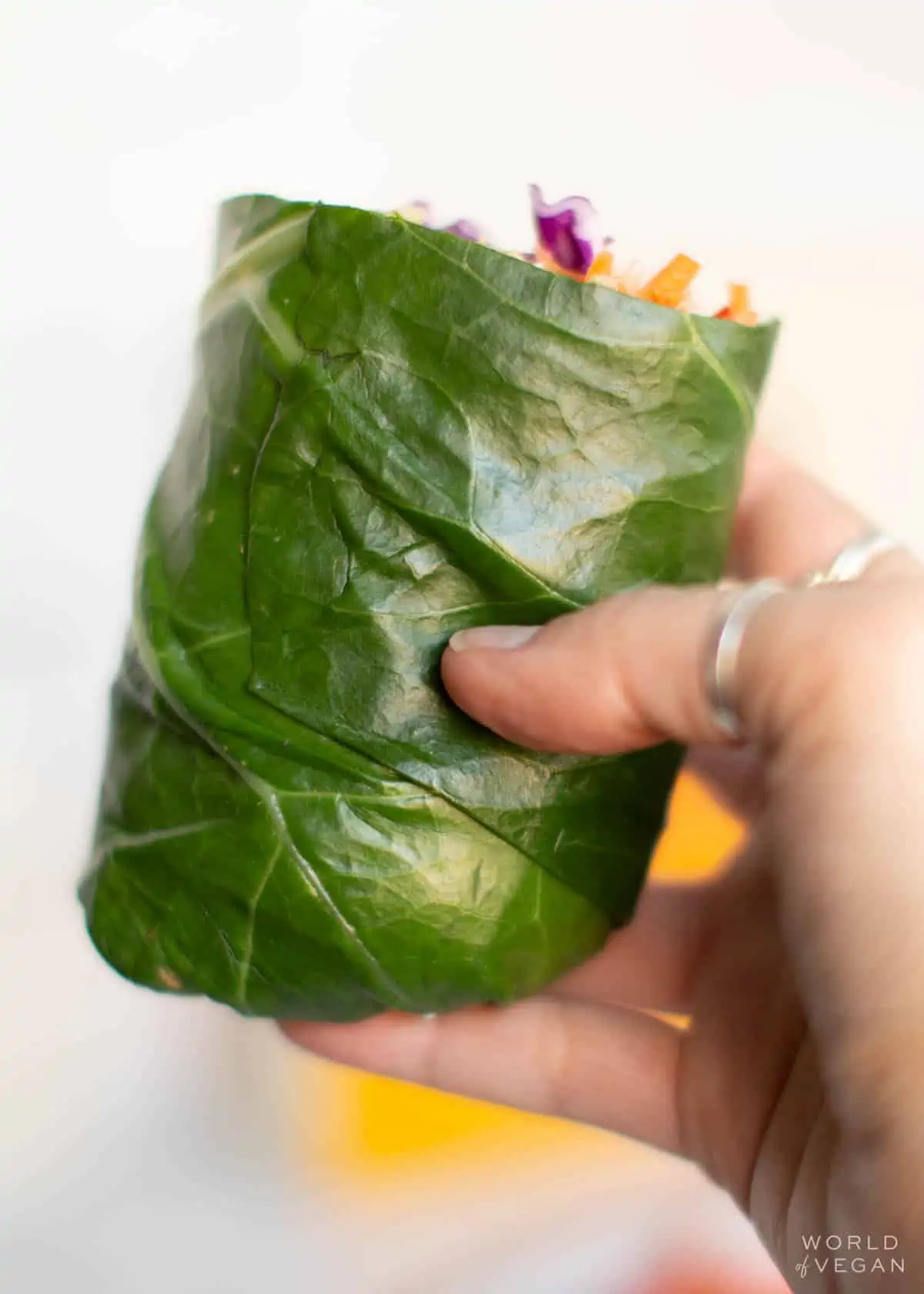 How To Serve Healthy Collard Wraps
Each little bundle of joy is a complete meal in and of itself, but that doesn't mean you can't dress up your plate further. Here are some ideas to add balance and bulk for those with especially hearty appetites:
Fruit for dessert, like cut melon, apples, and/or berries
Crackers or nuts for crunchy contrast
Soup, especially on cold days, to stay warm
Fun Facts About Collard Greens
If you're not as familiar with collards as other leafy greens, you're not alone. Get to know what's on your plate with a bit of history and trivia about this superfood ingredient!
The name "collard" comes from the Old English word "colewort," which means wild cabbage plant.
Collards are akin to the dinosaurs of plants; they may have very well been around while dinosaurs still roamed the earth. They're prehistoric species that originated in the Mediterranean area before spreading to almost every corner of the globe.
You can store fresh collard leaves in the refrigerator for up to 10 days if you keep them dry, at a temperature just above freezing (1°C or 33.8°F).
The tallest collard plant measured 4.06 m (13 ft 4 in) and was grown by Woodrow Wilson Granger (USA) in Leesburg, Florida, USA. This record has stood uncontested since 2007.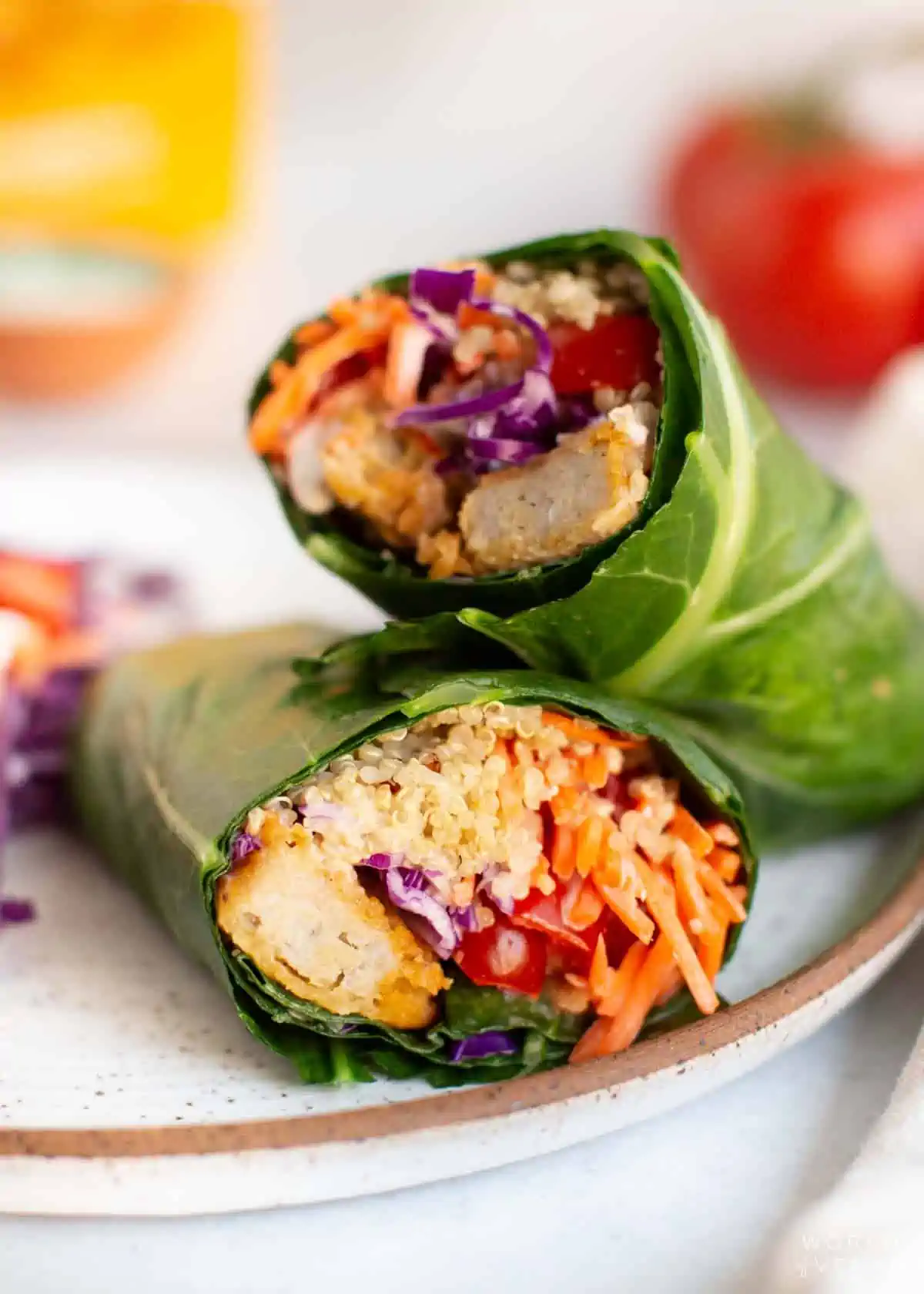 More Recipes For Dark Leafy Greens To Try
6 large collard leaves, destemmed
½ cup quinoa, cooked
½ cup purple cabbage, sliced
½ cup carrots, shredded
½ cup tomatoes, chopped
10-12 plant-based nuggets, any brand you prefer or homemade nuggets
vegan ranch, store-bought or homemade
Prepare your plant-based nuggets according to package instructions.

Meanwhile, prep the large collard leaves by slicing off the stems and shaving the back of the stem down with a small knife so it's flush with the leaf.

In a large wide skillet (large enough for the leaves to lay flat), boil 1-2 inches of water and submerge a few of the collard leaves at a time for one minute to blanch them. Remove and repeat with the remaining leaves. Blanching helps to soften the leaves so that they roll better.

Lay out three blanched leaves (overlapping) to form one large tortilla shape, and fill the center with your wrap ingredients. Layer in the quinoa, shredded carrots, purple cabbage, tomatoes, and plant-based nuggets. Drizzle with a generous amount of vegan ranch or your preferred sauce.

Roll it up tightly like a burrito using the collard leaves as your tortilla. Repeat with the rest of the leaves, using three at a time to create one large wrap. Slice in half and enjoy!
Leftovers – Store collard green wraps in an airtight container in the refrigerator for up to 2 days. Tip – Less is more when it comes to filling up your collard green wraps. Be careful not to overstuff as collard greens aren't as forgiving as tortillas.
Calories: 501kcal | Carbohydrates: 44g | Protein: 18g | Fat: 32g | Saturated Fat: 4g | Polyunsaturated Fat: 12g | Monounsaturated Fat: 14g | Cholesterol: 8mg | Sodium: 309mg | Potassium: 1142mg | Fiber: 15g | Sugar: 11g | Vitamin A: 7424IU | Vitamin C: 30mg | Calcium: 117mg | Iron: 15mg
This collard green wrap recipe and photos are by Michelle Cehn for World of Vegan, all rights reserved. Article written with support from Hannah Kaminsky and edited by Rachel Lessenden.