Creamy, dreamy, and buttery, these super garlicky vegan mashed potatoes are the ultimate comfort food. It's hard to beat classic golden spuds dressed generously with roasted garlic, perfect for supporting a meatless roast with gravy on Thanksgiving, a simple tofu steak on a weeknight, or just a spoon any day of the week.
Everyone loves this dairy-free mashed potato recipe, it's best mashed potato recipe you'll find!
Star Ingredients in Vegan Mashed Potatoes
When it comes to comfort food, few dishes can rival the creamy and indulgent goodness of mashed potatoes. In this vegan rendition, we've taken classic Yukon Gold potatoes and transformed them into a dairy-free delight that's just as rich and satisfying as the traditional version. Let's take a closer look at the star ingredients that make these Vegan Mashed Potatoes a must-try.
Yukon Gold Potatoes (3 pounds): These golden-fleshed potatoes are the foundation of our dish. Yukon Golds are known for their buttery texture and rich flavor, making them the perfect choice for creamy mashed potatoes. They mash beautifully and provide a natural creaminess that's essential for a velvety-smooth result.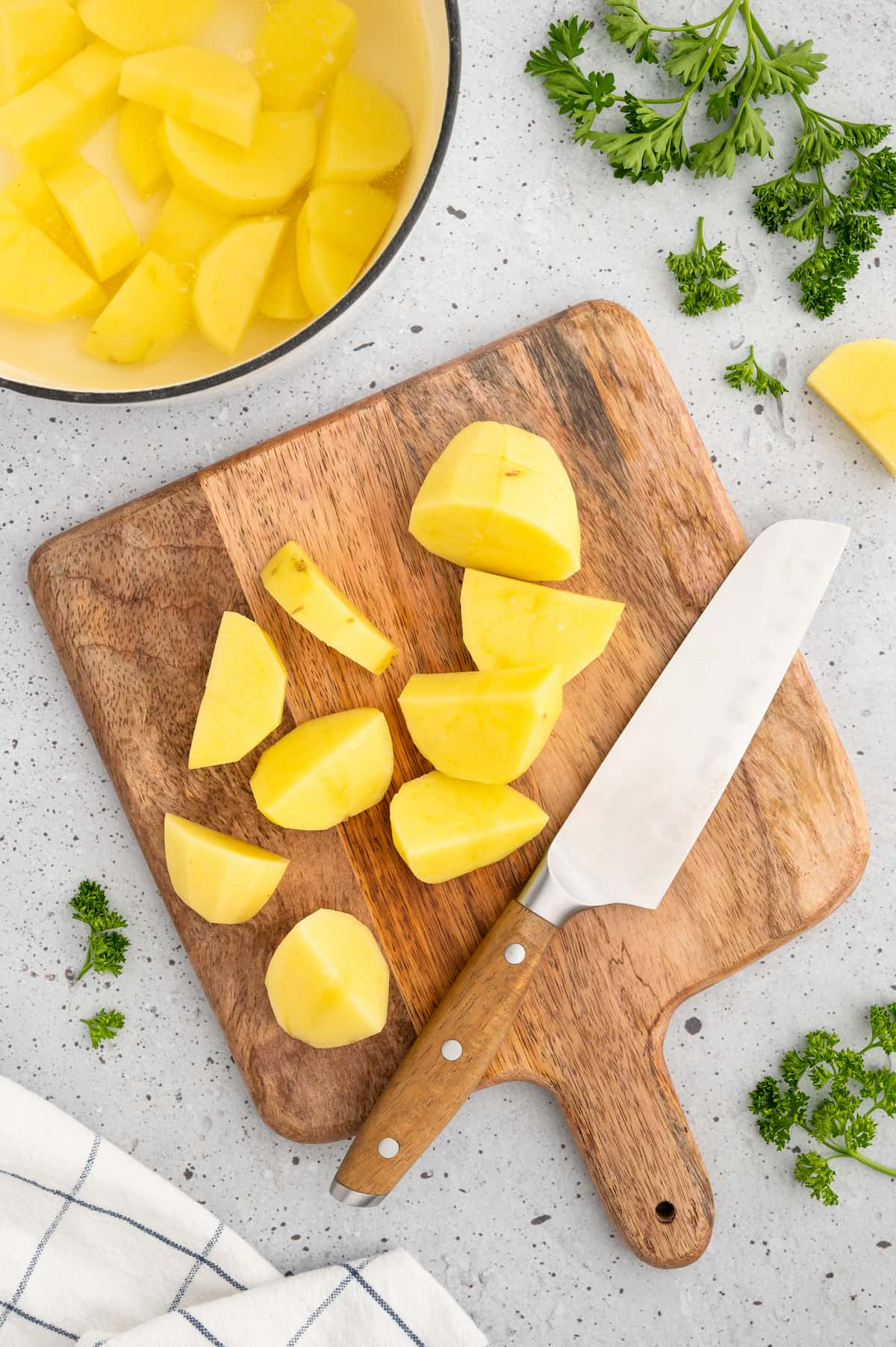 Roasted Garlic (1 large head): Roasting a whole head of garlic takes its sharp bite and transforms it into a sweet and caramelized delight. The roasted garlic infuses the potatoes with a subtle, savory complexity that elevates the flavor profile. It's the secret ingredient that adds a gourmet touch to this humble dish.
Vegan Butter: To achieve that luscious, buttery flavor without using dairy, we turn to vegan butter. It melts seamlessly into the mashed potatoes, lending a rich and creamy consistency. You can adjust the amount to your taste, but a half-cup creates that perfect balance of decadence and guilt-free indulgence.
Salt and Pepper: These two seasonings are the essential flavor enhancers. They bring out the natural goodness of the potatoes and roasted garlic, ensuring that every bite is perfectly seasoned. Feel free to adjust these quantities to suit your taste preferences.
Fresh Chives (for garnish): The finishing touch to our Vegan Mashed Potatoes is a sprinkle of fresh chives. Chives add a bright, herbaceous note that beautifully complements the rich and creamy potatoes. Chop them finely and use as much or as little as you like for a burst of fresh flavor and vibrant color.
Together, these simple ingredients create a vegan mashed potato dish that's not only delicious but also a crowd-pleaser for vegans and non-vegans alike. With the velvety texture of Yukon Gold potatoes, the depth of roasted garlic, the creaminess of vegan butter, and the finishing touch of fresh chives, you're in for a memorable comfort food experience that's cruelty-free and absolutely satisfying.
More Garlic, Please!
This deliciously dairy-free mashed potato recipe is made by garlic lovers for garlic lovers. It's packed with bursts of roasted garlic from an entire head of roasted garlic that you'll squeeze out into the potatoes before fully mashing them to creamy perfection. If you're one of those "double the garlic, please!" type of people, these are for you!
Not a fan of garlic? You can leave the garlic out of this recipe and it will still be delightful. Just pass that garlic over here, would you? I can always use more!
Why You Should Make These Plant-Based Mashed Potatoes
A better question to ask would be, "why shouldn't you make it?" The reasons to serve up a heaping helping are endless, but the top 4 are as follows:
Garlic! – There's simply no such thing as too much garlic. You have full license here to throw an entire head of the stuff into pan without holding back. Side bonus: The vampires will stay far away from you and your family tonight!
Simple ingredients – No funny business here. You can find everything you need at the standard grocery store without making a special trip.
Easy – Cooks of all ages and experience can whip up incredibly fluffy spuds with ease. Most of the cooking time is inactive, so you have plenty of opportunities to take breaks along the way.
Allergen-free – Dietary restrictions won't keep anyone from digging into this dish. Just double-check your vegan butter; ingredients can vary by brand and may include soy or nuts. If need be, you can substitute extra-virgin olive oil, plain vegan yogurt, or pure, unrefined coconut oil instead. It will change the flavor a bit but still taste every bit as rich in these dairy-free mashed potatoes.
Nutritional Benefits of Potatoes
For many years, potatoes were demonized as high-carb, empty calories, but there's so much more going on beneath the peel. Exact nutrients vary depending on the variety, but you can count on finding certain vitamins and minerals in every sort of spud.
Vitamin C – Boost your immune system with potatoes? You bet! One medium Yukon gold potato fulfills half of your daily recommended dose of vitamin C.
Antioxidants – Neutralizing free radicals before they can wreak havoc in the body, antioxidants help prevent many degenerative cellular diseases, like cancer, diabetes, and heart disease.
Fiber – Providing a sense of satiety, potatoes are very filling. This is what makes them great for
rounding out a meal to make sure everyone walks away from the table full and happy.
Resistant starch – Taking more time to digest when it reaches the large intestine, this specific type of starch nourishes the beneficial bacteria in your gut. This helps aid in digestion and in some cases, reduce blood sugar.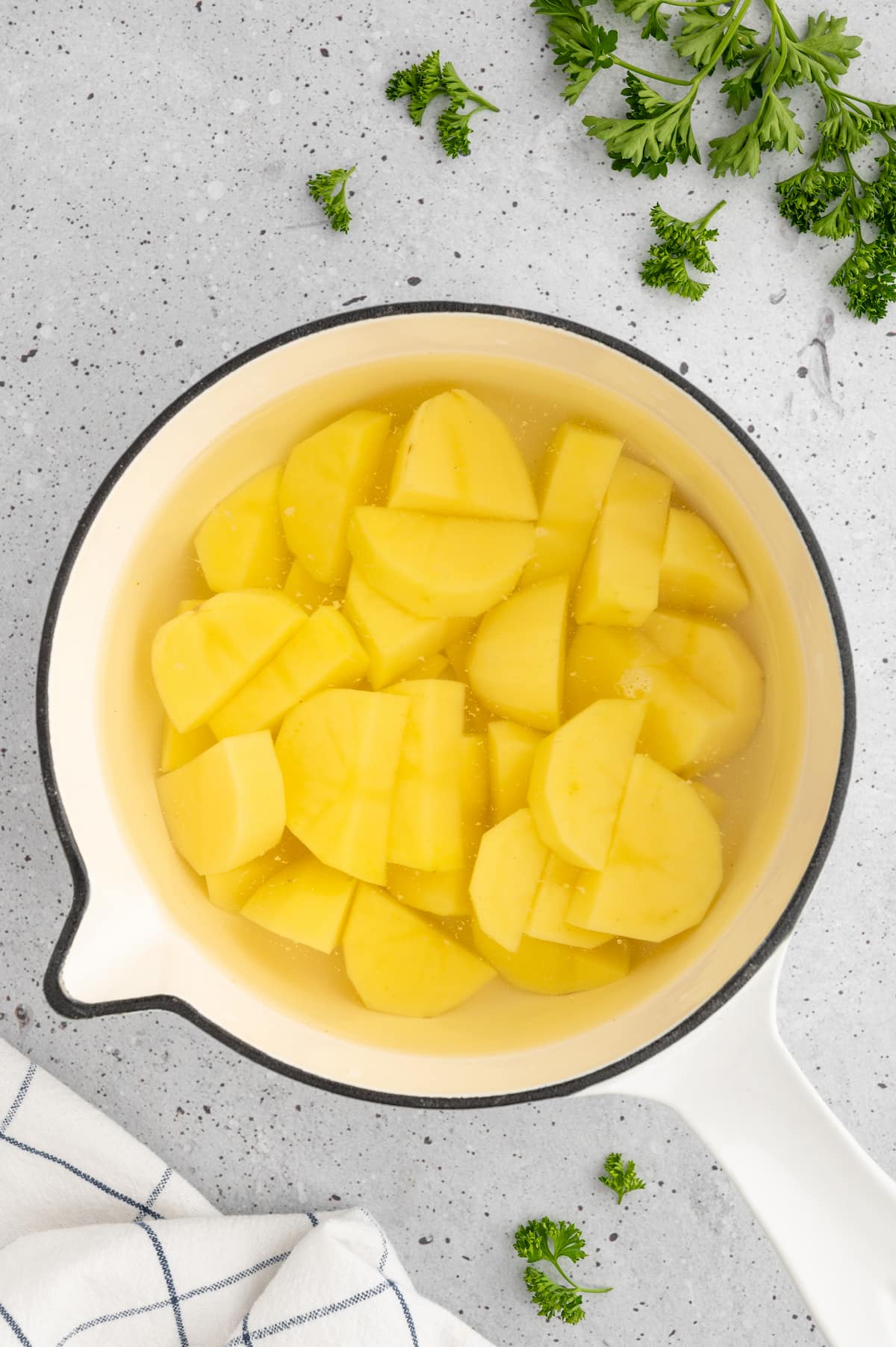 Tips for Making the Best Mashed Potatoes Ever
Anyone can make good vegan mashed potatoes right off the bat, but with a few simple tips and tricks, you can make AMAZING, crave-worthy mashed potatoes every time.
Start with cold water to make sure the potatoes cook at the same rate.
Bring to a boil and cook until fork-tender, but not falling apart.
Drain thoroughly because no one likes watery mashed potatoes.
For completely silky-smooth mashed potatoes, press the pieces through a potato ricer fitted with the finest disk. I prefer mine with a bit more texture, so I just use a good old fashioned potato masher.
Whatever you do, do not use a food processor, stand mixer, or blender, which will only create a gluey, sticky texture.
To avoid dirtying more dishes, mash the potatoes right in the pot and add vegan butter, allowing it to melt from the residual heat.
Follow that with salt and pepper, and mash away!
What Type of Potato Masher Should You Use?
Sure, you can mash potatoes with a fork, but a potato masher will save you a lot of trouble. Beyond mashed potatoes, it's an essential tool for making creamy guacamole, homemade refried beans, quick banana bread, and so much more.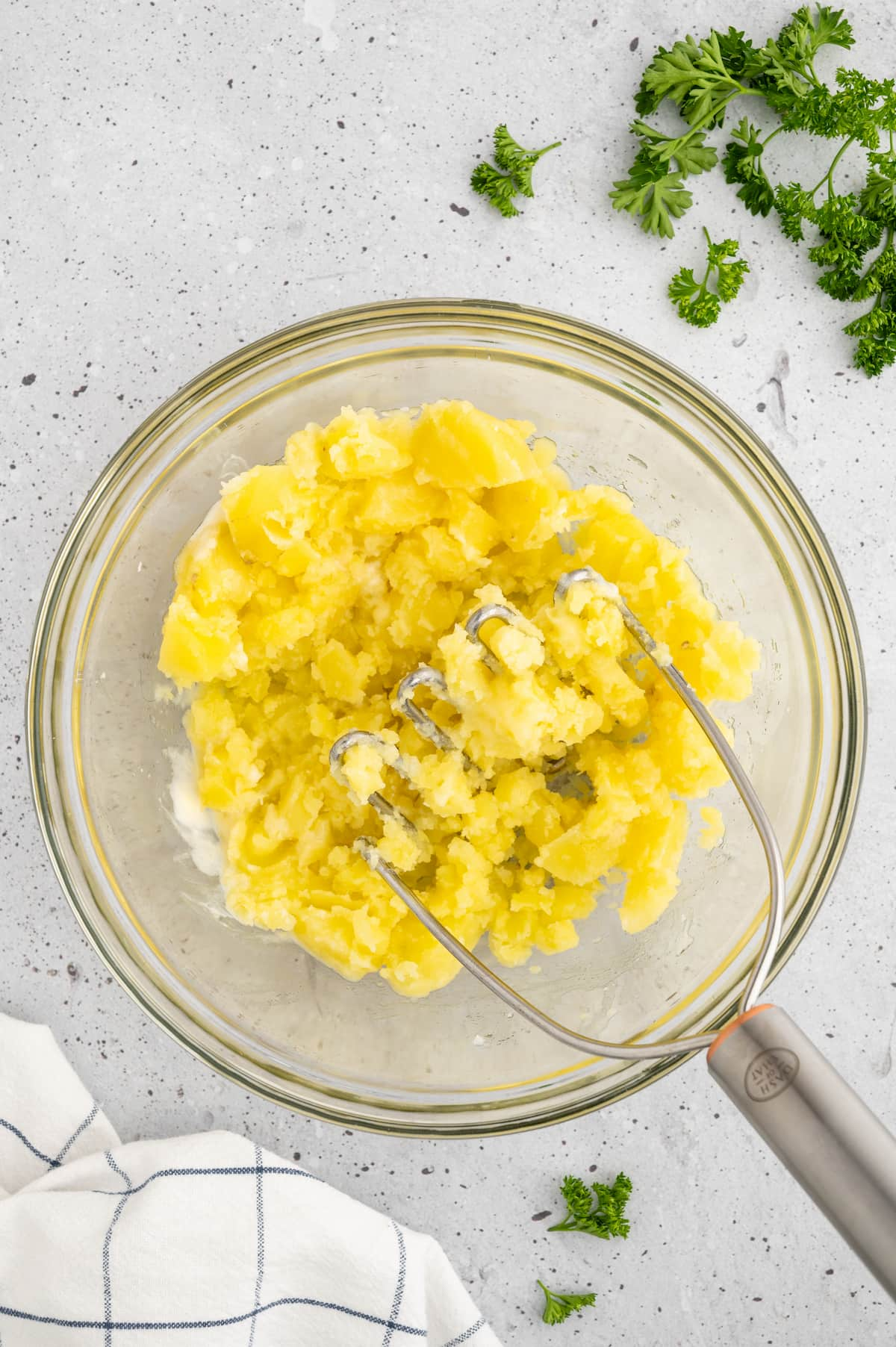 There's a wide range of designs to pick from, so which is the best? A lot of it comes down to a matter of personal preference, but the two most common models to use for mashed potatoes are:
Flat, perforated plate that ensures even, complete coverage as you mash
Zigzag or "s" type models that have a lot more open space for chunks of food to slip through
Some people say that the zigzag type making you do twice as much work. But whichever style you choose, just make sure the grip is comfortable so you can press down with force and not worry about your fingers slipping.
What Can I Do With The Peeled Potato Skins?
If you're thinking about tossing your potato skins in the compost or garbage, wait! We have a super easy and delicious zero waste recipe for potato skin chips that you've gotta try. It's just a few ingredients and will give a whole extra level of enjoyment when served as a snack before these mashed potatoes are ready.
Serve These Vegan Mashed Potatoes With…
Getting ready for a vegan Thanksgiving feast, or a hearty holiday spread of festive plant-based side dishes? This dairy-free mashed potato recipe pairs perfectly with:
How to Level Up Your Mashed Potato Flavors
It's hard to beat a pure garlicky mashed potato, but if you want a flavorful change of pace, try one of these ideas for spicing things up:
Curry powder – Heat one tablespoon of neutral vegetable oil and add 1 teaspoon of mild yellow curry powder. Cook for 20 seconds, until aromatic, and then pour it over mashed potatoes. Mix well.
Caramelized onions – Everything goes with caramelized onions and there's no limit to how much you can add. Prep the onions in advance so you can quickly stir them in at the end.
Capers or olives – For a briny, salty finish, top you mountain of 'taters with roughly chopped capers and/or olives. Bonus points if you take an extra minute to pan-fry the capers first for an extra little crunch.
Meatless bacon bits and shredded vegan cheese – Just like a loaded baked potato, but creamier!
Sriracha, soy sauce, and black vinegar – This combination is my favorite dipping sauce for vegetable dumplings, but it's also fantastic swirled into golden spuds for extra umami flavor
Lemon zest and rosemary – Bright and zingy, the bold citrus and warm earthy tastes balance out brilliantly for a fresh take on the standard mash.
Vegan kimchi – For those who like it hot, drain and finely chop a handful of your favorite kimchi before mixing it into your potatoes. Since not everyone is up to such intense spice, you might want to add this to individual portions, rather than the full batch.
More Comforting Vegan Potato Recipes To Try
3 pounds Yukon Gold potatoes, washed and halved
1 large head garlic
½ cup vegan butter, adjust to taste
1 teaspoon salt, adjust to taste
1 teaspoon pepper, adjust to taste
fresh chives, finely chopped, to taste (for garnish)
Preheat oven to 400 degrees F.

Fill a large soup stock pot with potatoes and water that comes one inch above the potatoes. Bring to a boil and cook for 35-45 minutes until super tender. You should be able to easily pierce the potatoes with a fork.

While potatoes are cooking, roast your garlic: Turn the garlic on its side and, using a sharp knife, slice off the top exposing the very top of most of the garlic cloves. Place the garlic root-down on a sheet of tin foil, drizzle olive oil over the top, and pull the tin foil up around the sides and pinch together on the top to close. Bake for 50 minutes at 400 degrees until garlic is soft.

Drain your cooked potatoes, toss them back into the large pot, and begin to mash with a potato masher. Squeeze in the garlic cloves (the soft cloves should come out of the peel easily when you squeeze it). Add the vegan butter, salt, and pepper. Continue mashing until everything is well-combined and potatoes appear light and fluffy.

Transfer to a large decorative serving platter and top with chopped chives.
Calories: 232kcal | Carbohydrates: 31g | Protein: 4g | Fat: 11g | Saturated Fat: 2g | Polyunsaturated Fat: 3g | Monounsaturated Fat: 5g | Trans Fat: 2g | Sodium: 388mg | Potassium: 736mg | Fiber: 4g | Sugar: 1g | Vitamin A: 5IU | Vitamin C: 35mg | Calcium: 28mg | Iron: 1mg
Dairy-free mashed potato recipe by Daniel Miller and food photos by J.J. Steele, copyright World of Vegan. If you try this recipe for vegan mashed potatoes, let us know what you think by leaving a comment and rating below! Be sure to follow along on Pinterest, Instagram, and Facebook for even more vegan recipe inspiration.