Whether you want to make a gluten-free vegan bread that everyone at the table can enjoy, or just want to mix up your meals, you will find a lot of inspiration from the recipes below.
Even if you're not gluten-free, these recipes are incredibly tasty and would tempt even the most die-hard gluten lover. If you think about it, gluten is only one of the possible ingredients that you can add to a recipe—there are so many more to entice and delight your hungry appetite.
We're so happy to create this round-up of tasty and sensational gluten-free recipes for you. We searched high and low for the best recipes we could find from some of our favorite vegan bloggers and hope that this guide will be a handy and helpful resource for you to refer to over and over again.
All of the recipes below are:
Vegan
Gluten-free
Vegetarian
Plant-based
Dairy-free
Cholesterol-free
Totally delicious!
Some of the recipes are also soy-free, nut-free, oil-free, sugar-free, and even raw. Let's get to it!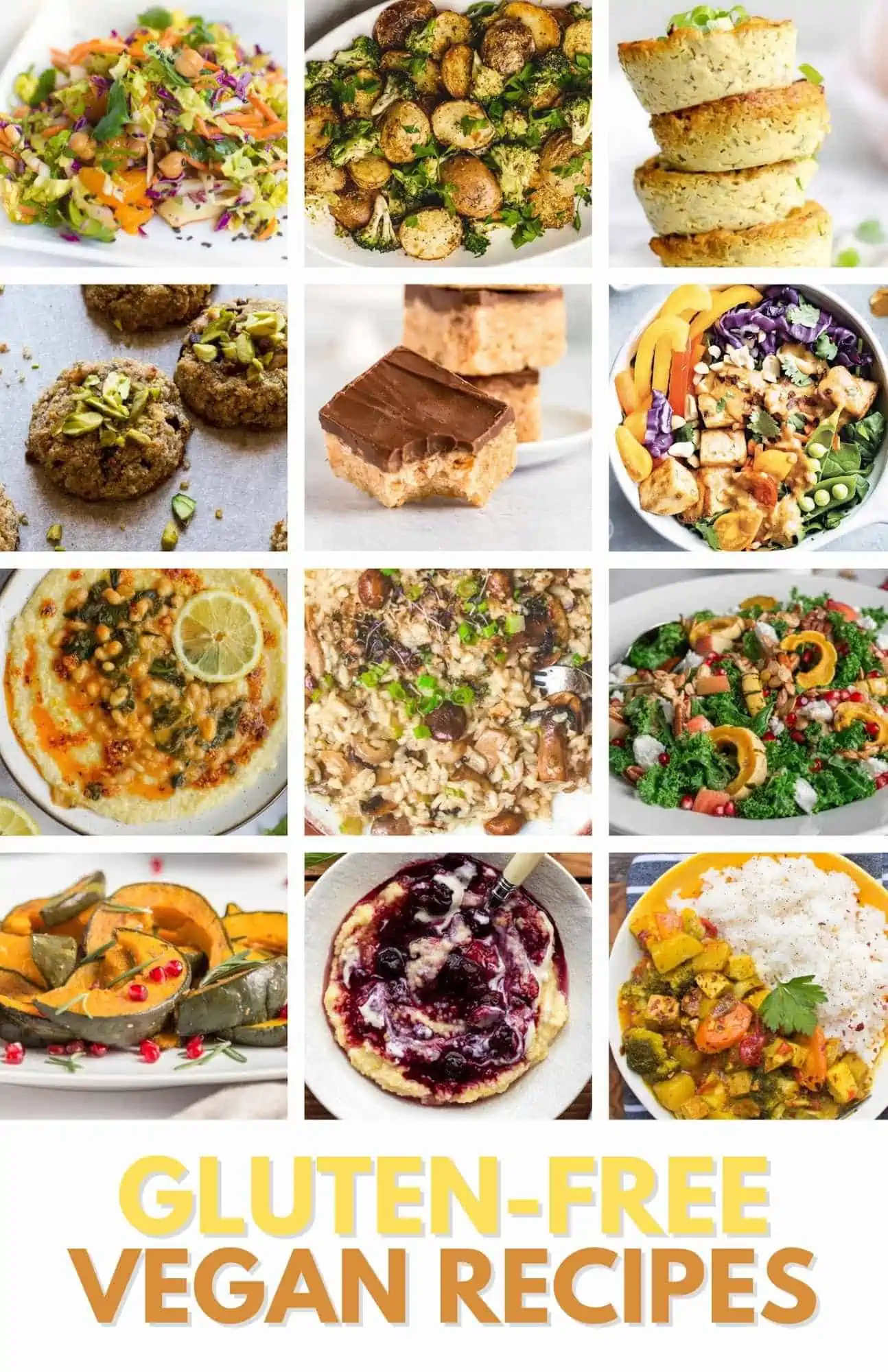 What Can a Gluten-Free Vegan Eat?
To some this concept may seem simple, but many people aren't aware that there is a difference between the terms gluten-free and vegan. So let's take a moment to define each.
Gluten Free Recipes are recipes made without gluten, which is a protein present in wheat and some other grains.
Vegan Recipes are recipes made without animal products (such as meat and seafood) or by-products (such as milk, cheese, eggs, and honey)
Gluten Free Vegan Recipes are recipes made without animal products or byproducts and without gluten.
Is Gluten-Free Vegan?
Some gluten-free recipe are vegan, and some are not. Some vegan recipes are gluten-free, and others are not. With so many different dietary habits out there, it can be easy to get confused about what exactly is gluten-free or vegan and what the overlap is between the two diets.
There are lots of foods that can be vegan and gluten-free but just because something is vegan does not mean it's gluten-free and vice versa. Foods such as rice, squash, and tofu are both gluten-free and vegan but foods such as eggs, cheese, and fish are gluten-free but not vegan.
What Exactly Is Gluten?
Gluten is a structural protein found in grains such as wheat, barely, and rye. It's what holds bread together and is present in many vegan products such as seitan and often in mock meats.
Is gluten vegan?
Since gluten is not derived from an animal product, it is totally vegan!
Is gluten bad?
There is nothing inherently bad about gluten but some people do have gluten intolerance which can lead to adverse reactions. People with an autoimmune disease known as Celiac have trouble digesting gluten due to an immune response that attacks their small intestine. They will experience adverse reactions including intestinal discomfort, brain fog, headaches, and pain.
For those with a gluten intolerance, levels of intolerance vary and others may find that they just simply need to limit their gluten intakes to feel their best!
Is Gluten-Free Bread Vegan?
Sometimes gluten-free bread is vegan, but not always. As long as gluten-free bread is made with zero animal products such as eggs or dairy, it can be vegan.
While most traditional bread is vegan by default, often times gluten-free breads are made with eggs and other animal ingredients, so check those ingredients closely. Check our handy guide on egg replacements if you're making your own gluten-free bread at home.
Here is a great gluten-free vegan bread recipe!
Vegan Gluten-Free Breakfast Recipes
Below you'll find the best vegan and gluten-free breakfast recipes. Whether you want savory or sweet for breakfast, we've got you covered.
Great for breakfast, dessert, or a mid-afternoon snack, this delicious plant-based gluten-free recipe takes just a few ingredients and a couple minutes to make! There's something so delicious about this creamy polenta getting an upgrade when its mixed with berries and other tasty toppings.
One way to level up your brunch game is with these delicious gluten-free hash browns! Made from shredded potatoes, salt, black pepper, and your choice of coconut oil or vegan butter, this is one of those vegan gluten-free recipes that takes just a few minutes to make.
Who can resist these adorably appetizing "egg" alternatives? Rachel Steenland gives us this glorious recipe for super easy and veggie-full breakfast bites. Just a minute or two of mixing and a little bit of baking is all you need to do. In less than a half hour, you'll have a plateful of sublimely portable and protein rich vegan quiche inspired snacks. You'll love them for breakfast, brunch, or any time of day––just pop one onto your plate and enjoy their "egg-y" goodness.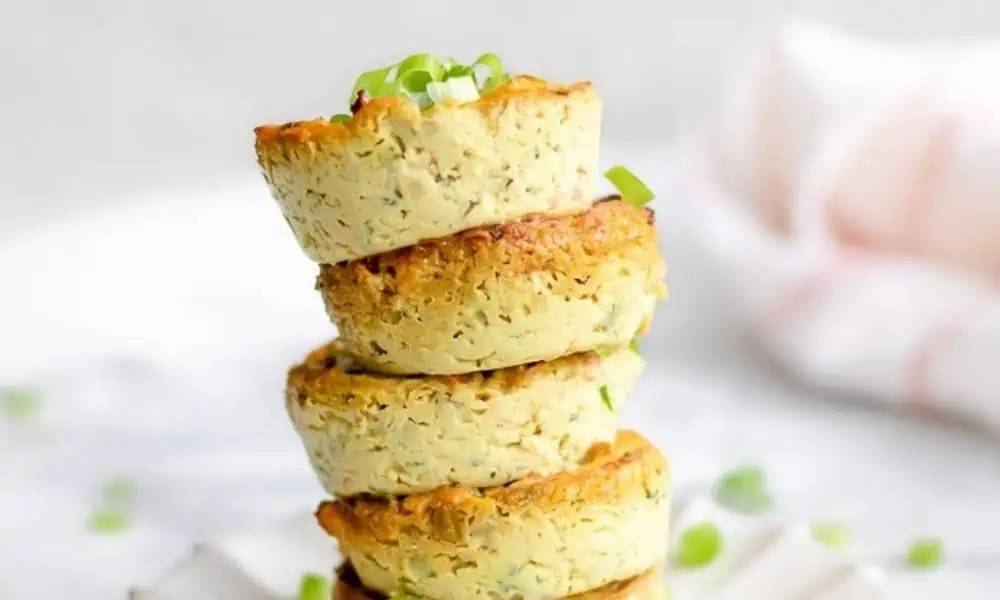 Take the guesswork out of making breakfast with these awesome overnight oats! You can make them with a wide variety of toppings such as strawberries, apples, or peanut butter. Especially great for eating on-the-go, these oats deserve a standing oatvation.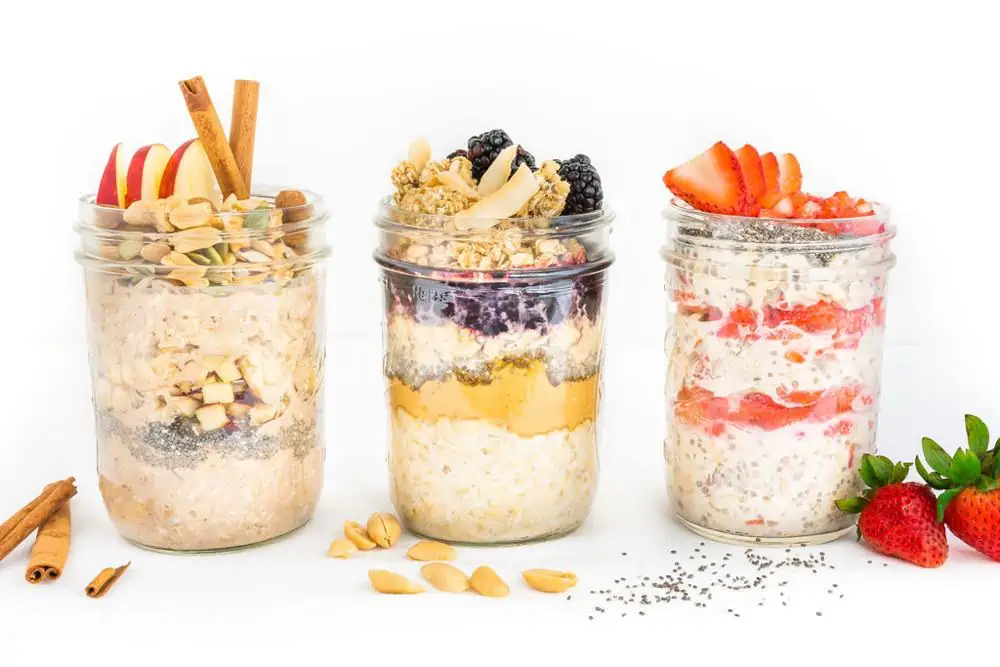 Vegan Gluten-Free Lunch and Dinner Recipes
Next up we have the best recipes for lunch and dinner that are both vegan and gluten free. You won't believe how delicious these recipes are even without gluten!
There's something about the combination of roasted potatoes and broccoli covered in a cheesy sauce. An easy vegan and gluten-free dinner side or main, this recipe for vegan cheesy potatoes and broccoli is a showstopper in every sense. You could also dress it up with extra ingredients such as tofu, chickpeas, or other colorful veggies too!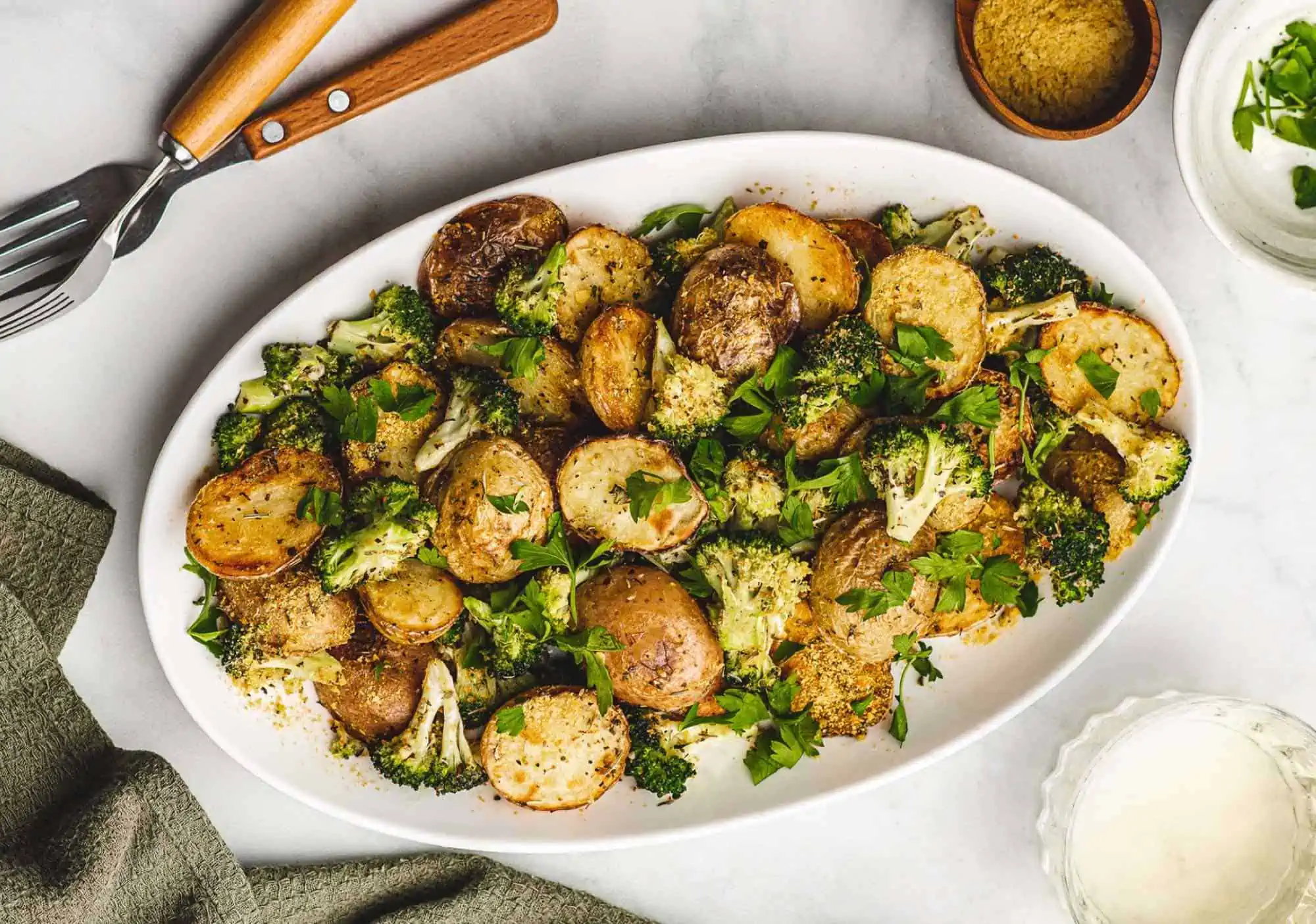 From the files of The Friendly Vegan Cookbook, our own Michelle of World of Vegan and Toni of Plant Based on a Budget share their take on a traditional Thai dish with tofu. If you love the taste of a super creamy curry, you'll be supremely satisfied with this rich and delightful recipe. Full of fresh vegetables, plump potatoes, luscious coconut milk, and tempting tofu cubes to fill your bowl and warm your belly. An excellent choice for a chilly winter day or even a sultry summer one!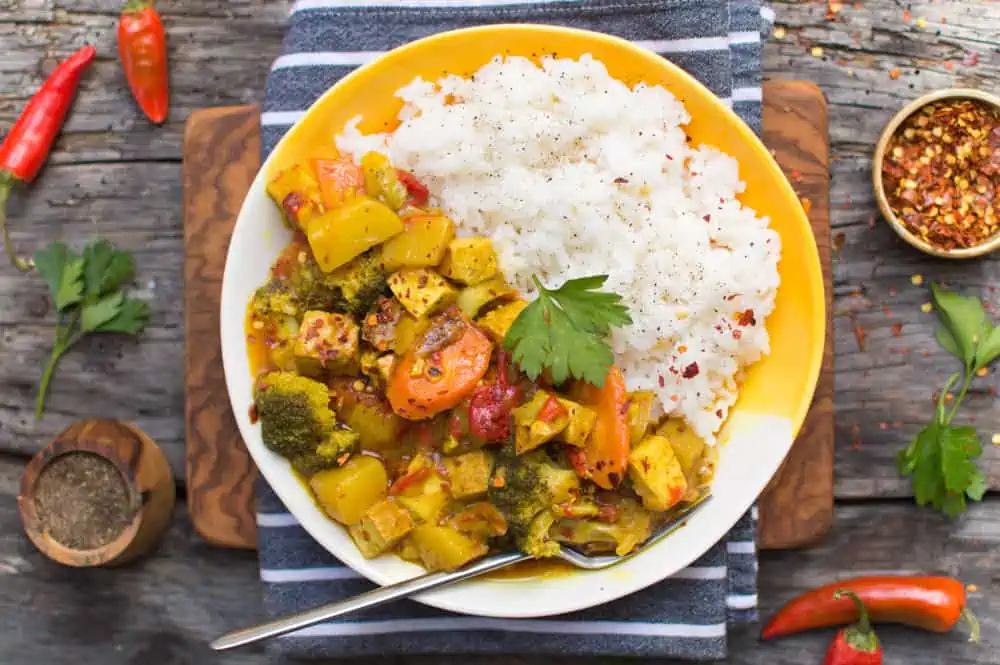 An all-around favorite with the World of Vegan team! This stew is simply sublime without a glimmer of gluten. There's just something so soothing about a simple stew, especially when accompanied by rice and beans. Growing up, we ate steamed rice with every meal and I sometimes feel lost without it. I love that this recipe combines a rich tomato sauce with soft chickpeas and is served over a bed of white rice. What could be better? If you're searching for an uncomplicated meal that is also uncommonly good, this recipe is for you!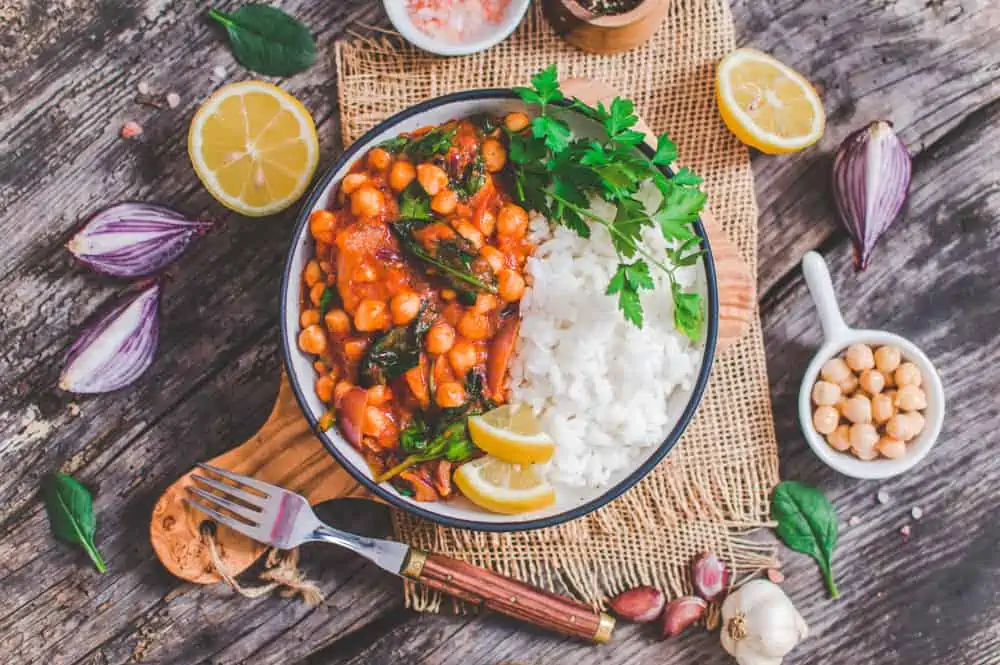 For anyone who already loves mushrooms, this arborio rice recipe is a no-brainer. The combination of a thick, cheesy sauce with smooth umami undertones makes for the most magical of meal memories. You'll be spending quality time with every spoonful and feeling grateful for every gluten-free, garlicky bit of grub.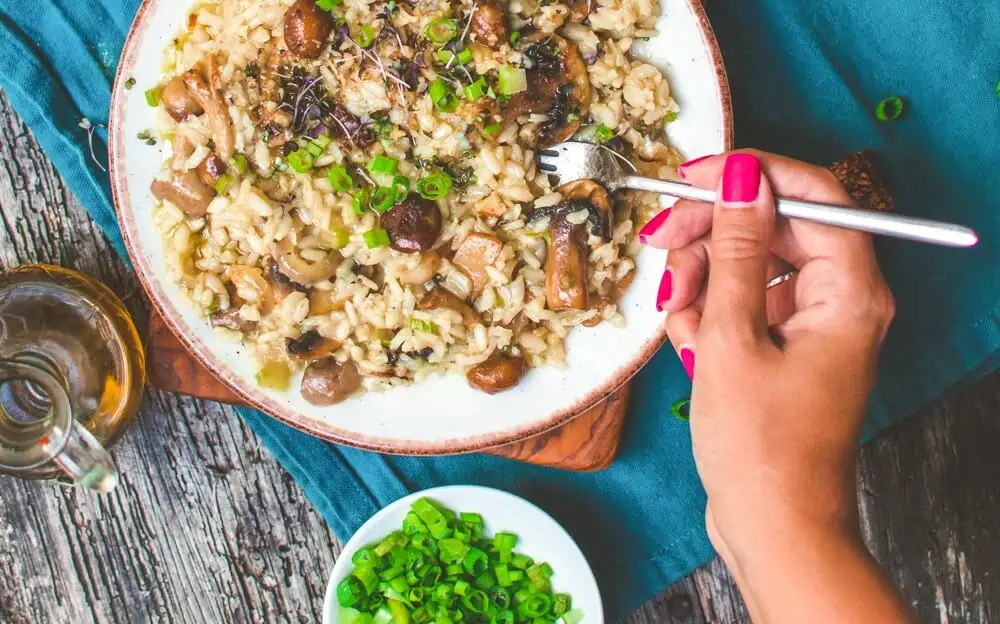 What is there that squash can't do? Delicious as the base of a meal or as a side dish, squash is one of the best vegan and gluten-free foods out there. This air-fried kabocha squash is particularly delicious with its soft orange flesh and bright, nutrient-dense skin. This dish is extremely versatile and can be modified in endless ways with more or less ingredients such as tahini drizzle or pomegranates!
These stuffed cabbage rolls are one of the most straightforward gluten free plant based recipes out there. Not only are they extremely satisfying to make but they look beautiful once they're done, too! Made with large green cabbage leaves, short-grain rice, and a variety of herbs and spices, this traditional Jewish recipe is great for enjoying with your family or for prepping for the week.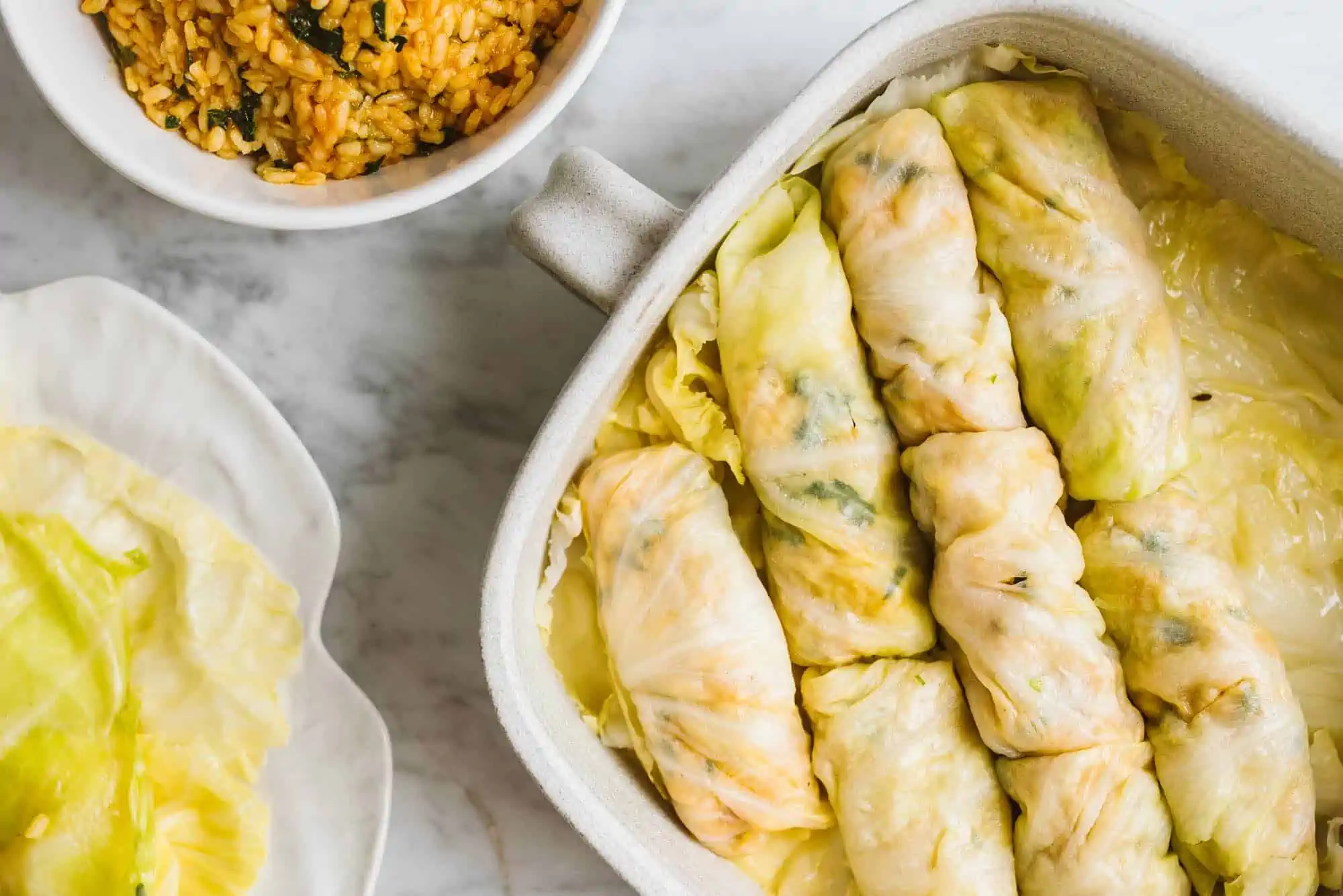 Have you ever dreamed of eating a tater tot casserole but just didn't know what to make it with? Well, dear reader, we are here to answer your dreams with this amazingly decadent recipe for cheesy one-pan vegan burger tater tots. As long as you go with gluten-free beefless crumbles, this recipe is naturally gluten-free, 100% mouthwatering, and sure to be a hit with the kids.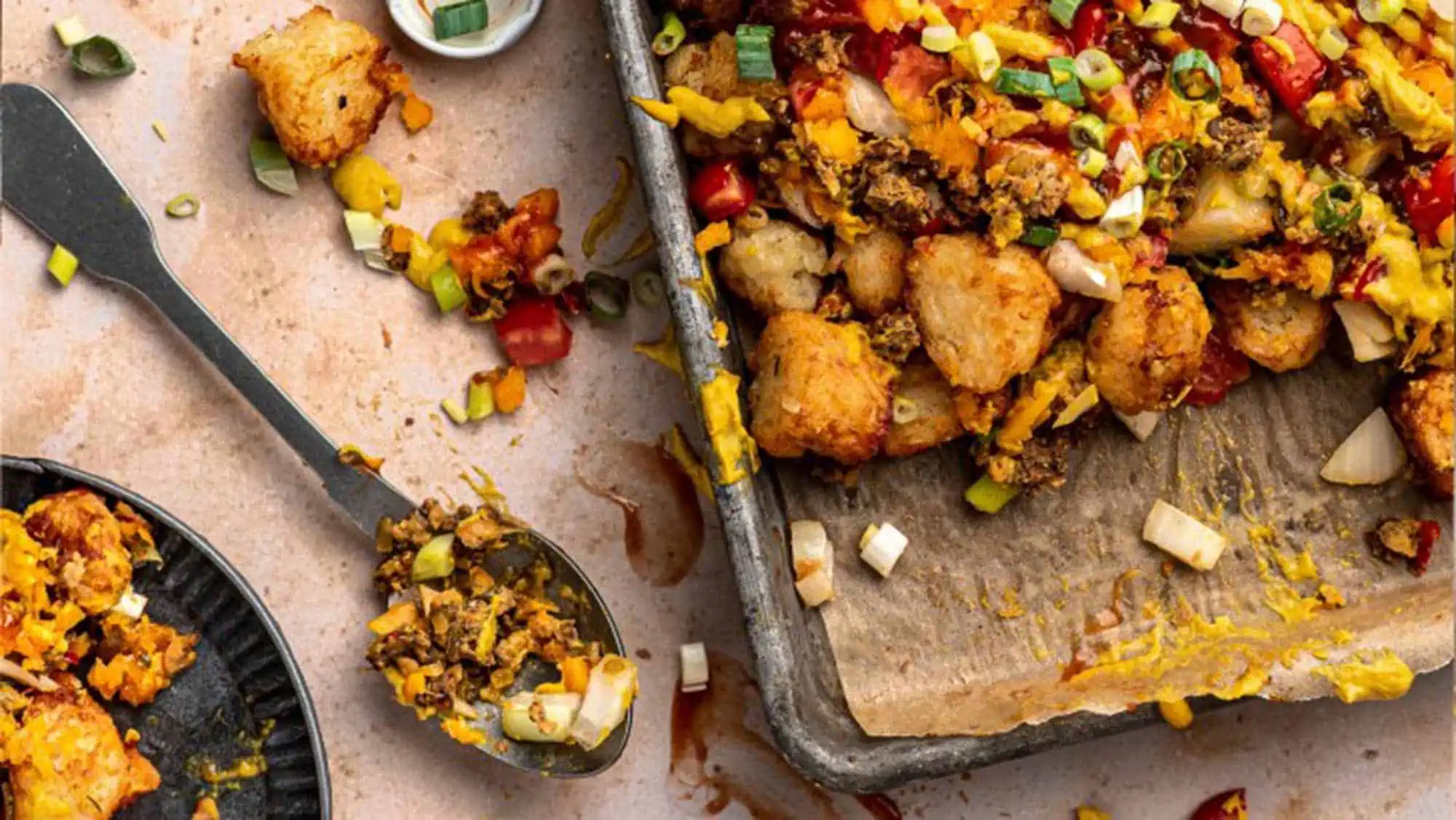 Whoever said salad had to be boring? This tasty tofu Thai salad bursts brightly with color, flavor, and plenty of crunch. Enjoy with a side of rice or gluten-free vermicelli!
Seeking a more exciting gluten-free lunch or dinner option? These jackfruit tostadas will do just the trick with savory flavors of marinated jackfruit and seasoned refried beans. Top with some avocado, salsa, and vegan crema and you'll be in paradise!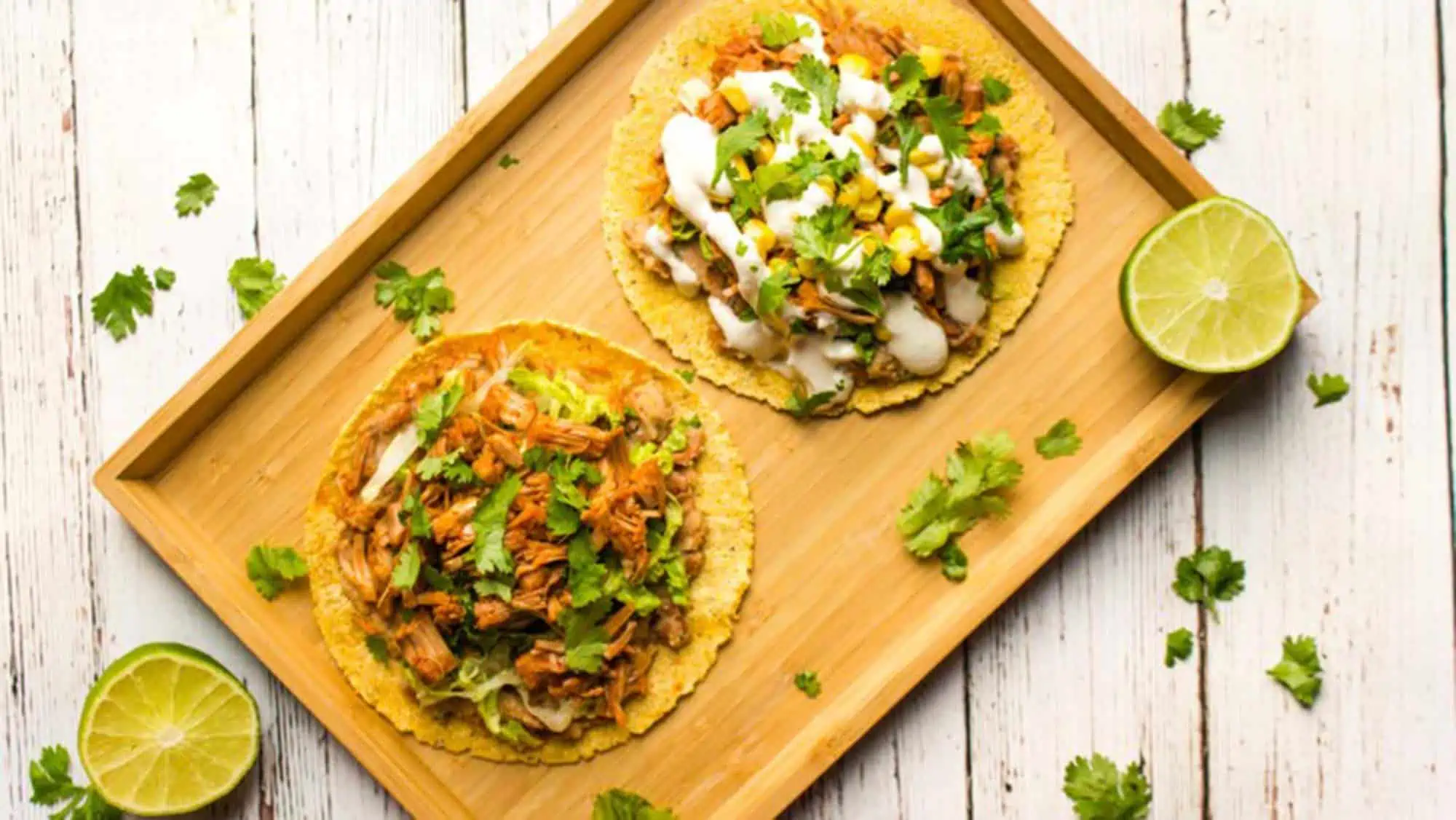 Spice up your life with these delicious chipotle mushroom tacos! A simple yet super tasty recipe, these gluten-free vegan tacos will come together in just a few minutes. Complete your tacos with some gluten-free vegan side dishes like rice and beans for the ultimate meal!
Crunchy, sweet, and savory all at the same time, this is one of those gluten free vegan recipes that you just can't get enough of. Delicious on its own or as a gluten-free vegan side dish, this Chinese chickpea salad is a must make!
Want your food to look as good as it tastes? Then you've got to make these rainbow collard wraps! Vegan, gluten-free, and full of tasty nutrients, these wraps are as filling as they are beautiful. Best of all, they're super easy to customize so you can swap ingredients in and out as you'd like!
If you love salads and love fall, then this delicious delicata squash salad is for you! Featuring an array of fun flavors from ingredients such as pecans, pomegranates, and vegan feta, this is one satisfying salad
Discover the most superb and scrumptious satay with Megan Evans' recipe from MegUnprocessed. Her slightly sweet and savory peanut sauce is like heaven on the tongue and goes so well with the tofu skewers. Air frying the marinated tofu slices makes them crisp and delightfully dippable. I love that she uses tart and tangy pineapple juice to give her sauce an extra perky punch. Excellent as an appetizer or even as a main course for the family with a few extra add-ons. But, beware, you may find that you're eating all of the satay yourself––it's that good!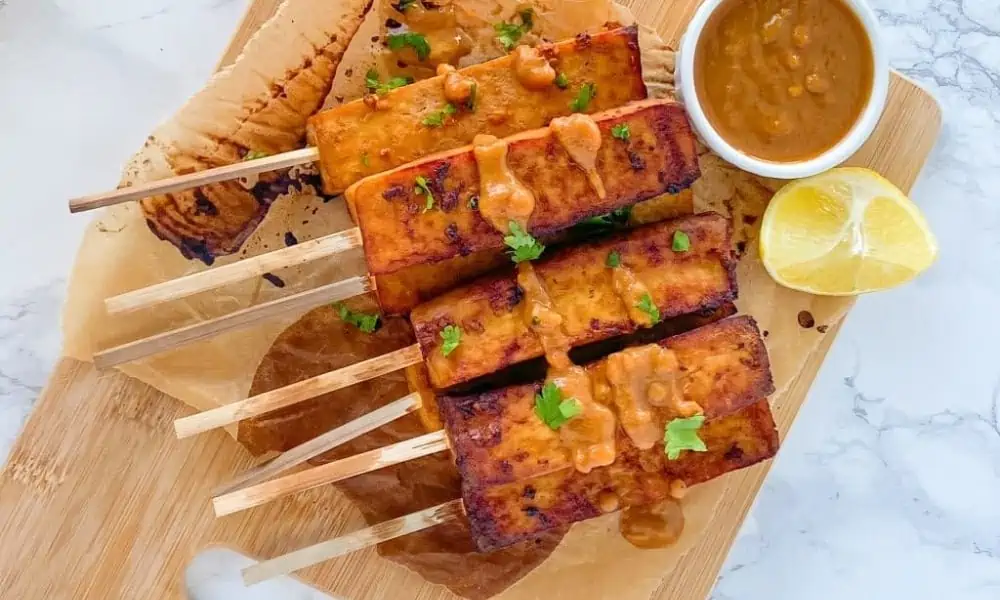 Quinoa & Veggie Bowl With Cilantro Tahini Dressing
Create your own bright and colorful grain bowl with this simple and easy recipe by Toni Okamoto from Plant Based on a Budget. Using deliciously quirky quinoa as a base, you can then arrange whatever veggies you wish on top. Select from beautiful bell peppers and brussels sprouts to creamy avocado and ravishing radishes––nothing is off limits when designing this dish. The savory cilantro dressing is perhaps the star of the show because of its super fresh flavor and lemony lift. You'll love how fun and flexible this rainbow plate is to prepare. It's sure to become your favorite vehicle for veggies!
Jasmine Briones and Chris Petrellese from Sweet Simple Vegan show us how to prepare the most perfect stuffed peppers in flash with their fantastic recipe. And, if you buy already cooked quinoa, your cooking time will be cut in half. It's as simple as mixing chickpeas, marinara sauce, vegan cheese, and quinoa into a bowl and spooning it into your bell pepper halves. Bake and serve. This gorgeous, gluten-free meal looks incredibly fancy and tastes even better! You can't go wrong with such a warm, simple, and satisfying supper.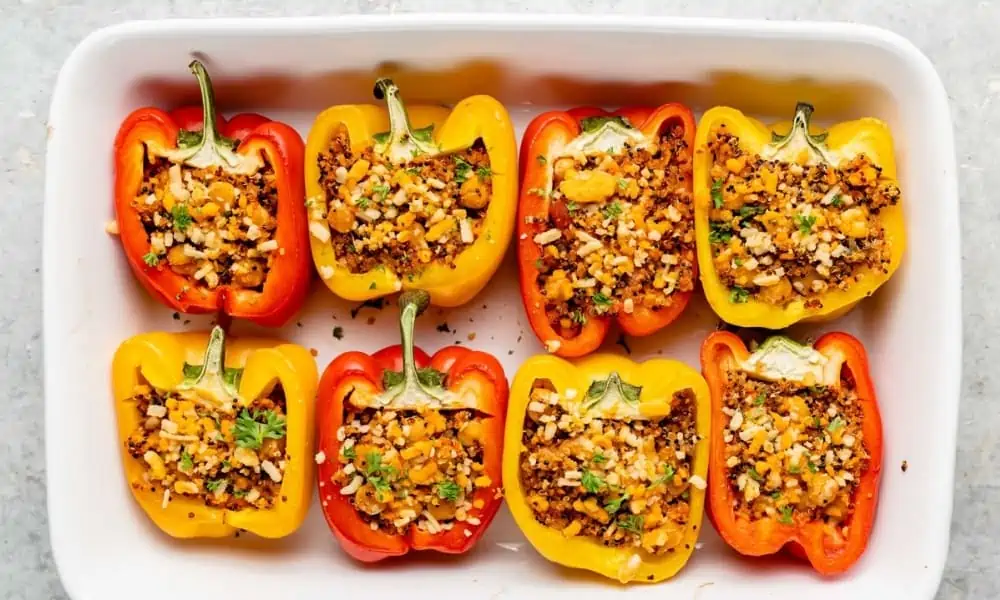 This piping hot and classically comforting recipe comes from Remy Park of the Veggiekins blog. I love that her beautifully baked pie is so versatile—you can choose whether you want sweet or white potatoes and either tofu or plant-based meat. Not only is this delicious dish vegan and gluten-free, but also refined sugar-free and oil-free. Though, you'll never know it from the rich and complex flavor. Guaranteed to gratify due to its luscious layers and thick, rich texture, Remy's Vegan Sweet Potato Shepherd's Pie will become your new favorite meal for any night of the week!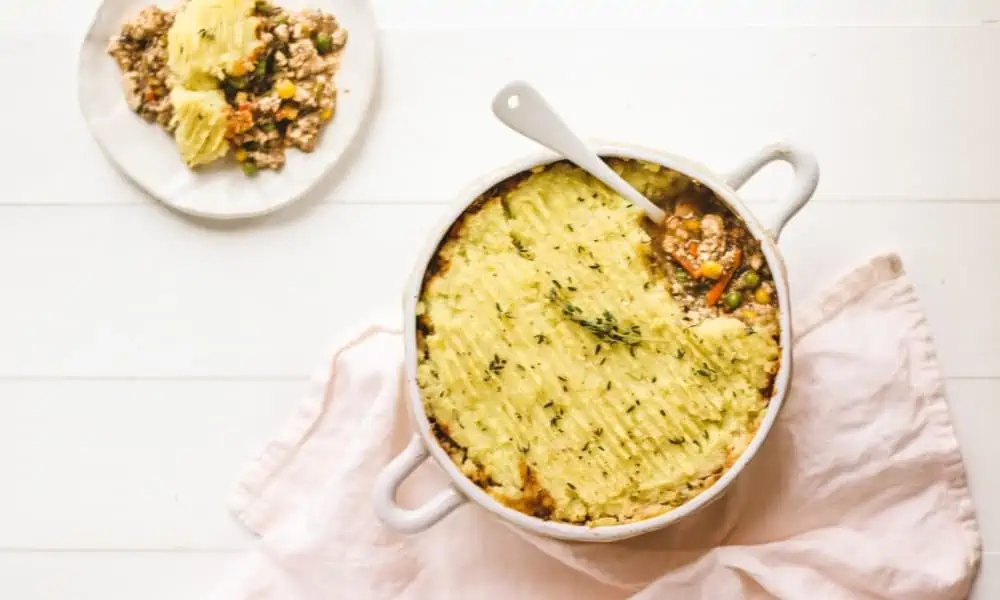 Who says cabbage soup is only for diets? Carleigh Bodrug of PlantYou debunks this myth in a moment with this light and nourishing detox concoction. You'll find that this gluten-free vegan cabbage soup recipe has a deep, rich flavor and lovely soft texture. The addition of cubed potatoes make this soup super satiating while the ginger, garlic, and oregano spices give warmth and an irresistible aroma. You won't find a heartier or healthier soup to add to your weekly list of lunches. So tasty!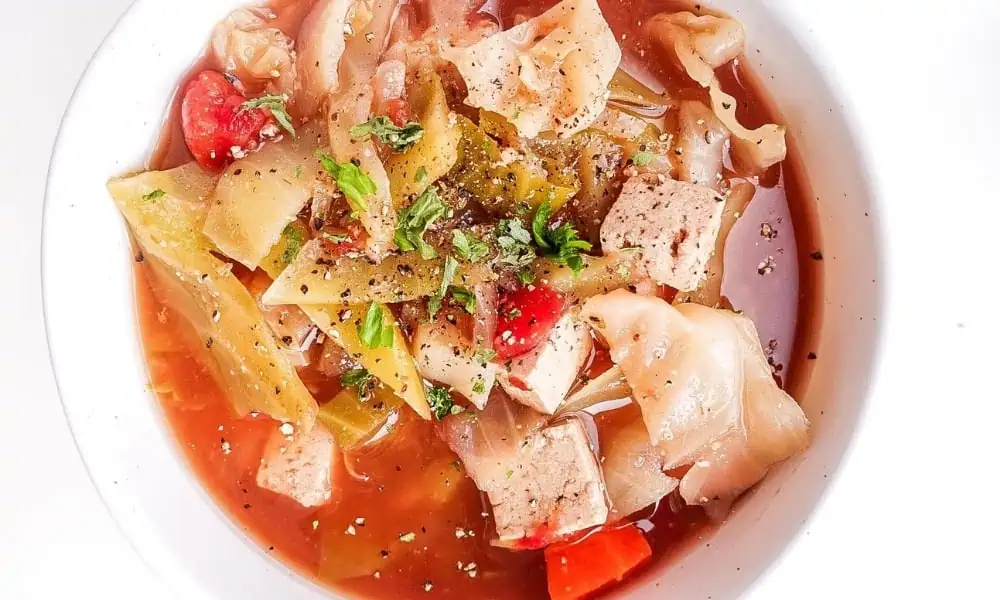 Francesca Bonadonna from Plantifully Based shares with us her super creamy vegan polenta recipe that will knock your socks off! This meal can be made in under 30 minutes and will soothe your belly to satisfaction. Boosted by soft white beans and nutrient-rich greens, the cornmeal-based recipe has all the protein and fiber you need for the day. Plus, the fantastic flavor is out of this world, especially with a bit of coconut milk and crushed red pepper. If you've never tried polenta in the past, this is the perfect recipe to start with and we think you'll be more than pleased!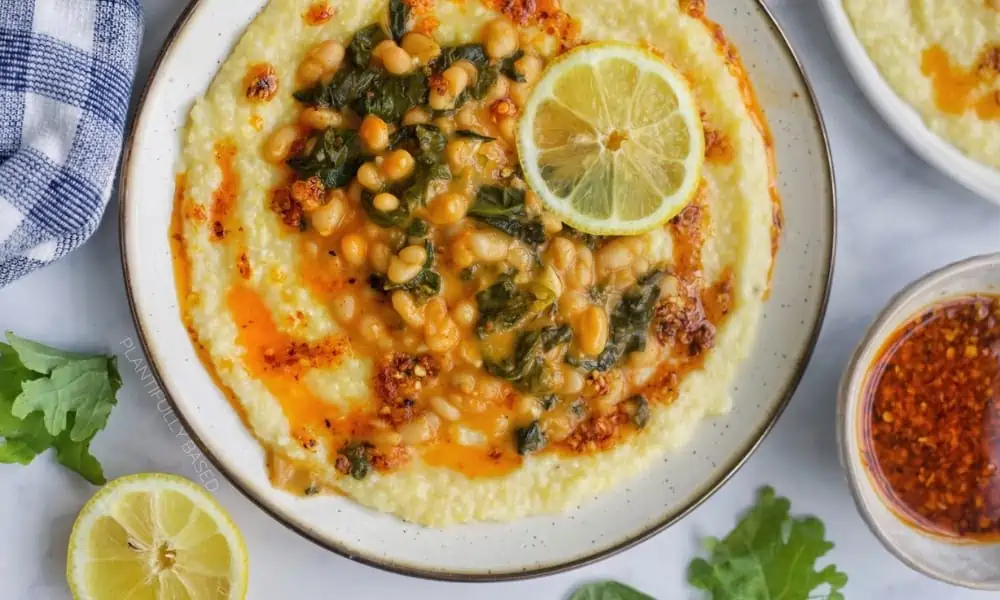 This Thai-inspired red curry noodle soup made with rice vermicelli is great for several reasons! First, it's a well-rounded meal full of delicious veggies, noodles, and optional vegan protein. Second, it's a total comfort meal with dynamic sweet and savory flavor with a heated undertone. Third, it's super easy to make! You could literally just throw everything into a pot and call it a day or—if you really want to go the extra mile—you could also roast your veggies before throwing them into the soup.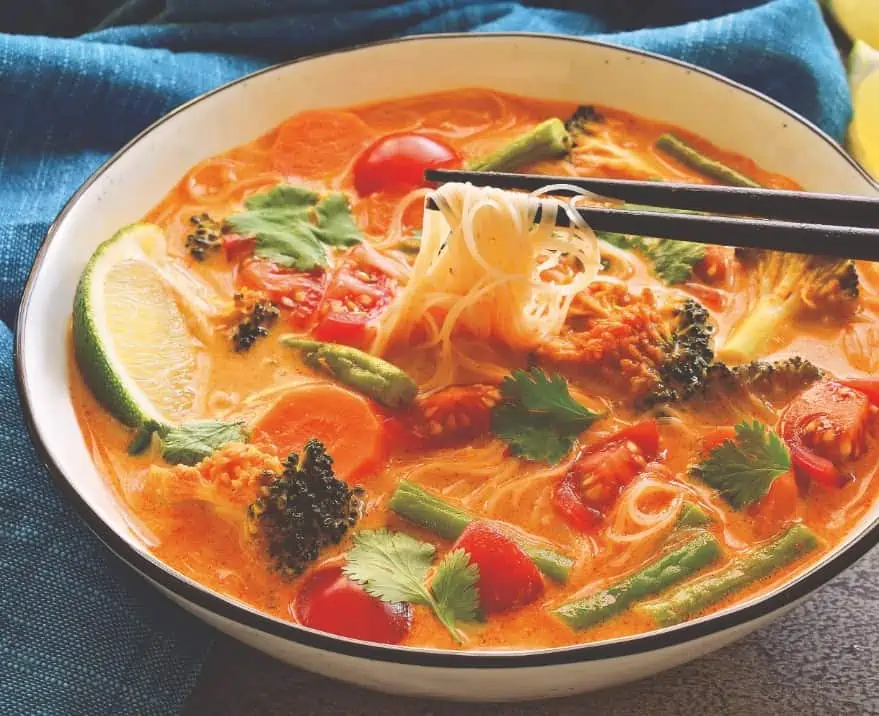 The power of chickpeas and quinoa is strong with this scrumptious salad. Easy, filling, nutritious, and full of plant-based protein, this simple vegan salad is great for a quick lunch or light dinner.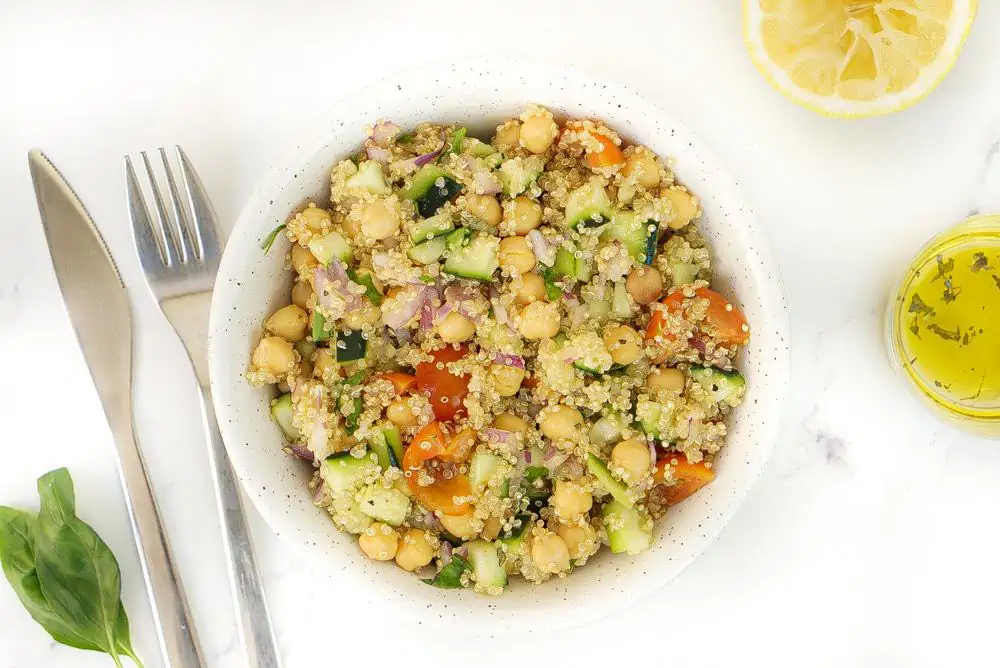 Vegan Gluten-Free Snacks
Snacks can be a struggle on a gluten-free plant-based diet when it seems so many store-bought snacks are full of gluten. To make it easy for you, we've found the best, easy, and totally delicious snack recipes to make at home that are both vegan and gluten-free!
This traditional Indian dish is not only vegan and gluten-free but is also packs quite a protein punch! A rural porridge recipe made with rice and lentils, khichdi is great for making in large batches to enjoy throughout the week and goes well with a variety of other dishes.
These are quite possibly the easiest granola bars you will ever make and they just so happen to be vegan and gluten-free! Rachel Lessenden from Health My Lifestyle simplifies it with just five ingredients that I'm willing to bet you already have on hand. They're also so easy to customize with different mix-ins but they're incredibly delicious all on their own!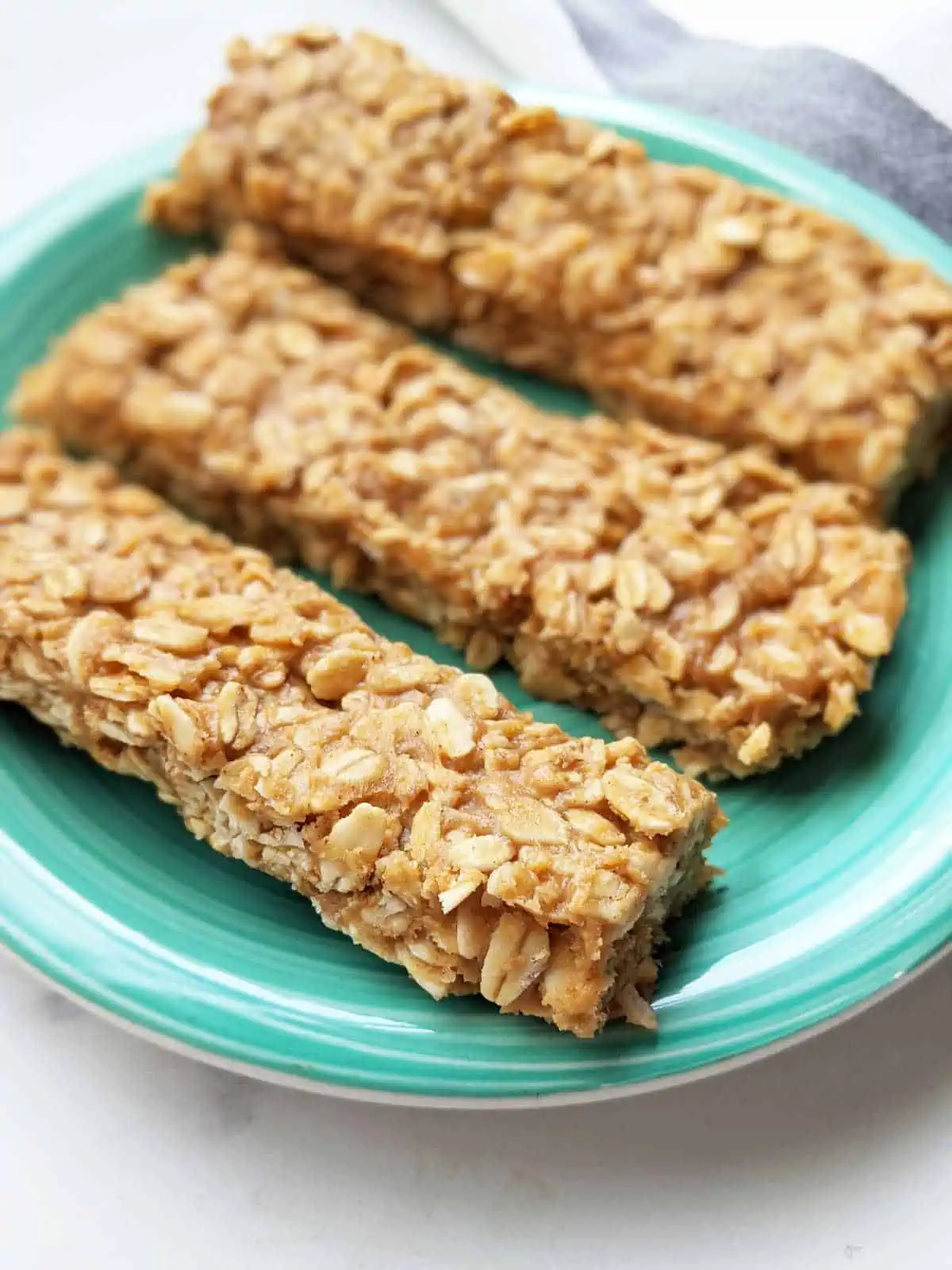 This tapioca pudding is surprisingly easy to make with just 6 simple ingredients. In 30 minutes you've got creamy, sweet, chewy, delicious vegan tapioca pudding that's naturally gluten-free!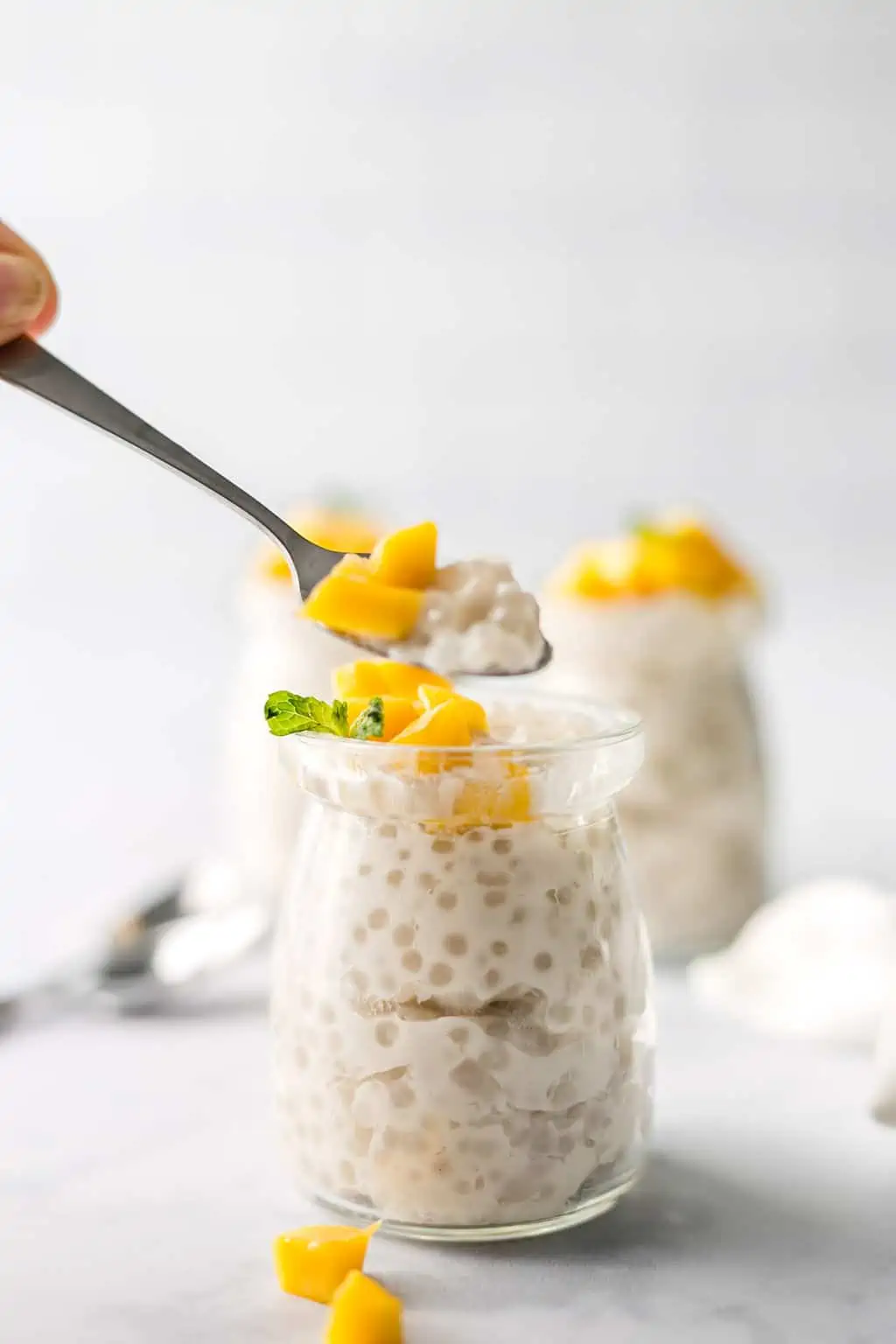 These crispy chickpea nuggets are the perfect gluten-free snack! They come together quickly, are easy to make, and are incredibly delicious on their own or dipped into your favorite sauce! Make them as a filling snack or an easy lunch are dinner. You really can't go wrong with these vegan chicken nuggets!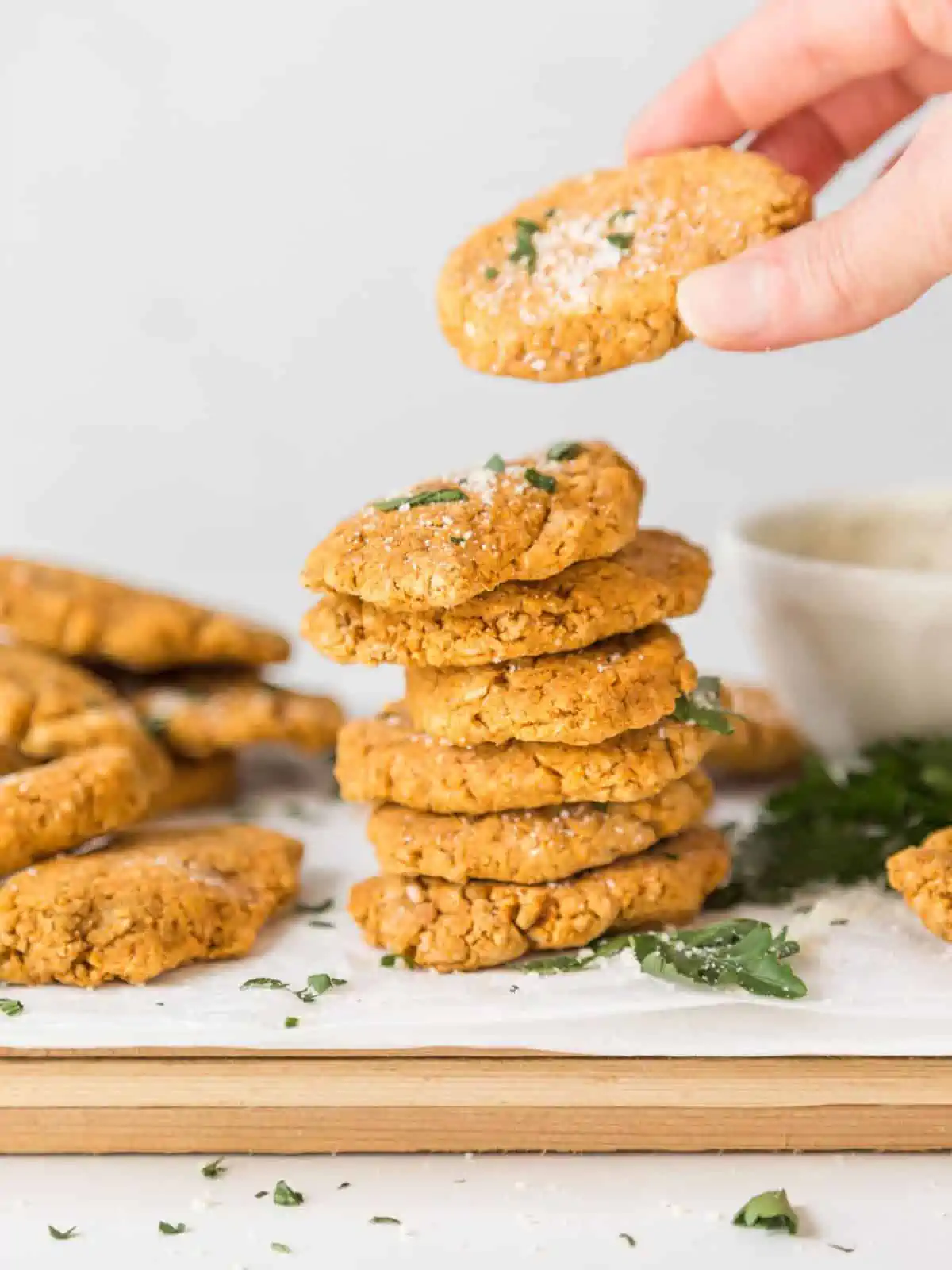 Vegan Gluten-Free Desserts
You don't have to miss out on desserts when you need a vegan and gluten-free recipe. Check out these awesome recipes below that are truly indulgent, mouthwatering, and will leave you completely satisfied when that sweet craving strikes.
A super crunchy gluten-free vegan dessert, these Scotcharoo bars will put a pep in your step any time you take a bite. Made with gooey peanut butter, chocolate, and crispy rice, this Midwestern favorite is a tantalizing treat.
Wondering what to make for dessert? Try these lemon pistachio quinoa cookies! Loaded with flavor, crunch, and a unique texture, these tasty gluten free vegan treats are great any time of day. Enjoy a nice boost of protein while you chow down, too!
You read that right, this is a recipe for vegan snickers! Relive your childhood Halloween memories with this unbeatable combination of chocolate, dates, and peanuts. In addition to making an amazing treat, this delectable dessert makes an incredible gift to give to a loved one.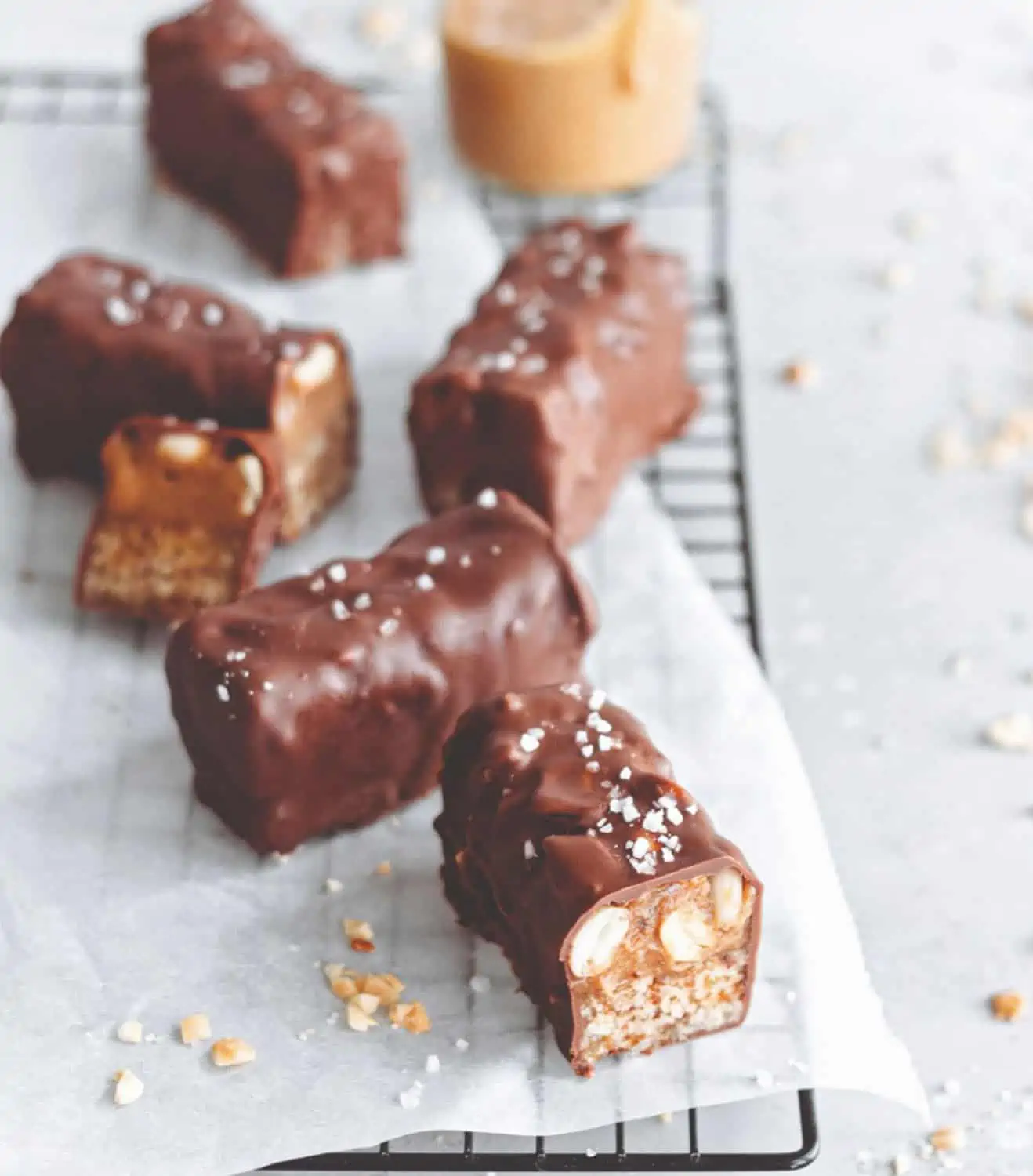 These vegan chocolate cupcakes from Rachel Lessenden of Health My Lifestyle are sneakily gluten-free but you'd never know. They're perfectly chocolate-y, moist, and topped with an easy homemade vegan chocolate frosting. And bonus: these can be ready in just 30 minutes!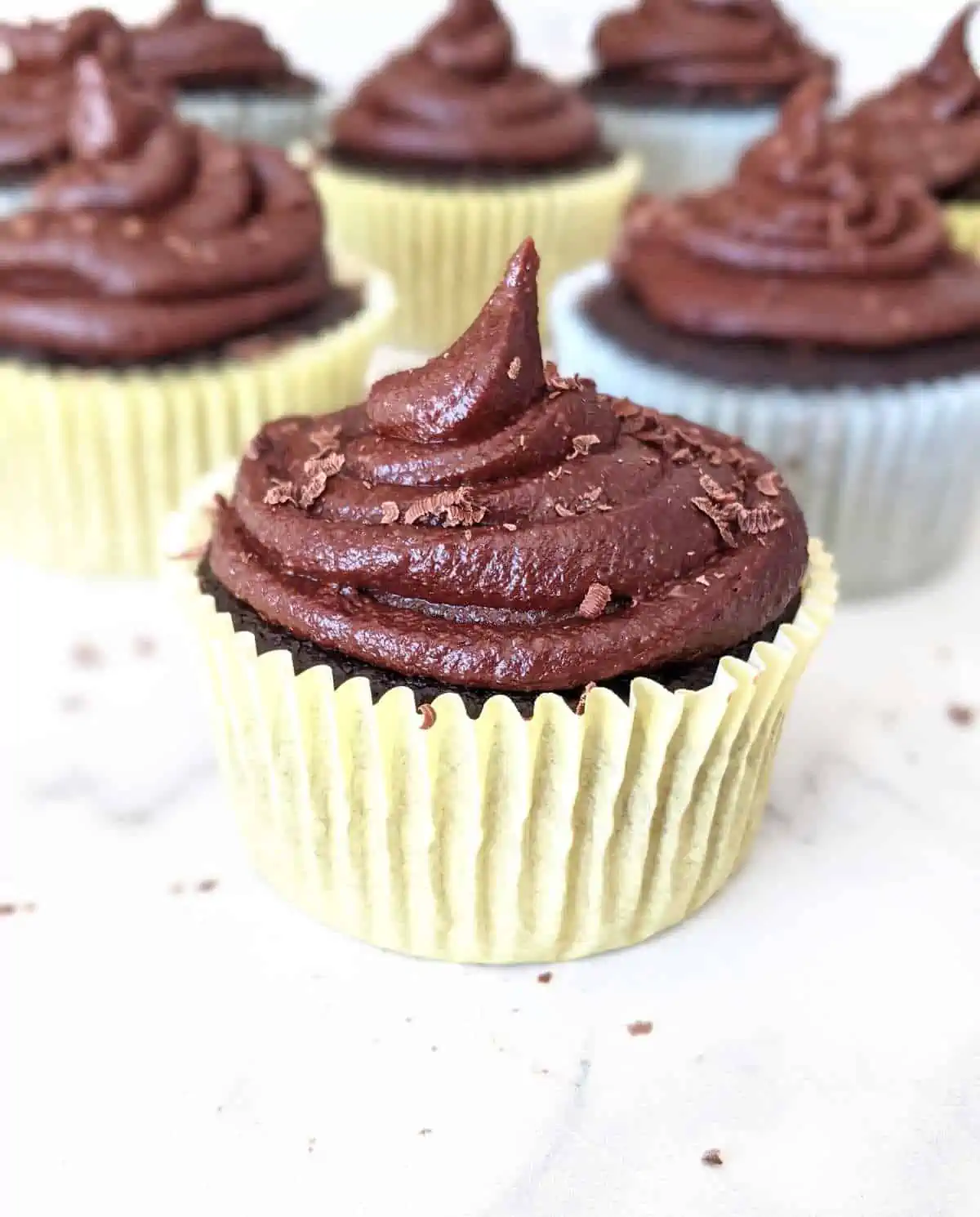 More Gratifying Gluten-Free Recipes
Which vegan gluten-free recipe do you want to try first? Let us know in the comments and don't forget to rate and comment on the recipes you end up trying!
Vegan and gluten-free recipes and photos are from our recipe contributors as well as Alfonso Revilla and Zhoro Apostolov. All rights reserved. Article written by Gina House and edited by Rachel Lessenden.