Want to spice up the usual dinner routine? A delicate balance of harmonious seasonings and rich aromas set this veggie chickpea and spinach curry apart from your average stew. Warming from the inside out, it's truly the definition of comfort food.
Even picky eater will think the spice is right since it puts an emphasis on full-bodied flavor without intense fire power. Creamy coconut milk is the secret to tempering the flames, creating a luscious sauce that will tempt you to lick the bowl. Don't forget a scoop of fluffy jasmine rice to soak up every last drop.
Ready for the best part? You can make this delicious vegan dinner with less than 15 minutes of manual effort (plus some time for cooking), since this recipe comes from the 15 Minute Vegan Meals cookbook by Janet Gronnow.
Why You'll Love This Recipe
All of the recipes on World of Vegan are rigorously tested by our team of recipes testers, and our testers raved about this veggie chickpea and spinach curry! Here's what one of our testers said: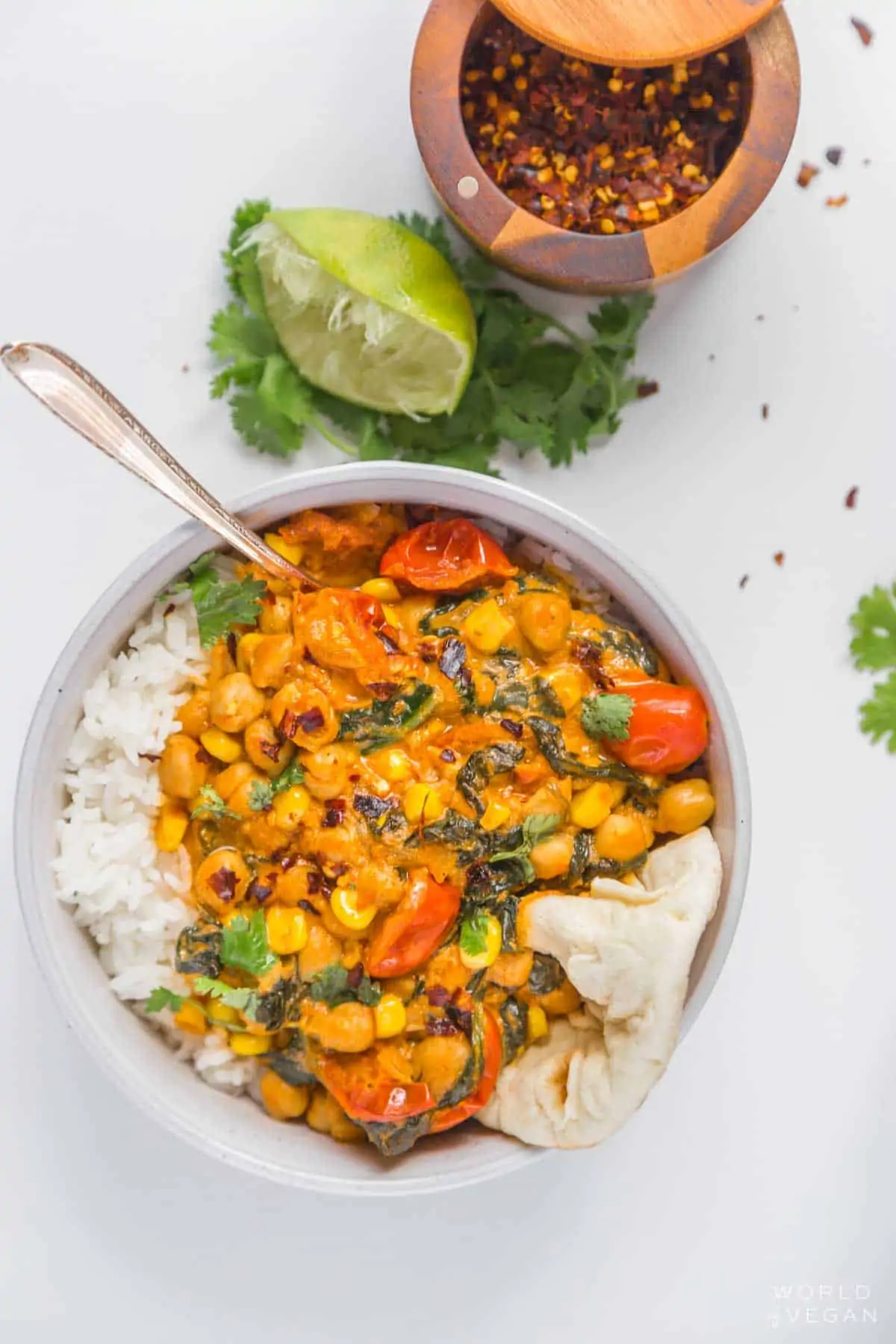 Key Ingredients
Curry powder: There's a hundred different versions of curry powders and paste in every color of the rainbow, unique to their country of origin. In this case, yellow Madras curry powder is ideal for its mild heat level to pairs nicely with sweeter spices.
Crushed tomatoes: Adding body and umami all at once, crushed tomatoes have a texture between tomato sauce and diced tomatoes for the best of both worlds.
Full-fat coconut milk: Don't skimp out by using "lite" coconut milk or watered-down coconut milk beverage here. We need all those good fats to unlock the essential oils in the spices and make the nutrients more easily digestible. It's the secret ingredient to making it a more satisfying main dish.
Chickpeas: Everyone's favorite legume, chickpeas are an ideal protein source in this vegetarian curry. They remain firm enough through the cooking process to maintain a toothsome bite, while becoming soft and moist all the way through, soaking in that flavorful sauce.
Baby spinach: Putting spinach in curry is a great way to get your daily dose of green. They quickly cook down and shrink to almost nothing in the hot stew, becoming soft and silky in an instant.
How To Make Your Own Yellow Curry Powder
Yellow Madras curry powder is a British invention that has a deeply nuanced spice profile with a mild kick. It's a great way to dip your toes into the world of curry for the spice-averse, especially if you start from scratch and make your own.
You can easily control the heat by dialing back the chilies to taste while customizing the other components as desired. It only takes a few extra minutes and pays off in big, bold flavor. Make a large batch to keep some on hand at all times.
Toast the whole seeds in a dry skillet over medium-low heat for 2 – 4 minutes, until highly aromatic. Transfer to a spice grinder or blender and let stand for 10 minutes to cool. Add the ground spices and grind until everything is finely powdered. Store in an airtight container in a dark, cool place until ready to use.
Ideas For Customizing Your Curry
Whether dealing with a picky eater or a limited pantry, you still have plenty of options for creating your very own custom curry masterpiece.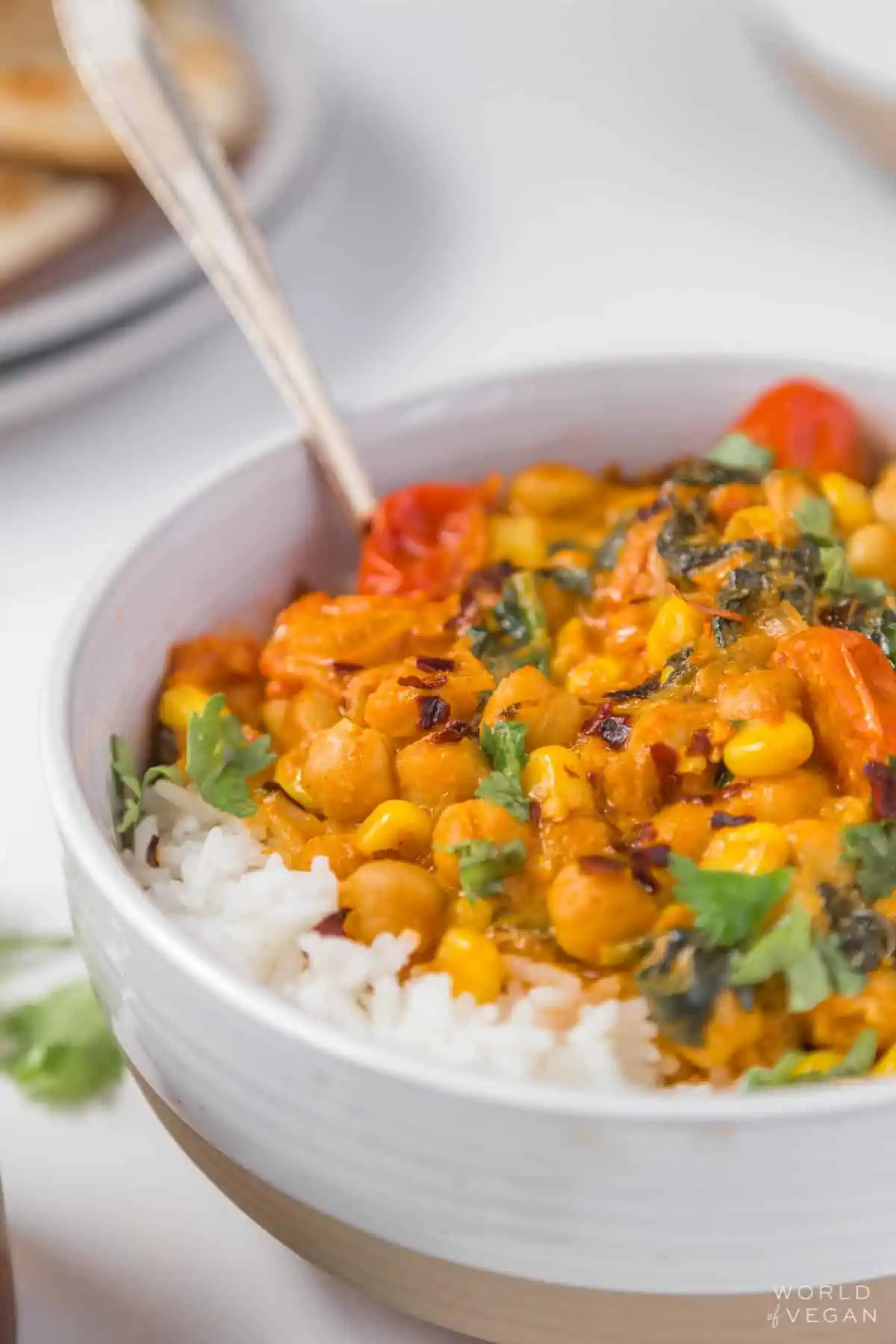 Frequently Asked Questions
Q: How can I save the leftovers?
A: This is an ideal meal for preparing in advance or packing for lunch because it keeps and reheats beautifully! Store the rice and curry separately in airtight containers in the fridge for 5 – 7 days. Warm in the microwave for 1 – 2 minutes when ready to serve.
Q: What can I do if I don't have lots of individual spices?
A: It's a good idea to stock up for the future, but if you need curry in a hurry and have a limited spice rack, don't panic. Replace the cumin, ginger, cinnamon, chili powder, and coriander with an additional 2 tablespoons of curry powder, making 3 tablespoons of curry powder in all. It won't be nearly as complex and nuanced, but it will still taste great.
Q: What's a good substitute for jasmine rice?
A: Any long grain white rice, particularly basmati, would be a perfect substitute that cooks at exactly the same rate. If you'd like to switch things up with different whole grains, consider quinoa, millet, teff, fonio, farro, or bulgur instead.
More Curry-licious Recipes To Try Next
1 cup jasmine rice
1 small yellow onion
1½ tablespoon vegetable oil
3 large cloves garlic
1 cup cherry or grape tomatoes
1 cup frozen corn
2 teaspoons garlic powder
1 teaspoon kosher salt
1 tablespoon curry powder
1 tablespoon ground cumin
¼ teaspoon ground ginger
¼ teaspoon cinnamon, optional
1 teaspoon chili powder
1¾ teaspoons ground coriander
¾ cup canned crushed tomatoes
1 15-ounce can full-fat coconut milk
1 15-ounce can chickpeas, drained and rinsed
2 cups baby spinach
In a medium saucepan, add the jasmine rice and 2 cups of water. Bring to a boil, covered, thenimmediately reduce the heat to low and cook until the rice is tender and the water has evaporated (around 12 minutes).

Preheat a large pan on medium heat, then finely chop the onion. Add the onion and oil to the pan, stir, and let it cook for 5 minutes, stirring periodically. Meanwhile, mince the garlic and halve the cherry tomatoes.

Add the garlic, cherry tomatoes, corn, garlic powder, salt, curry powder, cumin, ground ginger, cinnamon, if using, chili powder, and coriander to the pan. Stir and cook for 1 minute, then add the crushed tomatoes, coconut milk, and chickpeas.

Stir the curry and bring it to a boil, covered, then lower the heat to a simmer, uncovered, for another fewminutes. During the last minute, stir in the baby spinach to wilt. Serve with the jasmine rice.
Calories: 310kcal | Carbohydrates: 58g | Protein: 7g | Fat: 7g | Saturated Fat: 1g | Polyunsaturated Fat: 3g | Monounsaturated Fat: 2g | Trans Fat: 0.04g | Sodium: 675mg | Potassium: 599mg | Fiber: 5g | Sugar: 4g | Vitamin A: 1871IU | Vitamin C: 22mg | Calcium: 89mg | Iron: 4mg
This veggie chickpea and spinach curry recipe was reprinted with permission from 15-Minute Vegan Meals by Jannet Gronnow, Page Street Publishing, Co. 2022. Photos by J.J. Steele for World of Vegan, all rights reserved.