Warmer weather calls for quicker, lighter meals, just like these fresh cauliflower spring tacos. Perfect for enjoying alfresco in the balmy afternoon sunshine or inside on a rainy day, the forecast will always call for a strong chance of satisfaction. Tender charred cauliflower is the crowning jewel atop a throne of tangy cabbage slaw, lavished with vegan feta cheese, cilantro, and fresh lime for an invigorating citrusy finish.
Working in conjunction with Chat GPT to develop new recipes, this was the only one that passed the taste test. After reviewing over 30 recipes created with AI, with most turning out somewhere between disappointing and disastrous, we finally found a keeper!
Why You'll Love This Cauliflower Tacos Recipe
Tacos are never a hard sell. Versatile, handheld meals that the whole family will love, this plant-forward version is an invigorating change of pace, perfect for springtime celebrations and beyond.
Ready in 1 hour or less. No one has time to waste in the kitchen after a busy day. Most of the cooking time is inactive, so dinner will practically cook itself while you deal with more important things.
Great for picnics, potlucks, and parties. One batch serves 8, which can easily be doubled or tripled for a crowd. Keep all the components separate and let guests assemble their own to keep everything fresh and tasty. This is also a great trick for meal prepping on busy weeks.
Effortlessly gluten-free. Opt for corn tortillas and voila, it's a naturally gluten-free entrée, no other adaptations needed!
Learn to love veggies. If you're someone that struggles to get enough servings of fresh vegetables into your (or your kid's) diet, this is the solution you've been looking for. Roasting cauliflower transforms it into a crave-worthy treat, even if you're not otherwise a fan. It might look like a huge amount of food, but then by some sort of magic, you'll find it's dangerously easy to eat the whole batch alone.
Essential Ingredients
Simple ingredients and bold seasonings make for a colorful entrée that's a feast for the eyes and stomach.
Cauliflower: One fresh head of cauliflower should yield roughly 1 ½ to 2 pounds of florets and will do the trick here. Though pre-cut florets may be tempting as a time-saver, you'll want the pieces even smaller than that, so you're still not off the hook when it comes to practicing your knife skills.
Seasonings: Smoked paprika and cumin are the key spices that make this filling really come to life. If you prefer something spicier, feel free to add cayenne pepper or hot paprika to taste.
Vegan mayonnaise: There's a ton of creamy, dreamy, eggless mayo options on the market these days, and you can even make your own from scratch if you'd prefer! In a pinch, you could substitute plain, unsweetened plant-based yogurt for a low-fat alternative.
Cabbage: I love the arresting crimson color of red cabbage, especially in stark contrast to the white cauliflower and green avocado, but green cabbage is just as delicious. You could even use a prepared coleslaw mix for greater ease and variety.
Tortillas: Corn or wheat tortillas are a matter of personal taste and luckily, there are no wrong answers. Serve with a double layer if using especially fragile, little street taco tortillas.
Avocado: Thick slabs of buttery, ripe avocado makes just about everything better, so don't skimp! If you're using small avocados, you may want to use two or even three.
Vegan feta: Salty, briny, and just a little bit funky, feta cheese is a crumby delight that's tempting to eat right out of the package. Follow Your Heart makes an excellent plant-based feta, and this super simple recipe from Bon Appétit is also great in these tacos.
How To Make These Tacos
Making these tacos is a breeze. Follow these steps and you'll be on your way to a balanced, colorful, and delicious taco!
Step One: Cut your cauliflower into small florets and drizzle with olive oil. Season them and give them a good stir.
Step Two: Spread your cauliflower onto a baking sheet in an even layer. Roast for 35 minutes, or until the edges start to develop some color and a little char.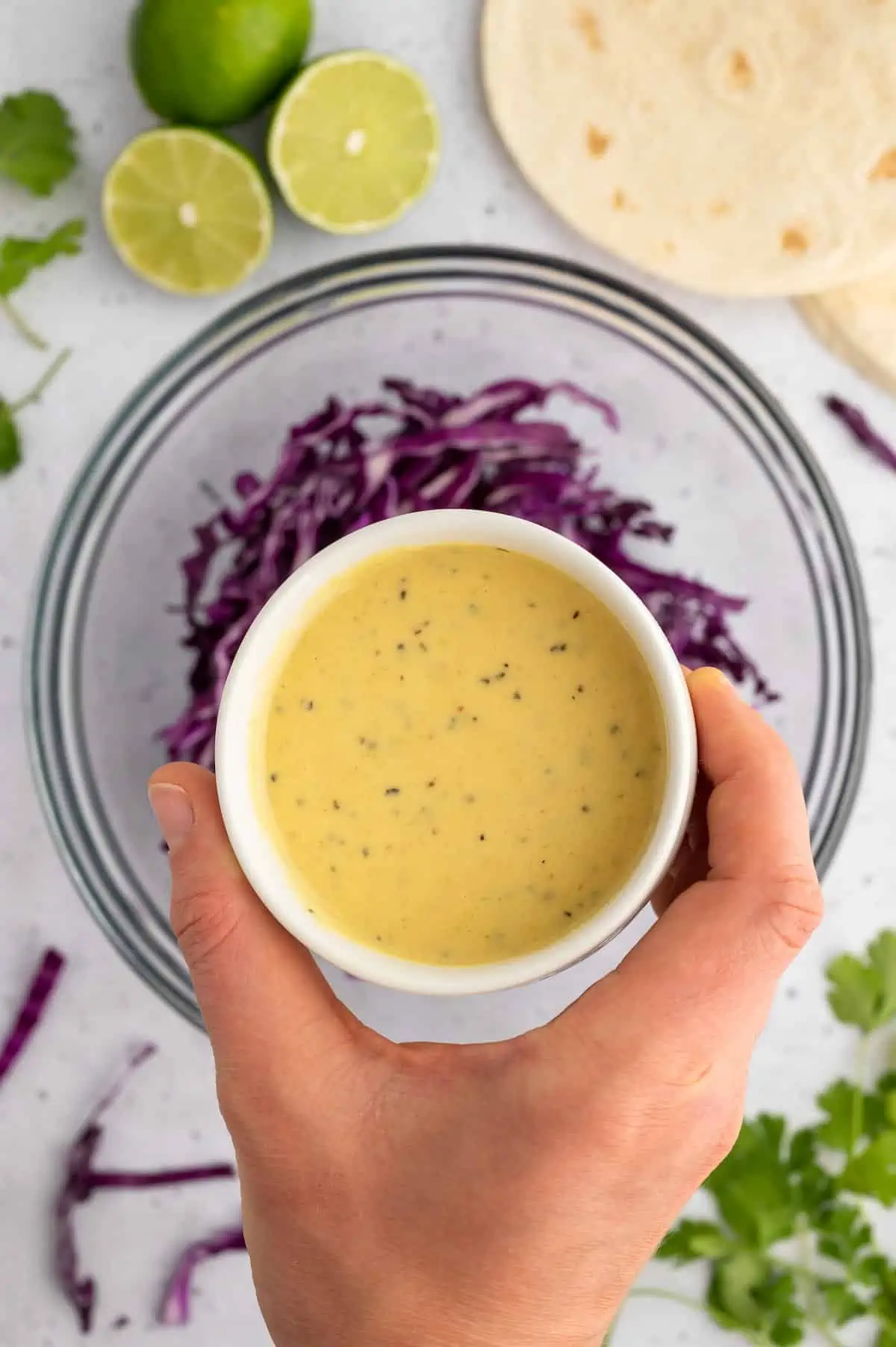 Step Three: Make your slaw. Whisk together your dressing ingredients and toss over two cups of shredded purple cabbage.
Step Four: Assemble your tacos! Warm or slightly toast your tortillas. Spoon some of the slaw over the top, then layer with the roasted cauliflower, sliced red onion, vegan feta, avocado and cilantro. Serve with a wedge of lime.
Tips For Success
It's truly impossible to go wrong with this foolproof formula. Just take your time, have fun in the kitchen, and remember these tips for perfect results, everytime:
Chop the cauliflower into very small, equal, bite-sized pieces. This creates a better texture, reduces moisture, helps the filling cook more evenly, and keeps it from falling out of the taco as you eat.
For a proper char, leave the cauliflower alone and let it do its thing. The more you stir it, the less time it has getting the direct heat needed to brown. It's essential to get that dark blistered surface to create a smoky, savory flavor all throughout.
Leave the slaw undressed right until you're ready to serve so that it stays crisp and crunchy.
Street tacos tend to use very small, thin tortillas that are rather fragile. Use a double layer if taking this approach to create a sturdy, substantial foundation.
Lightly chop the cilantro or just pinch it off the stems for a nicer presentation.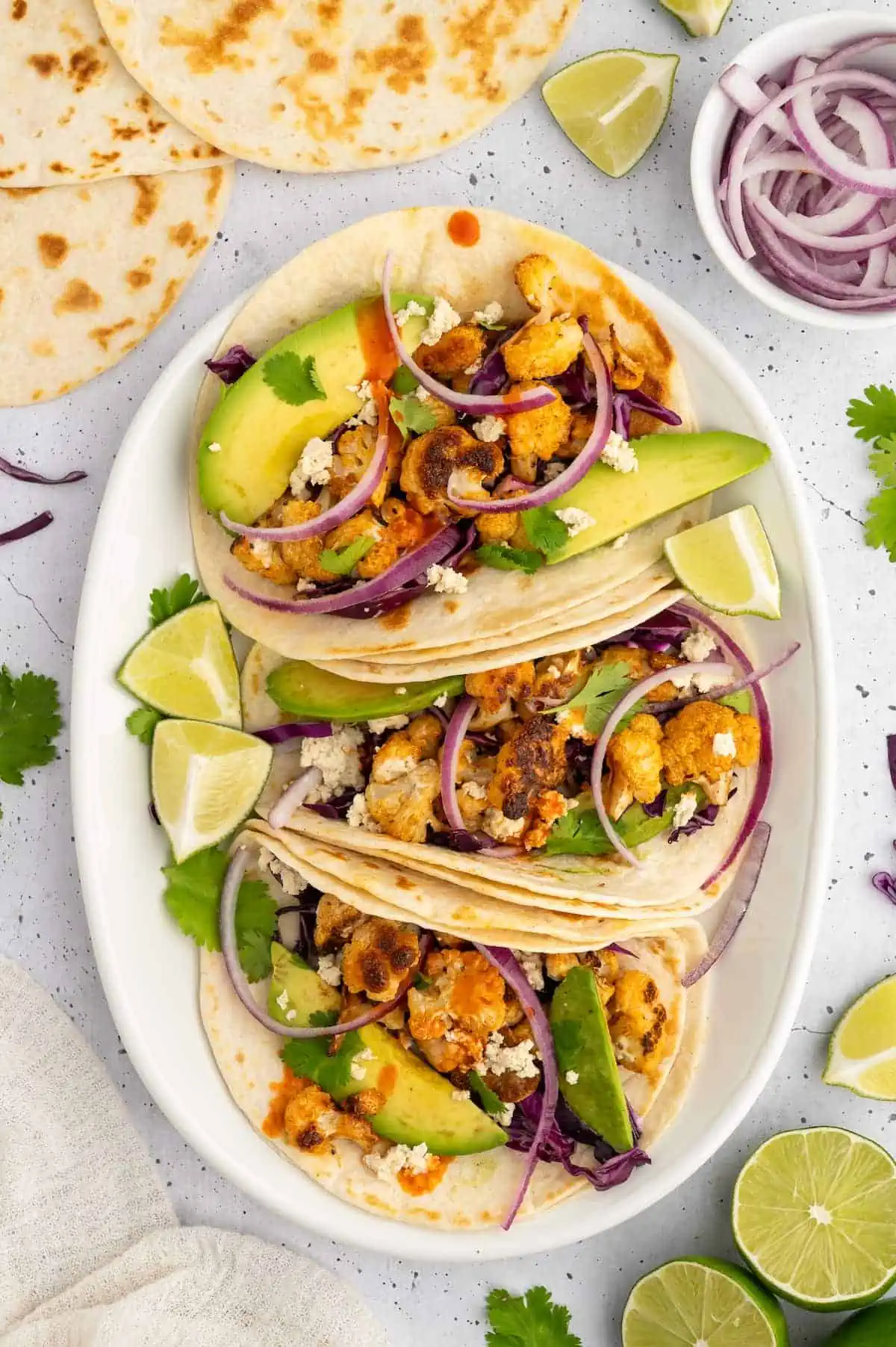 FAQs
Can I use frozen cauliflower instead of fresh?
Yes, frozen cauliflower florets can be a great shortcut to help get dinner on the table even quicker! Just bear in mind that it will likely be softer than fresh cauliflower and may not brown quite as well.
What are some low carb alternatives to tortillas?
Lighten up your plate by swapping out the corn or flour tortillas with crisp leaves of Boston or Bibb lettuce, whole cabbage leaves, or thinly sliced rounds of jicama. The latter can be found ready-to-eat in the produce section of some grocery stores, along with the other cut fruits and vegetables.
What can I do if I hate cilantro?
Some people are genetically predisposed to interpret the flavor of cilantro as soapy, so don't worry if that describes you! You can simply omit it or replace it with fresh parsley or scallions instead.
More Tacos Everyone Will Be Talking About
Who needs pork when you can have naturally meaty, umami pulled oyster mushroom tacos instead? Authentic seasonings transform the plant-based filling into an identical dupe for the traditional Mexican delicacy.
If you have a staunch omnivore in your life that claims only beef will do, sneak these meat lover's beefy vegan tacos onto the menu and watch them fall in love. Crunchy taco shells hold together this nostalgic meal for an irresistible crispy finish.
If you're hosting guests but can't fuss with assembling individual tacos on demand, put out a tray of wonton taco cups to keep the party going.
For The Cauliflower
1 head of cauliflower, cut into small florets
1 tablespoon olive oil
1 teaspoon smoked paprika
½ teaspoon cumin
Salt and pepper to taste
For The Slaw
2 tablespoons vegan mayonnaise
1 tablespoon Dijon mustard
1 tablespoon apple cider vinegar
Salt and pepper to taste
2 cups shredded red cabbage
To Assemble
16 small tortillas or 8 regular-sized tortillas, corn or flour
1 avocado, sliced
¼ cup red onion, sliced
½ cup crumbled vegan feta cheese, homemade or store-bought
½ cup chopped fresh cilantro
Lime wedges, for serving
Preheat the oven to 400°F (200°C).

In a large bowl, toss the cauliflower florets with olive oil, smoked paprika, cumin, salt, and pepper until coated.

Spread the cauliflower in a single layer on a baking sheet and roast for 30-45 minutes, or until tender and lightly charred.

While the cauliflower is roasting, prepare the slaw. In a medium bowl, whisk together the vegan mayonnaise, Dijon mustard, apple cider vinegar, salt, and pepper until well combined. Add the shredded red cabbage and toss to coat.

Warm the tortillas in a dry skillet or in the oven. If using small tortillas, stack two tortillas together for a more sturdy taco.

To assemble the tacos, spoon some of the slaw onto each tortilla, then top with a generous amount of roasted cauliflower. Add slices of avocado, red onion, crumbled vegan feta cheese, and chopped cilantro. Squeeze a lime wedge over each taco before serving.
When chopping the cauliflower, make sure to cut it into very small, bite-sized pieces. This creates a better texture, reduces moisture, and helps keep it from falling out of the taco as you eat it.
Calories: 314kcal | Carbohydrates: 40g | Protein: 8g | Fat: 14g | Saturated Fat: 3g | Polyunsaturated Fat: 2g | Monounsaturated Fat: 5g | Sodium: 583mg | Potassium: 490mg | Fiber: 6g | Sugar: 5g | Vitamin A: 479IU | Vitamin C: 50mg | Calcium: 126mg | Iron: 3mg