Eager to dip your spoon into the most flavorful, warming, healthful, comforting vegan soups? This round-up features the best vegan soups from around the web. These vegan soup recipes include gluten-free, soy-free, nut-free, and many other options and there is truly a soup for every mood and occasion you can think of. Happy slurping!
Scrumptious vegan soups are sensational any time of year, but even more satisfying during the cooler months. Serving soup as a main meal means that you can also use up your on-the-verge vegetables, remaining rice, or any leftover leafy greens. Not only will you clean out your fridge with these vegan soup recipes, but you'll add fabulous flavor to your savory stock!
From broths to bisques or vegan consommés to chowders, all types and textures of soup can be a treat for lunch, dinner, and even breakfast! All you need is a spoon of sorts, a big bowl, and a hungry belly. Try each of these super soups to ramp up your recipe routine!
This lineup of all-star vegan soups includes options that are:
Vegetarian, vegan, and plant-based
Dairy-free
Soy-free
Nut-free
Gluten-free
Heart-healthy
…even paleo and keto! No matter what diet you're following, there is a soup here for you. 
Best Vegan Soups to Sip and Savor
Treat yourself to this classic, comforting, and hearty casserole in a bowl. The simple ingredients make for a supremely rich and satisfying soup that can be made in under 30 minutes. To make this recipe even easier, prepare your vegetables the night before and buy a pre-made vegan cheese for topping. So delicious!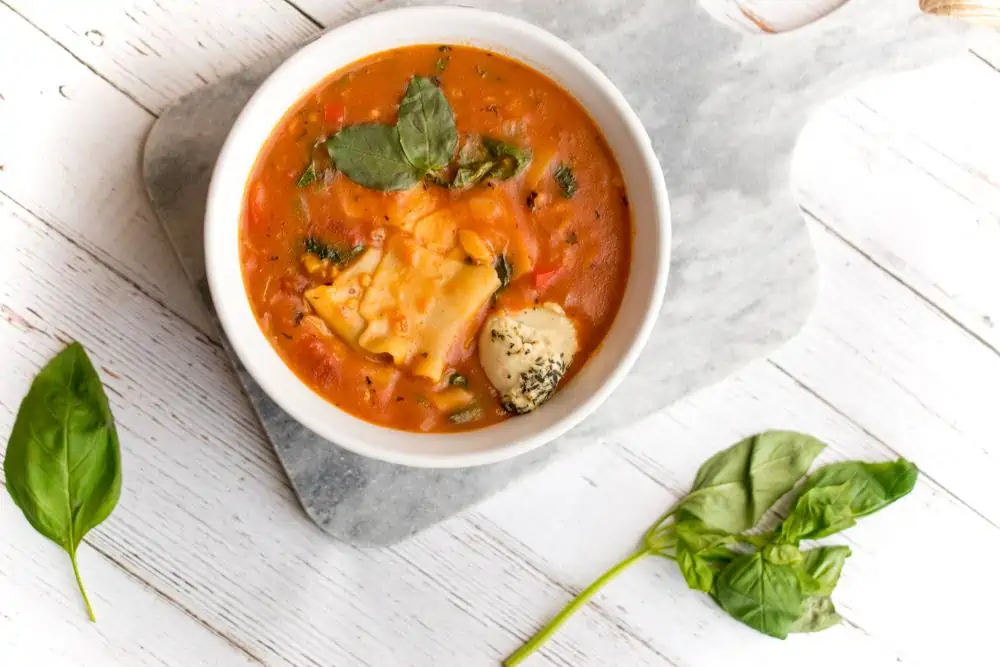 Fall in love all over again with this silky and savory soup! Our vegan version of corn chowder from The Friendly Vegan Cookbook is chock full of sweet corn and plump potatoes and surrounded by the creamiest, dreamiest broth. With such simple ingredients, it's hard to believe that this soup can be so incredibly satiating. Delightful year-round!
A masterpiece of a meal transformed into the most superb soup from The College Vegan Cookbook! After making the mouthwatering meatballs (absolutely amazing on their own!), all you need to do is sauté your veggies, add your orzo, and simmer until soft. Once the ingredients are incorporated, you'll be sampling your soup in no time! Deeply satisfying, rich, and fantastically filling.
Quick to prepare, chock full of healthy veggies, and the one-pot setup saves so much time with cleanup. When you're searching for an easy-to-make meal during a busy work week, look no further, this recipe is for you. This soup is slightly savory with seasoning from onions and garlic while also slightly sweet from the sweet potatoes and carrots. The perfect combination of creamy, dreamy, and downright easy!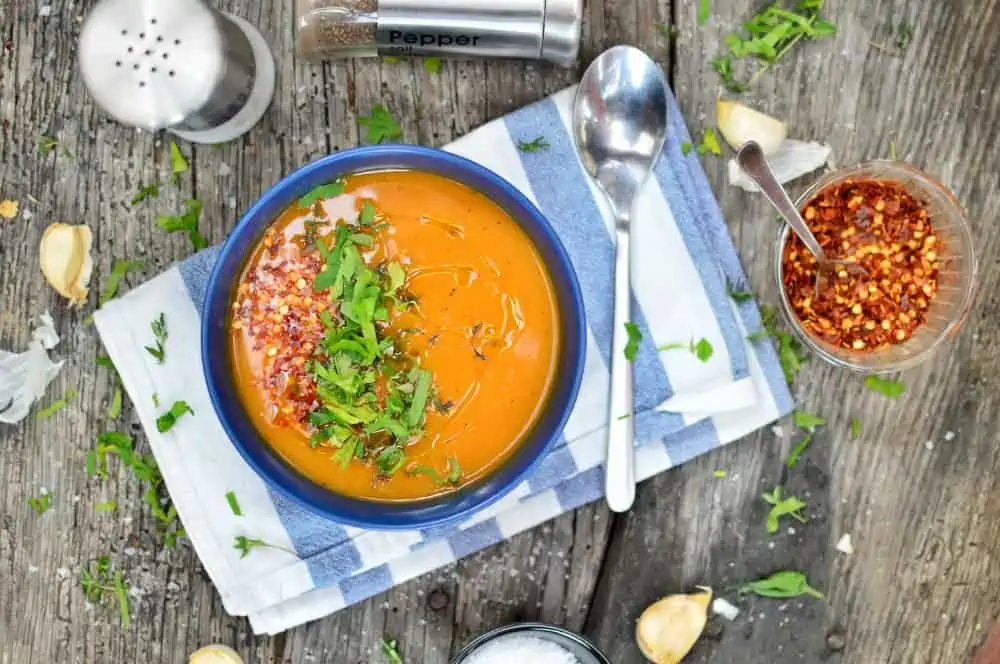 This elegant soup will be the envy of all your guests! The star of this savory soup is the irresistible and inexpensive onion. A traditional french onion soup has, in the past, been smothered by a covering of cheeky cheese but it can now be enjoyed in its healthiest and most heavenly state! Ooh la la!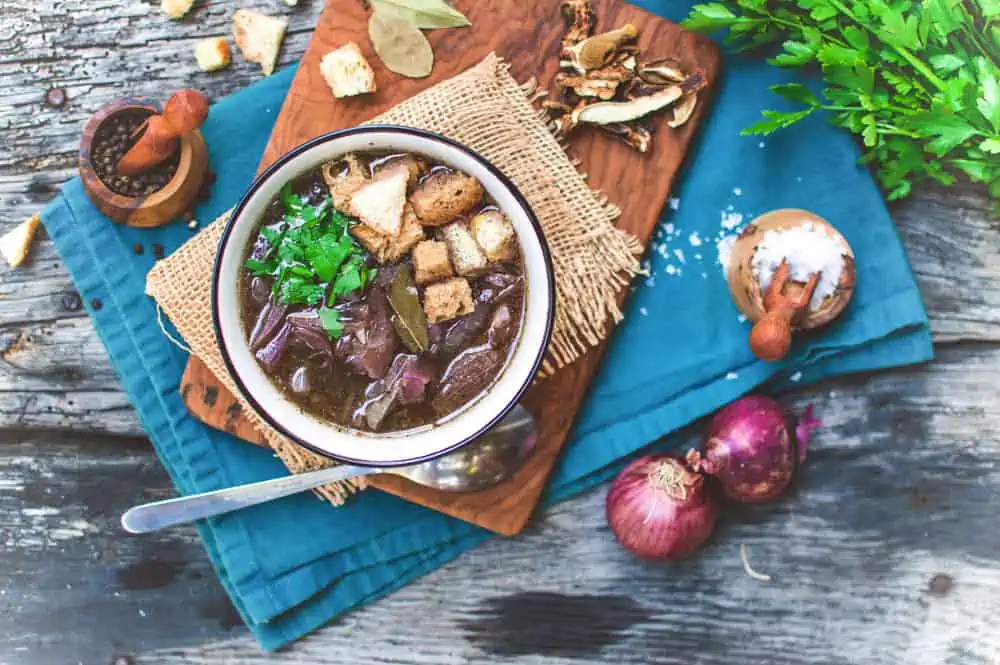 Reach for ramen any night of the week! This super-easy soup can be as healthy as you want it to be. While using the right ramen makes all the difference, throwing together the tastiest toppings is crucial. Add in all of your favorite fresh veggies along with a small portion of tempting tofu or tempeh for protein. Soy sauce or tamari is a must and serving with toasted sesame oil takes it to a whole other level of lusciousness. Ramen rules!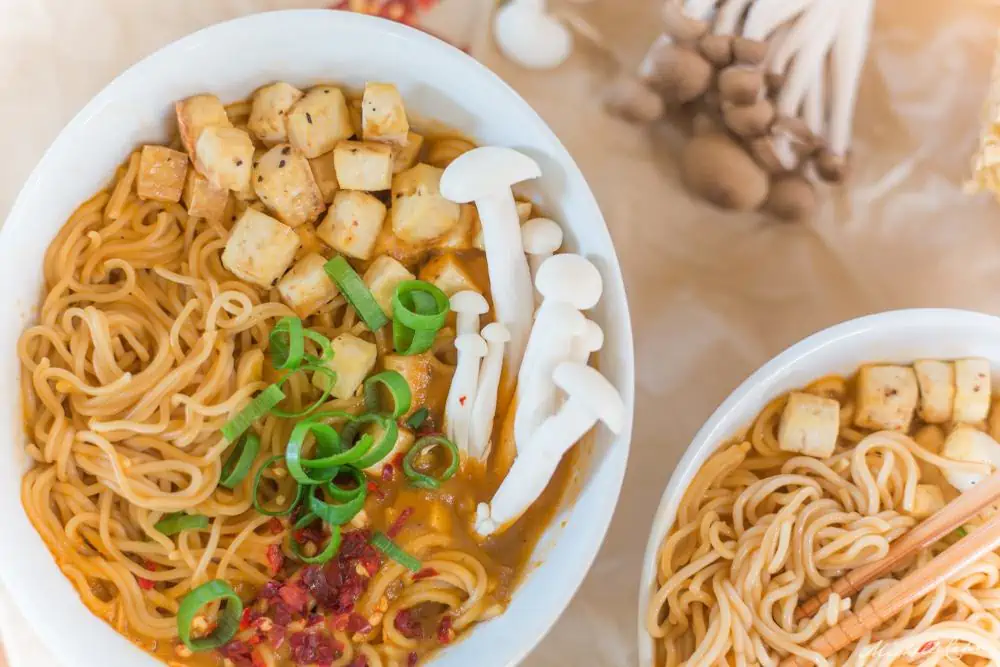 This is the ultimate comforting soup by Francesca Bonadonna. We've made it many times because it's so crazy delicious and quite easy to make! The dumplings cook up like magic right in the soup for a dimensional filling meal! If you don't have soy curls on hand, you can use any plant-based chicken or skip the vegan meat all together.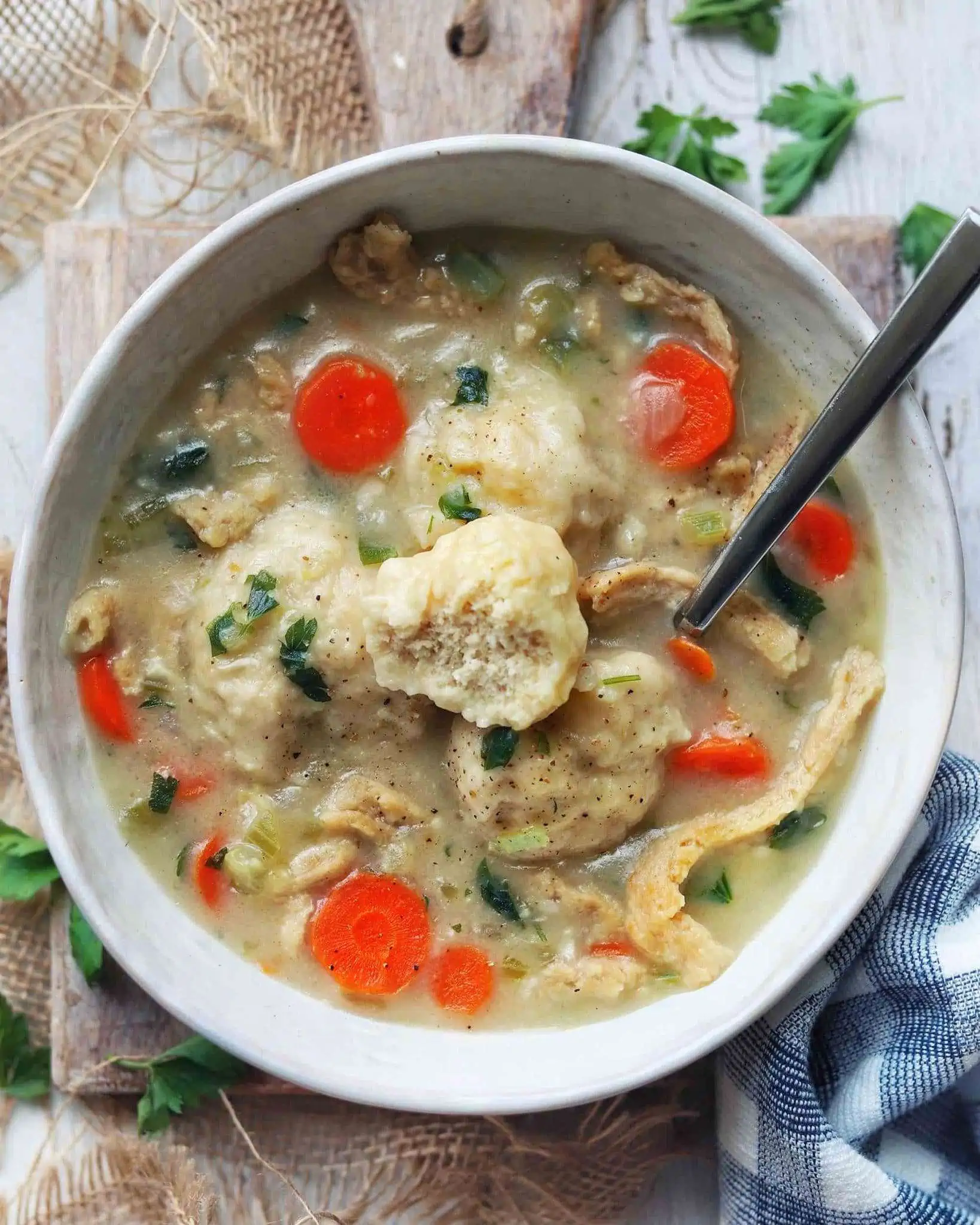 We believe this warm, slightly salty, and marvelously mellow soup is an overall winner. The broth pairs beautifully with most vegetables and can be even more tempting and terrific with a cupful of chopped tofu. Serve with some nutty soba noodles and your soup will be simply spectacular! Super quick and genuinely gratifying.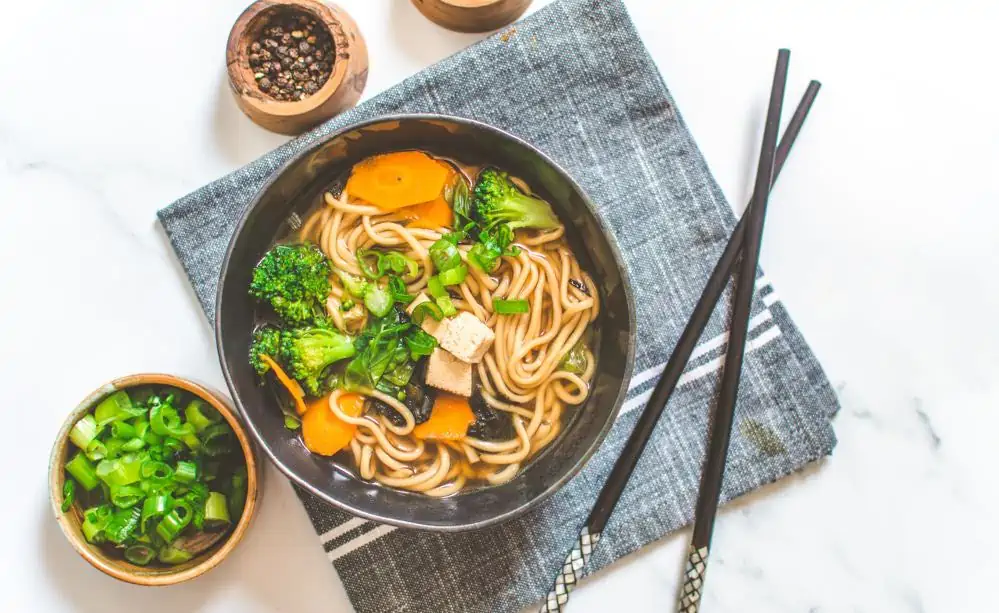 Everything is easier in the Instant Pot pressure cooker! If you're able to prepare your veggies the night before, you'll be able to whip up a delicious dinner without any worries. Grab your grain, bust out the beans, bring in the broth, and add your variety of veggies for a mighty meal in minutes!
Who doesn't love a big bowl of udon noodle soup? This recipe is full of pretty purple cabbage, garlic, tofu, and more for an ultimately awesome meal.
Did you grow up loving cream of mushroom soup? Us too! Lucky for us, this vegan version relies on the creaminess of cashews rather than cow's milk. Enjoy with bread, salad, or a hearty sandwich!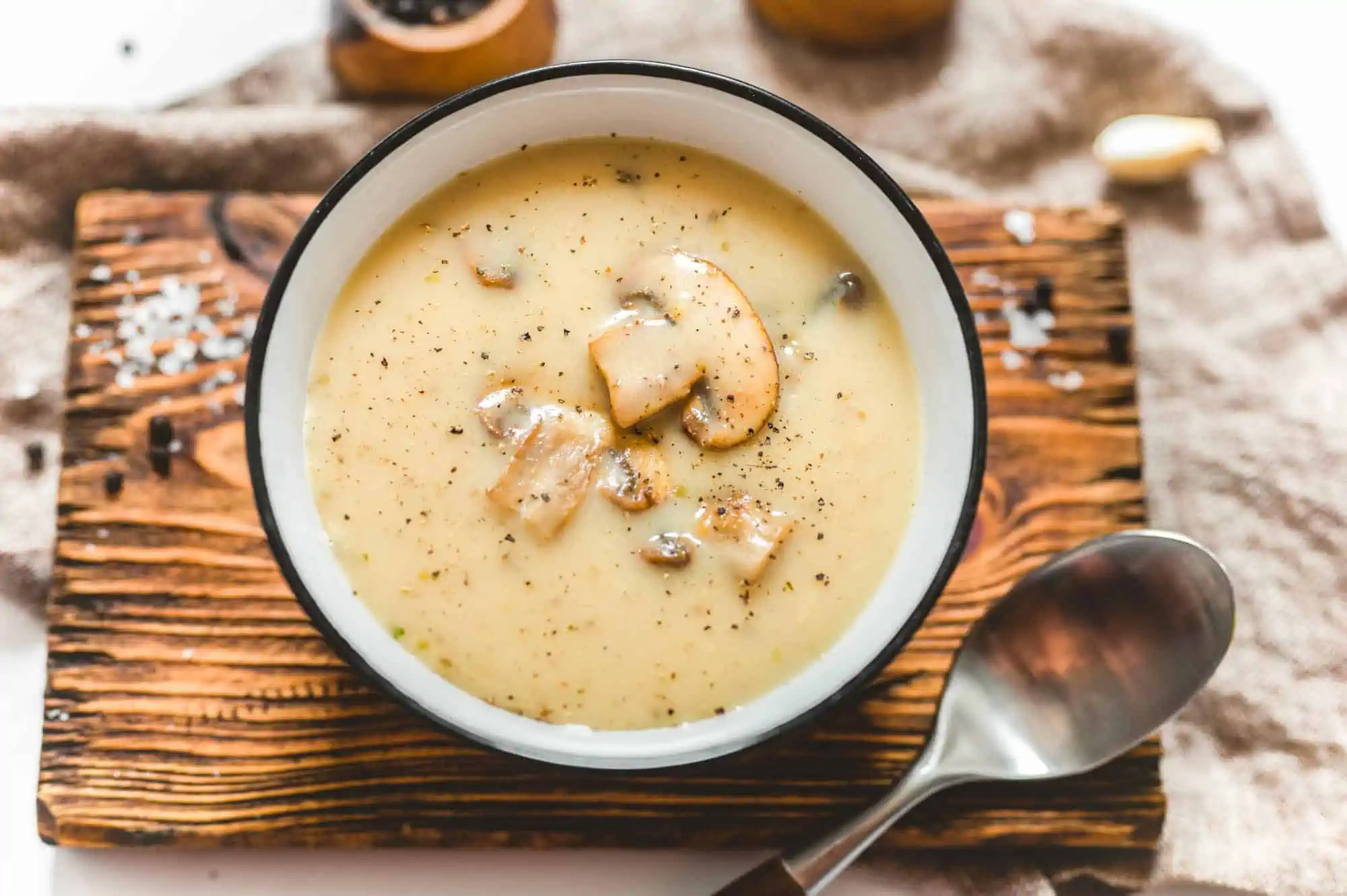 Brightly colored beets, ginger, and more make up this beautiful and invigorating vegan beet soup. It's so photogenic that you may find yourself having a hard time digging in! Yum!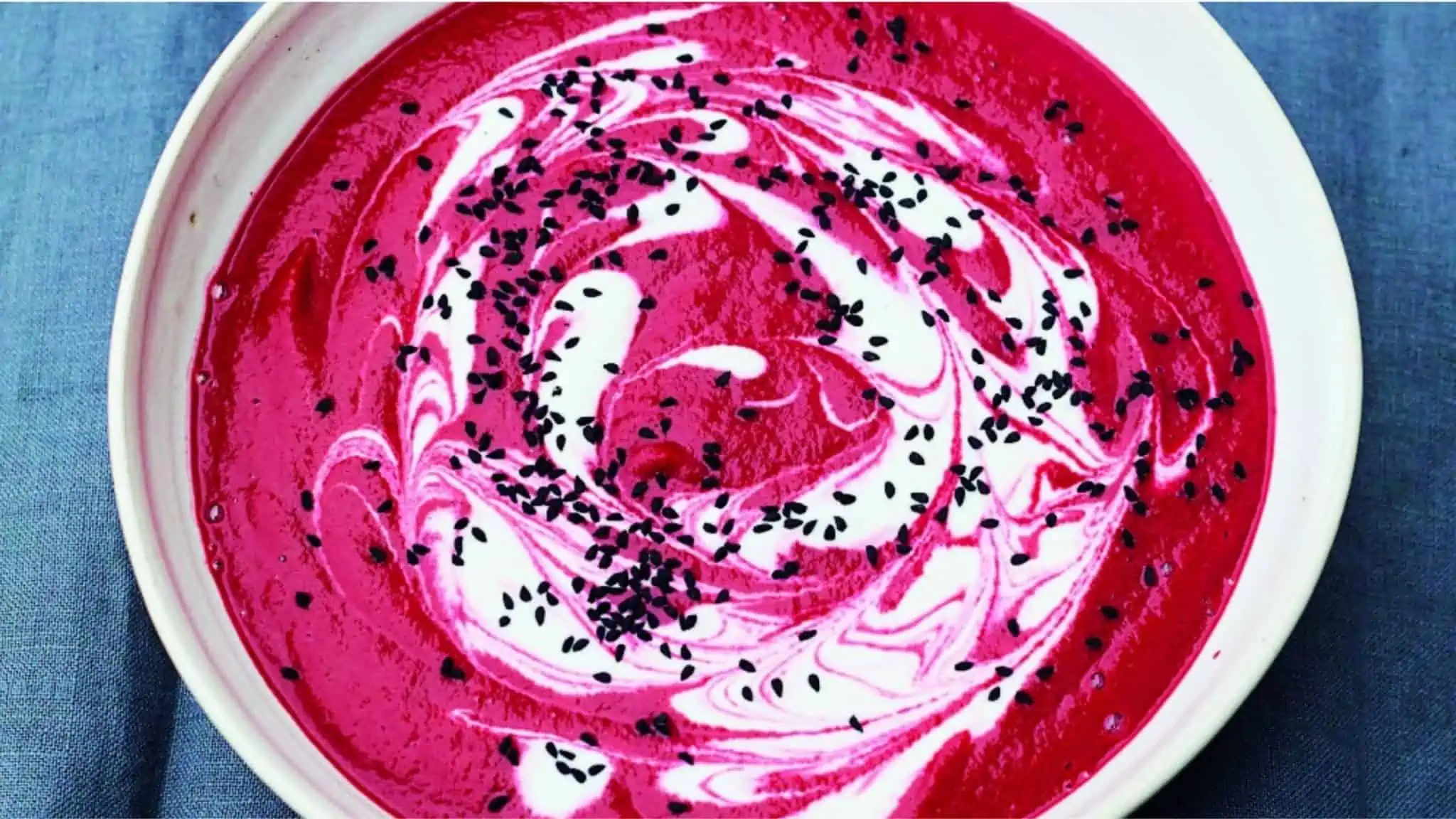 A simple yet satisfying spin on a true American classic, this chickpea noodle soup is chock full of flavor, nutrients, and incredible texture. Gluten-free? Just use your favorite wheat-free noodles!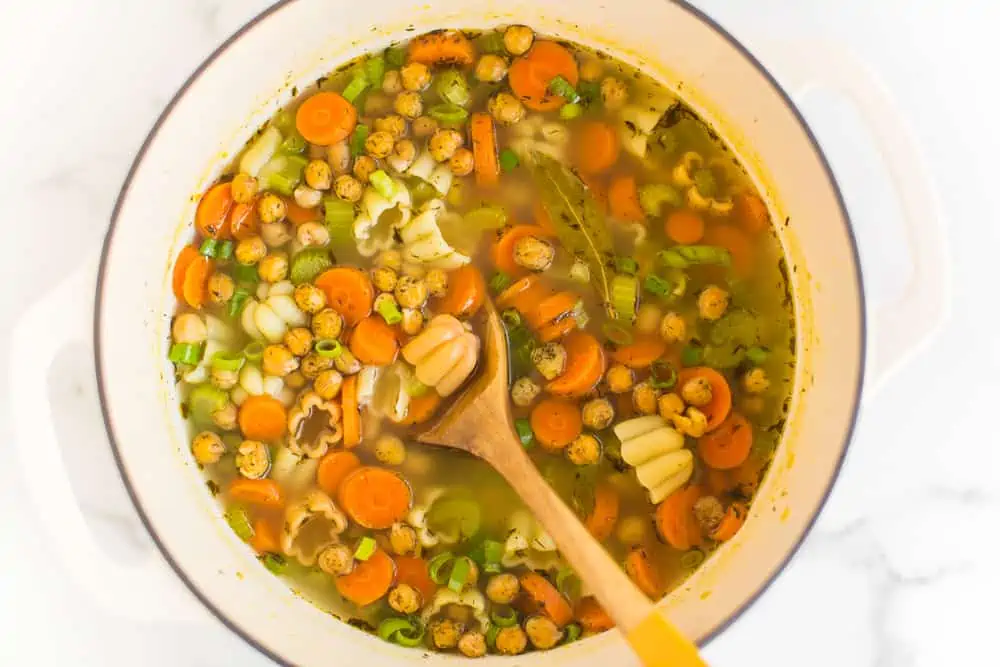 Sometimes life just calls for a bowl of tangy, creamy tomato soup. Just how does this soup get so creamy, you wonder? With the help of potatoes, cashews, olive oil, and more! Don't forget the vegan grilled cheese!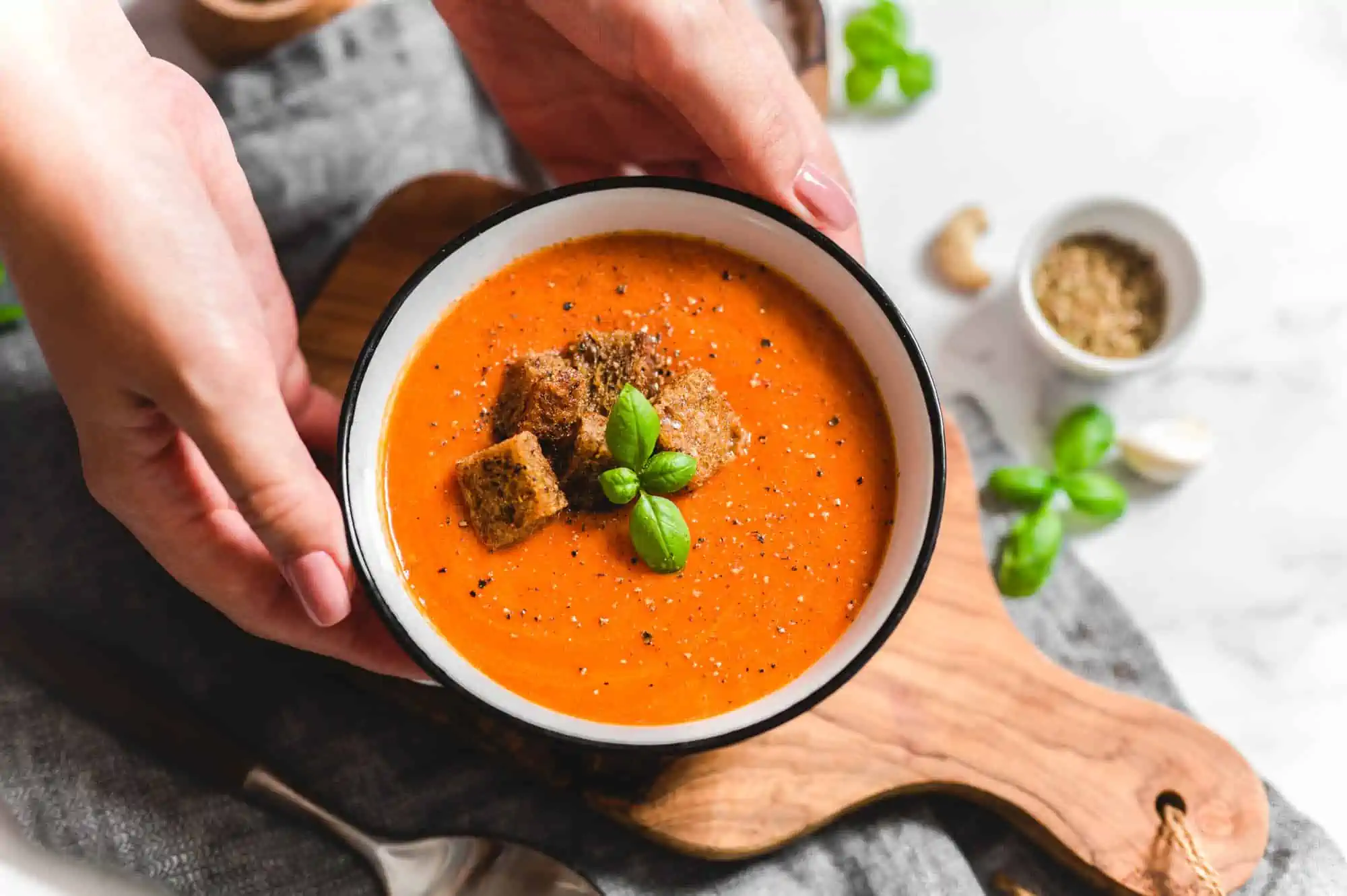 You don't have to be Jewish to enjoy a mouthful of vegan matzo ball soup! Made with vegan matzo balls, celery, carrots, parsley, and a vegan broth, this soup. A staple during holidays like Passover, this recipe can be enjoyed any time of year.
This vegan French pistou soup is essentially a French spin on minestrone, featuring a wide assortment of veggies, beans, and pasta in a light broth. The pistou adds a creamy and herby flair which goes perfectly with a side of toasted bread.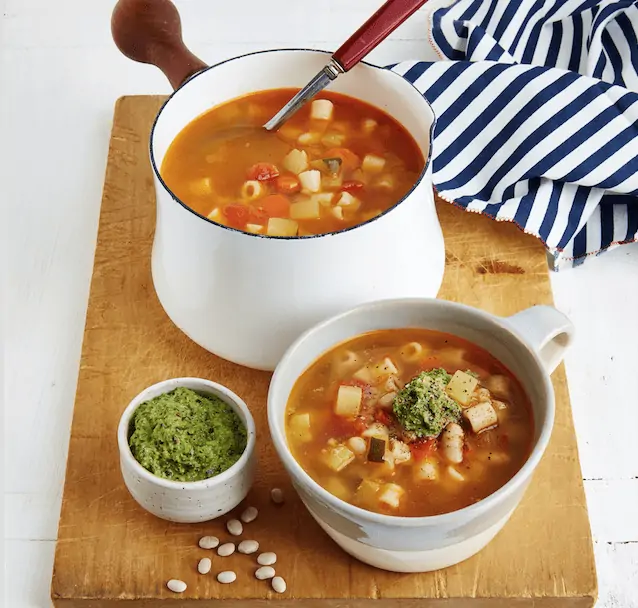 Our green detox soup is great for a light meal or as a side to a larger feast! A stacked lineup of amazing green ingredients such as zucchini, peas, broccoli, spinach, and more make up the core of this soup. You're also welcome to bulk it up with things like tofu or noodles for a more filling dish!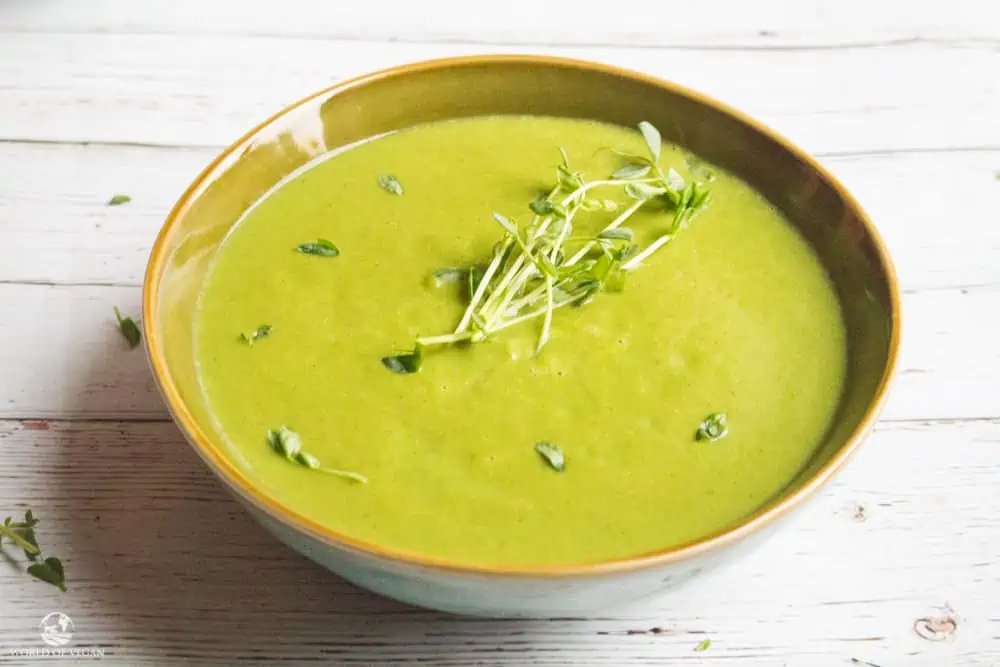 Easy Vegan Squash & Cauliflower Soup
A fall favorite here at World of Vegan, this butternut squash and cauliflower soup has an incredible texture and flavor profile. The sweetness of the squash meets a smoky cauliflower to make for a soup that is truly worth savoring.
Does broccoli make your mouth water? Then this vegan cream of broccoli soup is for you! Cashews and cauliflower are what get this soup nice and creamy.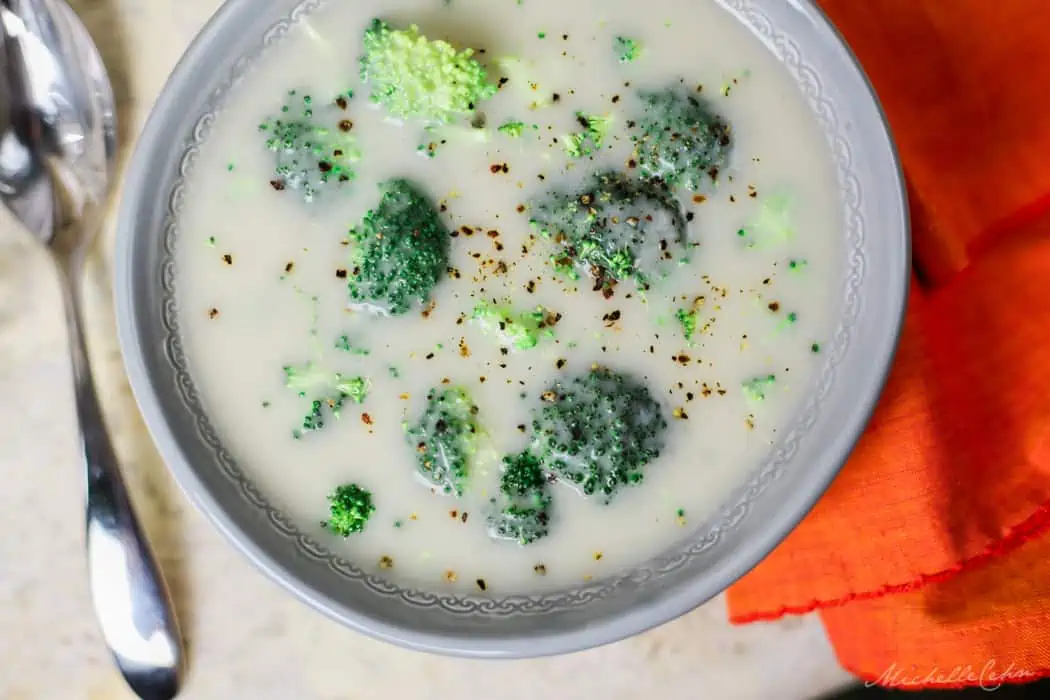 A true pleasure to eat any time of year, this vegan potato leek soup is a real winner. Easy to make and so comforting, it could easily become your new go-to weeknight soup!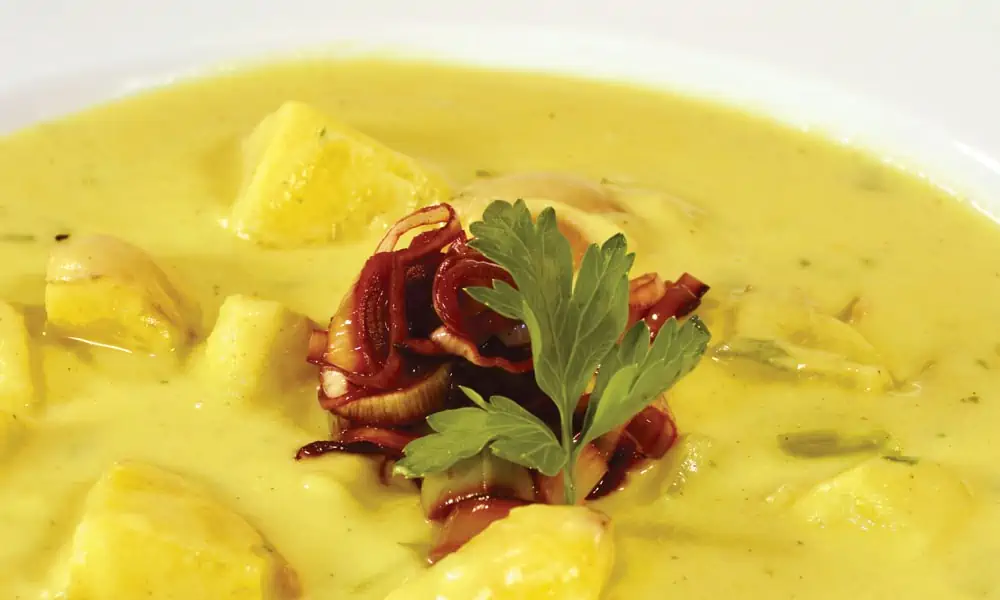 Like a bit of spice in your life? Then this green chili soup would be the perfect match for you! Grab a handful of tortilla chips to dip in and enjoy.
I hope this round-up of vegan soup recipes is helpful to you, especially when you are craving something warm and satisfying. Remember that all of these recipes can be personalized with your own choice of veggies, toppings or seasonings. If you love spicy, feel free to cast in a pinch of cayenne pepper! If you're partial to red lentils instead of green, go for it! The best thing about serving soup is that, as long as you've got a flavorful foundation, the additions can be anything you want!
More Satisfying Vegan Soup Recipes
These vegan soup recipes and photos are by our World of Vegan recipe contributors and cookbook author guests. Please note that this article may contain affiliate links which help us keep regular content coming to life here at World of Vegan. Thank you!