Looking for a great game day (or hang day) snack free from gluten and animal products that won't take too much work? Then you've got to try these delicious vegan buffalo cauliflower wings! Gluten-free, crunchy, and full of flavor, these are sure to become a household hit.
What's more is that we've also got a delightful vegan ranch dip recipe that'll blow the store-bought options out of the water.
So you've got your vegan buffalo cauliflower wings and they're looking great. They're crunchy and orange and you're ready to take your first bite. But wait! No cauliflower wing is complete without a side of sauce! Well, fear not, dear reader. We've got just the dip to make your taste buds dance as if you were an athlete crossing the finish line. Enjoy this vegan ranch dip with as many things as you'd like!
Ingredient Notes
White rice flour—or regular flour works too. This helps to thicken the batter and crisp up into golden deliciousness!
Vegan wing sauce—we used Frank's Red Hot which is easy to find at more grocery stores.
How to Make Vegan Cauliflower Wings
Vegan wings are easy to make and incredibly delicious with just a few simple ingredients! All you need is some cauliflower, seasonings, and your favorite vegan buffalo sauce.
1. Start by preheating your oven to 400 degrees F and line a baking tray with parchment paper.
2. Wash the cauliflower and chop into florets. You can make them bigger or small depending on your preference of wing size.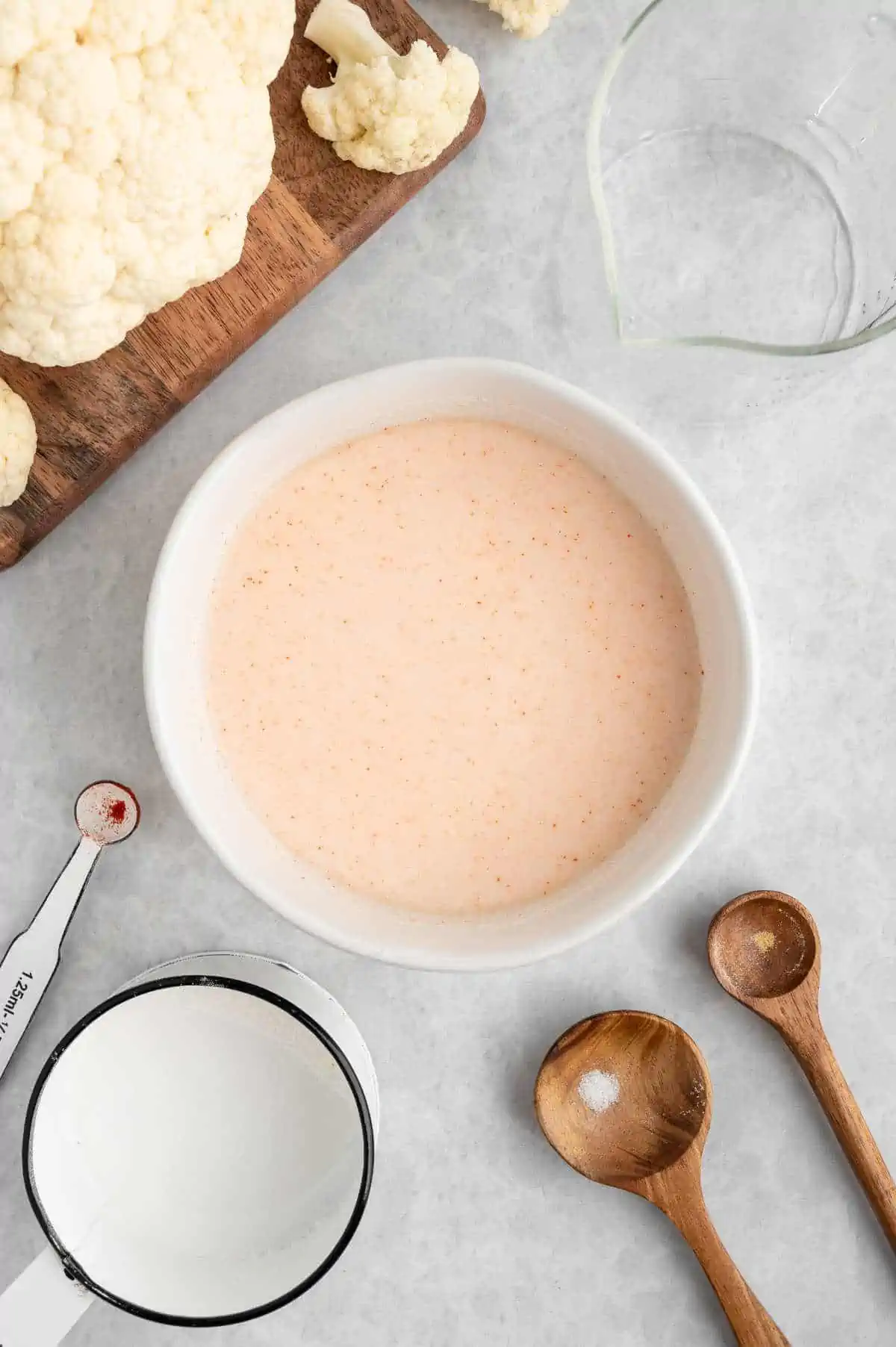 3. Combine the water, flour and dry ingredients into a large bowl to make a batter.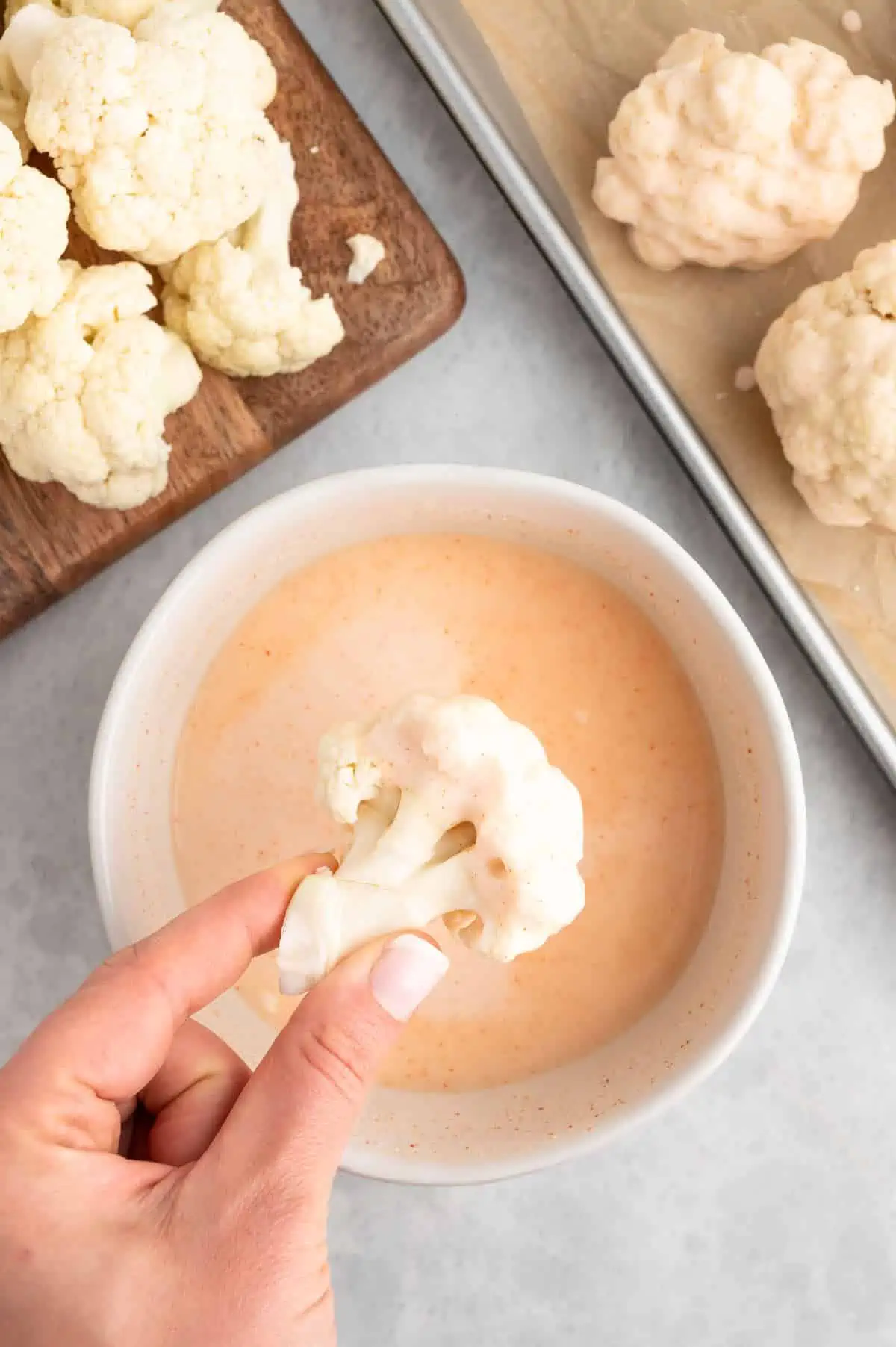 4. Dip the cauliflower florets into the batter to thoroughly coat and then place on the prepared baking tray.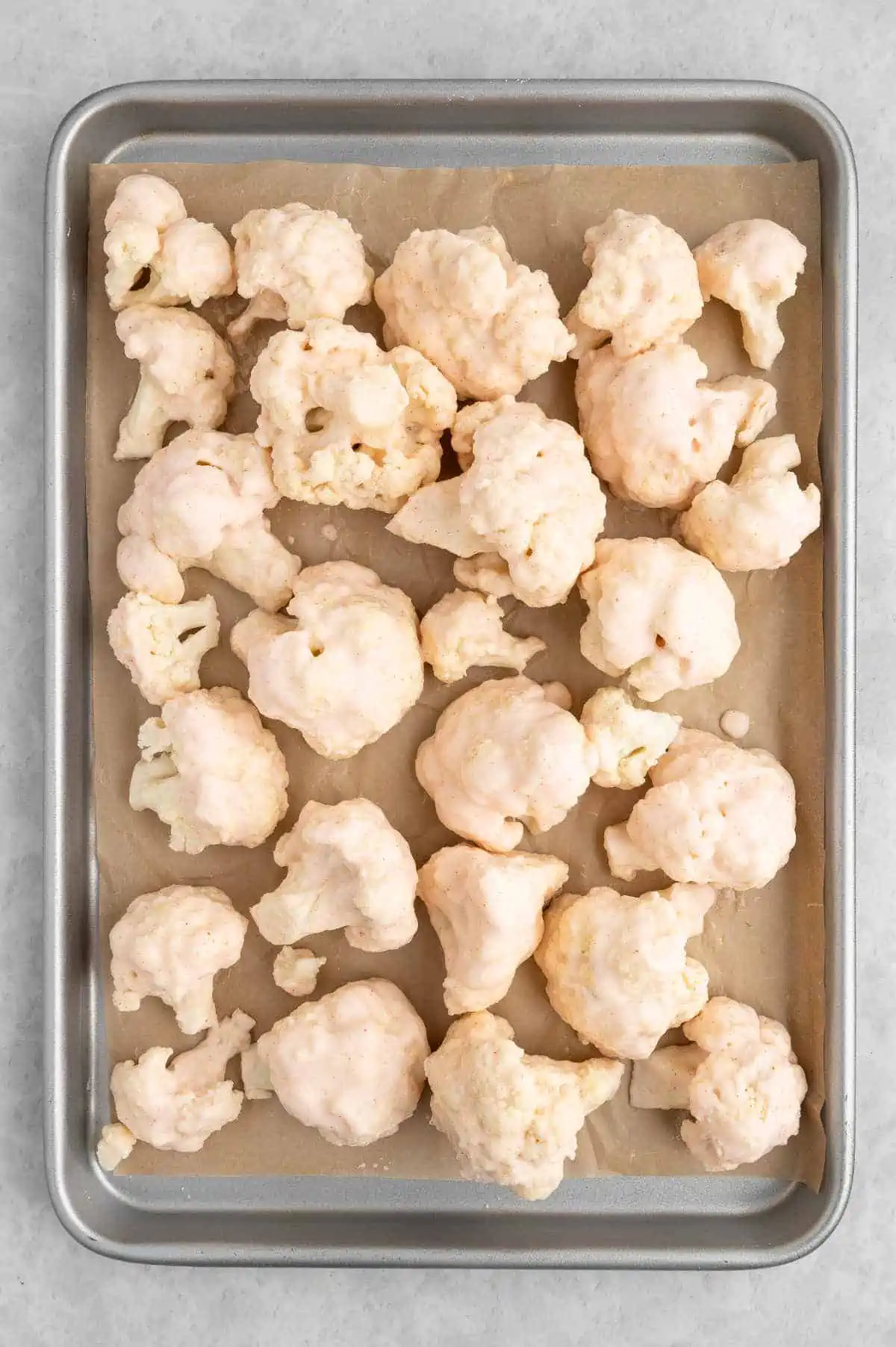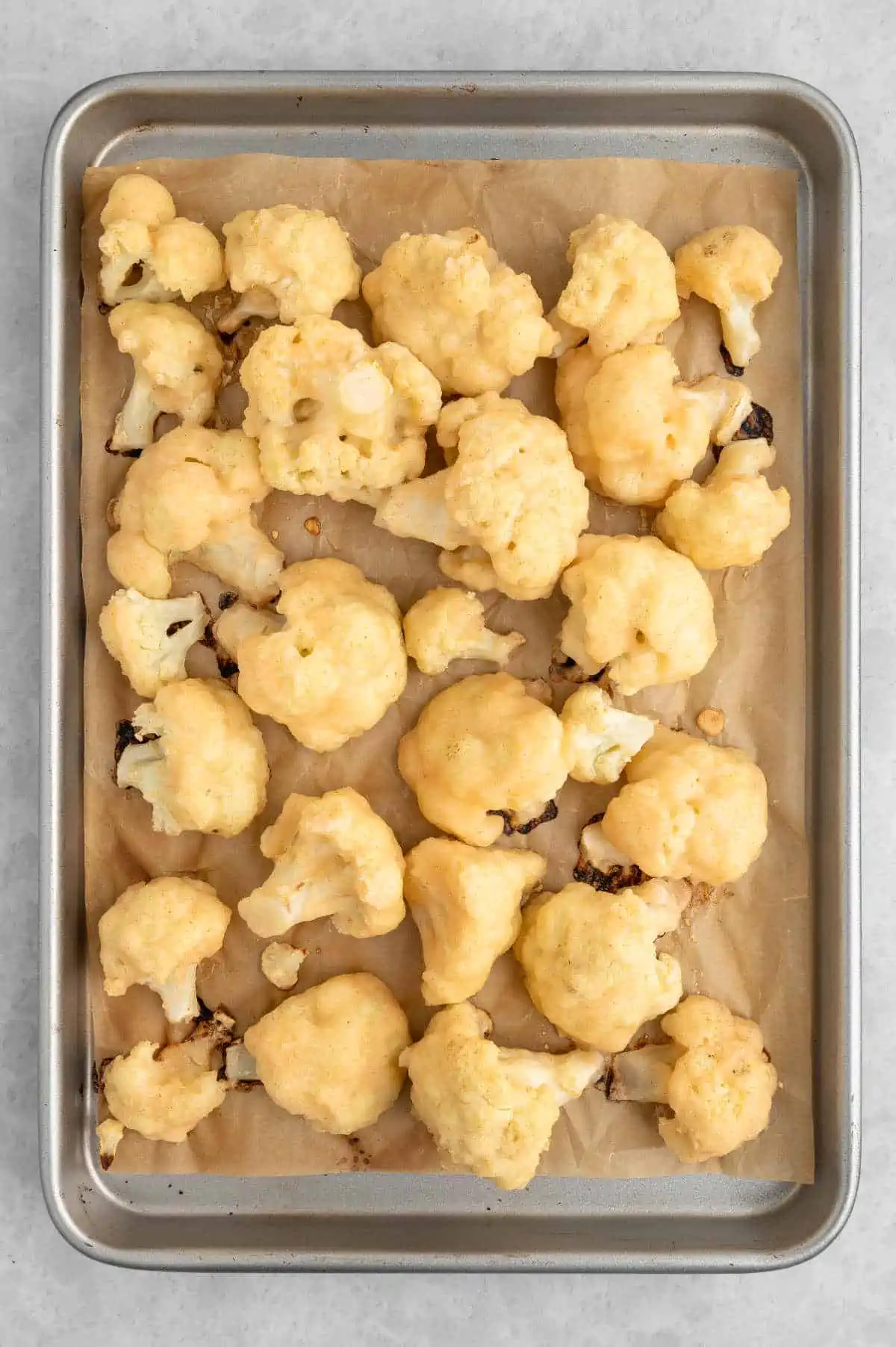 5. Bake in the oven on the center rack until they are slightly golden brown on top. Meanwhile, prepare the vegan ranch dressing by whisking all ingredients together well in a large bowl.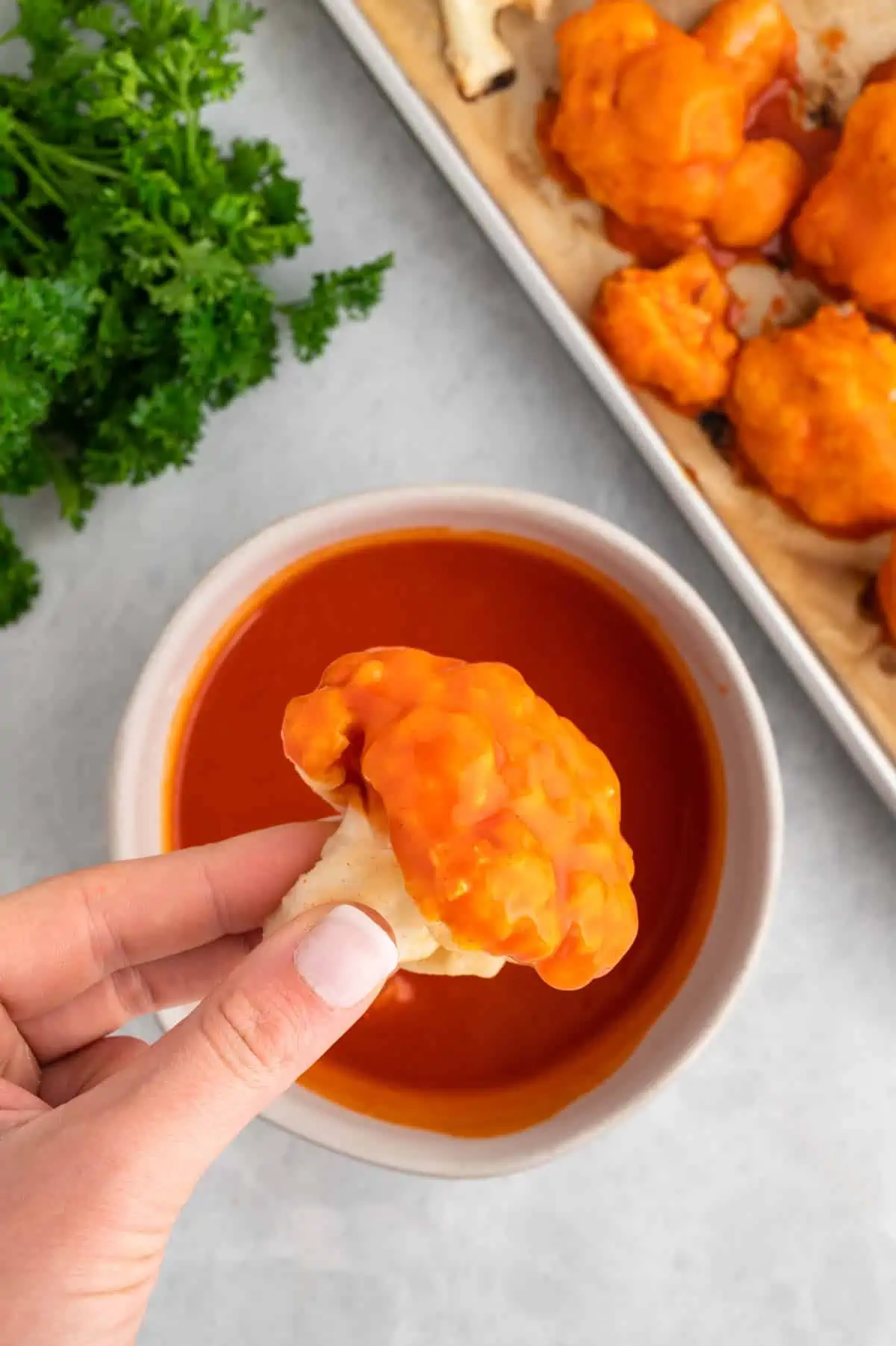 6. When the wings are ready, toss them in your choice of wing sauce to evenly coat. Return wings to the oven for another 5 minutes to crisp up.
Serve your vegan chicken wings with the vegan ranch dip and enjoy!
Expert Tips
To help the batter stick better to the cauliflower wings, pat dry them first after washing. If they're dripping with water it will dilute the batter and take longer for the wings to crisp up in the oven.
Space your vegan wings out evenly on the baking tray so that they evenly coat. You can also cook these in an air fryer for even less time! Spread them out evenly and cook for 10-15 minutes, flipping halfway.
How to Serve It Up
If you're looking to make a little more of a meal out of your vegan buffalo cauliflower wings and ranch dip, don't fret! We've got some wonderful suggestions for you right here:
Snack With a Wrap– This Rainbow Lavash Wrap will make an excellent (and beautiful) addition to your plate! You could even throw some of the buffalo cauliflower wings into it for some truly miraculous flavor moments.
Party With Pasta – Cold pasta can be a real treat and our Fresh Picnic Pasta Salad is a great way to make more of a meal with your buffalo cauliflower wings.
Get Full of Falafel – Cauliflower is a common ingredient to enjoy in various wraps and pita sandwiches so why not enjoy your buffalo cauliflower wings with some Crispy Baked Vegan Falafel Pitas? Full of protein and packed with flavor, you'll be sure to win some serious kitchen points with this combination.
Storage
Since cauliflower has high water content, these wings are best eaten right out of the oven but if you find yourself with leftovers, stick them in an airtight container and keep in the fridge for a few days.
To reheat, the oven is best for maintaining crispiness. Place them on a baking sheet and bake for about 5 minutes at 350 degrees F until heated through. An air-fryer also works well for reheating. For something faster, microwaving is fine, too. The cauliflower wings just won't be as crispy as when first baked.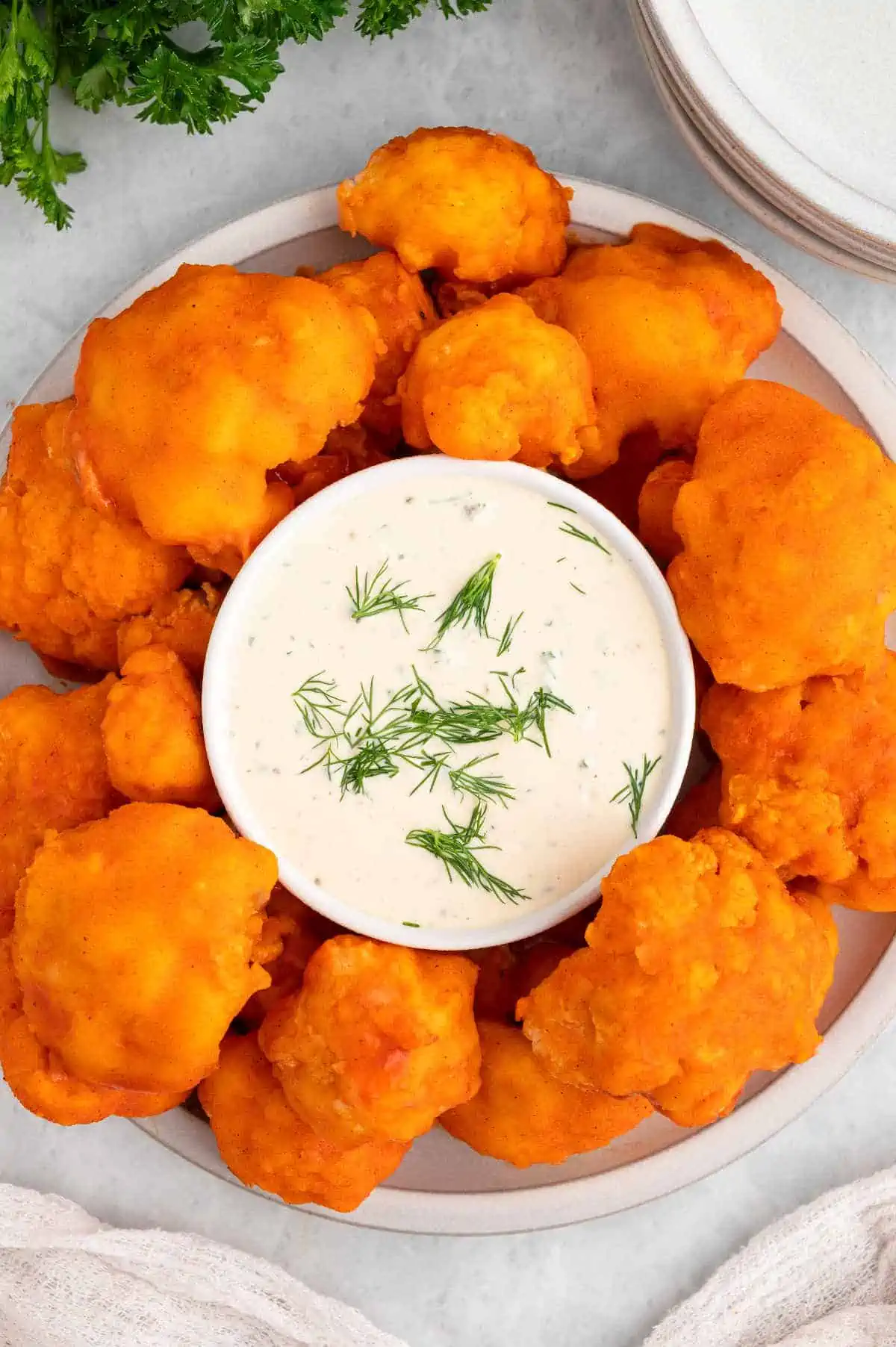 Frequently Asked Questions
What are vegan chicken wings made of?
Vegan wings can be made from various plant-based options to replicate the look and taste of chicken wings. The most realistic is made with vital wheat gluten which is a high-protein flour. You'll often see food made from it referred to as seitan. Vegan wings are also often made with cauliflower, tofu or mushrooms since they have a mild taste that absorbs other flavors well.
Where to buy vegan wings?
Many major grocery chains now carry vegan wings in the frozen section. Look in the vegetarian or plant-based section of the freezer aisle to find them. You'll find brands such as Gardein, Wholly Veggie!, MorningStar Farms, and Birds Eye with vegan options. Just make sure to check the ingredients as some will use eggs or egg whites for the batter.
Does Wingstop have vegan wings?
No, unfortunately all wing options at Wingstop are made from chicken. The only vegan options are veggie sticks, seasoned fries, and Cajun fried corn, and various dips
More Delicious Vegan Appetizers to Try
Vegan Wings
2 medium cauliflower heads, (about 2 lbs each) chopped into florets
1 cup white rice flour
¼ teaspoon salt
¼ teaspoon paprika
¼ teaspoon garlic powder
1 cup water
1 12-ounce bottle buffalo wing sauce, I used Frank's Red Hot which is available at most supermarkets
Vegan Ranch Dip
1 cup vegan mayo
½ cup vegan sour cream
1 teaspoon vegan Worcestershire sauce
1 teaspoon white vinegar
1 tablespoon fresh dill, chopped
1 tablespoon fresh chives, chopped
¼ cup fresh parsley, chopped
1 clove garlic, minced
⅛ teaspoon cayenne pepper
½ teaspoon black pepper
Preheat your oven to 450°F and prepare a baking sheet with parchment paper.

Combine the water, white rice flour, salt, paprika, and garlic powder in a large bowl. Whisk together to combine.

Thoroughly coat the cauliflower florets with the batter and place on the prepared baking sheet, evenly spaced out.

Bake on the center rack for 18-20 minutes, until they are slightly brown on the top.

Meanwhile, prepare the vegan ranch dip. Add all of the ingredients to a bowl and mix well to combine. Set aside.

Remove cauliflower wings from the oven and coat them in buffalo sauce. For best results, pour the sauce into a bowl and carefully dip each cauliflower into the sauce using a slotted spoon or fork (cauliflower will be hot).

Return buffalo cauliflower back into oven to crisp up for another 5 minutes.
Tip – If you don't have white rice flour, it is fine to use regular flour if gluten-free is not a necessity for you. Storage – Store leftover vegan wings in an airtight container in the refrigerator for up to 4 days.
Calories: 338kcal | Carbohydrates: 31g | Protein: 5g | Fat: 21g | Saturated Fat: 3g | Polyunsaturated Fat: 2g | Monounsaturated Fat: 0.2g | Sodium: 361mg | Potassium: 491mg | Fiber: 4g | Sugar: 5g | Vitamin A: 331IU | Vitamin C: 74mg | Calcium: 40mg | Iron: 1mg
Vegan Buffalo Cauliflower Wings recipe by Alex Thomopolous for World of Vegan. Copyright of World of Vegan™, all rights reserved. Photos by Michelle Cehn. Article edited by Rachel Lessenden. Please note that this article may contain affiliate links which support our work at World of Vegan.