We've shared countless recipes here that are perfect for helping those transitioning to a plant-based diet, but this one is really special. This Italian soup with quinoa meatballs from The College Vegan Cookbook by Heather Nicholds is an excellent resource for those who are vegan in college. It's also a great help for anyone putting in long hours of work while trying to live kindly, manage a tight budget, and stay healthy.
For the quinoa meatballs:
1 cup cooked diced potato, or sweet potato or squash
1 cup cooked quinoa, or buckwheat or short grain rice
2 tablespoons tomato paste, or ketchup
1 teaspoon dried herbs
1 teaspoon salt, or ½ a teaspoon if using ketchup
2 to 3 tablespoons nutritional yeast, optional
olive oil for preparing the baking sheet, optional
For the Italian wedding soup:
1 teaspoon olive oil
2 carrots chopped
½ chopped onion
2 to 3 cloves garlic, minced, or ½ a teaspoon garlic powder
salt to taste
8 cups water
1 cup orzo, or pearled couscous
1 tablespoon dried herbs
black pepper, freshly ground
2 cups chopped spinach, or kale or chard
For the meatballs:
Preheat the oven to 350°F. Coat a rimmed baking sheet with olive oil or line it with parchment paper or a silicone baking mat.

Smash the cooked potato in a bowl. Add the quinoa, tomato paste, dried herbs, salt, and nutritional yeast (if using). Toss to mix well. Form the mixture into about 20 balls and place them on the prepared baking sheet, spaced slightly apart. Bake for 15 minutes. Flip each meatball and bake for 15 minutes more.

Transfer the meatballs to a large plate to cool.
For the Italian Soup:
Heat the olive oil in a large soup pot over medium-high heat. Add the carrots, onion, garlic (if using fresh), and a pinch of salt. Sauté for 3 to 4 minutes, until softened.

Add the water, orzo, and dried herbs (plus the garlic powder, if using). Season to taste with salt and pepper and bring the soup to a boil. Turn the heat to low and simmer until the orzo is soft, about 10 minutes.

Stir in the meatballs and chopped greens to wilt. Taste and season with more salt and pepper as needed.
Calories: 292kcal | Carbohydrates: 56g | Protein: 11g | Fat: 3g | Saturated Fat: 0.4g | Polyunsaturated Fat: 1g | Monounsaturated Fat: 1g | Sodium: 711mg | Potassium: 758mg | Fiber: 7g | Sugar: 5g | Vitamin A: 6675IU | Vitamin C: 20mg | Calcium: 94mg | Iron: 4mg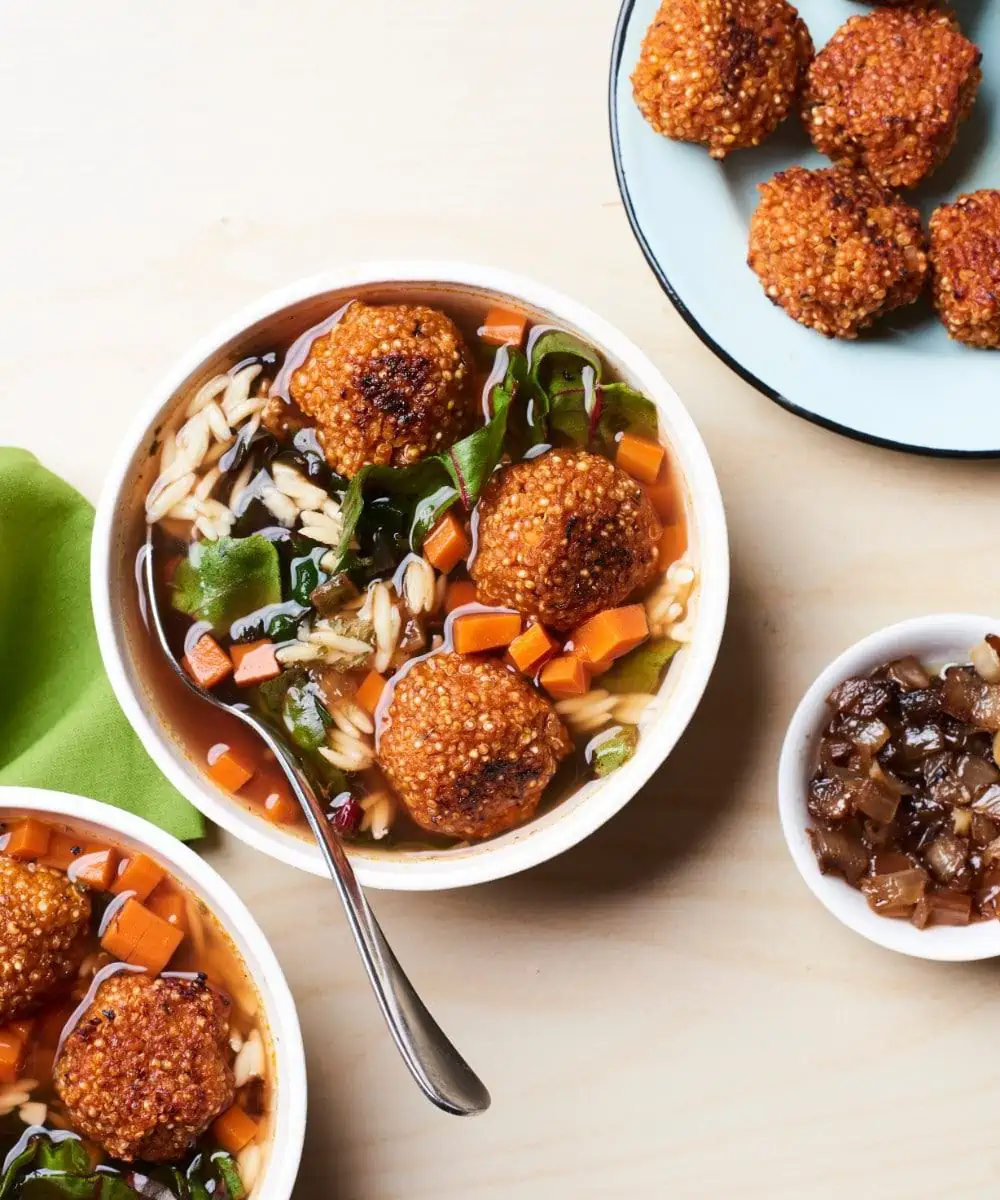 Notes From The Author
"When I was brainstorming soups to include in this book, I wanted to do an Italian wedding soup because it's so hearty and a balanced meal in itself. It is so full of flavor, and is a comfort food kind of meal—while being perfectly healthy!

It was actually my college roommate who first introduced me to orzo, she said it was shaped like rice but cooked like pasta—which meant it we could make dinner really quickly! Using it in this soup means that it really doesn't take much time to get ready, even though it might seem complicated.

The best way to make this soup is to make a double batch of the meatballs in advance. Have some of them in a sandwich or with spaghetti, keeping the rest in the fridge or the freezer, so that when you make soup they'll be ready to go and hold together perfectly. They also make a good addition to a packed lunch, or as snacks to keep you fueled through the day. I like to dip them in hummus!"

– Heather Nicholds
Vegan In College
Going vegan in college can be a challenge, but you can make it happen! Tons of people go vegan in college each year, and it's getting easier all the time as University dining halls are becoming increasingly vegan-friendly. It may actually be the most common time in which individuals learn about food issues (thanks to organizations like Vegan Outreach) and have the autonomy to take action.
If you're going vegan in college, arm yourself with fantastic resources and find a system that works for you. Your biggest challenges will likely be lack of time, a small budget, and (probably) non-vegan roommates.
Have a listen to this Plant-Powered People Podcast episode. World of Vegan founder Michelle Cehn (who went vegan in college) and Toni Okamoto chat with a current college student Felicia Falconer who recently went vegan, and we hope it will help you!
When it comes to time and budget, batch cooking and meal planning will be your best tools. Regarding living with non-vegans, there are always ways you can work around it. Motivate them to try plant-based foods and recipes.
And of course, you can pick up a copy of this vegan college cookbook:
Keep it Simple and Batch Cook!
Going plant-based is awesome, especially when you learn some tips to make food prep easier. It's a great idea to get some great staple recipes under your sleeve. This is especially true for those who are dealing with too many classes in a semester and feeling the pressure. Don't fret! You can do this.
Pick a day to do some basic batch cooking. Let's say Sunday is your day. Even if you have one or two hours in the morning, you can simplify your life immensely by doing this (this goes for everyone with a busy schedule). You can prepare a few basics and use them throughout the week.
Batch Cooking Ideas
These are just a few ideas of what you could batch cook once a week to ease your student life. But there are so many options out there, and you can play around with your favorites! You might consider getting some budget-friendly meal plans to help you sort all of your food for the week and stay under budget.
Stock Up On Easy Ready To Go Meals & Ingredients!
If you happen to have a microwave, then frozen veggies and vegan frozen meals will become a good friend when it comes to those days when you can't deal with cooking. Things like frozen broccoli or mixed veggies are so easy to add to your meals without the extra step of steaming them or boiling them.
The same goes for frozen fruits! You can add them to your oatmeal and let them defrost (that delicious juice they loose takes the oats to a whole different level). Or you can eat the frozen fruit with some soy yogurt (cherries are my fav!) and some crushed nuts on top. So good!
The point is' it's good to have some back-up. Even if you've been excellent at your batch cooking game! Be prepared, and you'll be fine!
More Seriously Satisfying Soups to Try
Recipe from The College Vegan Cookbook by Heather Nicholds and reprinted with permission from the publisher, Callisto Media. Please note that this article contains affiliate links that help support our work at World of Vegan!