Snacks make the world go 'round, staving off hunger between meals while preventing meltdowns and tantrums along the way. At any age, having quick, energizing vegan snacks on hand is essential. But for kids, it's even more essential. So here is a round-up our favorite vegan kids snacks — from store bought to homemade!
Growing kids especially need almost continuous access to stay full and focused, fueling a full day of work or play. It's also a great opportunity to sneak more vitamins and nutrients into your picky eaters, simultaneous staving off the impulse to overeat at mealtimes. When energy levels run low, a quick bite can be a real lifesaver.
Unfortunately, it's not always easy to navigate around the junk food out there, especially when cravings strike. There's nothing wrong with an occasional treat, but things like chips and cookies should be the exception rather than the rule.
Avoid the pitfalls of processed foods, get out of your snacking rut, and rediscover the fun of healthy snacking all over again. Just a little bit of planning can take the stress out of that midday break.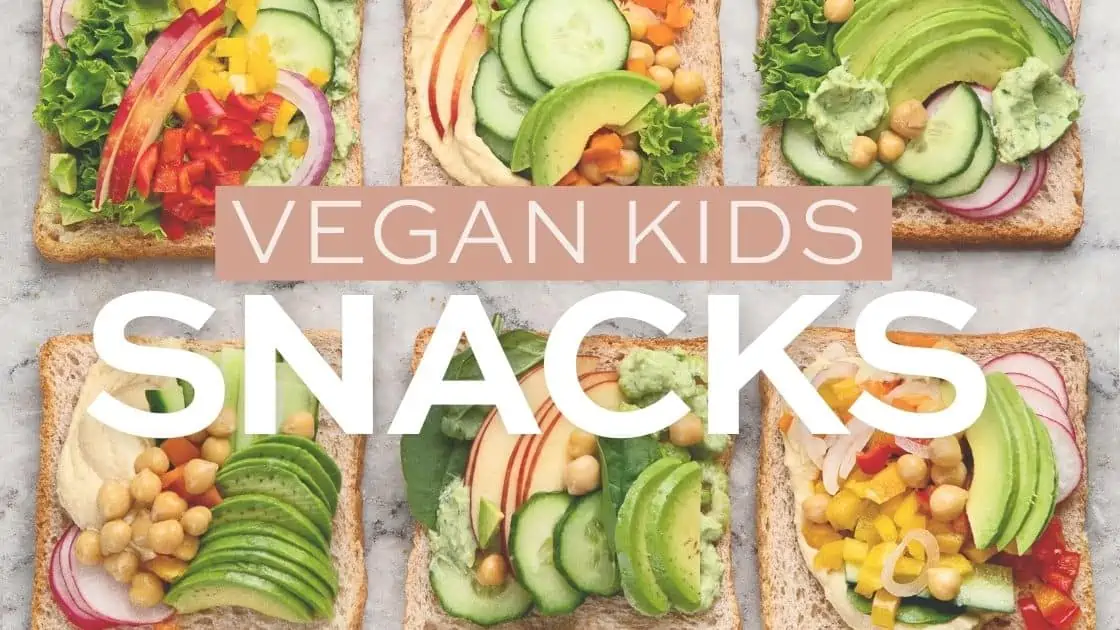 Easy Vegan Kids Snack Ideas
The best snacks for kids will always be fresh, whole foods. Sugar, fat, and salt are non-issues when you're serving up the basics, like cut apples and baby carrots. That doesn't mean it needs to be boring, though! Get everyone on board by dressing up fruits and veggies with sauces and dips, playful presentations, and crave-worthy flavors.
Here are a few healthy snacks you can whip up anytime, no recipes required.
Fruit
Hummus with carrot sticks
Sliced apples with peanut butter
Fruit kebabs
Nuts (cashews, peanuts, seasoned walnuts, etc.)
Trail mix
Refried bean quesadilla or mini burritos
Ants on a log (celery with peanut butter and raisins)
Edamame in pods
Sliced bell pepper (with vegan ranch dip)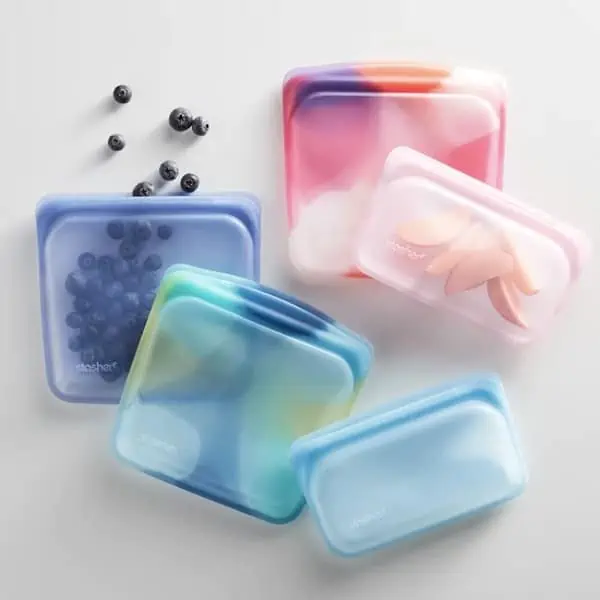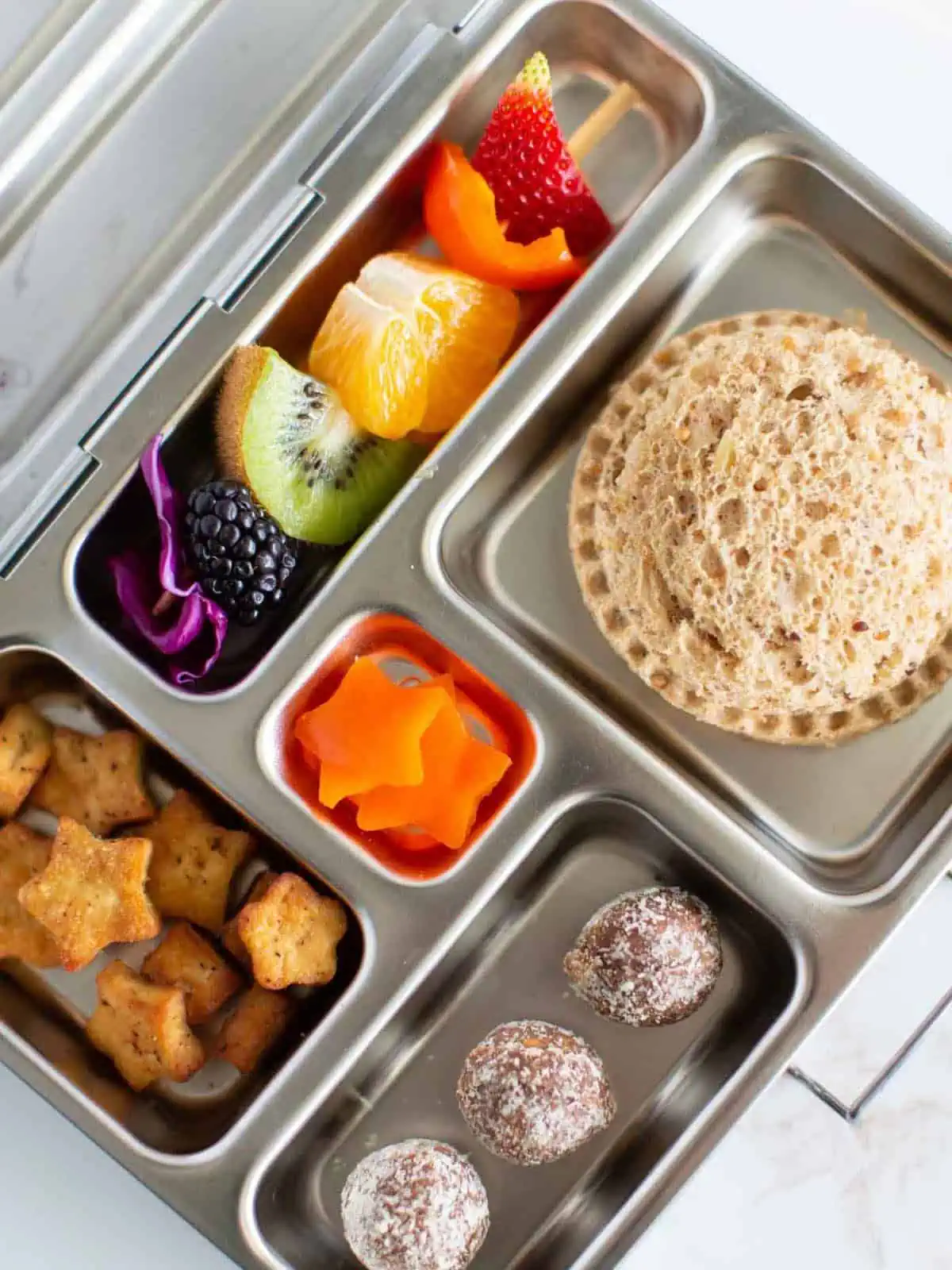 Now, let's move on to some store-bough snacks that are vegan!
Kids Bars
Snack bars are not always the healthiest option, but these portable, filling, tasty bars are a favorite among kids and the easiest dependable food source to toss in your bag when you're running out the door.
When choosing snack bars for young children, there are fantastically healthy options made from dates, nuts, and fruit. And there are less health-optimal options made with refined sugar, oils, and chocolate. Kids will naturally prefer the later if offered both varieties, but if you only keep the healthier options at home, most kids love them.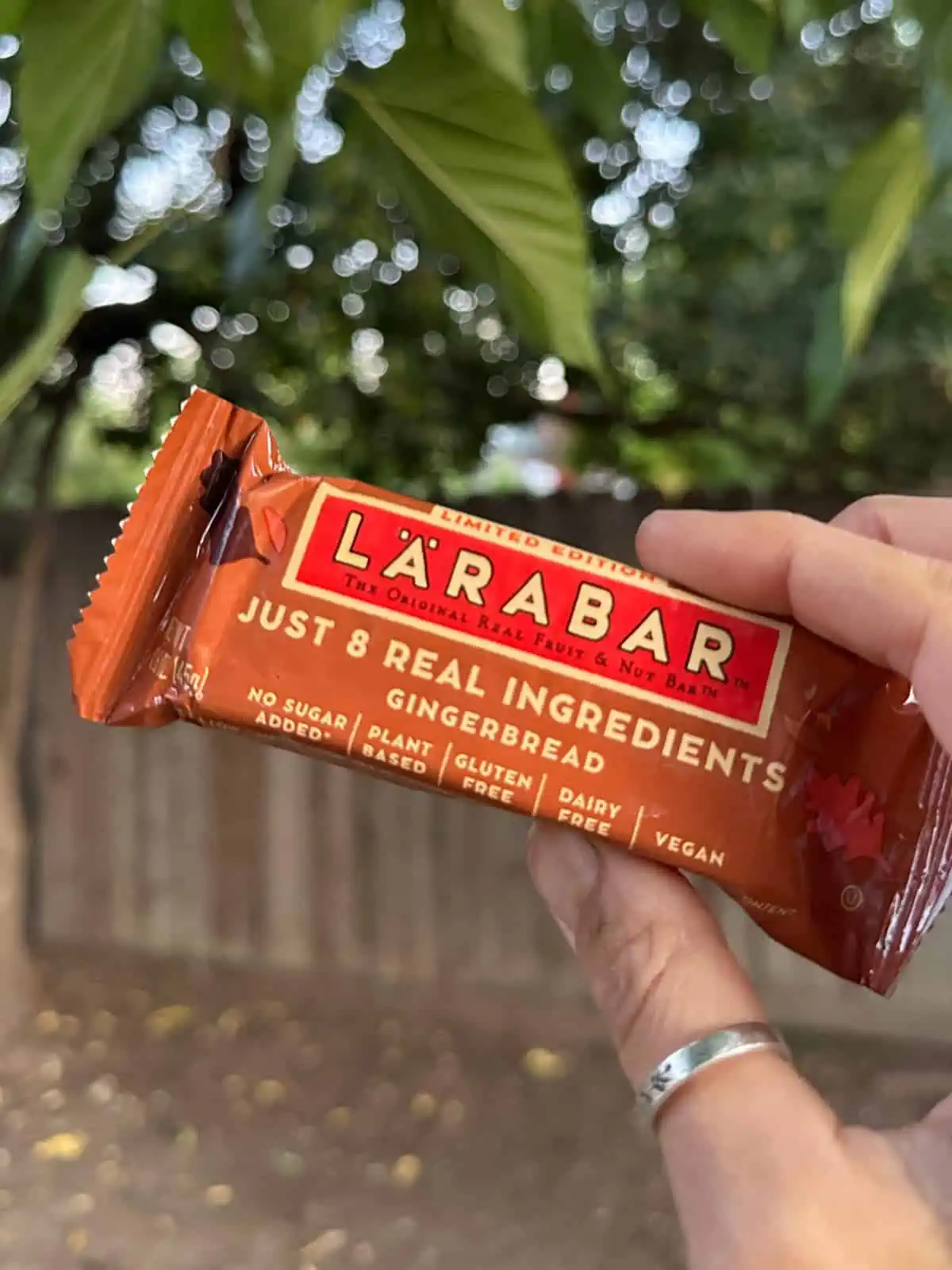 Look for bars that are low in added sugars and high in fiber, as this helps maintain steady energy levels and supports digestion. Health-minded parents may also look for bars with simple ingredient lists, avoiding artificial additives and preservatives. For those seeking vegan options made without dairy or eggs, there are plenty of choices available.
Whole Food Snack Bars (Healthier Options)
Lara Bars (most are vegan and made with whole food ingredients)
That's It Bars
Yumi Organic Superfood Bars
Skout Organic Bars
Popular Snack Bars (Sweet)
Bobo's Oat Bites
MadeGood
Clif Bars
Z-Bars
GoMacro Kids Bars
Nature's Bakery
Always check the label for any hidden animal-derived ingredients and allergen warnings, especially if your child has specific dietary restrictions or allergies.
All-Natural Fruit Snacks
Fruit leather is essentially fruit puree that's been dried in flat sheets for a shelf stable alternative to fresh. There's no added sugar which makes it a smart way to curb sweet cravings.
Gummies are not all created equal; many aren't even vegan! Stay away from candies made with gelatin and sugar in favor of fruit snacks made with pectin and real fruit juices.
Amara's Freeze-Dried Smoothie Melts
Amara's smoothie melts are one of our favorite packages snacks because they're actually healthy, but they taste like candy so kids love them! My toddler is obsessed.
The ingredients are so clean and simple: organic fruit, organic coconut milk, and organic carrots. That's it! They have all the flavor and nutrition of a refreshing fruit smoothie with none of the spills, smears, or splashes. And no added sugar!
Two of the flavors are vegan (mango carrot and carrot raspberry) and they are ideal for toddlers, older kids, and even the youngest ones just learning to self-feed. Parents, you can munch on them too — I do! They come in a resealable bag and won't melt, so they're very convenient to pack in lunches or toss in your bag and take on-the-go. You can even find them on Amazon.
Pssst! If your little one is just starting to explore solid foods, or you're trying baby led weaning, these can also help babies practice their grip and improve hand-eye coordination.
Solely Organic Whole Fruit Gummies
Solely makes some of the best fruit chews—they are made with just fruit and Vitamin C, and totally delicious! These are lunchbox staples.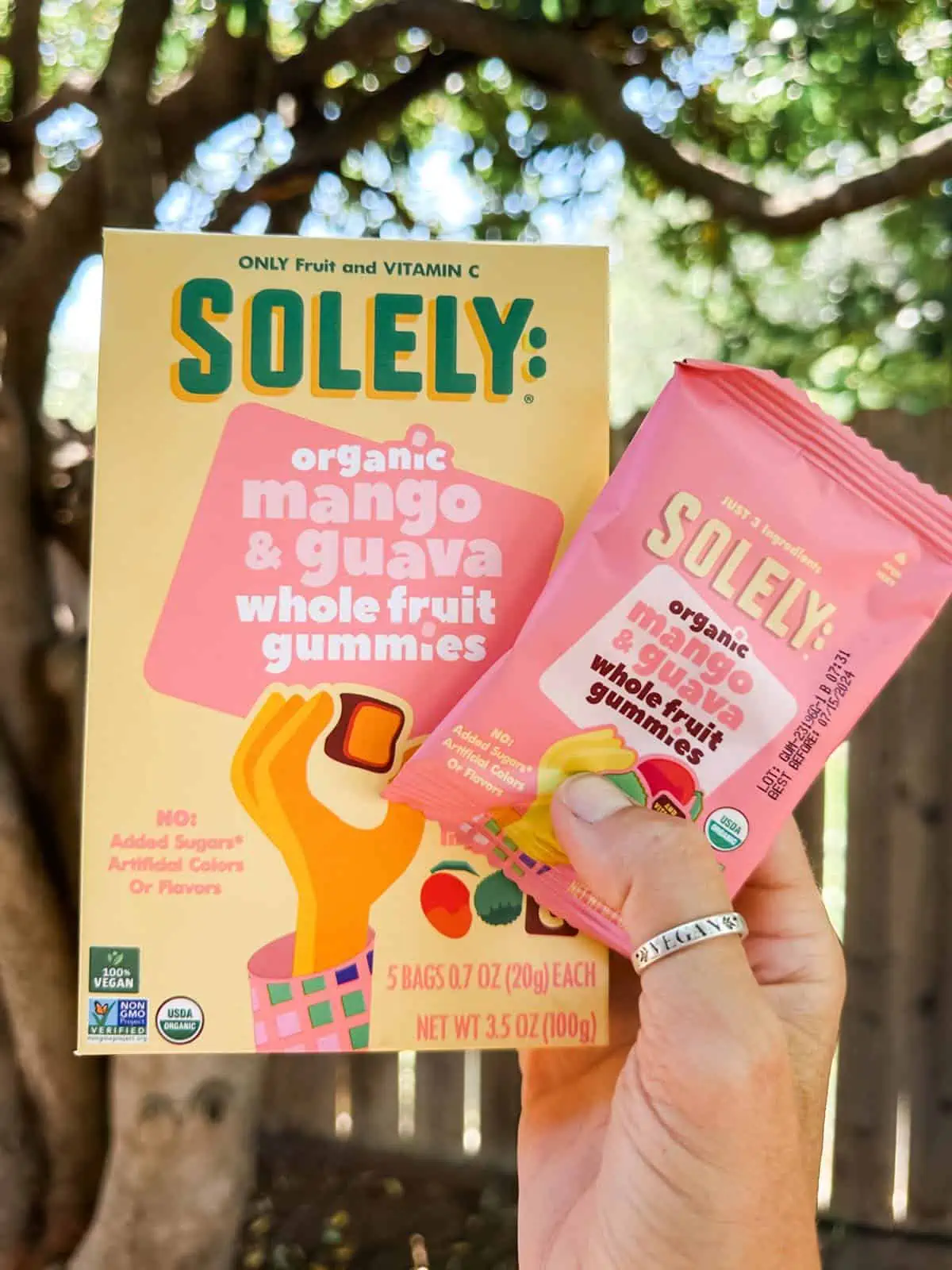 Bear Snacks Fruit Rolls
These adorable fruit rolls are widely accessible in the United States, made from just fruit, and they come with a fun collectable cards with animal facts on them! These are also great to pack in school lunches.
Trader Joe's Fruit Leather Buttons
Leave it to Trader Joe's to find a new spin on healthy fruit snacks, making them even more fun for kids! These organic peel-off "buttons" are flat round fruit leather pieces that kids can pull off of a thin piece of paper in the package.
Fruit Leather
Almost every grocery store and big box store carries fruit leather, and the ingredients just keep getting better! The colorful organic fruit leather pictured below is from Target, and these are one of the most budget-friendly options for fun fruity kids snacks and treats.
Froot Thief Fruit String
A new kid on the block, The Froot Thief brand is poised to become one of the most popular, spinning fruit-based chews into long playful strings that are each unbelievably nine feet long! These are not very widely available yet, but you can snag a case on Amazon to support them in these early days.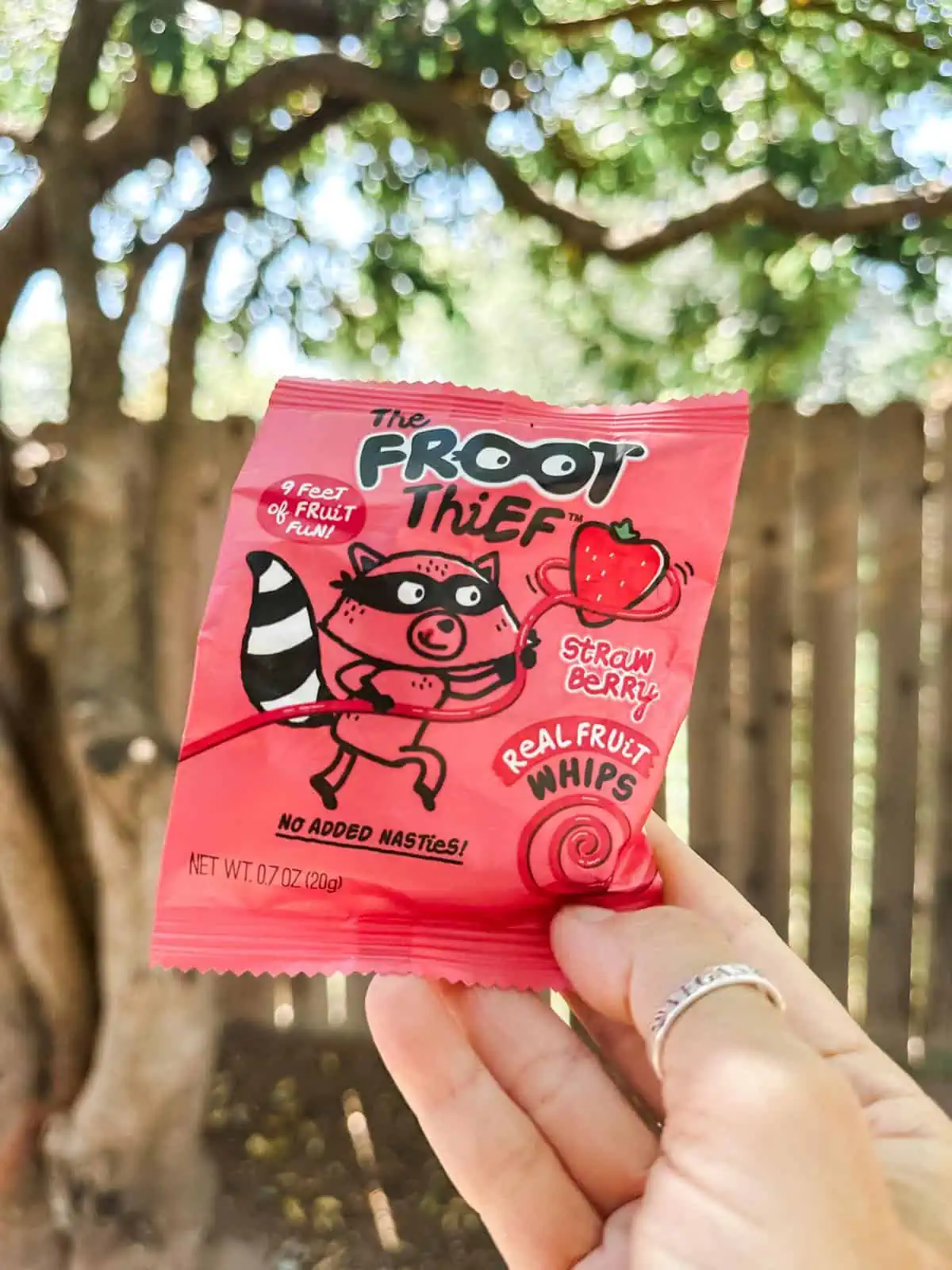 Cereal and Granola
Dry cereal can be a great finger food, especially on long car trips or days outside since it doesn't need to be refrigerated. Pack single servings of your favorite vegan cereal in reusable pouches or zip top bags for grab-and-go convenience.
Granola has potential as well, like cereal, but can be more difficult to eat without utensils. Varieties with bigger clumps and clusters are best to prevent crumbs.
Plant-Based Cheese
Cheese is can be a fun addition to kids lunchboxes or snack trays, especially since it comes in so many forms. These days you may be able to find vegan cheese sticks (from brands like Miyoko's and Daiya), creamy spreadable wedges (like these from Good Planet Foods), and even a plant-based version of the iconic wax-wrapped Babybel wheel.
Plant-Based Yogurt
Plant-based yogurt now comes in ever flavor and color imaginable! You can even find vegan yogurt tubes (for all the Go-gurt lovers) and Forager Projects's cashewmilk yogurt pouches ideal for lunchboxes, that are nearly identical to the conventional options.
Just keep in mind most yogurts are loaded with sugar, so even though they contain beneficial probiotics, they should probably fall into a "sweets and treats" category rather than an everyday snack.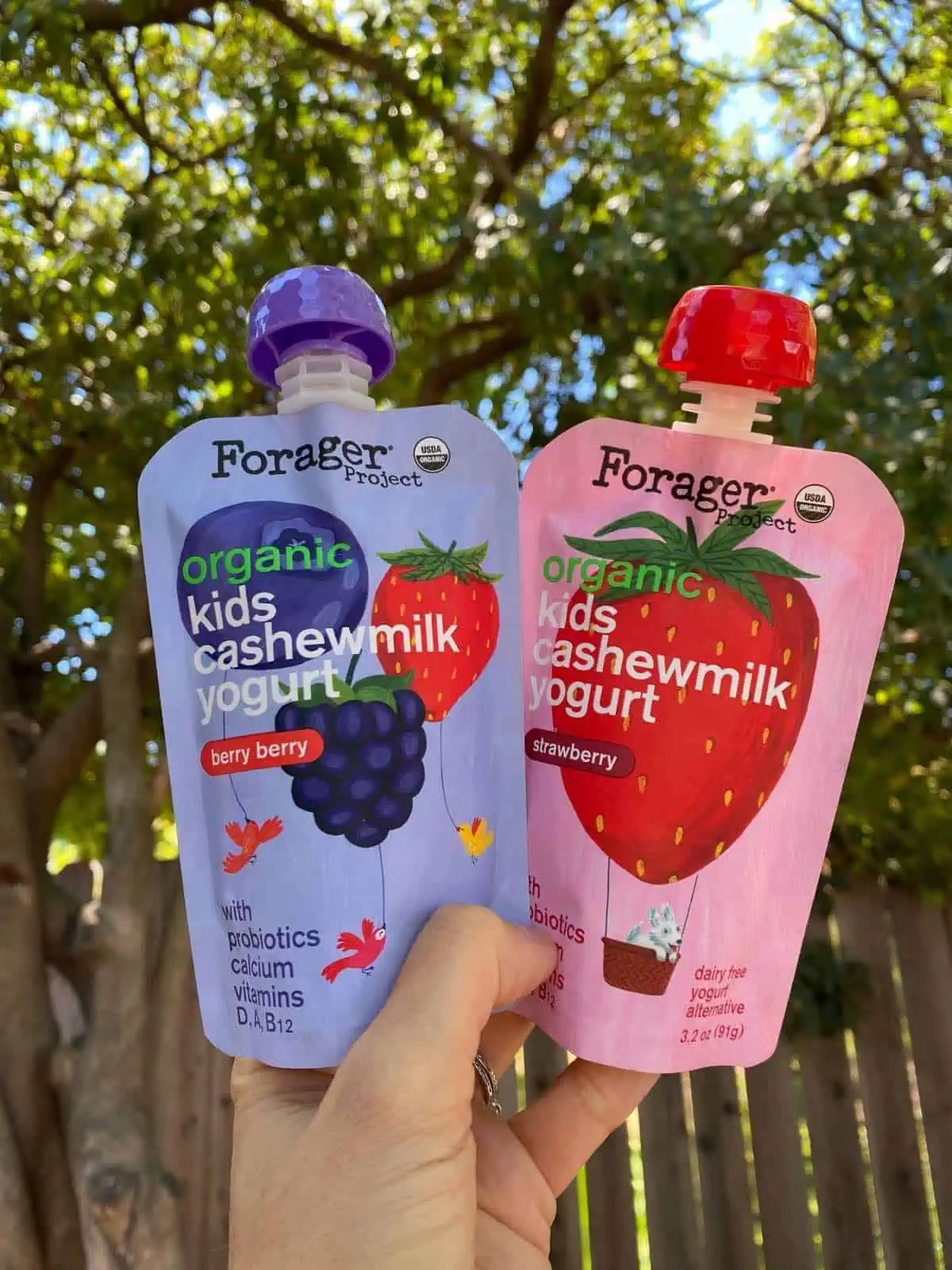 Veggie Chips, Crisps, Puffs, and Straws
Bamba is a beloved snack for kids and toddlers, especially popular in Israel. These peanut-flavored puffed snacks are not only delicious but also a source of essential nutrients. They are made primarily from peanuts and contain no artificial flavors or preservatives. Bamba is a fantastic choice for parents looking to introduce their children to nuts in a safe and enjoyable way, as it melts in the mouth and is easy for little ones to handle. It's a satisfying and crunchy treat that can be a great addition to a well-balanced snack repertoire for kids.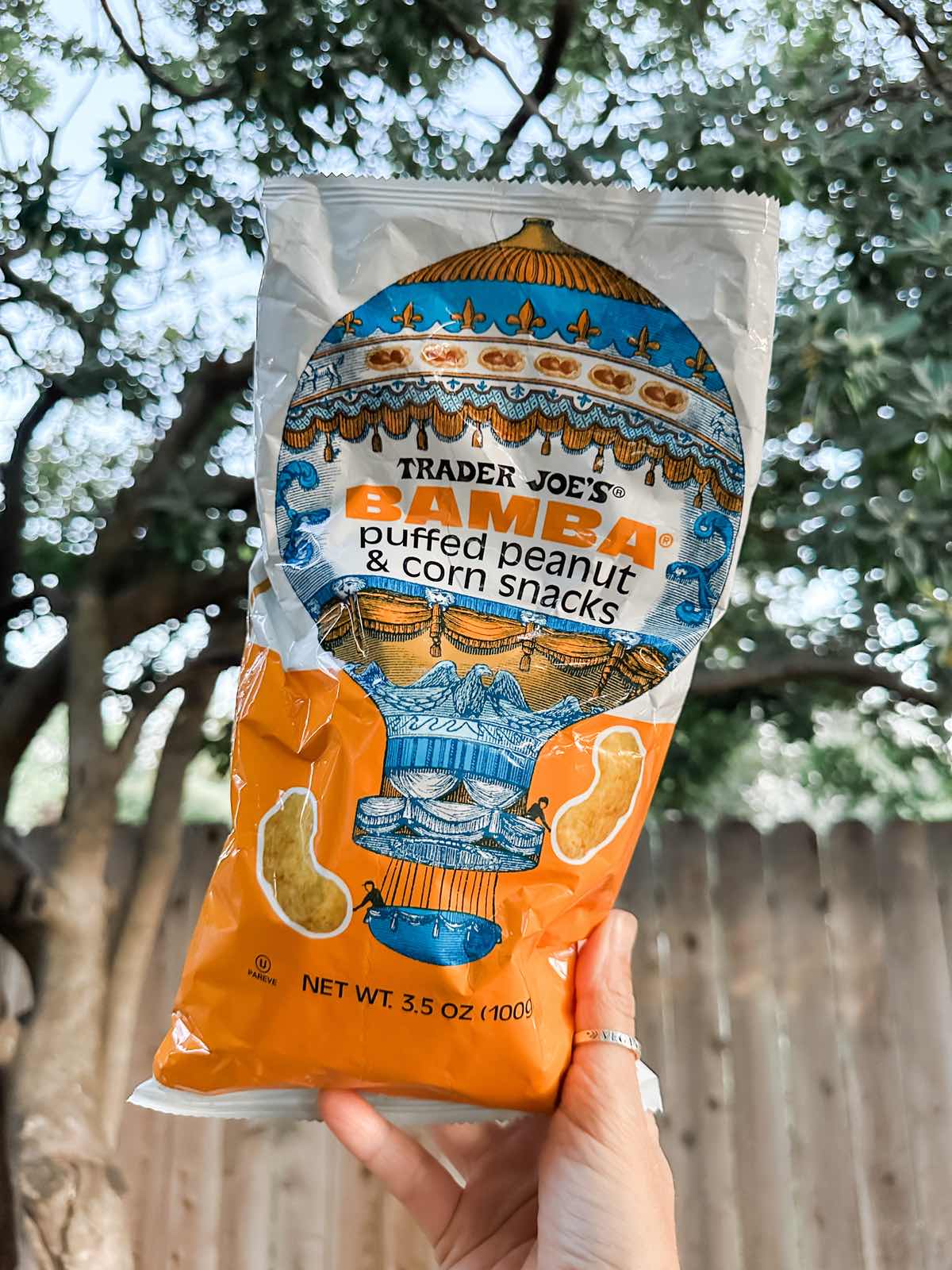 Harvest Snaps Baked Pea Crisps are an excellent option for health-conscious parents seeking a tasty and wholesome snack for their kids. Made from green peas, these crisps are not only vegan but also rich in plant-based protein and fiber. They have a satisfying crunch that kids love and they're a great way to sneak some extra veggies into your child's diet while keeping snack time enjoyable.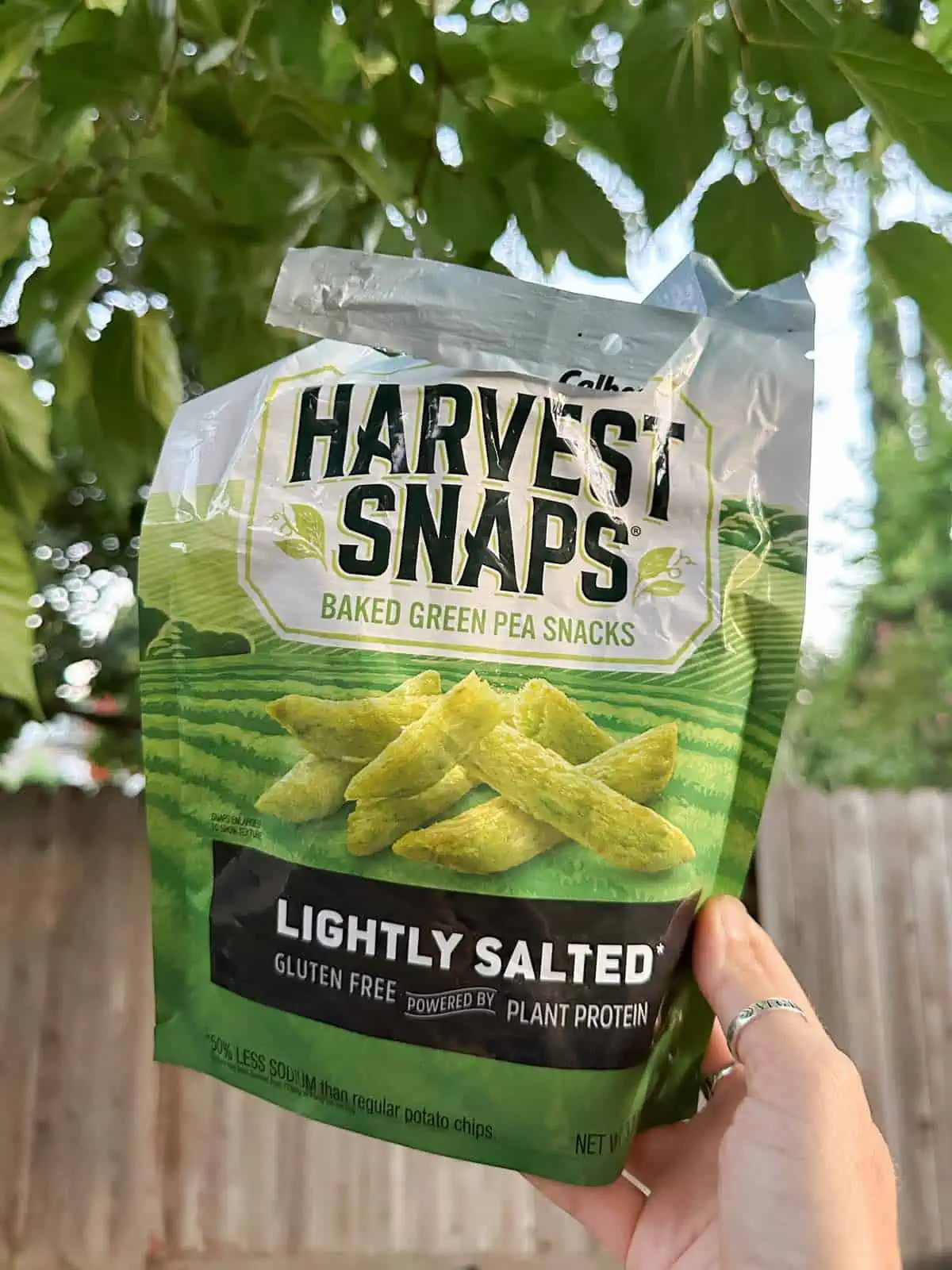 Chickpea puffs are another popular chip alternative for kids. The brand Hippies popularized this gluten-free and vegan snack that's also a good source of plant-based protein and fiber. They come in fun flavors, including a vegan cheese flavor!
Freeze-dried vegetables seem like a questionable choice for young kids, but they're surprisingly delicious, even if your little ones turn up their noses at the veggies on their plates! The drying process concentrates their natural sweetness, so single-ingredient crisps that are just corn, tomatoes, or peas take on greater depth of flavor.
Veggie straws or chips taste more like potato chips that everyone knows and loves but add a little bit more nutrition into the picture. They're a good way to wean kids off less healthy snacks while still satisfying with a similar experience.
Cauliflower puffs prove that cauliflower really can do anything it puts its mind to! Puffed snacks are traditionally made from corn, but these use everyone's favorite cruciferous vegetable as the base instead, coating them with dairy-free cheesy powder for that perfect savory finish.
You can also make your own chips like these zero-waste crispy potato skin chips and these kale chips!
Vegan Snack Recipes for Kids
Great snacks shouldn't take a lot of time, effort, or money. Here are some delicious ideas that anyone can make!
If you're struggling to get your kid to eat their greens, whip up a batch of these green blender muffins! You can call them "Monster Muffins" or "Dino Muffins" to make them extra-fun. These are great for toddlers, growing kids, and even babies trying Baby Led Weaning. You can make a batch and freeze them and pull them out for a secretly healthy quick breakfast, snack, or lunchbox addition.
These tofu snacks are encrusted with nutritional yeast, known by some as vegan catnip. You might not normally think of bean curd as prime snacking material, but these buttery, cheese little cubes are an excellent high-protein alternative to plain popcorn. Especially when you want something more substantial between meals, this is the recipe to eat on repeat.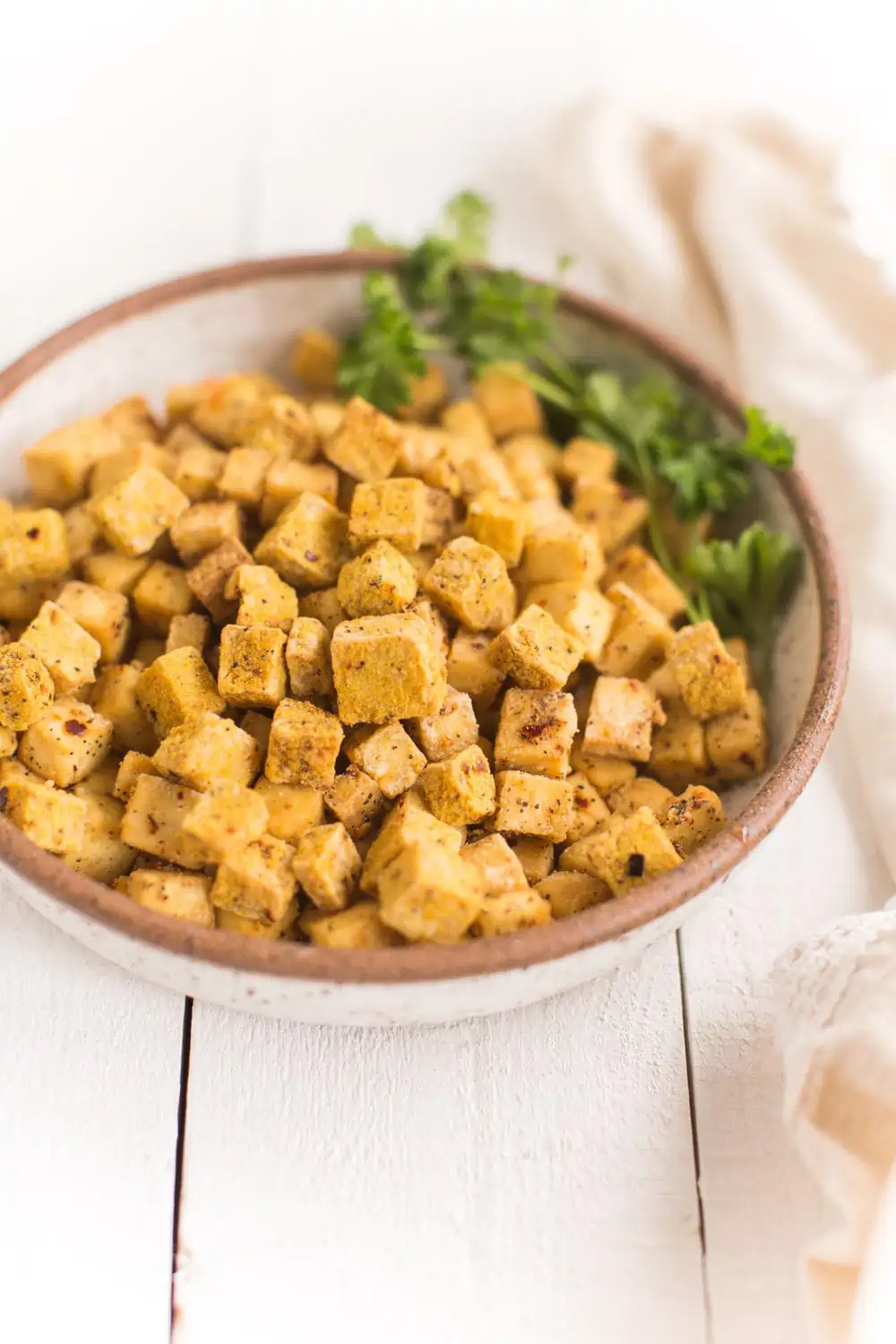 These easy vegan bagel bites take the universally beloved flavors of cheese pizza and transform it into an almost instant treat. They're ready in minutes, freezer-friendly, and great for packed lunches too.
These roasted chickpeas are insanely addictive and stunningly healthy! All you need are beans and a handful of spices to create a crunchy savory sensation.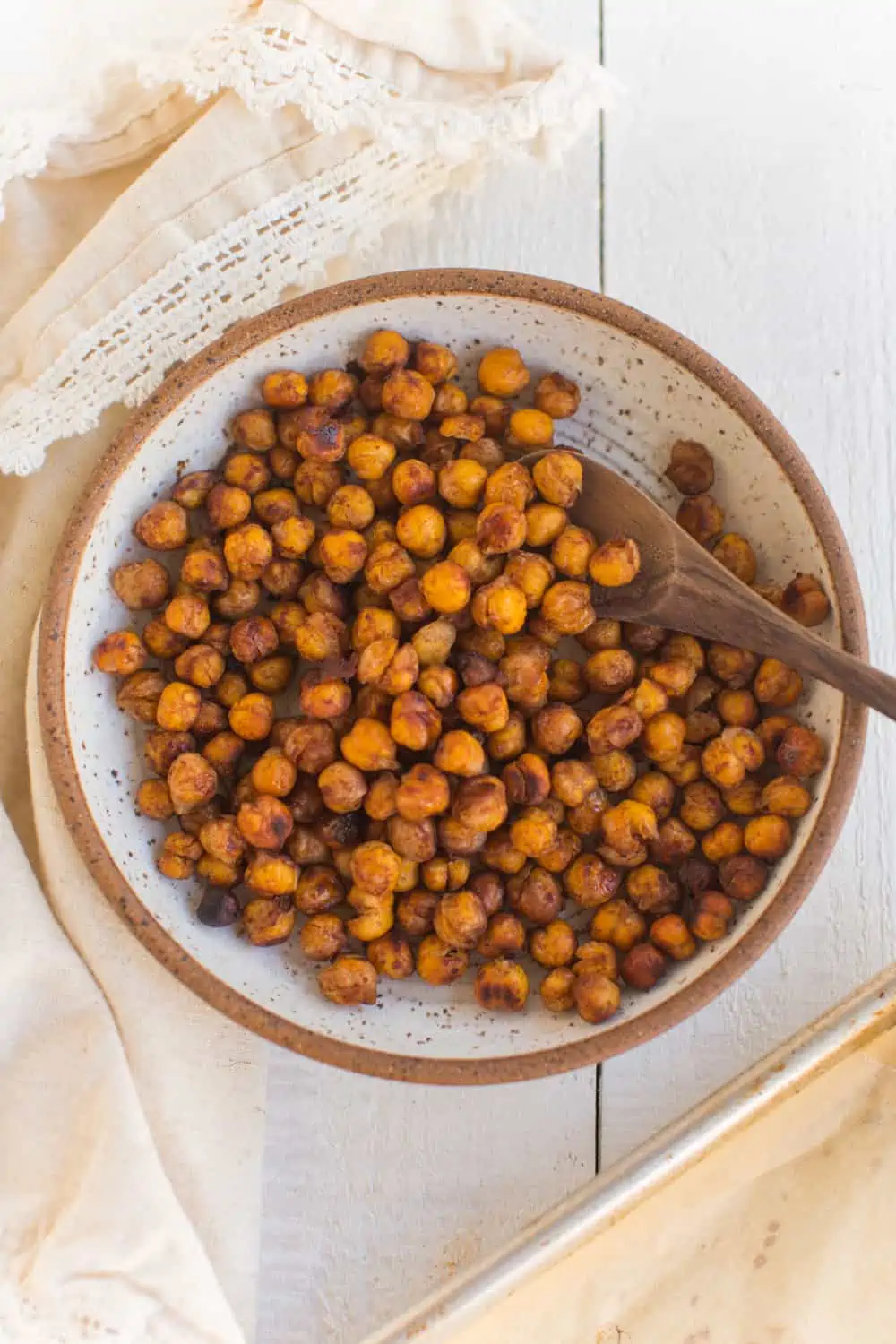 If your kiddo loves french fries, try making them a bit healthier by using sweet potatoes! Sweet potatoes contain far more nutrition than white potatoes, and they arguably taste even better. These will never steer you wrong as a side, starter, or snack. They're a snap when made in the air fryer, and much healthier than anything deep fried. Save the oil and load up on flavor instead.
These delicious nut and date balls taste like a cross between chocolate ganache and cookie dough. For something so impossibly decadent, it's hard to believe they're made with just nuts and dried fruits! Anyone with a sweet tooth will be draw to these chocolatey morsels; no one needs to know their wholesome secrets.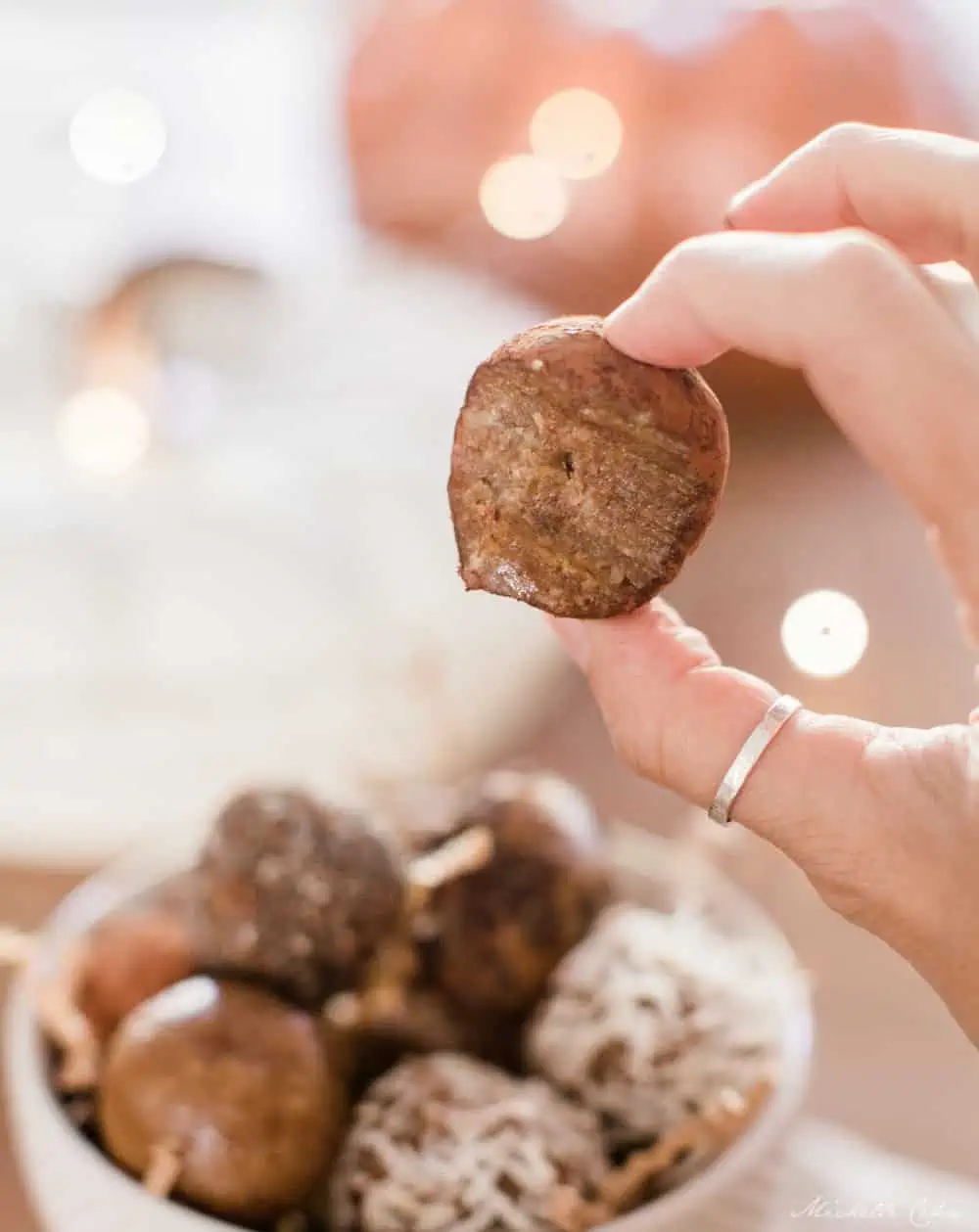 These pizza spirals are a nostalgic favorite for anyone who grew up in the 90s, and now kids can enjoy them today, without all the processed ingredients! It only takes four simple ingredients to get some gooey pizza goodness on the table. The recipe is positively foolproof.
Khichdi has long been a staple for vegan and vegetarian kids in India, made from easily digestible whole grains and legumes. Traditionally a simple, warming stew, it can also be rolled into balls that are easier for toddlers to pick up and feed themselves. The whole family can enjoy this one as a main dish, too.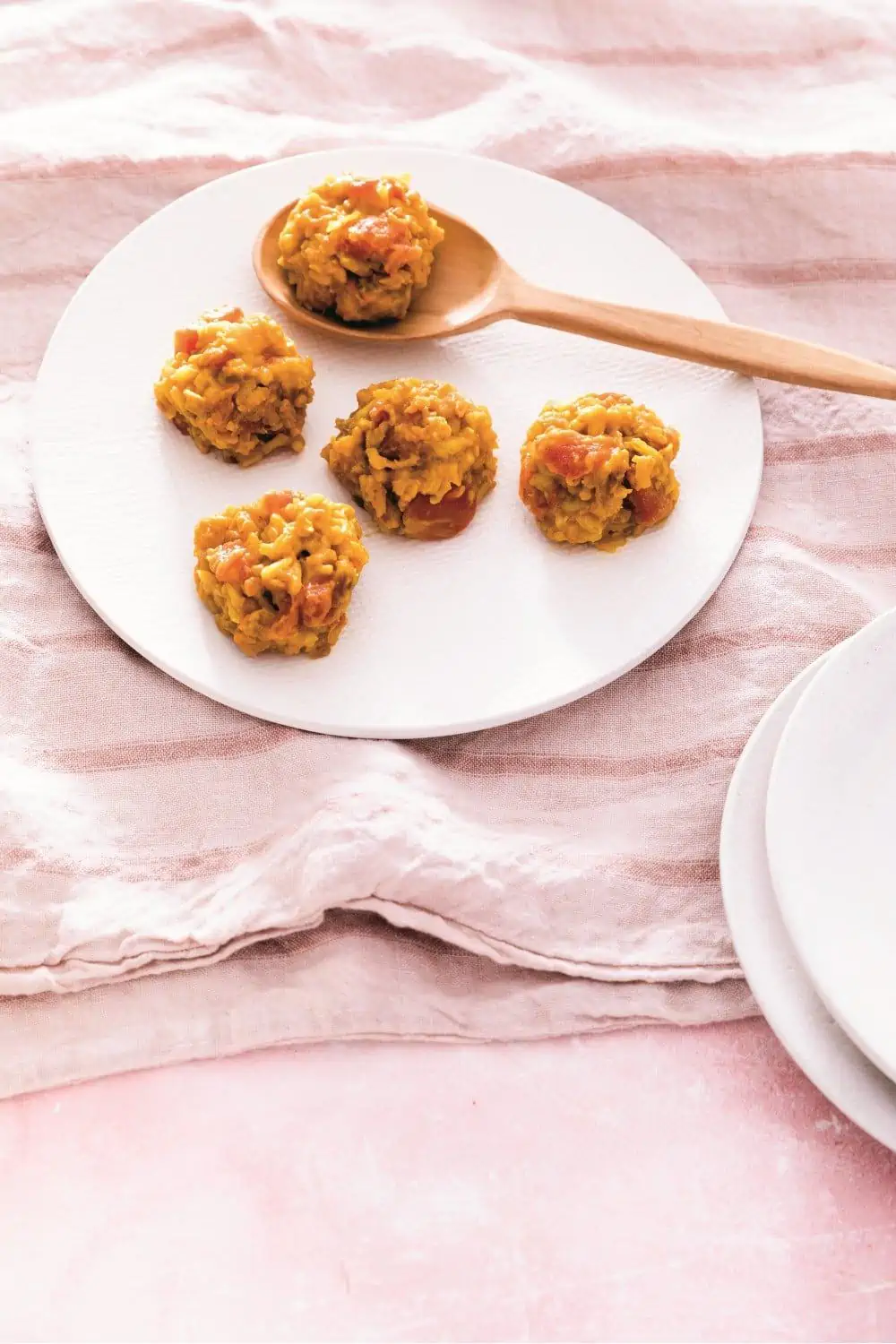 This easy-to-make broccoli isn't just a side dish; it's also a great snack for kids! A touch of garlic goes a long way in transforming those green florets into prime snacking material. It may sound like a stretch, but veggie-lovers will gobble them right up!
These vegan pumpkin muffins aren't just for fall. Everyone will be drawn to the gooey chocolate chips strewn throughout that tender crumb, all while loading up on healthy pumpkin puree and unsweetened applesauce in every bite.
Smoothies are the best answer to a kid having a meltdown that claims they're not hungry. Just a few sips of this refreshing blend will brighten their mood right away.
This recipe proves that potatoes don't have the monopoly on this concept. Lightly breaded with a crunchy herbed crust, they're so delicious that they don't even need a dipping sauce. It's hard to resist eating them right off the sheet!
Have you ever tried deviled potatoes? These are great for kids and adults, and will make you forget all about eggs. Naturally, there's no cholesterol in these animal-free alternatives that have just as much rich flavor. They're fancy enough to serve at a party but quick enough to enjoy anytime.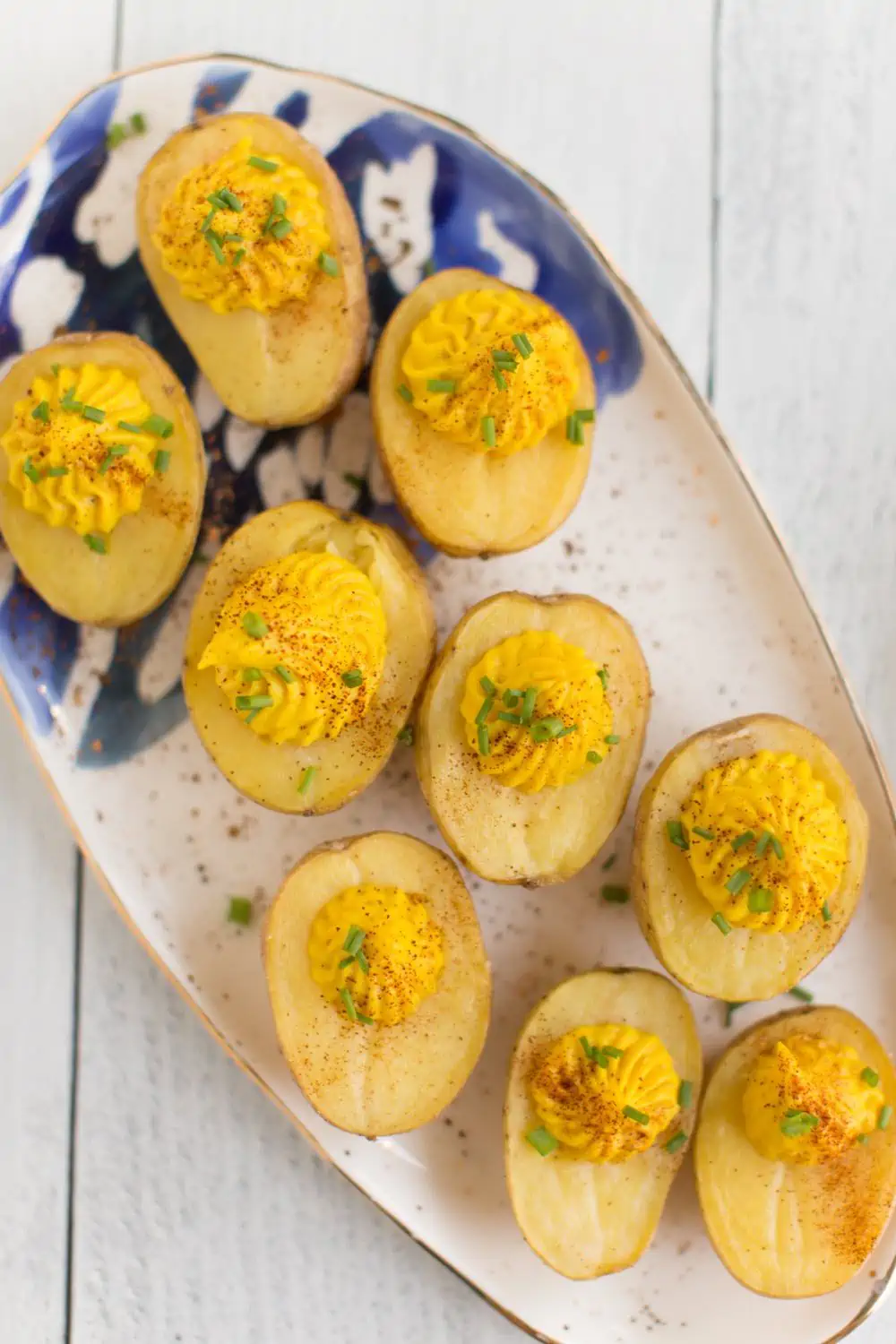 You've probably seen corn ribs on Instagram or TikTok. They're a viral hit that's as much fun to serve as it is to eat. It's the same concept as corn on the cob, but the wedges take the distinct shape of ribs to create a whole new textural experience.
Swap the potato chips for kale chips! These cheesy kale chips will make kids crave vegetables like never before. It won't be a struggle to put away a whole head of the leafy greens when they're coated in a rich, cheesy mixture of blended sunflower seeds and nutritional yeast. You might want to double the batch because they'll disappear in no time.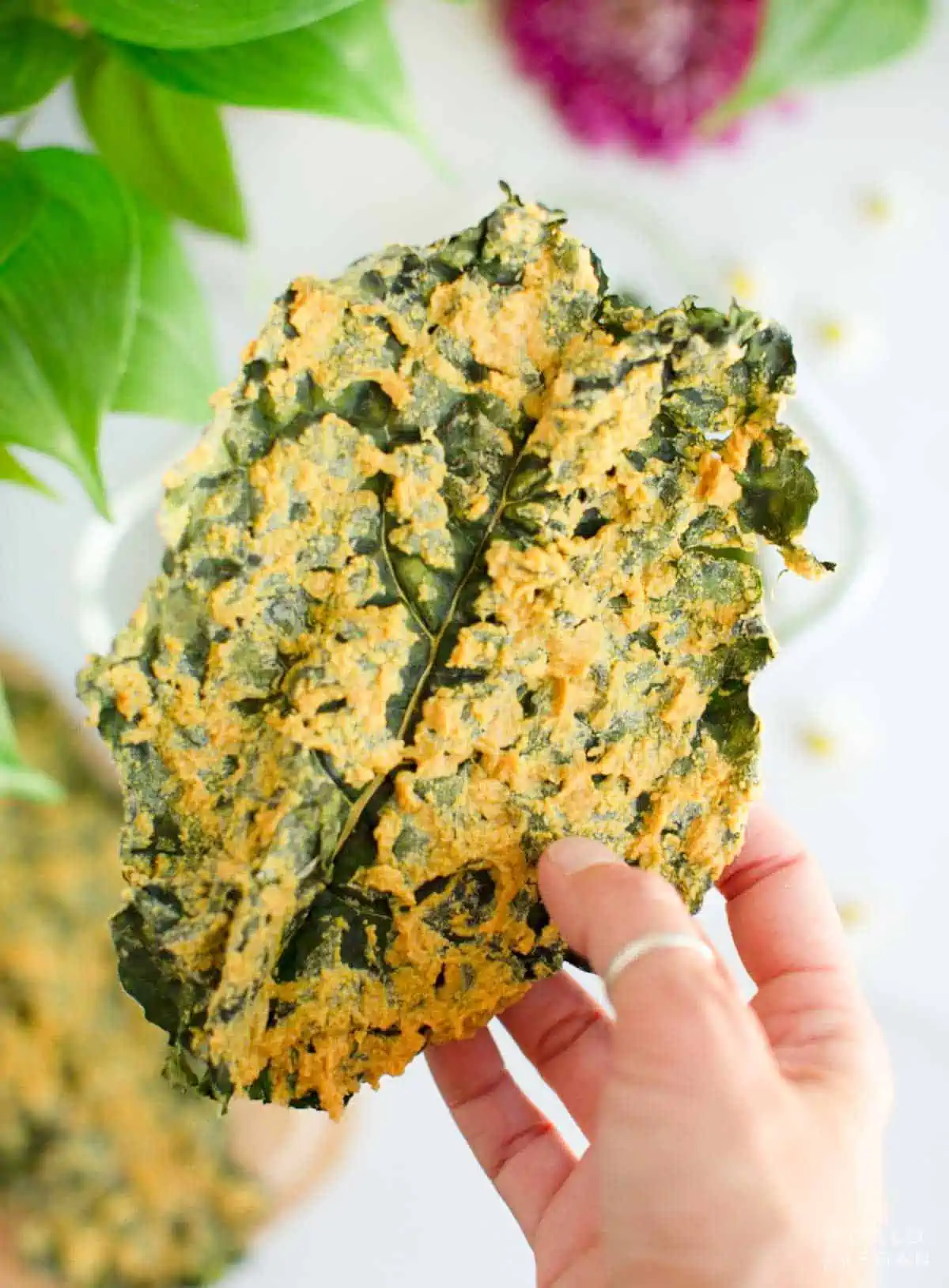 Many thanks to Amara Organic Foods for supporting this article, and for making amazing healthy snacks for kids! Many of their products are vegan and we encourage you to explore for your own kids.