This veggie meatloaf will blow your mind! It's totally meatless, eggless, and dairy-free, a vegetarian meatloaf lover's dream. Made with budget-friendly lentils and nutritious walnuts, the texture and flavor of this plant-based roast is perfect. Serve it up to family or friends for a vegan Thanksgiving or vegan Christmas dinner, and they'll never guess it was made from legumes and nuts.
Loaf it or leave it. Meatloaf is a quintessential American meal, rising to popularity in the late 1800s and remaining an indispensable comfort food for generations to come. As a thrifty way to stretch a humble protein to feed a family, it's an accessible, affordable way for every to eat well. Of course, the original couldn't be farther from a vegan treat. Built upon a foundation of cheap ground beef bound together with beaten egg, no one could claim it to be the healthiest option. Thankfully, we can now have our veggie meatloaf and make it vegan, too!
This recipe comes from the cookbook Good for Your Gut: A Plant-Based Digestive Health Guide and Nourishing Recipes for Living Well by Desiree Neilsen. Made with a wholesome blend of vegetables, lentils, and aromatic spices, this upgrade over the outdated formula will win over the hearts—and stomachs—of everyone lucky enough to snag a slice.
Why You'll Fall in Love With This Veggie Meat Loaf
Even if you didn't grow up loving meatloaf, lentil loaf will become a fast favorite. Beyond the obvious brilliant flavors that will hook you after the first bite, there are plenty of reasons to add it into the regular meal rotation.
Nostalgic. Everyone craves the familiar tastes they grew up with. You won't be left yearning when you can recreate that same comforting experience using even better-quality ingredients.
Affordable. There's no need to invest in fancy processed alternative meats when good old legumes can do the trick!
Healthy. Designed as a nutrient-dense meal guaranteed to satisfy, the recipe is perfectly balanced with omega-3 fatty acids, fiber, complete protein, and even a good serving of Vitamin B-12. Of course, it's also completely cholesterol-free since there are no animal products involved.
Keeps well. If you're pressed for time during a busy week, prepare your loaf in advance and freeze the slices for up to 6 months. You could also double the recipe for built-in leftovers later.
Gluten-free. By using gluten-free certified oats, breadcrumbs, and tamari, everyone can partake in this home cooked meal! No need to those with celiac disease to be left out when it's so easy to make without wheat.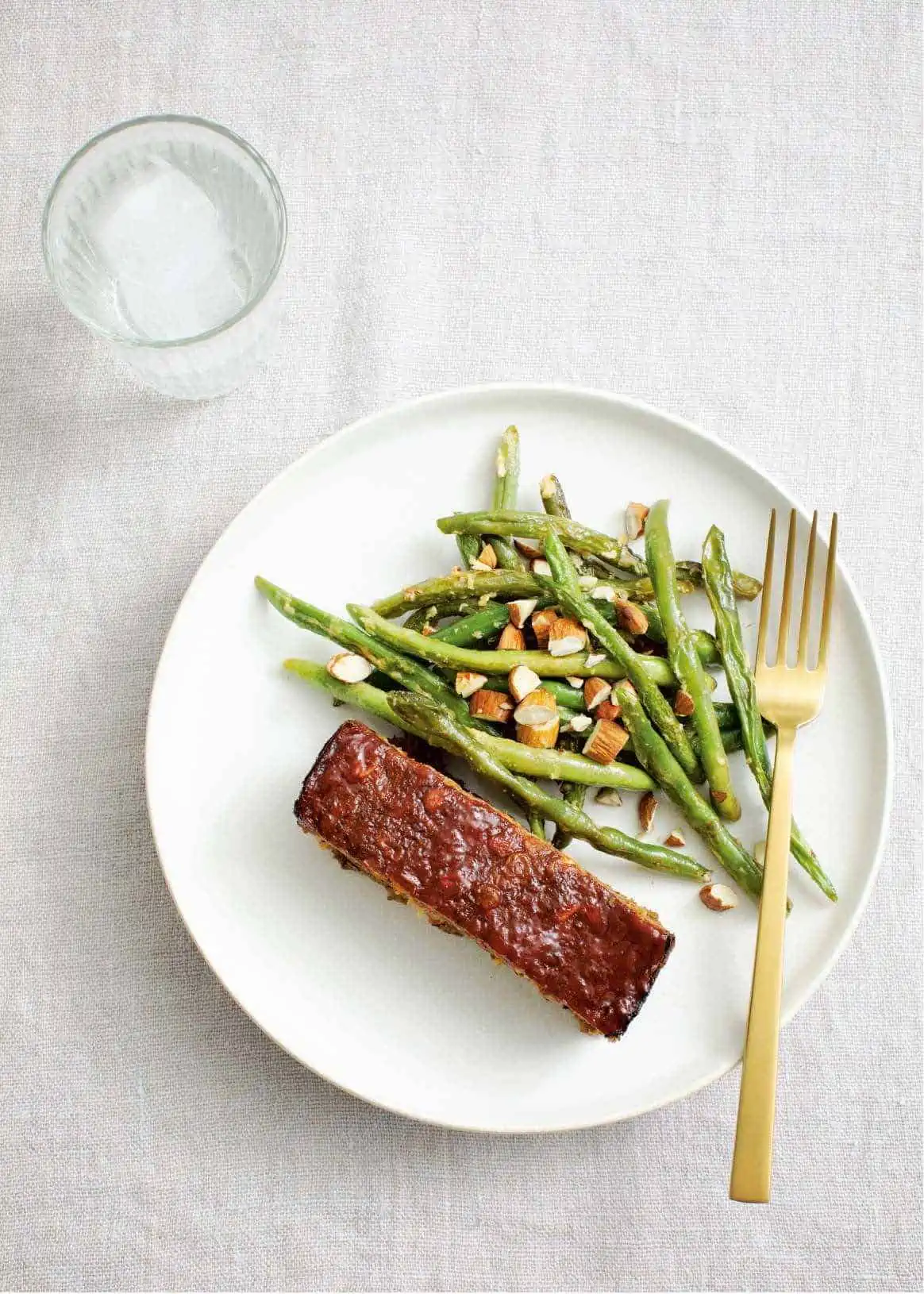 Key Ingredients in this Vegetarian Meatloaf
To recreate a meatless replica of the original meal, it takes a delicate balance of carefully layered flavors and textures. Don't panic at what seems like a long list of ingredients. It's mostly a collection of spices and seasonings used in small amounts taking up the bulk of the page. Here are the most critical players in this vegan meatloaf game:
Flaxseeds: Providing healthy fats while taking the role of conventional eggs, ground flaxseeds create a sticky goo when mixed with liquid, perfect for binding in all sorts of baked goods. It's especially well-suited for savory applications like this since it has a subtly nutty taste.
Lentils: The star of the show here, simple brown lentils are best for the meatiest color, but green lentils can be used interchangeably.
Walnuts: Adding a crisp, crunchy bite and enhancing the overall structure, they're best raw to contribute only texture, not flavor. If you have a nut allergy, raw sunflower seeds would be a great substitute.
Mushrooms: Nothing adds immense umami, otherwise known as savoriness, quite like sauteed mushrooms! Average cremini mushrooms contain worlds of this secret flavor enhancer, but you could also use a handful of fresh or rehydrated shiitake mushroom caps here to really pump up the volume.
Tamari: For depth and richness with a satisfying salty finish, tamari is much like soy sauce, but made without wheat. It's typically darker and stronger than soy sauce, so a small amount goes a long way. Alternately, you could also use vegan Worcestershire sauce (made without anchovies) for a different savory nuance.
Breadcrumbs: Helping to bind the ingredients while adding bulk to the overall dish, breadcrumbs should be a staple always stocked in a prepared pantry. In case you run out, you can always make your own by toasting bread and then grinding it in a food processor. Other good alternatives include cracker crumbs, pretzels, or even an unsweetened or minimally sweetened dry cereal.
Nutritional Yeast: For that cheesy taste that will make you forget all about Parmesan, nutritional yeast is like vegan catnip. On top of the great flavor, it's also a great source of Vitamin B-12, which can otherwise be difficult to get in sufficient quantities through food.
Rolled Oats: Since oats are great for soaking in liquid, these flattened whole grains help hold everything together, while contributing satiating fiber to make this a hearty meal that will keep you full for hours.
Ketchup: Sweet, thick, tomato glaze is critical for finishing any meatloaf. All it takes is a dab of ketchup to make it happen. If you're trying to reduce your sugar intake, you can find no-sugar-added versions in most healthy and natural food stores.
What To Serve With Your Lentil Loaf
When it comes to pairing side dishes with this superlative entrée, you really can't go wrong. Such an accommodating flavor profile plays nicely with just about any vegetable or starch, but here are some fool-proof ideas for rounding out your plate.
LENTIL WALNUT LOAF
¼ cup ground flaxseed, 60 ml
½ cup hot water, 125 ml
1 cup raw walnuts, 250 ml
2 tablespoons extra-virgin olive oil, divided, 30 ml
1 medium sweet onion, diced
¼ pound cremini mushrooms, chopped, 115 grams
2 ribs celery, finely diced
2 carrots, finely diced
4 cloves garlic, minced
2 tablespoons gluten-free tamari, 30 ml
1 tablespoon balsamic vinegar, 15 ml
Freshly cracked black pepper
½ cup packed chopped curly parsley, 125 ml
2 cups cooked brown lentils, 500 ml
½ cup gluten-free bread crumbs, 125 ml
¼ cup nutritional yeast, 60 ml
¼ cup gluten-free old-fashioned rolled oats, 60 ml
1 tablespoon pure maple syrup, 15 ml
1 tablespoon fresh thyme leaves , 15 ml (or 1 teaspoon/5 mL dried thyme)
1 teaspoon dried oregano, 5 ml
1 teaspoon onion powder, 5 ml
½ teaspoon garlic powder, 2 ml
½ teaspoon salt, plus more for seasoning, 2 ml
GLAZE
⅓ cup ketchup, 75 ml
1 tablespoon gluten-free tamari, 15 ml
Make the lentil walnut loaf:
Preheat the oven to 350°F (180°C). Grease a 9 × 5-inch (2 L) loaf pan with olive oil and line with parchment paper.

Whisk the flaxseed with the hot water in a small bowl. Set aside.

In a medium skillet, toast the walnuts over medium heat until fragrant, 3 to 4 minutes. Toss the walnuts into a food processor.

In the same skillet, heat 1 tablespoon (15 mL) of the olive oil over medium heat. Add the onion and mushrooms and cook, stirring occasionally, until the mushrooms release their water and the onions start to soften and brown, 5 to 7 minutes. Add the celery, carrots, and garlic and cook, stirring often, until the carrots are soft, 5 to 7 minutes. Deglaze the pan with the tamari and balsamic vinegar, stirring, for 30 seconds. Season the vegetables generously with salt and pepper. Remove from the heat and let cool for a few minutes, then transfer the mixture to the food processor with the walnuts. Add the parsley and pulse until very finely chopped and the mixture starts to come together. Scrape the vegetable mixture into a large bowl. Add the lentils, bread crumbs, nutritional yeast, flaxseed mixture, rolled oats, remaining 1 tablespoon (15 mL) olive oil, maple syrup, thyme, oregano, onion powder, garlic powder, salt, and pepper. Using your hands, mix until well blended. Taste and add more salt, if needed. Scrape the mixture into the prepared loaf pan. Press down firmly to pack it together and smooth the top. Bake, uncovered, for 30 minutes.
Meanwhile, make the glaze:
In a small bowl, whisk together the ketchup and tamari.

Spread the glaze evenly over the loaf and continue cooking until the edges of the loaf are lightly browned, about 15 minutes more. Cool the loaf in the pan for 10 minutes, then carefully transfer to a rack to cool for 5 minutes more before slicing.
Tip: The loaf contains a lot of moisture and firms up as it cools. I recommend slicing it with a serrated knife.
Calories: 479kcal | Carbohydrates: 51g | Protein: 18g | Fat: 25g | Saturated Fat: 3g | Polyunsaturated Fat: 14g | Monounsaturated Fat: 7g | Sodium: 1029mg | Potassium: 964mg | Fiber: 14g | Sugar: 14g | Vitamin A: 4821IU | Vitamin C: 18mg | Calcium: 129mg | Iron: 6mg
If you try this veggie meatloaf, let us know what you think by leaving a comment and rating below! Be sure to follow along on Pinterest, Instagram and Facebook for even more vegan recipe inspiration.
About the Author
Registered dietitian Desiree Nielsen runs a nutrition consulting practice with a focus on reducing inflammation, improving digestion, and promoting plant-based diets. Based in Vancouver, British Columbia, Desiree travels throughout North America to educate others about making healthier everyday choices to improve the overall quality of their lives. She's also a consultant, writer, and prominent speaker with experience on a wide range of health topics, from the brain-gut connection and food quality to tips for cooking more satisfying, delicious vegan food. One of her previous cookbooks, Eat More Plants: 100 Anti-inflammatory Plant-centred Recipes for Vibrant Living is a #1 national bestseller.
More Vegan Roast Recipes
This vegan meatloaf recipe was excerpted from the cookbook Good for Your Gut: A Plant-Based Digestive Health Guide and Nourishing Recipes for Living Well by Desiree Neilsen. Copyright © 2022 by Desiree Nielsen. Photography by Janis Nicolay. Published by Penguin Canada, a division of Penguin Random House Canada Limited. Reproduced by arrangement with the Publisher. All rights reserved. Many thanks to Hannah Kaminsky for her help with the article.