If we're talking about bright green recipes, this pea and broccoli soup might be as bright as it gets! But don't worry, just because it's neon green doesn't mean it tastes like it. This soup is actually packed with flavor and super warming and satisfying on a chilly night!
Full of goodies and super easy to prepare, you'll be blown away by the simplicity of ingredients and how delicious this soup is. Enjoy!
As Simple As It Gets!
The word is out. Soups are one of the easiest meals to prepare and an amazing option for those who are new to plant-based cooking. Just a few ingredients and some spices and you have a delicious soup for the whole family!
Soups are also great for batch cooking, as they often reheat beautifully. This one sure does! You can make a big batch to turn to for lunches and dinner throughout the week (if your family doesn't gulp it all down on that first night, that is).
Smooth or chunky?
Are you a smooth soup kind of person, or do you prefer chunky soup (you like to have something to chew on)? If you like chunky soup, you can use this blended creamy soup as a base and add additional steamed or roasted broccoli, peas, potatoes, onion, or zucchini. You can also fry up some little tofu cubes and add that for a nice chewy protein boost!
Mighty Green Peas!
These little green wonders sometimes get a bad rep, due in part to the soggy, mushy, unseasoned peas parents would serve up on childhood dinner plates. It's no wonder kids don't want to eat that!
When prepared well, peas are bursting with delicious flavor. They are super sweet and full of goodness! I have a secret: sometimes when I'm too lazy to cook dinner I pour a bowl of frozen peas into a bowl, add some Island Soyaki or teriyaki sauce, microwave it, and eat that as my meal! Call me crazy, but don't knock it 'till you try it. It's delicious.
Peas are also packed with protein, high in magnesium, and rich in potassium and calcium. And did you know they are not actually a vegetable but a legume? That's why they're high in protein and fiber. Amazing!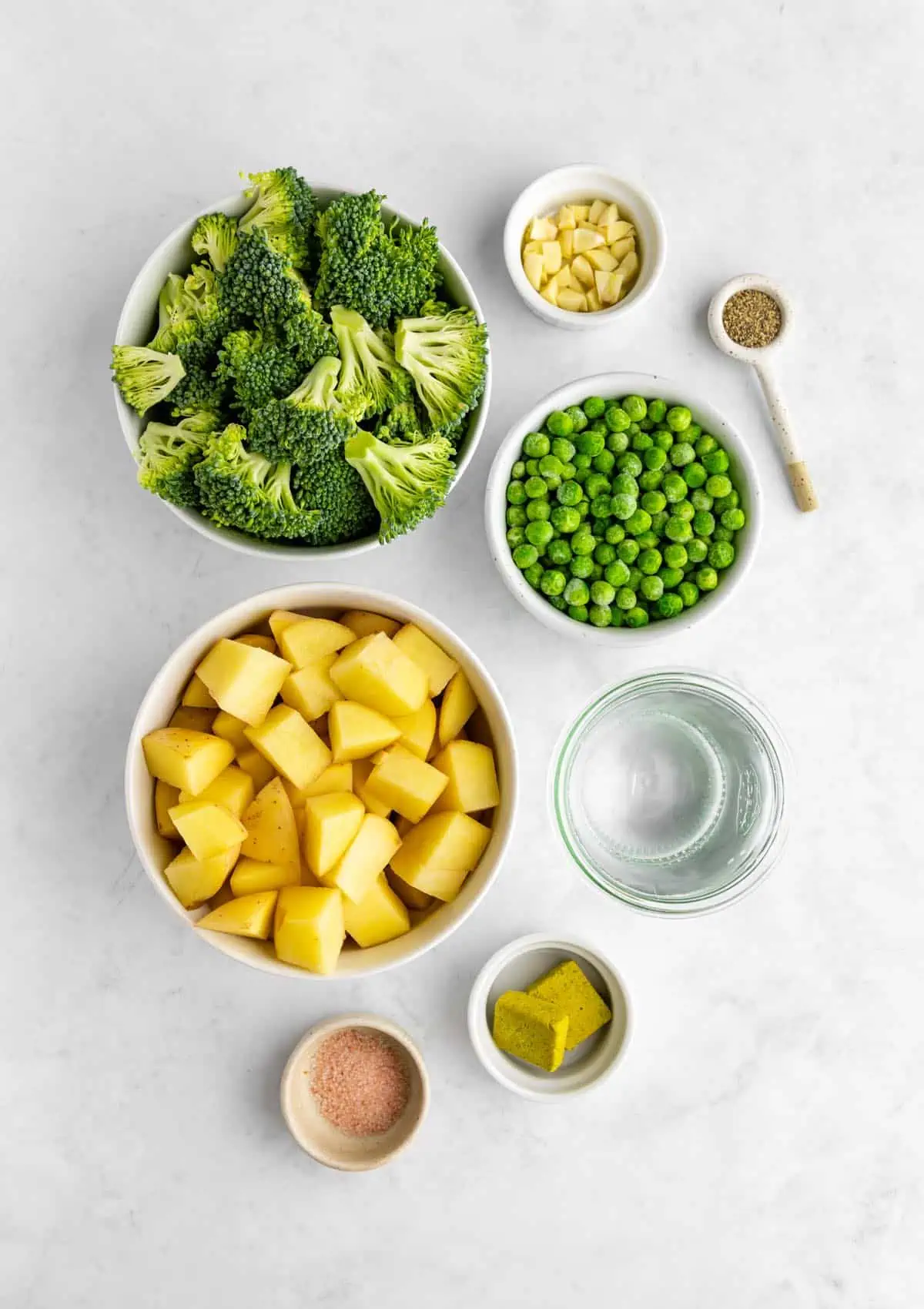 Stock Up on Frozen Veggies!
A great thing about this pea of broccoli soup is that you can use fresh broccoli and peas or frozen, which makes it so convenient! We all have those days when we're running low on everything (life get's busy that way!) and we need to create a meal out of very few ingredients. That's when frozen staples come to the rescue!
I always keep a big bag of frozen peas in my freezer. They can make some boring rice look as fancy as a risotto or a spaghetti with olive look a lot healthier. And of course they're have you covered when you want to make this soup! I love that they won't go bad in the fridge. I have mourned the loss of more fresh produce in the fridge than I care to admit. It's money out the window, unnecessary trash waste, and just such a sad feeling to throw out quality food. So I turn to frozen whenever I can, and I encourage you to do the same!
Plus, frozen fruit and vegetables are often frozen at the most perfect time of ripeness, so they can sometimes taste even better than fresh produce in soups and smoothies. A win-win!
Looking For More Slurp-able Soups?
6 cups water
2½ cups frozen peas
3 cups broccoli, tightly packed
2 cups potato, diced
2 cloves garlic, peeled
1 teaspoon salt, adjust to taste
½ teaspoon black pepper, adjust to taste
2 cubes vegetable bouillon, or 2 teaspoons of Better Than Bouillon
In a large soup pot, add the water, peas, broccoli, potato, garlic, salt, pepper, and bouillon and bring to a boil.

Boil for 10-15 minutes until the potatoes are cooked through.

Remove from heat and blend with an immersion blender (or blender) until smooth. 

Ladle into bowls, garnish with black pepper, and enjoy!
Garnishes! Level-up your soup by adding a swirl of cashew cream, a sprinkle of red pepper flakes, and fresh herbs.  Want a thicker soup? Add more broccoli and peas. If it's too thick for you, simply add more water and season to taste. Broccoli can be a little tricky to measure precisely, which is why adjustments are sometimes necessary. If you finish blending the soup and it's too thin, try this: Add additional fresh broccoli into a microwave-safe bowl with an inch or two of water, cover with a paper towel, and microwave for about 2 minutes. Drain out the water and add the steamed broccoli to the blender and blend again! 
Calories: 182kcal | Carbohydrates: 37g | Protein: 9g | Fat: 1g | Saturated Fat: 0.2g | Polyunsaturated Fat: 0.3g | Monounsaturated Fat: 0.1g | Sodium: 718mg | Potassium: 888mg | Fiber: 9g | Sugar: 7g | Vitamin A: 1122IU | Vitamin C: 118mg | Calcium: 82mg | Iron: 3mg
Pea of Broccoli Soup recipe by Zhoro Apostolov and Michelle Cehn for World of Vegan. Photos by Zhoro Apostolov and Purely Kaylie. Recipe and photographs copyright of World of Vegan™, all rights reserved. Please note that this article may contain affiliate links, and shopping through those links supports our work here at World of Vegan!