This brilliant berry nice cream recipe comes from London-based vegan blogger Jenny Mustard, who we have long adored for her creative style and turn to often for minimalist inspiration. With only three ingredients that you probably already have in your freezer, it's so easy to have an inexpensive and refreshing treat on hand for those warm summer months.
We All Root for Fruit
Although dairy-free ice cream has never been easier to get ahold of, sometimes it's nice keep it simple and make something out of what you already have in your freezer. This berry nice cream recipe features three awesome fruits as the base: mango, raspberries, and blueberries. While many nice creams feature banana as the base, this nice cream is ideal for those who may have a banana allergy/aversion or simply want to try something different! The mango mixes brilliantly with raspberries and blueberries for a nice cream that's still creamy and super delicious.
Wonder what you're getting with every bite of this berry nice cream? Let's break it down!
Mighty Mango Magic – Juicy mango is not only loaded with flavor but also boasts a huge assortment of nutrients! Mango contains polyphenols, which are plant compounds that function as antioxidants to protect your body from free radicals which can exacerbate chronic diseases. It also contains loads of vitamin C, which make a great choice for those looking for a less acidic source than oranges or grapefruit. Mangos also contain several B vitamins along with vitamin K, vitamin E, and vitamin A.
Rockin' Raspberry – Like mango, raspberries are a serious source of vitamin C and also contain a good amount of vitamin K and manganese which aid in bone health. They are also a good source of fiber, which helps the body maintain healthy digestion. On the brainier side of things, raspberries help counter oxidative stress, which is a factor in Alzheimer's and Parkinson's. Their flavonoids help to improve coordination, memory, and mood—woo hoo!
A Boost of Blueberry – Blueberries are not only adorable but are so good for you! Loaded with antioxidants and vitamins like C and K, blueberries are among the most nutrient-dense foods on the planet! They have been found to improve memory in older adults and have also helped to lower blood pressure are LDL cholesterol. Did you know that blueberries are green when they first appear? They deepen to an eventual blue as they ripen!
Equipment You'll Need
How to Serve Up Your Berry Nice Cream
You can keep your berry nice cream simple or get as creative as you'd like with an at-home toppings bar! While this recipe recommends topping with Brazil nuts and fresh berries, we've got a few more toppings for you to try.
Get Crunchy – Adding a crunchy component to your nice cream such as potato chips, cereal, or granola could give you an exciting boost of texture along with a nice variation in flavor.
Get Drizzly – Like some sauce on your nice cream? Your taste buds will thank you if you go with this vegan Nutella or aquafaba whipped cream.
Get Coconutty – Coconut shreds are a classic go-to ice cream topping but if you want a more creamy kind of coconut experience, may we suggest this coconut whipped cream?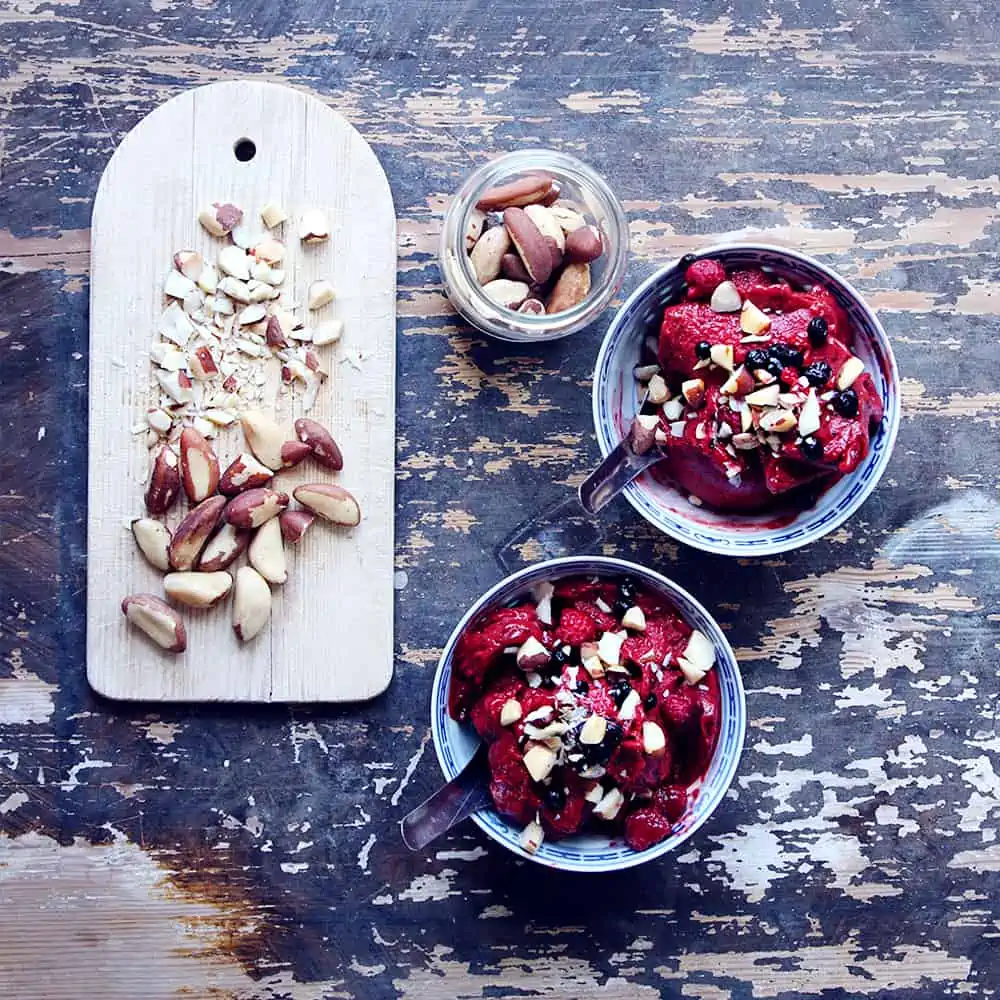 1 cup frozen mango
½ cup frozen raspberries
½ cup frozen blueberries
1 handful brazil nuts, roughly chopped (for garnish, optional)
1 handful frozen berries, for garnish, optional
In a food processor or blender, mix berries and mango until smooth. Try restraining from adding water, use a spoon if the fruit gets stuck around the edges.

Scoop up and garnish with roughly chopped brazil nuts and a handful of frozen berries if you want.
Calories: 90kcal | Carbohydrates: 21g | Protein: 1g | Fat: 1g | Saturated Fat: 0.2g | Polyunsaturated Fat: 0.4g | Monounsaturated Fat: 0.3g | Sodium: 2mg | Potassium: 215mg | Fiber: 4g | Sugar: 16g | Vitamin A: 923IU | Vitamin C: 41mg | Calcium: 20mg | Iron: 0.5mg
More Vegan Frozen Desserts to Try:
Berry Nice Cream recipe and photo by Jenny Mustard. To see more delicious recipes from Jenny, be sure to visit her website, check out her Instagram, and subscribe to her phenomenal YouTube channel! Article written by Jenny Mustard and edited by Amanda Meth. Please note that this article may contain affiliate links which supports our work at World of Vegan.