Grab hold of your hat as we delve into the delicious world of white bean hummus thanks to this fantastic recipe slightly adapted from Plant-Based Delicious by Ashley Madden! How did such a humble bean like this become the most appealing appetizer and delightful dip in history? We'll share the essential ingredients that make it truly irresistible, as well as tips for enjoying this dip to its fullest.
From plump white beans to fragrant garlic and a touch of tahini, you'll discover the art of creating a velvety and flavorful dip that will elevate your snacking experience to new heights. Get ready to indulge in the creamy bliss of white bean hummus like never before!
Raise your hand if you're ready to whip up a batch of white bean hummus. We know we are!
Why You Need to Make This Hummus with White Beans
If you're a die-hard champion for chickpeas (and will welcome no other bean), we want to share the reasons why this homemade hummus is worthwhile. If we could give you a tempting taste through this text, we would! But, until that time, here is why we think you'll love this recipe:
Quick and Easy: This recipe is done in five minutes flat. How's that for awesome?
High on the Health Benefits: Not only is this dip seriously delicious, but it's both high in protein and fiber. Just a few tablespoons can totally satisfy your hunger in a healthy way.
Incredibly Versatile: Once you have a batch of this out-of-this-world hummus prepped and ready to go, you can put it on virtually anything. Besides veggies, breads, crackers, and sandwiches, think out of the box and use it on pasta or even fresh fruit!
White Beans are a Worthy Alternative: While chickpeas have more iron, potassium, calcium, and folate, navy beans are higher in fiber, vitamin C, magnesium, and vitamin B1.
And, above all, Delicious!: Sometimes, it's good idea to switch up your ingredients. You might find that navy beans are your new best friend. You won't know until you try, right?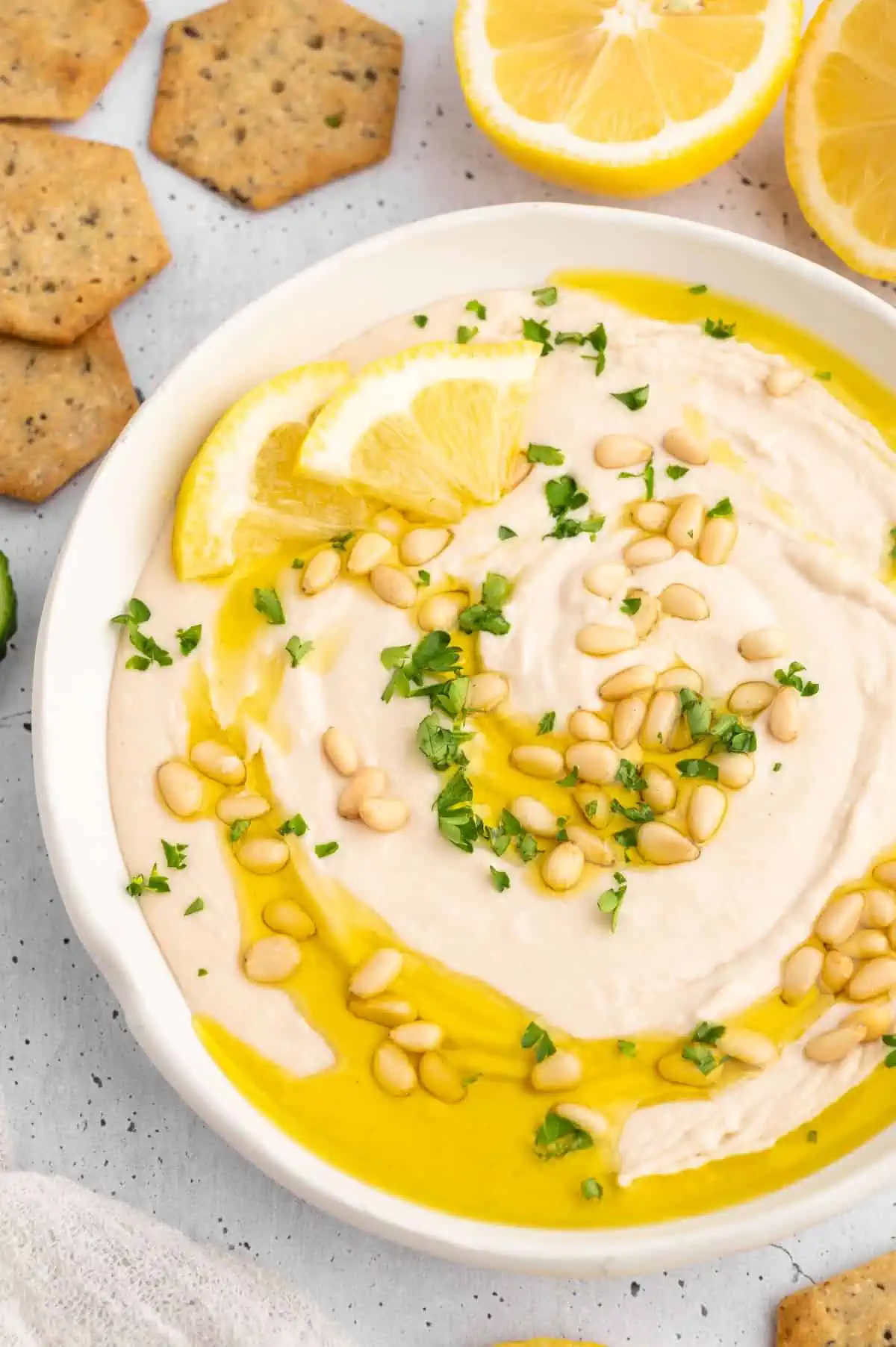 Essential Ingredients
Prepare to tantalize your taste buds! White bean hummus, a Mediterranean delight, boasts the perfect blend of plump white beans, zesty lemon juice, and fragrant garlic, creating a dip that's both irresistibly smooth and utterly satisfying. Let's delve a little deeper into these simple ingredients.
White Beans: A more neutral alternative to chickpeas that has the same amount of starchiness, fiber, and protein. Also, an excellent source of folate, iron, zinc, magnesium, and calcium.
Tahini: This nutty ingredient brings in all the creaminess, healthy omega-3 fats, and savory flavor. There are also almost 3 grams of protein per tablespoon (woo!) and many essential vitamins and minerals, including niacin, folate, and manganese.
Garlic: For some (like us!), there can never be enough. But, feel free to adjust the amount of garlic in this recipe if needed. Garlic has wonderful antioxidant and anti-inflammatory properties, so it's not only fantastic for flavor, but great for the immune system.
Lemon Juice: Adding a bit of acidity to your hummus balances out the richness of the hummus and also lightens the flavor. Lemon juice gives a little extra boost of vitamin C, as well.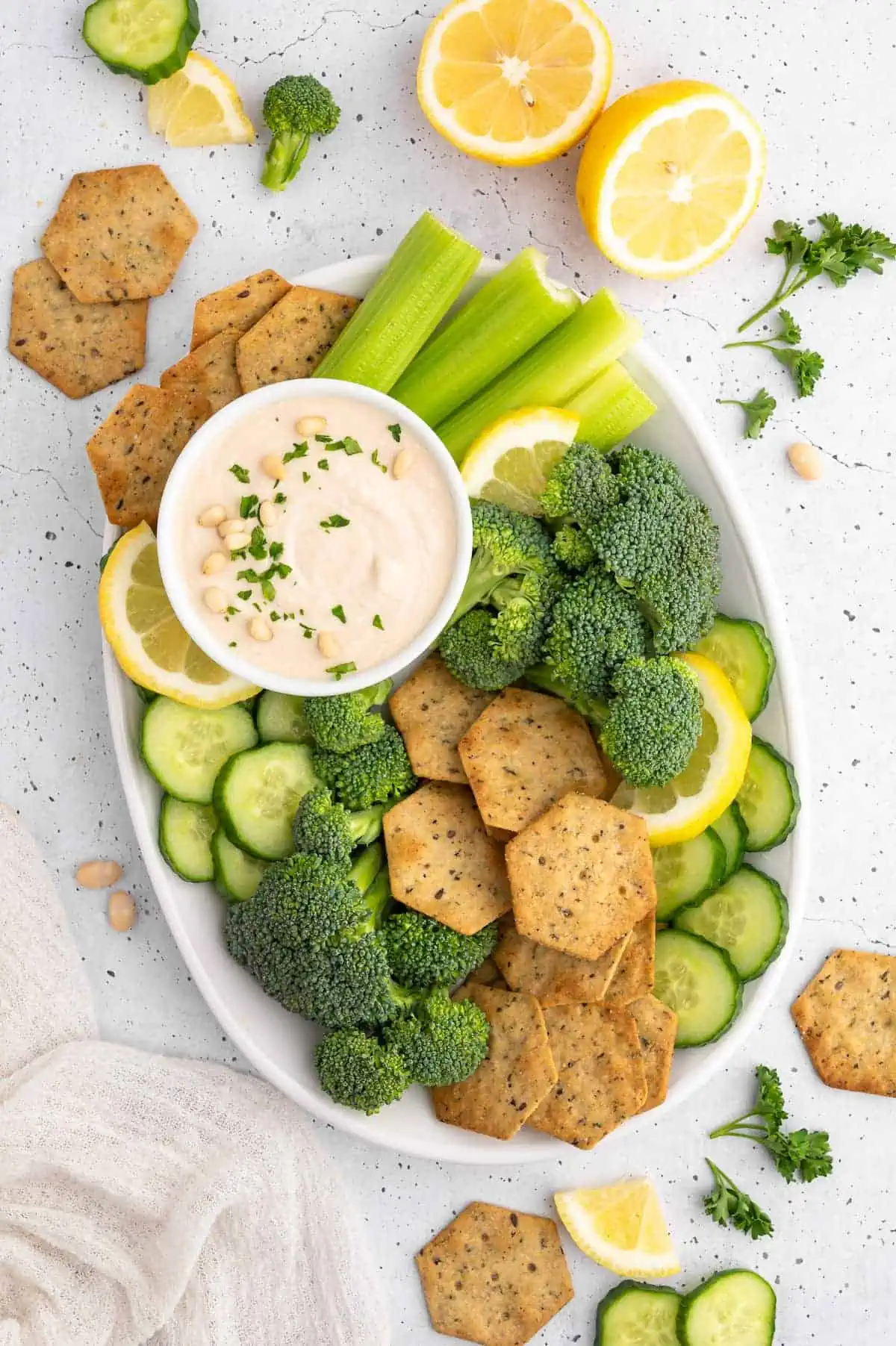 How To Make This White Bean Hummus Recipe
This hummus is so rich and creamy, and will only take about five minutes to make. Grab a food processor and follow these two simple steps! You'll have the most delectable dip ready in no time and you might even have a little leftover for later. (Hopefully!)
Step One: Place all of the hummus ingredients into a food processor.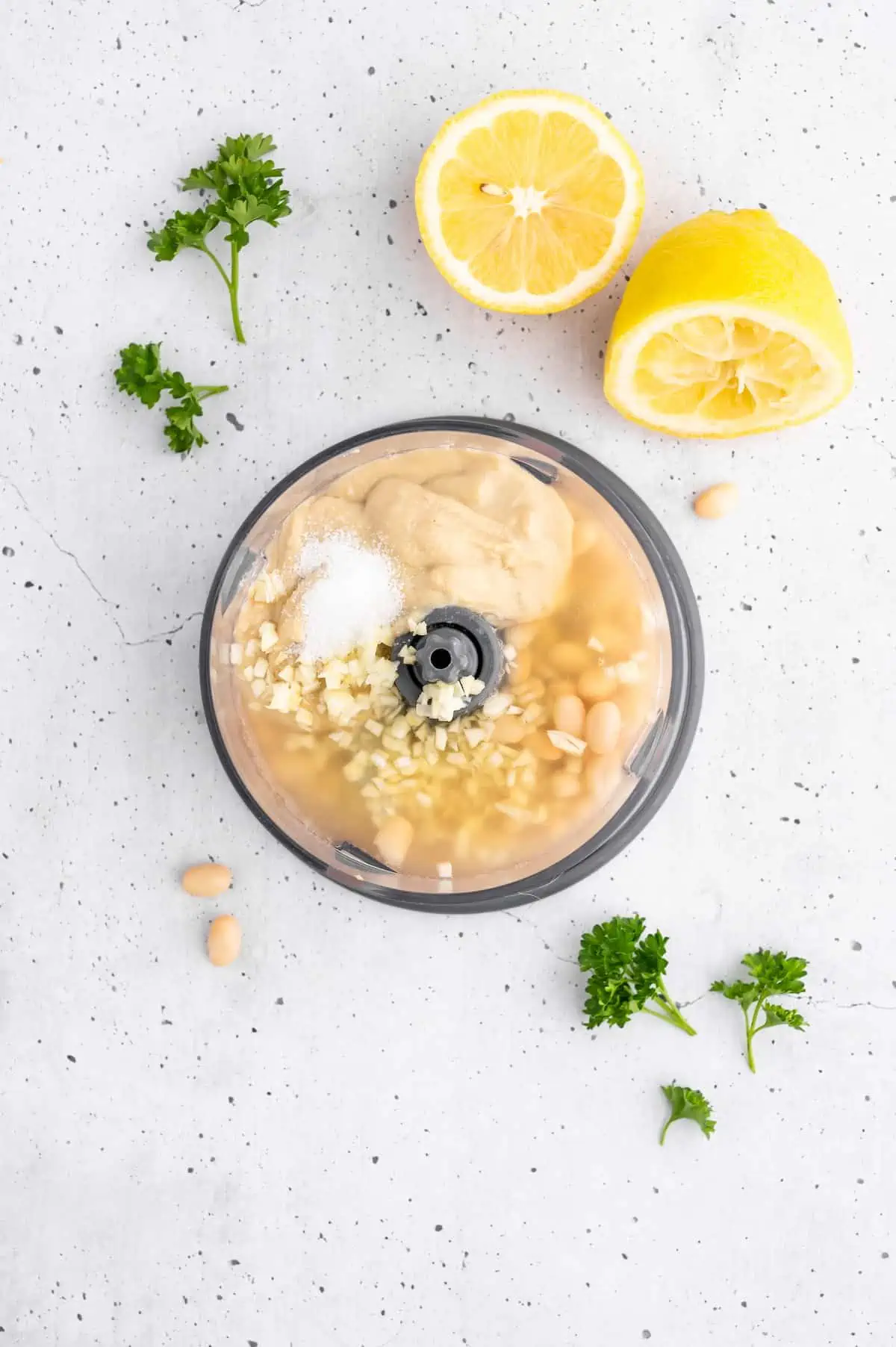 Step Two: Blend until completely smooth. Add one tablespoon of water, if needed, to loosen it up, and repeat as needed. You want the final texture to be thick and creamy. That's it!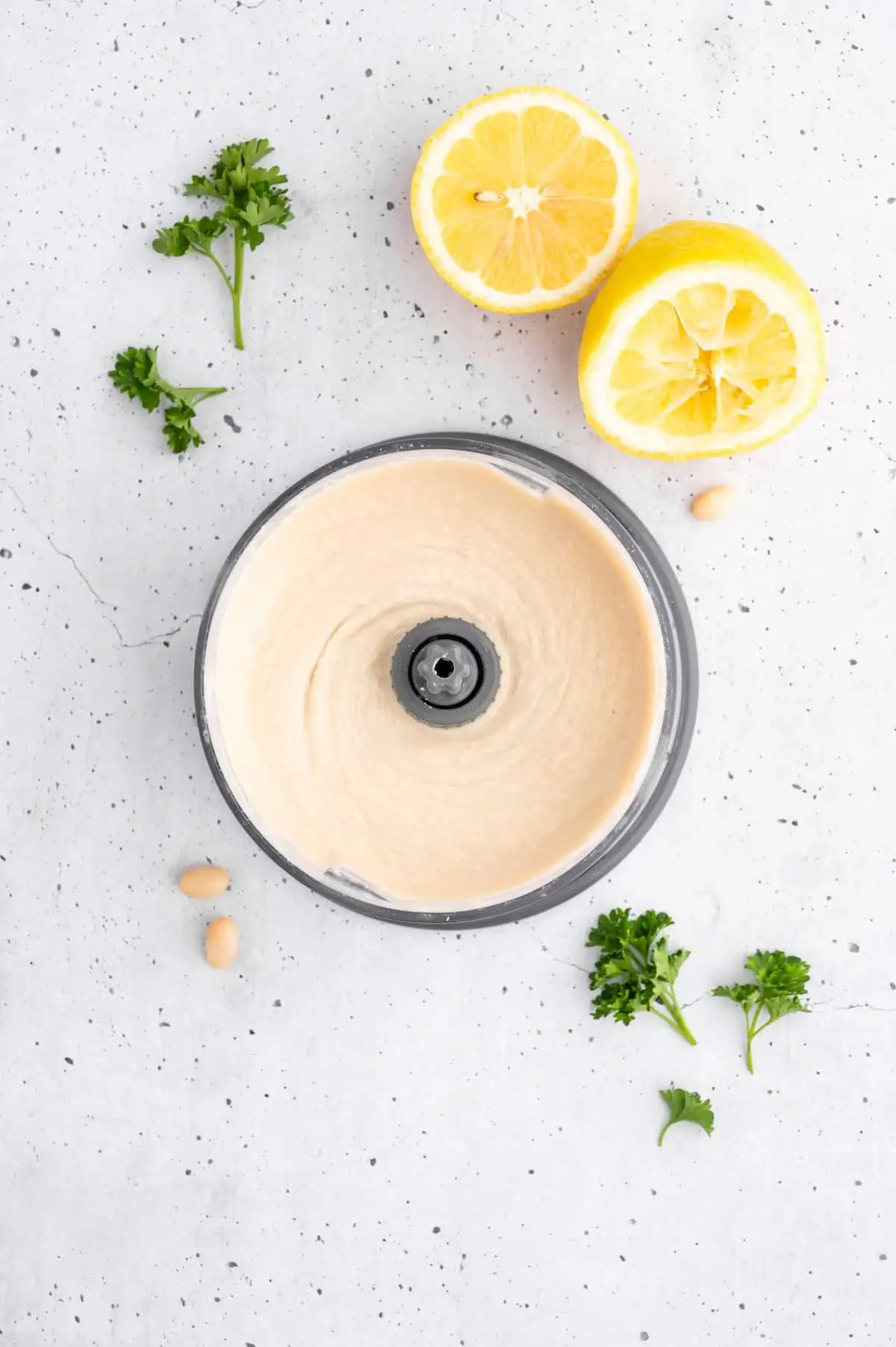 Enjoy the hummus right away for the best taste.
Best Things To Eat With Hummus
When it comes to hummus, the possibilities are as vast as the universe (well, almost). From crispy carrot sticks that engage in a delightful crunch-a-thon to the glorious union of warm pita bread and smooth hummus, we've embarked on a flavor-filled quest to uncover the best companions for this creamy dip.
Veggies Galore: Choose from a wide variety of healthy, fiber-filled vegetables such as baby carrots, chunks of red onion, crunchy celery sticks, red peppers pieces, broccoli trees, cauliflower crowns, and cool cucumber circles.
Bring on the Bread: There's nothing better than bread as a vehicle for heavenly hummus. Think homemade pita, warm tortillas, focaccia bread, or even crunchy crackers.
How To Store Leftover Bean Hummus
To keep any remaining dreamy bean hummus fresh, store in a covered container in the fridge for up to 4 days. If you're a huge hummus lover, it probably won't even last that long! Otherwise, just give it a quick mix with a spoon before serving the next time. It's possible to freeze a sealed container of hummus for up to 4 months, but keep in mind that there might be a change in both texture and flavor once thawed.
FAQs
Can you make this white bean hummus without tahini?
Yes, you sure can! A great substitution for tahini is cashew butter, whether you're allergic or just don't like the taste. You still get the creaminess and plant-based fat, but with a milder flavor.
Is it possible to use lime juice instead of lemon?
Yup. You'll get a slightly different flavor, but the tart flavor and acid component will still be there. In a pinch, you could also use apple cider vinegar. Though, this would definitely change the flavor profile.
Would I be able to swap out the navy bean for cannellini or great northern beans?
Definitely! Any starchy white bean would work well in this recipe. Just make sure to save some of the brine from the can to blend along with the beans. Using the bean aquafaba makes the hummus much creamier and lighter in texture.
What is a good substitute for chickpeas in hummus?
Any bean can be made into hummus, but for a similar color choose other white beans like navy beans, cannellini, and great northern beans. For a more adventurous hummus try black beans, kidney beans, or even green peas!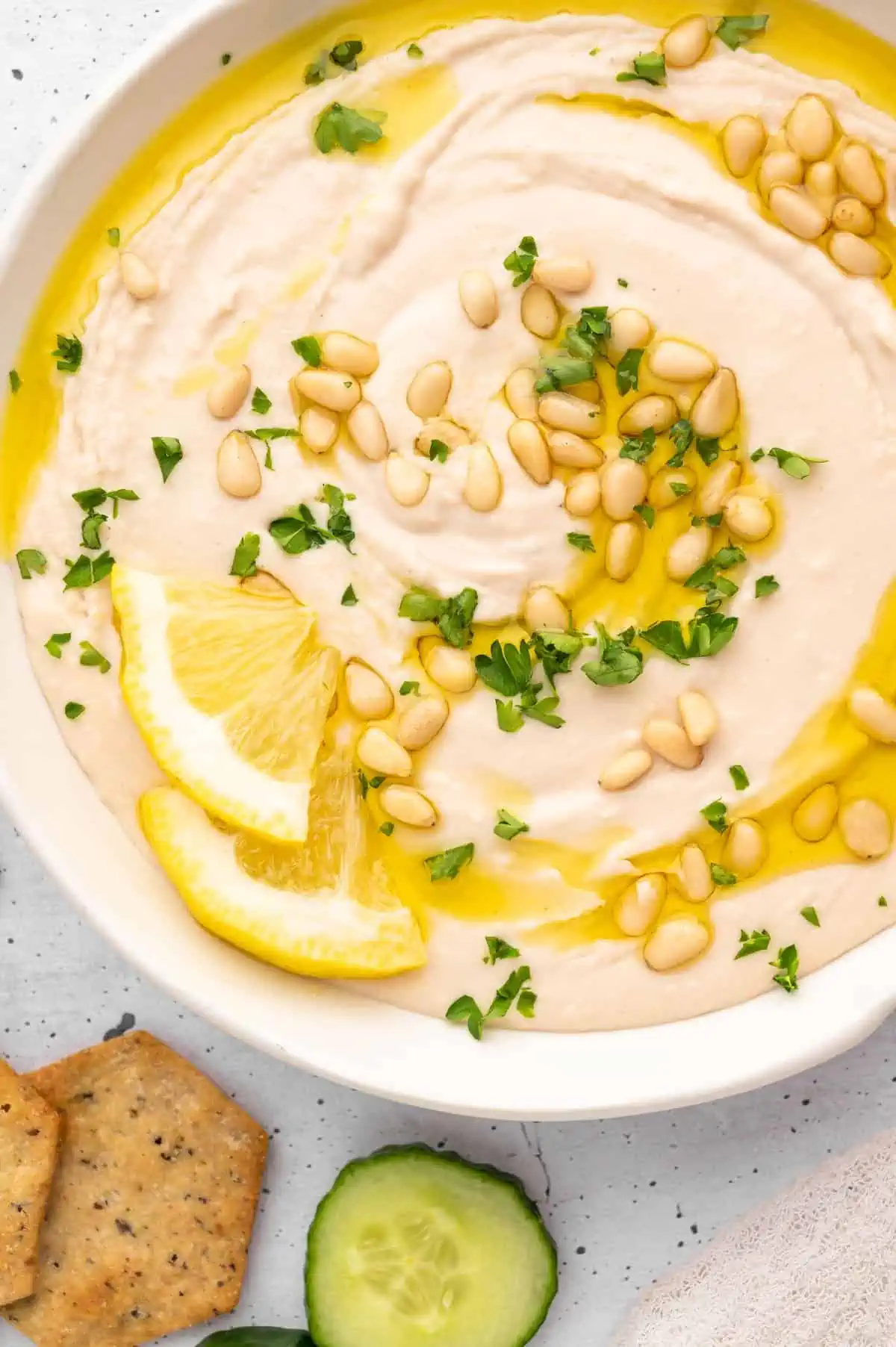 More Delicious Dips and Creamy Beany Recipes to Try
1 15.5-ounce can navy beans (including the brine in the can)
1-2 cloves garlic, crushed and peeled
2-3 tablespoons fresh lemon juice
6 tablespoons stirred tahini, or cashew butter
½ teaspoon sea salt, or more to taste
Water, if needed
In a food processor, combine the beans and brine, garlic, lemon juice, tahini, and salt. Process continuously for a few minutes, until smooth.

Add water, one tablespoon at a time, if needed, to thin it out. You want the hummus to be thick and creamy.
This recipe was slightly adapted from Plant-Based Delicious by Ashley Madden to adjust for one can of white beans.
Calories: 273kcal | Carbohydrates: 11g | Protein: 8g | Fat: 24g | Saturated Fat: 3g | Polyunsaturated Fat: 10g | Monounsaturated Fat: 9g | Sodium: 598mg | Potassium: 230mg | Fiber: 2g | Sugar: 0.4g | Vitamin A: 31IU | Vitamin C: 8mg | Calcium: 68mg | Iron: 2mg
So next time you find yourself craving a dip that's as smooth as butter but without the actual butter (because, hey, we're dairy-free here), reach for this wonderful white bean hummus and let it whisk you away to a world of flavorful indulgence. Trust us, your taste buds will thank you, and your veggies will be doing a happy dance in that creamy goodness!
About the Author
Besides being a fantastic plant-based chef and food photographer, Ashley Maddens is also a certified holistic nutritionist and wellness pharmacist. You can find more of Ashley's delicious recipes and photography on Forks Over Knives, One Green Planet, Vegan Lifestyle Magazine and more. Check out her website and find her on Instagram!
This White Bean Hummus recipe is adapted from the Plant-Based Delicious cookbook by Ashley Madden. Page Street Publishing Co. 2023.
Thanks to our amazing navy bean hummus recipe tester Mylie Thompson for testing out this recipe! Photos by Amanda McGillicuddy for World of Vegan, all rights reserved.