No matter the occasion, a gift basket is a fantastic way to show you care. Whether you're celebrating a holiday, a personal achievement, sharing gratitude, or sending comfort in times of condolences, a thoughtfully chosen vegan gift basket is an ideal way to send your love. In fact, there's no rule saying that you can't treat yourself to this sort of little luxury, too!
Shop smart and chose from a wide range of ethical, plant-based bundles carefully curated for discerning tastes. There's a mind-boggling number of companies offering completely vegan options at every price point, which makes the biggest challenge simply deciding which one is best.
The following vegan gift boxes are perfect for:
Holiday gifts (Christmas, Hanukkah, etc.)
Birthdays
Anniversaries
Valentine's Day, Mother's Day, Father's Day, Easter
Get Well Gifts
Sympathy
Thank You Gift
Congratulations Gift
Host/Hostess Gift
College students
Corporate gifts
For even more gift-giving resources, don't miss our Vegan Gift Guide and our Vegan Store, where you'll find over a hundred gift ideas.
What Goes Into A Vegan Gift Basket?
Every unique basket typically has a theme that unites the items within. In terms of specifically vegan options, that simply means that no animal products make the cut. That excludes anything containing meat, dairy, eggs, and honey when you consider consumables, and silk, wool, leather, and other derivatives in terms of household goods, clothing, cosmetics, and beyond.
These are great options when shopping for someone with intolerances, a limited diet, or ethical concerns. Just be sure to double-check the contents of each item if it's a severe or life-threatening allergy.
This is especially true for companies that aren't exclusively vegan, and even more so for those producing food themselves, as cross contamination is a very real concern. When it comes to packaged goods, not every company lists exactly what goes into each bundle, or the individual ingredients they use. It's worth sending them an email or giving them a phone call to be safe.
What Are The Best Food Gift Baskets?
Food is the most popular types focus for gift baskets, since everyone enjoys a sweet or savory treat. It's a universal language that every speaks and can appreciate! Choose from a wide range of options from the comfort of your home, available for direct delivery with just a few days' notice.
Harry & David's Gourmet Dried Fruit & Charcuterie
World renown for their luxurious selection of gourmet fruits, it all began with the idea of selling fresh pears by mail. This was almost one hundred years ago, ages before online shopping was even remotely possible, putting the innovative businessmen well ahead of their time. They continue to innovate with all sorts of snack assortments, including wine pairing for a truly indulgent experience. You can even find a Vegan Charcuterie Collection worthy of the fanciest five-star restaurants!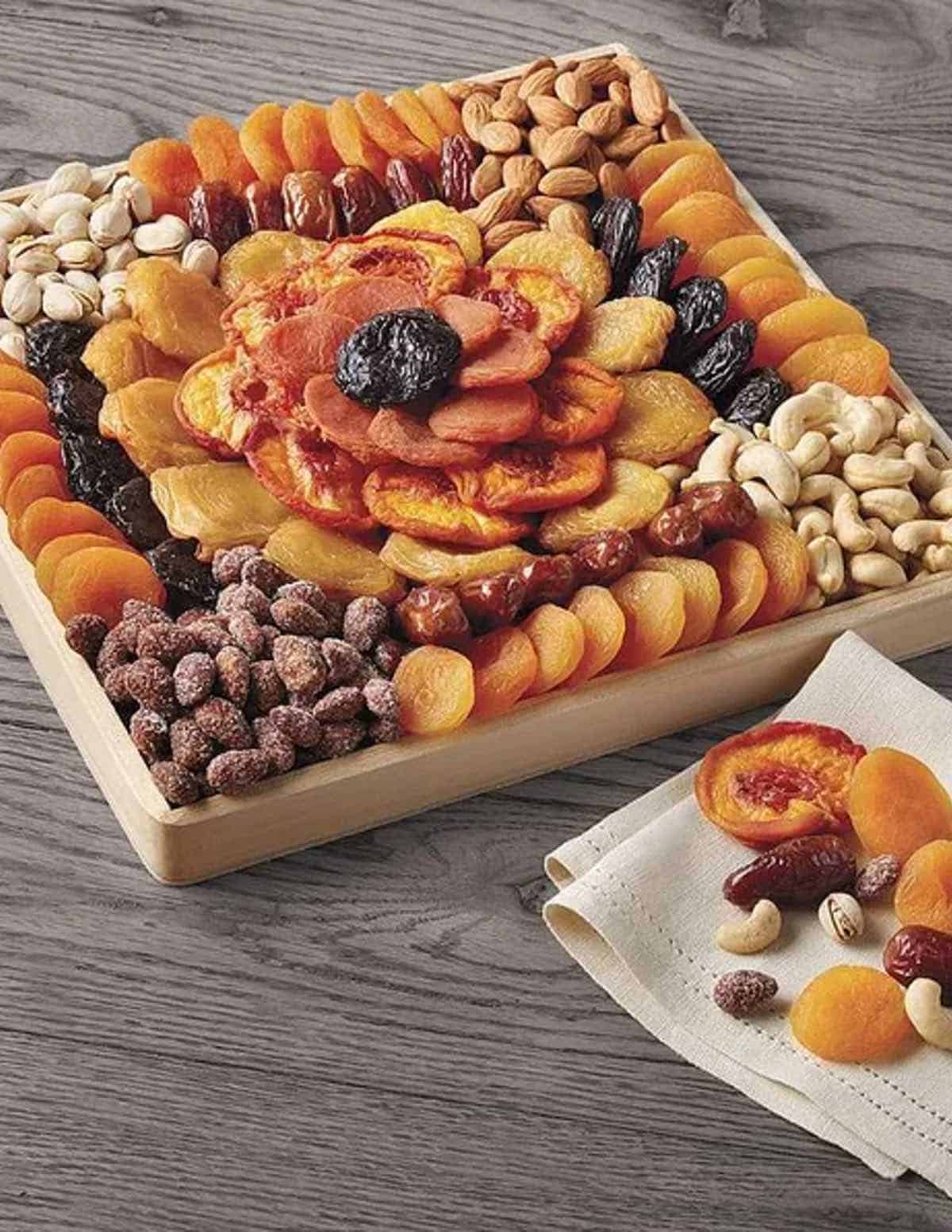 Food gifts are often indulgent affairs, which is tough for anyone on a restricted diet. You can still give a healthy edible present that will brighten anyone's day when you start with fresh fruit! Edible arrangements can turn whole berries, melons, and grapes into works of healthy art, carving them to look like brilliant bouquets of flowers.
Keep in mind that the chocolate-dipped options all contain milk, but you can search specifically by dietary restriction to filter out any unsavory ingredients.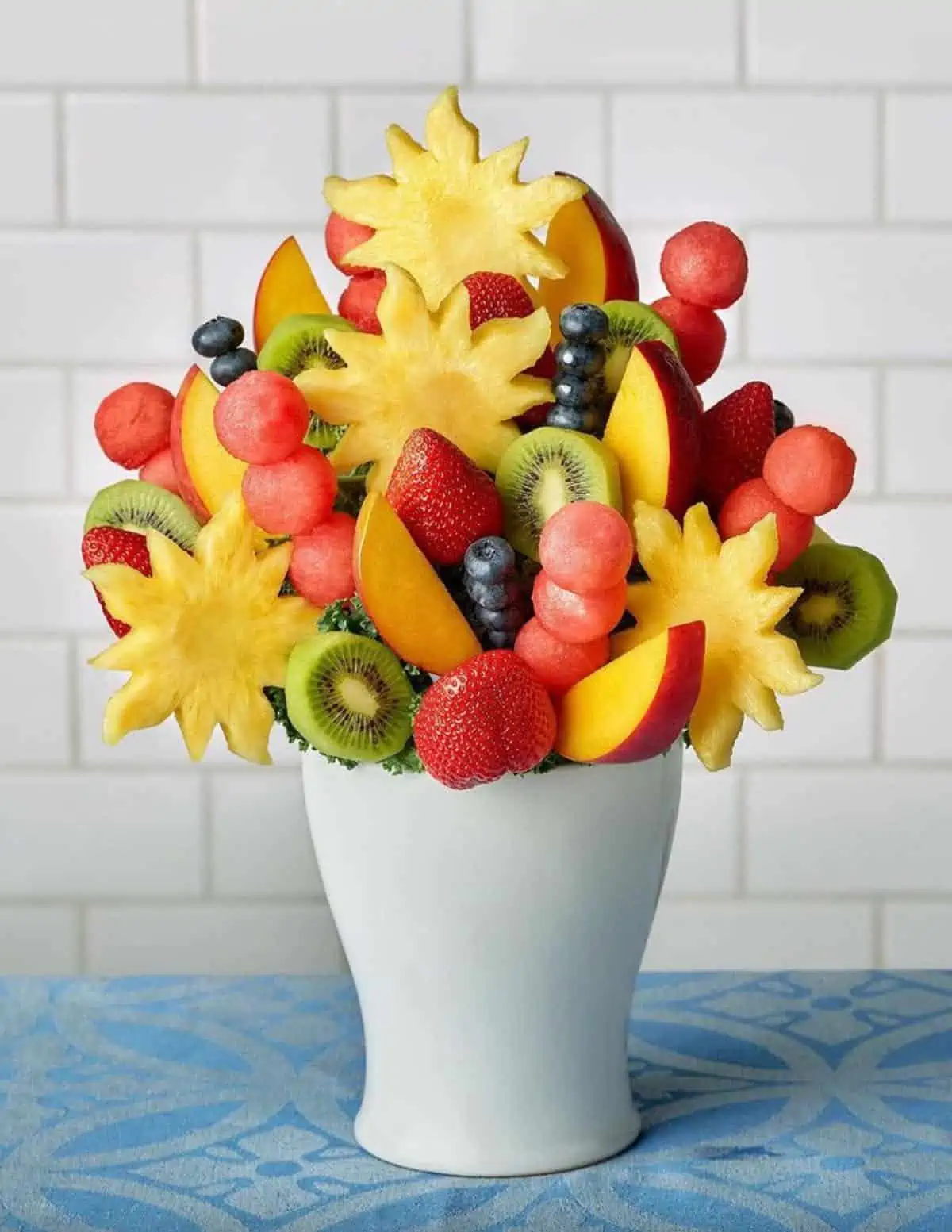 A box of cookies, brownies, cake, cupcakes, cakesickes, cake pops, or any other sweet treat is one of the most guaranteed ways to send a dose of happiness right to someone's doorstep. This round-up of vegan bakeries that ship provides many options to choose from.
Fat Badger Bakery makes it easy to ship individually-wrapped cookies that you'd never know are vegan. If you're looking for an even more decadent and creative delivery, Karma Baker has some of the most fun vegan treats around.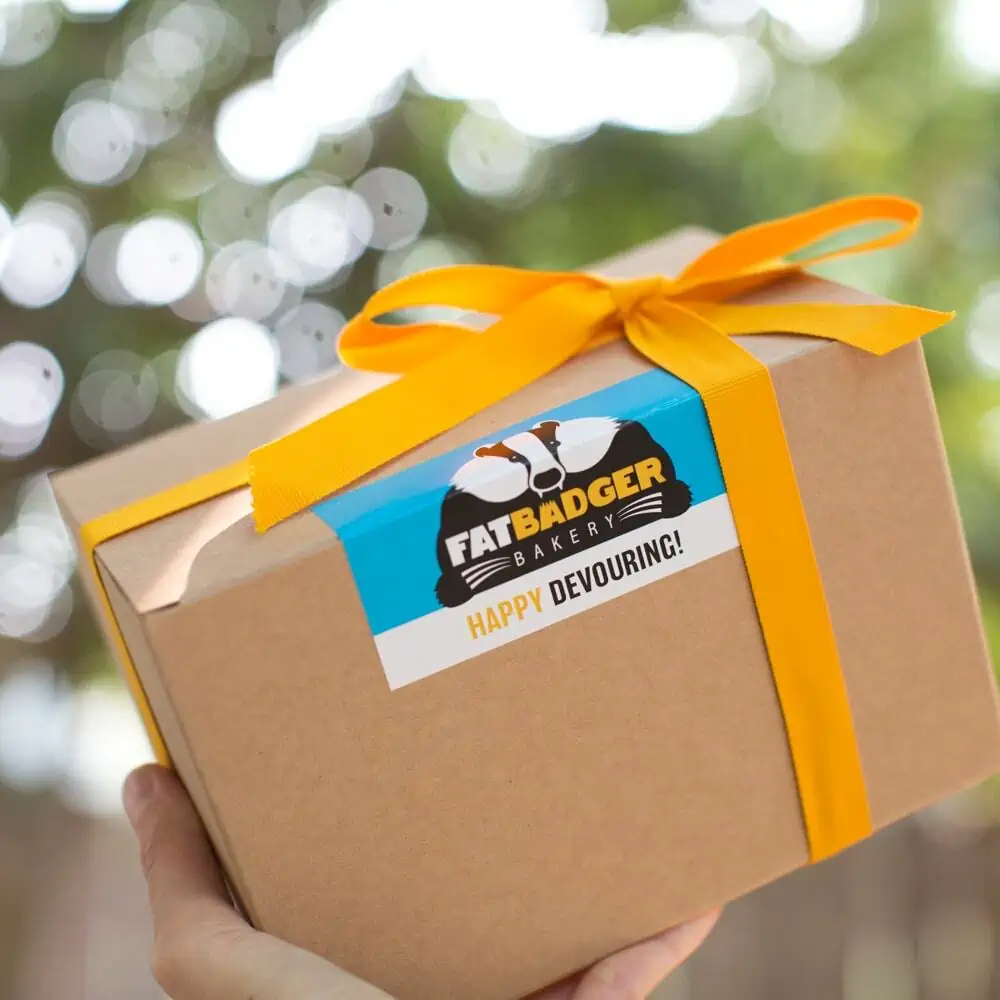 Vegan Box of Chocolate
Whether you're surprising your lucky love for Valentine's Day, or sending much-needed chocolate to a grieving friend, you have many vegan chocolate boxes to choose from. Visit our Vegan Chocolate Guide to explore the vast array of brands making vegan chocolates easy-to-find.
Sjaak's makes some of the most divine chocolate around, including elegantly boxed vegan chocolate truffles—and they are a fully vegan brand. No Whey! Foods is another dairy-free brand with lots of options to choose from.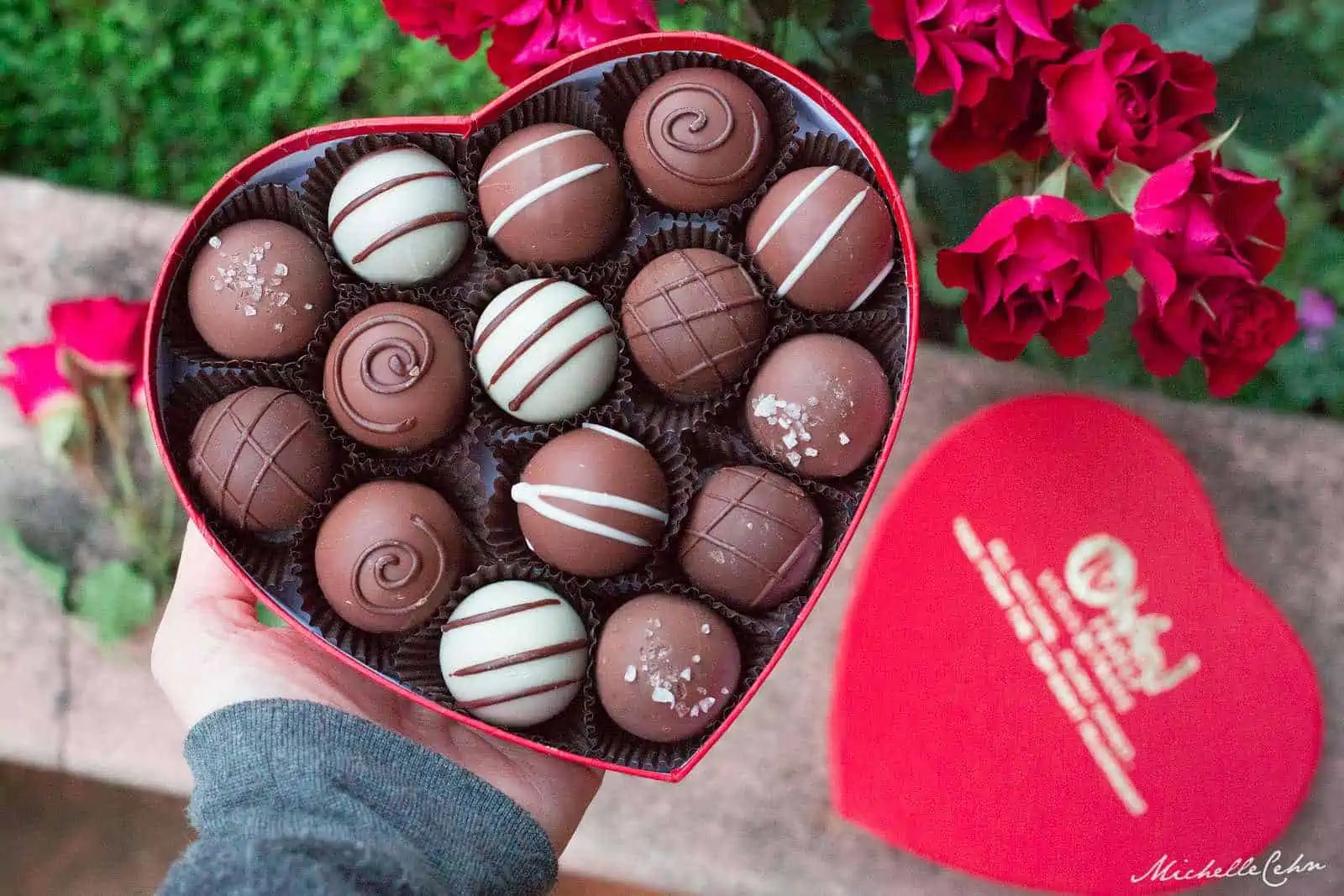 For the adventurous, ethical foodie, companies like Vegan Cuts offer monthly snack boxes comprised of exciting new vegan products from both established and startup brands. Discover the hottest flavor innovations before they hit store shelves, without worrying about sending potential animal ingredients.
You can also find cruelty-free beauty boxes, home boxes, lifestyle boxes, and more.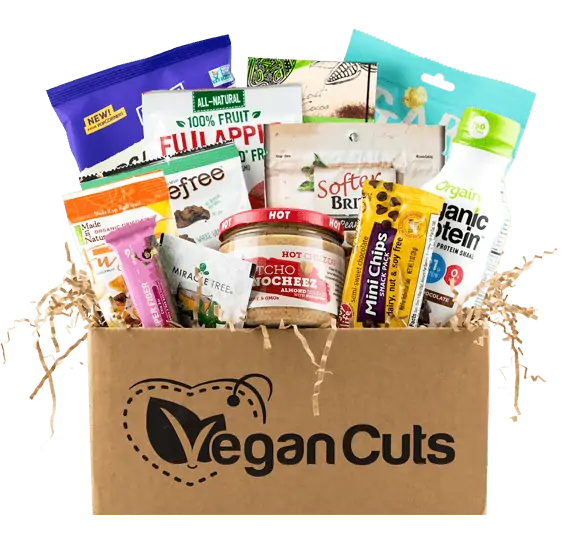 Holiday Popcorn Tin
If you thought going vegan meant missing out on those festive super-sized holiday tins of sweet and savory popcorn and kettle corn, think again! Popinsanity Artisanal Popcorn has every size, flavor, and combination imaginable, and all of their flavors except for three are vegan! The non-vegan flavors to avoid are: S'mores, Rocky Road and Peppermint Hot Chocolate.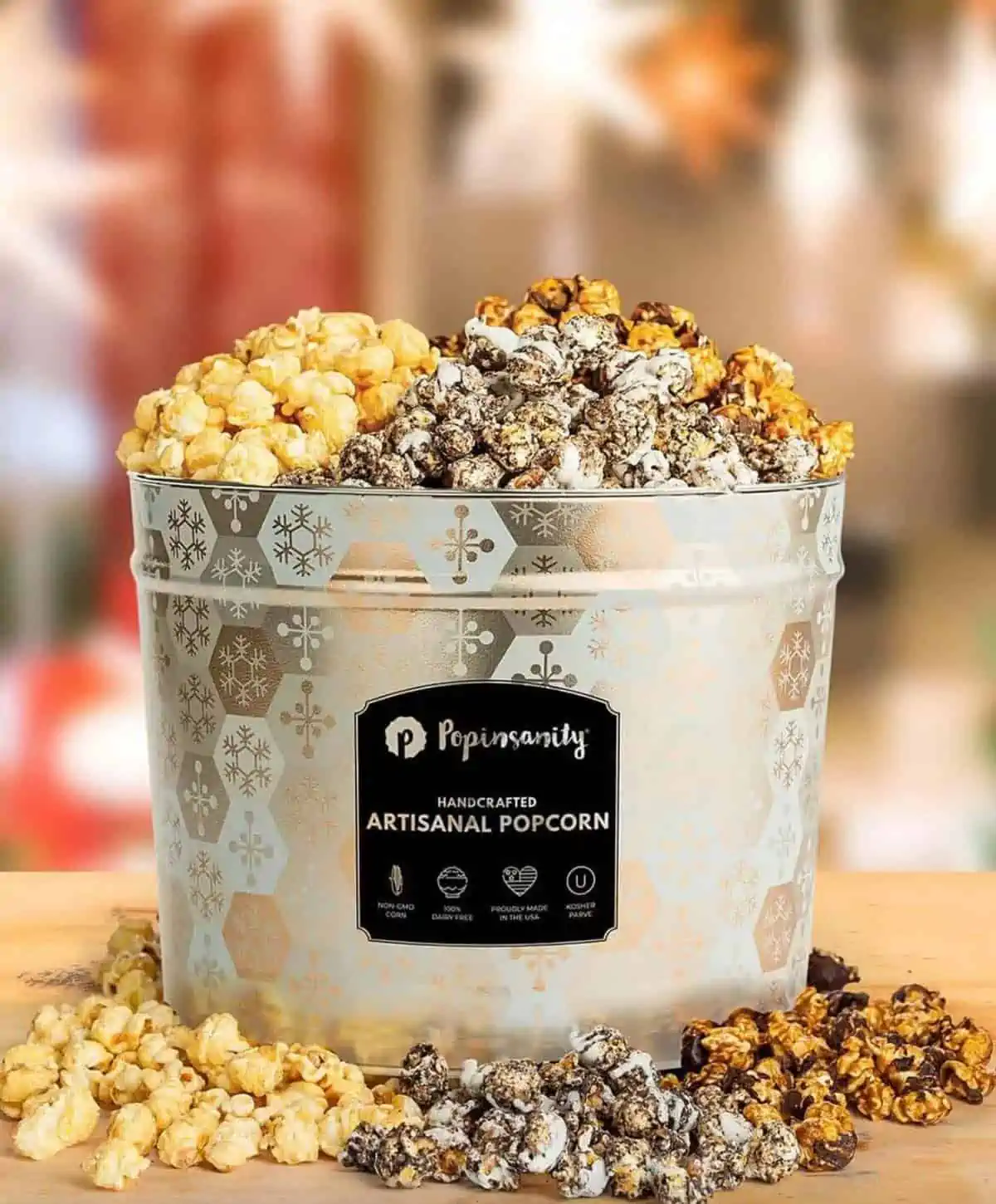 Wine Lover's Organic Vegan Box of Wine
If you have a wine lover in your life, send them a box of organic vegan wines! There are several vegan-friendly wine brands sprouting up that can ship. Kind of Wild is one of the most notable, loved for their gorgeous wine labels and gift packages that come in a pack of three or six different bottles. Take a look at our Vegan Wine Guide for excellent ethical brands for any occasion.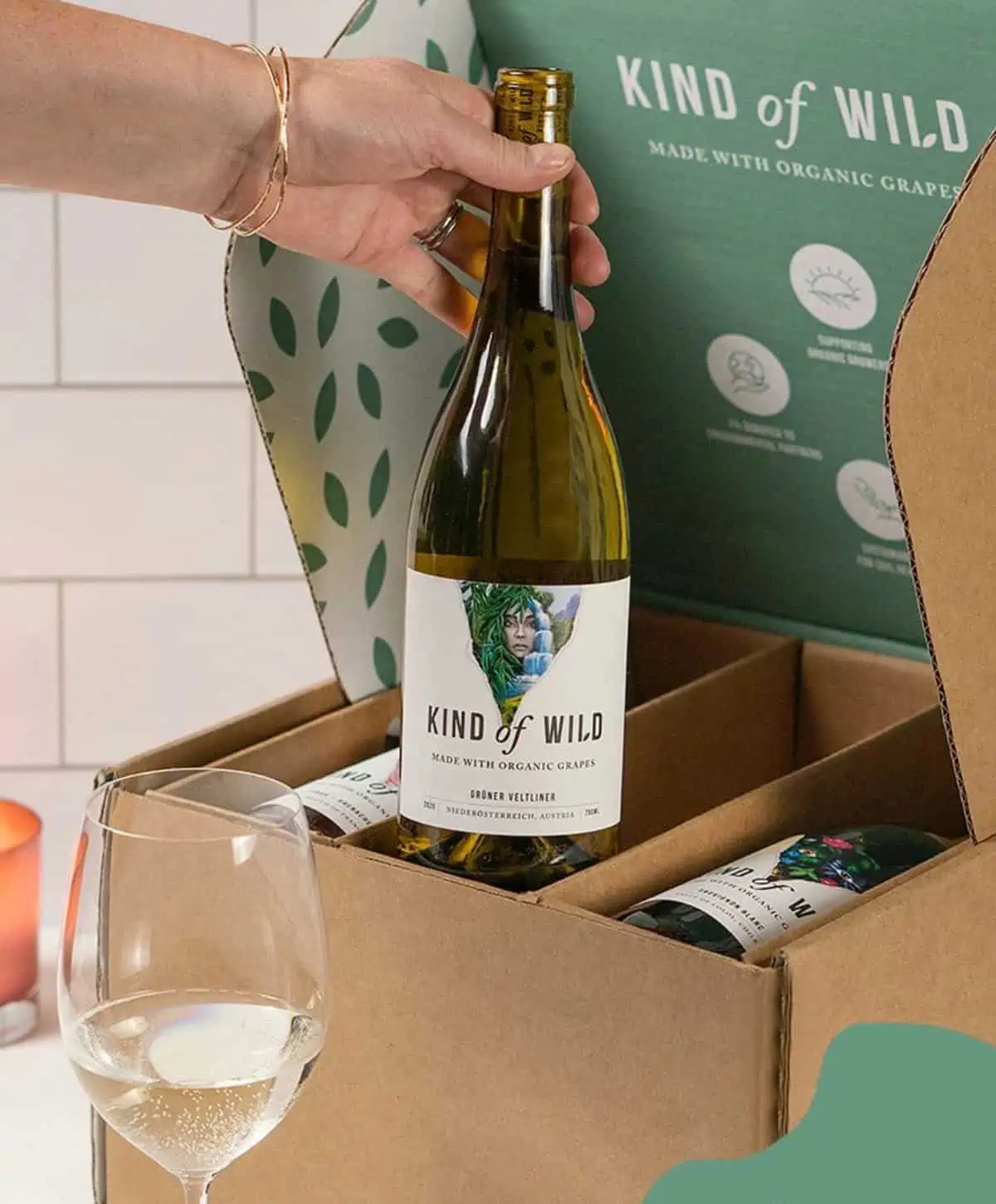 Maple Lover's Gift Box
Everyone loves maple syrup, right? But many people have never tried (or even heard of) other maple products, making this gift box is both fun and a very unique surprise.
This vegan maple gift box includes pure maple syrup, maple candy, maple cream, maple sugar, and vegan pancake mix. Maple candy and maple cream are both so incredibly tasty it's hard to believe they're real—and vegan!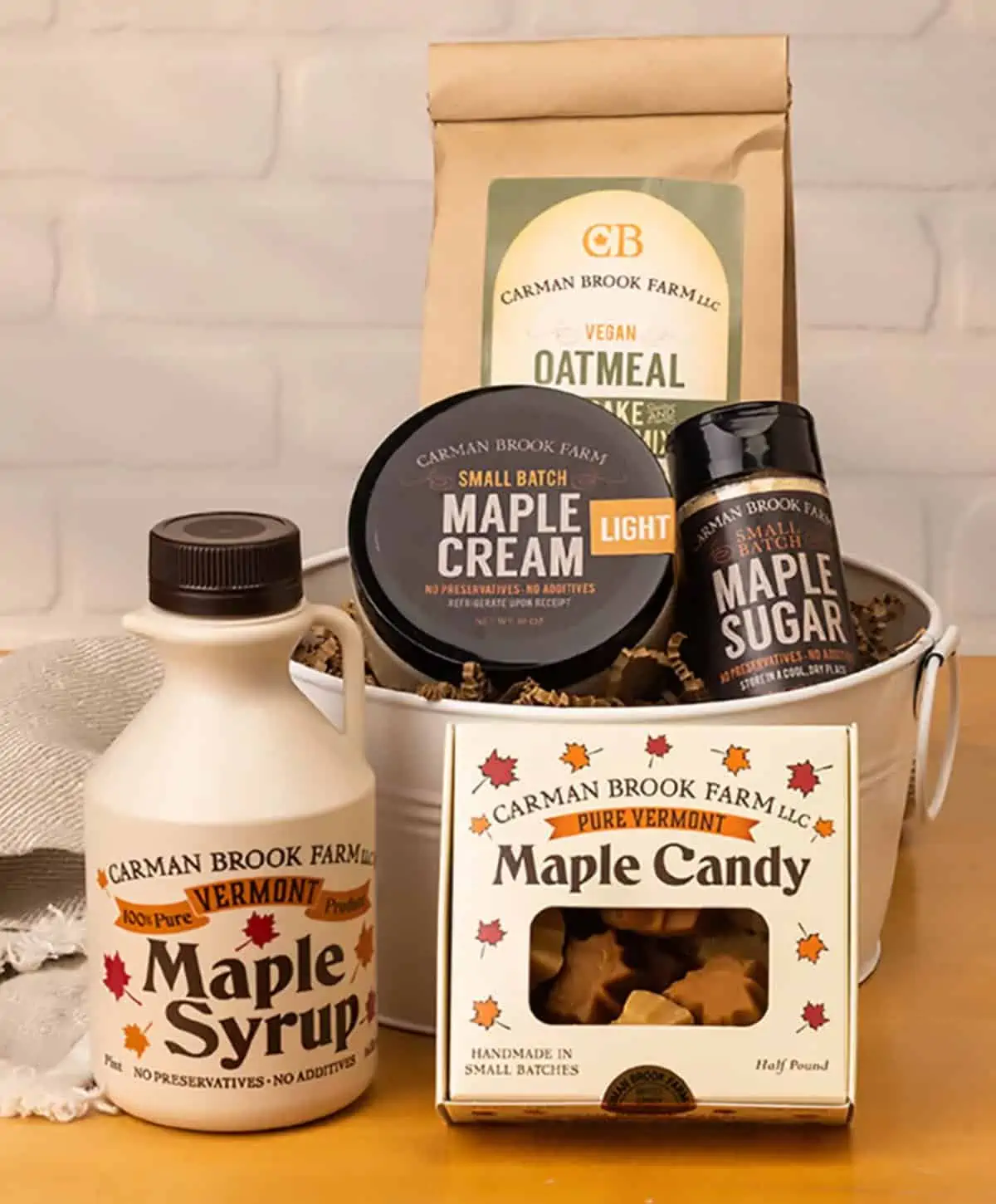 Olive Oil Gift Box
One of the best things about vegan gift boxes, is that they contain products the recipient will actually use! Olive oil is an essential staple in most households, so a set of quality olive oil varieties or olive oil and vinegars makes for a great gift, especially for a host or hostess, or the foodies in your life. Splurge on a fancy brand with a very flavorful olive oil, like those from Wild Groves, Brightland, or this gift set on Amazon.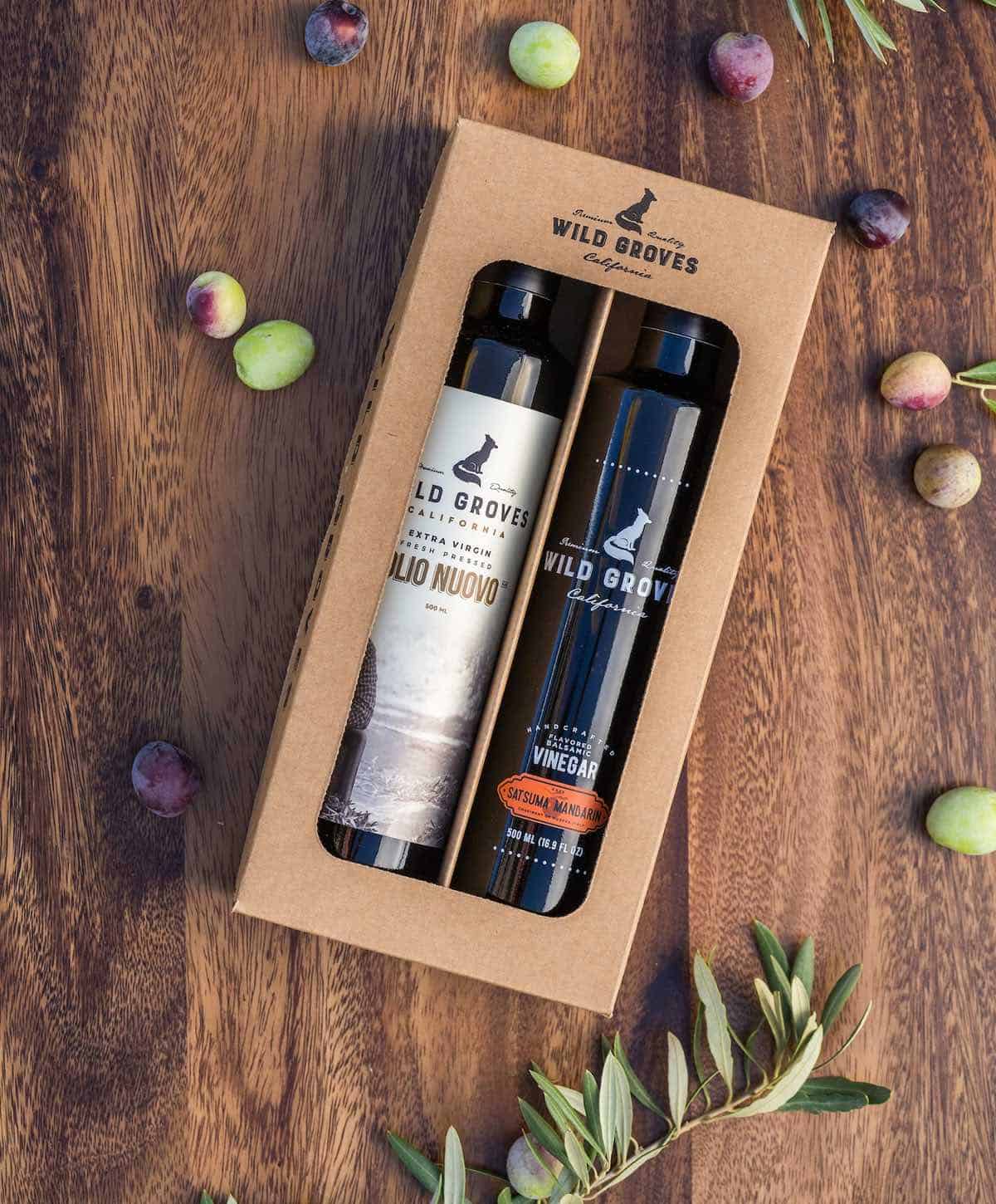 Share a heartwarming meal of comfort food with those you love, even if you can't be there to cook it in person. Soup is good for the heart and soul, which is why it's the focus of these cozy gourmet bundles. The vegan meal is complete with vegetable soup, dinner rolls, cookies, and even a shiny new ladle to serve it in style. There's enough to feed a family, so everyone can appreciate such a thoughtful, inclusive gift.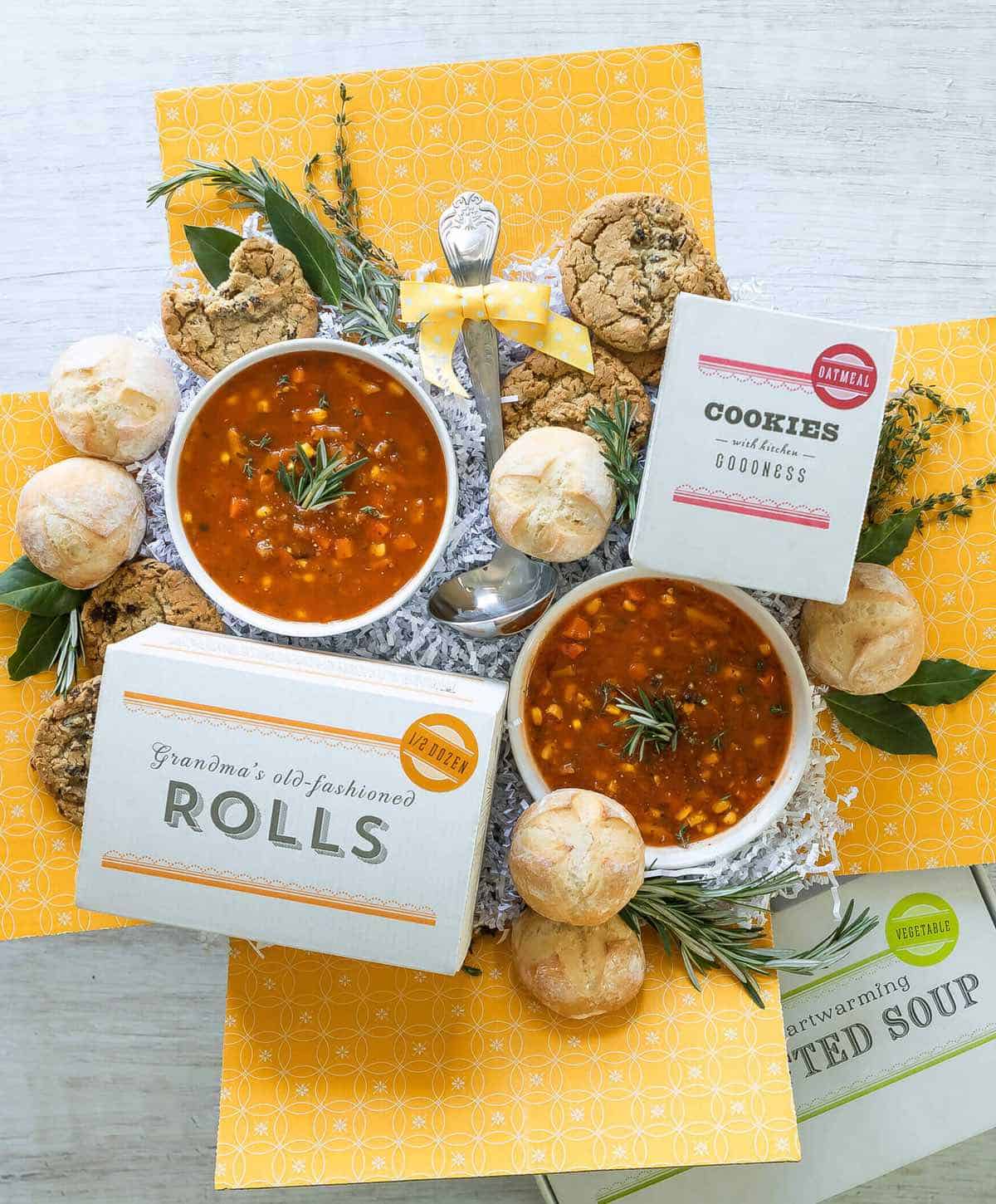 PlantBelly is an online vegan grocery store that offers some of the coolest vegan grocery products available. If you want to gift a box of plant-based deliciousness to a special someone, they put together special gift packages you can order. They come in themed bundles like Snack Attack, Bar Cart, and Plant Meats.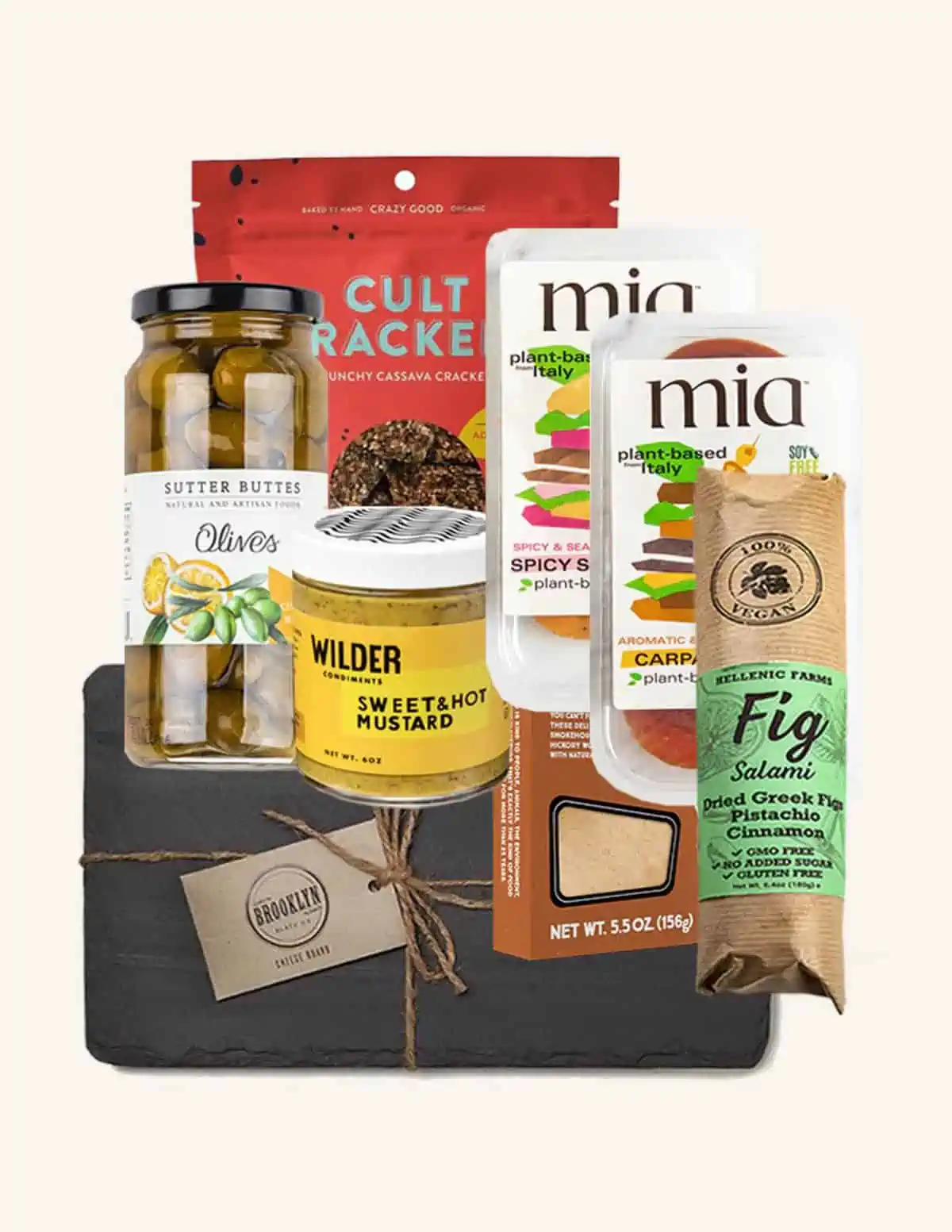 From meal kits to layer cakes, Goldbelly has something special for every craving, curating their offerings from the upper echelon of restaurants and celebrity chefs to small businesses across the country. Homesick transplants and travelers with wanderlust will be delighted to be reunited with nostalgic favorites and find new local specialties. Even if you can't make it to New York City for an authentic bagel, you can have them sent to you, on demand!
A meal delivery package makes a great gift option for anyone who is in a particularly difficult or overwhelming chapter of life. Fresh cooked and frozen meals will be delivered to the recipients doorstep so they can simply heat-and-enjoy when they're ready.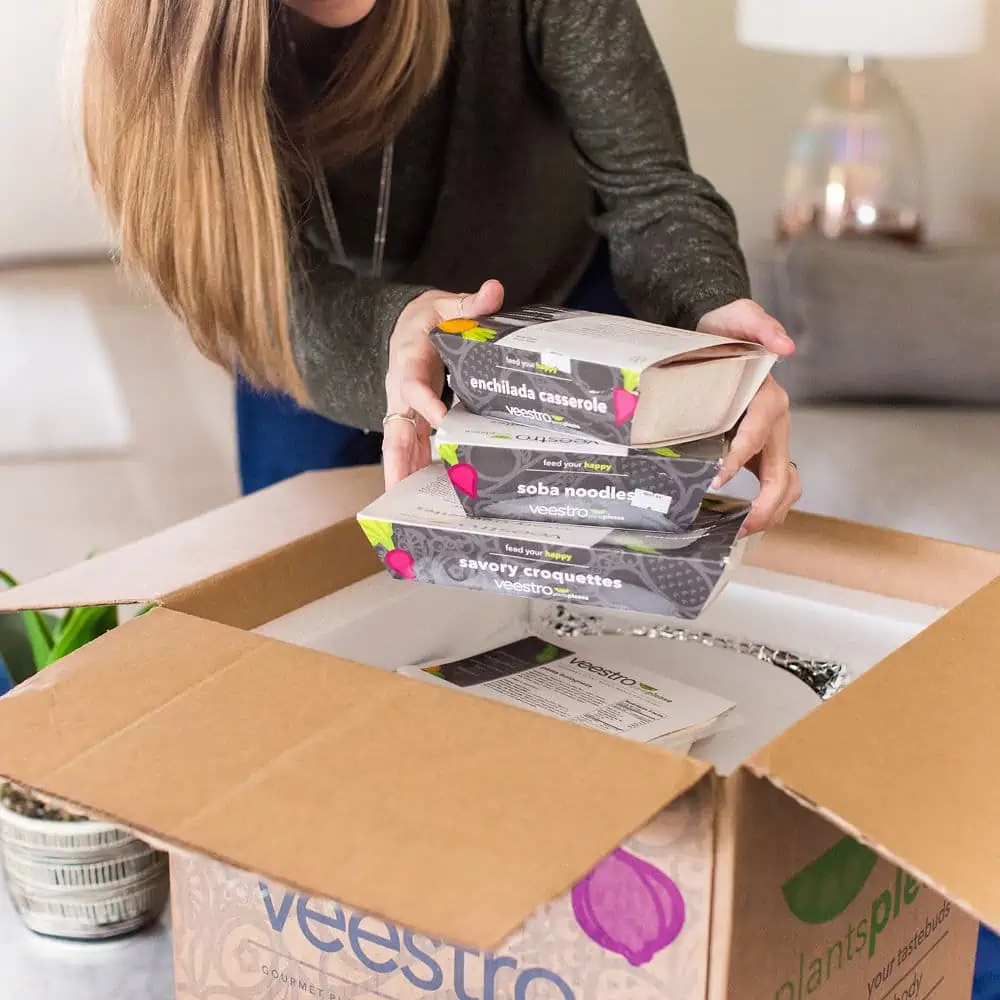 Best Non-Food Vegan Lifestyle Gift Baskets
There's no one-size-fits all option when it comes to gift-giving. There are choices to suit the specific needs and wants for people of every walk of life, specifically tailored to more personal passions.
Pamper your loved ones with a monthly beauty box, filled with full-sized high-end products that are guaranteed non-toxic, cruelty-free, and plant-based. The retail value could be over $100, which makes any combination of makeup, hair care, body and skincare products a real steal at the much lower box price.
If you're looking for a great gift for kids, order one of their play kits! They are organized by age, so you can easily pick out the perfect box for your recipient even if you know very little about kids and what they like.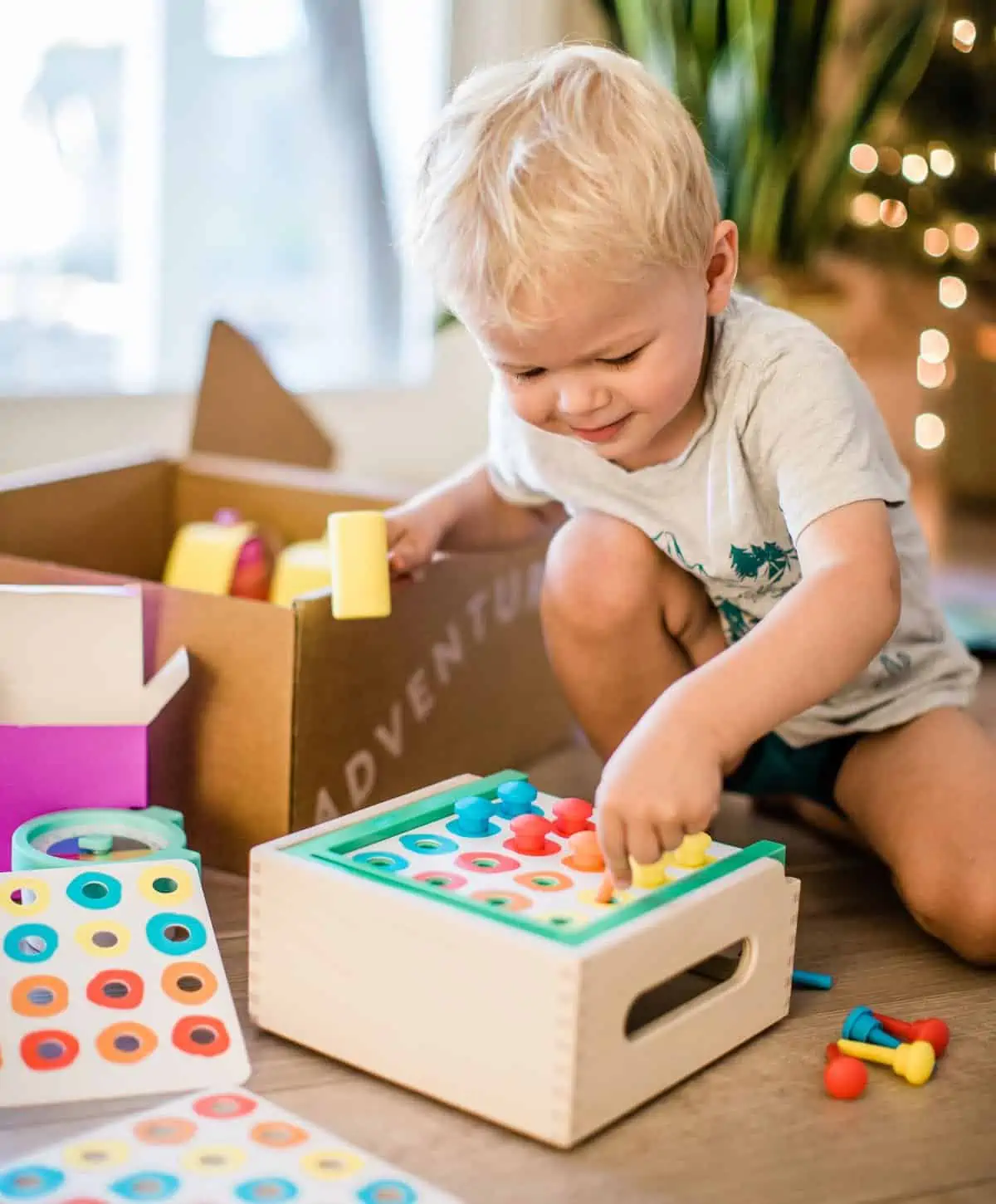 For the succulent-lover in your life, send them a gift that will stay with them for years to come. Choose from a curated bundle of drought-resistant xerophytes with cozy scented candles or build your own bespoke combination. Even for those that don't have a naturally green thumb, care instructions ensure success for gardeners of all skill sets.
Cut your carbon footprint with sustainable, zero-waste solutions that recipients will enjoy for years to come. Each care package comes with vegan options to live with less plastic and without any sacrifices. Send out a single box of 6 to 9 eco-friendly items or sign up for a full year of 4 annual packages, sent out seasonally.