Wanting to add a delicious vegetarian Italian meal to your weeknight plant-based dinner rotation? Then you've got to try this vegan mushroom risotto!
Creamy, comforting, and bursting with flavor, mushroom risotto is a classic Italian comfort food perfect for enjoying alongside a glass of wine and simple salad. Beloved for its creamy consistency, it's also one of the easiest Italian dishes to prepare! All you need are a few simple ingredients and about a half hour before you're in vegan Italian comfort food heaven. Naturally gluten-free and very easily soy-free, this vegan comfort dish is quite the crowd-pleaser.
Quick and Super-Easy Vegan Dinner!
Any one-pot vegan recipe with very few ingredients is a great one in our book! This vegan mushroom risotto is one of those. Rice, onions, garlic, oil, mushrooms, soup stock and butter, one pan, and a lot of stirring.
Weekdays are so crazy busy for me (and I'm sure for you too!) that being able to prepare a delicious and healthy dinner so quickly and without much planning is priceless!
Most of the ingredients we already have at home as pantry staples. And of course, you can give yourself the luxury of improvising, which is pretty standard for us as a family. The awesome thing is, this risotto recipe also works as a fancy dinner for when you have people over. When I need to cook for a bunch of people, I prefer to cook dishes that don't require many steps or pre-preparation. This way, I get actually to enjoy their company!
Vegan Mushroom Risotto: Switch It Up!
This is a pretty basic risotto recipe, which means you can easily switch it up! If you want to stick mostly to this one but want to intensify the flavors, you can add some dried mushrooms to the mix! They might be a bit pricey, but a little goes a long way. If you buy them once you'll likely have them for a long time. Just soak them in hot water for a few minutes before adding them to the pan.
Now, if you're feeling cheeky and want to experiment with some other entirely different flavors, you have a whole world of possibilities out there! My favorite way to eat risotto is with peas and butternut squash. These flavors go so well together, but you can choose your favorite veggies and get experimenting!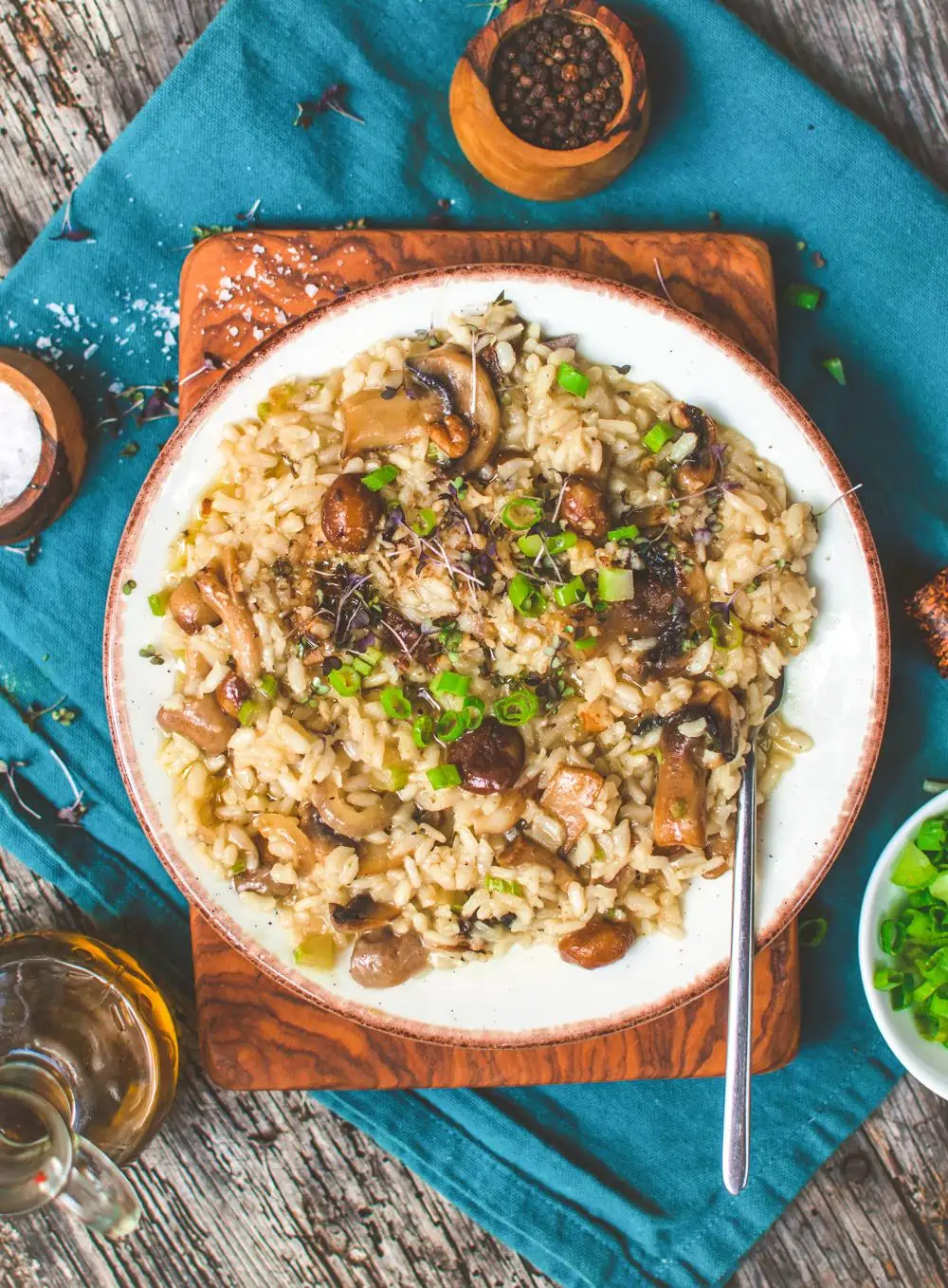 It's All In the Stock
If you want to know which ingredient is most essential to get a super-delicious risotto, the vegetable stock you use is way up there! Every stock is different, and which you choose will impact the flavor of your final dish.
The good news is, it's a great time to be alive, and the choices of ready-made vegan stocks out there are plenty. You can also use ready-made bouillons (like vegetable bouillon cubes or Better Than Bouillon) mixed with water. Voila!
You can also get crafty and prepare your own vegetable broth from scratch, of course, but that would mean a lot more time spent in the kitchen. If you're up for it, it's a fantastic way to use your leftover veggie scraps, like those onions or carrot ends. You can freeze your veggie scraps until you have enough to make homemade broth. Zero waste dream!
So, will you give this hearty vegan mushroom risotto a try?
Pair It With A Plant-Powered Side!
You can enjoy many delicious dishes right alongside a warm bowl of mushroom risotto! From a simple green salad to roasted veggies, here are just a few ideas of what to serve up:
However you decide to enjoy your vegan mushroom risotto, it's sure to be 100% delicious.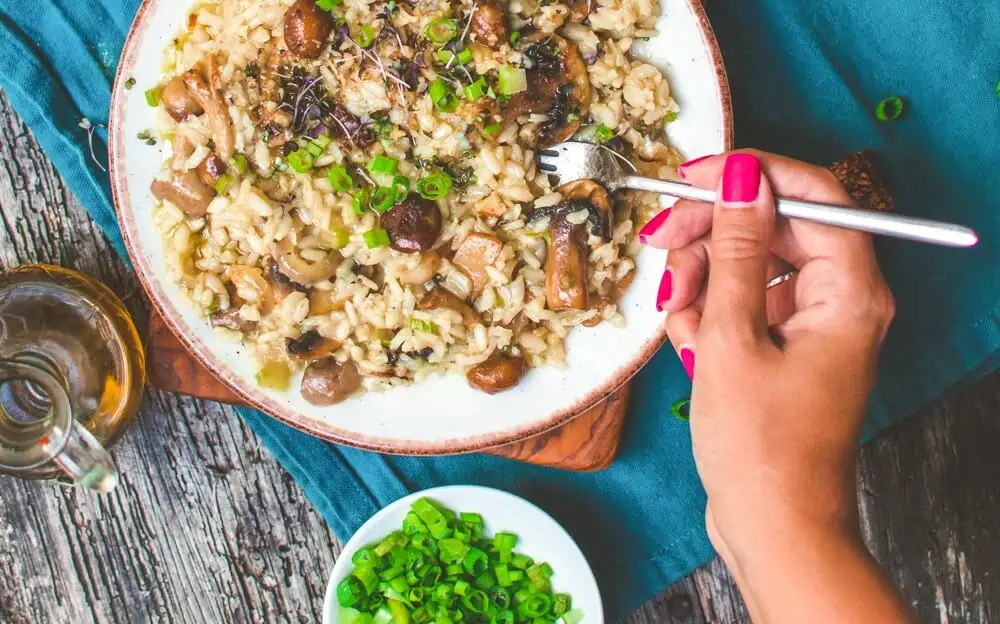 What Other Mushrooms Can I Use?
While button mushrooms are some of the most common and affordable, you're welcome to use other varieties as well! Other mushroom varieties worth considering for this vegan risotto recipe are morels, portobellos, oyster, and porcini. Some varieties take longer than others to cook so just do your research before deciding which mushrooms to use!
Can I Use Pre-Cooked Rice for This Risotto Recipe?
You should never use pre-cooked rice for risotto since it gets its deep, earthy flavor by being cooked with the stock and mushrooms!
What Vegetables Go Well With Risotto?
We're so glad you asked! Many vegetables go well with mushroom risotto, whether you're going for flavor, color, texture, or all three. Some suggestions are:
Asparagus
Broccoli
Butternut Squash
Carrots
Green Beans
Kale
Peas
Sweet Potatoes
Zucchini
Depending on the vegetable(s) you decide to add, you may need to cook them separately before adding them to the risotto. Vegetables such as zucchini and kale will both cook quickly once added to this vegan risotto but carrots and butternut squash will require a bit more prep. You're always welcome to meal prep in advance!
1½ tablespoons vegetable oil, like olive or sunflower
1 clove garlic, minced
½ white onion, finely diced
1 rib of celery, diced
1 cup wild mushrooms, sliced to your desired size
1 cup arborio rice, Italian short-grain white rice
3 cups vegetable stock, or an equivalent amount of bouillon and water
½ tablespoon vegan butter
salt, to taste
black pepper, to taste
In a large saute pan, add the oil and allow to heat. Add the garlic, onion and celery and sauté for 3 minutes.

Add the mushrooms, season with salt and pepper, and cook for another 5 minutes.

Add the uncooked rice and mix it in.

Start gradually adding the vegetable stock (or bouillon and water) to the pan, a little at a time. This step will make the rice release all of its starch, which makes the sauce thicker.

When you've finished adding the stock, check that the rice is almost fully cooked but still al dente (not completely soft).

Now add the vegan butter and remove from the heat.

Your risotto should now be creamy and delicious! Enjoy!
Calories: 362kcal | Carbohydrates: 63g | Protein: 6g | Fat: 9g | Saturated Fat: 1g | Polyunsaturated Fat: 5g | Monounsaturated Fat: 3g | Trans Fat: 0.4g | Sodium: 965mg | Potassium: 314mg | Fiber: 4g | Sugar: 5g | Vitamin A: 507IU | Vitamin C: 2mg | Calcium: 10mg | Iron: 3mg
If you try this vegan mushroom risotto recipe, let us know what you think by leaving a comment and rating below! Be sure to follow along on Pinterest, Instagram and Facebook for even more vegan recipe inspiration.
Fancy More Vegan Italian Recipes?
Vegan Mushroom Risotto photos and recipe by Zhoro Apostolov for World of Vegan. Article written by Beatriz Buono-Core and edited by Amanda Meth. Recipe and photographs copyright of World of Vegan™, all rights reserved. Please note that this article contains affiliate links that support our work at World of Vegan!