This vegan shepherd's pie, also known as cottage pie, is the ultimate comfort food! It's rich and hearty—full of mushrooms and vegetables in a savory sauce topped with creamy mashed potatoes. This is the perfect meal for chilly evenings to cozy up with!
In every language, a rich, hearty stew topped with creamy mashed potatoes and baked to golden-brown perfection always spells comfort food. Cottage pie is a classic dish that's withstood the test of time, matured over the years, and grown to have greater allure than ever. Every western culture has a similar casserole to its name, brimming with enough meat and vegetables in every bite to appease both hunters and gatherers throughout the ages.
Unlike a pastry-covered pie, cottage pie skips the fussy dough to make preparation and serving a breeze. No baking experience required! All you need is an appetite for a hearty, heartwarming meal.
What Makes This The Best Recipe For Vegan Shepherd's Pie?
Umami: The so-called fifth taste, otherwise understood as savory flavor, contributes the distinct depth and richness that makes the overall eating experience so satisfying. Meat is naturally high in umami, but so are mushrooms, which are the secret ingredient here.
Allergen-friendly: Everyone's welcome to the table when this dish is on the menu! There are no common allergens in the mix, meaning it's gluten-free, dairy-free, eggless, nut-free, soy-free, and as always, completely vegan.
Freezer friendly: Whether you want to prep ahead or save leftovers for a rainy day, this vegan shepherd's pie keeps like a champ. Freeze individual portions for up to 6 months and simply microwave or pop it into the oven until hot all the way through.
Key Ingredients
Russet potatoes: These spuds are high in starch which makes them mash up into a light, fluffy vegan mashed potato topping. Peel them for a perfectly smooth mash or keep the skins on for a more rustic approach
Dried mushrooms: Dried porcini are ideal here for their uniquely nutty, earthy flavor and toothsome, meaty texture. Other good options include dried shiitake mushrooms, dried oyster mushrooms, dried wood ear mushrooms, or dried morel mushrooms.
Dried herbs: No pantry is complete without a range of dried herbs at the ready. Through the dead of winter when nothing green is growing, they'll get you through those dark days with zest and fragrance to spare. Basil, oregano, rosemary, and thyme are our VIPs here.
Lentils: This complete protein creates the most convincing vegetarian cottage pie around using only whole foods. Canned and ready-to-eat, they're very convenient anytime you want to cut out the meat.
Sun-dried tomatoes: Chewy and subtly sweet, oil-packed sun-dried tomatoes are a rich source of umami as well, harmonizing with the mushrooms to heighten that taste. For even greater flavor, use some of the oil for cooking, instead of plain olive oil.
Nutritional yeast: Both cheesy and buttery without a drop of dairy, nutritional yeast is essential for creating natural vegan alternatives. It can be used to enhance anything from soup to popcorn.
What's The Difference Between Shepherd's Pie vs Cottage Pie?
Though the terms can sometimes be used interchangeably, the difference between the two traditionally comes down to the place of origin and type of meat.
Shepherd's pie hails from Scotland, later gaining in popularity throughout England and Ireland. It typically calls for ground lamb, befitting of the name.
Cottage pie came later, appearing in text around 1791 without clear heritage other than the United Kingdom at large. These casseroles were filled with ground beef instead.
While a plant-based version could be seen as either (or neither) based on these simple definitions, most vegan ground meat is compared to beef, given that lamb has a more gamey or grassy taste. Cottage pie is a better fit for conventional flavor expectations.
How To Use Dehydrated Mushrooms
Dried mushrooms are indispensable umami bombs that contain even greater flavor than their fresh counterparts. That's because the drying process concentrates their essence, breaking down cell walls and making it more readily accessible than straightforward cooking alone.
Here's how to rehydrate dried mushrooms:
Sort your mushrooms and give them a rinse. Wild mushrooms especially are likely to still carry dirt from where they were grown. Brush lightly to remove any leftover particles. Double-check that there are no other stones or twigs that might have gotten mixed up with them.
Soak in cold water, ideally overnight. Many recipes will quickly rehydrate dried mushrooms in hot or even boiling water to speed through the procedure. While that technically works, it fails to unlock their full potential. Dried mushrooms tend to float, so keep a plate on top of them in a large bowl to keep them all submerged. Store in the fridge until ready to use.
Drain the soaking water but save it! You now have incredibly flavorful mushroom broth, ideal for making soups and stews with, in addition to the toothsome mushrooms you want for the recipe at hand.
Kept in a dry, cool place, dried mushrooms are shelf-stable and can last for 1 – 3 years. Once rehydrated, the mushrooms should be kept in an airtight container in the fridge and used within 5 – 7 days.
This method works for a variety of different mushrooms including dried porcini mushrooms, dried shiitake mushrooms, dried morel mushrooms, dried oyster mushrooms.
Ideas For Cottage Pie Adaptations
Never eat the same meal twice when you apply a bit of creativity to the basic cottage pie formula! Make it your own with a few simple twists.
Switch up the protein: Use crumbled tofu or tempeh, realistic vegan ground meat like Impossible or Beyond Meat, or a combination of all your favorites.
Add an extra serving of vegetables: Take a hint from what's fresh and in season or dig deep into your freezer to pull out a ready-made blend. Keep the cuts as consistent as possible so everything cooks at the same rate. When in doubt, corn and peas are always good choices to start with.
Say cheese: Everyone loves cheese, so sprinkling a handful of your favorite shredded vegan cheese over the top is a guaranteed crowd-pleaser. Add it within the last 10 minutes of cooking so it can get nice and melty.
Spice is nice: The flavor profile is very mild as written, but if you're a heat seeker, go ahead and spike the filling with crushed red pepper flakes, Tabasco, sriracha, harissa, or your favorite hot sauce.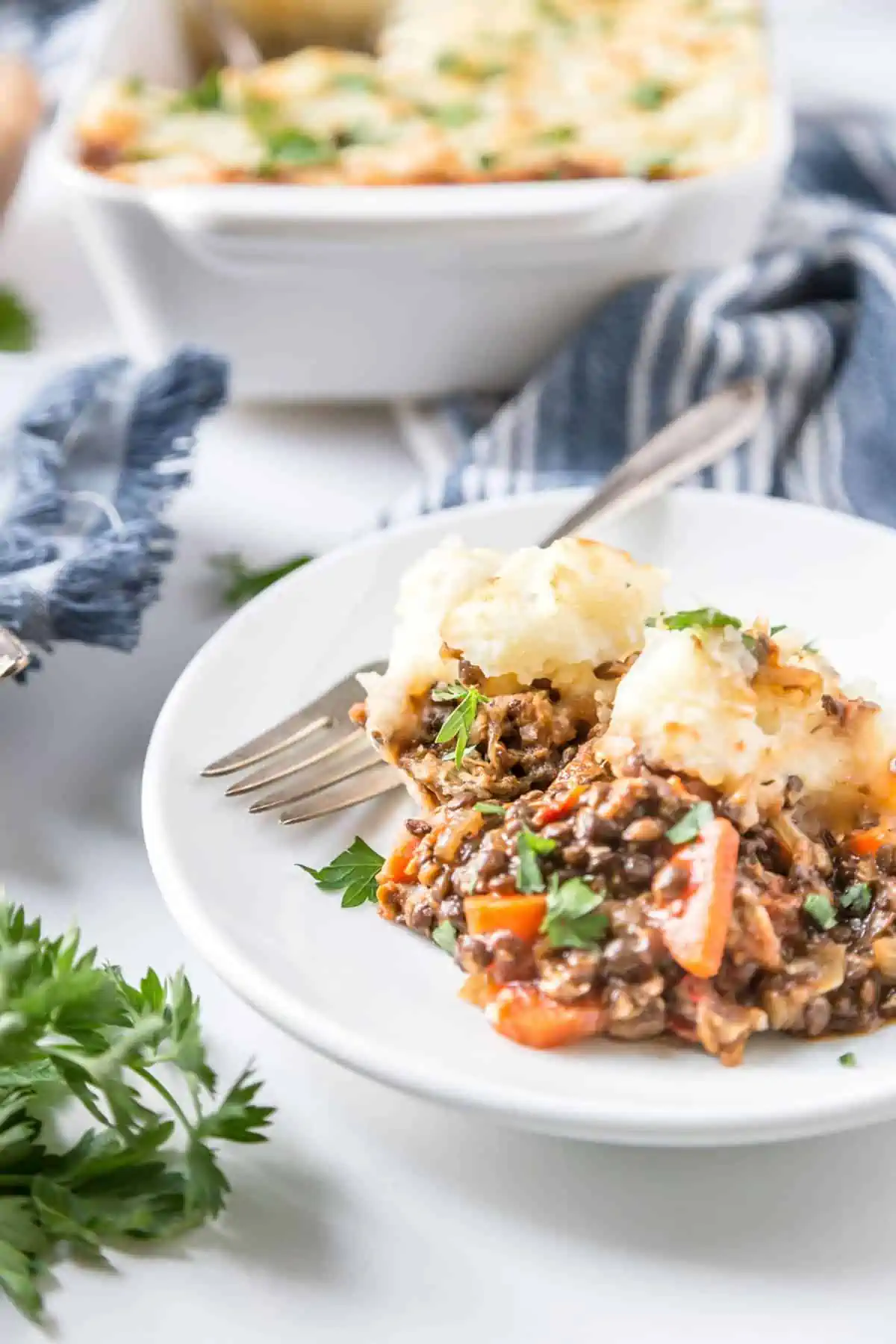 More Cozy Casseroles To Try
Vegan Baked Mac and Cheese Casserole
Vegan Lasagna With Tofu Ricotta
Mashed Potato Topping Ingredients: 
4 large russet potatoes, peeled and diced
plant-based milk, unsweetened and unflavored, to taste
vegan butter, to taste
salt and pepper, to taste
Cottage Pie Filling Ingredients: 
⅓ cup dried mushrooms, porcini if you can find them, otherwise any dried mushroom will do
1 cube vegetable bouillon
1¼ cups water
4 tablespoons olive oil
2 carrots, peeled and diced
1 small yellow onion, finely chopped
1 teaspoon dried basil
1 teaspoon dried oregano
1 teaspoon dried rosemary
1 teaspoon dried thyme
1 8-ounce can lentils, drained
½ cup sun-dried tomatoes packed in oil, drained and chopped
6 tablespoons tomato puree
⅓ cup nutritional yeast or vegan parmesan, optional
parsley or chives for garnish, optional
Place the diced peeled potatoes in a large saucepan, cover with water, bring to a boil, and simmer for 15 minutes or until soft. Drain the water and roughly mash. Add plant-based milk, vegan butter, salt, and pepper, all to taste, and continue mashing until completely smooth. Set aside.

In a medium bowl, add the dried mushrooms, bouillon cube, and water. Let the mushrooms soak for 8 minutes, and mix to dissolve the vegetable stock.

Preheat the oven at 430 degrees F.

Heat a large frying pan with the olive oil on medium heat. Add the carrots, onion, basil, oregano, rosemary, and thyme. Stir and cook until lightly soft.

Add the tomato puree to the frying pan and stir. Take your soaking mushrooms and pour the liquid into the frying pan, holding back the mushrooms. Roughly chop the mushrooms before adding them to the pan as well. Add the chopped sundried tomatoes and lentils, and simmer until thickened.

Once the cottage pie mixture is ready, spread it evenly in a casserole dish. Top with the mashed potatoes and sprinkle generously with nutritional yeast. Cook in the oven for 10 minutes or until the surface is golden. Garnish with parsley or chives and enjoy!
Storage - Store leftovers in an airtight container in the refrigerator for up to 5 days. For longer storage, place in a freezer-safe container and freeze for up to 3 months. Thaw and reheat before serving. Can't find canned lentils? Use about 1 cup of cooked lentils instead.
Calories: 497kcal | Carbohydrates: 81g | Protein: 12g | Fat: 17g | Saturated Fat: 2g | Polyunsaturated Fat: 2g | Monounsaturated Fat: 11g | Sodium: 89mg | Potassium: 2109mg | Fiber: 9g | Sugar: 6g | Vitamin A: 5420IU | Vitamin C: 41mg | Calcium: 94mg | Iron: 5mg
This vegan shepherd's pie recipe was created by Beatriz Buono-Core and Mirko Guth. Article written with support from Hannah Kaminsky and edited by Rachel Lessenden. Photos by J.J. Steele for World of Vegan, all rights reserved. Thanks to our recipe testers Ruth Havertz and Taylor Gillespie. Please note that this article may include affiliate links when available and shopping through these links supports World of Vegan.