Ready for a unique, fun, easy, and delicious way to enjoy homemade sushi? These sushi hand rolls are about to become your new favorite weeknight dinner! This recipe comes from Heather Bell and Jenny Engel's cookbook Vegan 101. It hits all the right flavor notes and has the makings of becoming a staple in your household.
Bring over some friends, get out the sake, and have fun making these delicious tofu sushi hand rolls. Don't forget to check out this Vegan Sushi Guide for even more delicious recipes!
Hand Rolls vs. Rolls
If you're new to the wonderful world of sushi, you may be wondering what the difference is between hand rolls and rolls.
If you've ever been to a Japanese restaurant or sushi bar, you're probably familiar with rolls, also known as maki rolls. These small round disks of nori loaded with rice and various fillings are sliced into bite-sized pieces, creating your classic sushi roll. Rolls are all about precision and artistry; they're like little edible pieces of art!
Hand rolls, also known as temaki sushi, are the sushi rebels who break free from the rolling mat. Instead of neatly tucked slices, hand rolls are like sushi tacos. Imagine a cone-shaped nori sheet filled with rice and your choice of ingredients, then rolled up by hand into a handy, delicious package. They're quick, easy, and perfect for sushi aficionados on the go.
Customize Your Homemade Sushi Hand Rolls
Homemade sushi doesn't have to be scary or complicated! As long as you have your rice ready and a few sheets of nori handy, you're ready to fill up your rolls with whatever you'd like! Here are a few ideas of how to make your sushi sparkle:
Pickle It Up – Pickled veggies are perfect for these homemade vegan sushi rolls. Daikon, carrots, cucumbers, and kimchi are all great ideas for making your sushi deeply delicious.
Tango With Tempura – If you've got a favorite recipe for vegetable tempura, then go ahead and fry up some of your favorite veggies! Zucchini, asparagus, sweet potato, eggplant, and bell pepper are all classic choices. Tempura would also make a great side dish for your homemade temaki sushi!
Plenty of Protein – Baked tofu is a perfect choice for these rolls, but you can totally use tempeh, seitan strips, or even jackfruit tuna salad if you really want to take things up a notch.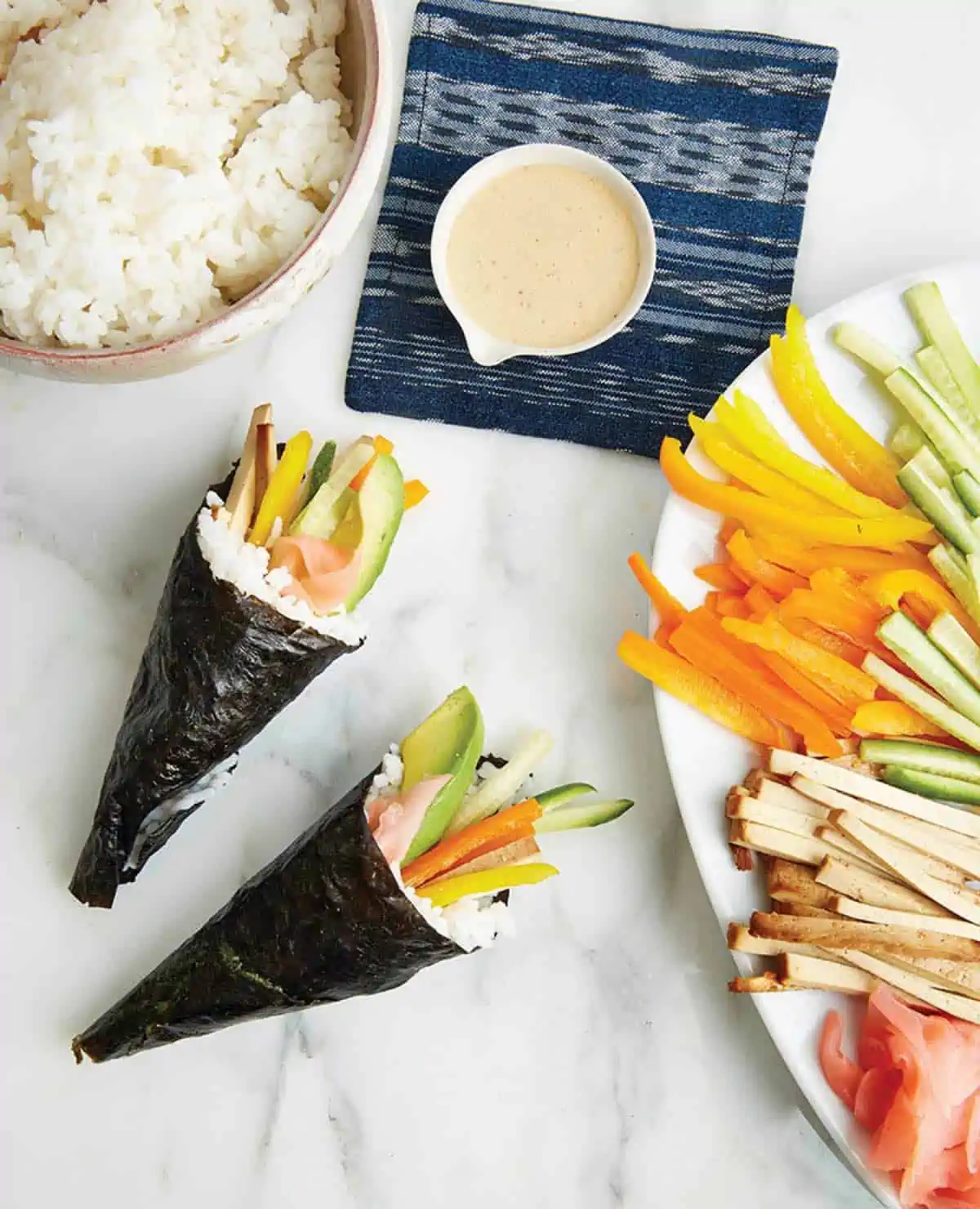 How To Make Temaki Sushi
Cook the rice: Start by cooking the rice, following package instructions. Once cooked, transfer it to a large bowl. Use a wooden paddle to gently fold in the rice vinegar, sugar, and sea salt until it becomes slightly sticky. Set it aside to cool.
Prepare the fillings: Arrange the tofu, avocado, bell pepper, carrot, and cucumber on a plate within easy reach.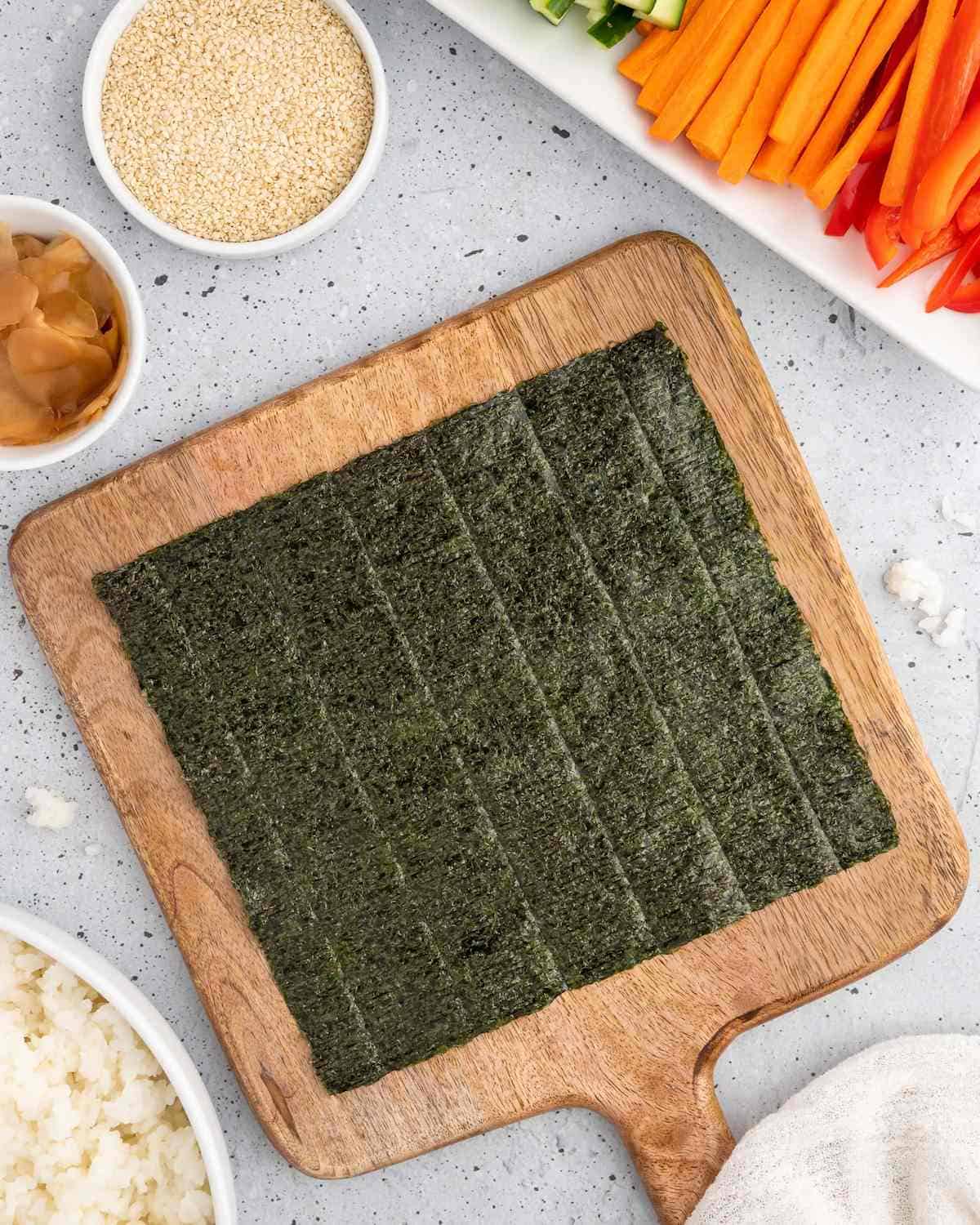 Form the hand rolls: Hold one sheet of nori (shiny side down) in your hand. Use your other hand, dampened slightly, to spread roughly 1/4 cup of cooked sushi rice evenly over half of the nori, forming a square shape.
Place a small amount of your desired fillings diagonally across the rice, aiming toward the thumb side.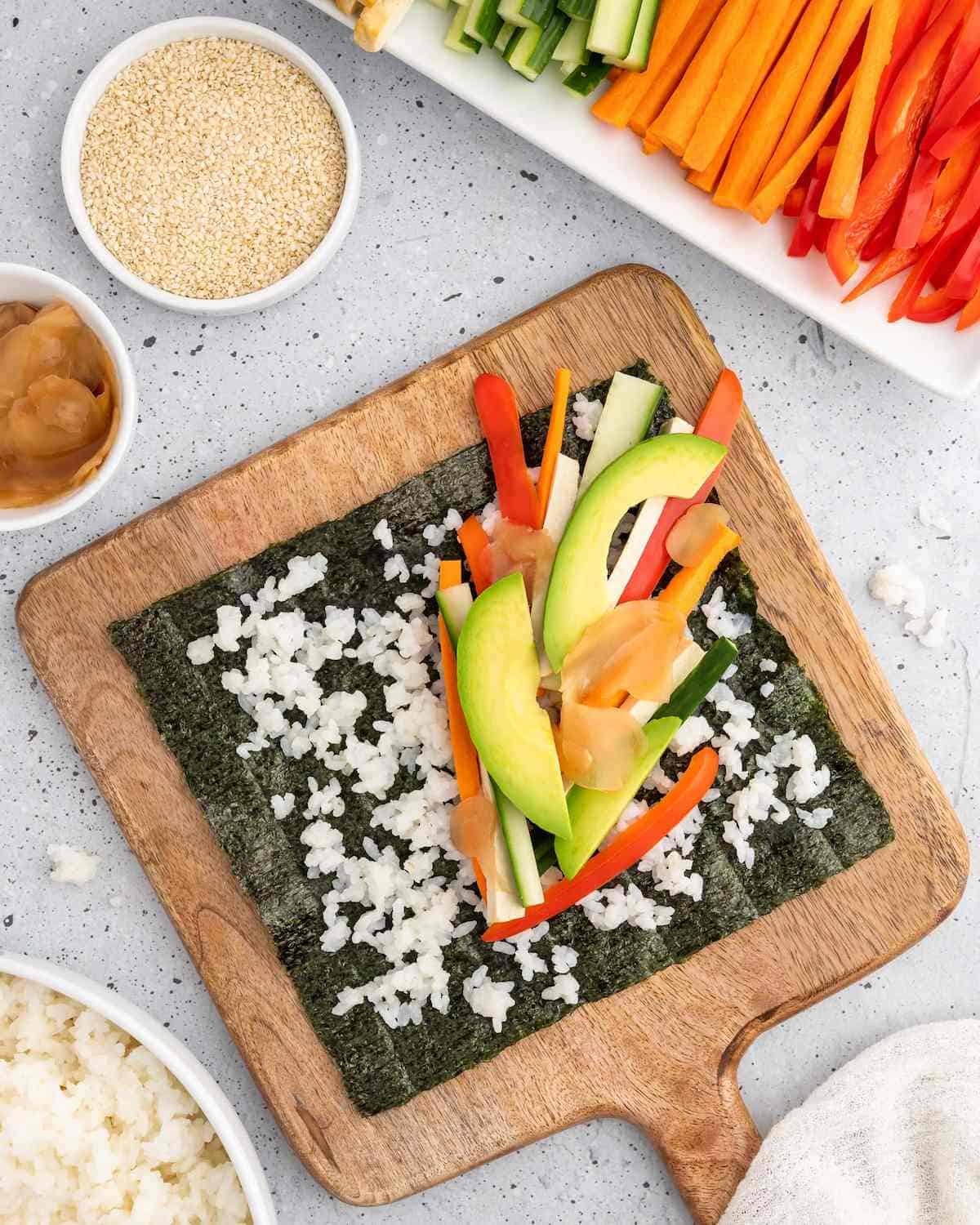 Gently roll the nori into a cone shape, sealing the edge with a few grains of sushi rice of a dab of prepared wasabi if desired.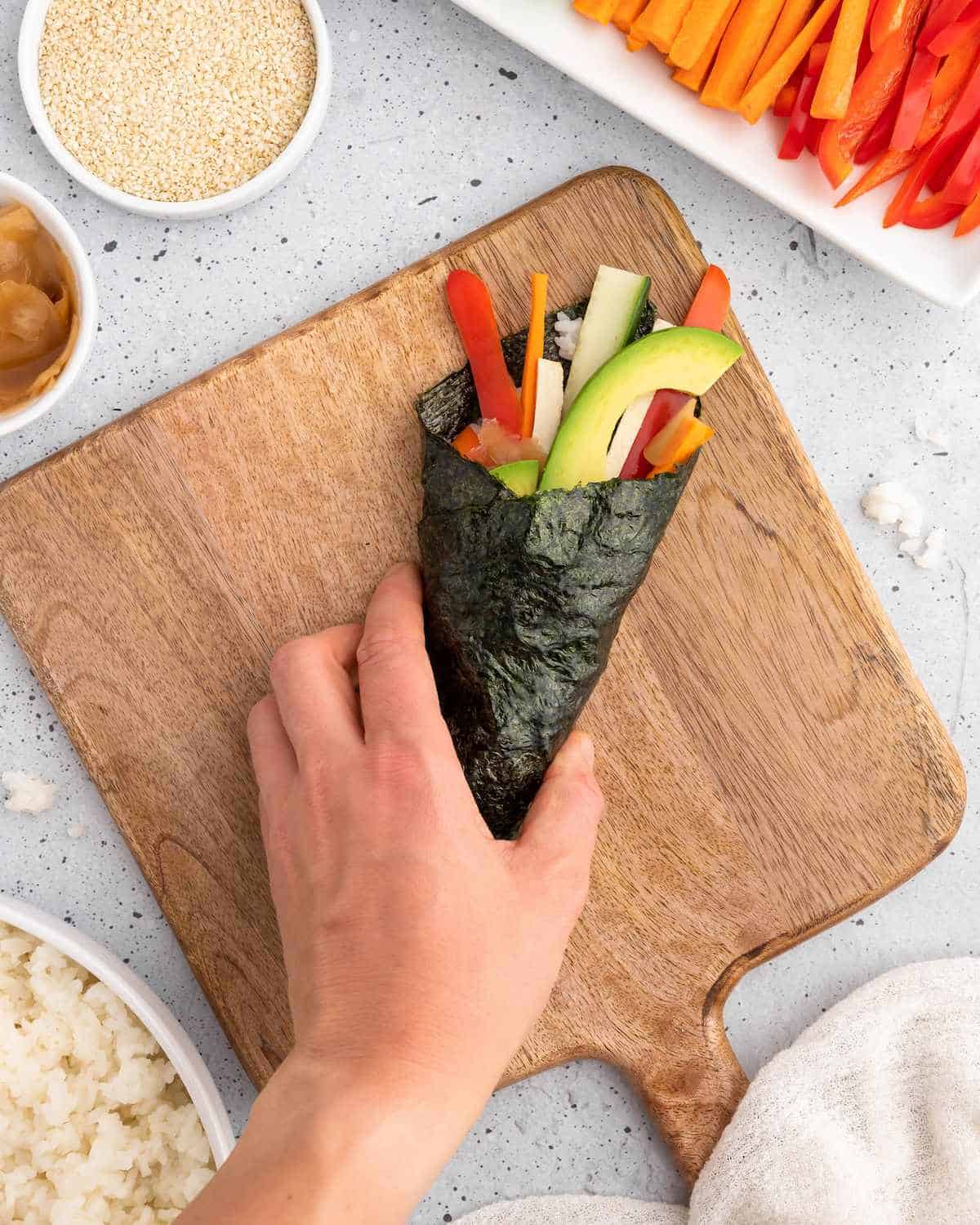 Make the sauce: In a bowl, whisk together the mayonnaise, tamari, ginger, vinegar, brown rice syrup, sea salt, and pepper until smooth.
Drizzle the sauce over the hand rolls and serve with pickled ginger and wasabi. Enjoy!
How to Serve Up Your Sushi Hand Rolls
If you're wondering what else to enjoy with your temaki sushi rolls, look no further! Here are a few ideas for keeping your belly happy and full:
A Side of Salad – This Asian-Inspired Chickpea Salad or Smashed Cucumber Salad is a great way to round out your sushi roll lunch or dinner! Full of veggies and plenty of umami flavor, your taste buds will be absolutely elated. If you insist on veggie noodles, check out our Asian Zucchini Noodle Bowl.
Fry Up Your Favorite Rice – Have a favorite recipe for fried rice? Get some corn, peas, mushrooms, garlic, scallions, carrots, and maybe even a little vegan egg to mix into your preferred brown, white, or cauliflower rice.
Nom the Noodle – Ever thought about enjoying your sushi with a side of noodles? It's truly a delightful combination and one that warrants various suggestions! If you want to keep things pretty simple, try this Ten-Minute Miso Noodle Soup. Want your home to feel more like a restaurant? Cook up some of this Easy Vegan Ramen Noodle Soup and thank us later. Not feeling soup? Our Soba Noodles with Peanut Sauce will pair wonderfully with your homemade vegan sushi rolls.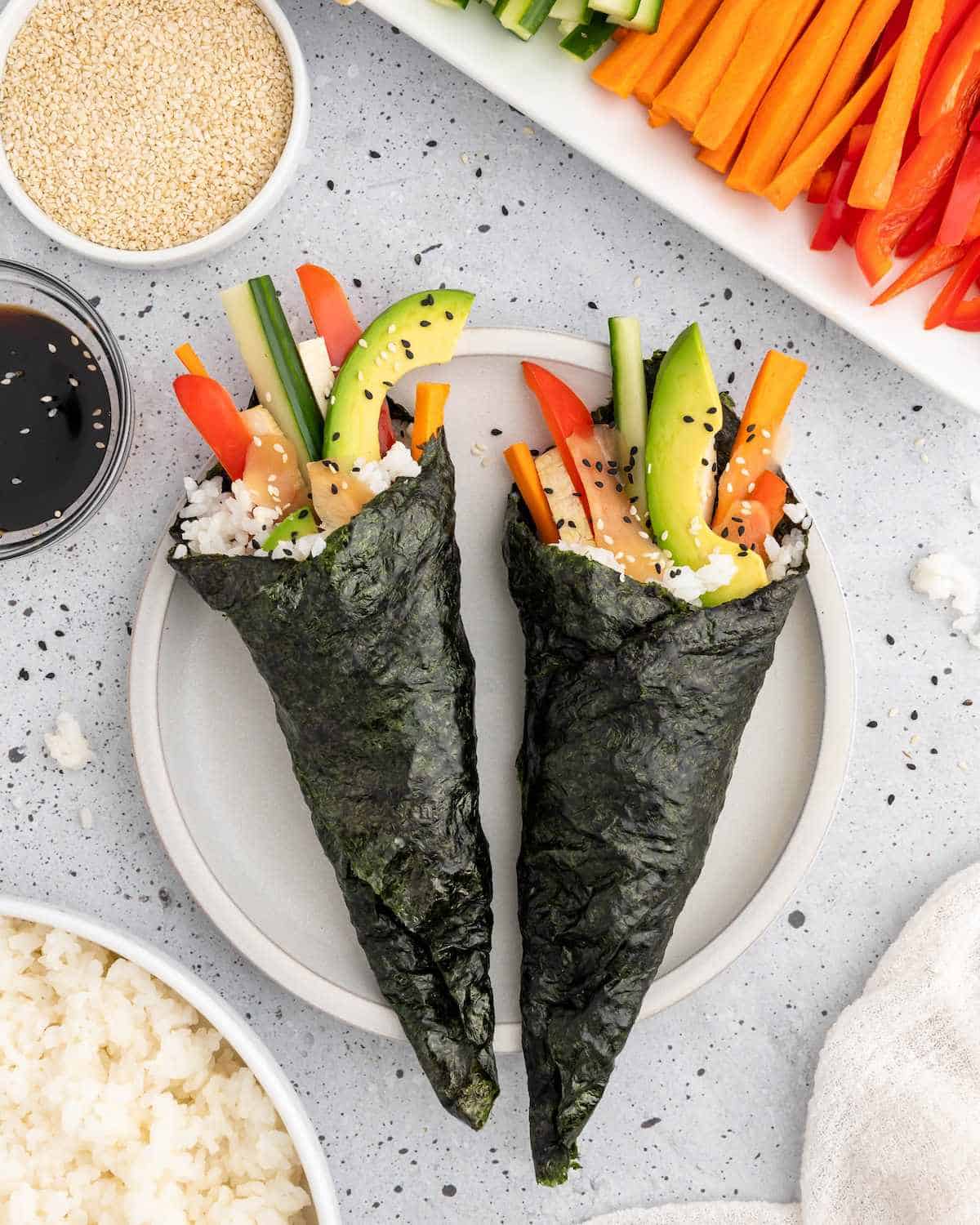 Storing Sushi
If you're not going to eat all of your sushi in one sitting or if you're looking to prep ahead of time, be sure to store the components of your sushi separately since the nori will quickly get soggy if left in the fridge for much longer than a few minutes.
The rice, veggies, and tofu will keep for several days in the refrigerator when kept in airtight containers. When you're ready to roll again, just take your nori out from its package and enjoy!
More Delicious Asian-Inspired Recipes to Try
FOR THE RICE
1 cup sushi rice, or brown rice
2 tablespoons rice vinegar
1 tablespoon evaporated cane sugar
½ teaspoon sea salt
FOR THE FILLING
1 6 ounce block baked tofu, cut into thin matchsticks
½ ripe avocado, peeled and cut into thin segments
½ red or orange bell pepper, cut into thin matchsticks
1 carrot, cut into long strips
1 Persian or ¼ English cucumber, halved and cut into thin strips
4 sheets toasted nori, halved
2 tablespoons wasabi powder mixed with 1 tablespoon of water, optional
½ cup pickled ginger
FOR THE GINGER-TAMARI SAUCE
½ cup vegan mayonnaise
2 teaspoons tamari
2 teaspoons fresh ginger, grated
2 teaspoons rice vinegar
1 teaspoon brown rice syrup
¼ teaspoon sea salt
¼ teaspoon freshly ground black pepper
To Prepare The Rice
Cook rice according to package directions. When cooked, transfer to a large bowl. With a wooden paddle, incorporate the rice vinegar, sugar, and sea salt into the rice until slightly sticky. Set aside to cool.
To Prepare The Filling
Arrange the tofu, avocado, bell pepper, carrot, and cucumber on a plate within easy reach.
To Form The Hand Rolls
Place 1 piece nori (shiny-side down) in one hand. With dampened other hand, spread about ¼ cup cooked sushi rice evenly over half the nori in a square.

Place small amount of desired fillings in a diagonal line across rice, pointing toward thumb.

Gently roll into a cone shape and seal edge with a few grains of sushi rice or with prepared wasabi (if using). Serve with ginger.
To Prepare The Ginger-Tamari Sauce
Whisk the mayonnaise, tamari, ginger, vinegar, brown rice syrup, sea salt, and pepper in a bowl until uniform.

Drizzle sauce over hand rolls and serve with pickled ginger and wasabi.
Tip: Don't overstuff your sushi! It's a beginner's mistake to get overzealous and fill your hand roll to the brim. You'll make it very difficult to seal and eat.
Calories: 277kcal | Carbohydrates: 36g | Protein: 3g | Fat: 13g | Saturated Fat: 1g | Polyunsaturated Fat: 0.1g | Monounsaturated Fat: 0.2g | Sodium: 524mg | Potassium: 200mg | Fiber: 2g | Sugar: 4g | Vitamin A: 2111IU | Vitamin C: 16mg | Calcium: 18mg | Iron: 1mg
Hope you enjoy this scrumptious temaki sushi recipe! Find more recipes by Jenny and Heather through their website Spork Foods, and be sure to check out their new cookbook, Vegan 101. Heather and Jenny are vegan cooking experts who've been active on the LA food scene for years. They do it all…from catering services and private chef work, to offering healthy eating consultations and hosting private vegan cooking parties!
Vegan Temaki Sushi Rolls With Ginger-Tamari Sauce recipe by Heather Bell and Jenny Engel from Vegan 101.