Chunky or smooth, sweet or salty, peanut butter is America's favorite spread, and for good reason. Combine that with hearty, healthy whole grain oats, and you'll have a recipe for success every morning. No matter how busy your day or late your alarm goes off, peanut butter overnight oats will be ready and waiting to help you power through the day.
Customize to your hearts content with this simple formula. For example, peanut butter and jelly overnight oats are just one spoonful of jam away, and that's just the beginning!
What Makes Peanut Butter So Great?
Not all peanut butters are created equal. Seek out natural, no-sugar-added options without palm oil or hydrogenated vegetable oil to ensure the highest quality, flavor, and nutrition.
Affordable: Pound for pound, peanut butter beats other protein sources by a mile when it comes to price. A little bit goes a long way too, so we're talking about cents per serving, even for the fancy stuff.
High in protein: Contrary to common belief, peanuts are legumes, which means they have more in common with beans than tree nuts. That's clear from their remarkably high protein content; approximately 8 grams per 2 tablespoon serving.
Rich in vitamins, minerals, and antioxidants: Particularly high in iron, selenium, magnesium, vitamin B, and vitamin E, there are many health benefits associated with regular peanut butter consumption. Studies suggest that it could help reduce cholesterol, reduce the risk of type 2 diabetes, and much more.
Kid- and parent-approved: A nutritious breakfast may be a hard sell for picky eaters, but the whole family will love this one. It tastes so good that they won't even realize it's healthy!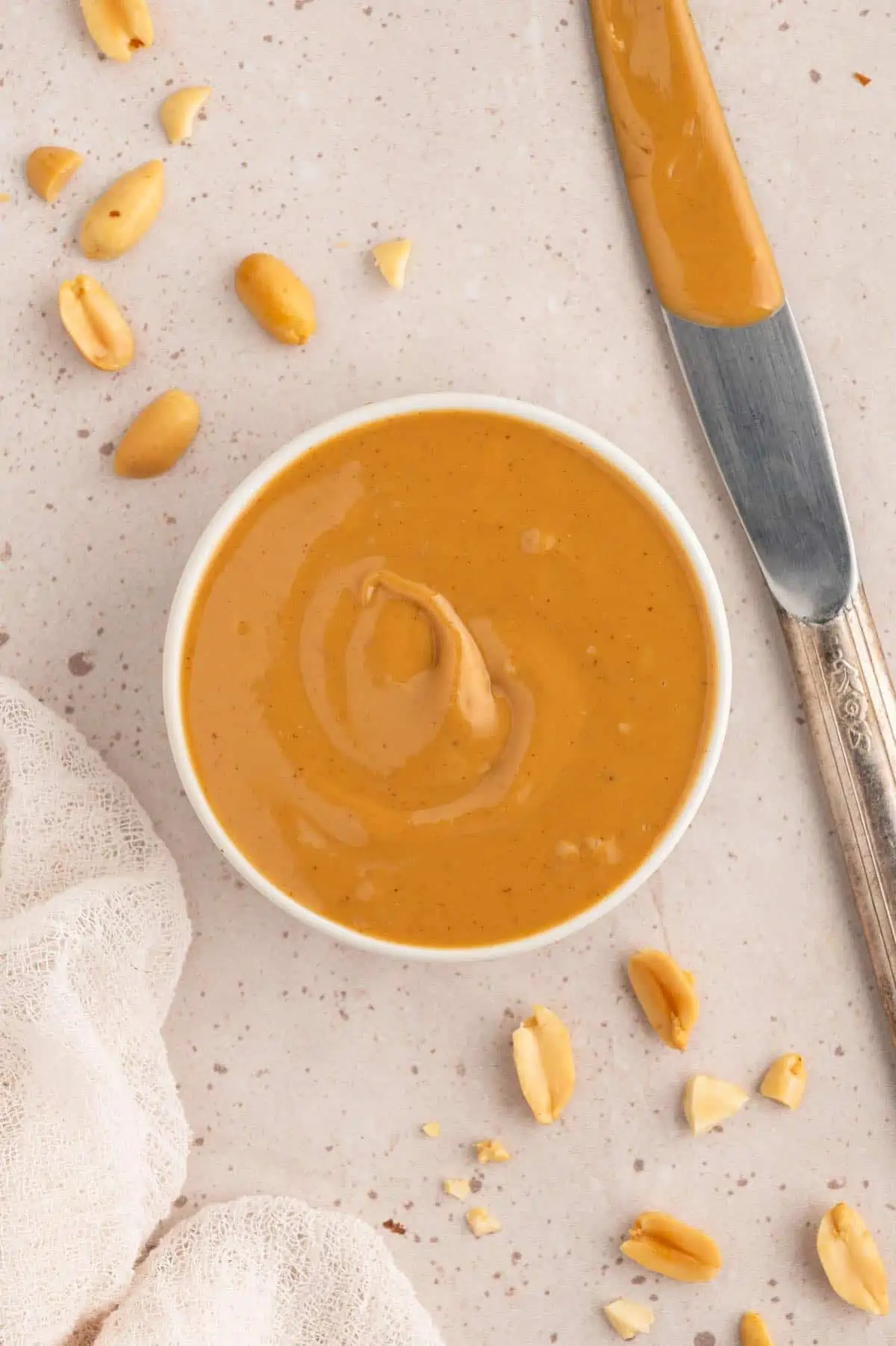 How To Make These Peanut Butter Overnight Oats
Making these overnight oats is so simple. Take a glass jar, cup, or container and layer the oats, chia seeds (if you are using them), peanut butter, and jam. You can layer these in any order you'd like. Pour the plant-based milk over the top, and no need to mix. Add in any additional mix-ins you desire (see optiona below). Cover and refrigerate the oats overnight, or at least three hours. It's now ready to enjoy! Add any toppings as you wish.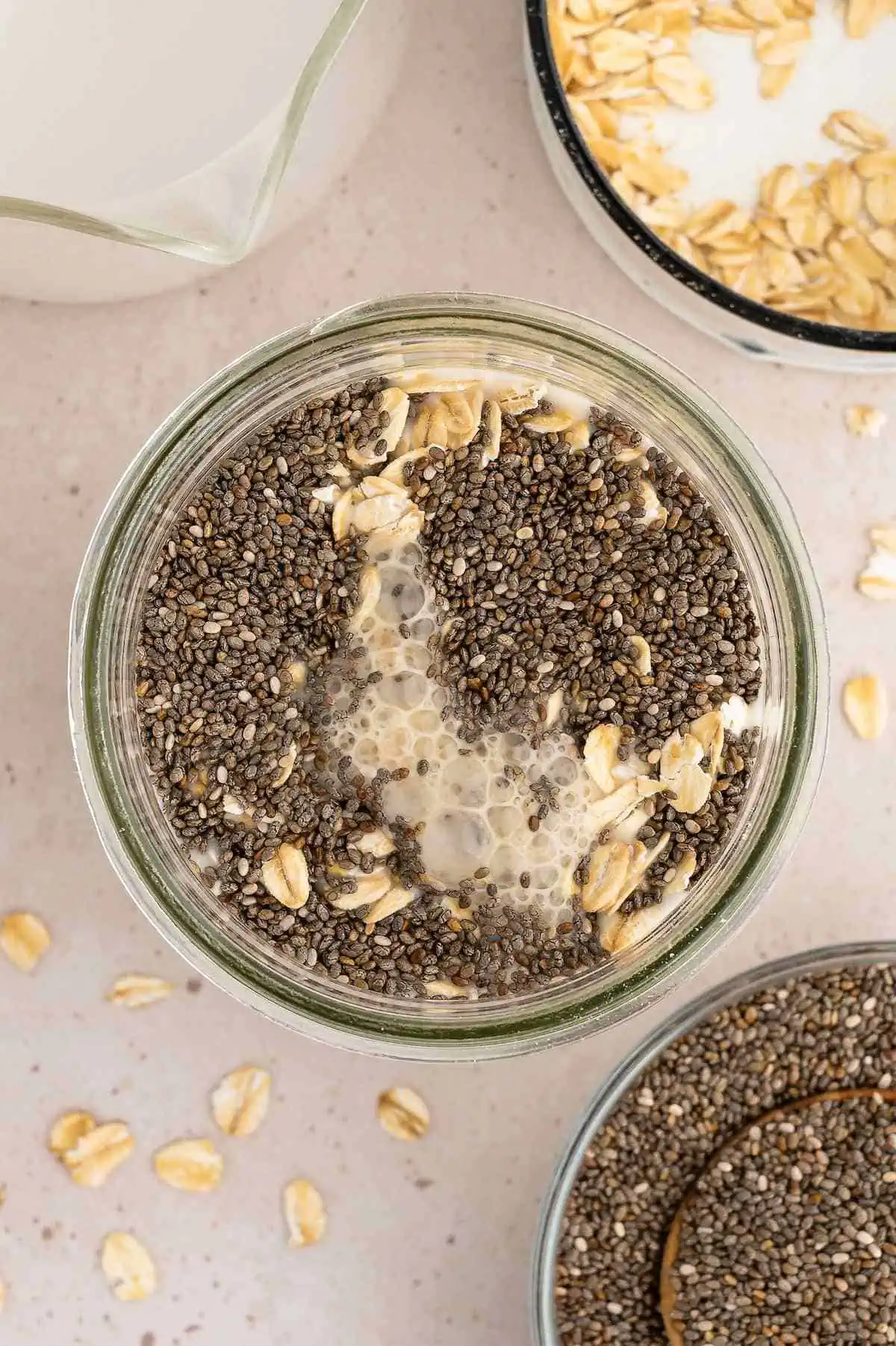 Optional Toppings
Jazz up each serving with a unique finishing touch to reawaken your enthusiasm for breakfast. You could simply lavish additional peanut butter on top to double down on the good stuff, but there are endless options for adding more flavor and texture into every spoonful. A few foolproof suggestions include:
Sliced bananas
Chopped nuts
Dried or fresh fruit
Maple syrup
Jam, fruit preserves, or jelly
Easy Flavor Variations
If peanuts don't do it for you, there are plenty of other nut butters on the shelf! Swap in an equal amount of any of the following, or try a blend of your favorites instead:
Almond butter
Sunflower seed butter
Cashew butter
Pistachio butter
Pecan butter
FAQs
How can I make my own peanut butter?
If you're truly nuts about peanut butter, only the freshest spread will do. You can easily make your own by toasting raw, shelled peanuts and grinding them in your food processor until smooth. It may take 10 to 15 minutes depending on your machine, so be patient! Add a pinch of salt, if desired, and store in an airtight container in the fridge for up to 2 weeks.
Can I make this recipe nut-free?
Yes! Even though peanut butter is the star ingredient here, you could trade it for a seed butter, like sunflower seed butter or tahini (made from sesame seeds) instead. Soy nut butter, despite having "nut" in the name, is simply made from roasted soybeans, which means it's another great option to consider too. In case of severe allergies, always check labels to make sure there's no chance of cross contamination during the manufacturing process.
How far in advance can I prep peanut butter oats?
If you forget to grab your oats as you're hustling out the door, don't sweat it! Overnight oats can keep in the fridge for up to 5 days, if stored in an airtight container. That also makes them a prime candidate for your weekly meal prep!
More Easy Oat Recipes
1 cup rolled oats
1 tablespoon chia seeds, optional
1-2 tablespoons peanut butter
1-2 tablespoons strawberry jam, or any flavor
1 cup plant-based milk
Optional Toppings
sliced bananas
chopped nuts
dried or fresh fruit
maple syrup
granola
In a container, cup, or glass jar, layer the rolled oats, chia seeds (optional), peanut butter, and jam, in any order. If you want to get fancy, you can warm the peanut butter an drizzle it on the sides of the jar before adding the other ingredients. Pour the plant-based milk over the top. Do not mix. If desired, add any additional mix-ins you desire.

Cover and refrigerate overnight (or for 3+ hours).

Remove from fridge, top with any desired toppings, and enjoy!
Calories: 551kcal | Carbohydrates: 78g | Protein: 18g | Fat: 20g | Saturated Fat: 3g | Polyunsaturated Fat: 8g | Monounsaturated Fat: 7g | Trans Fat: 0.02g | Sodium: 407mg | Potassium: 448mg | Fiber: 14g | Sugar: 12g | Vitamin A: 6IU | Vitamin C: 2mg | Calcium: 430mg | Iron: 5mg
Photos by Amanda McGillicuddy for World of Vegan.