Sometimes, the simplest snacks are the best snacks, don't you agree? Grabbing a piece of fruit is fantastic (good for your health and better for the environment), but sometimes you might just want a little something extra. Chocolate-Dipped Bananas Popsicles to the rescue!
You'll absolutely love the crisp chocolate dip coating, the creamy cool middle, along with the fun and festive treats on top. Make each banana pop special with sweet or savory garnishes (salty pretzel pieces would give them some pizazz!), and enjoy with abandon.
Grab your party popsicle sticks and follow me to the kitchen!
Why These Are The Best Banana Popsicles
These homemade banana popsicles are not only fun to make and absolutely delicious, but they're also healthier than your average frozen popsicle. Here are more reasons the simple banana popsicle is poised to become your go-to summer treat:
Naturally Sweet: These popsicles are a celebration of the natural sweetness found in ripe bananas, making them a guilt-free dessert option that satisfies your sweet tooth without relying on added sugars.
Creamy Dreaminess: The creamy texture of ripe bananas is irresistible! No blending required, bananas are creamy all by themselves!
Simple and Customizable: Crafting these popsicles requires just a few ingredients and minimal effort, leaving plenty of room for your creativity to shine. Experiment with additions like chocolate chips, nuts, or a drizzle of peanut butter for a personalized twist.
Family Fun: Engage in a delightful activity with your loved ones by involving them in the process of making these popsicles. Little ones can easily assemble and decorate their own banana popsicles!
How To Make Banana Popsicles
It truly couldn't be simpler! There is surprisingly little effort in making frozen banana popsicles. Just three things need to happen:
Have a ripe banana available. Peel.
Make sure you have a stick of some sort that is at least 4 inches long. Place vertically into the banana.
Place on a plate and freeze for at least a few hours.
That's it! Having a microwave in which to melt your chocolate is a bonus, but it's not 100% necessary. In a pinch, bare banana pops will still be heavenly!
Want to make them into extra-delicious Snickers-inspired banana pops? Smear the frozen bananas with peanut butter and freeze again before dipping in chocolate. Divine.
How to Serve Up Your Chocolate-Dipped Banana Pops
Besides being super fun to construct, these banana popsicles are extremely versatile when it comes to festive toppings. The sky's the limit for the number of tasty coverings you can create. As long as you are bananas for bananas, these pops will be perfection!
Taste the Rainbow
Anyone else love a vibrant, multicolored fruit pop? Adding a little bit of cheerful color to this delicious black-and-white dessert is pretty much required. Our favorite rainbow recommendations include: vegan sprinkles, vegan fruit gummy shapes (we love the Yum Earth Bears and Annie's Homegrown Bunnies!), and Yum Earth Giggles (similar to Skittles).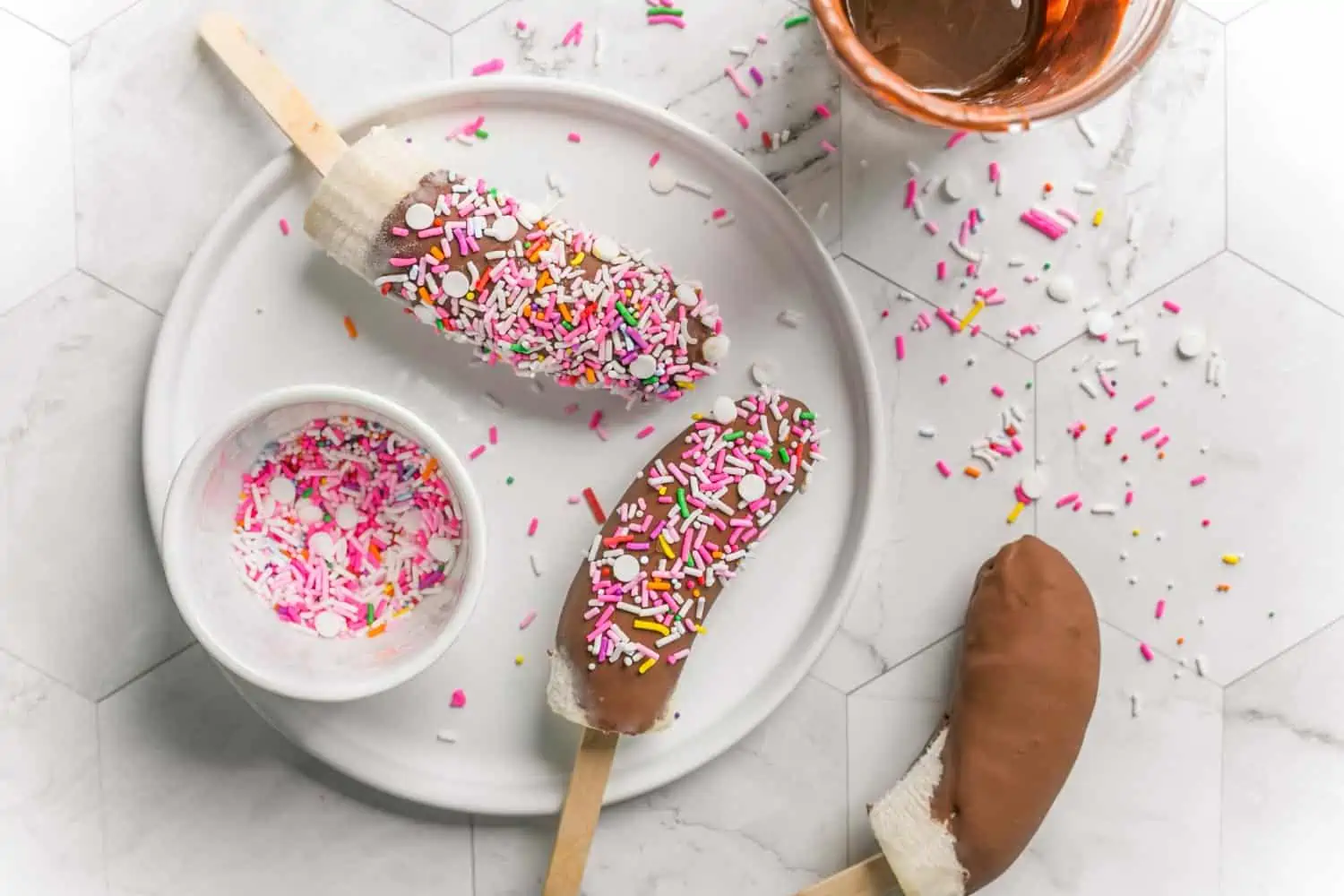 Double Chocolate Challenge
If you love chocolate at much as we do, consider adding extra chocolate bits to your hard chocolate coating. You can never have enough chocolate, right? We suggest mini-chocolate chips, shaved chocolate, cacao nibs, or even a dusting of cacao or cocoa powder.
Take a Trip to the Tropics
When chocolate is not your first choice for a candy coating (how can this be?), you might think you'd have to pass on these pops. But, wait! We have the most marvelous idea on how to turn the tide on this treat. Melt the same amount of coconut butter (not oil) as the chocolate and use that to dip your banana popsicles. Sprinkle on shredded coconut, finely diced dried mango, and crushed macadamia nuts for a taste of paradise!
Be a Health Nut
We're nuts for chopped nuts! Chocolate and nuts go together like none other and we highly recommend using them for a contrasting crunchy texture to the creamy coating. Either roasted or raw, a handful of peanuts, almonds, walnuts, pecans, or pistachios would bring extra health benefits (such as fiber, vitamin E, and plant-based fats) to your sweet snack.
How To Store Banana Popsicles
Easy as pie for this recipe! Because the pops should stay frozen until ready to eat, you can simply leave them in a covered container in the freezer for a few weeks. After that, you may want to make a fresh batch.
This is a really fantastic recipe to food prep, since you can get them ready a few days ahead of time. Also think about when you wish to buy your bananas. Green bananas usually take about five days to ripen and become spotted. If you pull the bananas apart and keep them in a warm place, they will ripen quicker. You'll want the bananas to be ripe and sweet, but not so soft that they've become brown on the inside.
What Are the Benefits of Eating Bananas?
Besides being the most perfect portable fruit, the health benefits of bananas is bountiful. In just one medium-sized, blissful banana, there are:
Only about 105 calories with little or no fat
Made up of mostly water and healthy carbs
Full of fiber (over 3 grams)
High in vitamin B6
Significant levels of manganese, copper, vitamin C, potassium, and magnesium
In addition to being full of nutrients, desserts mostly made of banana are awesomely affordable so how can you possibly go wrong?
More Creamy Chocolate Recipes to Try
If you try these Chocolate-Dipped Banana Popsicles, let us know what you think by leaving a comment and rating below! Be sure to follow along on Pinterest, Instagram and Facebook for even more vegan recipe inspiration.
Ramekin or Small Microwave Safe Dish
3 large bananas, ripe but not too soft
1 cup vegan chocolate chips
2 tablespoons peanut butter
2 teaspoons coconut oil
6 popsicle sticks
Toppings (Optional):
Chopped peanuts
Melted peanut butter drizzle
Sprinkles
Shredded coconut
With the peel still on, slice each banana in half, as pictured. Remove the peel from each half-banana and stick a popsicle stick through the length of the banana, placing the stick as evenly as you can to hold the banana in place. Place on a dish or in a container and freeze for 2+ hours. 

After an hour of freezing, add the chocolate chips, peanut butter, and coconut oil to a small ramekin and melt by microwaving in 20 second increments, mixing in between each. 

Remove the banana pops from the freezer and dip and roll partway into the melted chocolate mixture to coat as desired. The chocolate will harden on the cold bananas quickly so act fast. Sprinkle with your favorite toppings (chopped nuts, coconut shreds, sprinkles, crushed dried fruit, etc.) before the chocolate hardens. Place on a dish or in a container and freeze for another hour or more before enjoying.
Calories: 254kcal | Carbohydrates: 35g | Protein: 4g | Fat: 14g | Saturated Fat: 8g | Polyunsaturated Fat: 1g | Monounsaturated Fat: 1g | Sodium: 24mg | Potassium: 274mg | Fiber: 4g | Sugar: 23g | Vitamin A: 44IU | Vitamin C: 6mg | Calcium: 45mg | Iron: 2mg
Chocolate-Dipped Banana Pops recipe by Michelle Cehn and photos by JJ Steele, copyright of World of Vegan™, all rights reserved.