Opposites attract and contrasting flavors create a delicate balance whenever sweet and sour is involved. There is no sweetness without sourness, and vice versa. One is necessary to appreciate the other, harmonizing between the two extremes in this vegan kabob recipe.
Something about that acidic twang and that sweet foil keeps us coming back, bite after bite, regardless of the vehicle. Why not use such an awesome sauce to leverage healthy whole foods, maximizing the nutritional output for minimal effort? This is a job for vegan kabobs!
These sweet & sour vegan kabobs are the best way to highlight everyone's favorite tangy, syrupy sauce. Everything is more fun eaten off a stick, and when you factor in such a compelling glaze to seal the deal, it could easily become a top dinner pick after one bite. Call it healthy comfort food or just a great weekday meal; no one will argue when they're too busy chowing down!
This sweet & sour vegan kabob recipe was kindly sponsored by Jack & Annies, makers of delicious plant-based meats made from jackfruit.
What Makes This Veggie Kabob Recipe So Great?
Instant gratification. There's no wait for marinating, only a short 5-minute simmer to thicken the sauce and you're good to grill.
Flexible. No grill? No problem! You can just as easily make these veggie skewers in the oven, which is also handy in case rain threatens to put a damper on dinner.
Kid-approved. It's impossible to resist a rainbow of veggies you can eat with your hands straight off a stick! Especially once it is coated in that sweet, sour, and savory sauce, even picky eaters will ask for seconds.
Perfect for a party. Double or triple the recipe for your next backyard BBQ if you want to effortlessly wow all your friends. No one would guess that they're vegan.
Surprisingly nutritious. Tastes like comfort food, feels like wholesome health foods; both are correct! You get all the vitamins and minerals from a diverse array of fresh vegetables, a solid foundation of plant protein, and all the great nostalgic flavor of your favorite Chinese takeout. That's a win-win-win situation!
If you're looking for another style of kabob, check out these smoky seitan kebabs with peanut dipping sauce or these incredible tofu kebabs. They're delicious as well!
Star Ingredients
For the Kabob Skewers
Vegan meatballs: Jack & Annie's is our top pick since they're already well seasoned, convincingly meaty, and full of healthy plant protein.
Fresh Vegetables: Anything under the sun goes! Make a colorful combination with anything you have on hand, what's in season, or your very favorite veggies.
Fresh Pineapple: Though it may be tempting to use canned or frozen pineapple, fresh holds up to grilling much better. If you'd rather not break down a whole fruit, you can get the pre-cut pineapple sold in the refrigerated produce section.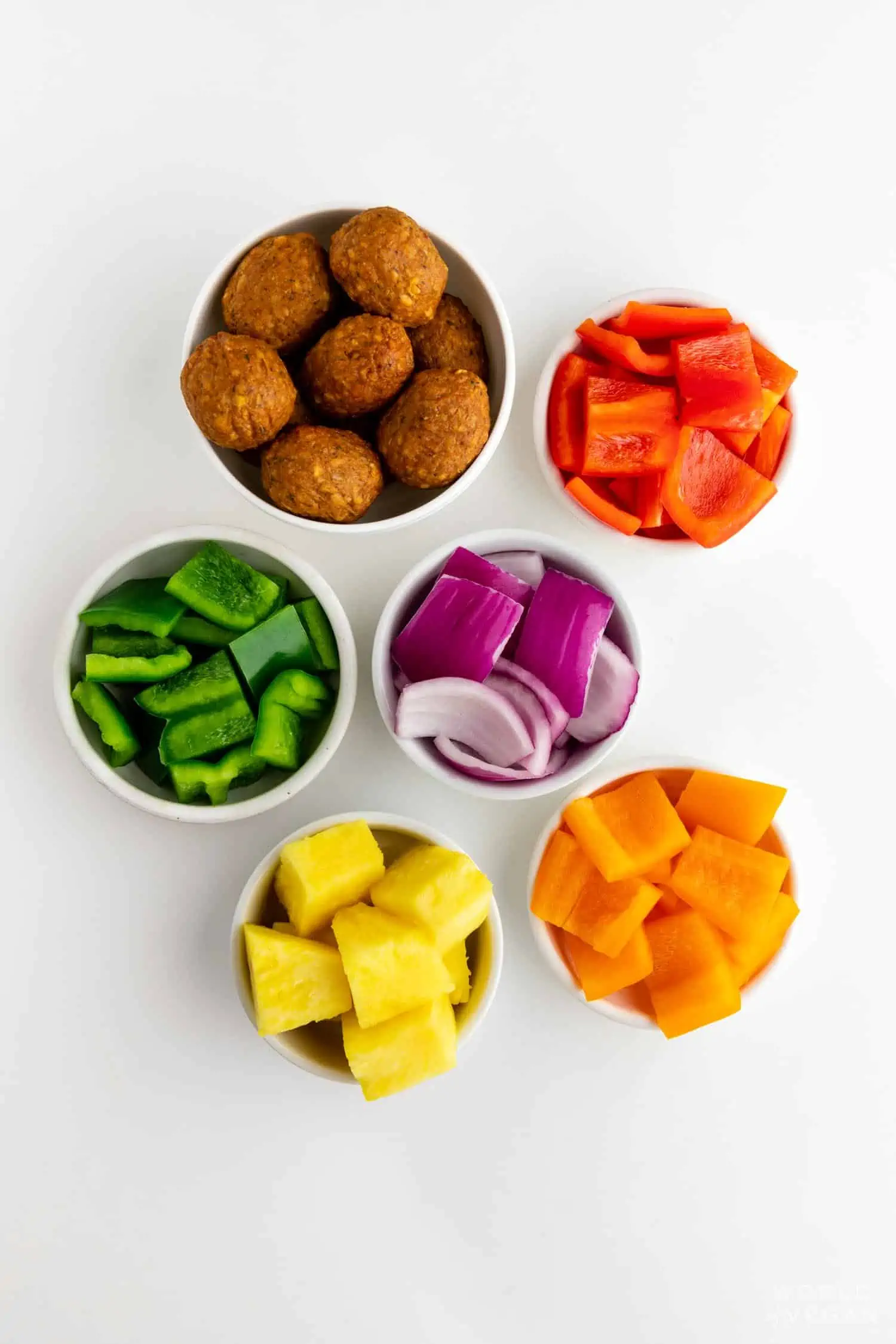 For the Sweet & Sour Sauce
Preserves (or Jam): Apricot preserves or jam bring in the primary source of sweetness here—and this is the kind we use. But you can also use orange, peach, strawberry, nectarine, or other fruity seasonal preserves for a similar effect. It's your choice if you want something more mellow or zest, chunky or smooth.
Ketchup: Tangy and gently spiced ketchup provides a bit of tomato flavor to the base along with an incredible depth of flavor, all in one convenient condiment.
Soy sauce: Adding both salt and savory flavor, this pantry staple isn't just for Japanese food! Just a splash adds volumes of umami that help enhance the plant-based meat. Feel free to use Tamari instead of soy sauce to make it gluten-free!
More Uses For This Sweet And Sour Sauce
There's no such thing as too much sauce! You might want to double the recipe to guarantee leftovers because you'll want this versatile flavor bomb on everything. It keeps well too; stored in an airtight container in the fridge, sweet and sour sauce should last for up to 2 weeks. Use it as a side or meal starter for dishes such as:
Dipping dumplings
Mixing into stir fries
Drizzling over rice bowls
Glaze for slow-roasted meatless proteins
Simmered into hot and sour soup
Poured over tempura
How To Make Vegan Kabobs
Start by making the marinade in a small saucepan over medium heat. Whisk together the jam, ketchup, apple cider vinegar, soy sauce, garlic powder, and chili powder until well combined and simmering. Dissolve the cornstarch in a small bowl with water, then add to the saucepan and stir to thicken.
Prepare you vegan meat of choice. In this recipe we used frozen meatballs and baked them for about 10 minutes until they were soft enough for skewering.
Thread each skewer with two slices of red bell pepper, a meatball, orange bell pepper, pineapple, another meatball, green bell pepper, and two slices of purple onion to achieve a colorful rainbow vibe.
Using a basting brush, coat the kebabs on both sides with the marinade. Reserve the remaining marinade for later use.
If baking, baked in the oven for 10 minutes, then rotate and bake for another 10 minutes until the veggies are cooked to your liking. For grilling, coat the grill with oil and grill the kebab skewers for about 5 minutes on each side until done to your liking.
After cooking, brush another layer of the sweet and sour sauce onto each vegan kabob, sprinkle with optional white sesame seeds, and serve hot!
Tips For Building The Perfect Vegan Kabob
You can make a great grilled veggie kabob without giving it any thought. Want to make one that stands apart from the pack? Step up your grilling game with just a few basic tips and tricks.
Soak Your Skewers
If you're using wooden or bamboo skewers, soak them in water for at least 30 minutes before grilling to prevent them from catching on fire.
Chop Everything Evenly
Cut everything into the same size pieces for more even cooking.
Space Your Skewers
Give the skewers space so they're easier to turn and remove when they're done.
Use Tongs
Use tongs to move the vegan kabobs to keep your hands safely out of the fire.
Keep Your Eye On the Prize
Stick with it! Don't walk away or turn your back. The grill is very hot, and the kabobs will cook quickly.
Extra Sauce, Please!
Serve with extra sauce on the side for dipping if you want an extra flavor infusion.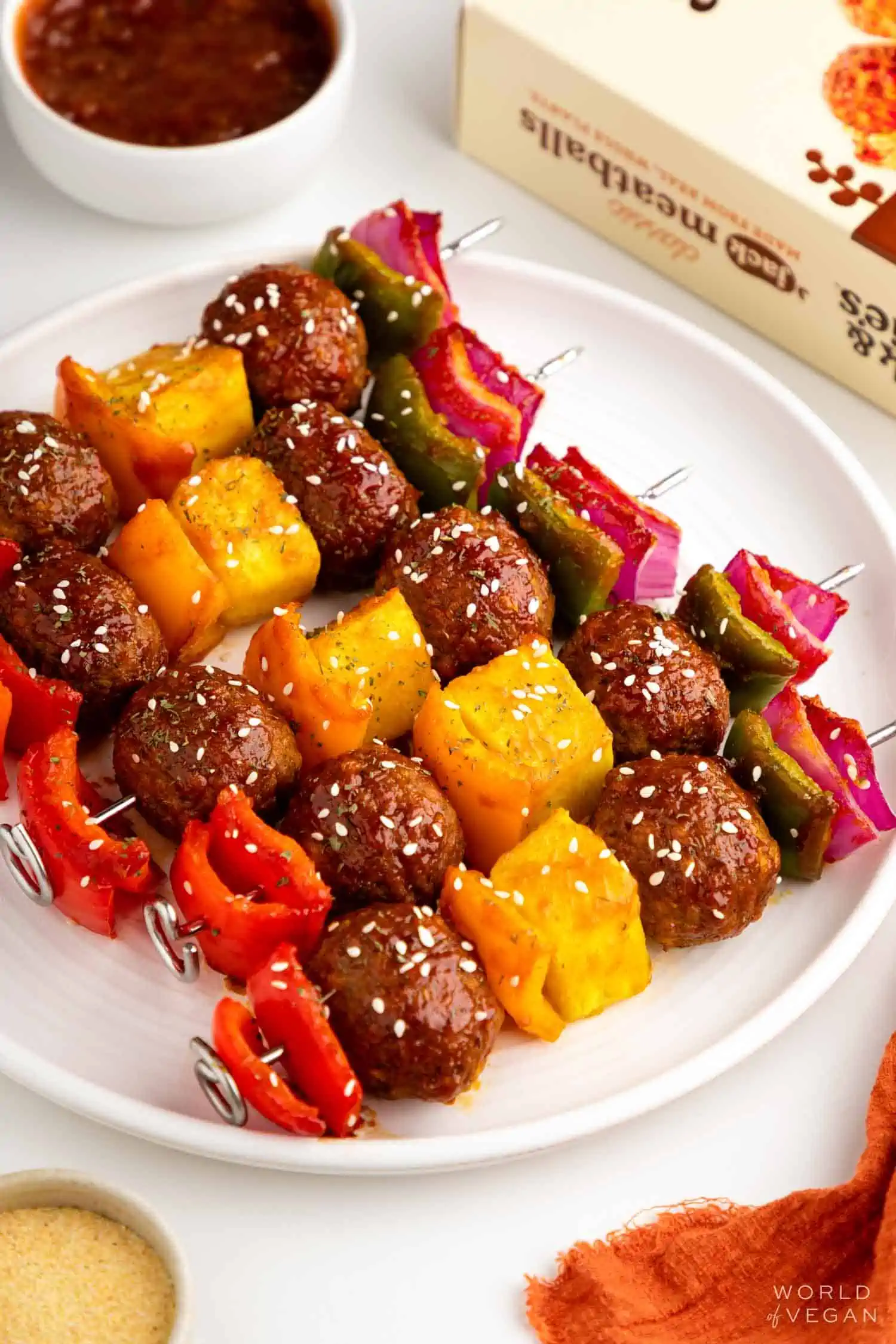 Vegan Shish Kebab Meat Options
A varied, diverse diet is the key to health, happiness, and not getting bored out of your mind with the daily menu. We love using Jack & Annie's jackfruit meatballs but here are some alternative proteins that will also work great:
Cubed extra-firm tofu (plain, baked, or smoked)
Sliced meatless sausage
Meatless chicken strips
Cubed tempeh
Diced seitan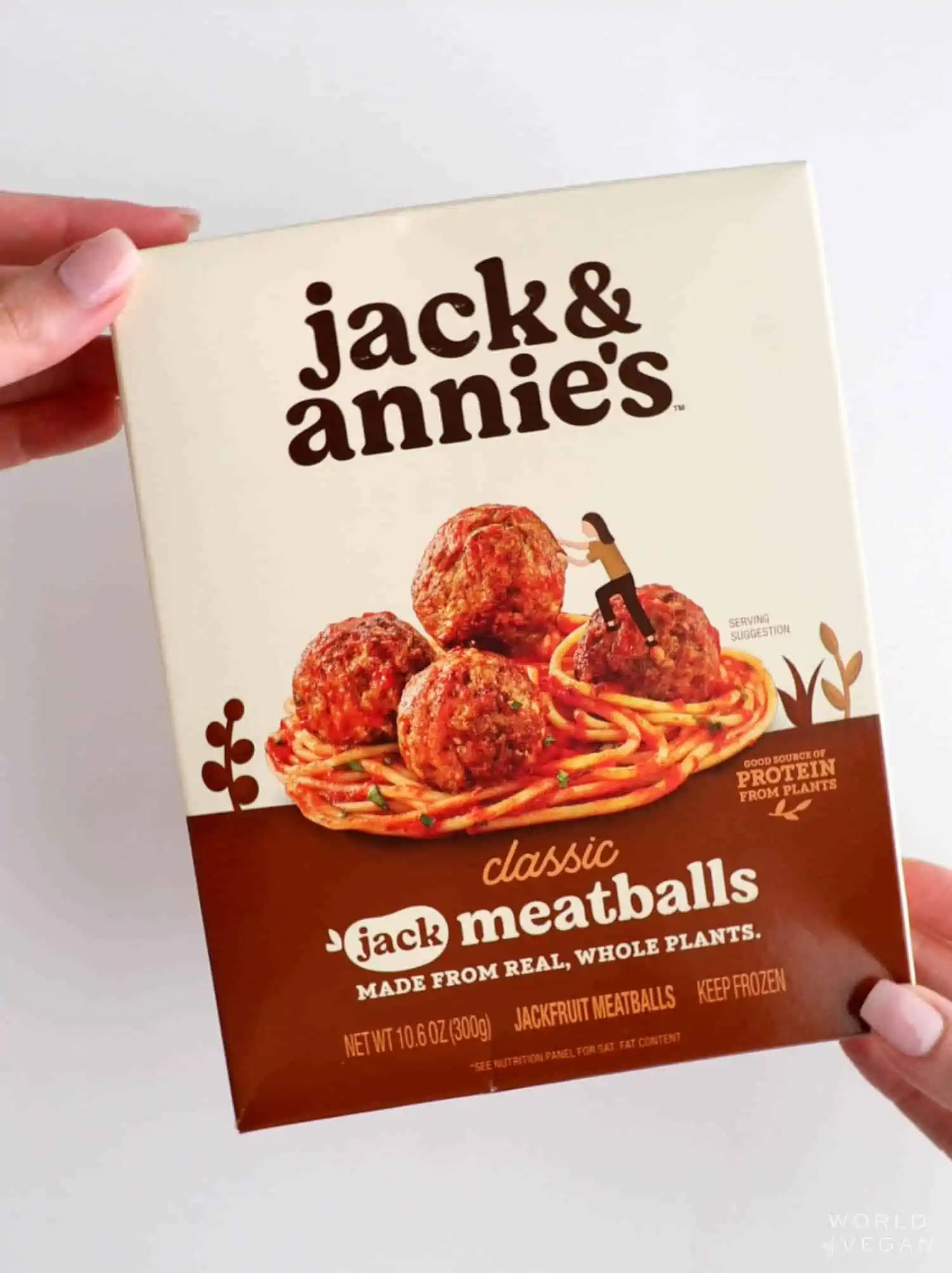 Frequently Asked Questions
What are vegan kabobs made out of?
Vegan kabobs are made without using any animal-based ingredients. Instead, they are created using a variety of plant-based foods, providing a delicious and cruelty-free alternative. The main components of vegan kabobs typically include a variety of vegetables, plant-based proteins like tofu, tempeh, seitan, and other meat substitutes, and flavorful marinades and seasonings.
What is a good meat substitute for kabobs?
Many meat substitutes work well in kabobs. For a more authentic meaty texture, opt for vegan meatballs, vegan chicken, or vegan sausage. Other popular meat-free options are tofu, tempeh, and seitan. These can be prepared in a similar way, marinated and grilled or baked for a satisfying vegan kabob.
Can I make this recipe sugar-free?
Sugar is tough to avoid in a recipe that has "sweet" right in the title. That said, you can avoid refined sugar by opting for no-sugar-added preserves and sugar-free ketchup. There are still natural fruit sugars in these, as well as in the pineapple, so the results may not be suitable for diabetics.
Is this recipe gluten-free?
This recipe for vegan kebabs is not gluten-free as written but can be adapted in a snap! Use tamari or coconut aminos instead of soy sauce and tofu instead of meatballs.
What are some other good vegetables for grilling?
The best choices will always be what's fresh! Bell peppers are always available and conveniently packaged in a rainbow of colors together, which makes it our go-to pick. Feel free to mix and match, with an eye towards seasonal produce for the most satisfying combinations. Ideas include:
Spring: Asparagus, radishes, leeks, pearl onions
Summer: Zucchini, eggplant, cherry tomatoes, corn on the cob (sliced into rounds)
Fall: Butternut squash, chestnuts, beets, Brussels sprouts
Winter: Mushrooms, turnips, sweet potatoes, carrots
More Great Recipes To Taste The (Veggie) Rainbow
1 package vegan meatballs, we used Jack & Annies jackfruit meatballs
1 red bell pepper, chopped into your desire kebab sized pieces
1 orange bell pepper, chopped into your desire kebab sized pieces
1 thick slice fresh pineapple, chopped into 5 wedges
1 green bell pepper, chopped into your desired kebab sized pieces
½ red onion, sliced into kebab sized pieces
Sprinkle of sesame seeds, for garnish (optional)
Sweet & Sour Sauce Ingredients:
½ cup apricot or orange preserves or jam, I use apricot preserves from Bonne Mamam
¼ cup ketchup
2 tablespoons apple cider vinegar
2 tablespoons soy sauce
½ teaspoon garlic powder
1 pinch chili powder
1 tablespoon cornstarch mixed with 2 tablespoons of hot water until dissolved
Marinade: In a small saucepan over medium heat, add the jam, ketchup, apple cider vinegar, soy sauce, garlic powder, and chili powder and whisk until combined. Stir regularly until it comes to a simmer. In a small ramekin, add the cornstarch and hot water, mix until dissolved, and add to the saucepan. Mix and allow sweet and sour sauce to thicken, about 5 minutes. Remove from heat, transfer to a bowl to cool, and set aside. 

Preheat oven to 400F and bake Jack & Annie's frozen meatballs until soft enough for a kebab skewer to slide through (about 10 minutes). Remove from oven.

On each skewer, slide on two slices of red bell pepper, a meatball, orange bell pepper, pineapple, another meatball, green bell pepper, and two slices of purple onion. (Feel free to adjust amounts and order – whatever works best for you; we are trying to achieve a rainbow vibe though).

Over a baking sheet and using a basting brush, coat the kebabs on both sides with the marinade. Set the remaining marinade aside for later (you should have about half left).

If baking in the oven, bake at 400 degrees for 10 minutes. Rotate kebabs and bake another 10 minutes, or until the veggies are cooked to your liking. If grilling, coat grill with oil and grill kebab skewers for about 5 minutes, flip, and grill another 5 minutes, or until cooked to your liking.

Brush another coating of sweet and sour sauce onto each kebab skewer after grilling or baking, sprinkle with white sesame seeds (optional), and serve hot! 
Calories: 198kcal | Carbohydrates: 35g | Protein: 11g | Fat: 3g | Saturated Fat: 1g | Polyunsaturated Fat: 2g | Monounsaturated Fat: 0.5g | Sodium: 759mg | Potassium: 378mg | Fiber: 4g | Sugar: 20g | Vitamin A: 1714IU | Vitamin C: 99mg | Calcium: 45mg | Iron: 2mg
This vegan kabob recipe was developed by Michelle Cehn and photographed by Kaylie Grace. Copyright of World of Vegan, all rights reserved.
Thank you again to our recipe sponsor, Jack & Annies! You can find their delicious jackfruit meats in grocery stores and online. Thank you for stopping by, and enjoy the recipe!