Sweet, savory, and ultimately satisfying. That is this szechuan tofu recipe in a nutshell. A thick, rich, and flavorful sauce surrounding crispy cubes of tasty tofu, possibly on a mound of sticky rice, silky noodles, or crunchy veggies. Are you drooling yet? If not, you should be!
In this article, you'll learn the best way to sauté tofu so that it's positively sizzles and creates the loveliest brown crust. Add to that a sweet, dark umami sauce that will knock your socks off. If you've never tried tofu szechuan style, you're truly in for a treat!
Why You'll Love This Crispy Szechuan Tofu Recipe
Even if you're not a huge tofu fan, we're convinced that this recipe will turn you around. There's just so much to love about these crispy tofu cubes, you won't be able to stop yourself from trying them.
Healthy and Heaps More Delicious. When you're in charge of dinner, you know exactly what you're adding in and what you want to leave out. Fresh veggies in and MSG out!
Adaptable Ingredients. Staying away from anything spicy? You can absolutely leave out the cayenne pepper. Love a lot of garlic? Add more than the recipe calls for with ease. Not enough sauce? Double the amounts and add all over your rice and veggies. Oh, yeah!
Inexpensive Alternative to Take Out. Instead of waiting for an hour for your favorite Szechuan tofu to be delivered and spending a chunk of your ready cash, make this recipe and spend that money visiting a local animal sanctuary instead!
Key Ingredients
It's all about the tofu! Quality is top priority and we only used the best in this recipe.
How To Make Szechuan Tofu
Preparing this Szechuan tofu recipe is much easier than you think. Just three simple steps and you'll have the most mouthwatering meal in a matter of minutes. While the tofu is cooking, you can get started on any sides. Make sure to remember the chopsticks!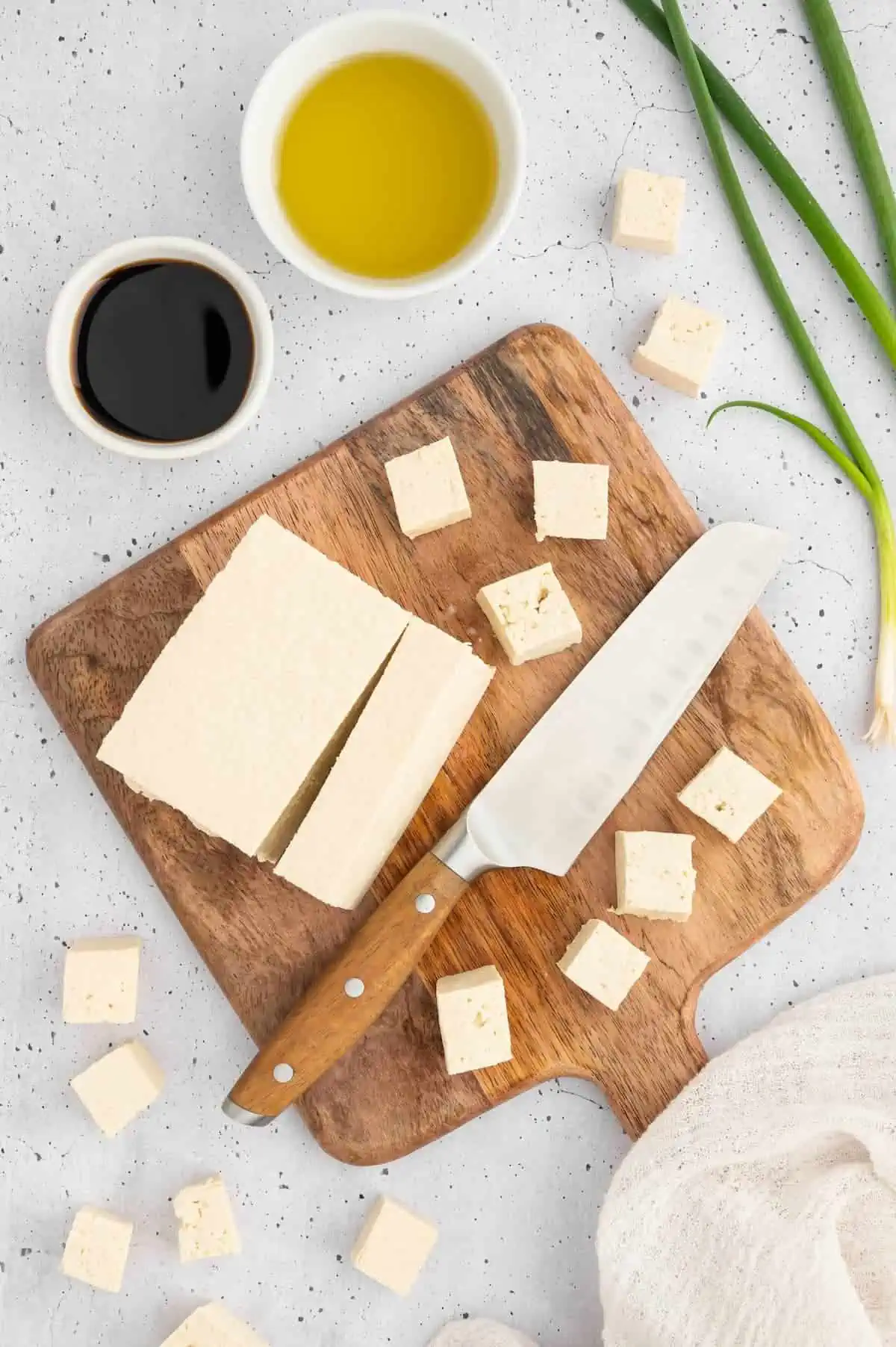 Step One: Dry and cut the tofu into bite-sized pieces.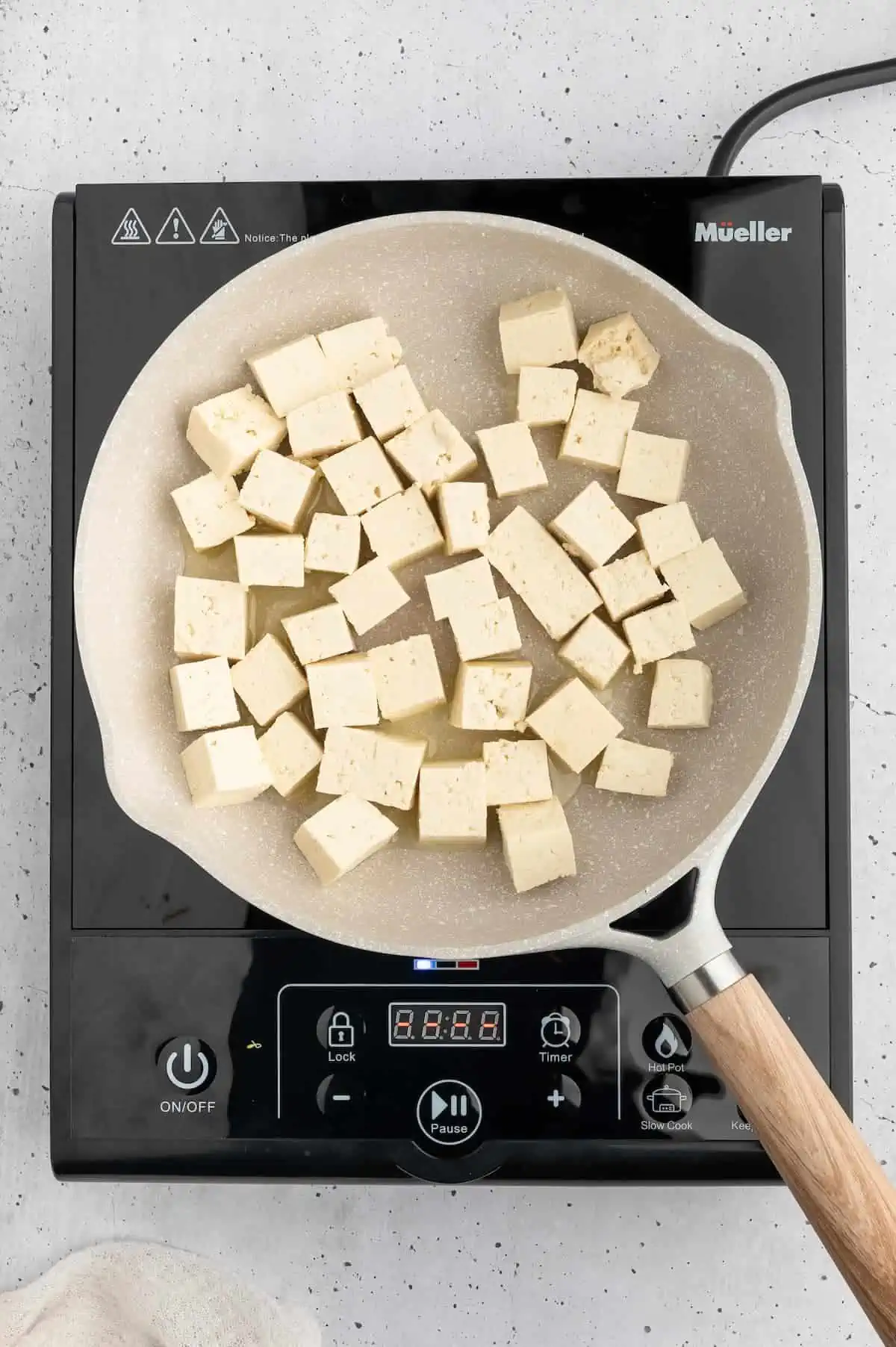 Step Two: Fry up the tofu cubes in vegetable oil for 6-7 minutes without moving. Flip over and cook for an additional 6-7 minutes until golden brown. While the tofu is browning, prepare the sauce.
Step Three: Place the finished tofu onto a side plate and simmer the sauce. Once the sauce is ready, add in the tofu and let simmer with the sauce for another couple of minutes. Time to enjoy!
Serving Up This Szechuan Tofu Dish
The great thing about tofu is that it goes well with so many side dishes. Along with your szechuan tofu, choose one or two of these options to accompany your meal. A helpful rule-of-thumb is to have at least one or two raw elements along with your cooked meal. This gives your palate a few different textures to enjoy. Yum!
Starchy Sides
Sides like these give your tofu dish extra staying power and can make the meal go much farther for more people. Although you don't have to stick with these traditional choices, they do taste the best with the tofu. Serve everything "family style" and plate out each of these for maximum fun.
Variety of Veggie Options
There's nothing like fresh, steamed, or roasted veggies to turn a simple meal into something special. Any or all of these vegetables will add extra flavor, texture, and nutrients to an already powerful protein-packed recipe. Yay!
Shredded Red Cabbage
Lightly Steamed Snow Peas
Fresh Bok Choy
Shredded or Roasted Carrots
Sliced Red Bell Peppers
Storing Your Leftover Tofu
Any leftover tofu can be placed in an airtight container in the fridge for up to 3-4 days. It can easily be reheated in the microwave (a minute should do it) or by pan-frying with a little bit of oil (or extra sauce) for a couple of minutes until the desired temperature is reached. Freezing is not recommended.
FAQs
What does Szechuan tofu taste like?
This Szechuan sauce has a slightly sweet and spicy flavor with umami and garlic overtones. The texture of the sauce is usually thick and dark, from the cornstarch and soy sauce. Many commercial sauces contain honey, or other non-vegan ingredients so be careful if you're using a pre-made sauce.
Can I still make this recipe gluten-free?
Definitely! Simply substitute the soy sauce for tamari or coconut aminos. Both tamari and coconut aminos are gluten-free.
What if I can't find extra firm tofu? Can I still make this recipe?
You sure can! The best plan is to use a tofu press to press out all of the excess water first. This will give your tofu a firmer texture while also leaving more space for the marinade to soak into. Another option is to freeze your firm tofu overnight and then squeeze out the excess water the next day. This method also creates a more dense consistency in your tofu.
More Asian-Inspired Vegan Recipes to Try
16 ounces extra firm tofu
4 tablespoons vegetable oil, divided
4 teaspoons cornstarch, or arrowroot powder
¼ cup water
3 tablespoons soy sauce
4 teaspoons toasted sesame oil
2 teaspoons maple syrup, or sweetener of choice
1½ teaspoons garlic powder
¼ teaspoon cayenne pepper, adjust to taste if you like spicy
2 large scallions, finely sliced
sesame seeds (black or white), to taste
toasted cashews , to taste (optional)
sprinkle of red pepper flakes, to taste (optional)
Pat tofu dry thoroughly and cut into even bite-sized cubes.

Into a cold nonstick saute or frying pan, add the cubed tofu and 2 tablespoons of the vegetable oil. Turn the heat to medium and allow to come to a sizzle and then cook for 6-7 minutes without moving the tofu.

In a small bowl, add the cornstarch and a few splashes of the water and stir. Then add the remaining water, soy sauce, toasted sesame oil, maple syrup, garlic powder, and cayenne. Whisk well and set aside.

Once the tofu has nicely browned on the bottom, use a spatula to carefully flip the tofu cubes over and add the rest of the oil. The oil may "squitz," so please be very careful. Fry for another 6-7 minutes, without moving the tofu. (The exact timing will depend on your particular cooktop and saucepan.)

When the tofu is browned nicely, transfer to a bowl or plate and set aside.

Put the pan back on the heat and pour in the sauce mixture. Let the sauce come to a simmer, constantly stirring. This should take about 1-2 minutes.

The moment the sauce starts to thicken, add the tofu cubes back in and mix well with the sauce. Turn off the heat, but keep the pan on the burner. Allow the tofu to marinate in the warm sauce for a couple of minutes more.

Garnish with scallions, sesame seeds, and roasted cashews and red pepper flakes, if desired.
Notes:
Serve with steamed rice, noodles, and/or with a mixture of roasted and fresh vegetables.
Sauce Tip: Pour any extra sauce over rice and veggies. So good!
Dairy-free and gluten-free (if using tamari instead of soy sauce)
Calories: 189kcal | Carbohydrates: 7g | Protein: 2g | Fat: 18g | Saturated Fat: 3g | Polyunsaturated Fat: 9g | Monounsaturated Fat: 5g | Trans Fat: 0.1g | Sodium: 759mg | Potassium: 87mg | Fiber: 1g | Sugar: 3g | Vitamin A: 177IU | Vitamin C: 2mg | Calcium: 18mg | Iron: 1mg
Many thanks to our amazing recipe testers Marilyn Vega and Andi Combs for testing this recipe! Photos by Amanda McGillicuddy for World of Vegan, all rights reserved.