Most of us can agree that pasta is one of the best foods on the planet. Whether you make it with a creamy vegan cheese sauce or tangy tomato puree, there are countless ways to make pasta phenomenal! We've selected some of the most unique and easy to make vegan pasta recipes for you to try and guarantee you'll never dread having a pasta night again.
Pasta is inexpensive, super satisfying, comes in all sorts of fun shapes, and can be quite quick to put together. Pasta recipes don't have to be complex—you can just throw a boxful on the boil and sauté some veggies to add to a savory sauce and voila! You've got dinner.
World of Vegan has published many of vegan recipes with pasta over the years, and below you'll find our favorites, as well as the tastiest plant-based pasta recipes from across the web. If you'd like to get a bit more creative than a standard pasta with marinara sauce, read on for our favorite vegan pasta recipes of all. We hope you'll love them—they also create the most luscious leftovers!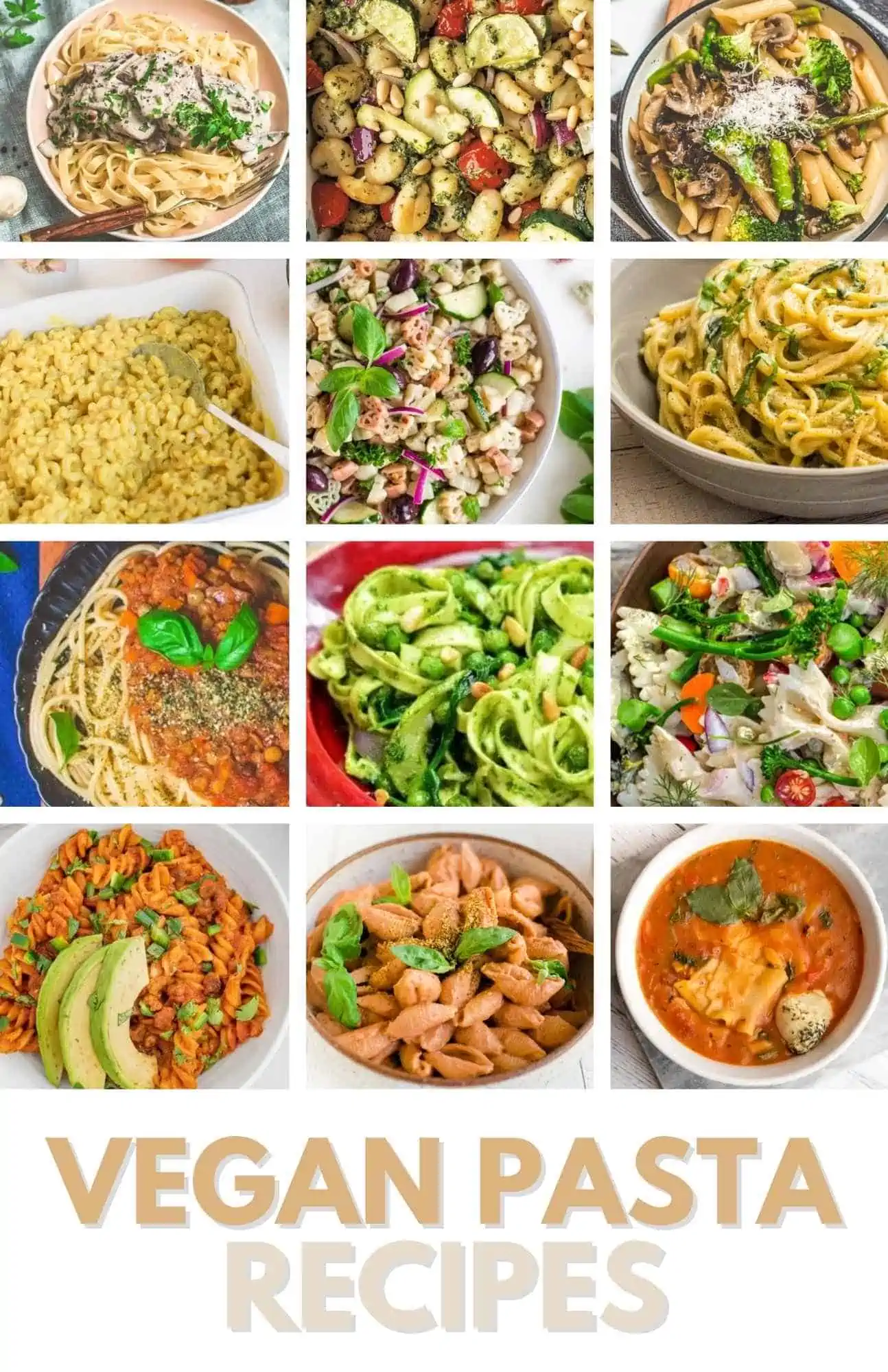 Is Pasta Vegan?
Yes, most store-bought pasta is vegan! There are exceptions, of course, such as fresh pasta made with egg, or pasta dishes loaded with butter or cheese. But almost all packaged dry pasta you find at the grocery store is made from simple plant based ingredients like durum wheat and semolina (which comes from durum wheat).
This includes spaghetti, macaroni, fusilli, fettuccini, farfalle penne, shells, rigatoni, and all the pasta shapes you can imagine.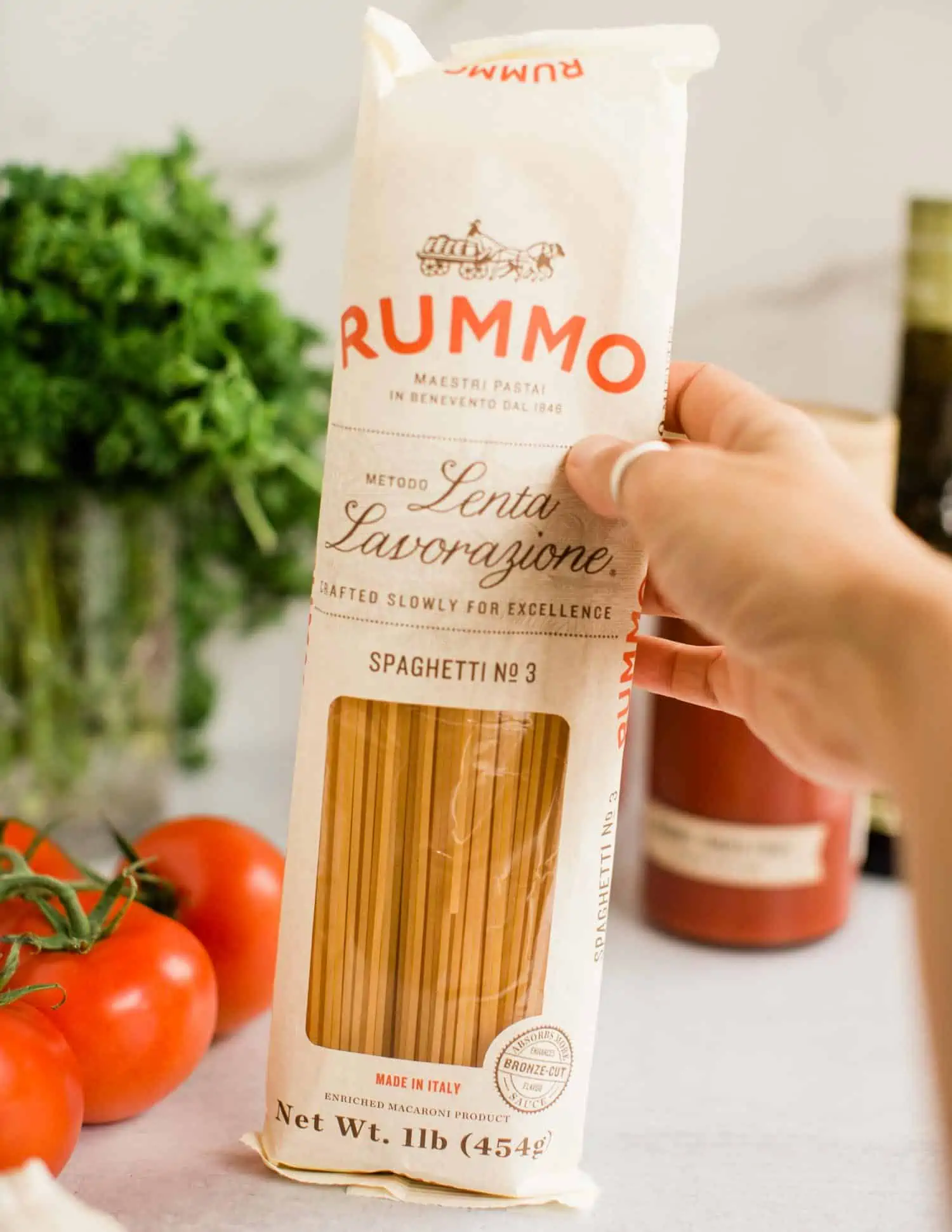 Lasagna noodles are also typically vegan (but double-check the ingredients to be sure). We have a fantastic recipe for vegan lasagna and lasagna soup that are both must-try staples.
Even gnocchi, pillowy pasta nuggets made with potato, is usually vegan!
Ravioli and tortellini are often filled with dairy-based cheese. But there are several brands (including Kite Hill) that now offer vegan ravioli and vegan tortellini filled with plant-based cheese, vegan ricotta, butter nut squash, and beyond.
Watch Out for Fresh Pasta—It Often Contains Eggs
If you're shopping for fresh pasta at a market or in the refrigerated section of the grocery store, you'll need to be on high-alert. Many fresh pastas are made with a mixture of flour and egg, and are not suitable for vegans.
What About Alternative Pastas—Is All Pasta Vegan?
The alternative pasta scene has exploded in recent years with growing demand for gluten-free, whole grain, and protein-packed everything. Pastas can be made from rice, lentils, beans, whole wheat, quinoa, other grains, mung beans, and beyond.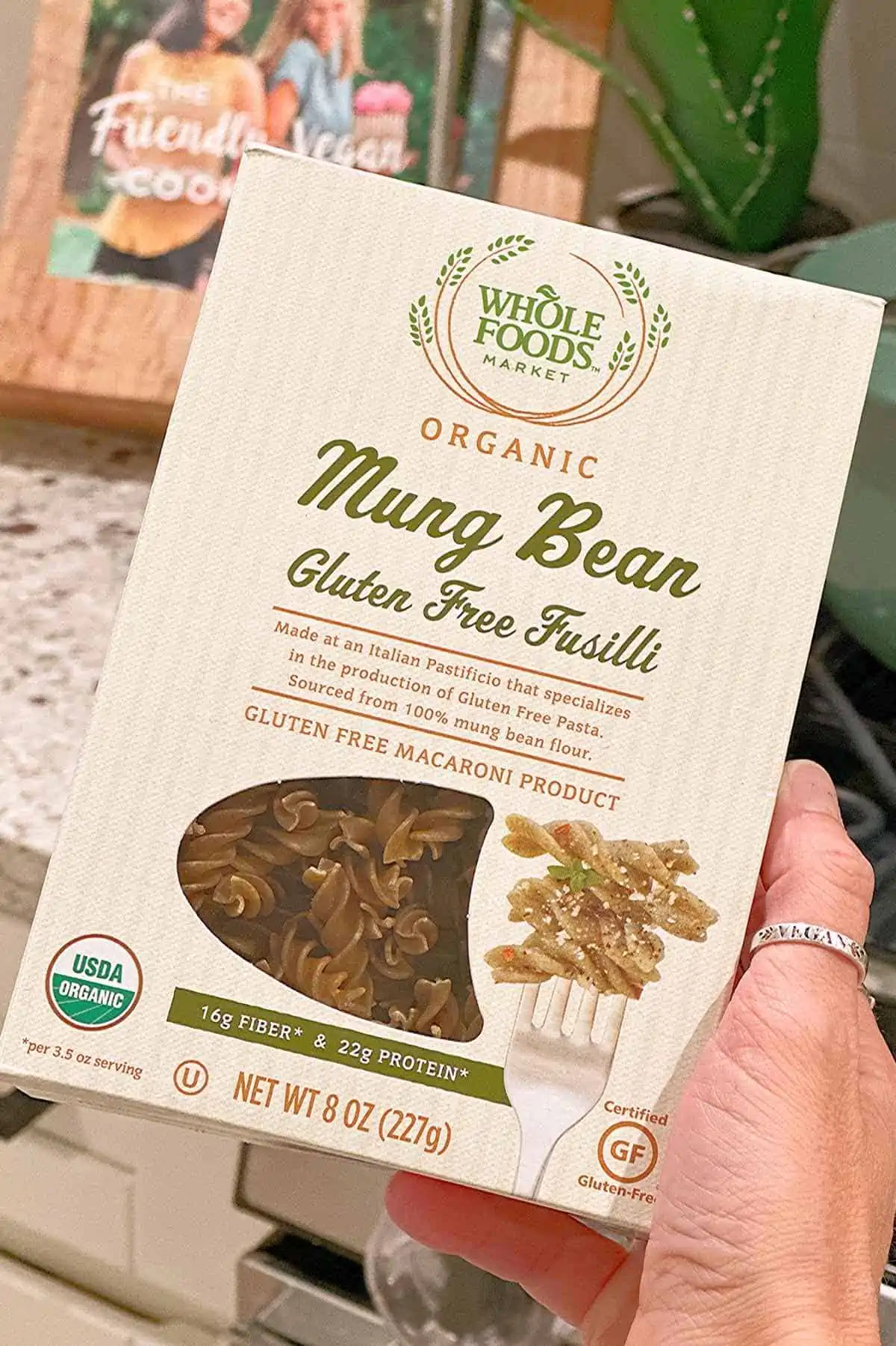 You can even find pasta made from heart of palm, fresh zucchini (zoodles), and kelp (kelp noodles).
And good news, herbivores! Most of these alternative pastas are vegan! You might call them "accidentally vegan" because they just-so-happen to be plant-based. But check the labels to be sure in case some sneaky animal ingredients make their way onto the list.
Amazing Vegan Pasta Recipes You've Gotta Try
Meet our most popular vegan pasta recipe ever! Our readers rave about this easy-as-pie pasta dish, and we know it's become a staple in many homes. So creamy and perfect for a special dinner. You can add any veggies you wish or even leave them out altogether. If mushrooms are not your main squeeze, use sassy snow peas or fiery bell peppers. Your only concern will be, 'Who's going to clean the pot?'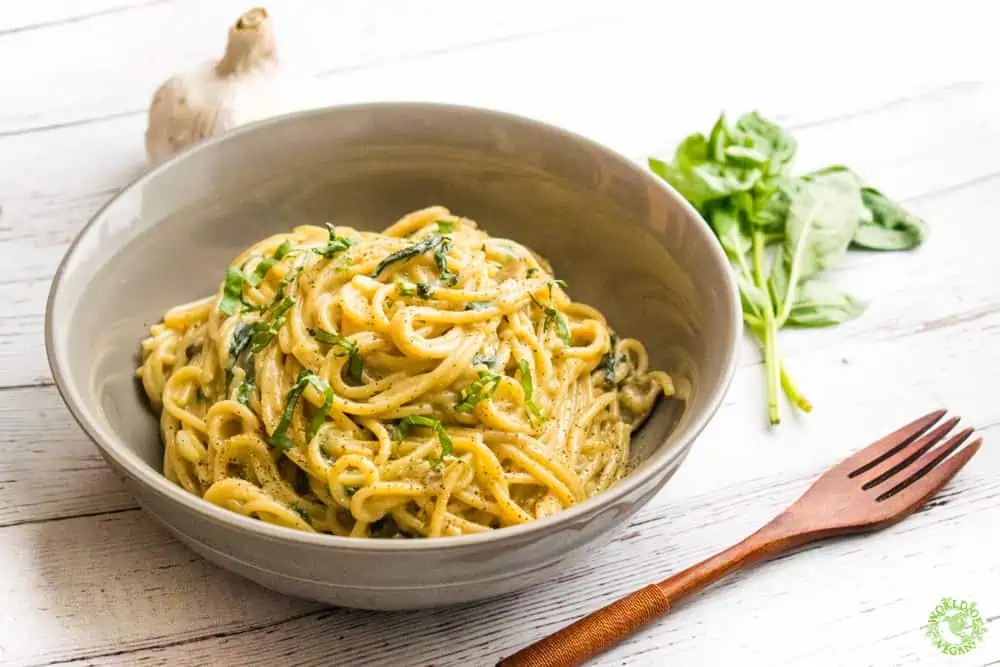 These baked vegan stuffed shells are a favorite from our cookbook—The Friendly Vegan Cookbook. The tofu ricotta is packed with flavor and the entire dish comes together beautifully. This is the perfect show-stopping Italian-inspired recipe to pull out when you're feeding guests—or a hungry family.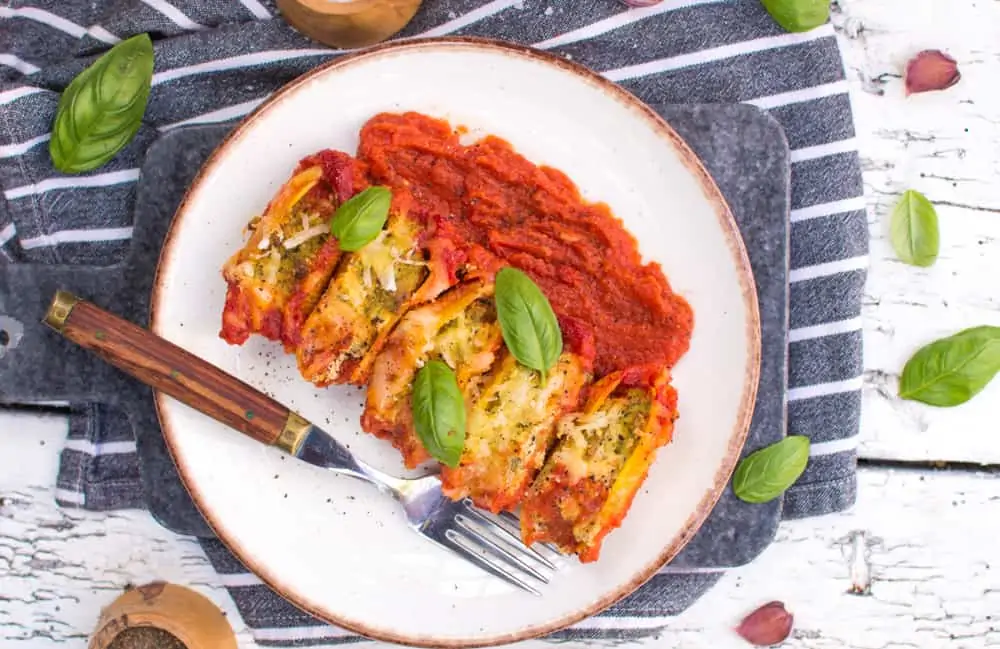 This pink sauce is as delicious as it is beautiful! It's made with a can of fire roasted tomatoes, raw cashews, garlic, oregano, basil, and salt. That's it! Blend it up and pour it over fresh cooked pasta and you've got yourself a tasty, unique, filling vegan dinner.
All the fantastic flavor of enchiladas without all the fuss. You need only one pot for preparing this delightful dish and, really, any appetizing additions will do. If you're out of vegan beef crumbles, feel free to add tofu, tempeh, or even some black beans. Just mix together the pasta, sauce, and other ingredients and, in less than 30 minutes, you'll have a mouthwatering main meal that is sure to please.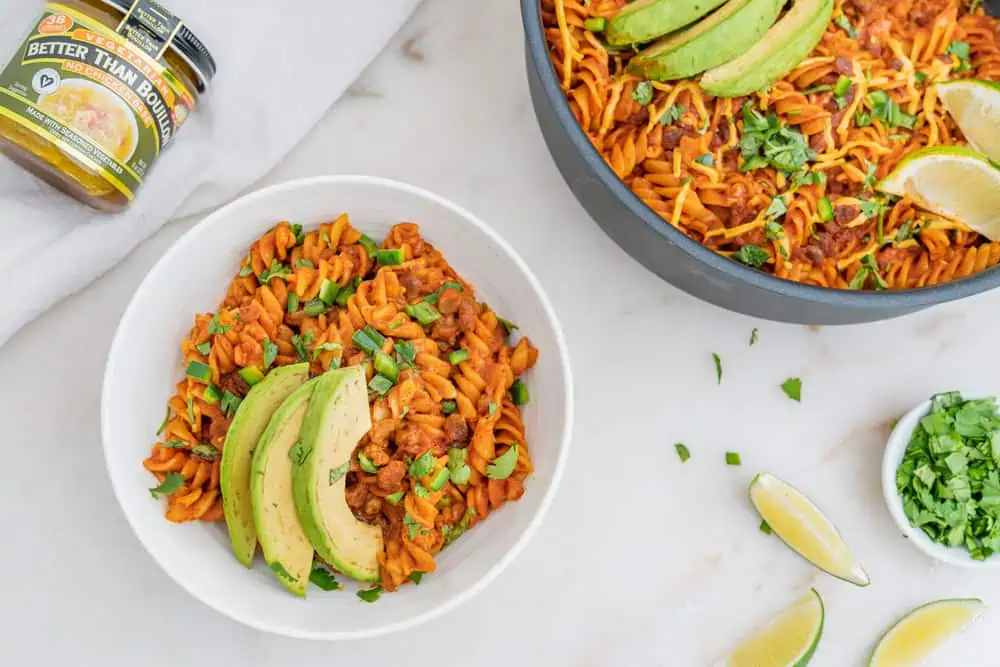 A cozy classic made vegan! Your friends and family will never guess that this creamy, succulent sauce is made without any butter or heavy cream. Almonds are the base of this amazing sauce, enhanced by olive oil, garlic, and onion. Fold in some fancy fettuccine noodles and you'll be blown away by its savory taste and velvety texture. This is hands-down the best vegan fettuccini Alfredo recipe ever.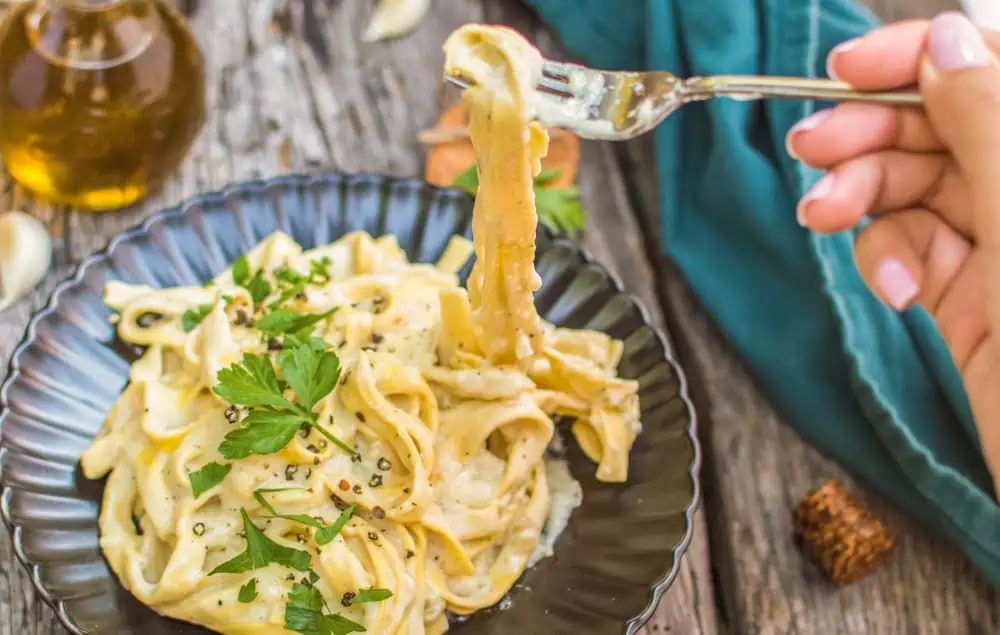 This Italian-inspired pasta is gloriously green with beautiful basil and chock full of nutrients. This time-honored recipe is incredibly delicious and won't disappoint. Choose any pasta shape you wish, add in your homemade pesto, and pour in the peas. This quick-to-make pesto dish has such a lovely, fresh flavor and texture. Add a sprinkling of pine nuts and a shake of vegan parmesan to the top and you'll be in Pasta Paradise!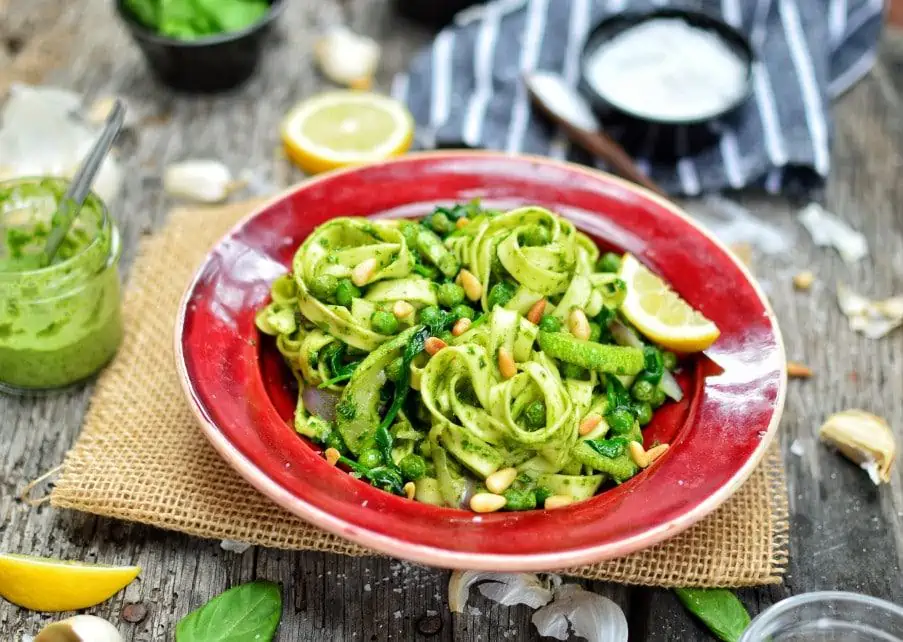 Look no further for the most perfect pasta salad! Packed with fresh veggies and highlighted by the loveliest balsamic vinaigrette, this recipe could not be simpler. Just boil your pasta, bowl it up, and boost your salad with some salty olives, crisp veggies, and savory herbs. Immerse yourself in the enticing Mediterranean flavor!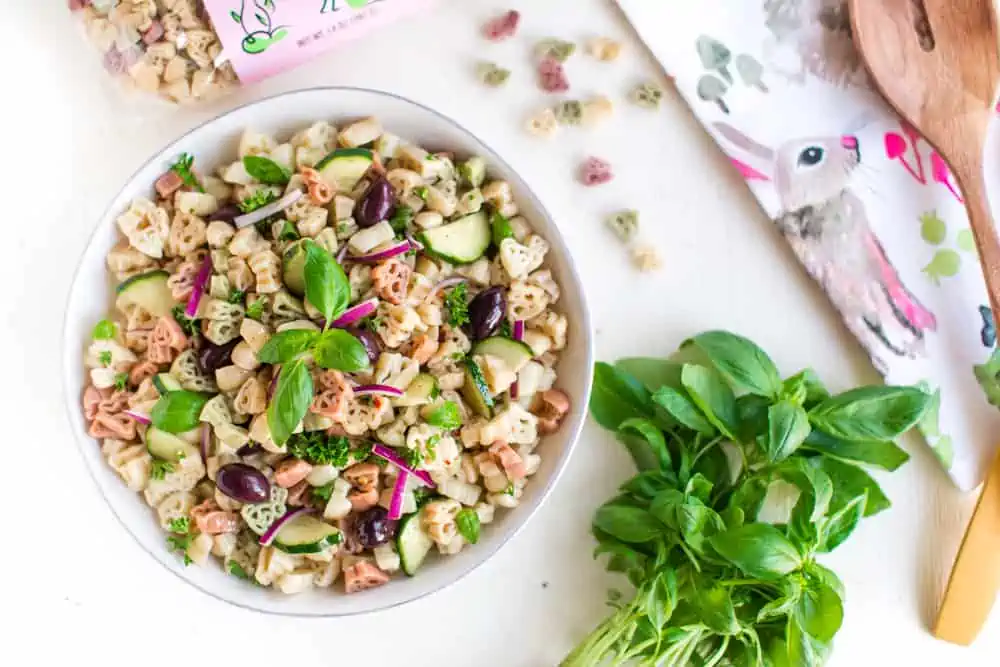 This hummus-inspired pasta dish is a quick vegan weeknight dinner that's packed with protein from chickpeas. Sure, you could drop some dollops of store-bought hummus into freshly cooked pasta and call dinner, but this recipes only takes a tiny bit more effort, is less expensive, and is shockingly tasty. Just drop the chickpeas and other sauce ingredients into a food processor and blend until creamy for you almost-cheesy pasta sauce.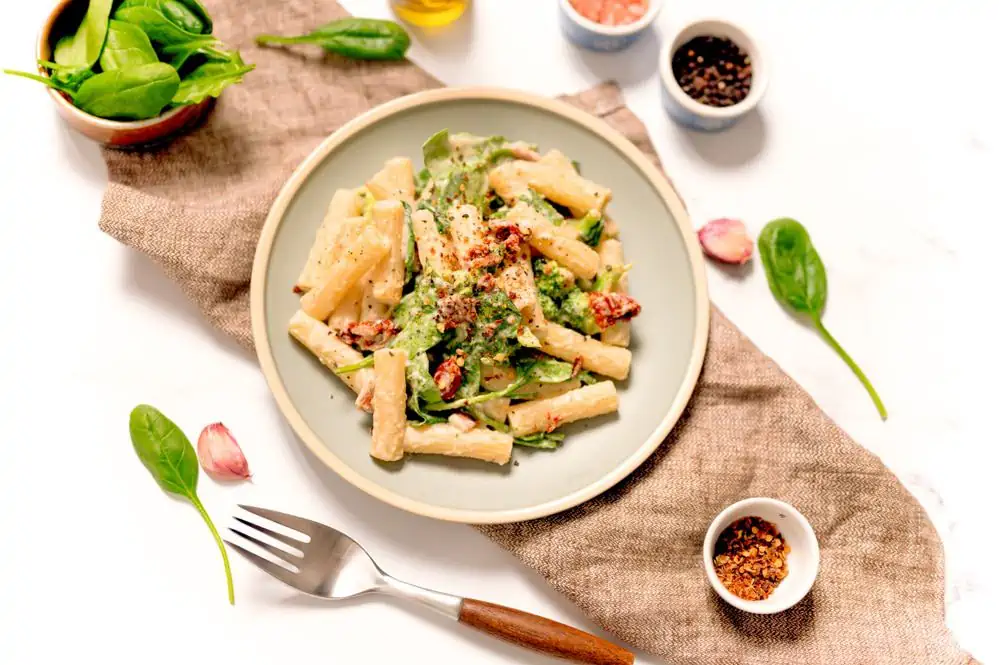 Pasta doesn't get any easier than this! You only have to make two choices—which pasta you'll pick and which veggies are on the verge and you want to include. If you don't like asparagus or broccoli, simply add any green veggies you like. Throw in some mellow mushrooms and you're good to go. Any added toppings can make this meal even tastier. It's all up to you.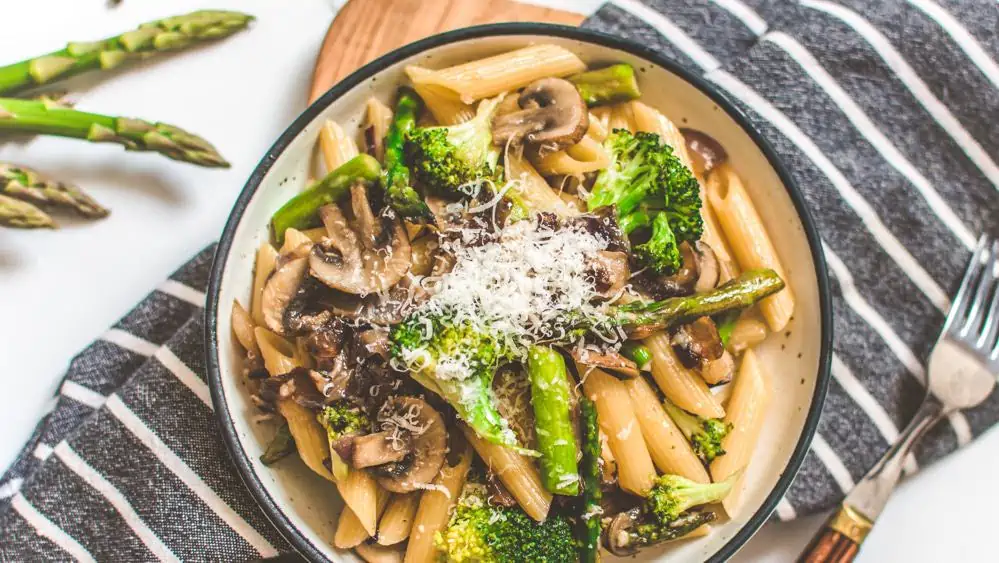 If you're a lover of the InstantPot (or any pressure cooker) like we are, you've got to try this recipe. It's the easiest pasta recipe on planet earth, and has been tested and loved by vegans and omnivores alike. Pick your favorite vegetarian meatballs (or vegan sausages), grab your favorite pasta shape (I like medium shell pasta), and get cookin'! We even have a video showing you how it's done. Bon appetit!
Calling all mushroom lovers! This pasta dish is topped with creamy mushroom sauce made with cashews, red onions, button mushrooms, and spices. Don't forget to reserve your pasta water to use in the sauce—that's the secret that makes it extra creamy!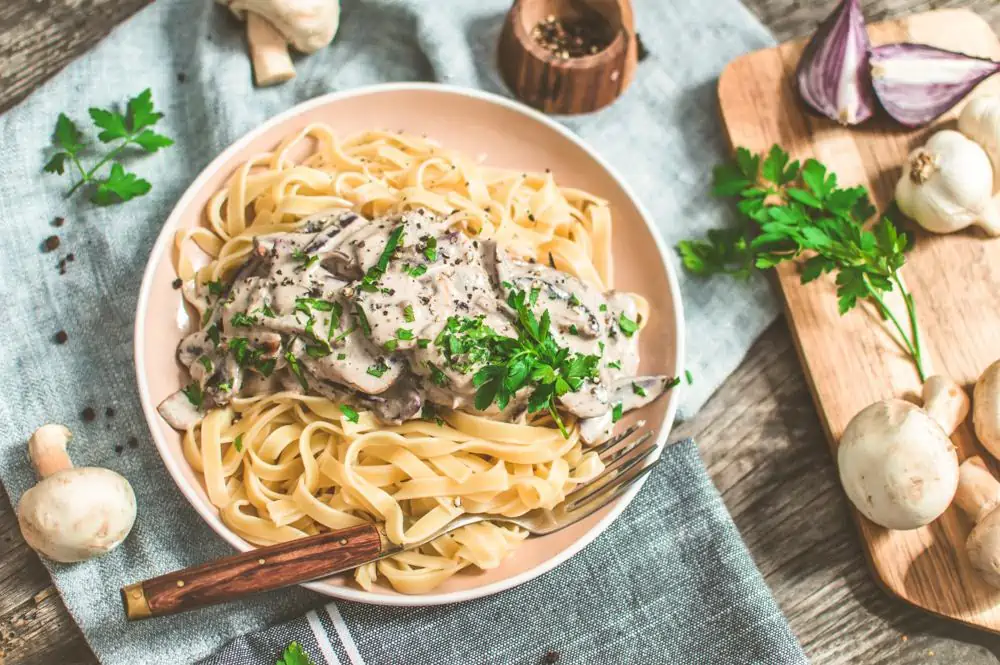 This pasta round-up certainly wouldn't be complete without a deliciously dairy-free mac 'n' cheese! This is one of our favorites at World of Vegan—we've been making it for more than a decade.
This vegan macaroni and cheese has a base of cashew cream blended with yellow onion, nutritional yeast, lemon juice, and turmeric and tomato paste (which gives it that perfect boxed-mac color). Plus some cornstarch which thickens the sauce up beautifully! You can find a slightly less "healthy" but oh-so-delicious version of vegan macaroni and cheese in The Friendly Vegan Cookbook.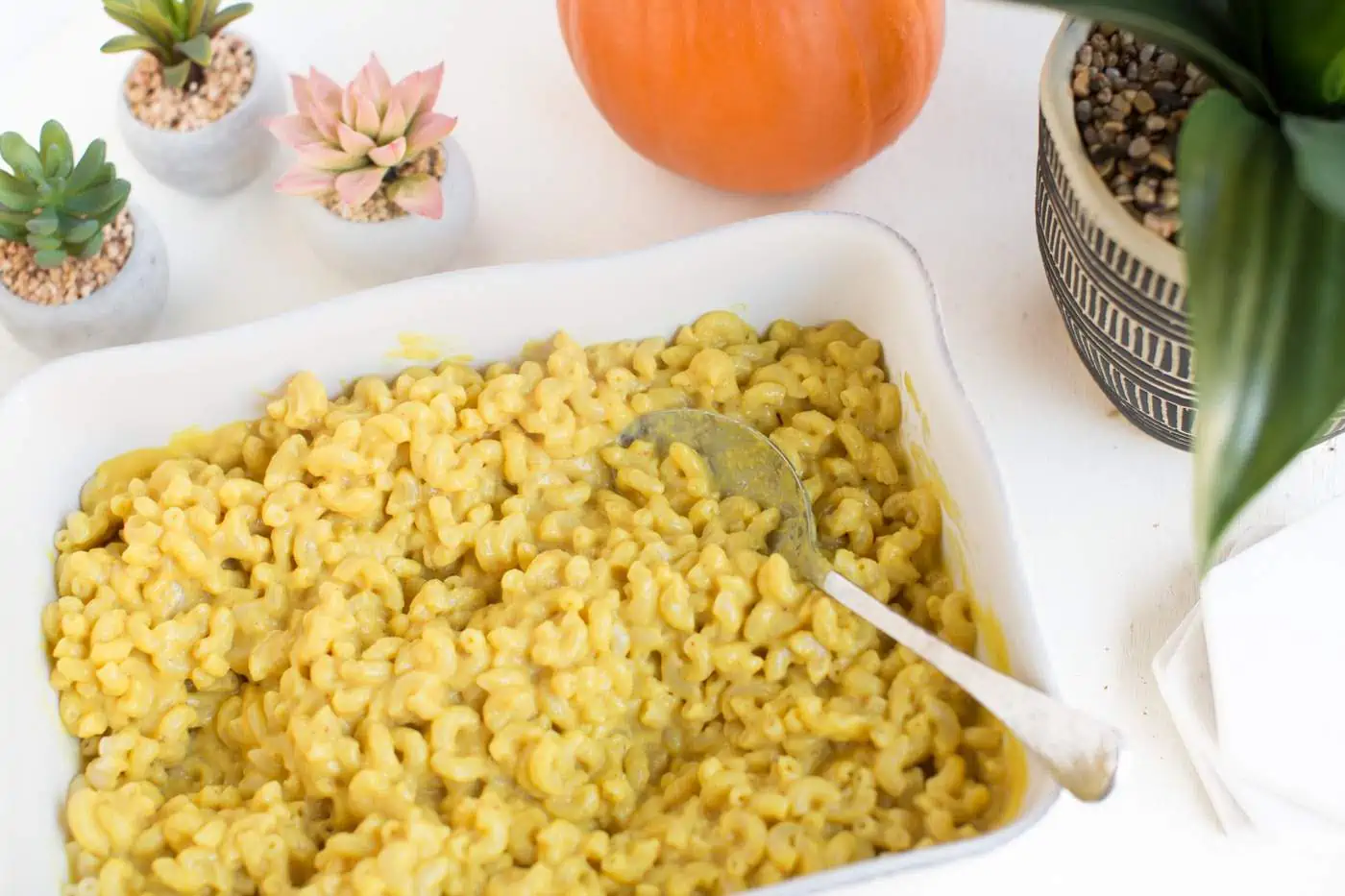 There's no meat necessary in this vegan bolognese pasta dish! Lentils take the place of beef for a healthier spin on this traditional dish. Use any pasta you'd like as the base—spaghetti, linguini, bowties, or your favorite gluten-free pasta. Chickpea pasta, brown rice pasta, and corn pasta would all work wonderfully You could even double-up the lentil vibes by using a healthy lentil pasta!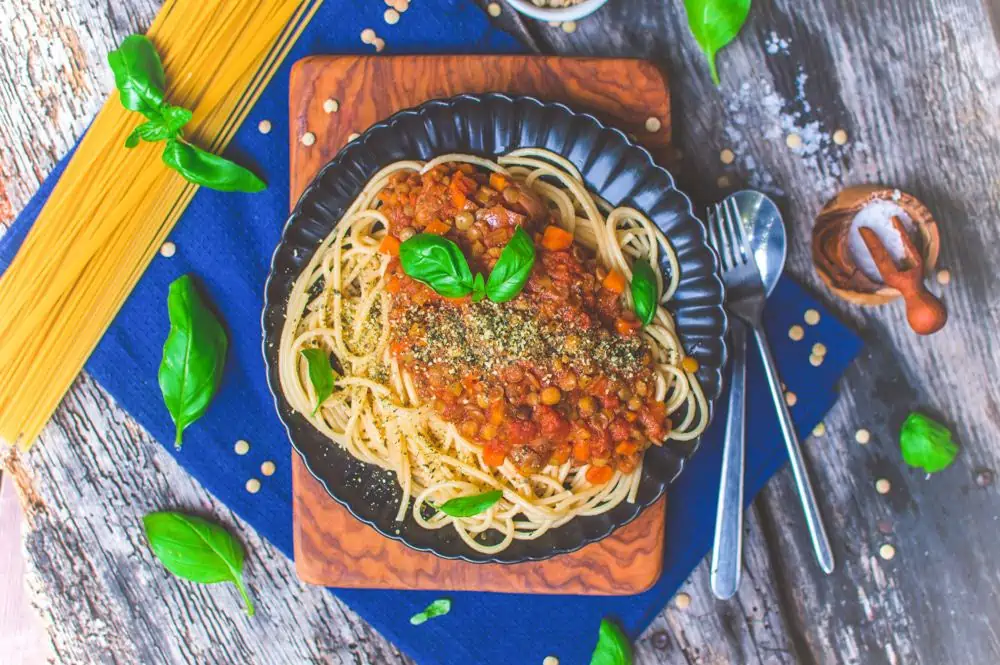 Vegan Spaghettios (Fantastic Vegetarian Kids Recipe)
Whether you're cooking up a vegan kid's meal or just feelin' a bit nostalgic for your childhood, these vegan Spaghettios have your back. Extra points if you use dinosaur pasta to made dino spaghettios!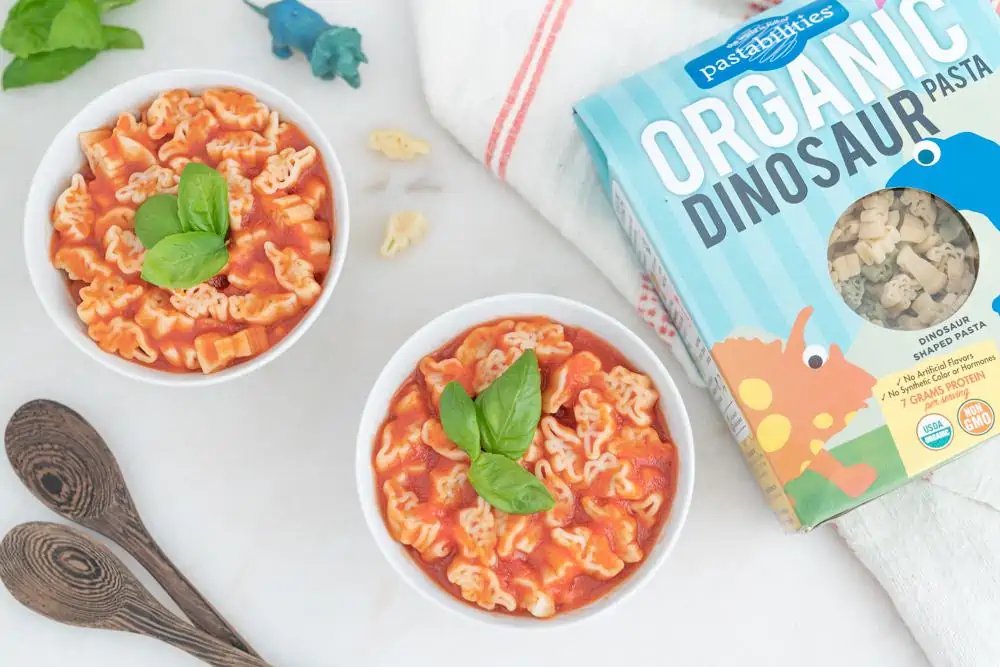 Please, tell me you've tried vegan gnocchi? As a die-hard pastaholic since age 2, it wasn't until I traveled to Italy in high school that I first tried gnocchi. Needless to say, it was love at first taste. Lucky for vegans, most gnocchi is vegan! It's made from potatoes and boiled like pasta to create these pillowy little nuggets that pair perfectly with almost any sauce, like this pesto!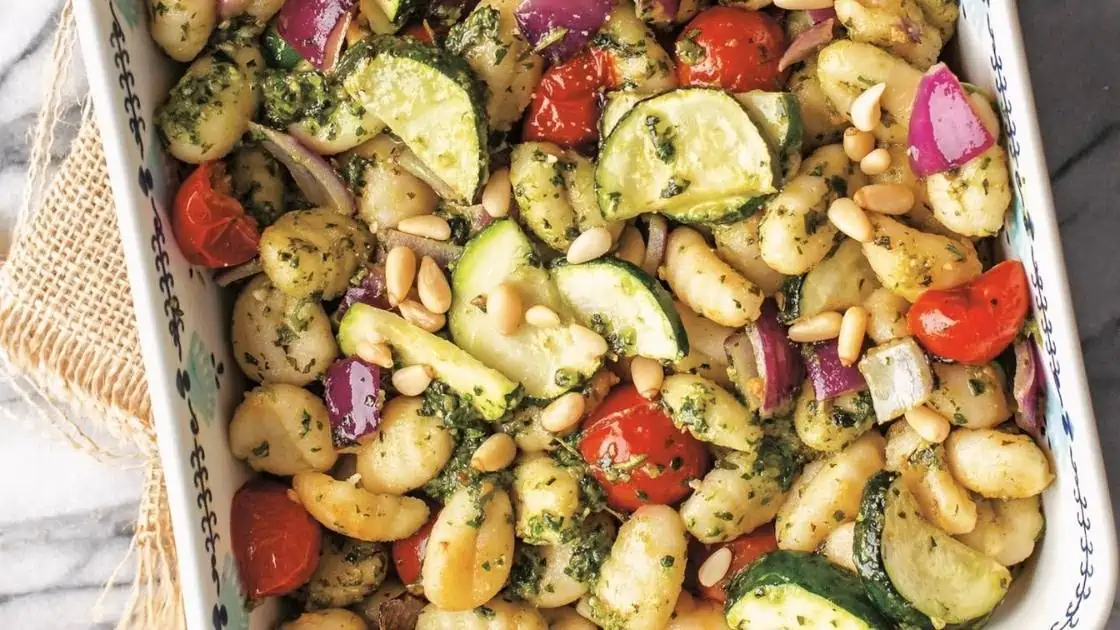 Where are our Polish homies at? They will surely recognize this insanely delicious (and simple!) Polish pasta dish. If you've never tried it before, print out the recipe stat! It's a must. This vegan pasta bake makes a great comfort meal dish to serve over the holidays to feed a crowd!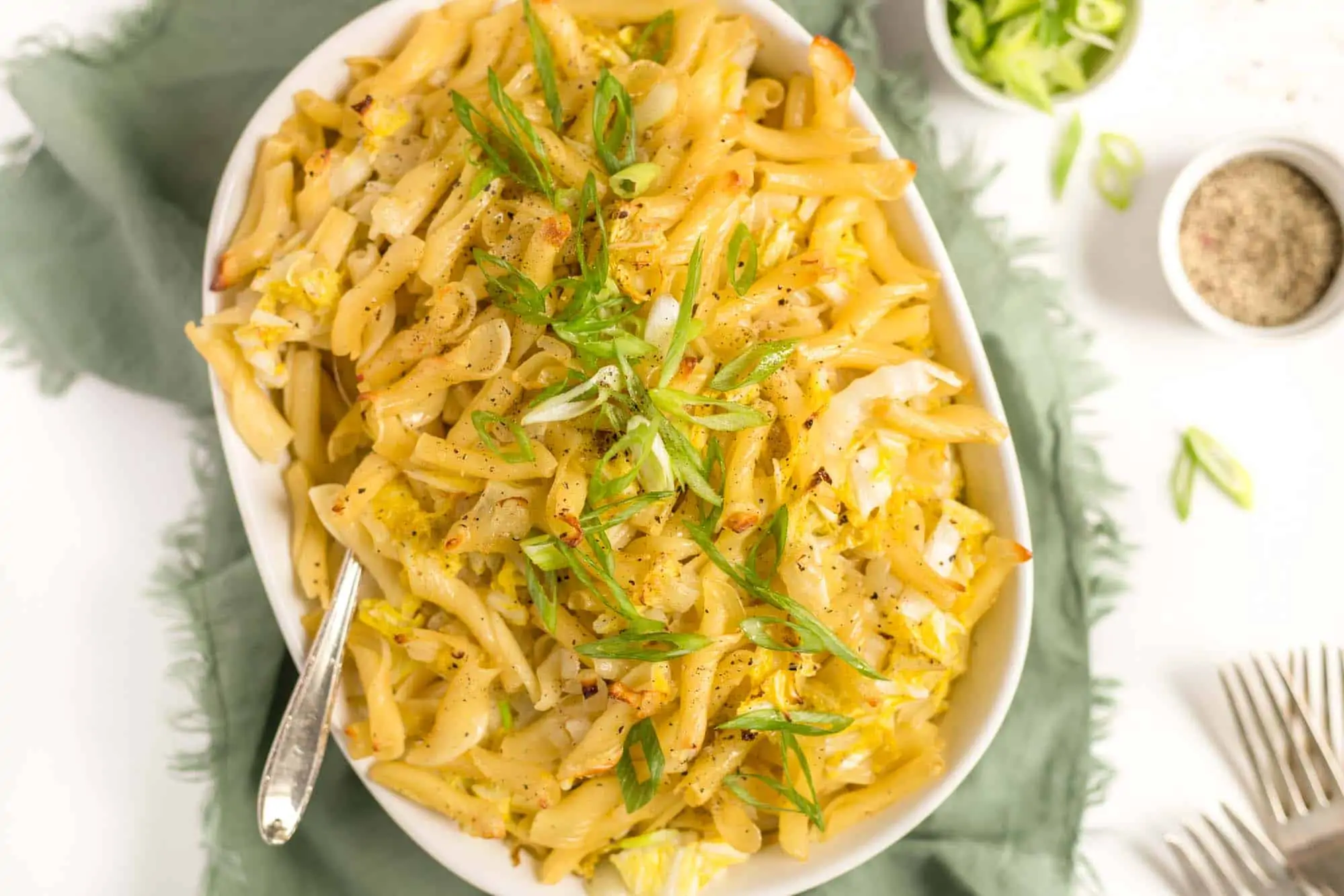 There's something about pesto that feels so fancy. Well, lucky for you, you can feel fancy and save a little bit of money by making this walnut pesto pasta! Rather than using expensive pine nuts, this recipe calls for walnuts which are much more budget-friendly and will still do the job of providing a tasty, rich flavor.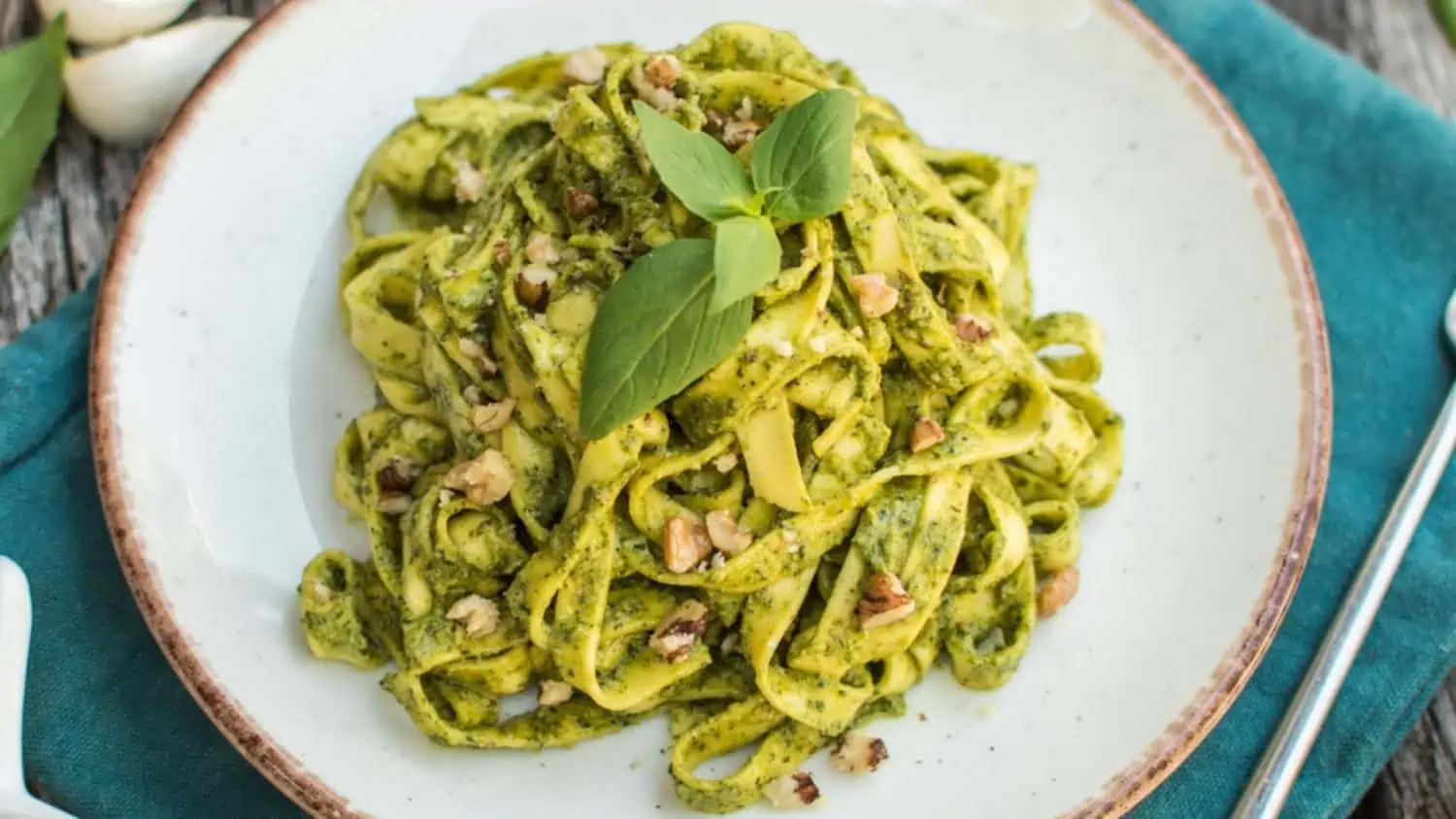 One of our favorite Italian vegan pasta recipes is this luscious vegan lasagna with tofu ricotta! Great for serving a large crowd or for prepping for the week, this amazing dish holds its own with dynamic flavor and texture. Mushrooms, spinach, tomato sauce, and tofu ricotta all work together to make this one incredible vegan pasta.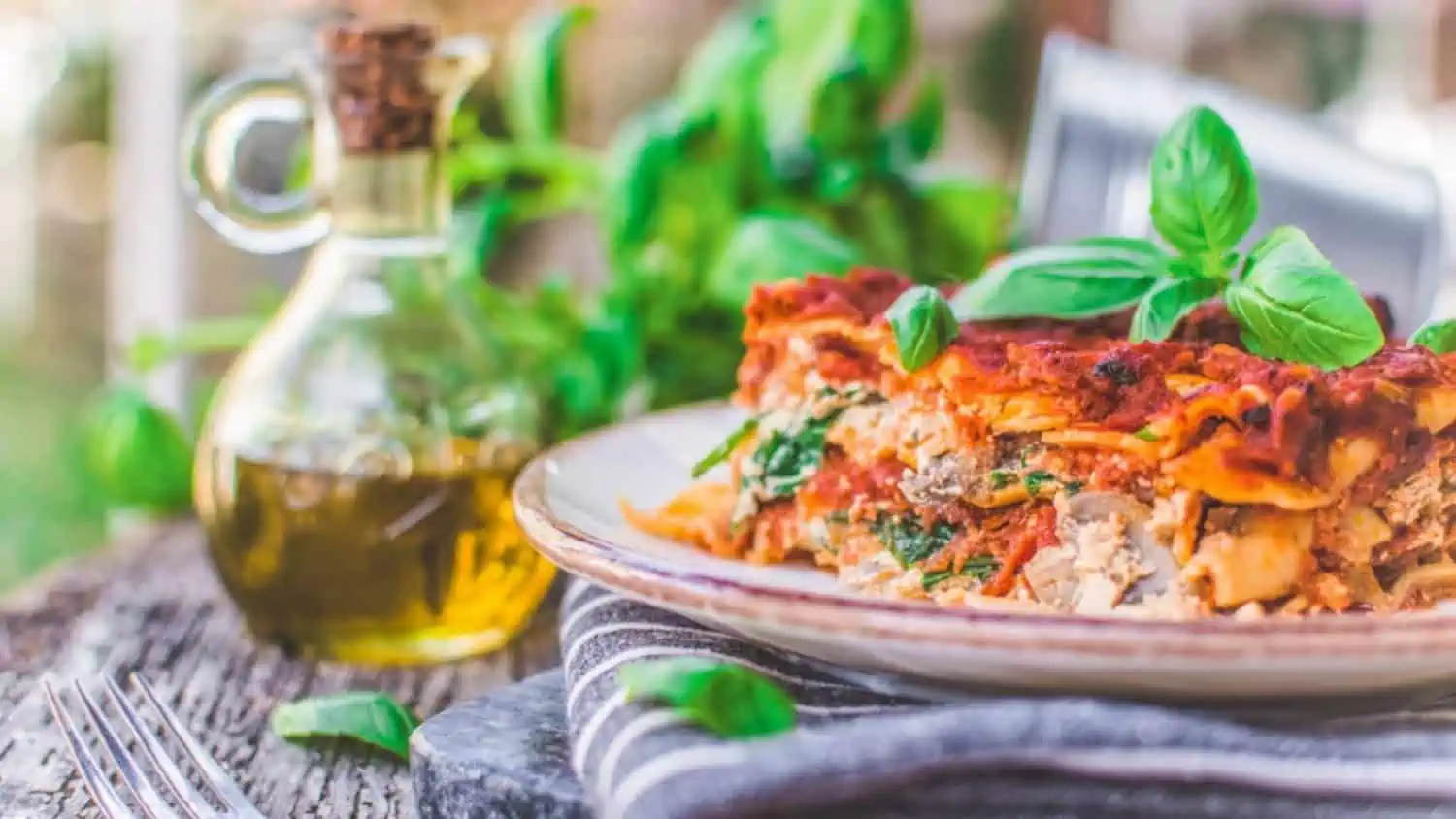 This creamy vegan carbonara by Hot for Food truly has our hearts. A super simple yet really romantic recipe, you just need a few simple ingredients with some extra help from eggy kala namak salt to truly top things off. Enjoy alongside a simple salad or sautéed greens for extra color!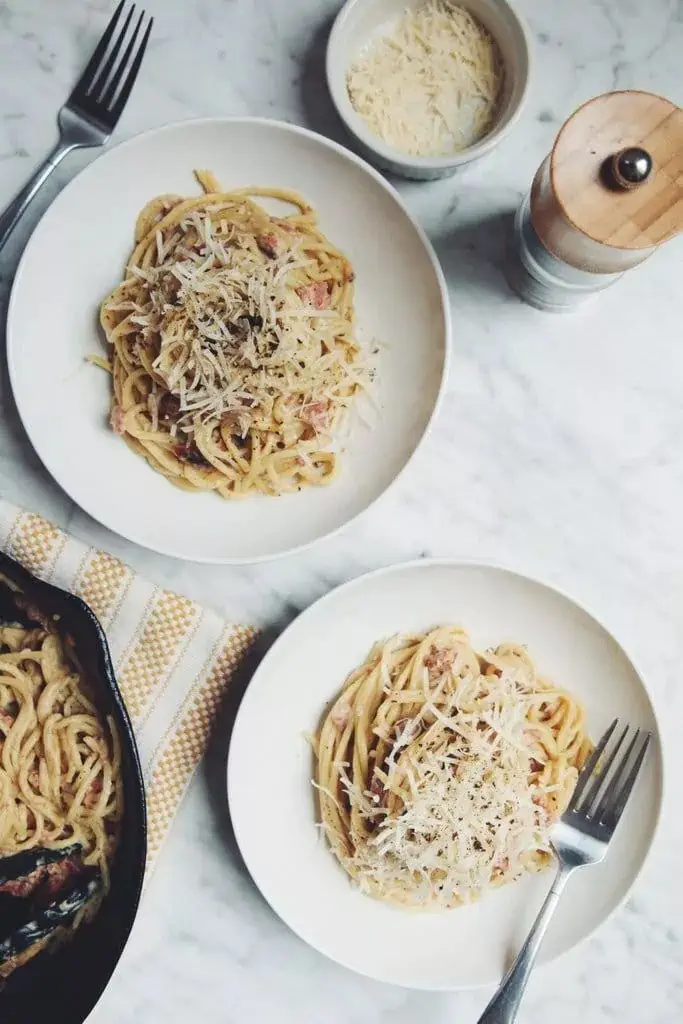 Inspired by Mexican street corn, this wildly satisfying recipe from Sweet Simple Vegan will make you never think of pasta as boring again. Even better, it takes less than 15 minutes to make! All you need to do is cook your pasta and then mix in the remaining ingredients for a tangy and invigorating meal.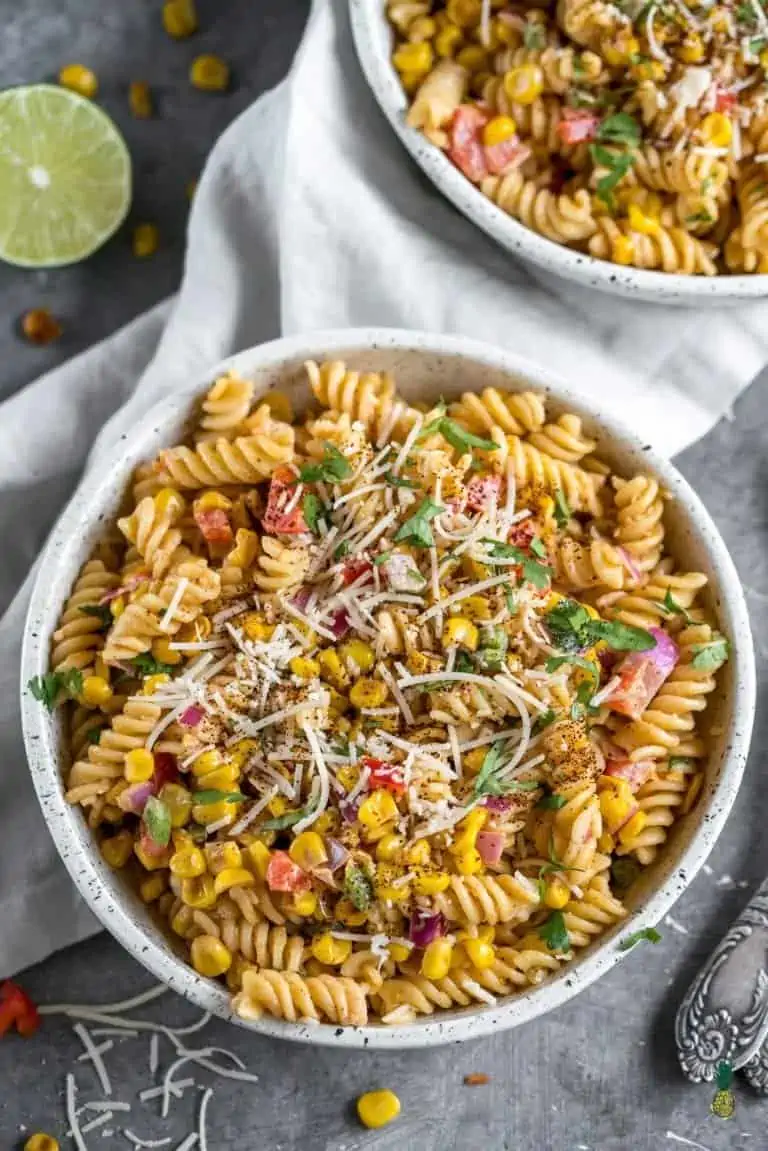 Sparks fly when creamy vegan pasta meets tangy lemon and cool asparagus in this delicious recipe from Lovely Jubley! Made with a handful of simple ingredients, you'll love that this tasty recipe comes together in just about 30 minutes.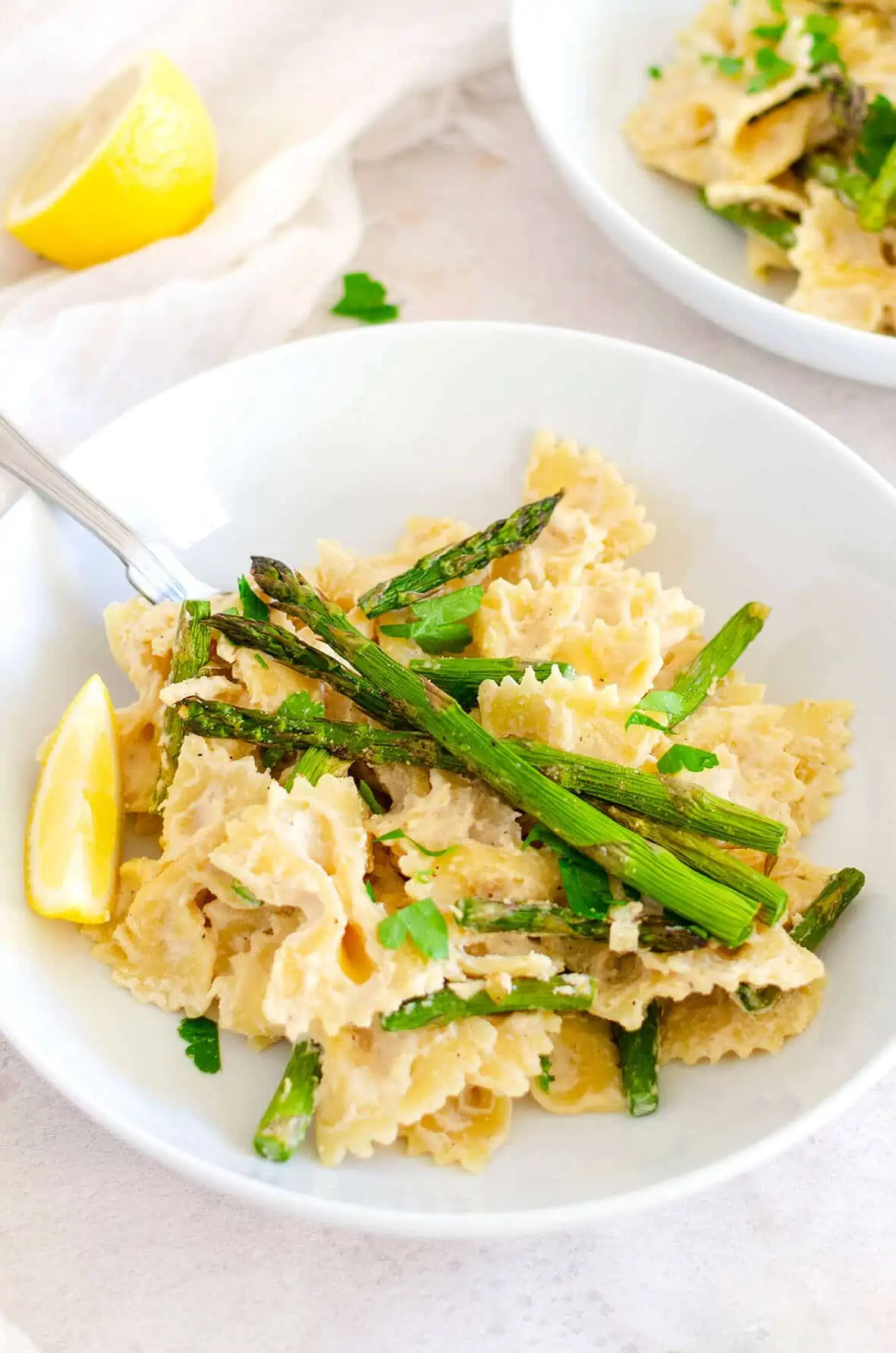 Eggplant, tomatoes, mushrooms, and olives work together to make this delicious and rustic pasta dish from Simply Ceecee come to life. Whether you're using spaghetti, elbows, bow ties, or ziti, you truly can't go wrong with this awesome recipe.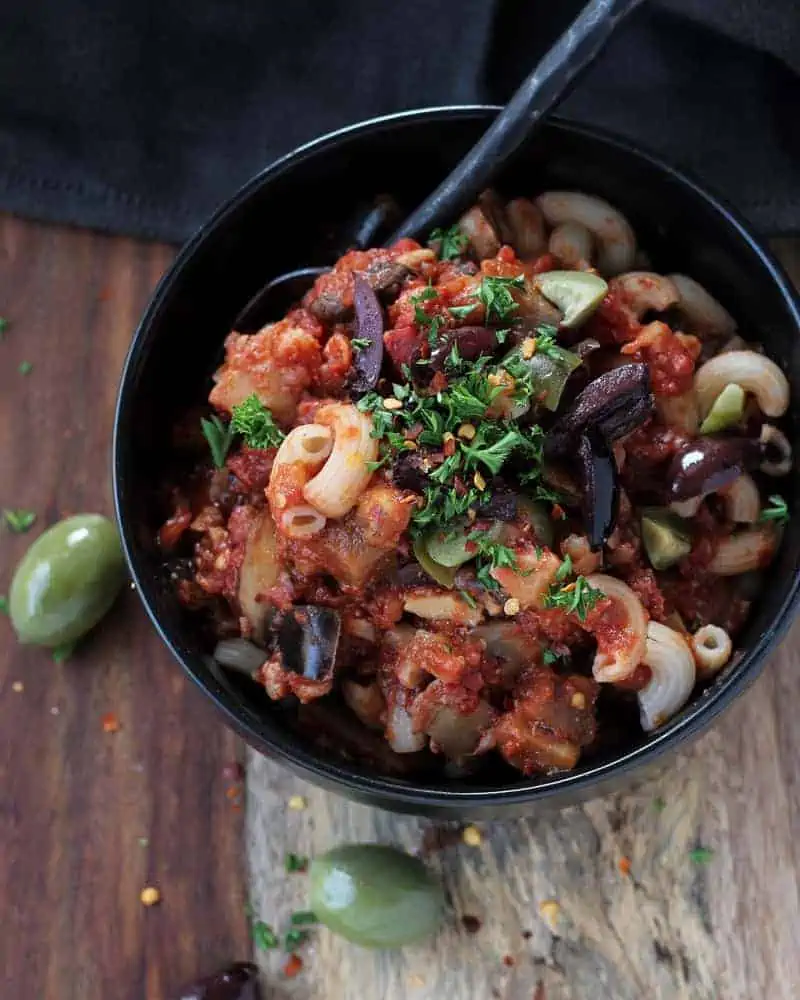 Bring your plant-based pasta recipes to the next level with this amazing dish by Short Girl Tall Order! Truffle oil and truffle salt meet mushrooms and creamy pasta in a fantastically simple yet elegant creation. Spice it up with some pepper and enjoy!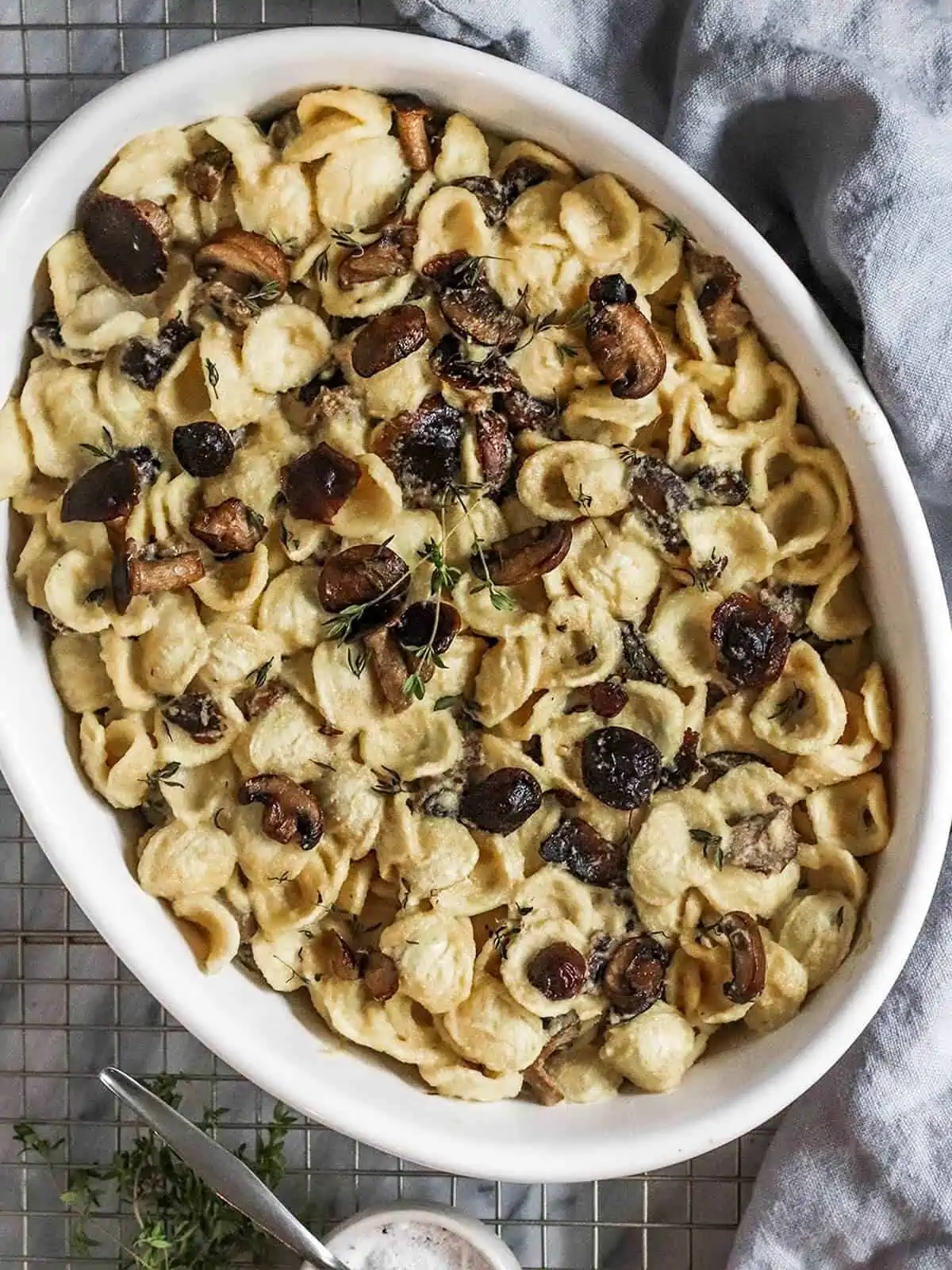 Although this recipe from The Edgy Veg has a super fancy name, it actually only requires about three ingredients and ten minutes of your time! All you need is pasta, black pepper, water, and your favorite dairy-free cheese to enjoy a yummy and simple vegan pasta meal!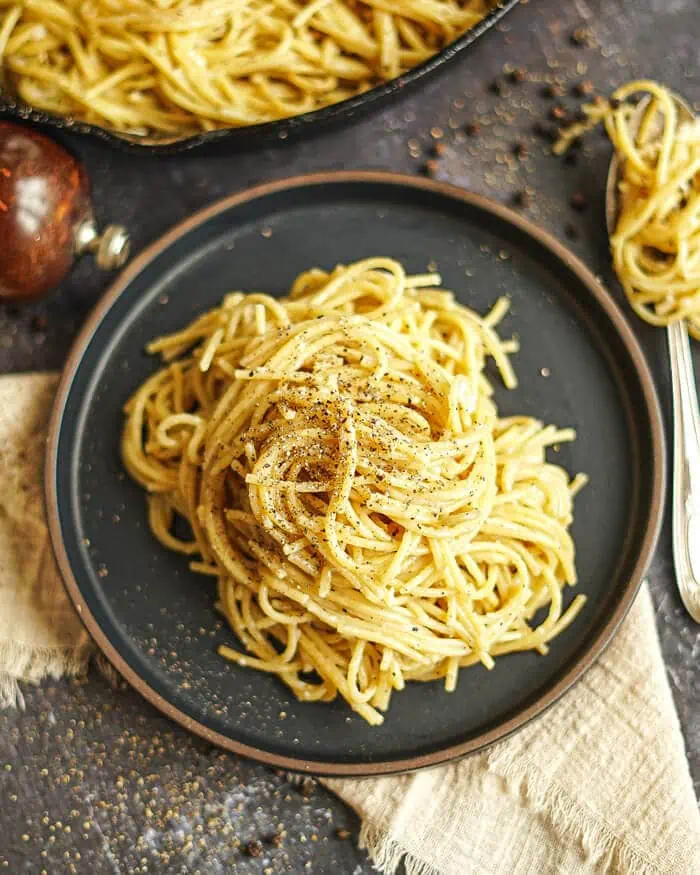 Perfect for fall, winter, summer, or spring, this vegan pumpkin pasta recipe by Running on Real Food is real good. Easy to make gluten-free, all you need is a few minutes to make the sauce and cook your pasta before you're eating a super tasty vegan meal!
This vegan Greek pasta bake from Rainbow Nourishments is like having a warm hug for dinner. Comforting and memorable, this Greek take on lasagna is well worth the effort it takes to put together. Rather than using multiple layers of noodles, this vegan pastitsio features noodles at the bottom covered by a layer of cooked lentils finally topped with a rich vegan béchamel sauce. Yum!
Poppy seeds on pasta? That's right! This uniquely sweet pasta dish from Heartful Table is really pushing the noodle when it comes to plant-based pasta recipes. Featuring sugar, citrus, vanilla, and other ingredients commonly used for baking, this recipe makes a great dessert or sweet snack.
Pasta and squash are a match made in heaven and this vegan kabocha pasta from Fueled Naturally does the opposite of disappoint! Super simple to make, you can use whichever kind of pasta you'd like to go with the kabocha squash sauce. Top with veggies, vegan protein, and vegan cheese (if you'd like) and bon appétit!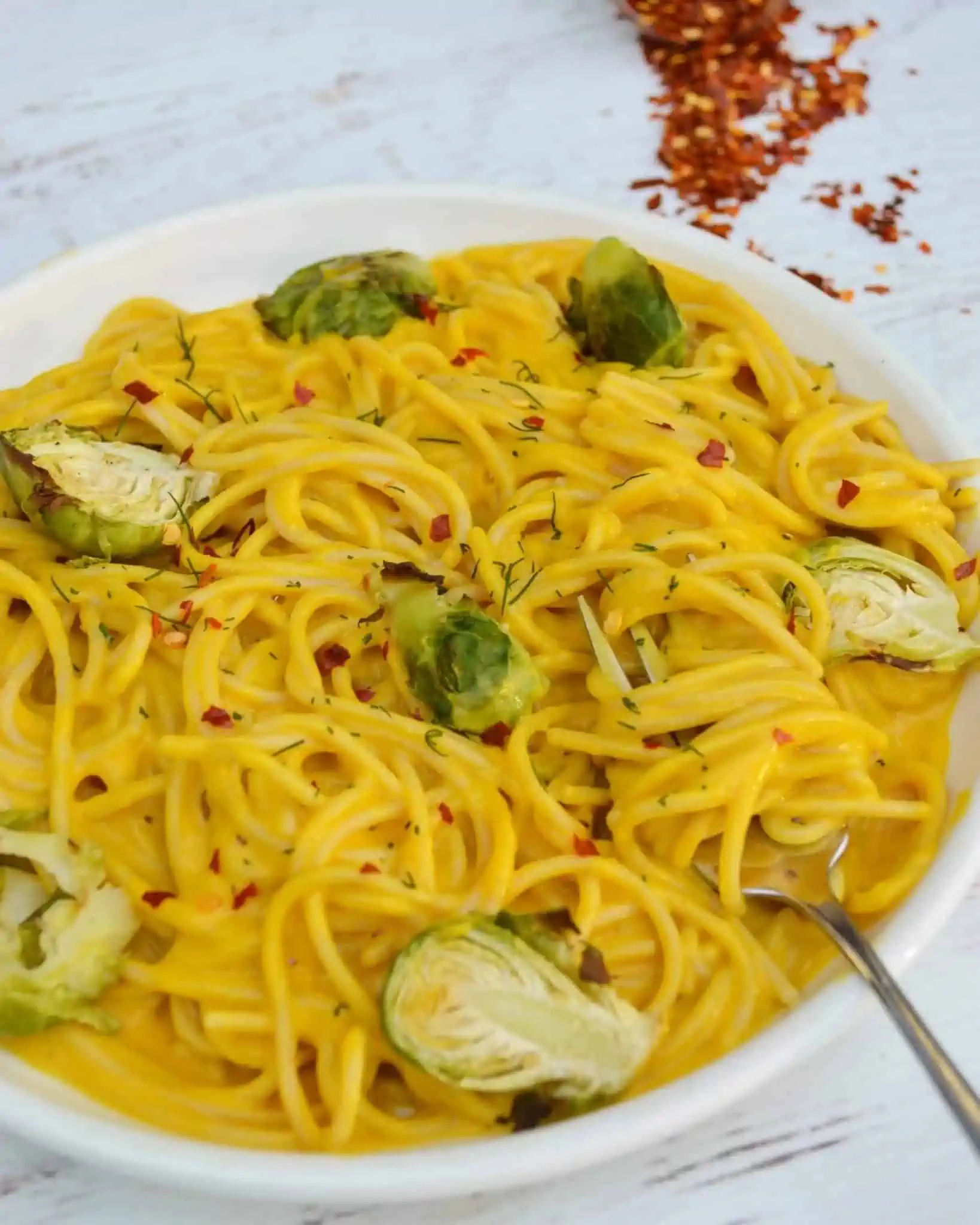 This vegan spaghetti recipe from Vegan Yack Attack is great for a few reasons. First, all you need to do is just put all of the ingredients into a single pot and let everything get cooking. Second, it takes just about 40 minutes from start to finish and most of the time you don't need to do anything! Third, this recipe is ideal for making in large batches.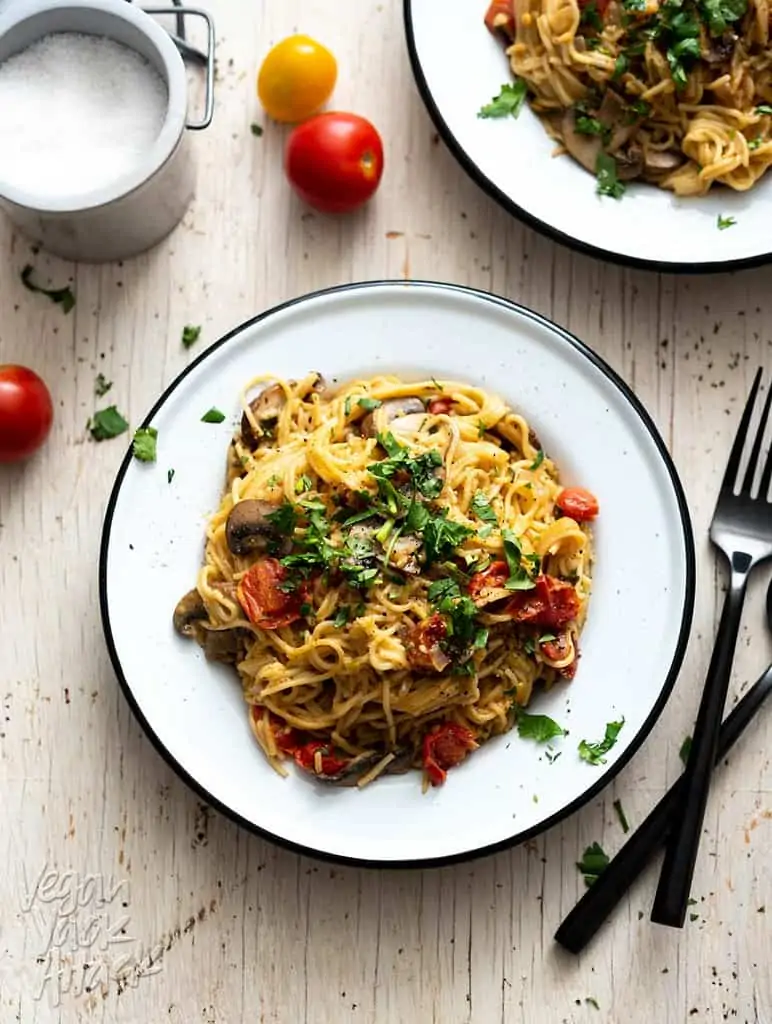 With so many ways to prepare vegan pasta, we hope you get to try all of these amazing recipes! Let us know in the comments what you decide to try and enjoy!
More Awesome Vegan Dinner Recipes
This round-up of the best vegan pasta recipes come from our team of World of Vegan contributors—Kathy Chrzaszcz, Michelle Cehn, and Zhoro Apostolov, JJ Steele—as well as other vegan bloggers who are credited in each recipe blurb. We hope you love these pasta recipes vegan, vegetarian, and meat loving humans alike will love!