I don't think there's a week that goes by that I don't crave some kind of salty and savory meal. I dream of tantalizing takeout being delivered right to my door without delay. That's why I was all a-tingle when this stir fry tofu with peanut sauce recipe came my way.
Now, my cravings are calmed and my wallet free of woe. Everything I need is right in my own cozy, cluttered kitchen. After several slices, a few choice chops, and a little bit of stir fry, the most mouthwatering meal will be mine to savor.
10 ounces firm tofu
2 tablespoons soy sauce or tamari
½ teaspoon garlic powder 
1 tablespoon cornstarch, potato starch would also work
1 tablespoon grapeseed or other mild oil, divided
1 cup chopped cauliflower
4-5 cloves garlic
1 white onion, chopped
1 cup chopped asparagus
1 bell pepper, chopped
Peanut Stir Fry Sauce
4 tablespoons soy sauce or tamari
3 tablespoons peanut butter
2 tablespoons warm water
3 tablespoons toasted sesame oil
1 tablespoon rice vinegar
2 tablespoons brown sugar
2 cloves garlic, minced
4 teaspoons minced ginger
2 teaspoons cornstarch, or potato starch
2 teaspoons Sriracha, and more for garnish
For Serving
4 cups cooked brown rice, see Fresh Tips!
2 stalks green onion, diced
2 tablespoons chopped peanuts
Wrap the tofu in a towel and gently squeeze out the water. Dice into 1-inch cubes. Put the cubes in a container with a lid. Drizzle the soy sauce over the tofu, then cover and shake until well coated. Add the garlic powder and starch, then cover and shake again.

Put a nonstick pan over medium-high heat. Pour in 2 teaspoons of oil. Cook the tofu until browned on all sides, about 3 to 4 minutes, turning occasionally. Remove the tofu when it's done and place the pan back over the heat.

Add the cauliflower to the pan, along with the remaining 1 teaspoon of oil. While it cooks, mince the garlic. Add the white onion to the pan. Stir and cook until the onion is soft, about 3 to 4 minutes.

Add the asparagus, bell pepper, and garlic to the pan. Cook and stir until the vegetables are tender with a bit of crunch, about 5 to 7 more minutes.

Meanwhile, make the sauce. Whisk the soy sauce, peanut butter, water, sesame oil, vinegar, brown sugar, garlic, ginger, starch, and Sriracha together in a bowl.

When the veggies are tender with a bit of crunch, add the tofu back to the pan, and turn off the heat. Add the sauce and mix well to combine. Serve over warm brown rice with green onion, chopped peanuts, and a drizzle of Sriracha, if desired.
Fresh Tips!
Feel free to use other vegetables that might be hanging out in your fridge, like snow peas, broccoli, or mushrooms.
Since brown rice can take up to 45 minutes to cook, I recommend prepping a batch ahead of time or using frozen brown rice for convenience.
Calories: 1223kcal | Carbohydrates: 143g | Protein: 41g | Fat: 58g | Saturated Fat: 9g | Polyunsaturated Fat: 20g | Monounsaturated Fat: 26g | Trans Fat: 0.03g | Sodium: 3266mg | Potassium: 1259mg | Fiber: 16g | Sugar: 24g | Vitamin A: 2497IU | Vitamin C: 116mg | Calcium: 329mg | Iron: 8mg
Equipment You'll Need
How to Serve Up Your Stir Fry Tofu With Peanut Sauce
There are endless ways to add or subtract from this recipe to make it your own. Here are a few suggestions:
Not Hot About Heat? – If you love veggies but not the spice, just leave out the Sriracha. Super easy. On the other hand, if you love all things hot and spicy, add more Sriracha, crushed red pepper, and/or cayenne pepper. That'll give you a kick!
Pick Another Protein – Not a tofu lover? How about adding tempeh instead? A cupful of chickpeas or edamame is also a great option to add into your stir-fry.
Waiting for Rice Is Not So Nice – If you'd rather not use frozen cooked rice and time is of the essence, feel free to serve your vegan peanut stir fry with noodles instead. This dish would be delightful with soba, ramen, or udon noodles. You could even enjoy it with penne pasta or over a sweet potato. Go wild!
Pass on the Peanuts – We know that peanuts are not the best for everyone. You can simply substitute any nut butter for the peanut butter––almond, cashew, or tahini would taste delicious. Sprinkle on chopped cashews or toasted sesame seeds instead of the peanuts as a garnish.
Free Up the Fridge – Perhaps your fridge is bursting with limp lettuces and on-the-edge veg. It's okay, we don't judge. If that's the case, use whatever you have on hand to make up your savory meal. Broccoli, sliced carrots, zucchini, and green beans are all fantastic choices for your stir fry.
Storing Your Stir Fry Tofu With Peanut Sauce
Any uneaten stir fry would be best stored in separate containers to keep every ingredient fresh. Place the leftover veggies, rice, and sauce in glass covered glass containers in the fridge. Everything should last for about 2-3 days.
If you run out of any particular portion of the stir fry tofu with peanut sauce, feel free to make more. Especially the sauce or brown rice. Either of those would be easy to whip up ahead of time and be ready for the next meal. Use this opportunity to experiment with different veggies or swapping out sides for your meal (maybe noodles instead of rice?).
Leftover rice or sauce that is separated can also be frozen for up to 2-3 months. I wouldn't recommend freezing any cooked veggies that are mixed with sauce, though. Cook up a new batch when you've got the craving.
About the Author
Megan Sadd is the chef, photographer, and creator of Carrots & Flowers, an inspired vegan blog that is one of the top plant-based cooking resources on Facebook. Megan went from behind the camera as a producer of some of cable television's most popular shows to the front lines of the vegan cooking world.
Megan launched Carrots & Flowers in 2015 to help new vegans make a smoother transition to plant-based eating. Her fun, quick, and easy video tutorials had fans begging for more. Megan's work has been featured in magazines such as Thrive, Vegan Life, Huffington Post, Buzzfeed, Best of Vegan, and others.
She lives in Los Angeles with her husband, daughter, and three cats enjoying life to its fullest and dreaming of vegan cheese.
An Ode to This Stir Fry Tofu With Peanut Sauce
Dear Megan Sadd,
I just want to add
that you've made me so glad
and I adore your recipe that is incredibly rad.
I apologize more than a tad,
for this poem is especially bad.
I hope you won't be mad.
My brain shared the only words that it had.
Other Peanutty Recipes and Saucy Stir Fries to Try: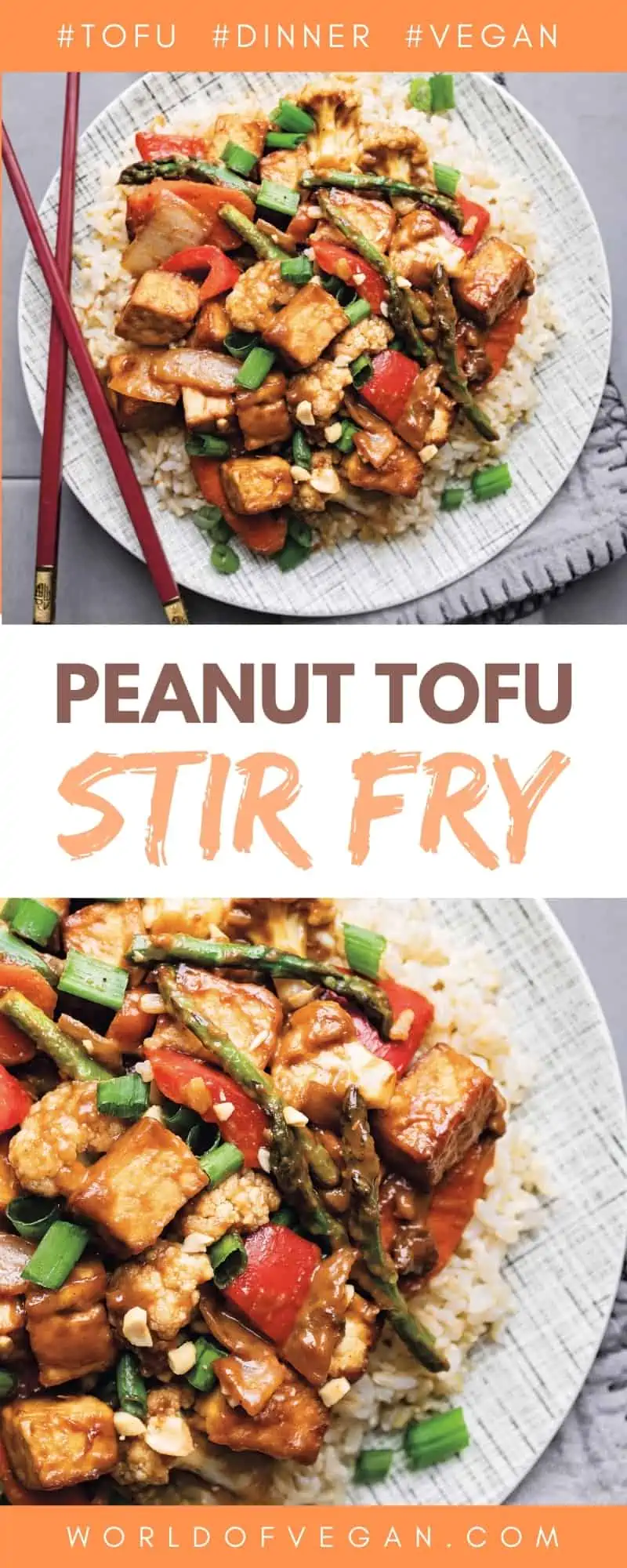 This recipe for The Best Damn Peanut Stir Fry was reprinted with permission from the Vegan YUM cookbook by Megan Sadd (Page Street Publishing Co. December 2020). Photo credit: Megan Sadd. Article by Gina House and edited by Amanda Meth for World of Vegan. Please note that this article contains affiliate links that help support our work at World of Vegan!