Just a few years ago there was only one notable vegan subscription box. It was called the Vegan Cuts Snack Box. But as with all other things in the vegan world, the vegan subscription box market has expanded at an explosive rate.
Today it's hard to keep track of all the options out there—and that's where we come in! We've compiled a list of the best vegan subscription boxes we could find, with a description of each, the price, photos, and for those we've tried out, our opinion about whether or not it's worth your dough.
A vegan subscription box is right for you if…
You want to treat yourself to an occasional surprise and explore new things in the vegan world to find out what you love, and what you don't. And they're perfect if you want to send a fantastic vegan gift to a friend!
Subscription boxes can be a great way to discover new vegan-friendly companies and try new products without paying full-price. And—even more excitingly—without having to scrutinize labels. Plus, it's an easy way to treat yourself to a gift that will be waiting for you on your doorstep after a long day at work.
Benefits of Subscription Boxes
Get an exciting surprise gift delivered to your doorstep
Save money (you'll get to try products at a small fraction of the full retail price)
Discover new vegan brands you adore
Share with friends when you receive items you don't personally love
Support a small business (many of these are small vegan-owned businesses)
You should not subscribe to a vegan subscription box if…
You're just looking to save money on snacks and products. While the value of almost every box is well above the cost of the box, that doesn't mean you'll save money by subscribing. You will often receive products that you don't need or that are not suited to your taste.
OK, now that we've covered the basics, let's jump into your options!
Types of Vegan Subscription Boxes
Subscription boxes come in every form, for almost any category of life imaginable. Looking to discover vegan beauty brands, animal-friendly lip balm, natural deodorant, and cruelty-free skincare? There are vegan beauty boxes galore! Prefer soy-wax candles, jewelry, and accessories? Go for a lifestyle box! There are boxes for yogis, spiritual junkies, wine lovers, and even dogs.
Here are just a few popular categories:
Food & Snacks
Lifestyle (home accents and accessories)
Produce & Farm Boxes
Wellness & Health
Fitness & Athletics
Yoga & Meditation
Crystals & Mindfulness
Companion Animals (pets)
Plants & Succulents
And the list goes on! In this article we're focusing on the most popular vegan-specific subscription boxes that are perfect gifting and self care. Treat yourself!
Vegan Food & Snack Boxes
This vegan subscription box is one of the most popular on the market. It was founded back in 2011 as one of the first of its kind, and is still going strong today. Vegan Cuts has a monthly snack box packed with ten or more vegan munchables, including salty snacks, sweet treats, beverages, teas, and other fun foodie favorites. The box includes a mix of sample and full-sized items.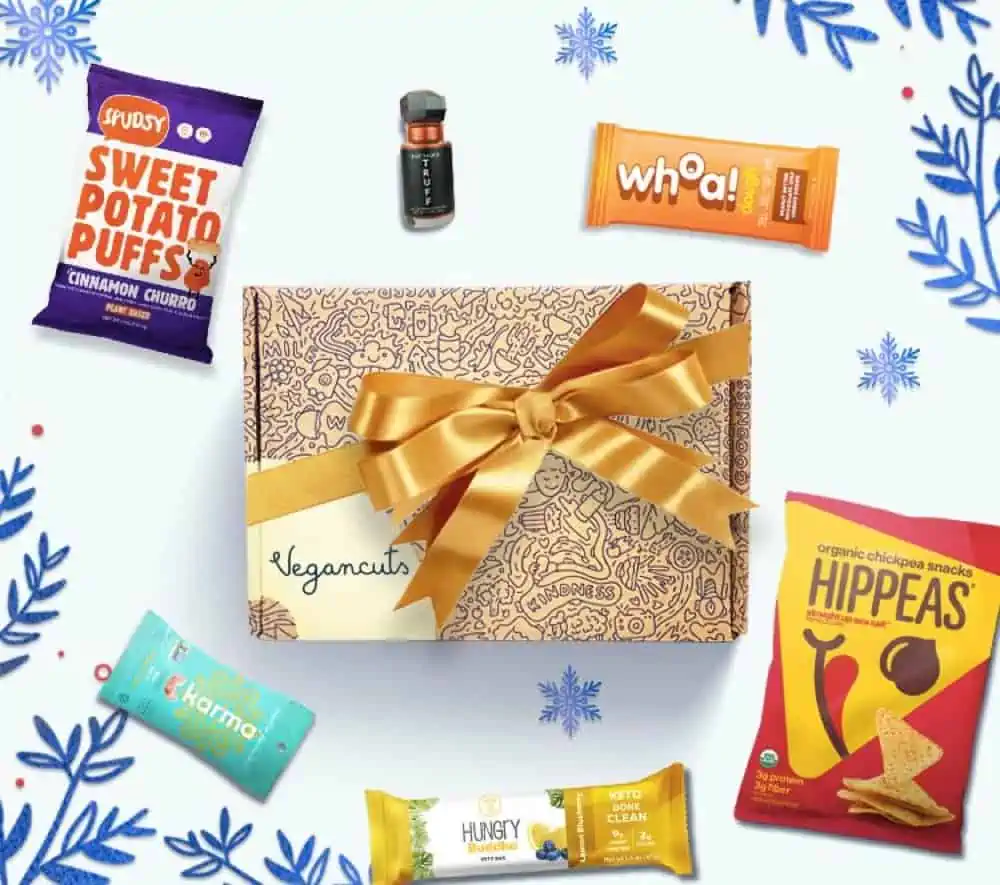 This UK based subscription box contains 6-7 items each month (primarily vegan snacks with other occasional cruelty-free lifestyle products woven in). We love that it's a fully vegan brand and filmed a little unboxing video to give you a peek inside one of the boxes (below)! It's very affordable and can even be shipped worldwide!
This Australian-based subscription box company is 100% vegan and each box contains a variety of 6 – 10 snacks, superfoods, skincare and eco-lifestyle products. Products come in a combination of full, travel, and sample sizes. $25 per box, and shipping is just $3 in Australia.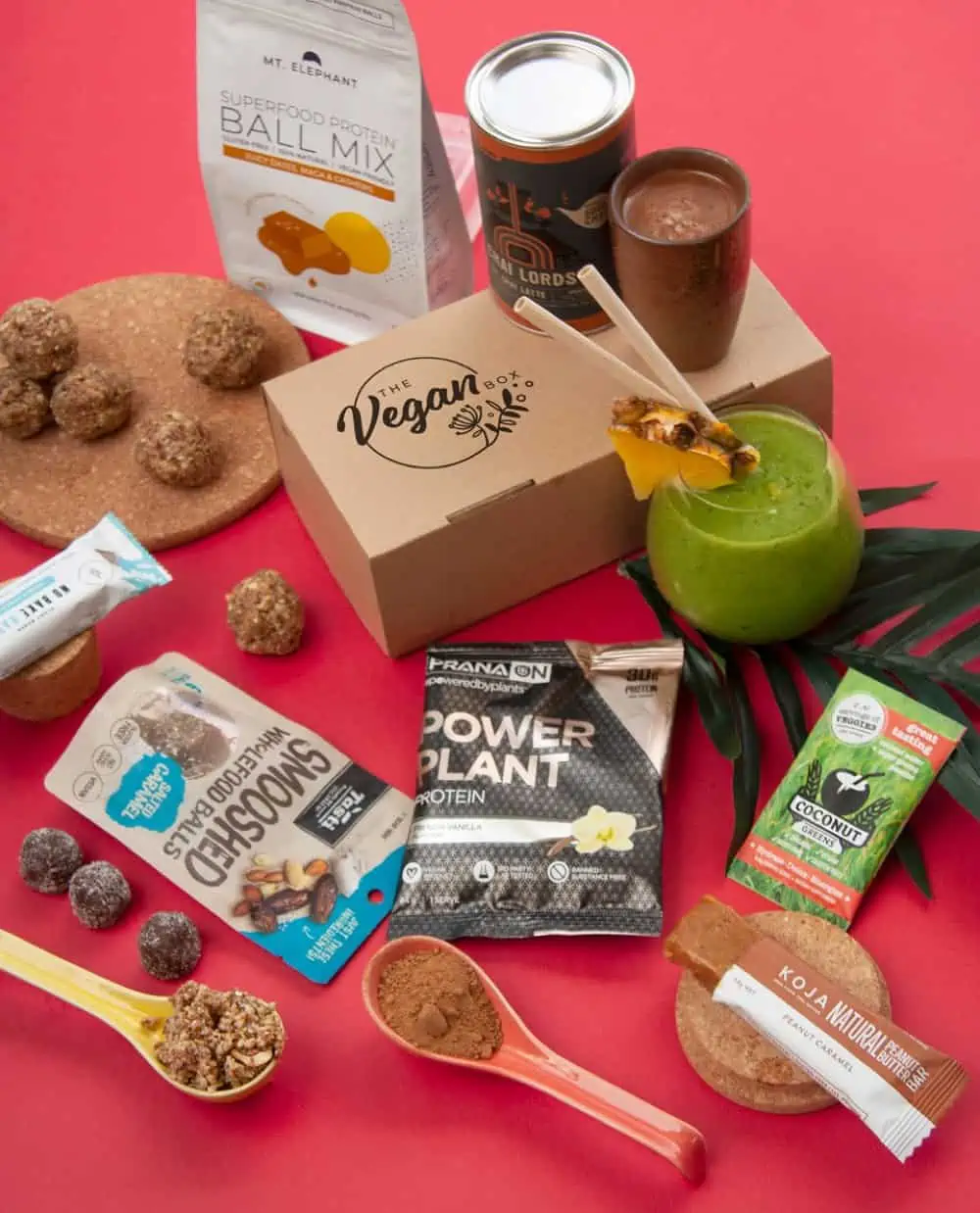 Vegan Beauty Boxes
This was one of the very first vegan beauty boxes, and is still one of the best known. Vegan Cuts beauty boxes are packed with between four and seven products—a mixture of full and sample sizes. The total value of the box will be at least $35, but typically it is far higher. They include products like lip balms, mascaras, moisturizers, face masks, and more. Free shipping in the US, additional cost to Canada and Worldwide.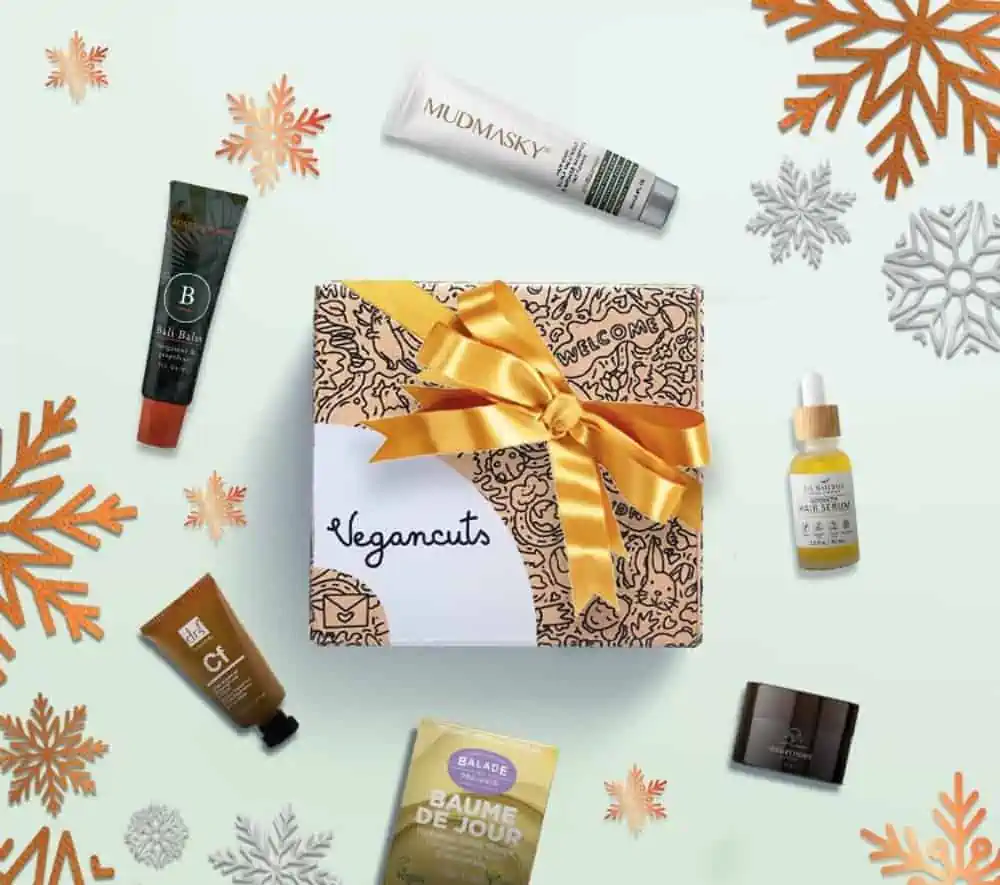 The Kinder Beauty Box is a newer box to hit the scene, and has quickly become of the the most popular boxes of all time. This box was founded by vegan actress Daniella Monet and Harry Potter star Evanna Lynch. Both passional vegan activists, these two unstoppable superheroes teamed up together to launch a box the delivers the most natural, health-conscious, cruelty-free, and always vegan beauty to your doorstep each month. It's been amazing watching this box take off!
Oh, how I love finding the bright pink Petit Vour box in my mailbox! Petit Vour is one of my favorite of all the boxes. It always seems to include at least one high-quality product that I wouldn't have bought on my own, but that I absolutely adore. The Petit Vour boxes include both samples and full-sized products—but even the samples within the box always feel substantial (not some flimsy one-use packet that feels like it was pulled out of a magazine). I've seen fragrances, hair care products, nail lacquers, eye shadows, body scrubs, and more in these boxes. It's one of the most affordable boxes out there. It's perfect for anyone who needs a good pampering and is willing to pay $15 a month for it. Two thumbs up! Free shipping in the U.S., $8 to Canada. Not available internationally.
The Vegan Box Bi-Monthly Beauty Box (Australia)
Natural, organic, cruelty-free skincare delivered to your door every other month in Australia! It's currently $49.45 per box.
Vegan Lifestyle Subscription Boxes
This vegan goddess box is always 100% vegan, created by the founders of Vegan Cuts. It's designed to awaken goddess within us, and is packed full of natural, spiritual goodies for the type who loves crystals, aromatherapy, slowing down, and leading a soulful and inspired life. This box includes 5 – 7 items each month with a total value of at least $80, and is a favorite of many!
One of the newbies on the market, Love Goodly is quickly gaining momentum because it's a really special box. What do I mean by special? It's thoughtfully curated to include items you're likely to cherish, including full-sized and deluxe sample items like pampering products, jewelry, snacks, and eco accessories. That's right—this box breaks the snack box / beauty box / lifestyle box divide, and combines them all in one! If you're only going to subscribe to just one box, this is a great option. Love Goodly boxes are delivered every other month, and subscribers are billed $39.95 every other month, with free shipping to the US (excludes AK and HI). The value is always $80+, which is twice the cost of the box!
Bombay & Cedar is a relatively new aromatherapy lifestyle box that is always 100% vegan and cruelty-free. The box includes elements of beauty, wellness, and general lifestyle goodness meant to pamper the body, mind, and soul. You can expect to receive 2 essential oils in each box plus 6 or 7 additional items such as diffusers, skincare, journals, home goods, and plant-based snacks. If you're an aromatherapy fan and need a little extra pampering in your life, this would be great for you if it fits within your budget!
All True (Previously CauseBox)
This is currently one of our favorite subscription boxes — but unfortunately it not 100% vegan. However, there is always a fully vegan option you can choose. The AllTrue subscription box is a cause and mission driven lifestyle box that features a range of products for the home, for the body, for your wardrobe, and even some technology gadgets and vegan leather bags. Many products featured in the box are artisan-made and involve some element of social good. It's a pricier box, but it only comes quarterly, and if you sign up for a year you can choose which items you want in your box each quarter, which is really fun. Many of my favorite things came from this box!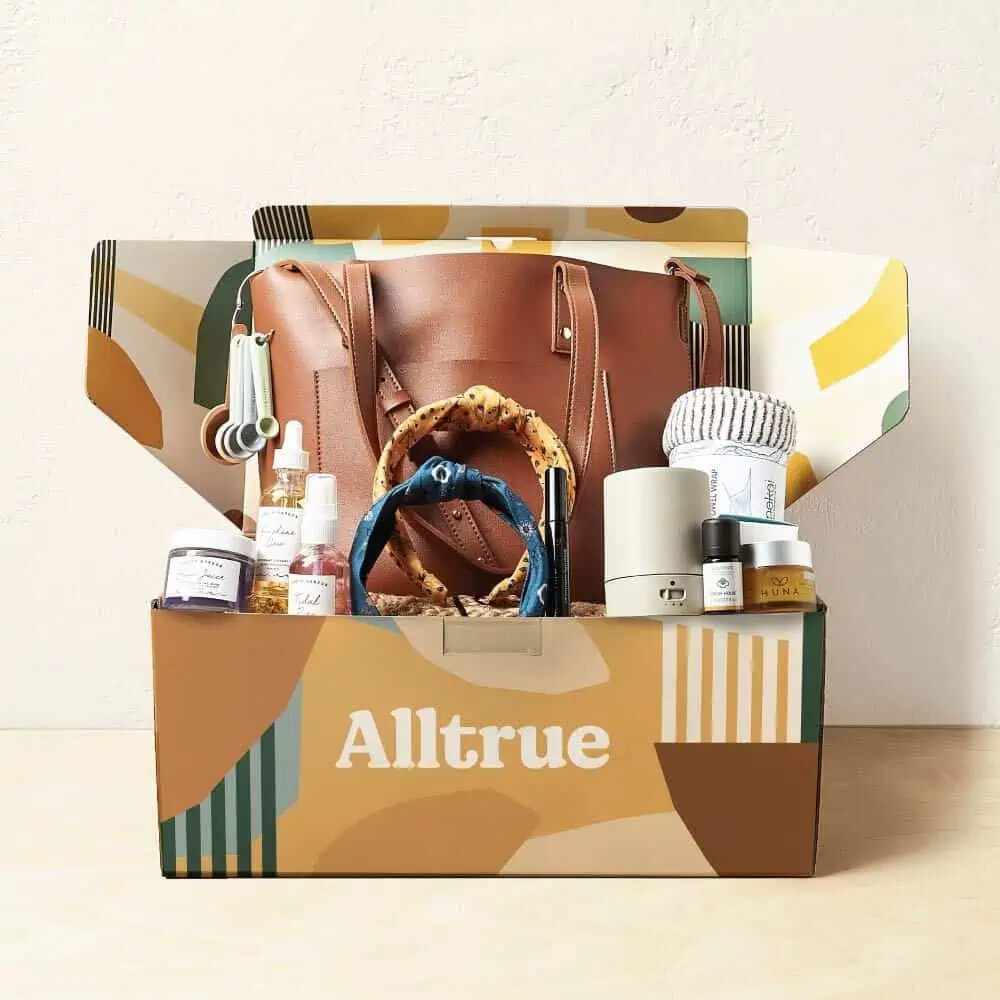 Vegan Kids Unboxing "The Vegan Kind" Subscription Box
In this fun video, sweet vegan kids unbox The Vegan Kind box and share the snacks they find inside—complete with a taste-test and honest review!
More Vegan Gift Ideas
If we missed any of your favorite vegan subscription boxes, you're welcome to share them in the comments below!