We are so excited to share with you this delicious and healthy version of the Texas Caviar. Warning! You might have a hard time not eating it all at once and It might (will!) become a regular in your regular appetizer spread. Ready to learn the ropes on how to prepare this healthy salsa?
Salsa, Dip, or Salad?
This colorful Texas caviar is full of "good for you" ingredients while being packed with protein and flavor, but what is this dish exactly? Is it a salsa or a dip? Or is it a salad? The answer is: all three! That's right, you can make it whatever you want it. Eat it alongside some tortilla chips and eat as a salsa, bean pico de gallo or dip, or as a side salad with some roasted potatoes. This Texas caviar is so good you can eat with anything!
Why You Should Make Vegan Texas Caviar
Texas caviar is a dream for those who are gluten-free or just absolutely love beans! Our recipe features black and pinto beans but other variations can include black-eyed peas. This caviar is super simple to throw together and is perfect for a party, light dinner, lunch, or appetizer. You can also make it more or less spicy depending on your taste and substitute other ingredients as you see fit with minimal preparation.
Fun Facts About Vegan Texas Caviar
Texas caviar was invented in the state of Texas by a native New Yorker named Helen Corbitt around the year 1940.
Helen Corbitt first served the dish on New Year's Eve at the Houston Country Club when she was the director of food service for Neiman Marcus in Dallas, Texas.
It has also been called "cowboy caviar" due to its Texan roots.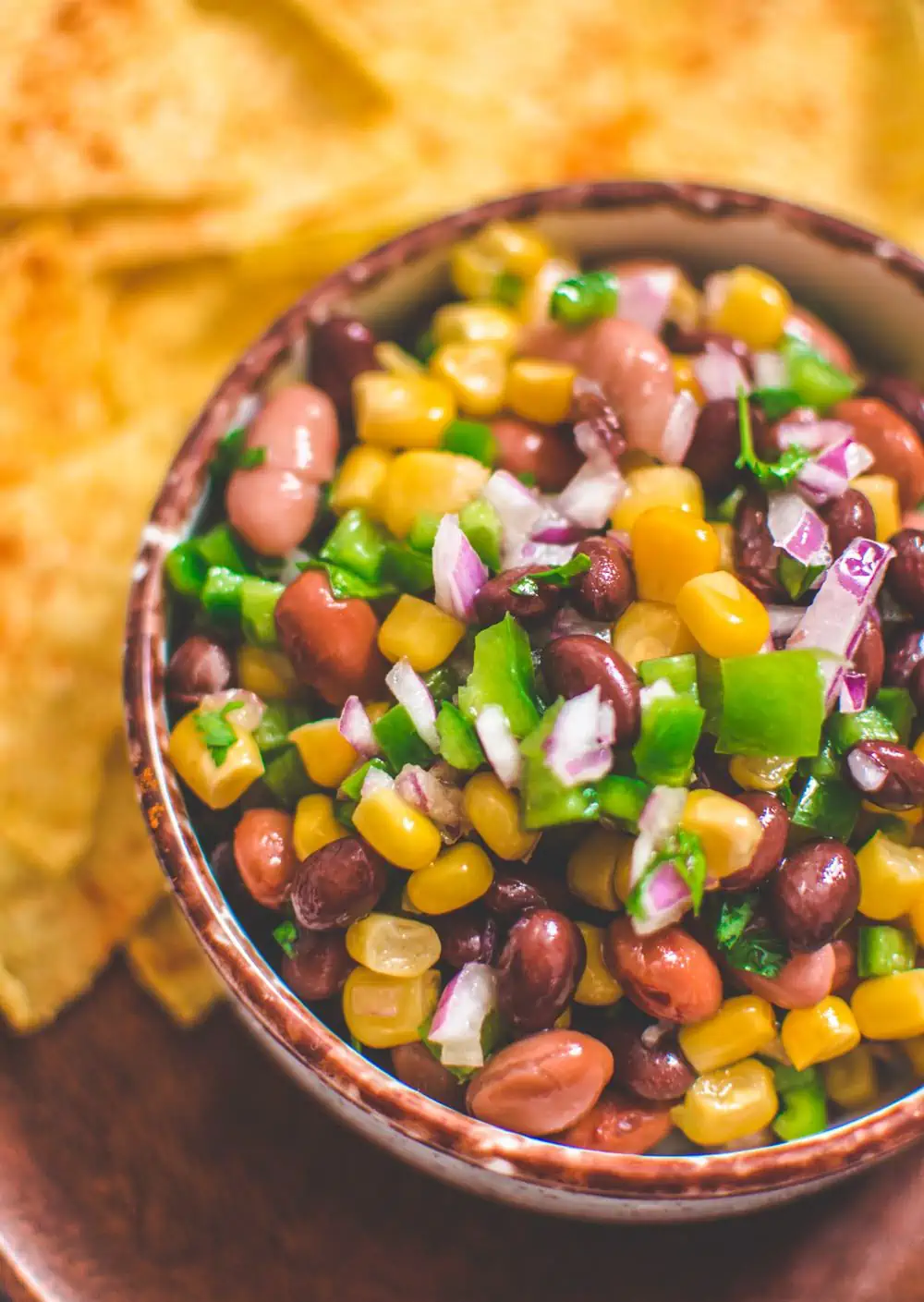 Star Ingredients
Protein-packed, gluten-free, and full of fresh veggies and beans—this Texas caviar features a stacked lineup of nutrient-dense and flavorful ingredients.
Bad to the Bean – The true star of Texas caviar is the beans! Both pinto and black beans are rich in protein, fiber, and antioxidants—though pinto beans contain a slightly higher carbohydrate and fat content.
Southern Bell Pepper – Beautiful bell peppers come in a variety of shades offering slightly different flavor profiles. Want a sweeter crunch? Go with red, yello, or orange peppers. Sticking to a more savory salad? Green it is! All bell peppers offer a high dose of vitamins, minerals, fiber, and antioxidants. Yee-haw!
Cute Corn – Yes, corn is cute! With its bright yellow kernels and sweet taste, corn is a great complement to the peppers, beans, and spices of this caviar.
Simple Cilantro – Alright, so we understand that not everybody likes cilantro, but for those that do, you're in for a treat! This fragrant herb adds heaps of flavor to any dish and contains a hefty load of antioxidants, too. Plus, it's just beautiful!
Can I Use Any Kind of Bean?
Absolutely! You can use any beans you have on hand like pinto beans, chickpeas, black beans, or white beans. You add or substitute anything you want and will end up with a super delicious vegan caviar.
How to Serve Up Your Vegan Texas Caviar
Enjoying your vegan Texas caviar couldn't be easier. It's delicious on its own but if you're looking to make a fuller meal out of it, you've got plenty of amazing options.
Build a Bowl – Balance out your beans with some rice or potatoes and have yourself a delicious meal! Don't forget the guac!
Taco Time – Grab or make some fresh tortillas and toss some Texas caviar inside for an easy munch. Be sure to melt some vegan cheese onto your tortilla to take it to the next level!
Add Some Appetizers – If you're having a party, why not turn it into a Texan feast with some vegan jalapeño poppers and non-dairy buffalo queso to enjoy alongside your caviar? Grab a bag of chips and you'll be good to go!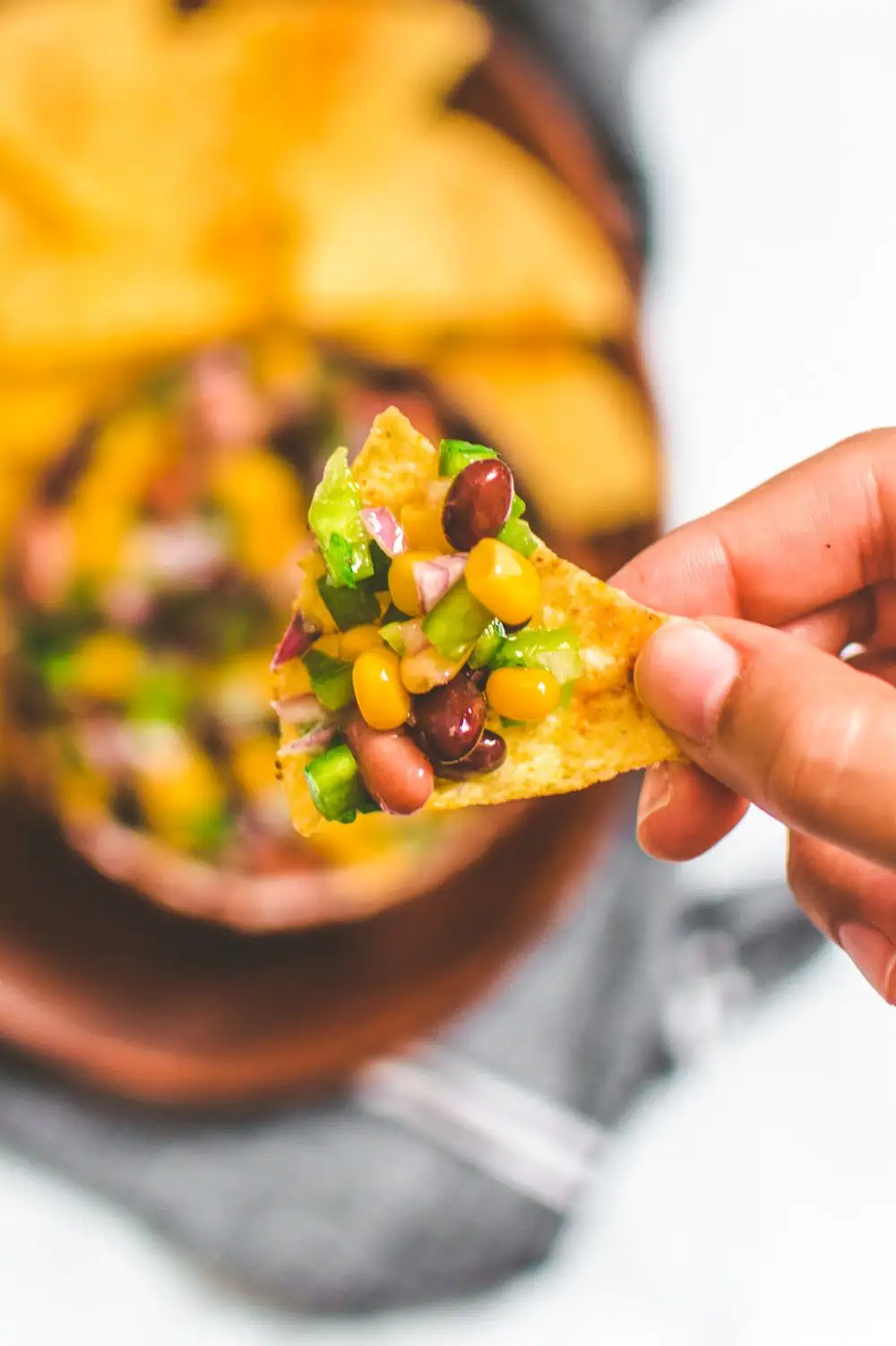 Crafting Your Caviar
All you need to put together your Texas caviar are your ingredients, a bowl, and a spoon or tongs to mix everything together! If you're partial to one ingredient over another, feel free to add more or less of something. Not on Team Cilantro? No worries! Sub out for parsley or leave it out altogether.
How Long Does Vegan Texas Caviar Keep For?
Good news! You can keep your caviar in your refrigerator for up to three to four days if you store it in an airtight container. You can make this the night before you plan to serve it and it will taste even better.
Are you dying to try this fresh and colorful recipe?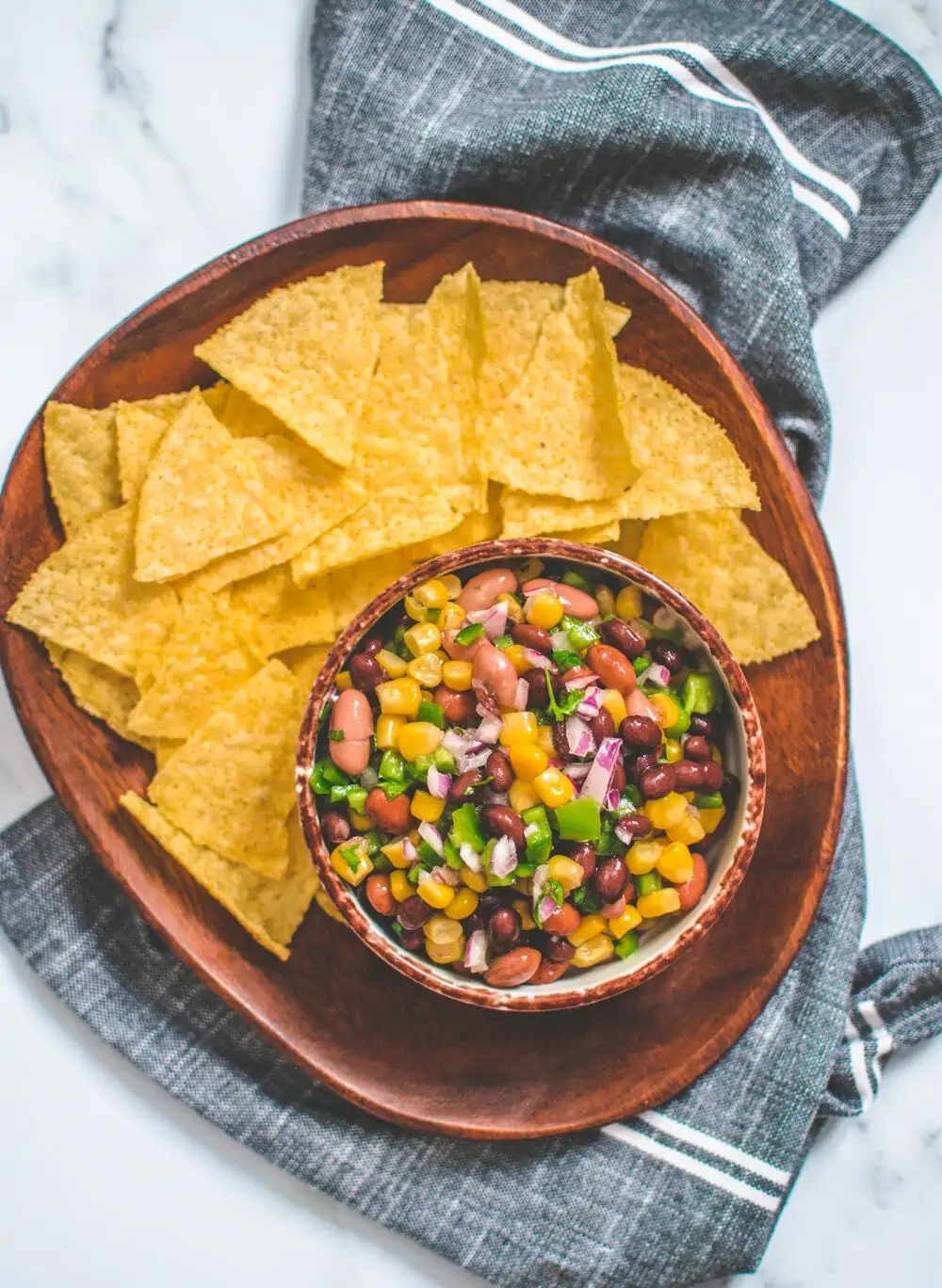 Equipment You'll Need
No need to have a Texas-sized cabinet of appliances to make this vegan caviar! Here's a list of just four simple gadgets recommended for making this dish.
More Awesome Appetizers to Try
If you try this Vegan Texas Caviar recipe, let us know what you think by leaving a comment and rating below! Be sure to follow along on Pinterest, Instagram and Facebook for even more vegan recipe inspiration.
2 cans black beans, rinsed and drained
2 cans pinto beans, rinsed and drained
2 cans white corn, rinsed and drained
1 green bell pepper, cored, seeded, and finely chopped
1 small red onion or half a large red onion, finely chopped
½ bunch cilantro leaves, finely chopped
½ cup rice vinegar
½ cup olive oil
⅓ cup white sugar
½ teaspoon garlic powder
Mix the black beans, pinto beans, white corn, green pepper, red onion, and cilantro together in a large bowl.

With a wire whisk, mix the rice vinegar, olive oil, sugar, and garlic powder in a bowl. Mix well to ensure that the sugar dissolves. Pour onto the bean mixture and mix it all together.

Chill in the refrigerator for 15 minutes to allow flavors to blend.
If you'd like a little more spice, feel free to add some chopped jalapeño!
Calories: 493kcal | Carbohydrates: 51g | Protein: 12g | Fat: 28g | Saturated Fat: 4g | Polyunsaturated Fat: 3g | Monounsaturated Fat: 20g | Sodium: 5mg | Potassium: 550mg | Fiber: 12g | Sugar: 19g | Vitamin A: 186IU | Vitamin C: 26mg | Calcium: 47mg | Iron: 3mg
Vegan Texas Caviar recipe by Kara Maria Schunk. Photos by Zhoro Apostolov for World of Vegan. Recipe and photographs copyright of World of Vegan™, all rights reserved. Article written by Kara Schunk and edited by Amanda Meth.