Looking for a great vegan bakery where you can order awesome vegan desserts, cookies, cakes, cupcakes, pies, donuts, muffins, cinnamon rolls, and more? Welcome to our guide featuring the best online vegan bakers who can ship to your door. Many of these vegan bakeries offer gluten-free, soy-free, nut-free, sugar-free, and allergen-free options.
Can we agree that baked gifts are the best vegan gifts? We are so lucky to be living in a time of talented vegan bakers who wish to share their tasty treats with us! From cookies and cakes to brownies and bundts, there are dozens of delicious delicacies to satisfy every sweet tooth. And guess what? They can be shipped to your doorstep (or a friend's) so you don't even need to leave the couch.
We are blown away by the sheer number of sensational vegan bakeries that exist online. Not only do the shops sell the most delectable desserts and super cute sweets, but they also feature freshly baked breads, rolls, and even appetizers. We love how each vegan bakery-style is unique with oodles of options!
How Do I Find A Vegan Bakery Near Me?
There are local vegan bakeries sprouting up all around the world—in almost every major city you can find a very vegan-friendly bakery, if not an exclusively vegan bakery (or several)!
If you travel to one of the hottest vegan cities like New York, San Francisco, Austin, Chicago, Seattle, Cleveland, Berkeley, Oakland, London, or Chile, you'll have more vegan bakeries nearby than you can fit in a weekend.
We love the Happy Cow phone app which is similar to Yelp but specifically geared toward vegan and vegan-friendly establishments. If you're traveling—or just looking for the best local vegan bakeries or eateries near you—Happy Cow can point you to them.
In fact, when you pull up this handy app on your phone, it will show you all the closest vegan hotspots, the exact distance from you, star ratings and reviews, and you can even pull up a map with directions to get there.
There are also several mainstream chains that offer vegan baked goods, such as Whole Foods Market. Whole Foods has custom made vegan cakes you can order for any celebration, as well as cupcakes, and often cookies, doughnuts, puddings, and beyond.
The Best Vegan Bakeries
Tens of thousands of people are searching for a "vegan bakery near me" or "vegan desserts near me" every month. Let's celebrate the best vegan bakeries and vegan bakers meeting these needs and serving plant-based treats to the people!
Below you'll find a lengthy list that will help you choose the best vegan bakery for your needs. They all offer nationwide shipping and home delivery! We've included the location, just in case you're able to visit or pick up in person. Select shops also offer specialty services or personalization on their cookies or cakes.
Just beware that you may end up buying a bunch of gourmet goodies for yourself!
Have you ordered vegan baked goods online from any of the bakeries listed above (or others not listed)? Let us know what you loved (or what you didn't)! Did we miss your favorite vegan bakery? We invite you to share in the comments below.
Author's Pick: My choice for gifts is a box of beautifully packaged vegan cookies from Fat Badger Bakery! My choice for a treat for myself is a sinful square of dark chocolate fudgey brownie chock full of walnuts from Coco Luv Cookies…droooool. The vegan donuts from Karma Baker are also divine, and they travel beautifully in the mail! (Must stop writing so I can order these asap!)
Store-Bought Vegan Cookies, Cakes, Cupcakes & More
The passionate vegan bakeries above are all phenomenal small businesses worthy of support, but let's face it, sometimes we just want to swing by our local grocery store and pick up some vegan cupcakes or a last-minute vegan birthday cake. If you don't have time to place an order in advance and wait for delivery, here are some great brands and options you can find in stores!
Vegan-Friendly Bakeries List
This list is of bakeries that provide vegan options but keep in mind that not all of their baked goods are vegan.
Whether you're searching for the perfect treat for a treasured friend or trying to curb your own cookie cravings, these online vegan bakeries are the bomb! Just a couple of clicks brings your cupcakes one step closer and can (and must be!) purchased in your My Little Pony pajamas.
You're not only supporting small businesses but also making a conscious decision to choose vegan and cruelty-free desserts. Comment below and share your favorite online vegan bakeries or even just your experience shopping for sweets online. We'd love to know which decadent desserts bring you the most delight!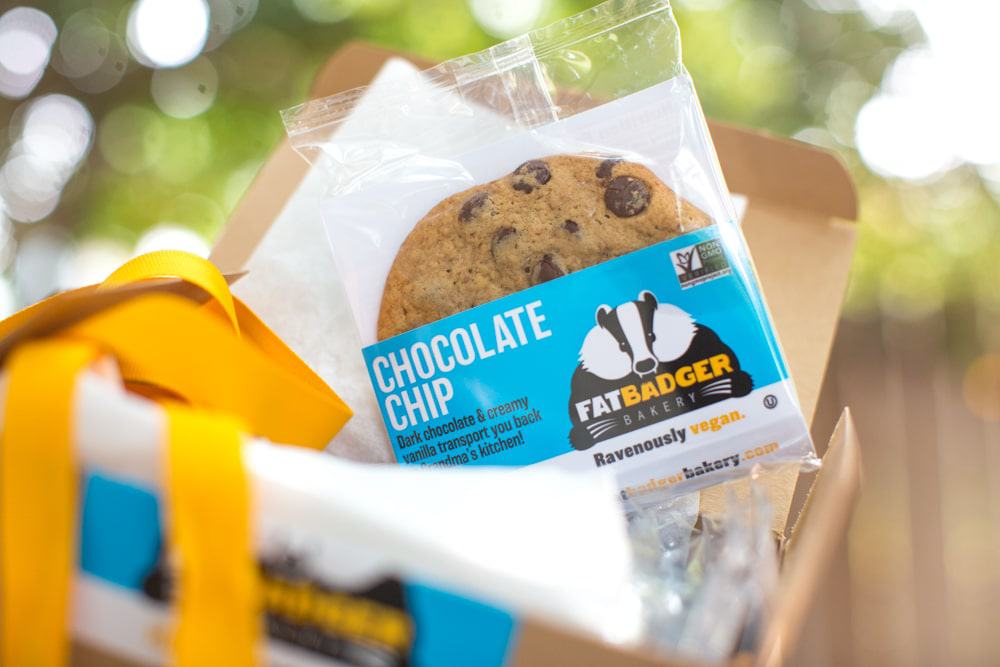 Best Reasons to Buy from Vegan Bakers & Bakeries
Last-Minute Vegan Gifts
Just found out about Erin's engagement or Jacob's new job promotion? Gifting a dozen congratulatory cupcakes is a fast and fantastic way to show your support.
Birthday Blunders & Last-Minute Vegan Birthday Cakes
Let's admit it. Sometimes we forget and we need a gift PRONTO! Vegan birthday cakes are not always the easiest to find locally—and you may not have time to bake a vegan cake from scratch—so online shops are a splendid solution.
Supporting Small Vegan Businesses
You're not only satisfying a serious cookie craving, but also helping to keep a small business alive. Let local vegan bakeries know that they're the best by supporting them through online orders.
Love Variety? Leave it to the Professional Vegan Bakers!
I'll be honest. I can make a nice vegan cookie, brownie or cupcake. Are they amazing? Yes. Do I enjoy them? Of course! But once in a while, I want a cookie that takes all of my cares away without the work—with enough gooey richness to cause a cookie coma for days to come. That, my friends, can only be gifted by a brilliant baker.
"Thinking of You" Thoughtfulness
Every now and then, it's kind to send a gift for no reason at all. Just a tiny token to say "I'm thinking of you." Rest assured your recipient will really appreciate your loving gesture.
The Holidays!
A gift of scrumptious sweets and perfect pastries is guaranteed to be a hit for any holiday. Not only will the person enjoy every bakery bite, it also helps to keep down the pile of not-so-perfect presents that might be headed to the charity shop.
You can also order baked goods for your own holiday celebrations! Whether you're shopping for Christmas, Hanukkah, Easter, Halloween, or any other occasion, vegan holiday cookies and treats are always a winner.
Too Busy to Bake from Scratch
Sure, you can probably bake your own cookies or cupcakes. Maybe even vegan doughnuts. But, let's face it, every so often we just can't be bothered. Once in a while, use your lazy laptop to select your sweets. (Impatiently waiting by the door and drooling until they arrive…)
Conscious Choice to Shop Vegan
To me, this is the best reason to buy from an online vegan bakery. Our actions tell the world, in a direct and serious way, how important this issue is to us. With our hearts and minds, we are choosing to 100% support those who care for animals and their welfare.
Frequently Asked Questions
Vegan Baked Good Recipes
If you've got the time and access to a kitchen, we highly recommend whipping up some of these delicious vegan desserts. These are a few of our favorite vegan baked good recipes!
Best Homemade Vegan Cookies
What's better than the sweet smell of fresh bakes cookies? Here are a few of our favorite recipes to try.
Pssst…are you a chocolate lover? Don't miss our vegan chocolate guide where you can find a list of vegan-friendly brands and the best vegan chocolate options for fellow chocoholics.
This Vegan Bakery guide was written by Gina House and Michelle Cehn, copyright of World of Vegan™. Photos featuring vegan bakeries were taken by Michelle Cehn. Please note that this article may contain affiliate links which supports our work at World of Vegan.