Move over banana bread, this vegan chocolate zucchini bread is ready to take over! This sweet bread is easy, relatively quick to make, and uses basic baking ingredients that you will likely already have in your pantry. It's so moist and tender, and you'll be amazed to know it's actually healthy. This recipe is dairy-free, egg-free, nut-free, plant-based, and delicious!
If you love banana bread, this is a fun way to switch things up, sneak in some greens, and get your chocolate fix… What's not to love?
Why You'll Love This Vegan Chocolate Zucchini Bread Recipe
If you've never had zucchini bread and you're skeptical about it, this healthy chocolate zucchini bread will definitely change your mind.
For those who aren't so sure, this zucchini bread does not actually taste like vegetables. Zucchini is naturally sweet and very mild in flavor, so it just adds volume, a touch of sweetness, and a little bit of texture. Plus, the chocolate from the cocoa powder and from the delicious chocolate chips really makes any veggie flavor from the zucchini disappear. 
If that's not enough to convince you, here are more reasons to love this chocolate zucchini bread:
Relatively healthy. If you love your sweets but try to steer clear of junk food, this recipe is relatively healthy compared to other treats. While we wouldn't call this recipe a "health food" just because it has zucchini in it, it does have some surprising health benefits. Zucchini is extremely low in calories and is rich in minerals such as calcium, iron, magnesium, and potassium.
Great for chocolate lovers. This vegan zucchini bread is moist, sweet, cakey, and oh-so-chocolaty. The double chocolate flavor with the added chocolate chips is so perfect.
It contains vitamins and antioxidants. It also contains vitamin A, vitamin C, vitamin K, folic acid, and antioxidants! It's also not the type of dessert that is overly sweet, so if you love just that perfect bit of sweetness that's not overpowering, this is the treat for you. 
Essential Ingredients
Flour: Use all-purpose flour that's best for a neutral flavor.
Cocoa powder: This superfood is extremely healthy and is one of the top antioxidant-rich foods on the planet! It provides iron, and it's a rich source of magnesium too.
Flaxseeds: Grind flaxseeds and water to make a vegan egg substitute. It works amazingly well in this recipe and lots of other baking recipes.
Brown sugar: This adds a hint of molasses flavor. If you like, you can substitute coconut sugar which is lower on the glycemic index.
Vegan butter: This add moisture and a rich, buttery taste. If you don't want to use vegan butter, substitute melted refined coconut oil instead.
Unsweetened, non-dairy milk: You can choose any type of plant-based milk here: soy, oat, almond, or cashew. Just make sure sure it's unsweetened and plain so you don't introduce any other unwanted or clashing flavor into the bread.
Vanilla Extract: This fragrant, dark liquid is made by steeping vanilla beans in an alcohol solution to extract its flavor. It has a sweet and floral fragrance with a caramel-like taste.
Grated Zucchini: This neutral-tasting vegetable is rich in antioxidants and contains lutein, which has anti-inflammatory properties.
Dairy-free mini chocolate chips: Yes please! Check out our Vegan Chocolate Chips guide for tips on how to select and even make your own vegan chocolate chips.
Ingredient Swaps
Raw Cacao Powder: In this recipe, we use cocoa powder which is your standard cocoa used for baking. However, if you want to maximize the nutritional potential of this recipe, you can use raw cacao powder which is minimally processed and retains the highest amount of nutrients in comparison to baking cocoa. But you can certainly use either and they will be both yields the same delicious result!
Coconut Oil: This recipe is very easy and can be tweaked to your liking. Feel free to use refined coconut oil if you prefer instead of vegan butter. Just ensure that either option is melted so that it combines easily with the batter.
Coconut Sugar: You are also welcome to substitute coconut sugar for brown sugar. It will create the same final result but it is a bit of a healthier option and amazing for those who need to watch their blood sugar levels. Coconut sugar is lower on the glycemic index than regular brown sugar, and it has a nice variety of minerals.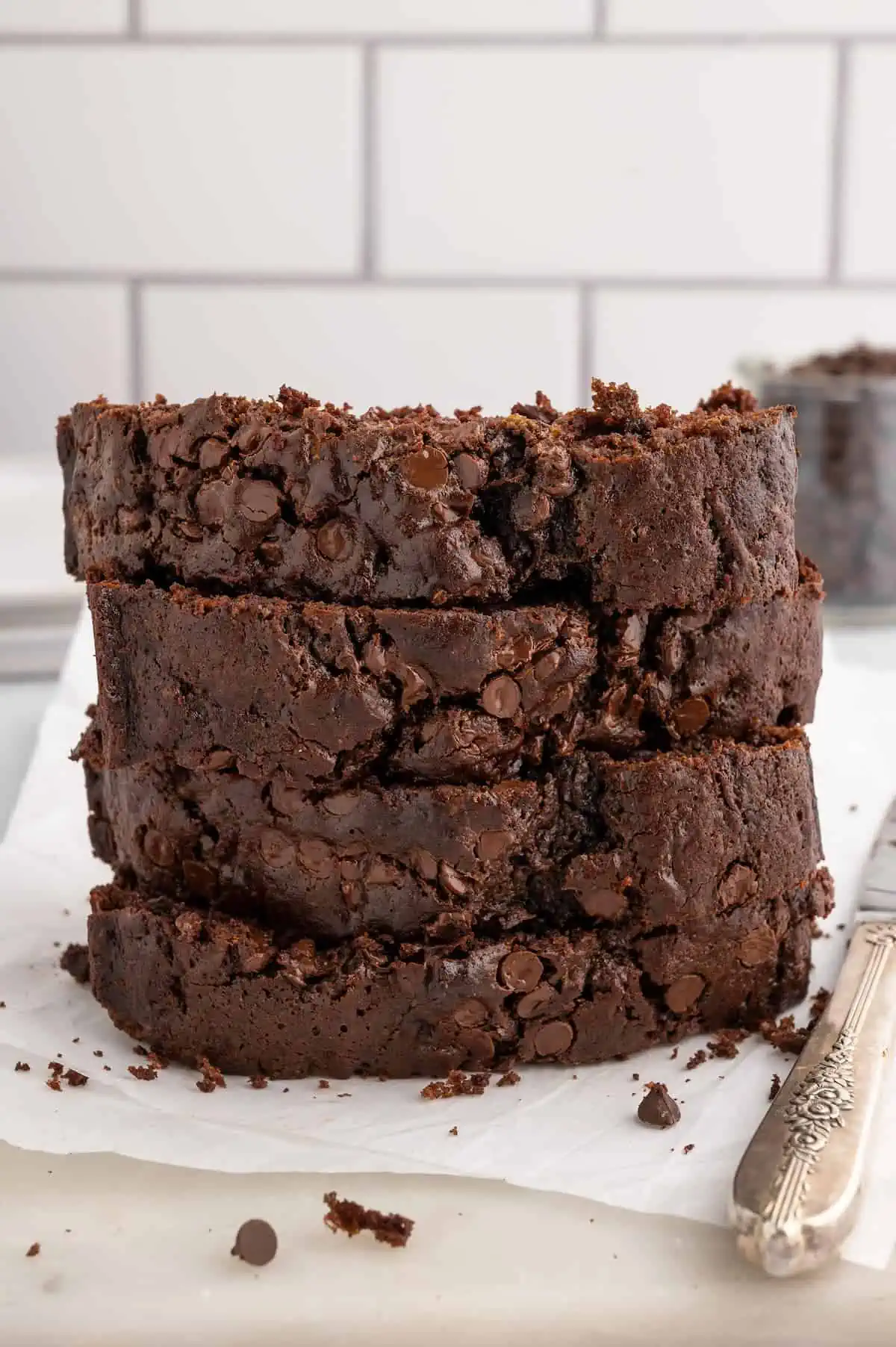 How To Make This Healthy Chocolate Zucchini Bread
This sweet bread is very easy to make. Grab a box grater and have fun with this recipe!
Make Your Batter
Step One: Combine the sifted flour, cocoa powder, baking soda, and salt together in a large bowl.
Step Two: To make your vegan "egg", whisk together the ground flax and water to a small bowl. Set it aside to thicken.
Step Three: In another separate medium bowl, combine the sugar, butter, milk, and vanilla. Add the flax mixture and stir to combine. Combine the wet and the dry ingredients together.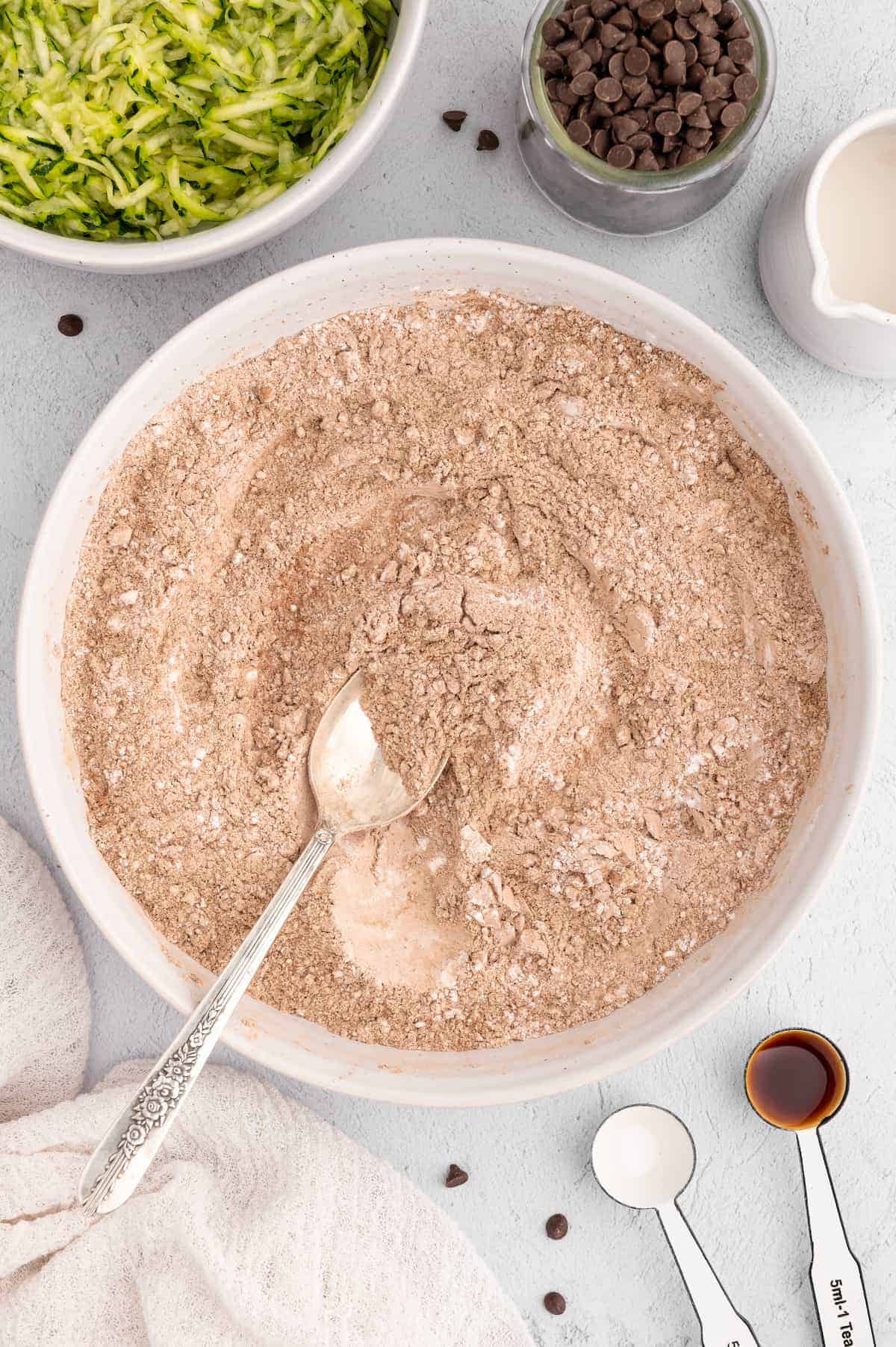 Add To Your Batter
Step Four: Fold the chocolate chips and the zucchini into your batter.
Bake Your Bread
Step Five: Transfer the batter to a loaf pan. Bake for 50 minutes. It's done when a toothpick inserted into the center of the loaf comes out clean.
Once baked, allow the loaf to cool. Remove it from the pan. Slice, serve, and enjoy!
Let The Little Ones Join In Making This Recipe!
This is a really fun recipe to make with kids, especially if your kids (or nieces or nephews) love being involved in the kitchen. Because this recipe is so easy, they can get hands-on and help with all of the baking. They'll have fun and feel like pros!
Since this recipe has a healthy dose of veggies, it's a great way to sneak in healthy vegetables for the kids, especially if you have picky eaters. This is a great opportunity to show kids how they can make really fun recipes with veggies.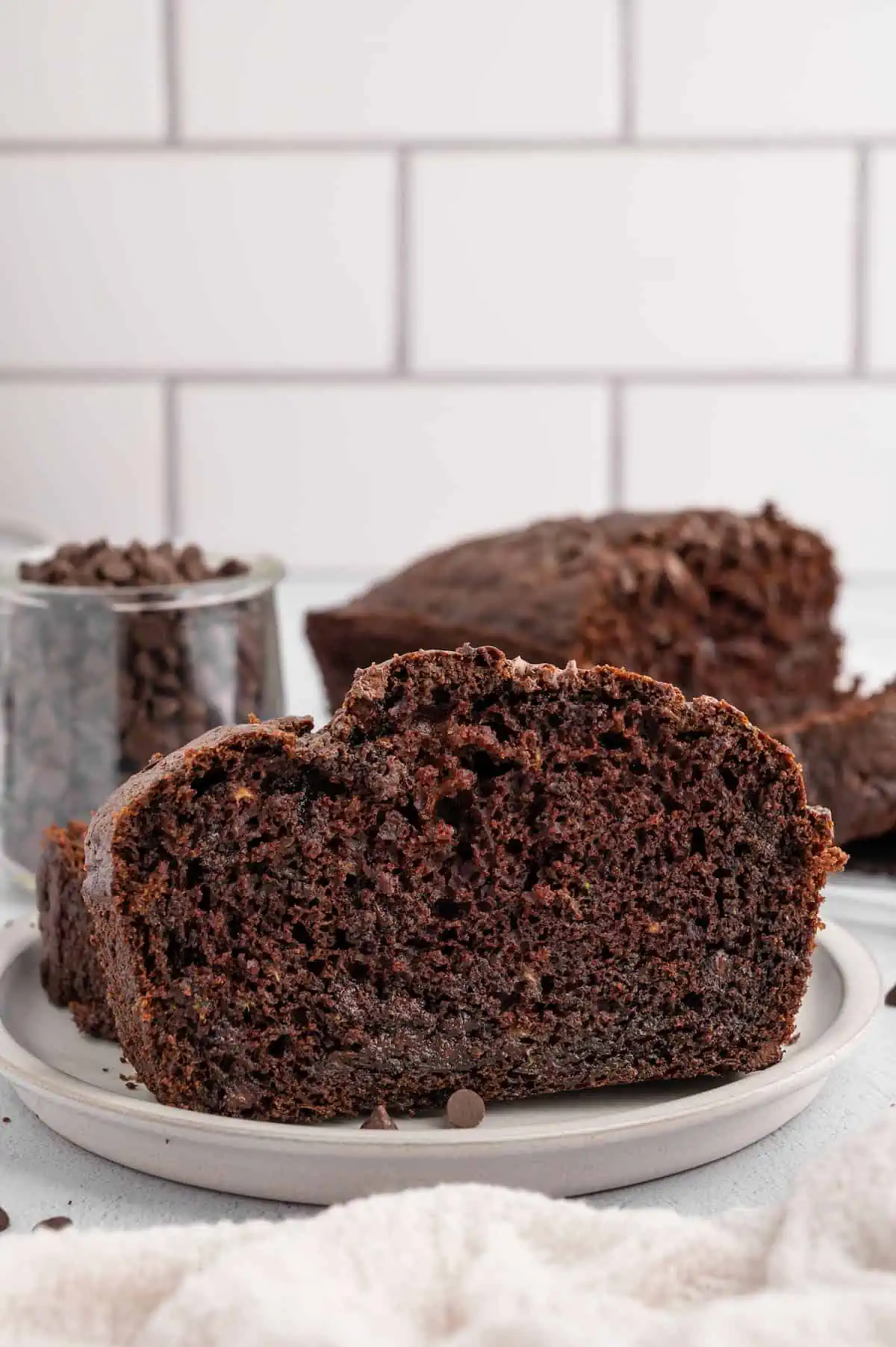 Storage Tips
This chocolate zucchini bread stores well at room temperature in an airtight container for up to a few days or in the refrigerator for up to a week.
You can also freeze this recipe! Cut the bread into slices before freezing which allows you to easily thaw them out for snacks, lunches, dessert, and beyond.
FAQs
Do you peel zucchini before grating it for zucchini bread?
There is no need to peel the zucchini in this recipe. The skin contains lots of healthy vitamins and minerals! Zucchini skin is thin and it will soften during the baking process. We use a box grater and grate the zucchini on the side with the large holes. No need to press out any moisture, as this is what's going to make this bread moist and delicious!
Can I use a different-sized pan for this recipe?
In this recipe, we use an 8.5″ x 4.5″ loaf pan. If you don't have this size pan, don't fret. You can use another pan that is very similar in size, or even split it up between 2 mini baking pans and just adjust for the cooking time. Another nice option for this recipe is to turn the batter into muffins instead of a loaf. Whatever variation you choose, check on the oven frequently. When you think it's done, insert a toothpick into the middle. When it comes out clean, the bread is done! 
My batter looks thick, is that okay?
The batter for this recipe is on the thicker side, so make sure to carefully combine the liquid and the dry ingredients well, without over mixing. Do your best to ensure minimal clumps if you can. We don't suggest adding any extra liquid because it can make the loaf quite dense. This recipe is perfectly fluffy, cake-y, and moist, and comes out amazing as is! So don't be tempted to change it because the batter is slightly thick. 
What are the health benefits of magnesium?
This chocolate chip zucchini bread is a good source of magnesium. This mineral is required for hundreds of chemical processes in the body. It is critical for muscle function, relaxation, cognitive function, digestion, and so much more. These days, soil can be extremely depleted in essential minerals such as magnesium. You could eat tons of healthy plant foods but you might not be getting as much nutrients that you need due to declining levels of it in our soil. We could all use a little more magnesium in our diets and chocolate is a delicious way to get more of it!
More Recipes To Explore The World Of Vegan Baking
Hungry for more vegan baking tips and recipe ideas? These recipes and tips will ensure you create the most delicious and easy vegan baked goods that will delight everyone. Jump right in to an enjoy the all the things that vegan baking has to offer!
1¼ cup all-purpose flour
⅓ cup cocoa powder
1 teaspoon baking soda
1 pinch salt
2 tablespoons flax meal, + 6 tablespoons water
¾ cup brown sugar, or coconut sugar
½ cup vegan butter, or coconut oil, melted
¼ cup non-dairy milk, unsweetened
1 teaspoon vanilla extract
1⅓ cups grated zucchini
⅔ cup mini chocolate chips
Preheat your oven to 350 degrees F. Line an 8.5″ x 4.5″ loaf pan.

In a large bowl, sift together the flour, cocoa powder, baking soda, and salt. Whisk together and set aside.

Add the ground flax and water to a small bowl and whisk together until combined. Set aside and allow the mixture to thicken.

In another separate medium bowl, mix together the sugar, butter, milk, and vanilla until well combined. Add the flax mixture and mix again.

Combine the wet and the dry ingredients. Fold in the chocolate chips and the zucchini.

Transfer the batter to the baking pan and bake for 50 minutes, or until a toothpick inserted into the center of the loaf comes out clean.

Cool the loaf before removing it from the pan. Slice, serve, and enjoy!
Calories: 286kcal | Carbohydrates: 41g | Protein: 3g | Fat: 13g | Saturated Fat: 4g | Polyunsaturated Fat: 3g | Monounsaturated Fat: 4g | Trans Fat: 2g | Sodium: 234mg | Potassium: 104mg | Fiber: 1g | Sugar: 27g | Vitamin A: 84IU | Vitamin C: 3mg | Calcium: 49mg | Iron: 1mg
Thanks to our amazing recipe tester Janet Cooper for testing out this recipe! Photos by Amanda McGillicuddy for World of Vegan, all rights reserved.