Slurping up spicy noodles from a takeout box is always fun on a Friday night, right? But, when you're searching for an extra special designation for Asian-style dining, where can you go? Our PF Chang's vegan restaurant guide will be your go-to for the most gratifying, plant-based grub—conveniently delicious and distant from the couch.
Many people wonder if there are any vegan options at all and if it's worthwhile to wander in for lunch or dinner. Although there could be more on the menu that's vegan-friendly, we're happy to share that you won't be wasting your time. There are quite a few choices for appetizers, entrees, fun beverages, and sides with only a delicious dessert lacking.
Ready to read more before you're too ravenously hungry?
How To Order Vegan at PF Chang's
While ordering vegan at P.F. Chang's will take a little extra attention and some substitution requests, you can absolute get a delicious, filling meal or even fill the table with vegan Chinese food. If you're looking for vegan food at restaurants near you, this is a solid option. And we know exactly how to make your dining experience stress-free and satisfying!
Just follow these steps and you'll soon be on your way to a mouthwatering meal.
Accept All Appetizers – Since all of the appetizers sounding so amazingly tasty, throw caution to the wind and treat yourself to the trio. Enjoyed with extra rice and steamed veggies, they will make a fantastic mini feast.
Muse Over Main Entrees – All three main meals have been highly recommended. Our advice is to have all three and share with everyone at the table. Then, there's plenty of leftovers to take home, too. Win, win!
Select Your Sides – Choose from two kinds of rice and veggies to round out your meal and add more fiber and nutrients.
Decision-less Dessert – Fresh fruit only, no deciding necessary.
Bring On the Beverages – If fruit didn't fulfill your sweet tooth and you're tempted by the non-vegan desserts, why not order a a couple of cool drinks to end your meal? There are four Refreshers on the menu and they all sound super tasty.
A Note About Soups: Even though it would seem like soups without meat would be a great choice, it's easy to forget that the broths are almost always animal-based (chicken, pork, or beef). Ask if they offer a vegetable or miso broth for any of their soup options, as a last resort. At the moment, this does not seem to be a vegan option at PF Chang's.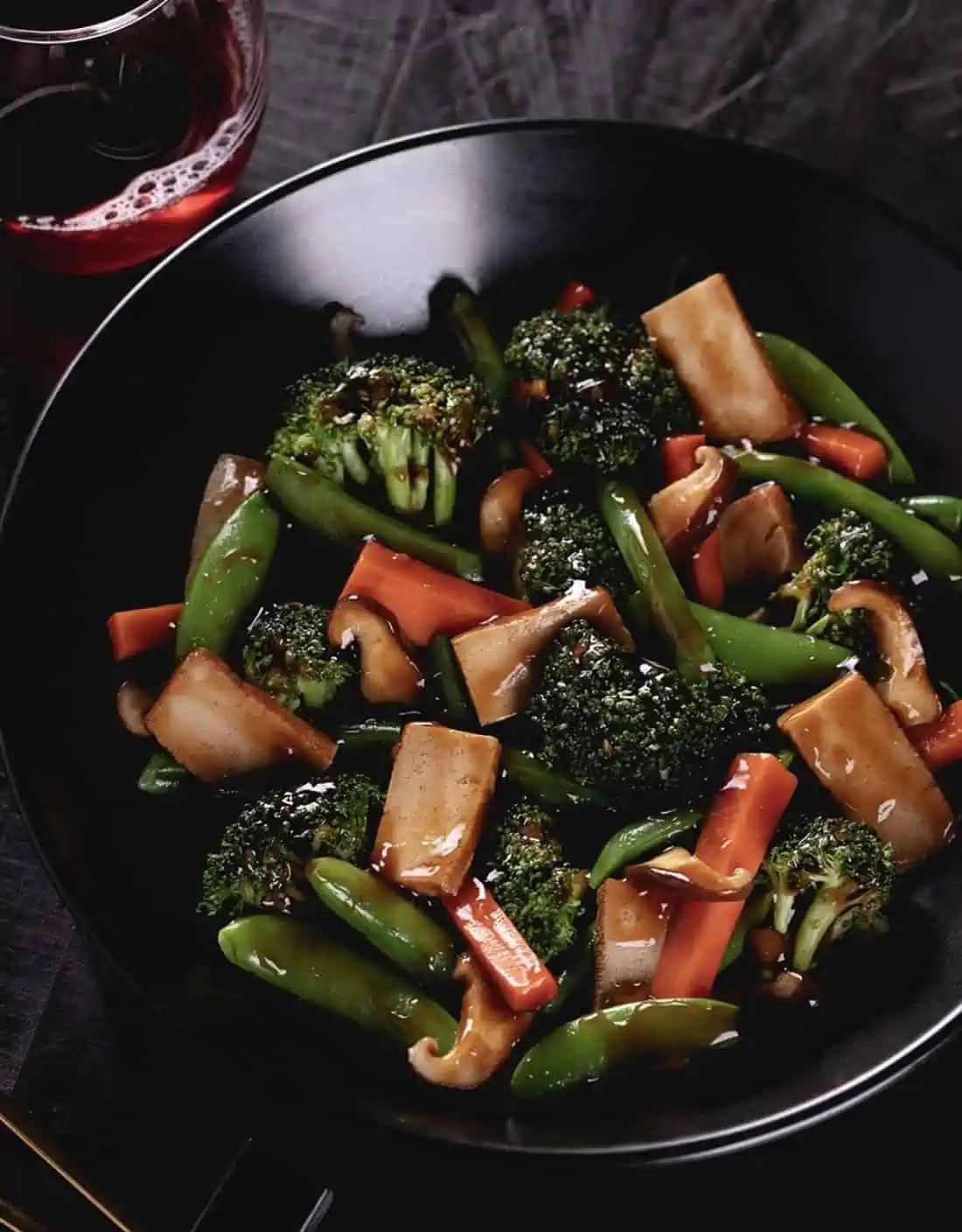 PF Chang's Vegan Options
Since some menu items seem to vary by location, we thought it would be helpful to share the official menu items first and then the possible menu items later on in this article. If you've encountered new-to-you, fantastic food options, make sure to comment below so we can add them in. Collaboration is key!
Here's what you can expect for vegan food at PF Chang's.
Vegan Appetizers
We were immediately impressed with the appealing appetizer options at this high-end fast food restaurant. Order one of each, add a side of steamed rice (either white or brown), and you've got yourself a pretty delicious plant-powered meal.
Chili-Garlic Green Beans – Fiery red chili sauce, fresh garlic, and Sichuan preserves.
Edamame – Steamed and tossed with kosher salt.
Vegetarian Lettuce Wraps – Minced vegetables, garlic, scallion, mint, sesame oil, iceberg lettuce, crispy rice sticks, and a lime wedge.
Sadly, the vegetable spring rolls are not vegan—the wrappers are made with egg—so opt for one of the options above instead.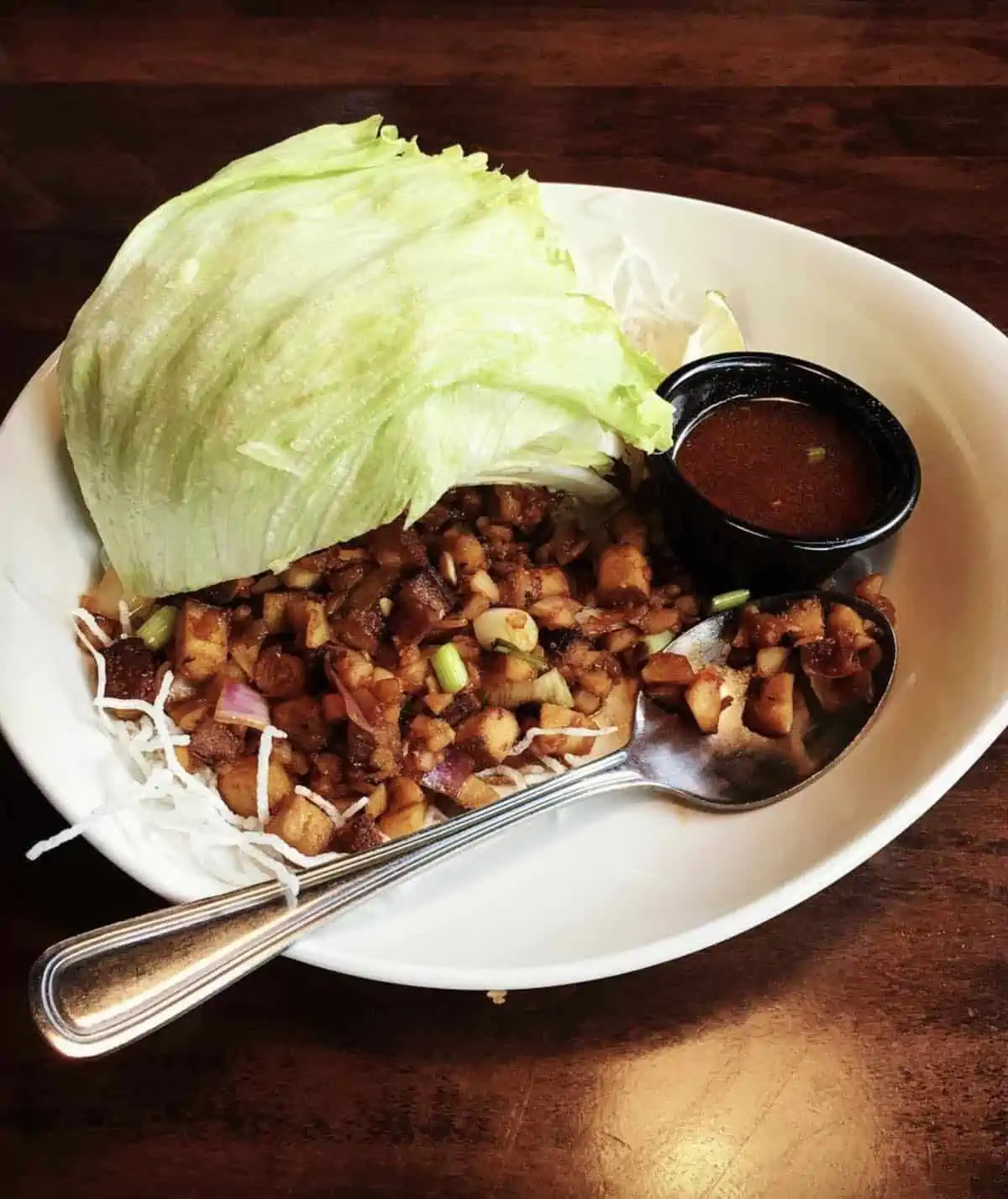 Plant-Based Main Entrees
Three dinner options might be a little disheartening, but we've heard that they're all delicious and worth trying. Take advantage of this Asian restaurant serving their meals family-style and perhaps buy two (or all three!) dishes to share with those around you. Each menu item listed below is unique, so it would be fun to fill up on a few different flavorful forkfuls.
Buddha's Feast (stir fried or steamed) – Five-spice tofu, savory sauce, green beans, mushrooms, broccoli, and carrots.
Ma Po Tofu – Crispy silken tofu, spicy red chili sauce, and steamed broccoli.
Stir Fried Eggplant – Chinese eggplant, sweet chili soy glaze, green onion, and garlic.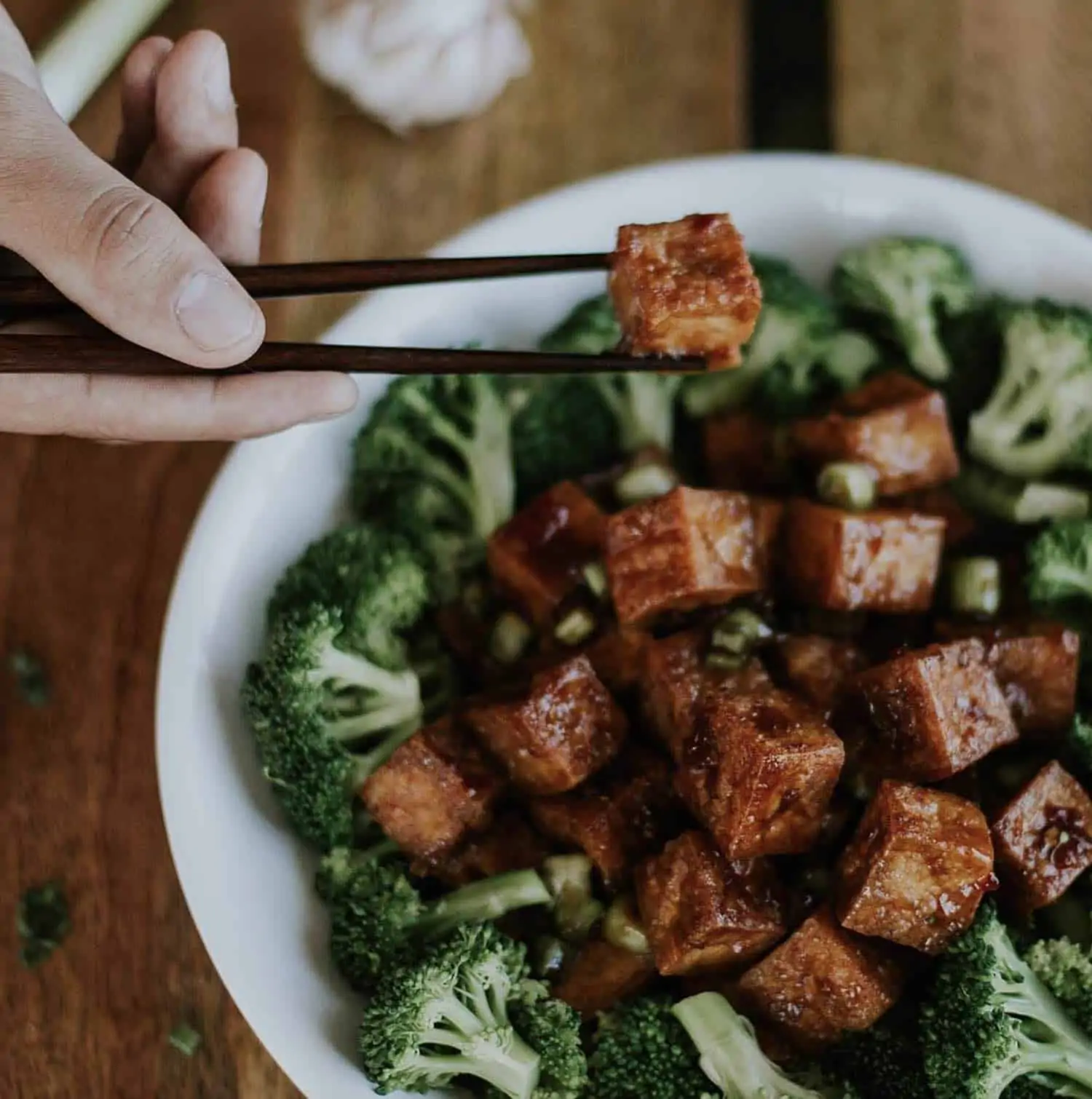 Savory Sides at PF Chang's
You really can't go wrong with a side of rice, are we right? Although it seems to vary from location to location, you can also ask for a side of noodles made with just oil and soy sauce. If you have your heart set to noosh on some noodles, it's worth asking the waiter or waitress.
Mandarin Crunch Salad – Ask for no meat or substitute tofu instead.
Noodles – Plain (wheat-based) or Korean Glass (sweet potato glass noodles, ask for no egg)
Rice (brown or white, steamed)
Edamame – Steamed and tossed with kosher salt.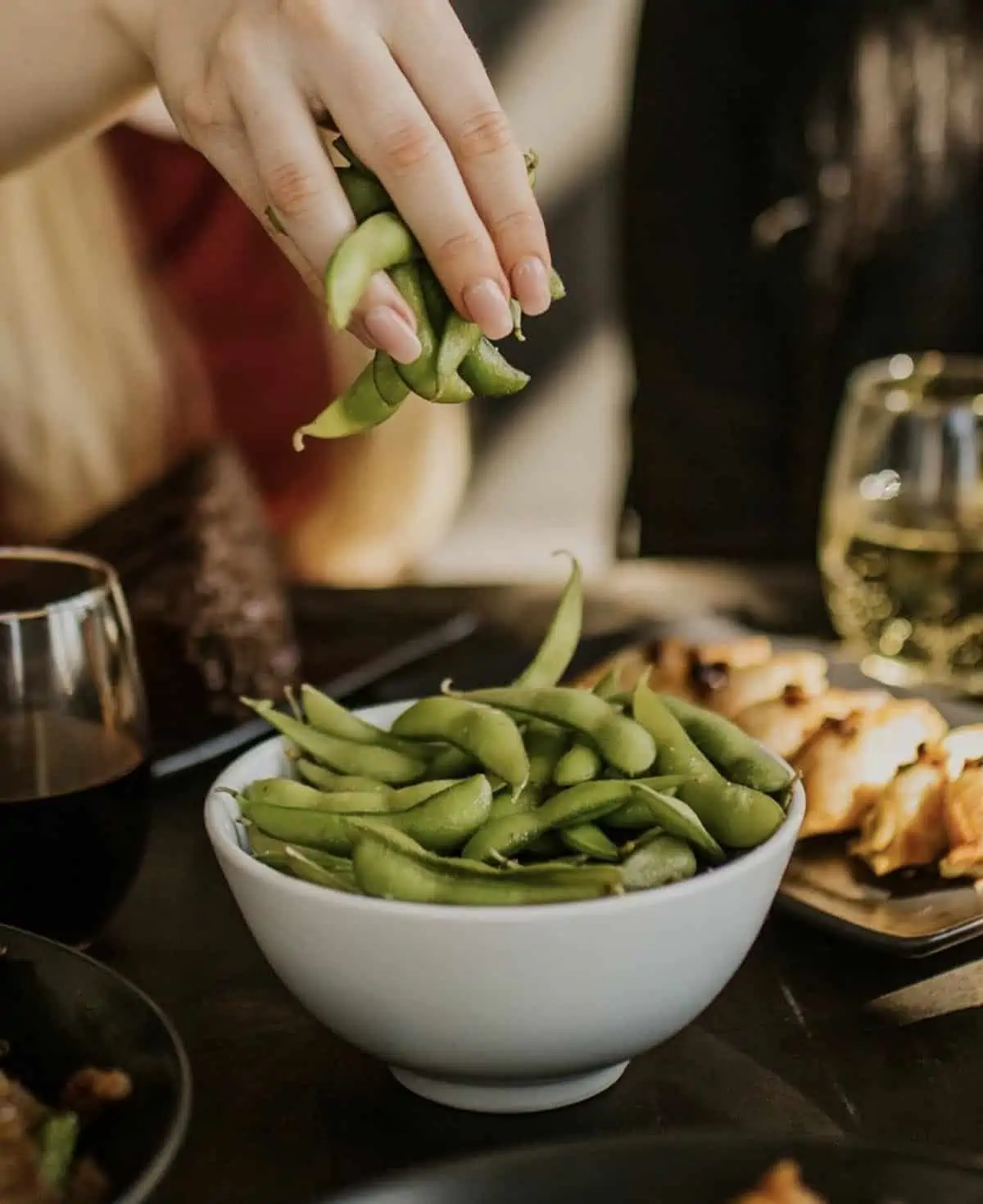 Vegetables & Fruit
Give us all the veggies! The more the merrier for a satisfying out-to-eat healthy supper. Having an option of fresh fruit after a meal is a treat and we appreciate the opportunity to have a sweet if others around us are able to have dessert. Though, it would be nice if they offered at least one vegan dessert item on the menu.
Broccoli (steamed)
Carrots (steamed)
Snap Peas (steamed)
Fresh Fruit
Drinks & Cocktails at PF Chang's
PF Chang's beverage selection is pretty extensive. If you're not hungry enough for a full meal, a couple of veggie appetizers and a delightful vegan drink might do the trick.
Hot Tea – Organic Green, Dragon Eye Oolong, Ginger Peach
Iced Tea – Traditional Black and Mango
Refreshers – Pomegranate Lemonade, Strawberry Cucumber Limeade, Chang's Coconut Cooler, and Peach Boba Breeze
Simply Lemonade – Regular or Strawberry
Bottled Water – Dasani
Coca Cola Fountain Drinks – Coca-Cola, Diet Coke, Sprite, Coke Zero Sugar, and Barq's Root Beer
Starbucks Coffee
Note: They also offer vegan alcoholic beverages at most locations. Check Barnivore.com to make sure the option you're choosing is vegan-friendly.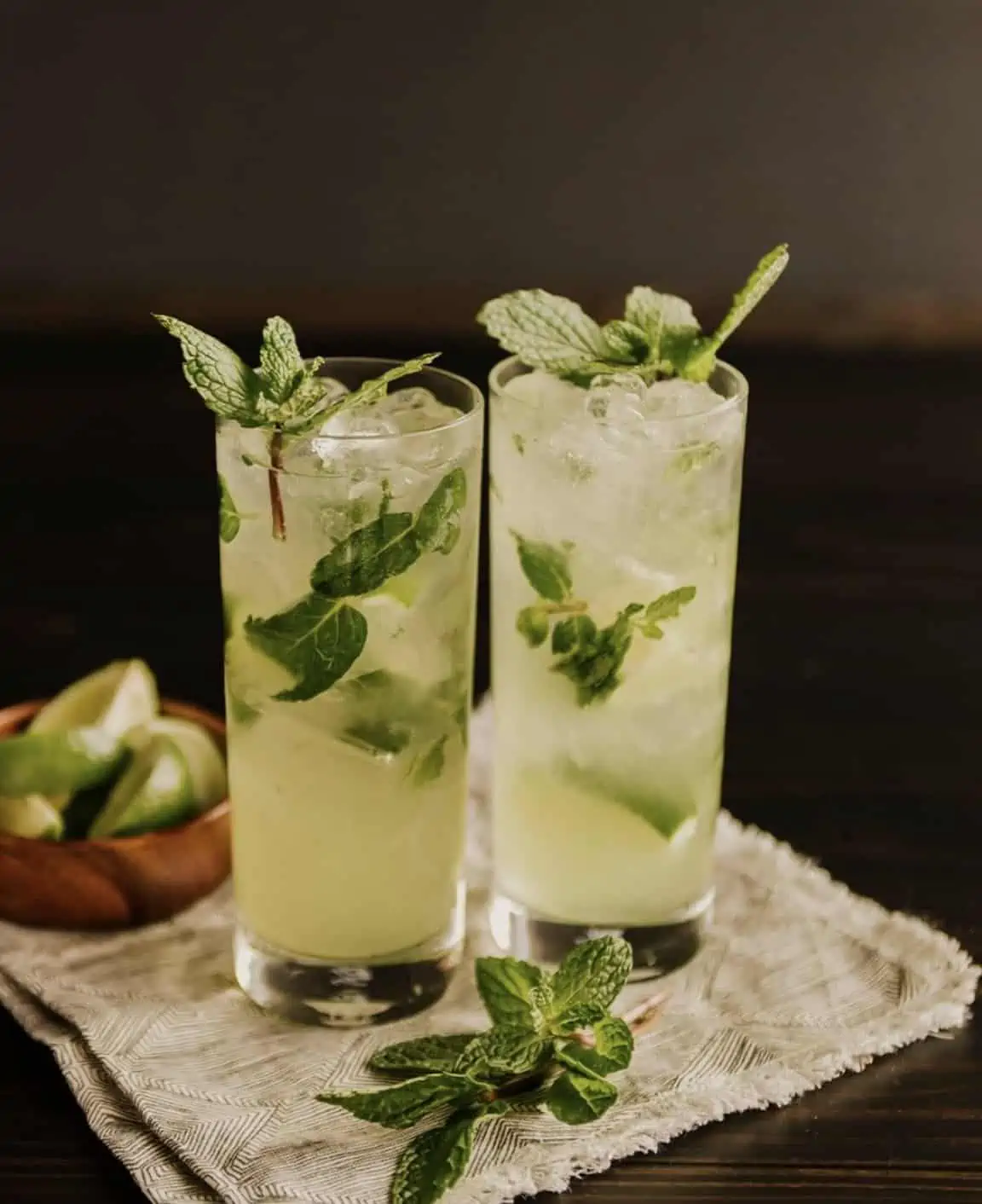 Possible Plant-Based Options
Even thought these aren't on the PF Chang's main menu, many fellow vegans have recommended these particular items. They might vary from location to location and even country to country. If you're in the mood for any of these tasty menu choices, it may be best to call first to make sure you can order them.
Coconut Curry Vegetables – A mix of vegetables, peanuts, tofu, and a coconut milk-based curry sauce.
Sichuan-Style Asparagus – Similar to the green beans appetizers, but with asparagus and added onions.
Thai Harvest Curry – This dish comes with 5-spice tofu, butternut squash, vegetables, and Asian mushrooms in a red curry broth and sprinkled with fresno peppers.
Wok'd Spinach with Garlic – Fresh spinach leaves sautéed with cloves of garlic.
FAQs for Vegan at PF Chang's Restaurant
Are the crispy green beans at PF Chang's vegan?
A no-go. The green beans contain eggs in the batter.
Is Mapo Tofu at PF Chang's vegan?
Yes, it is! Very happy to share that this option is indeed vegan. You can order it with white or brown steamed rice, as well as extra steamed veggies on the side.
Are the brussels sprouts at PF Changs vegan?
Nope. The sauce that covers this brussels sprouts dish is made with oyster sauce.
Can PF Changs fried rice be made vegan?
Sadly, the fried rice cannot be made vegan. It's cooked up with eggs, milk, and shellfish ingredients. Substitute for steamed white or brown rice instead.
Are PF Chang's spring rolls vegan?
Unfortunately, the spring roll wrappers are made with eggs, so they are not vegan.
Are the fortune cookies at PF Chang's vegan?
Another no. We hate to tell you, but the cookies themselves are made with egg whites, so they are not vegan-friendly.
Check out the PF Chang's Allergen Menu page to make sure that you are purchasing a vegan-friendly item. The menu items offered at PF Chang's don't seem to change very often, but you may want to double check before you visit.
NOT Vegan at PF Chang's
Dim Sum – All of the Dim Sum items contain eggs and, with some, also milk and meat as well. So, none of these options are vegan.
Fried Rice – All of their fried rice dishes are made with egg and some also with milk or fish ingredients.
Dessert – Every dessert on the menu contain eggs and/or dairy in the form of cheese, caramel, or ice cream.
Sushi – Every sushi roll contains milk, eggs, and animal products. There are no vegan-friendly ingredients here.
Make Your Own At-Home Plant-Based Chinese Take Out
If you're not able to find a decent vegan Chinese take out restaurant in your neighborhood, make your own tasty take out from scratch in your kitchen. You'll have complete control of the ingredients, and can adjust the spice level perfectly to your liking.
These recipes are not only pretty simple and easy, but they're incredibly delicious, too!
Historic Vegan Moments in PF Chang's History
Although they do have a few vegan-friendly options by default, they don't offer an exclusive vegan menu item at this time such as using plant-based meats or vegan fish sauces in their dishes. Let's keep hoping!
Fascinating Facts About PF Chang's
PF Chang's food is made fresh every single day. They pride themselves on not being like other chain restaurants in this way.
The mother of the PF Chang's co-founder received the James Beard Foundation Lifetime Achievement Award in 2013 for bringing authentic Mandarin cuisine to the United States.
The name of PF Chang's restaurant is a combination of the two founders' names: PF (Paul Fleming) and Phillip Chiang.
Each location has a unique, one-of-a-kind mural that is not replicated anywhere else.
PF Chang's still used wok cooking (a 2,000 year old tradition) for creating most of their dishes.
Creating a Kinder and More Accessible Vegan PF Chang's Experience 
Although PF Chang's has a long (long) way to go before their menu meets even the most primitive plant-based standards, we can still hope that our vegan voices will be heard. Since there are so few Asian-inspired vegan restaurants on the fast food front, we're trusting that PF Chang's will soon take up the challenge to provide more mouthwatering meals free of dairy, eggs, and animal products. Wouldn't it be excellent if they found a way to make an entire section of their menu vegan-friendly, even a tiny one? In the meantime, we can always write to, call, or contact the managers of any location to make our requests.
Share your preferred appetizer, entree, and other menu items wishlist for the PF Chang's vegan menu. Let us know on Facebook, Twitter, and Instagram!
Have you found any other vegan options at PF Chang's? Did you find something amazing that we missed? Let us know by tagging #worldofvegan and sharing your favorite vegan-at-pf-changs creations with all of us!
How To Order Vegan at Other Restaurant Chains
This article is not sponsored and we are in no way affiliated with PF Chang's. At the time of this article, the menu items mentioned above are vegan. Since restaurants constantly update their menus and add or take away items, please keep this in mind when ordering your food. There may be new PF Chang's vegan options that are not listed or items listed here as vegan, which are no longer vegan. Take care to double-check.