The way it sizzles in the pan, filling the whole kitchen with an irresistible smoky aroma, promising a crisp, crunchy bite soon to come- Bacon is irresistible, for good reason. There's real chemistry at play behind the entire experience that ultimately create umami, otherwise known as "the fifth taste," that creates savory flavors. Thankfully, it's easy to enjoy this very same sensation with plant-based ingredients.
No need to sacrifice great taste or ethics when you have vegan bacon on the table. This tofu bacon recipe is made from tofu (duh!) and basic seasonings found in most pantries, you won't believe just how easy it is to make!
This recipe is just one great example of the colorful plant-based staples found in my cookbook, The Friendly Vegan Cookbook co-authored by Plant-Based on a Budget founder Toni Okamoto.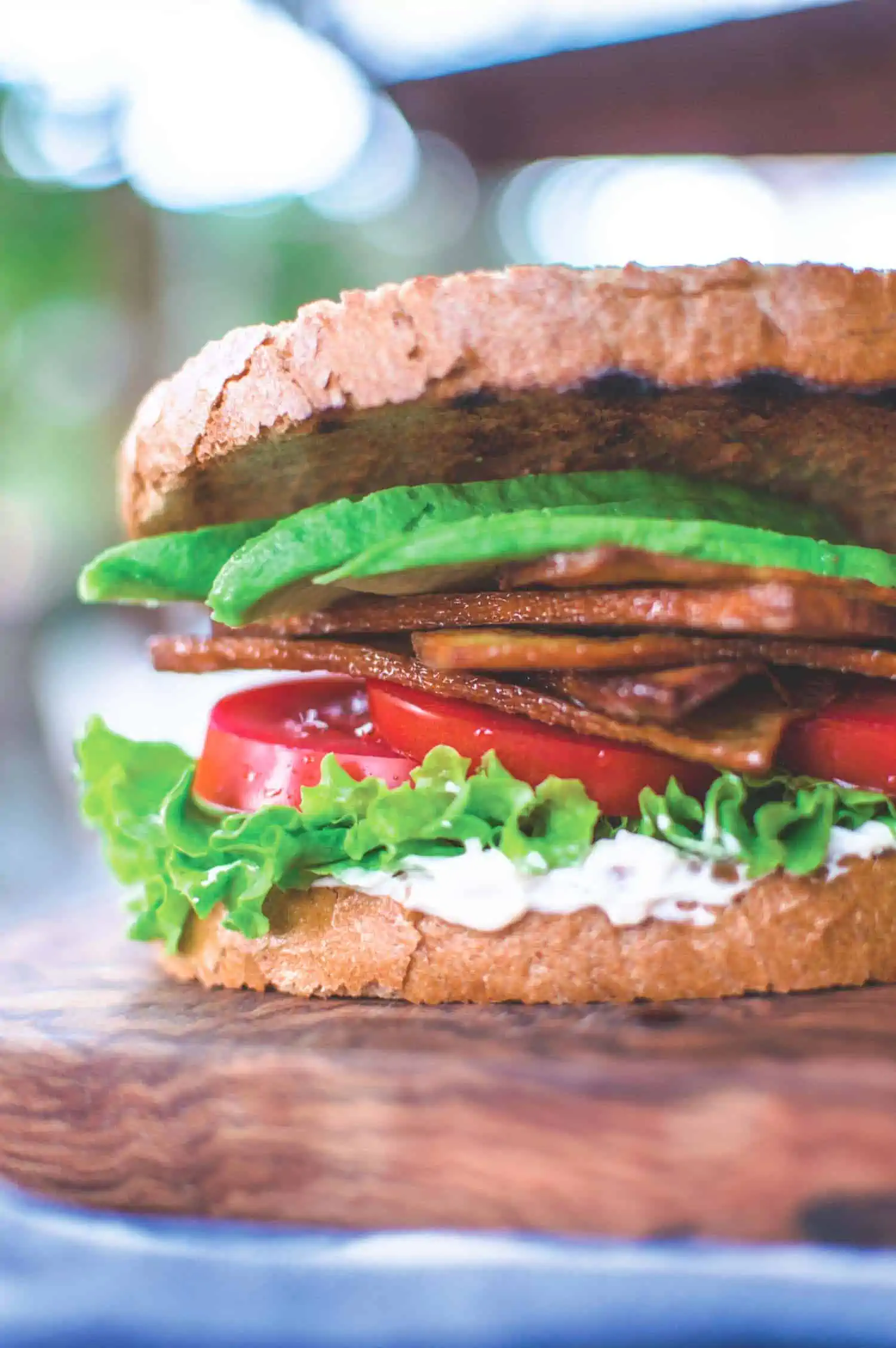 Why You'll Love This Recipe
Super healthy. Doctors will all agree that bacon isn't the smartest dietary selection, but this version would get the green light! Much lower in fat, high in protein, and with zero cholesterol, it's a no-brainer.
Goes with everything. From sunrise to sunset, bacon goes well with everything. You could even sprinkle it over dessert for some salty contrast!
Pigs raised for meat production are kept under incredibly cruel, inhumane conditions. End the cycle of torture and opt out of this broken food system for good.
Ready in less than 40 minutes. Only 8 of those are hands-on time, and the rest will fly by before you know it. It practically cooks itself.
Baked, not fried. Say goodbye to messy, splattering oil. This recipe is made in the oven which makes cleanup a breeze.
Key Ingredients
Oil: Just a dab will do you. We only need a tiny drop to prevent the tofu from sticking, which also helps get the edges nice and crispy.
Tofu: Extra-firm or super-firm is ideal for this recipe. Anything softer will become crumbly or mushy. Seek out vacuum-sealed packages that have less water in them for best results.
Soy sauce: Made from fermented soybeans, this dark liquid is umami central. Super savory and salty, it's very concentrated, so a little bit goes a long way. Seek out wheat-free varieties for a gluten-free option.
Maple syrup: A little kiss of sweetness helps balance out the flavors. Maple syrup has a particularly woodsy, earthy taste that harmonizes beautifully, rather than adding a bland hit of straight sugar.
Liquid smoke: This is the not-so-secret ingredient that transforms humble bean curd into rich, smoky bacon.
Ideas for Serving Tofu Bacon
While it makes a perfectly satisfying snack to eat solo, tofu bacon is a highly versatile topper, condiment, side, and component of many other dishes. Here are just a few ideas to get you started:
BLT or BLAT sandwich: In case you're not familiar with the concept, let me spell it out for you. That's a bacon, lettuce, and tomato sandwich with optional avocado. Simple and classic, it always hits the spot.
Tofu scramble or eggless omelet: There's nothing like the smell of bacon in the morning! It's a natural match with any eggy dish, especially.
Waffles or pancakes: If you wake up with more of a sweet tooth, tofu bacon can still make a great addition. Serve alongside your favorite fluffy pancakes or waffles, with plenty of extra maple syrup.
Salad or grain bowl: Veg out with a leafy green salad or hearty warm grain bowl. Chop up the tofu into bite-sized pieces for even coverage.
Mac and cheese: Add some crunchy to a big bowlful of cheesy noodles, not to mention an extra serving of protein, with diced tofu bacon.
Loaded baked potatoes: Once baked to fork-tender perfection, scoop out the insides of baked potatoes and mash them with vegan butter or sour cream, scallions, and vegan shredded cheese. Top if all off with a generous handful of tofu bacon for a crunchy, savory bite.
Popcorn: Snack happy by popping up a treat with real staying power! Pop popcorn kernels in coconut oil for that authentic movie theater flavor. Toss with salt and big pieces of tofu bacon before digging in.
Ice cream sundae: It may sound crazy, but it tastes amazing! Crumble some tofu bacon over your favorite scoop to both heighten and add depth to that sweet experience.
Frequently Asked Questions
Is it possible to make this recipe soy-free?
While tofu is the main ingredient here, you'll be happy to know that there is, in fact, an alternative to soy-based tofu now! It's called Pumfu and it's made from pumpkin seeds. Swap the soy sauce for coconut aminos, and you'll be good to go.
Can I make tofu bacon in the air fryer?
If you don't want to heat up the whole oven, the air fryer is a great option. You'll need to cook it in two or three batches, since it's a smaller space. Arrange the tofu in a single layer and cook at 400 degrees for 15 – 20 minutes, flipping halfway through. Check frequently to make sure it doesn't burn.
Can this recipe be made oil-free?
Technically, yes, but it's not recommended. That tiny bit of oil barely adds any measurable fat to each serving and makes sure the edges get nice and crispy. If you don't mind having softer slices, make sure you line the baking dish with parchment paper to prevent it from sticking to the bottom.
How long with tofu bacon keep?
Wrapped tightly in plastic wrap or stored in an airtight zip top bag in the fridge, tofu bacon will keep for up to a week. To reheat, toss it back into the oven at 350 for 5 – 8 minutes, or the air fryer at 370 degrees for 3 – 5 minutes, until crispy and hot.
1 tablespoon canola or vegetable oil
1 16-ounce block extra-firm tofu, pressed (we highly recommend vacuum-sealed tofu)
2 tablespoons soy sauce
1 tablespoon water
1 tablespoon pure maple syrup
½ tablespoon liquid smoke
Preheat the oven to 400 degrees F. Coat a 9 × 9­inch baking pan with the oil.

Cut the tofu block in half lengthwise (you will be using only half, so return the other portion to the fridge to use in another recipe). Cut the tofu lengthwise into thin strips about ⅛-inch thick, or as thinly as possible. Optionally, you may then cut these strips in half lengthwise. Place the tofu in the prepared pan and bake for 10 minutes. Flip and bake for 5 more minutes.

While the tofu is baking, in a small bowl, combine the soy sauce, water, maple syrup, and liquid smoke.

Remove the pan from the oven and pour the liquid blend over the tofu. Return the tofu to the oven, bake for 10 minutes, flip, and bake for 5 more minutes. Allow to cool for 5 minutes.
Calories: 22kcal | Carbohydrates: 2g | Protein: 0.4g | Fat: 2g | Saturated Fat: 0.2g | Polyunsaturated Fat: 1g | Monounsaturated Fat: 0.3g | Trans Fat: 0.01g | Sodium: 226mg | Potassium: 14mg | Fiber: 0.03g | Sugar: 1g | Calcium: 3mg | Iron: 0.1mg
More Recipes for Homemade Meat Alternatives
About the Book
The Vegan Friendly Cookbook by Michelle Cehn and Toni Okamoto is the ultimate kitchen resource for longtime vegans and the veggie-curious alike, with 100 foolproof, flavor-forward recipes. For satisfying meals, snacks, and treats, you can't go wrong with any of these creative, fun, and flavorful creations.
This tofu bacon recipe was excerpted from The Friendly Vegan Cookbook published by Benbella Books. Photos by Zhoro Apostolov, and article written with support from Hannah Kaminsky. Please note that this article contains an affiliate link which helps support our work at World of Vegan.