In this recipe, vegan chef Robin Robertson shows how to create homemade vegan foods from everyday ingredients. This roasted cauliflower steak is bursting with flavor and is a great choice for making your weeknight dinner feel a little extra special. This recipe comes courtesy of her new book, Veganize It, where delicious and easy is the name of the game.
Cauliflower Benefits
Calling all cauliflower lovers! This cruciferous vegetable is a true superstar—amazing for making dairy-free Alfredo, chopping into a salad, and of course roasting! Cauliflower is part of the cabbage family, along with kale, bok choy, and broccoli but offers a creamier flavor than the aforementioned.
Additionally, cauliflower offers a heap of nutritional benefits that make this food a true rockstar.
Choline – Choline is an essential nutrient that many people are deficient in but thanks to cauliflower, you now have a delicious way to get your daily dose! Choline not only synthesizes DNA and supports a healthy metabolism but also aids in the production of neurotransmitters that are essential for a healthy nervous system.
Awesome Antioxidants – Cauliflower contains an awesome antioxidant called sulforaphane which is known to inhibit cancer growth. Research also shows that sulforaphane could also help reduce high blood pressure which helps to prevent heart disease.
Full of Fiber – Looking for a delicious way to get in some fiber? Look no further than the mighty cauliflower! For every cup of cauliflower, you get a whopping 3 grams of fiber, which is 10% of your daily need.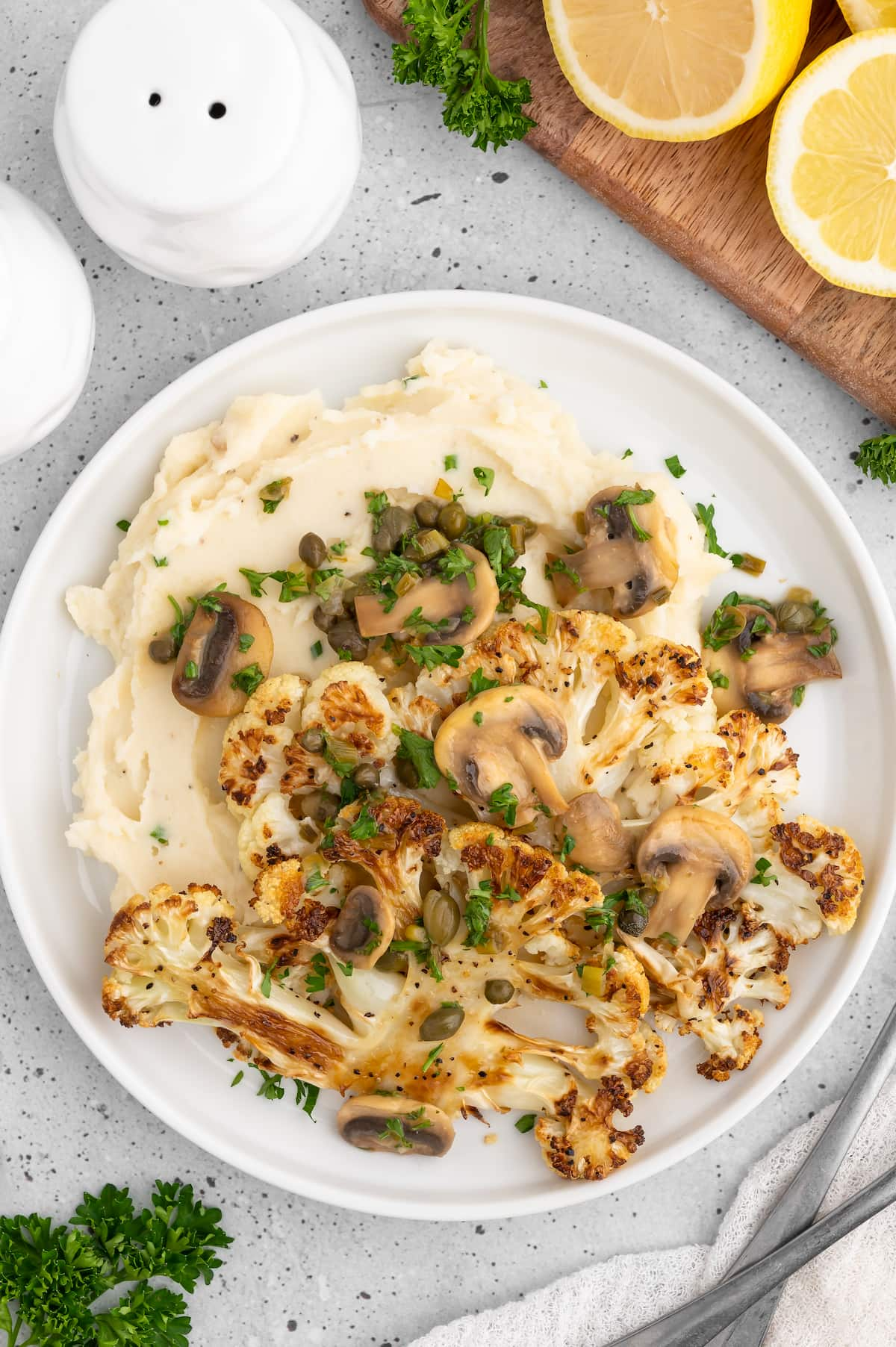 Key Ingredients
While the cauliflower steaks on their own only need a few ingredients like a head of cauliflower, a little oil, and a sprinkle of salt and pepper, you're not going to want to miss out on the piccata sauce. It pairs so well with these cauliflower steaks and adds so much flavor to the dish! Here are the key ingredients you'll want to have on hand:
Cauliflower: Opt for a fresh cauliflower head with a dense core, as it will hold the "steak" shape better during cooking. Make sure to remove the outer leaves and trim the stem while keeping the core intact for a sturdy cauliflower steak.
Mushrooms: Choose a variety of mushrooms such as cremini, shiitake, or portobello to add depth and earthy flavors to the dish. Clean and slice them for a savory topping in the piccata sauce.
Scallions: Scallions, also known as green onions, provide a mild onion flavor and a pop of color. Both the white and green parts can be used to garnish and enhance the overall taste.
Dry White Wine: Dry white wine adds a tangy, nuanced flavor to the piccata sauce. However, if opting for a non-alcoholic version or avoiding alcohol, vegetable broth is an excellent substitute to maintain the savory essence of the sauce.
Fresh Lemon Juice: Freshly squeezed lemon juice adds a zesty and citrusy punch to the piccata sauce, balancing the richness of the dish and enhancing its overall freshness.
Capers: Capers, the edible flower buds, provide a unique, tangy, and slightly briny flavor to the sauce. Ensure they are drained well before adding to the recipe.
Fresh Parsley: Fresh parsley, finely chopped, adds a burst of vibrant green color and a refreshing herbal note to both the cauliflower steak and the piccata sauce.
Vegan Butter: Choose a high-quality vegan butter to impart a rich, buttery flavor to the piccata sauce while keeping the recipe dairy-free. It's crucial for achieving the desired creamy texture and taste in the sauce.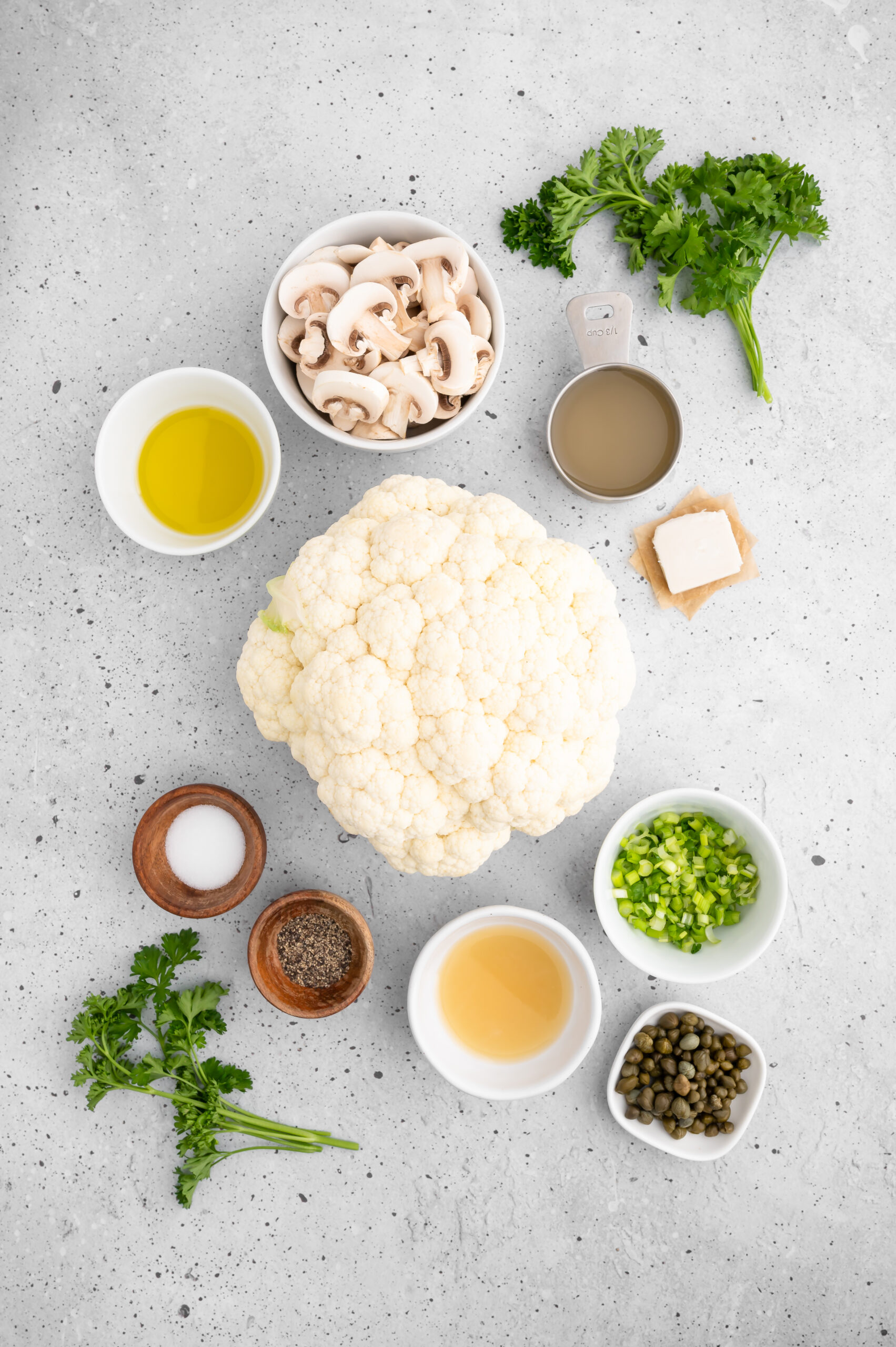 How To Roast Cauliflower Steaks
You can easily roast cauliflower steaks in a number of ways! Our favorite method is the oven but you can easily air fry or grill them! Here's how to make cauliflower steaks in the oven.
Step One: Preheat your oven to 425F. Prepare two large-rimmed baking trays with parchment paper, or lightly oil them.
Step Two: Place the sliced cauliflower in a single layer on the baking trays and brush with a bit of olive oil. You can also use cooking spray if desired. Sprinkle with a little salt and black pepper to taste.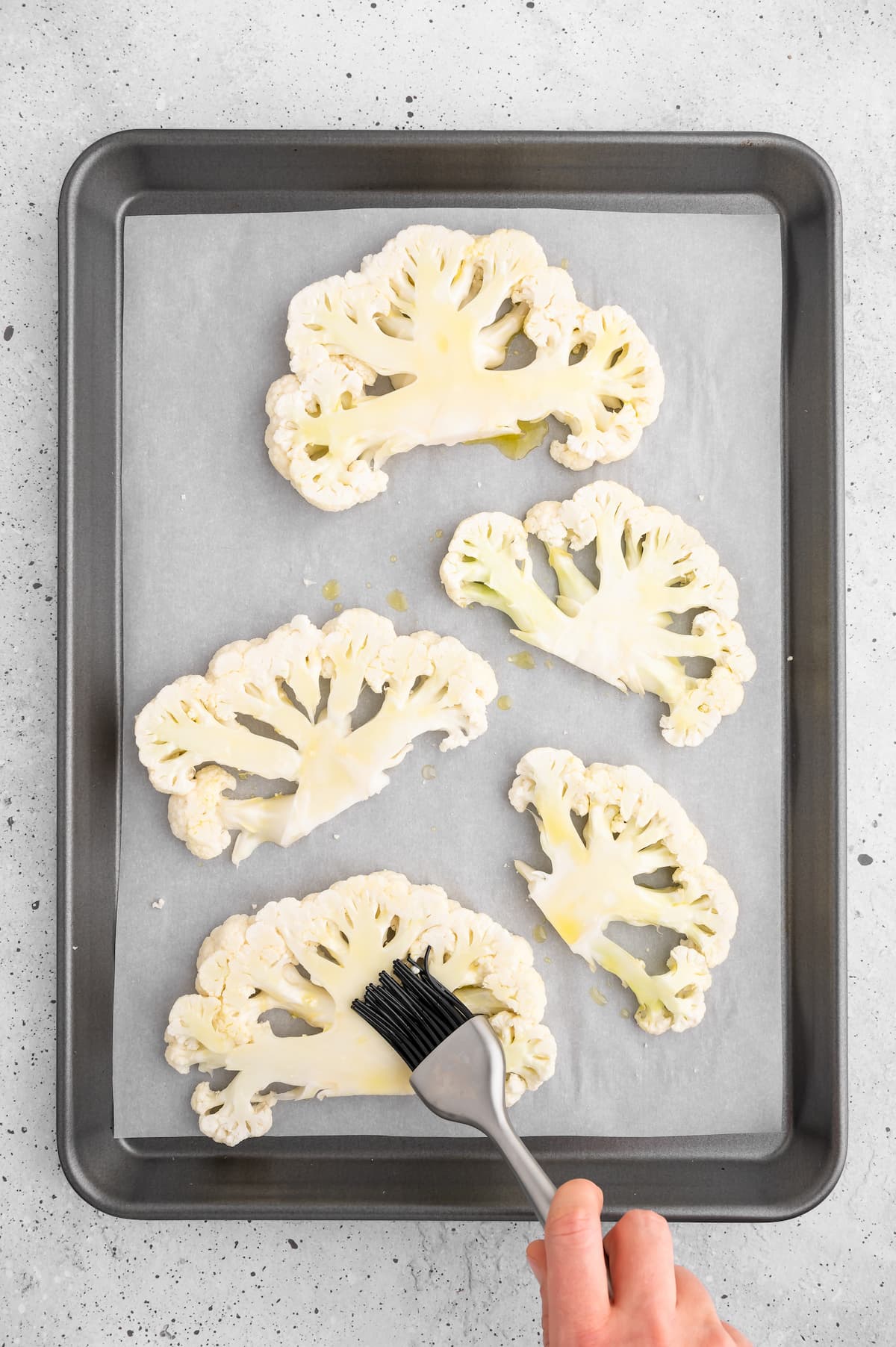 Step Three: Roast the cauliflower in the oven until tender and it starts to turn golden brown, about 25 – 30 minutes. Flip them over halfway for even cooking, using a large metal spatula to assist.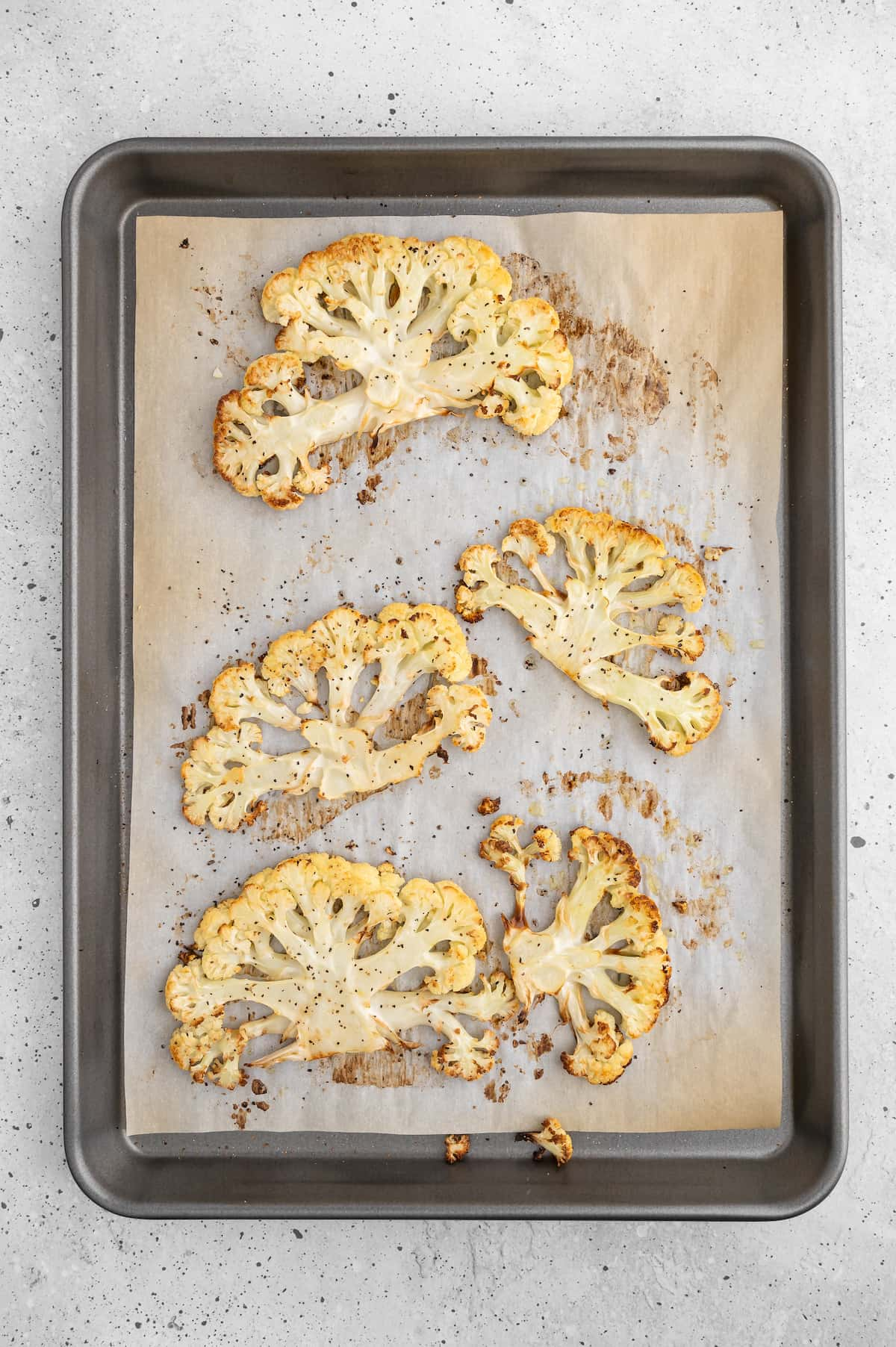 Step Four: While the cauliflower steaks are roasting, make the sauce. In a skillet over medium heat, heat oil, then add mushrooms and scallions, sauteeing for about 3 minutes to soften.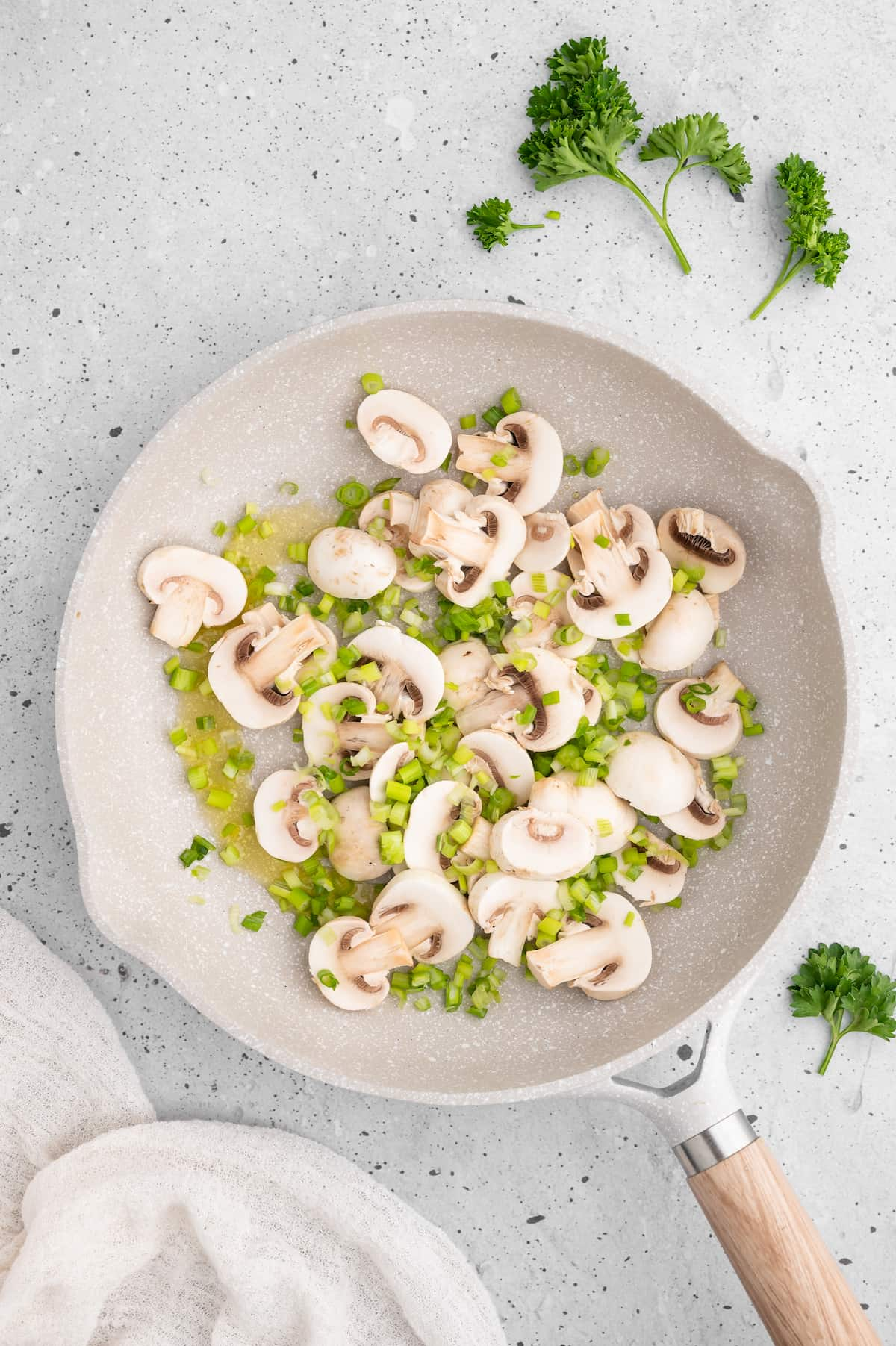 Step Five: Add the wine, lemon juice, and capers, and continue cooking until the liquid reduces slightly, stirring often. When it's almost ready to serve, add the parsley and stir in the butter to melt it into the sauce.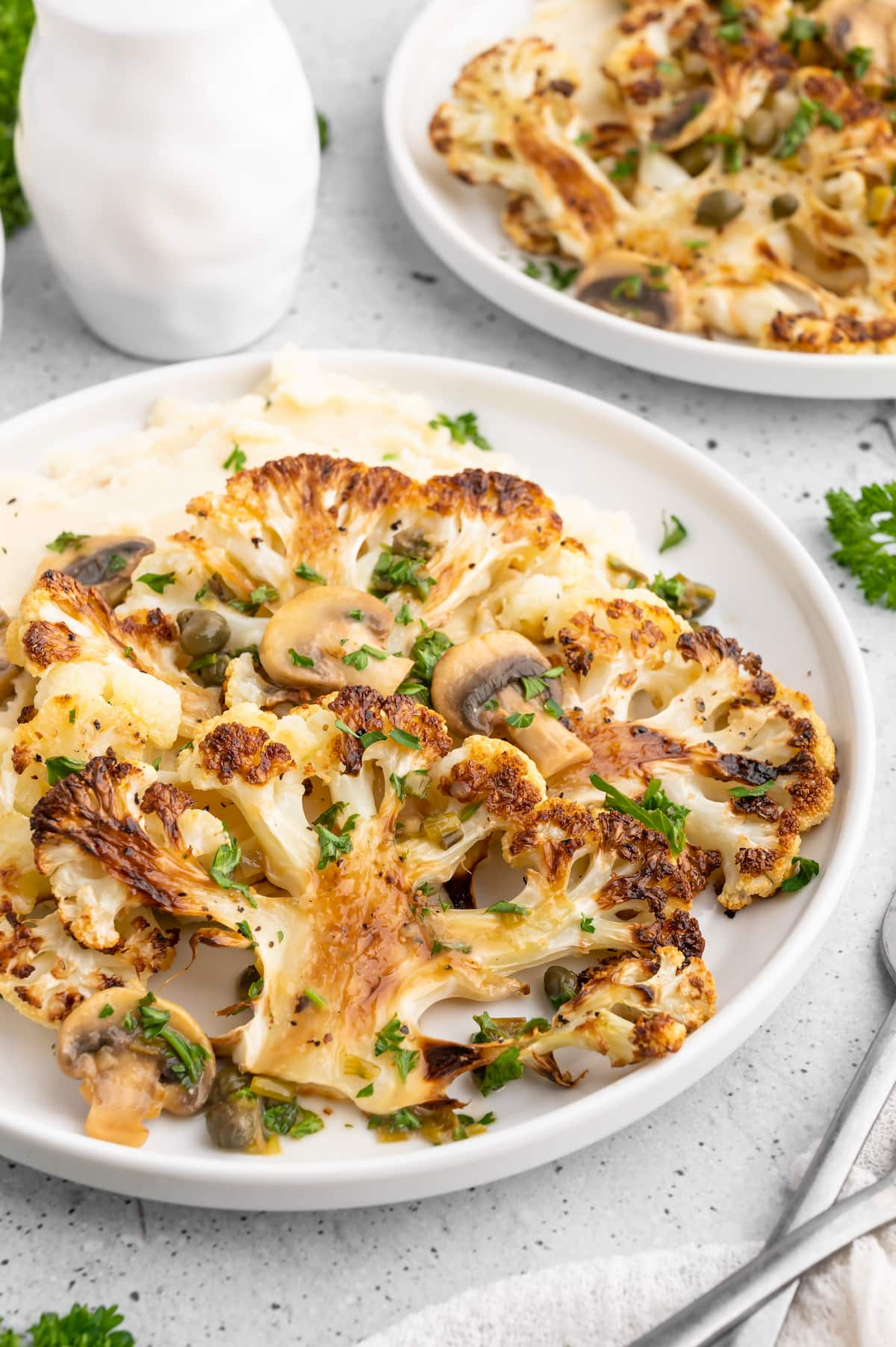 Step Six: Serve your delicious roasted cauliflower steaks with the piccata sauce spooned on top and enjoy!
Cooking Methods
Whether you want to make cauliflower steaks on the grill, in the air fryer, or the oven—we've got you covered!
Oven Roasted: Preheat the oven to 425°F. Layer parchment on two large-rimmed baking sheets or brush with oil. Bake for 25 – 30 minutes, flipping halfway, until tender and golden brown.
Air Fried: Preheat the air fryer to 400°F. Place the cauliflower steaks in a single layer and cook for 13-15 minutes, flipping at 10 minutes.
Grilled: Preheat your grill to medium-high heat, aiming for around 400-425°F. Lightly oil the grates to prevent sticking. Grill cauliflower steaks for 5-7 minutes on each side, or until they have grill marks and are tender but still slightly crisp.
What To Serve With Cauliflower Steaks
This recipe for cauliflower steaks goes wonderfully with a variety of other foods! If mashed potatoes aren't calling you, here are some other suggestions on how to enjoy your roasted cauliflower steaks: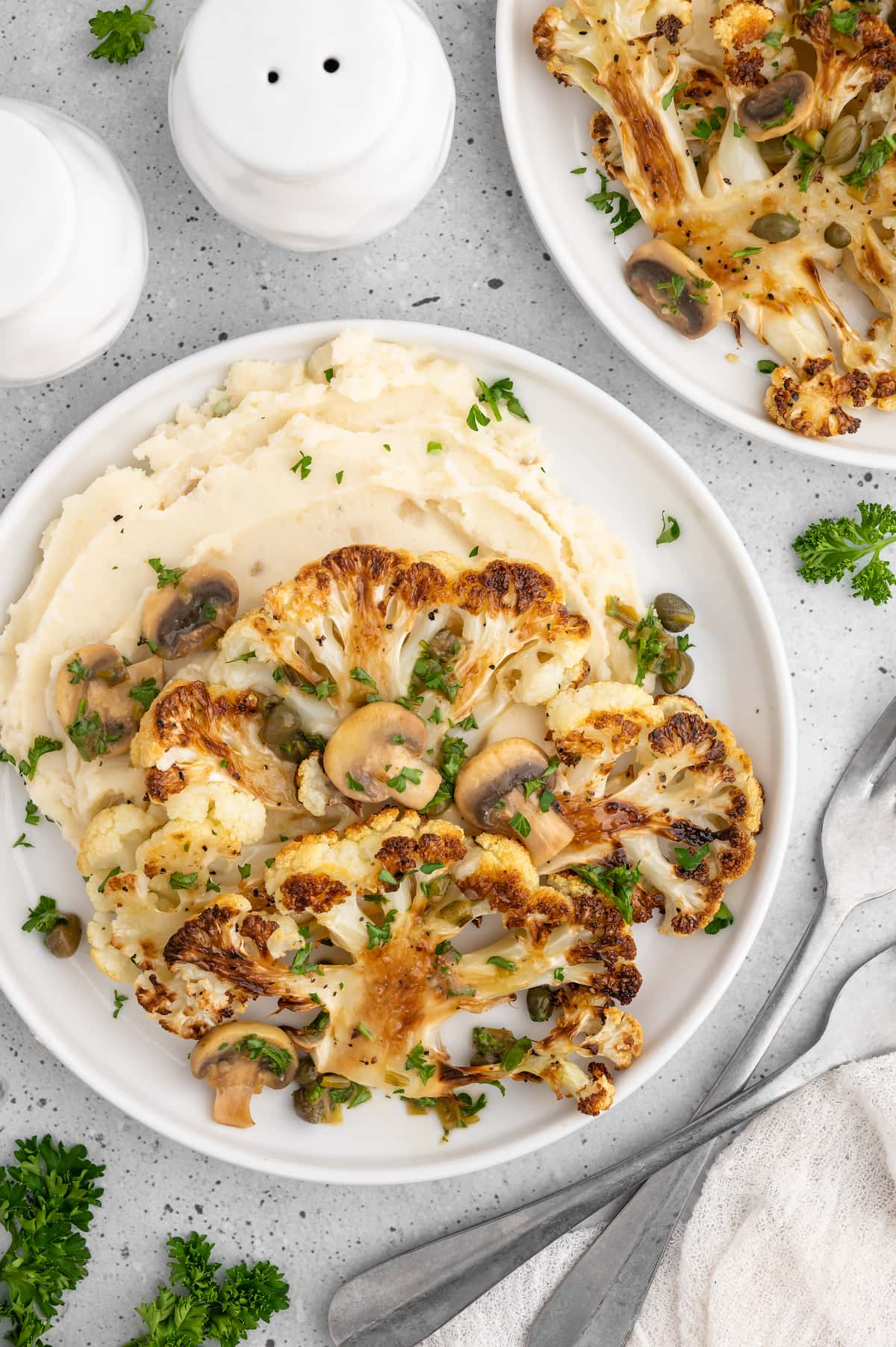 Storing Your Cauliflower Steaks
Keep your roasted cauliflower in an airtight container and it should last up to three days in the fridge.
Freezing is not recommended since the consistency of the sauce may make the cauliflower a little mushy.
FAQ's
What are cauliflower steaks?
Cauliflower steaks are thick, cross-section slices cut from a whole cauliflower head. These hearty slices provide a versatile and plant-based alternative to meat, often used as a main dish or a flavorful side, allowing for a variety of seasonings and cooking methods.
How do you cut cauliflower steaks to prevent them from falling apart?
The thicker, the better when it comes to cauliflower steak. Place the cauliflower stem down on the cutting board, and use a sharp chef's knife to make vertical cuts through the cauliflower that are 3/4-1 inch thick. This will help the steaks hold together better.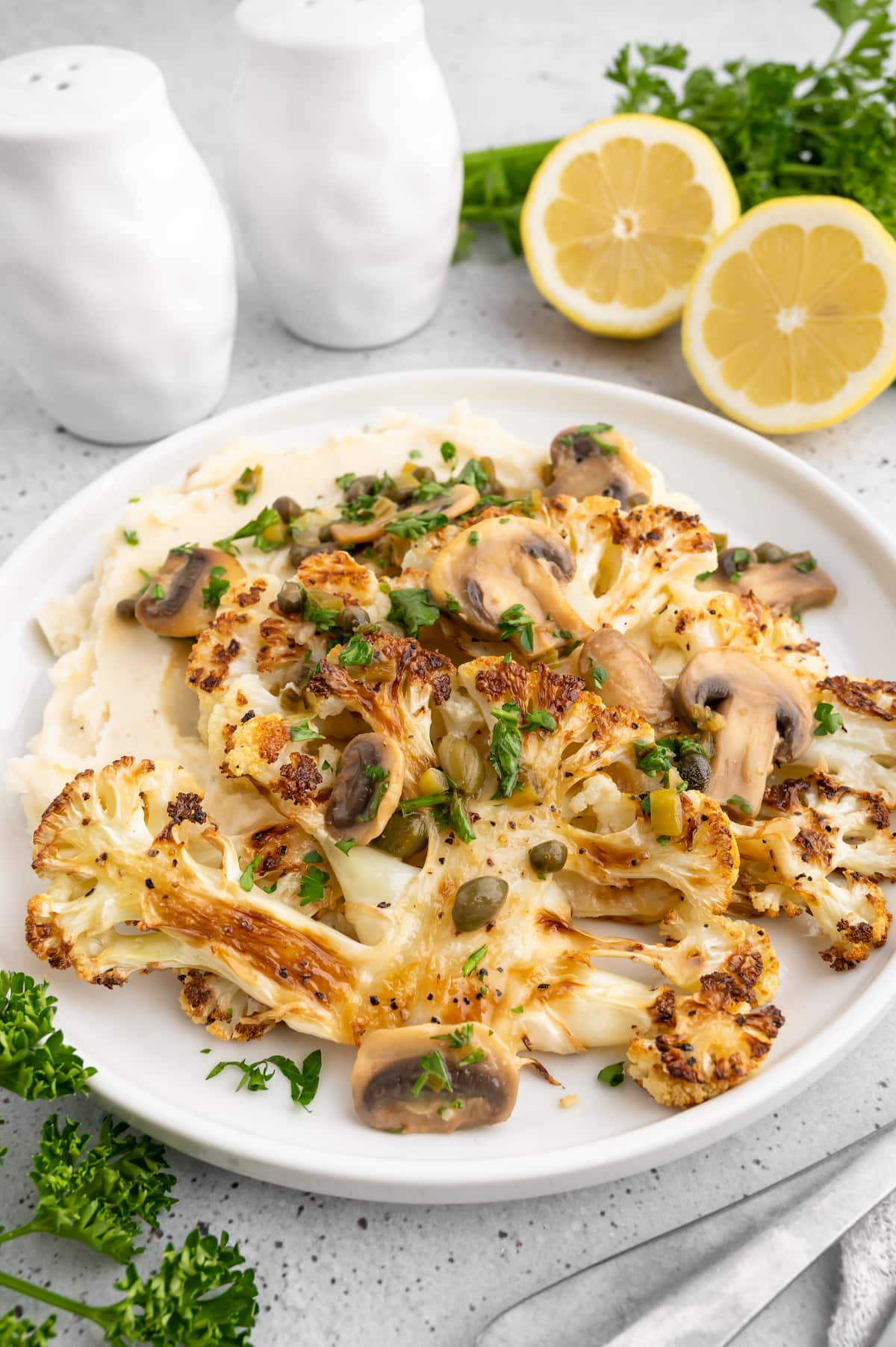 More Cauliflower Recipes
Cutting your cauliflower into steaks inevitably leaves behind some leftover florets. Need some ideas for what to do with them? Try these other amazing cauliflower recipes:
1 head cauliflower, cored
olive oil, for cooking
salt and freshly ground black pepper
1 cup sliced mushrooms
2 scallions, minced
⅓ cup dry white wine or vegetable broth, store-bought or homemade
3 tablespoons fresh lemon juice
1½ tablespoons capers, drained
¼ cup fresh parsley, minced
2 teaspoons vegan butter, store-bought or homemade, chilled
mashed potatoes with sour cream and chives, for serving
Preheat the oven to 425°F. Lightly oil two large rimmed baking sheets or line them with parchment paper.

Place the cauliflower on a cutting board, cored-side down, and use a long serrated knife to cut it into ½-inch-thick slices, as if you were cutting a loaf of bread. Arrange the cauliflower slices in a single layer on the prepared baking sheets and brush with a little olive oil or spray with cooking spray and season with salt and pepper to taste. Roast the cauliflower until tender and nicely browned, 25 to 30 minutes, turning once with a large metal spatula about halfway through.

While the cauliflower is roasting, make the sauce. Heat 2 teaspoons of oil in a skillet over medium heat. Add the mushrooms and scallions and sauté for about 3 minutes, or until softened. Add the wine, lemon juice, and capers and cook, stirring, until the liquid reduces slightly. Just before serving, add the parsley, then stir in the butter to melt it into the sauce.
Serving suggestion: Serve the cauliflower steaks over a bed of mashed potatoes. Spoon the sauce on top.
Calories: 67kcal | Carbohydrates: 10g | Protein: 4g | Fat: 3g | Saturated Fat: 1g | Polyunsaturated Fat: 1g | Monounsaturated Fat: 1g | Trans Fat: 0.4g | Sodium: 225mg | Potassium: 557mg | Fiber: 4g | Sugar: 4g | Vitamin A: 422IU | Vitamin C: 80mg | Calcium: 44mg | Iron: 1mg
Get your copy of Veganize It! here:
More Delicious Roasted Vegan Recipes to Try
Text excerpted from VEGANIZE IT! © 2017 by Robin Robertson. Reproduced by permission of Houghton Mifflin Harcourt. All rights reserved. Photos by Amanda McGillicuddy for World of Vegan, all rights reserved.