Who says that vegans can't enjoy summer barbecues? Not us! We've collected some of the BEST vegan bbq recipes so that you can make the most out of each sunny day and every garden fresh vegetable.
Almost all of these recipes are easy to prep, so you can make your meals ahead of time and spend more memorable moments with your flip-flopped feet up, basking in the sunshine. Whip up a batch of homemade matcha ice cream, get yourself a glass of strawberry mint lemonade, and you're ready for some summer fun.
If you're like us and already getting hungry, let's get grilling!
Awesome Appetizers
Two Spoons' Apple Slaw is like a garden in a bowl. No need to worry about mayo, for this dressing is this slaw is so darn delicious! Full of fabulous flavor, tangy tartness, and a characteristic crunch. Luckily, it's really easy to make because I bet the bowl will be devoured before you know it.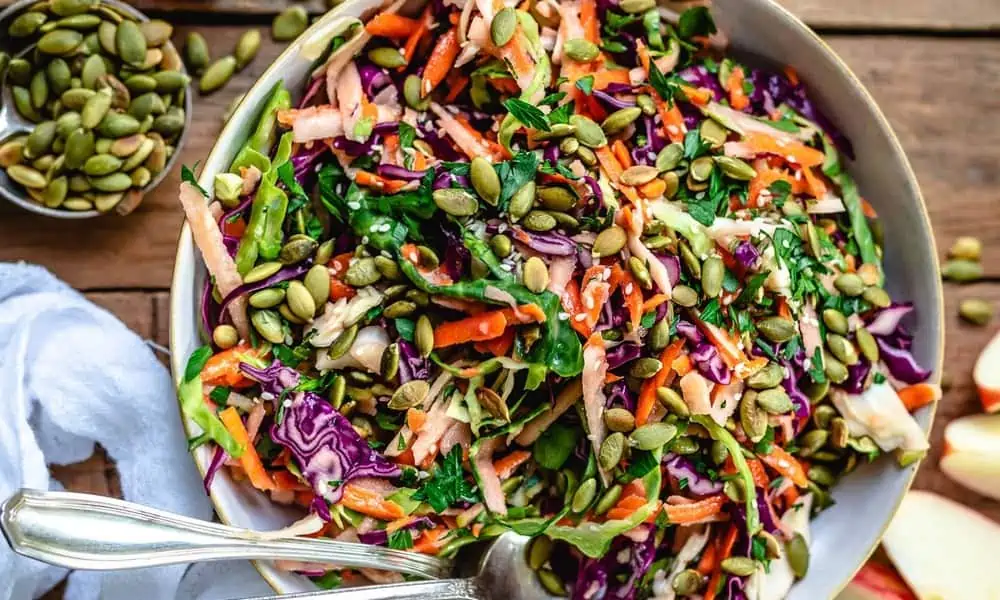 Without a doubt, this is one of our most popular and highly rated recipes on World of Vegan. If you've been disappointed with potato salad dishes in the past, get ready to remedy that with this remarkable recipe. No one will ever guess that it's plant-based. With it's creamy, velvet-y texture and pure potato-y goodness, you'll fall in love at first bite.
From the bonny bow tie pastas to the perky little green peas, this pasta salad is perfection. Adorable, portable, and oh-so-creamy, this recipe will have you scooping for seconds and not wanting to share. You'll fall in love with the squiggly pasta, slightly crisp veggies, and delectable dill dressing. Luck is on your side if you have any leftovers.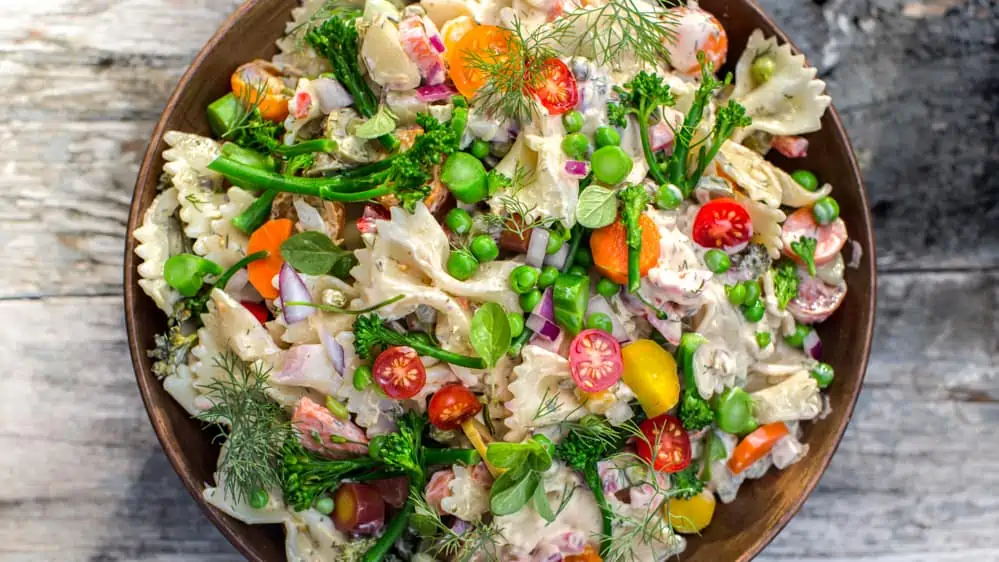 Spice up your barbecue with this decadent appetizer. All you need are some fresh jalapeños and four other ingredients and you can whip together these creamy, cheesy, spicy jalapeño poppers in no time. You can bake them up in the oven or throw them on the grill!
A tempting, summertime take on traditional salsa. For anyone who has trouble with tomatoes or knows that cucumbers are their first choice, this recipe is for you. Super fresh, cooling, and colorful––this spicy salsa has it all! Plant-Based on a Budget knocks it out of the park with this perfect summer salsa recipe.
Mouthwatering Main Meals
Just one glimpse of this ravishing recipe from Plantifully Based will have you drooling at your desk. The mouthwatering glaze is mesmerizing, so glossy and grilled to perfection. Even if you don't love tofu, totally give this a try. Follow the directions carefully and you can be sure you'll be savoring these saucy little skewers this summer.
Who can resist rainbow kebabs filled with tofu and veggies? It's an essential for any vegan barbecue. Our own Michelle Cehn and Toni Okamoto shared this savory, summer sensation from The Friendly Vegan Cookbook collection. Alternating rows of cheerful, chopped veggies and chunky cubes of marinated tofu will tempt even the most finicky of appetites. Delightful and also truly delicious.
This might be one of the very best bean burgers we've ever tasted. Rachel Steenland is right on cue for creating a veggie burger with just the right consistency and sensational seasoning. Her beautiful blend of brown rice, sweet potato, and black beans brings us to our knees. It wouldn't be a barbecue without a bunful of this beef-free burger.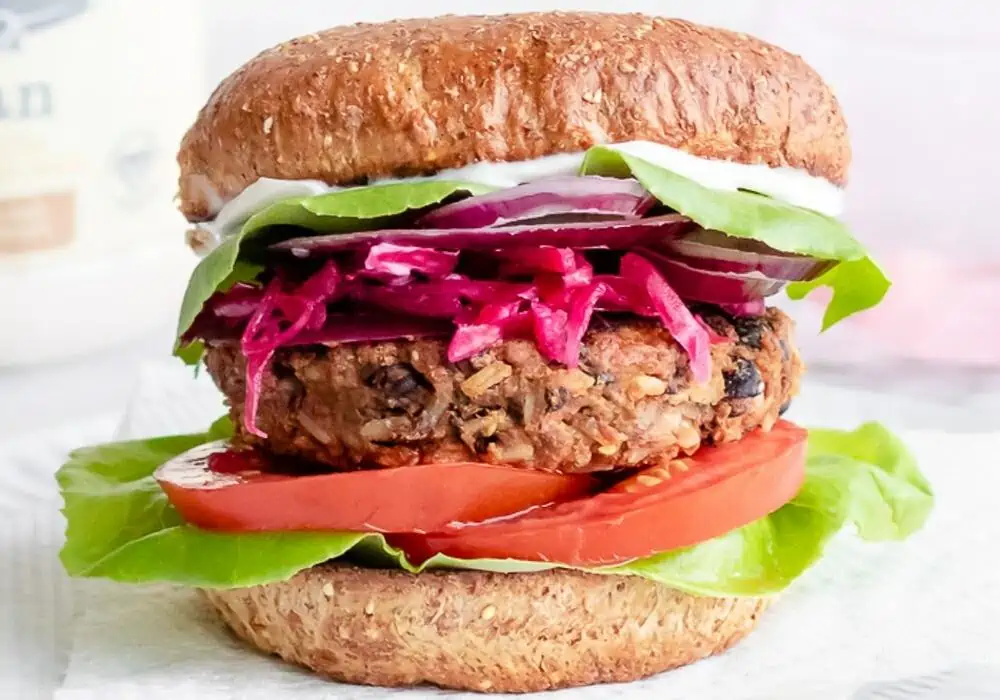 Delicious Desserts
Nothing is more refreshing than a ripe, juicy watermelon––unless you add in a few crunchy cucumbers and sassy sprigs of fresh mint. The cooling combination of these fantastic fruits will certainly surprise you. You'll find yourself thoroughly and happily hydrated after savoring a single serving of this sweet salad, we guarantee it.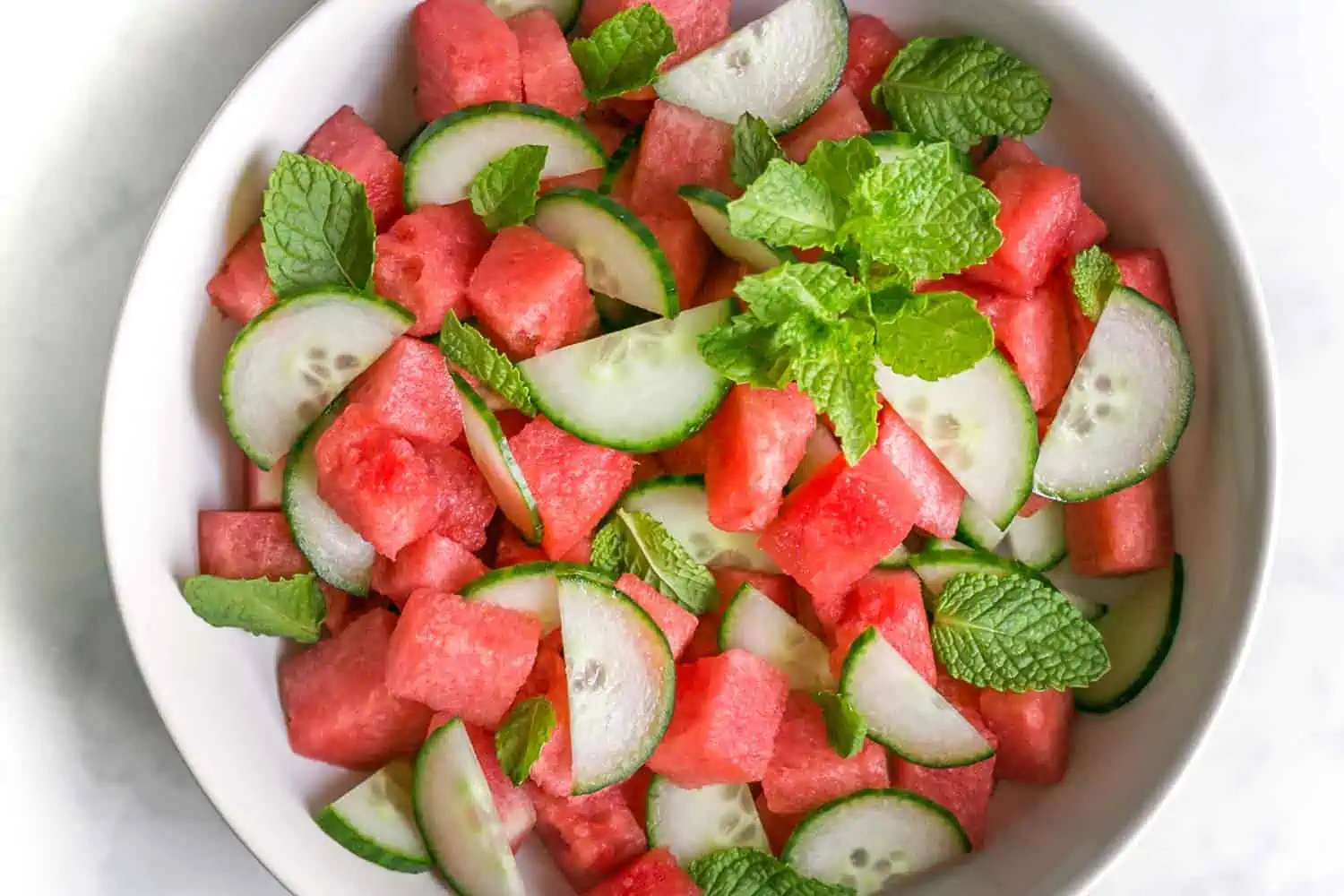 After a day full of fresh vegan foods, make a final flourish with Veggiekins' fun and fruity dessert. A succulent, coral cantaloupe is transformed into a fabulous frozen ice with a little bit of high-speed blending. Sweet and slightly tangy with a tantalizing texture––this after dinner treat really hits the spot in every possible way.
More Sensational Summer Recipes To Try:
Vegan Summer BBQ recipes and photos are by our World of Vegan contributors—Timothy Pakron, Kathy Chrzaszcz, Michelle Cehn, and JJ Steele, as well as the featured vegan bloggers: Remy Park, Rachel Steenland, Hannah Sunderani, Francesca Bonadonna, and Alfonso Revilla. All rights reserved. Article written by Gina House and edited by Amanda Meth. Please note that this article contains an affiliate link which helps support our work at World of Vegan.