It's easy being green when you have a batch of these delicious vegan blender muffins with hidden spinach on the table or tucked in your kids lunchbox! These muffins are the perfect sneaky way to get your kids to eat their greens.
While a leafy salad may be greeted with suspicion at best and disgust at worst, nobody can resist the sweet taste of ripe bananas and warm cinnamon. No one needs to know that they're secretly nutritious, packed with oats, vitamins, minerals, and all sorts of superfoods.
Kids don't always know what's best for them, but they definitely know what they do and don't like. These green toddler muffins have created lasting peace in many households by appealing to tastebuds, acquiring fun names like "monster muffins" and "dino muffins!" They're truly tasty treats infused with otherwise questionable vegetables that they'll gobble down without hesitation.
The bright emerald color is much more inviting to picky eaters when it's used to infuse tender, bite-sized breakfast treats. And they're easy to make right in your blender!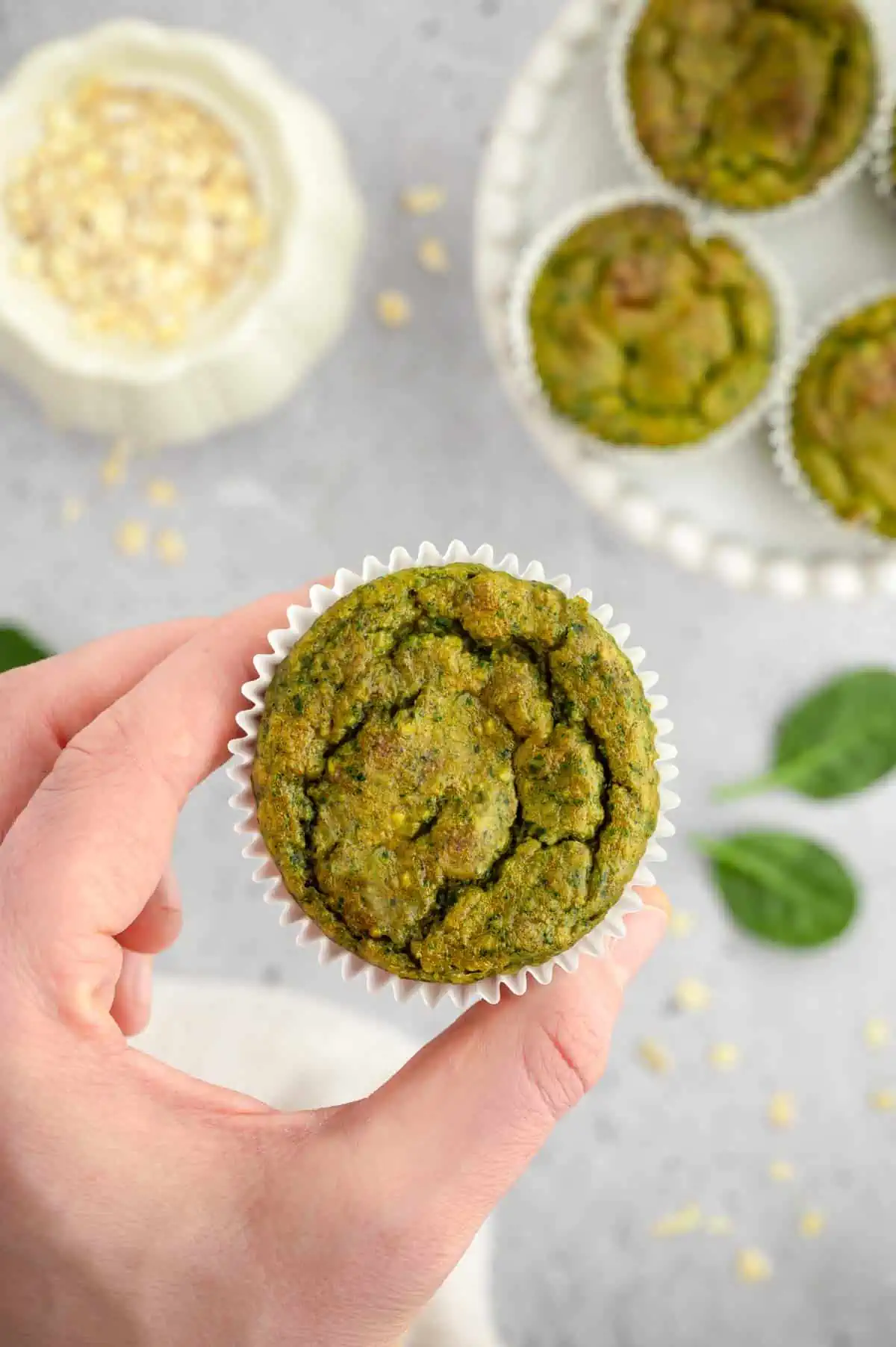 Why The Whole Family Will Love These Blender Muffins
Who can resist a fluffy homemade muffin, fresh from the oven? No one in my family, that's for sure! There's no age limit for enjoying these healthy spinach banana muffins.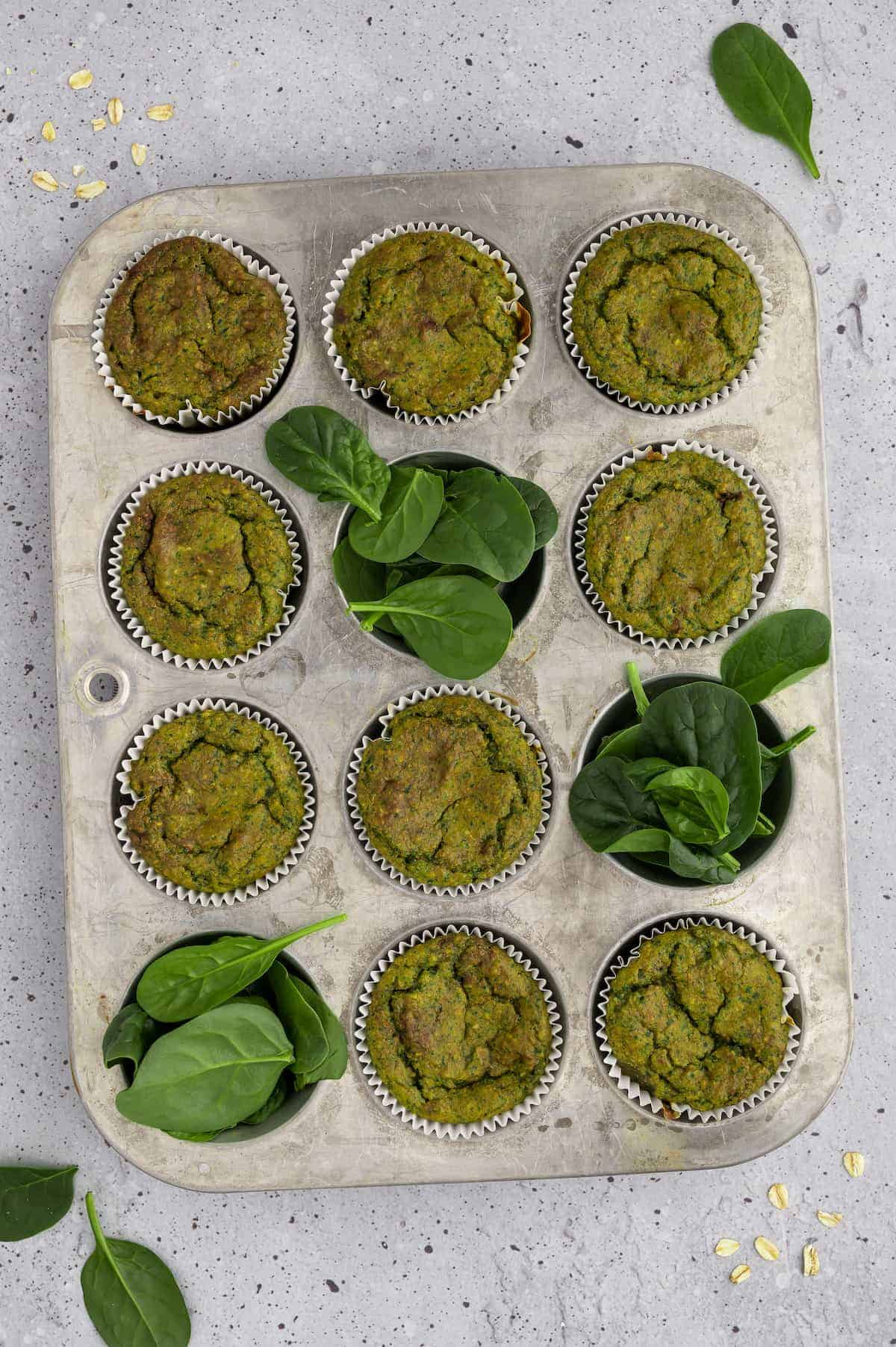 Hidden nutrition. Even those that turn up their noses at the mere suggestion will come around with one bite! Spinach banana muffins are a fantastic way to get greens in your kiddo and ultimately help them love spinach overall.
Kids can help. Teach basic baking skills from an early age and they'll be set for life. This is a great beginner recipe that kids of all ages can master in no time.
Easy clean up. Forget about one-bowl muffins; you can leave those all in the pantry! Everything gets mixed right in the blender so there's very little to wash when you're done.
Key Ingredients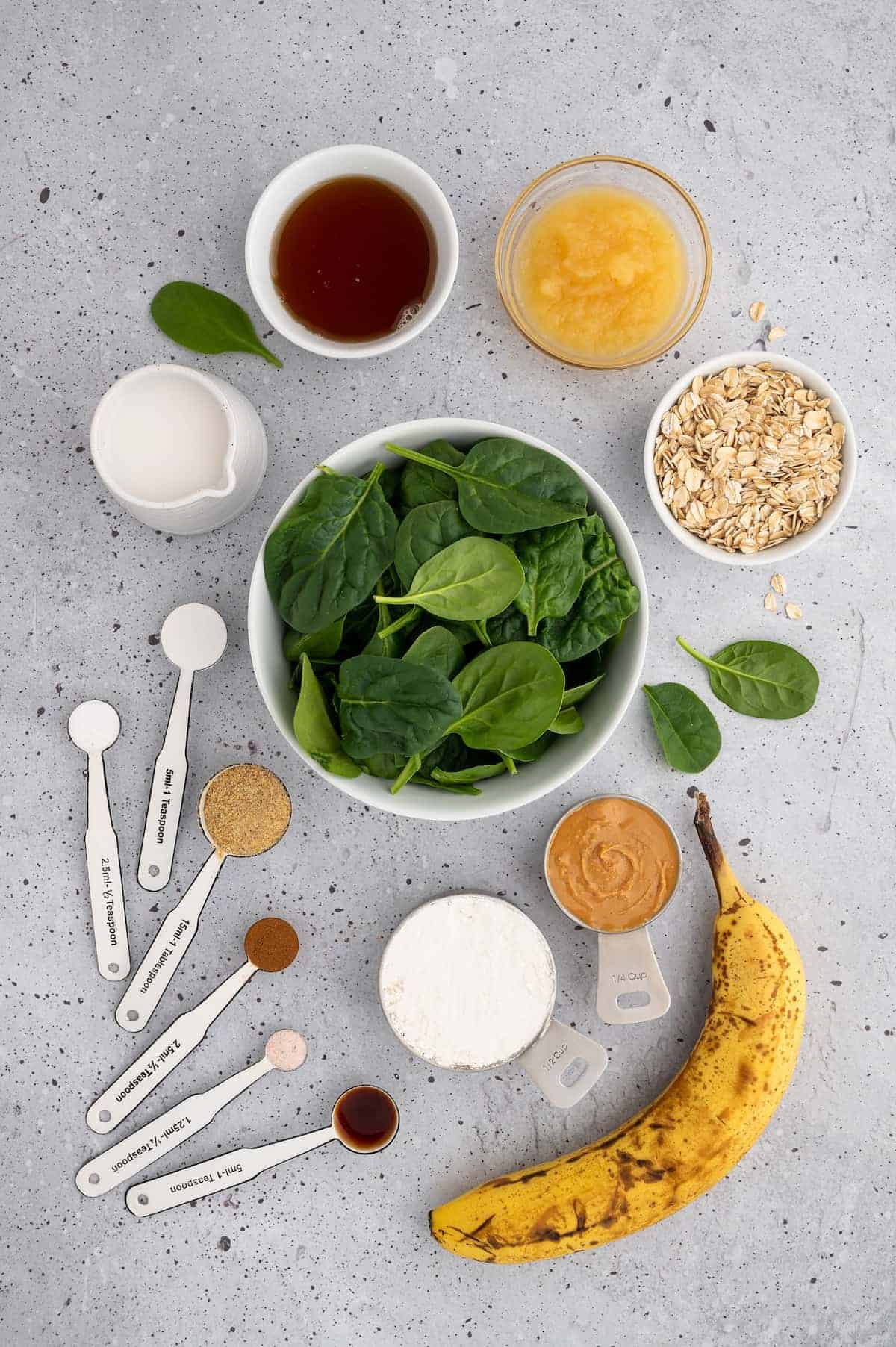 Make your vegan grocery list and check it twice; you don't need a whole lot to get started.
Rolled oats: Old fashioned, whole rolled oats are a rich source of fiber to keep voracious eaters full and satisfied far longer than the average snack cake.
Flour: All-purpose flour works like a charm, but you can use an equal amount of your favorite gluten-free flour blend if needed.
Spinach: Everyone knows that fresh spinach cooks down to almost nothing, so make sure you really pack it in while measuring. Alternately, you could start with a scant ¼ cup of frozen spinach that's been thawed and thoroughly drained.
Banana: The spottier, the better! Make sure your banana is super ripe to add natural sweetness without relying on processed or refined sugars.
Flaxseeds: Beyond functioning as a plant-based egg replacer, flaxseeds contribute healthy omega-3 fatty acids for improved brain and heart health.
Soymilk: Any variety will do, and you can switch it up with your favorite plant milk too, such as almond, hemp, oat, cashew, and beyond.
Applesauce: Applesauce is a fantastic egg replacer and in this recipe it also doubles as a healthy sweetener! Select unsweetened, smooth applesauce for the best results.
Maple syrup: Kids accustomed to sugary snacks will have an easier time coming around to a treat with a touch of rich maple syrup in the mix, but you can slowly dial it back as tastebuds adjust.
Cinnamon: Consider a more complex flavor by substituting a pumpkin spice blend or try swapping in ginger for a warmer change of pace.
Play With Your Food!
Satisfy your kiddo's appetite for adventure while filling their tummies! The fun starts when you transform humble muffin batter into fun new forms.
Call them "dino muffins" or "monster muffins" when you can also pour the batter in different shaped nonstick silicone molds, from dinosaurs to goblins and beyond!
Drop in a handful of mini vegan chocolate chips to get your kids even more excited to reach for these.
Add vegan candy eyeballs to make truly ghastly- or silly- faces on your green monster muffins.
Sprinkle shredded coconut on top to make a wild hairdo or crazy fur coat.
Decorate with vegan sprinkles to bring on a festive cupcake feel!
How To Make These Spinach Banana Muffins
Making these muffins are made with wholesome ingredients and are fun to make! Follow these steps for fluffy, vibrantly green muffins that are sure to become a favorite.
Step One: Preheat your oven to 350 degrees F. Blend the rolled oats and flour in a high-powered blender. Blend until the mixture is very fine, almost like flour.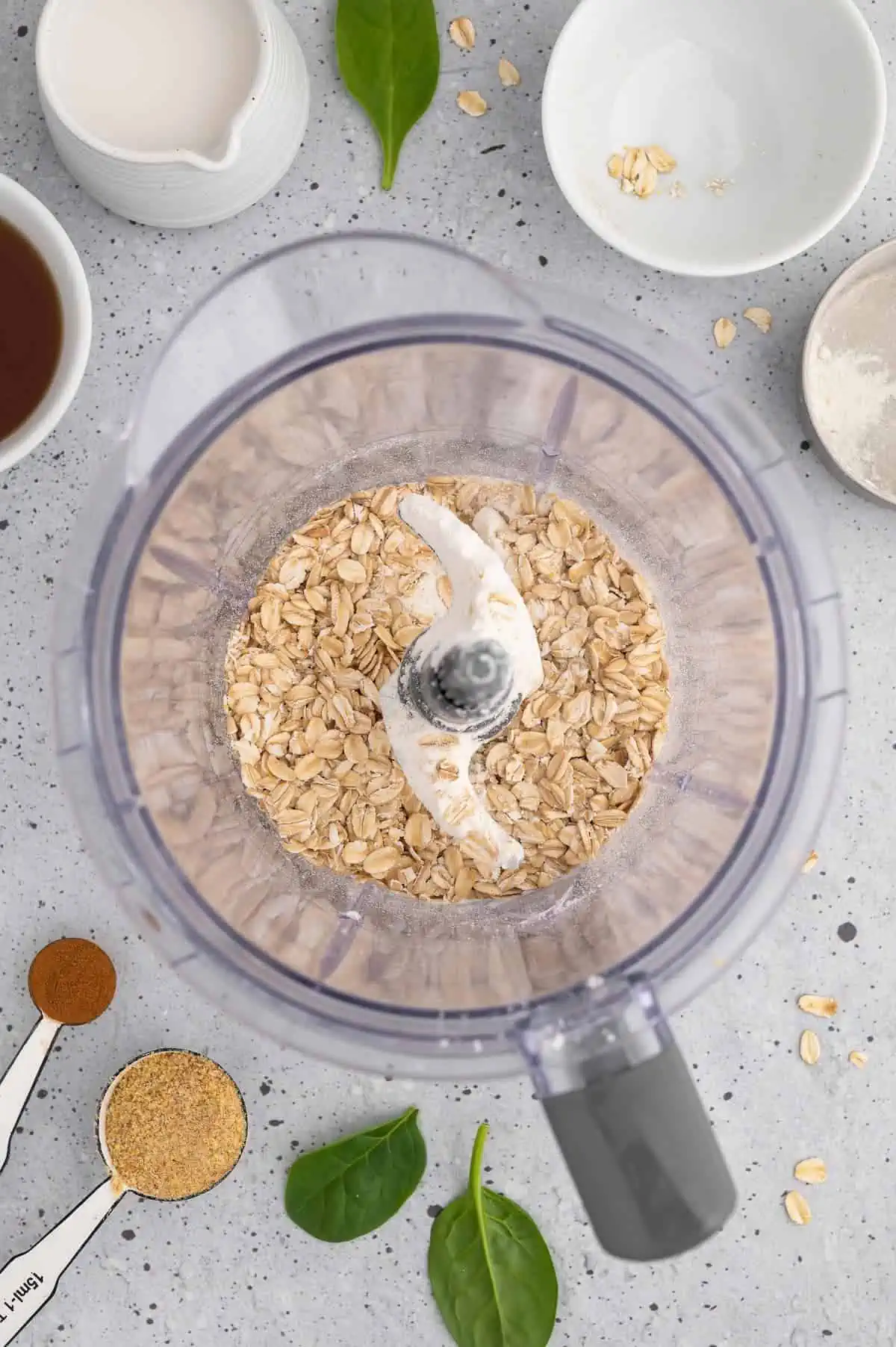 Step Two: Add the rest of the ingredients except for the baking powder and baking soda. Blend until the batter is smooth and creamy. Once that consistency is reached, add the baking powder and baking soda and blend gently with a spoon. Mix it enough to combine it—take care not to over-mix it!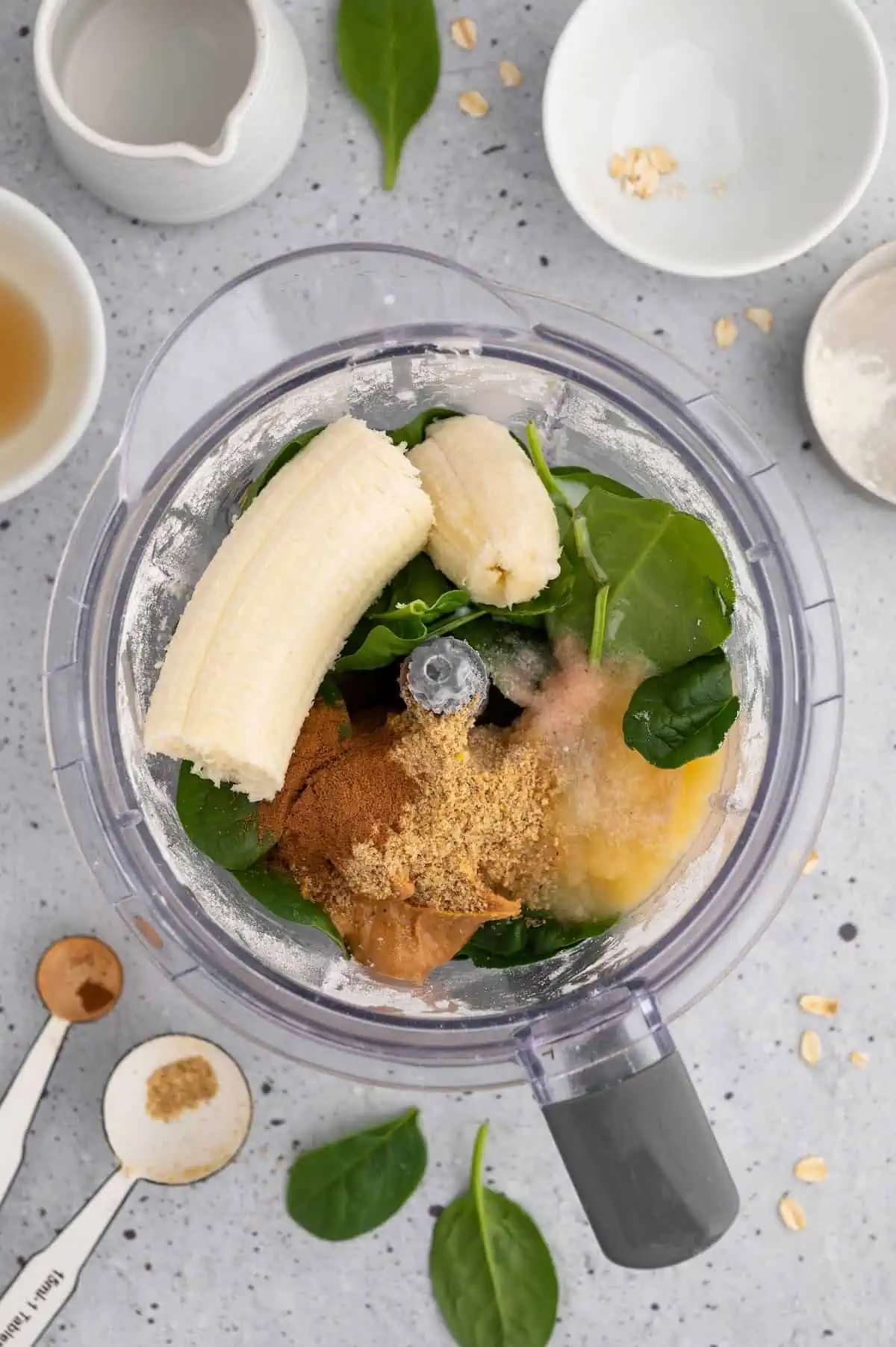 Step Three: Line your muffin tin with 12 cupcake liners. Transfer the batter to each liner, taking care to only fill it halfway.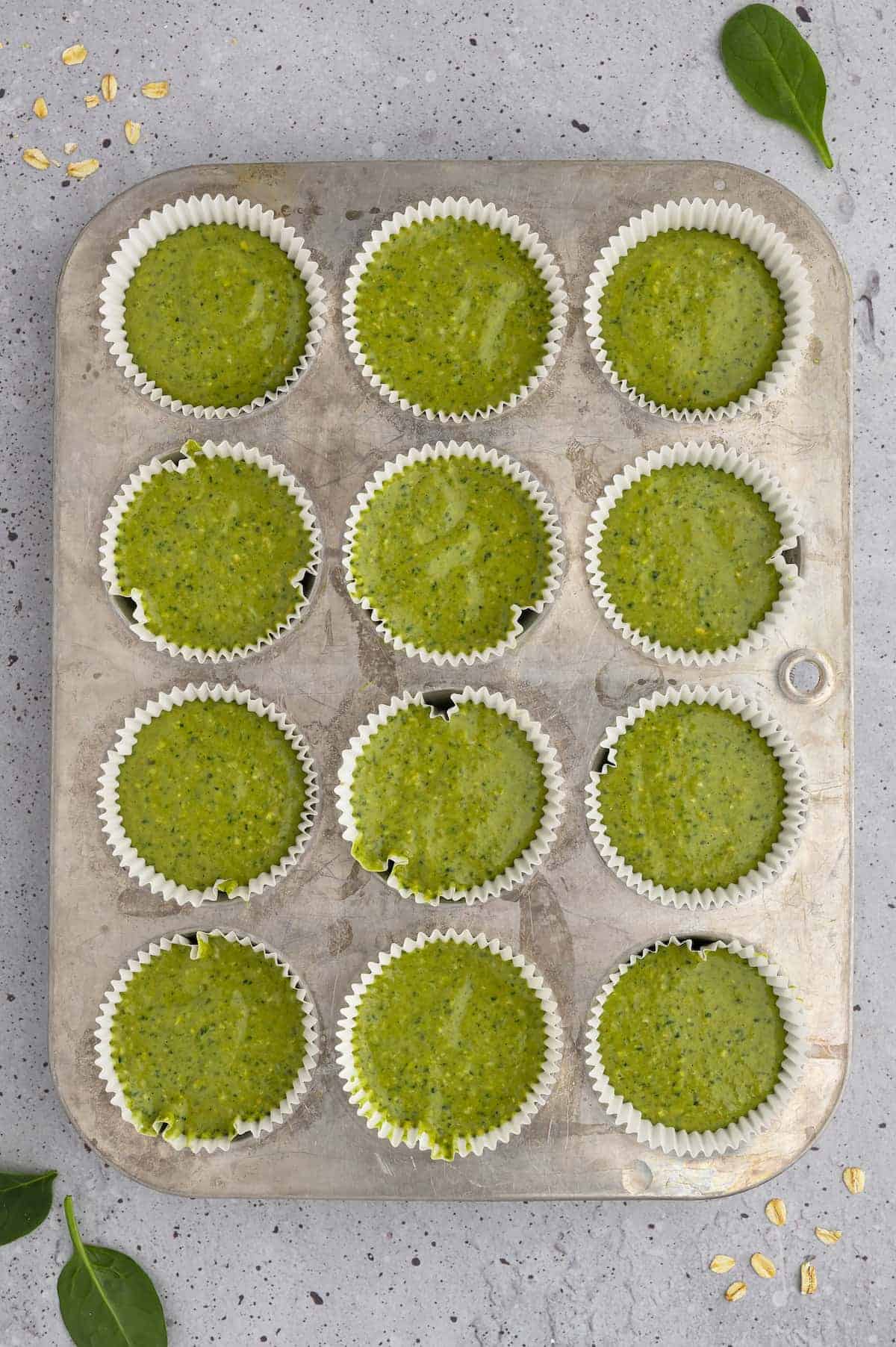 Step Four: Bake the muffins for about 26 minutes. Insert a toothpick into the center of the muffin. Once it comes out clean, the muffins are done. Allow the muffins to fully cool before serving. Enjoy!
Fun Muffin Mix-Ins
Baby spinach banana muffins may be a harder sell for older kids, but they'll come around with a few simple goodies mixed into the batter. Try these mix-ins for a touch of healthy decadence.
Tips For Success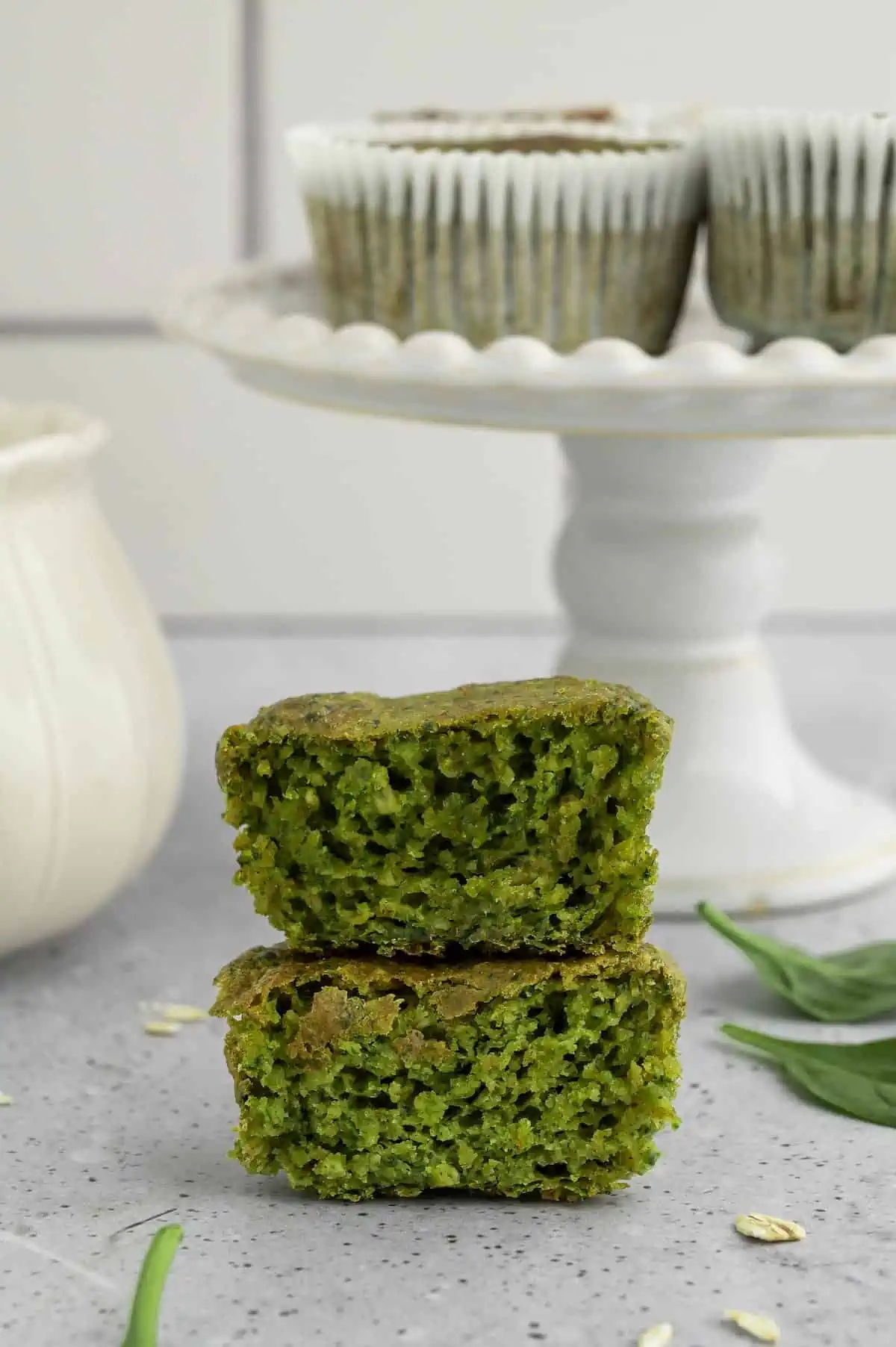 You really can't mess this foolproof recipe up, no matter how hard you try! To make your experience smoother, here are a few simple tricks and tips to bear in mind.
Blend the rolled oats and flour together first, pureeing on high speed, to make sure the oats are finely ground before adding any other ingredients. This will give you a smoother and more consistent batter.
Blend the liquid ingredients very thoroughly, especially after adding the spinach. You don't want to have any visible flecks of green remaining.
After adding the baking powder and soda, pulse just enough to incorporate the leaveners.
Don't worry about leaving some lumps in the final mix! It's much better than overmixing, which will create a tough, dense crumb.
Dispense immediately after bringing the batter together to get the best rise and fluffiest texture after baking.
If you end up with an odd number of muffin cups filled, pour about ½-inch of water into any open space. This will add steam to the oven, prevent the tins from being damaged by the dry heat, and aid in the rising of the muffins.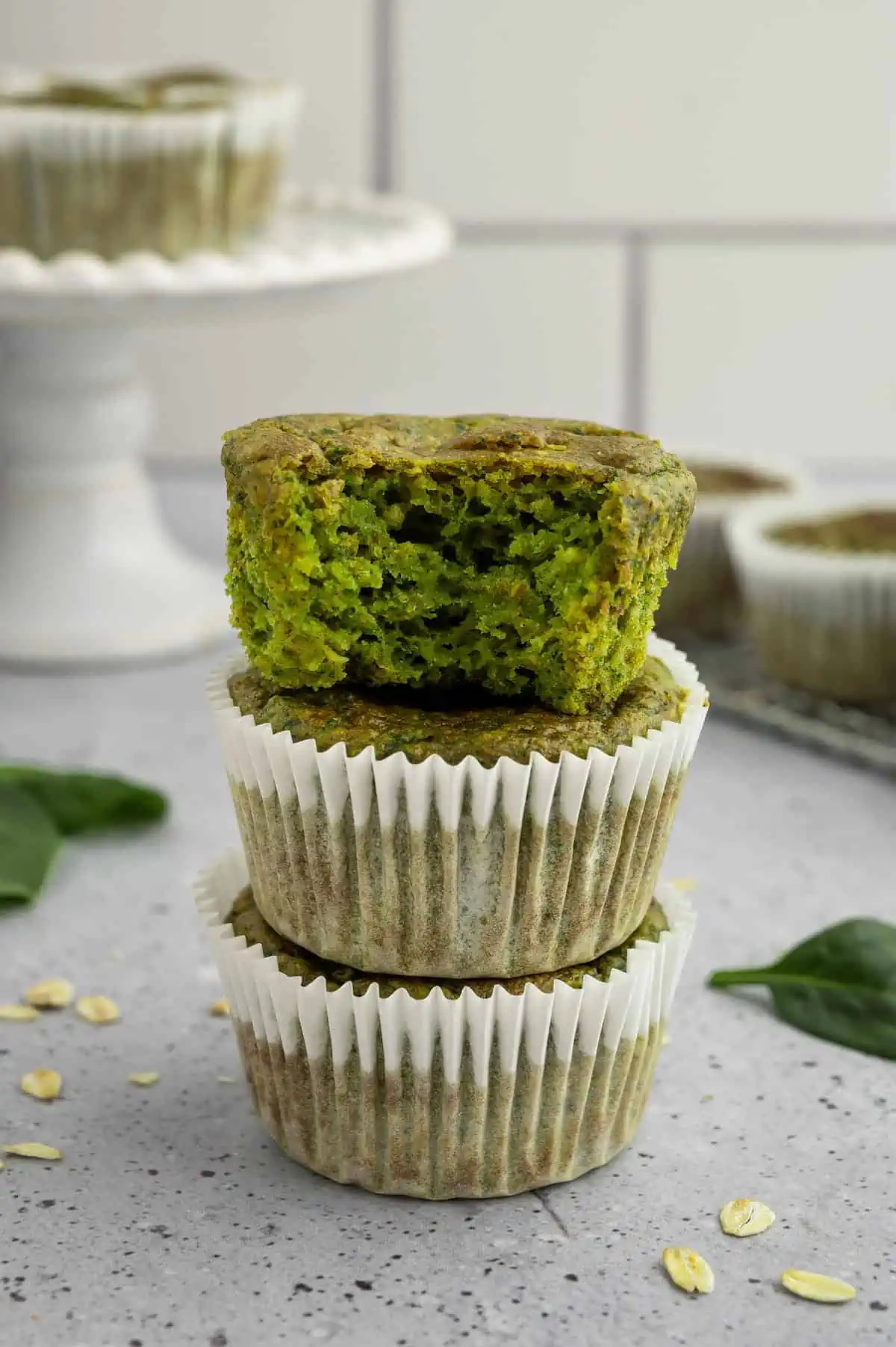 FAQs
How long do toddler veggie muffins keep?
Once cooled, homemade muffins can be kept in an airtight container in the fridge for 5 to 7 days. Alternately, you can freeze these muffins for many months and pop them out into lunch boxes or heat them in the toaster oven for a quick snack.
Can I turn these full-sized muffins into mini muffins?
For smaller, bite-sized treats to fit tiny mouths, you can easy convert this recipe into mini muffins. 12 full-sized muffins turn into approximately 36 mini muffins. Simply reduce the baking time to 10 to 12 minutes, or until a toothpick inserted into the centers comes out clean.
Are there different greens I could use instead of spinach?
Of course, the more greens, the better! Try fresh kale, arugula, Swiss chard, collard greens, or any combination of your favorites. Bear in mind that darker, heartier greens will have a stronger flavor which means you may need more sweetener or spices to compensate.
More Healthy Muffin Recipes To Try
½ cup old fashioned rolled oats
½ cup all-purpose flour
1 cup spinach, tightly packed
1 medium very ripe banana, the spottier the better!
1 tablespoon ground flaxseeds
¼ cup natural peanut butter
½ cup soymilk, any variety
¼ cup apple sauce
¼ cup maple syrup
1 teaspoon vanilla extract
½ teaspoon cinnamon
1 pinch salt
1 teaspoon baking powder
½ teaspoon baking soda
Pre-heat oven to 350 degrees F and line a muffin pan with 12 standard-size cupcake liners.

In a high-powered blender add the rolled oats and flour and blend on high until you have a fine flour-like powder.

Add the spinach, banana, ground flaxseeds, peanut butter, soymilk, apple sauce, maple syrup, vanilla extract, cinnamon, and salt. Blend on high until you have a smooth creamy green batter (there shouldn't be any chunks or green spinach flakes).

Add the baking powder and baking soda directly to the blender and mix quickly and briefly with a spoon until evenly incorporated. Do not over-mix.

Pour the green blender mixture into the flour mixture and stir with a spoon just until combined. Do not over-mix.

Using a spoon, add a dollop of batter to each spot in the muffin tin, splitting the dough evenly across all 12. These muffins will be half-sized so they will be perfect for little toddler hands and bellies.

Bake in the oven at 350 degrees F for 26 minutes, or until a toothpick inserted into the center of a muffin comes out clean.

Remove from oven and allow to cool before enjoying!
You can freeze these muffins for many months and pop them out into lunch boxes or heat them in the toaster oven for a quick snack.
Calories: 102kcal | Carbohydrates: 16g | Protein: 3g | Fat: 4g | Saturated Fat: 1g | Polyunsaturated Fat: 1g | Monounsaturated Fat: 2g | Sodium: 93mg | Potassium: 135mg | Fiber: 1g | Sugar: 7g | Vitamin A: 281IU | Vitamin C: 2mg | Calcium: 51mg | Iron: 1mg
Spinach banana muffin photos by Amanda McGillicuddy for World of Vegan, all rights reserved.