Craving a deliciously dairy-free carbonara pasta? This vegan carbonara recipe is made with silken tofu and comes together in just under an hour. It features a creamy, egg-y flavor thanks to kala namak and an added layer of texture from the coconut bacon.
You can never go wrong with any type of noodle, but silky, rich, and creamy pasta carbonara is hard to beat. Created by resourceful Italian cooks centuries ago as a simple way of using up humble staple ingredients, the sum is truly greater than its parts. Golden egg yolks enrich the sauce, coating every al dente strand with cheesy goodness. Crispy bacon tangles around each forkful to add a savory, subtly smoky bite to create a deeply satisfying yet completely crave-worthy experience.
Unfortunately, as you may have guessed, this original formula relies heavily on animal products. If only those early eaters knew it could be even better with a completely vegan approach! This Creamy Carbonara with Coconut Bacon recipe comes from The Vegan Pasta Cookbook by Rebecca Hincke. Plant- based carbonara tastes every bite as decadent but is much healthier, easier, and comforting for everyone to enjoy.
Why You'll Love This Dairy-Free Carbonara
Aside from being absolutely delicious, there are even more reasons to love this vegan carbonara recipe. Here are just a few!
No raw eggs. There's the ever-present danger of either overcooking the sauce, resulting in a curdled, scrambled egg texture, or undercooking them, which could increase the risk of salmonella. Don't gamble with food poisoning, especially when there's a much better alternative!
Dairy-free. Lactose is notoriously difficult to digest, causing bloating, stomach upset, and much worse. That's just no way to enjoy so-called "comfort food."
Quick and easy. Even a novice cook can get this gourmet meal on the table in 30 minutes or less.
Gluten-free option. Don't let food intolerances and allergies get you down; just use your favorite gluten-free noodle to make this a wheat-free treat.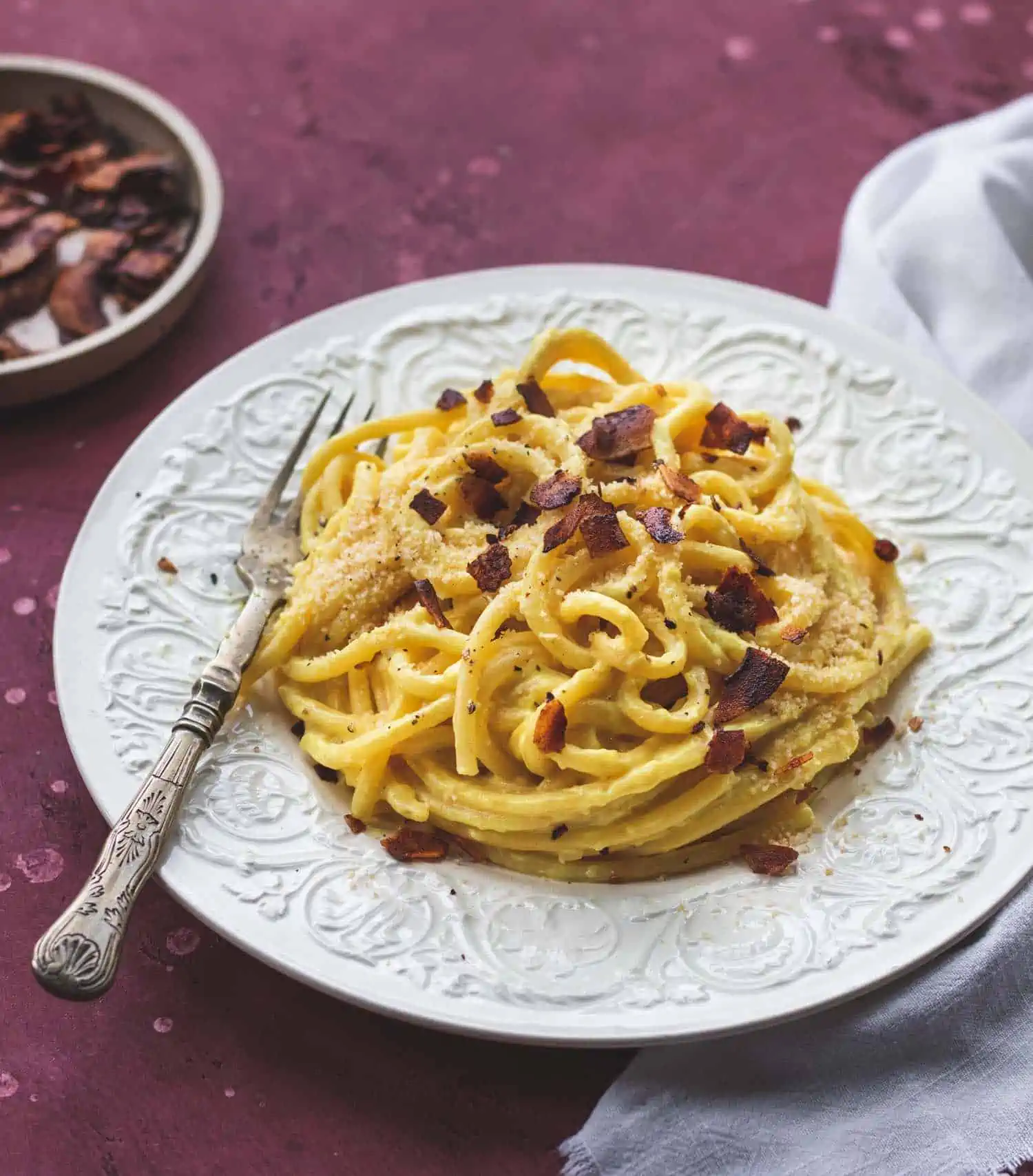 Key Ingredients
What goes into a plant based carbonara, you ask? Minimal elbow grease, plenty of pasta, and some wonderfully creamy components.
Silken tofu: Instantly create a high-protein yet low-calorie base by blending silken tofu to a smooth, creamy consistency. You can find this in shelf-stable, aseptic packages or water-packed near the refrigerated produce area.
Non-dairy milk: Pick a milk, any milk, as long as it doesn't come from a cow! Make sure it's unsweetened and then go with your favorite, whether that's almond, soy, hemp, oat, rice, or something else entirely.
Kala namak: Otherwise known as "black salt," it's a bit of a misnomer because the color is actually pink! This is the secret ingredient that creates an uncanny eggy flavor since it's a kiln- fired rock salt infused with sulfurous aroma. You can find it in most Asian specialty markets or online.
Turmeric: Just a tiny pinch will add a sunny yellow color to anything, which helps create a convincing eggy appearance to this sauce.
White miso paste: Add volumes of umami in a tiny spoonful of this Japanese fermented soybean paste. White miso is very mild, almost sweet, and rather salty.
Spaghetti or bucatini: Any long pasta will do, but bucatini, which is essentially a narrow tube, is the deluxe option. It offers the most satisfying bite, and the open ends to allow the sauce to run through the entire length, rather than just cling to the outside.
Vegan Parmesan: Many people don't realize that conventional Parmesan isn't even vegetarian, let alone vegan. Traditionally, rennet is used to make the curds coagulate, which comes from the stomach lining of cows. Chose a cruelty-free option, available from many brands such as Violife, Daiya, and Follow Your Heart to bypass that issue entirely. You can also make your own Chipotle Vegan Parmesan Sprinkle from scratch using whole foods ingredients.
Coconut flakes or chips: Coconut chips will give you larger bacon bits, whereas shreds will create a finer sprinkle. Both will taste great though so you can't go wrong with either choice!
Liquid smoke: A little bit goes a long way of this concentrated smoky flavor extract. It makes everything instantly taste like bacon, so it's a great thing to keep in the pantry for when cravings hit.
How to Level-Up Your Vegan Pasta Carbonara
No one would complain if you stick with a simple, straight-forward tofu carbonara sauce, but you can enhance the dish with your own personal touches to make it different and exciting every time.
Veg out! Toss in sautéed mushrooms, green peas, roasted asparagus, cherry tomatoes, corn kernels, or any of your other favorite veggies to add more color, flavor, and nutrition.
Bring the heat. For those who like it hot, try adding a drizzle of sriracha, a pinch of red pepper flakes, or a dollop of harissa for a spicy finish.
Crunch time. Add more textural contrast by adding a handful of crunchy chickpeas, sliced almonds, or crushed kale chips on top.
Pair with a side salad. If you want to get your greens but keep them separate, this dish pairs beautifully with a simple spinach or arugula salad dress with olive oil and balsamic vinegar.
For The Sauce:
10½ ounces silken tofu, drained, 297 grams
¼ cup unsweetened nondairy milk (oat, soy, or almond), 60 ml
¼ teaspoon kala namak
¼ teaspoon flaked sea salt
¼ teaspoon garlic powder
¼ teaspoon ground turmeric
2 teaspoon of white miso paste, 12 grams
For The Pasta:
10 ounces dried spaghetti or bucatini, 283 grams
4 tablespoons vegan Parmesan, grated (optional), 25 grams
1 cup pasta cooking water (as needed), 240 ml
For The Coconut Bacon:
¾ cup unsweetened coconut flakes or chips, 90 grams
2 tablespoons of tamari or soy sauce, 30 ml
½ tablespoon of olive or vegetable oil, 8 ml
For The Creamy Carbonara With Coconut Bacon:
1 teaspoon maple syrup or brown sugar
1 teaspoon liquid smoke
¼ teaspoon smoked paprika
¼ teaspoon pepper
Pinch sea salt
To Serve:
1 batch Coconut Bacon
Salt, to taste
Pepper, to taste
For the sauce, in a blender, combine the tofu, nondairy milk, kala namak, sea salt, garlic powder, turmeric, and white miso paste, and blend until smooth.

Put the pasta on to cook in a pot of boiling, salted water. Cook to al dente, then drain and reserve 1 cup (240 ml) of pasta cooking water.

Transfer the pasta back to the pot and add in the Parmesan (if using) and sauce. Stir together over low heat, until the Parmesan has melted and the sauce is thick and gooey, adding pasta cooking water as needed to loosen the sauce to your liking (you may not need to use all of it).

Preheat the oven to 325°F (160°C). Add the coconut to a mixing bowl. Whisk together the tamari, olive oil, maple syrup, liquid smoke, paprika, pepper, and salt, and pour it over the coconut. Stir everything together, until the coconut is fully coated in the sauce, then spread the pieces evenly on a large baking sheet lined with parchment paper. The more you can separate the coconut pieces, the more they will crisp up while cooking.

Bake them for about 20 minutes, until well toasted and crispy, stirring the pieces every 5 minutes to get an even toast and keep them from burning. Transfer to a bowl to cool before using.

Serve and top with Coconut Bacon and salt and pepper.
Calories: 632kcal | Carbohydrates: 86g | Protein: 21g | Fat: 23g | Saturated Fat: 14g | Polyunsaturated Fat: 4g | Monounsaturated Fat: 2g | Trans Fat: 0.02g | Sodium: 1153mg | Potassium: 585mg | Fiber: 8g | Sugar: 8g | Vitamin A: 164IU | Vitamin C: 2mg | Calcium: 100mg | Iron: 4mg
How to Use Leftover Carbonara Sauce
If you're making the dish in advance, it's a great idea to prepare the sauce and keep it separately in an airtight container in the fridge until ready to use. It's so delicious all by itself though, there are plenty of other ways to enjoy it without noodles:
Spread on top of pizza as an easy white sauce
Poured over a vegan "eggs" Benedict instead of the typical hollandaise sauce
Mix in fresh dill and lemon zest to create a party-ready dip or dressing
Swirl into creamy soups for a truly luxurious spoonful
Stir it into cooked rice to make a shortcut risotto
Dairy-free Carbonara FAQs
Q: Can this recipe be made soy-free?
A: Tofu is a critical part of the carbonara sauce, but you can swap it out for unsweetened almond or coconut yogurt for a tangy change of pace. Don't forget to replace the white miso with chickpea miso and the soy sauce with coconut aminos as well.
Q: How long will leftovers keep?
A: Once the sauce, pasta, and coconut bacon have been tossed together, the textures will change if kept for a second serving. The sauce will get thicken and the bacon will soften, but you can still enjoy it for up to 5 days if stored in an airtight container in the fridge. To reheat, you may want to add a bit more water while warming it gently in a saucepan over the stove, until the sauce is smooth again and everything is warmed through.
Q: If I don't like coconut, can I use something else?
A: No problem! You can make Easy Tofu Bacon instead, or simply use one of the many prepared vegan bacon options available in most grocery stores.
About the Author
Rebecca Hincke is a food photographer, recipe developer, and the founder of The Zesty Lime food blog, which focuses on healthy yet comforting plant-based recipes. She lives in the UK but has a worldwide audience that's always hungry for more.
More Deliciously Dairy-Free Pasta Recipes
This dairy-free carbonara recipe was reprinted with permission from The Vegan Pasta Cookbook by Rebecca Hinke. Copyright © 2022 by Page Street Publishing Co. Photography by Rebecca Hinke. Reproduced by arrangement with the Publisher. All rights reserved. Many thanks to Jessica Sabbagh and Sarah Hudson for recipe testing. This article may include affiliate links when available and shopping through these links supports World of Vegan.