Trying to wrap your head around what exactly to make a vegan wrap out of? Look no further! From high protein vegan wraps to super tasty vegan wrap fillings, this lunch round-up has enough vegan wrap ideas to keep you rolling throughout the week.
We're big fans of vegan wraps here at World of Vegan. We truly believe that sometimes the best meal is the one where you just throw a bunch of ingredients into a warm tortilla or lettuce boat, roll it up, and call it a day. Easy to make, simple to customize, and practically foolproof, we're excited to share some of the very best vegan wrap recipes with you! Whether you like to keep things on the raw side or love a good vegan tortilla wrap, there are enough ways to make a winning wrap that you can pretty much use whatever ingredients you have on hand!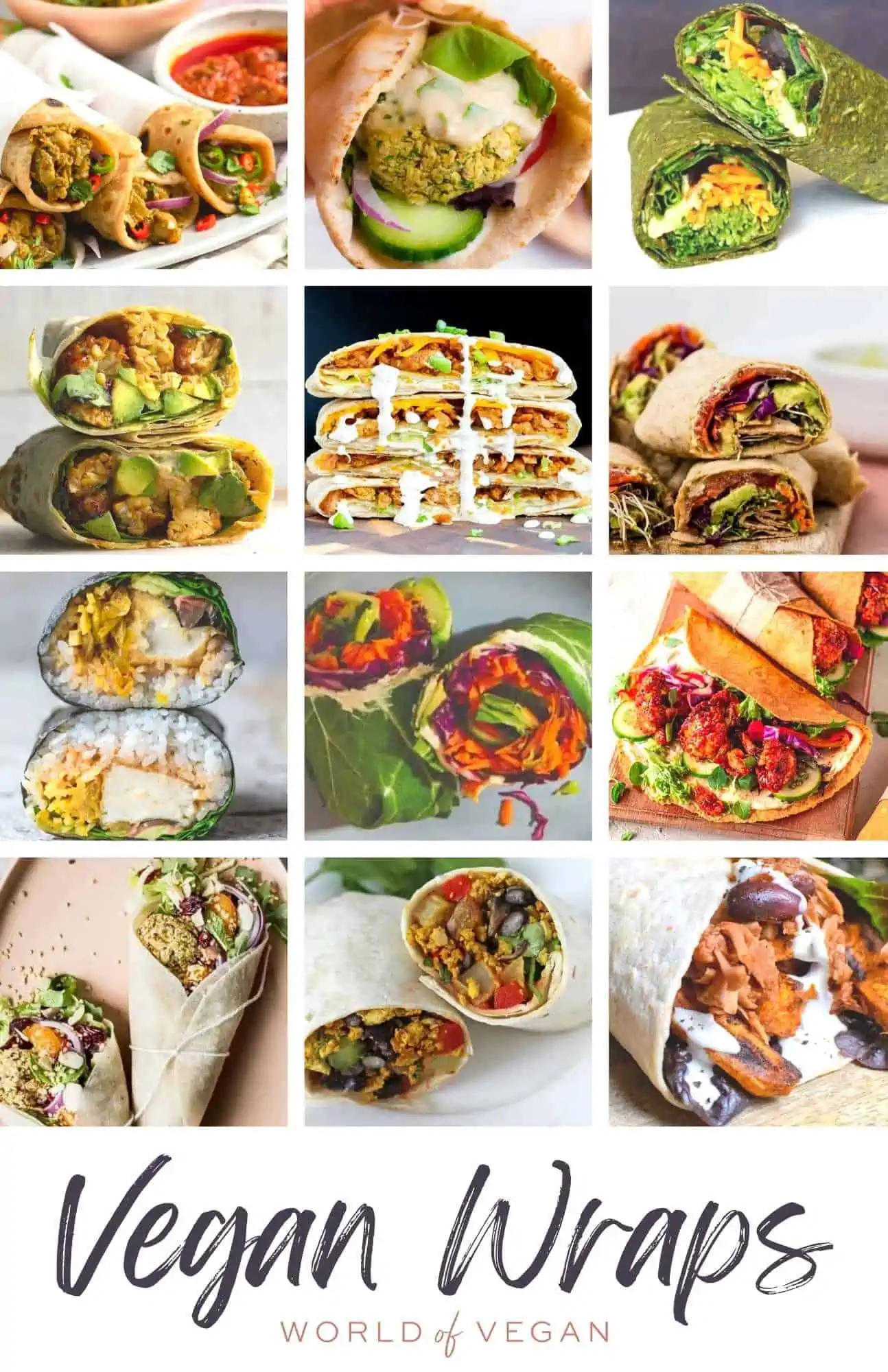 How to Make Vegan Wraps
The answer is quite simple: use whatever variation of plant-based ingredients you have available, throw them together, and wrap them up however you'd like.
What is a vegan wrap made of?
You can make a vegan wrap out of many things! For the wrap itself, try:
…and the list goes on. Fill it your wrap of choice up with raw veggies, sautéed aromatics with vegan meat strips, slices, or nuggets, diced cucumbers with tomatoes, spicy sauces or creamy dairy-free dressings, and more!
What are some common vegan wrap fillings?
We're so glad you asked! If you need some inspiration, here are some suggestions:
Plant-Based Protein – Tofu, seitan, chickpeas, tempeh, or mock meats such as vegan chicken, Tofurky slices, veggie ham, or vegan pepperoni are all great ideas for adding texture, flavor, and protein to your wraps.
Sauce/Spread – Sauce is truly one of the best parts of eating a wrap. The added flavor from a chunky hummus spread or creamy dill dressing can truly bring your wrap to the next level. And don't be shy—combine more than one sauce or spread for the ultimate flavor flair!
Colorful Veggies – Eat the rainbow! Lettuce, spinach, fresh kale or sauteed kale, carrots, bell peppers, corn, and sprouts are all great ingredients to include in your vegan wraps.
What kind of wraps are vegan?
Many wraps can be made vegan, whether you're at home or ordering at a restaurant. If you're eating out at a fast food restaurant or non-vegan establishment, it's generally safe to order a wrap with common ingredients such as lettuce, tomatoes, cucumbers, olives, and beans with avocado. Depending on the restaurant, you may even be lucky enough to order off a vegan menu!
The Best Vegan Wrap Recipes You've Gotta Try
Full of fresh veggies and creamy hummus, this wrap recipe is perfect for a light lunch. You're welcome to use whatever you have on hand!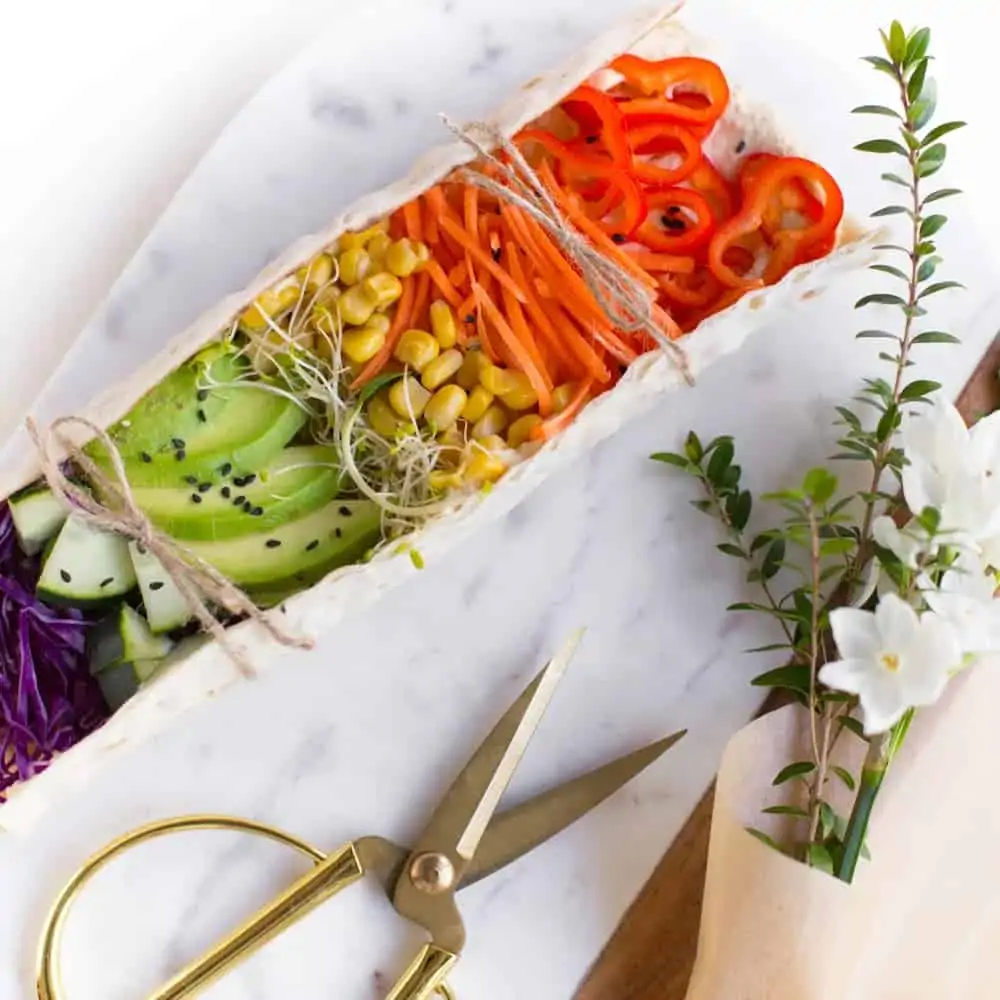 There's nothing quite like fresh falafel. Filling, flavorful, and perfect for prepping in advance, these vegan falafel wraps are a must-have for any wrap lover. Garnish with fresh parsley and greens and enjoy!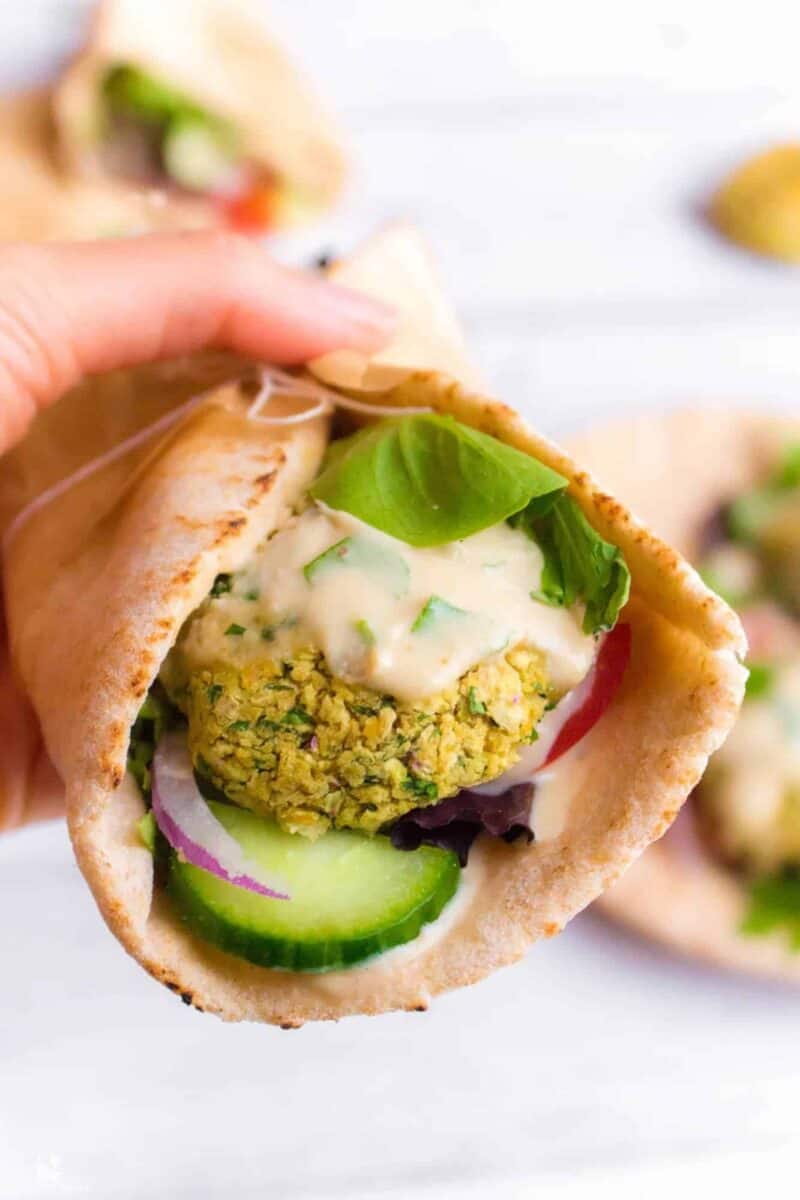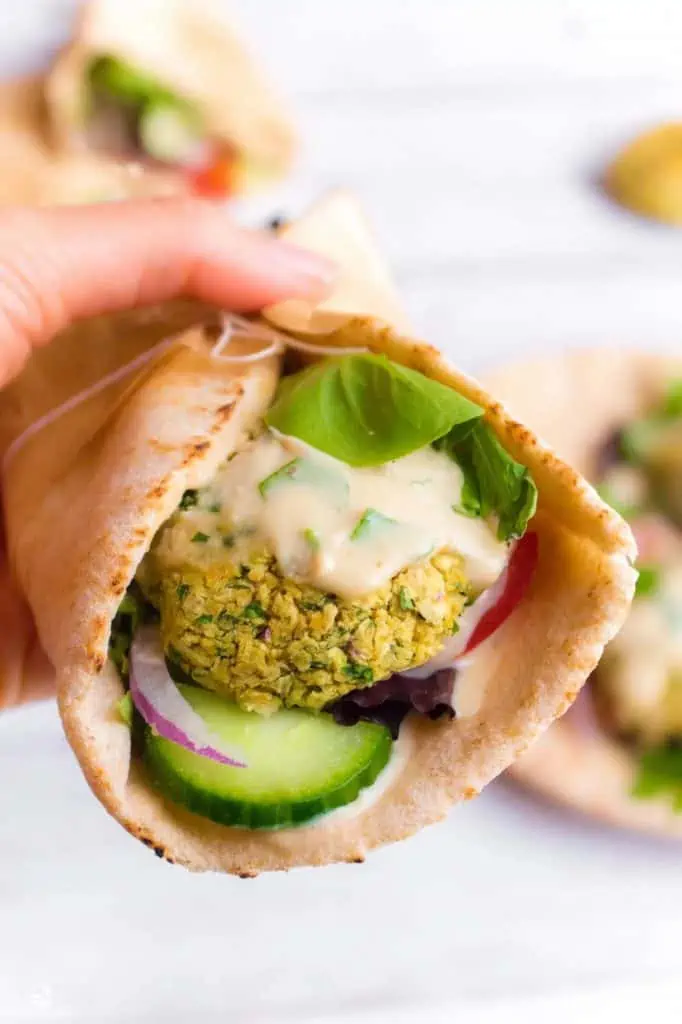 Gluten-free? Then this wrap is for you! These collard wraps are filled with veggies and slathered with hummus, though you could swap that out with another creamy vegan filling of your choice.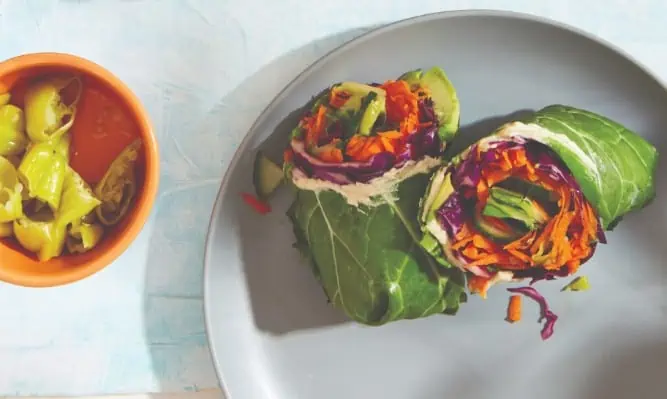 Spicy, savory, and a great way to use up your chickpeas, you've got to try From My Bowl's spin on Indian street food. Naturally soy-free, these flavorful curried chickpeas wrapped up in Roti bread are quite the vegan wrap treat!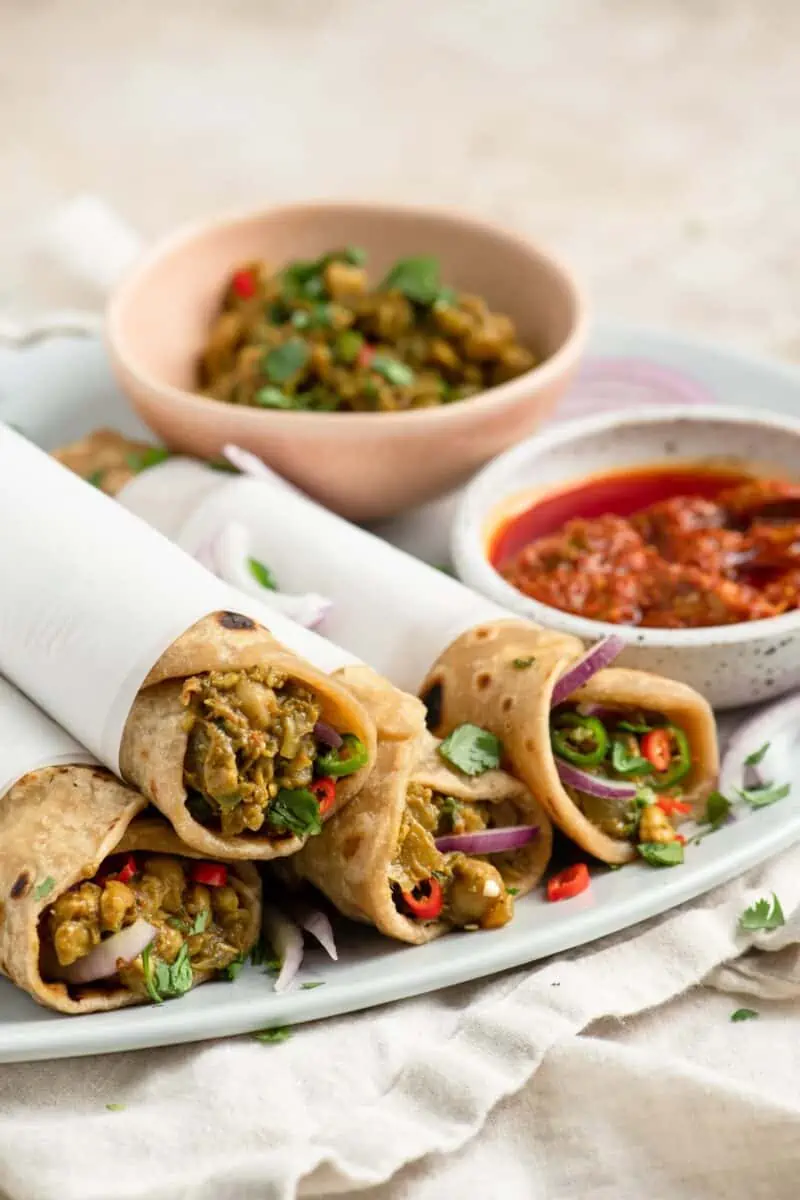 Bright, slightly sweet, a little tangy, and completely tasty, this wrap recipe from Plant Based RD is packed with texture and flavor. Pack along for a picnic or maybe even a visit to an animal sanctuary!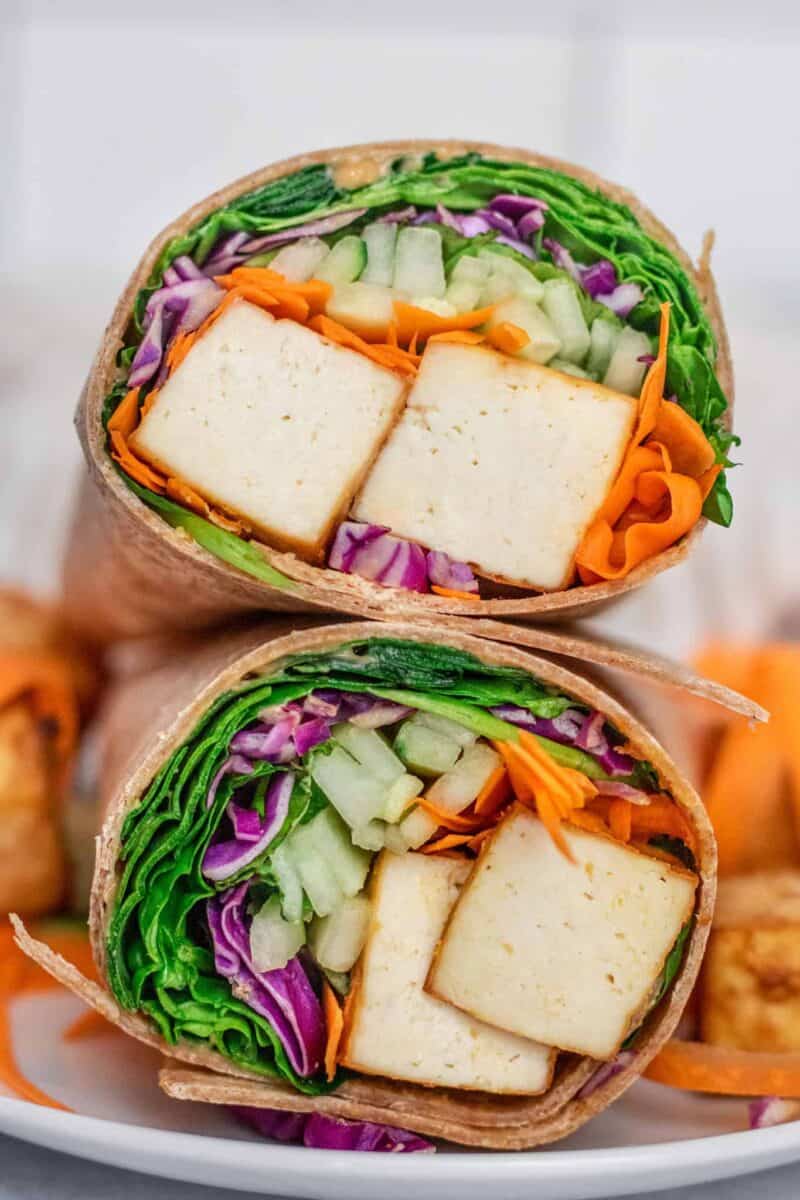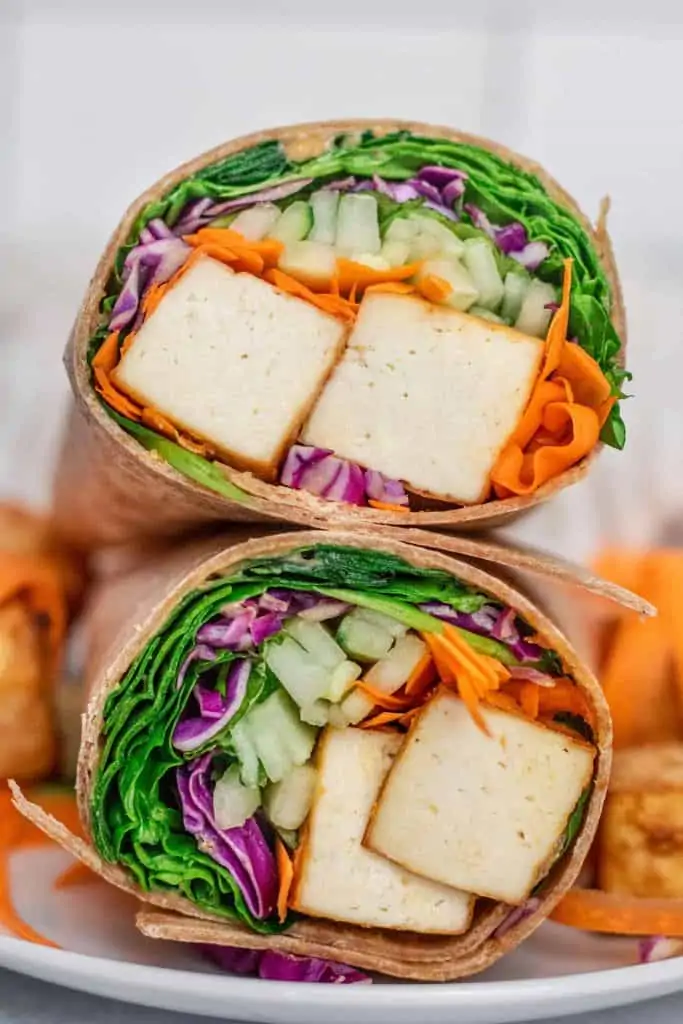 If you like your wraps to be heavy on the flavor and texture, we would absolutely recommend trying this loaded jackfruit wrap by Vegan Punks. Protein-packed kidney beans, sweet potatoes, and gem lettuce are just a few of the many ingredients in this creative and invigorating meatless wrap.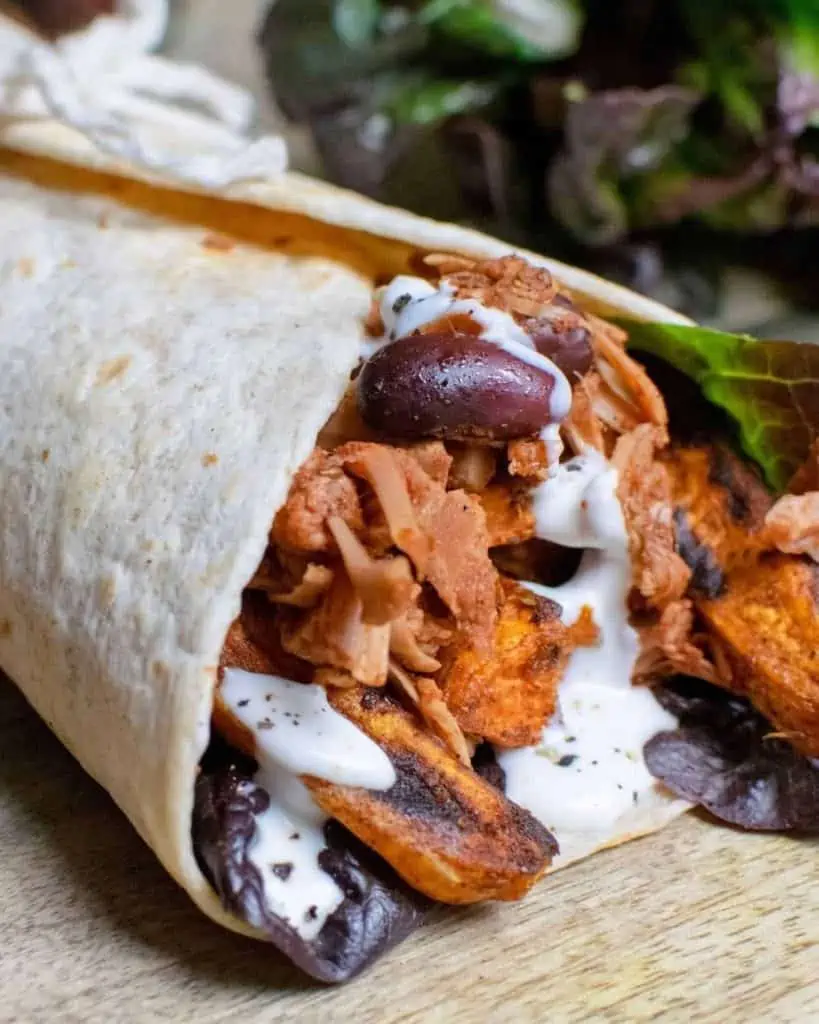 Love vegan sushi and burritos? Then look no further than this delicious vegan and gluten-free wrap recipe from My Goodness Kitchen. Steamed rice, crispy tofu, kimchi, and more all come together in a nori wrap to deliver a serious flavor party.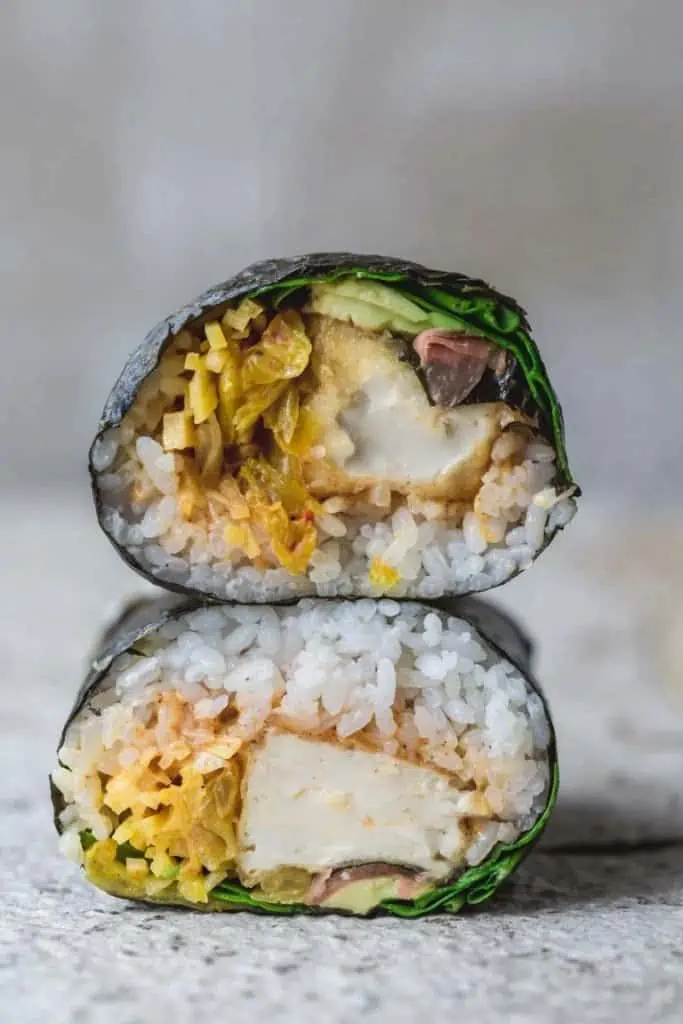 Cauliflower to the rescue! These tasty and tangy wraps from Rainbow Nourishments also feature brown rice, red cabbage, and bell pepper all smothered in a butter bean spread to provide a boost of plant-based protein and flavor.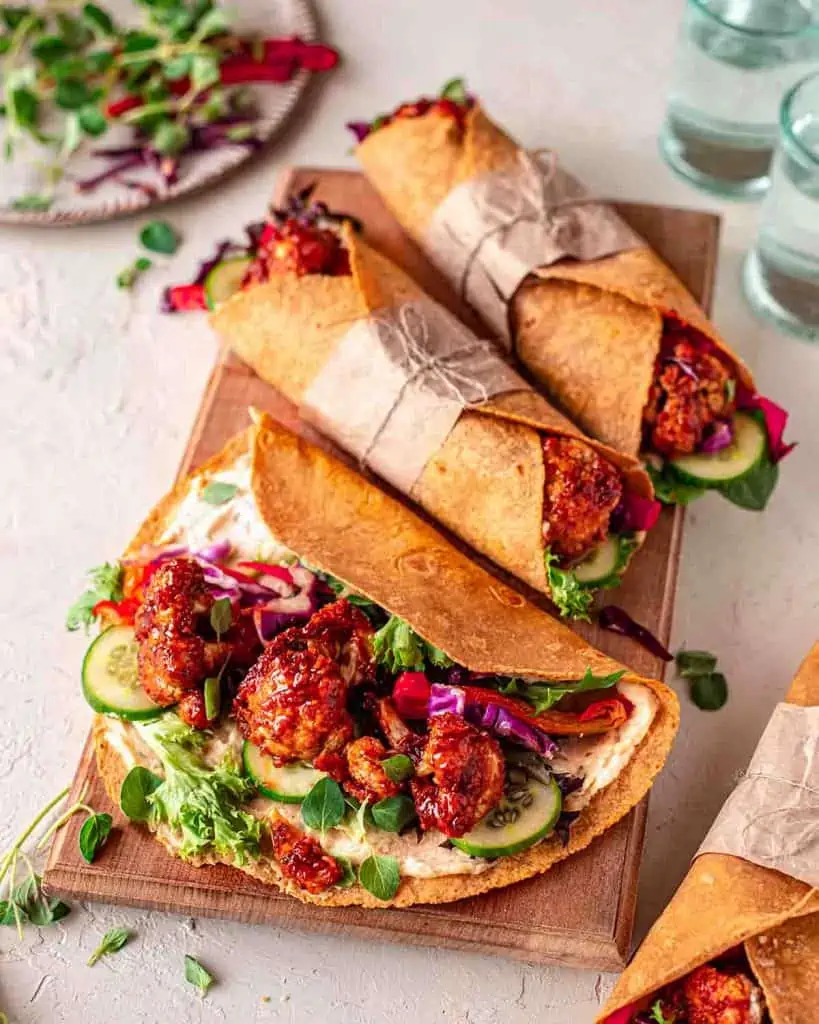 Only have a few minutes and a few ingredients on-hand? This tasty wrap recipe from Veggie Inspired is here to save the day! A creamy broccoli slaw mixed with dairy-free yogurt, spicy hummus, and some sliced apples for sweetness make this a simple yet delicious vegan wrap idea.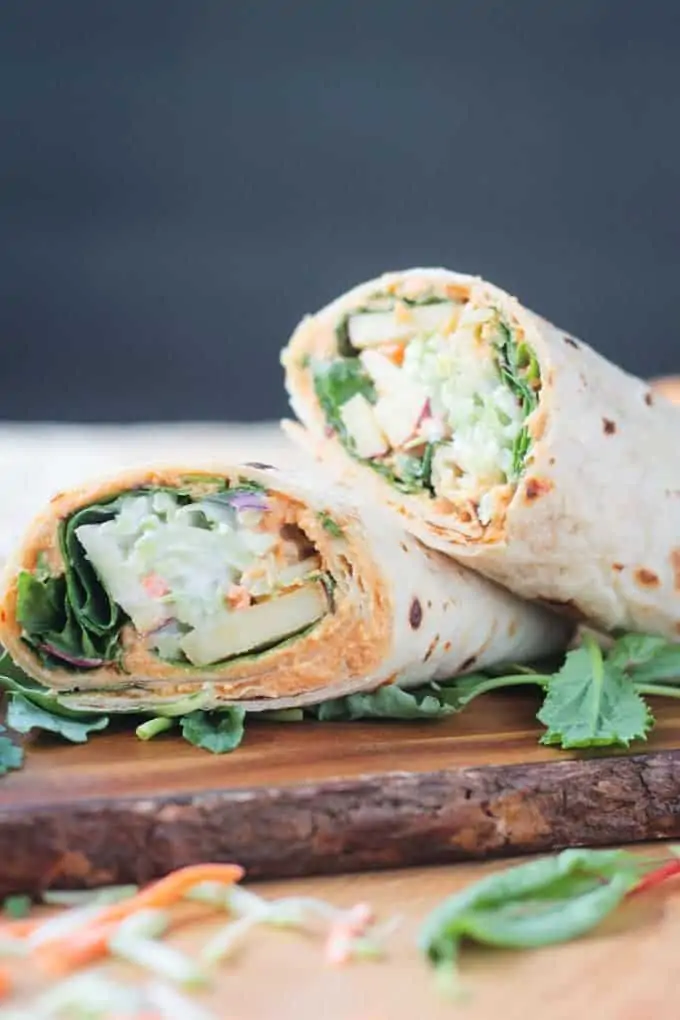 A wonderfully exciting gluten-free vegan wrap idea from Healthy Little Vittles, the magic lies in the combination of fluffy, protein-packed quinoa falafel meeting juicy, and sweet tangerines. An easy meal for lunch or dinner, the falafel is also great for prepping in advance to make assembling these wraps a real breeze.
Not only are these tasty vegan tofu burritos from Delightful Adventures a great way to fuel up for breakfast, but they're perfect for freezing in bulk as well! Serve with some hot sauce or even some vegan buffalo queso if you really want to go all out.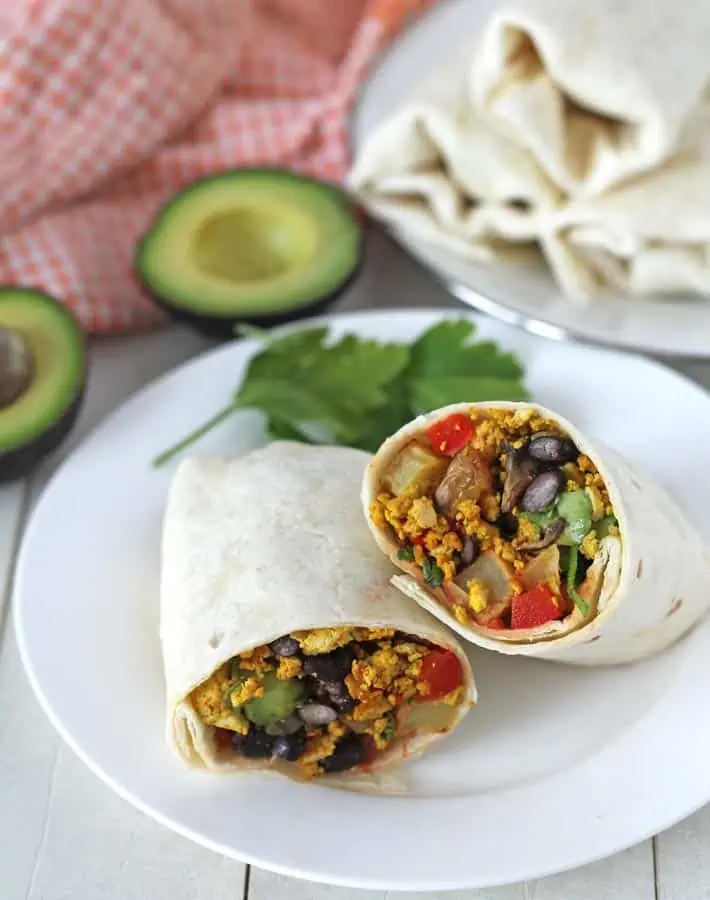 From our friends at The Cheeky Chickpea comes a super flavorful and satisfying vegan gyro recipe. The trick is in marinating the tofu in a deeply rich sauce made with ingredients such as tamari, balsamic vinegar, brown sugar, and tomato paste. We'd recommend marinating the tofu overnight for maximum flavor but it needs to sit for at least one hour. Once the tofu is ready, just grill it up and assemble the vegan gyros with fresh ingredients and vegan tzatziki sauce on a warm flatbread!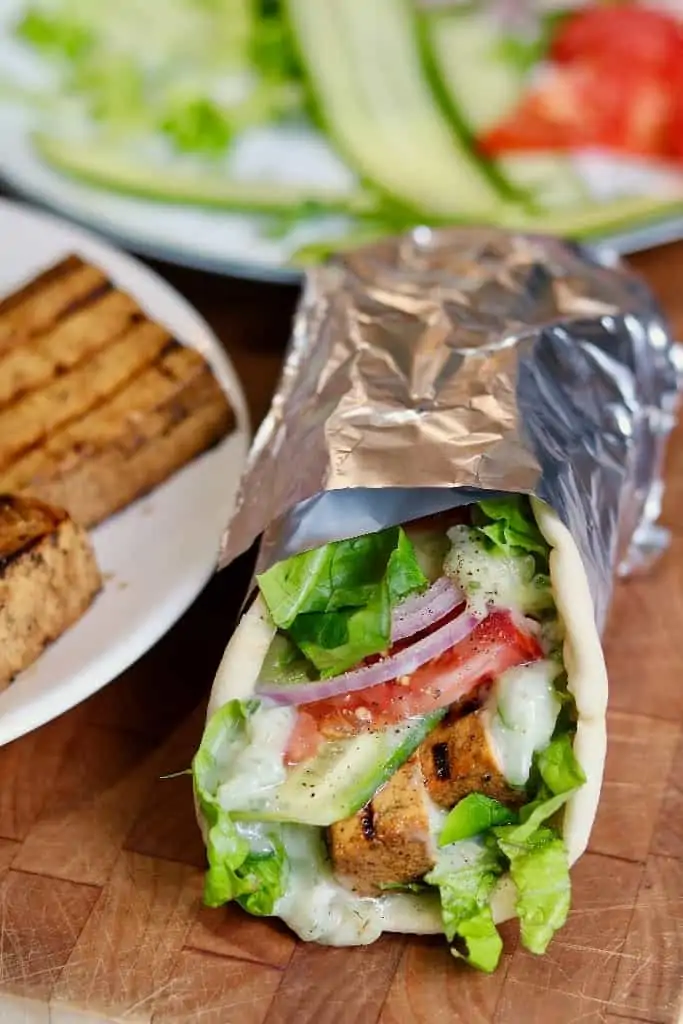 It wouldn't be a vegan wrap roundup without a vegan crunch wrap! Let's give a round of applause to Vegan Richa for giving us this Korean BBQ spin on the highly coveted crunch wrap. Sweet and tangy soy curls, julienned carrots, sambal oelek, and other classic Korean sauces combine forces with vegan ranch dressing and non-dairy cheese to make one heck of a vegan crunch wrap.
If you love maximizing both protein content and flavor in your wraps, then you've got to try these curry quinoa tofu wraps from Veganosity! Filling and easy to make, you just need about 20 minutes before you're on your way to a delicious vegan lunch to enjoy throughout the week. Gluten-free? Use your favorite gluten-free wrap or even lettuce!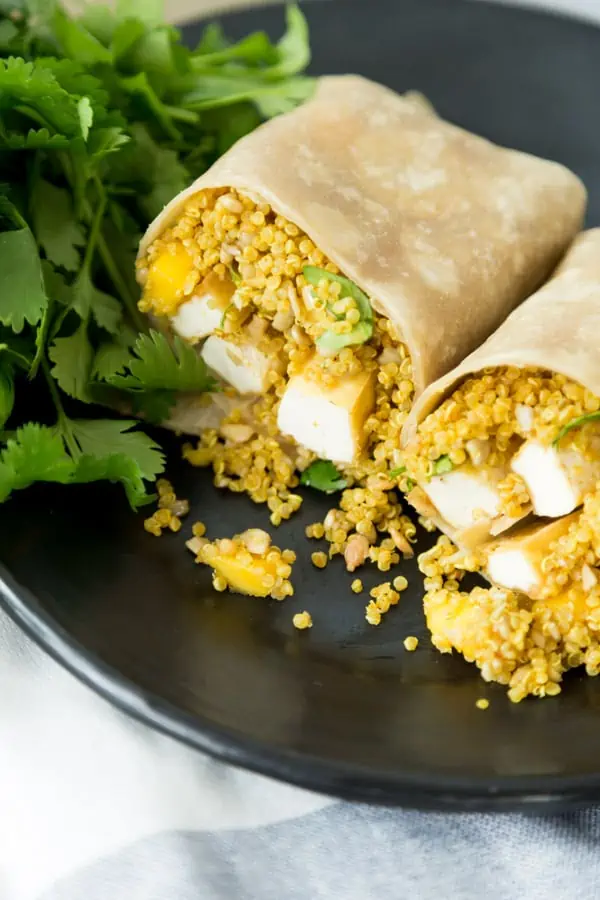 From My Plantiful Cooking comes a vegan version of a traditional Malaysian spring roll recipe! These vegan popiah are filled with sweet and savory ingredients such as tofu, jicama, hoisin sauce, garlic, and roasted peanuts. Serve immediately an appetizer or light lunch with some extra soy sauce!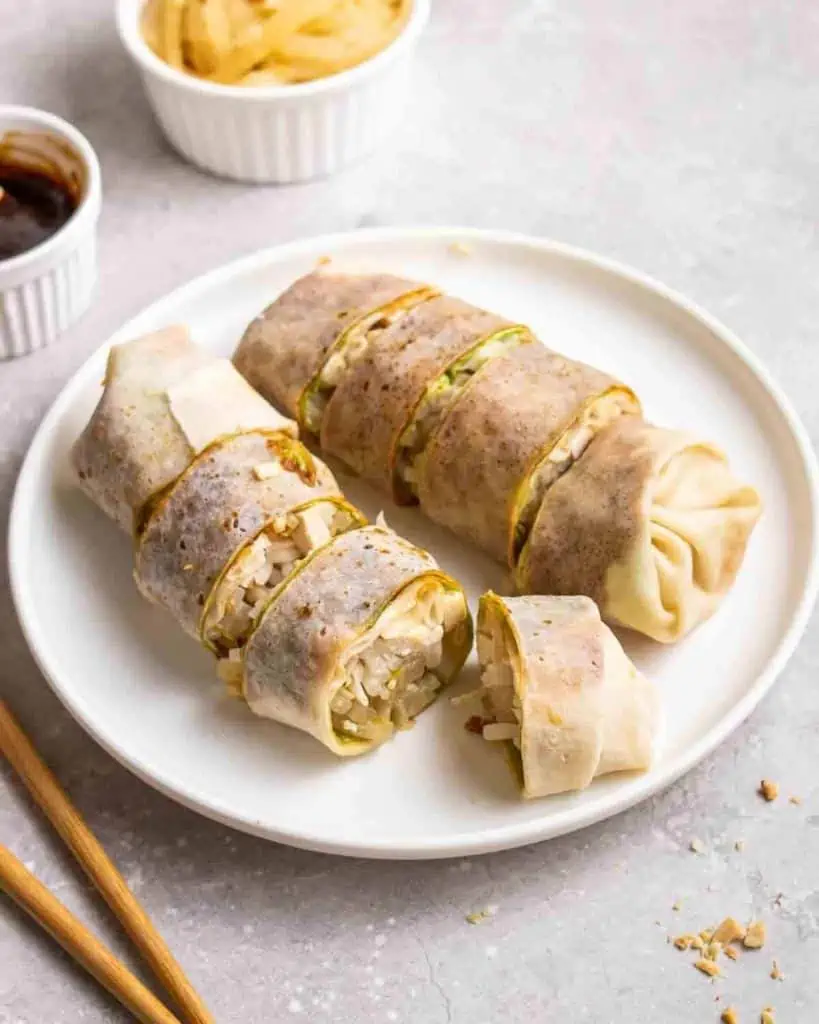 Creamy edamame hummus, fresh veggies, and avocado slices make this hummus veggie wrap from Short Girl Tall Order ridiculously easy, fresh, and satisfying. Enjoy in a tortilla or gluten-free wrap!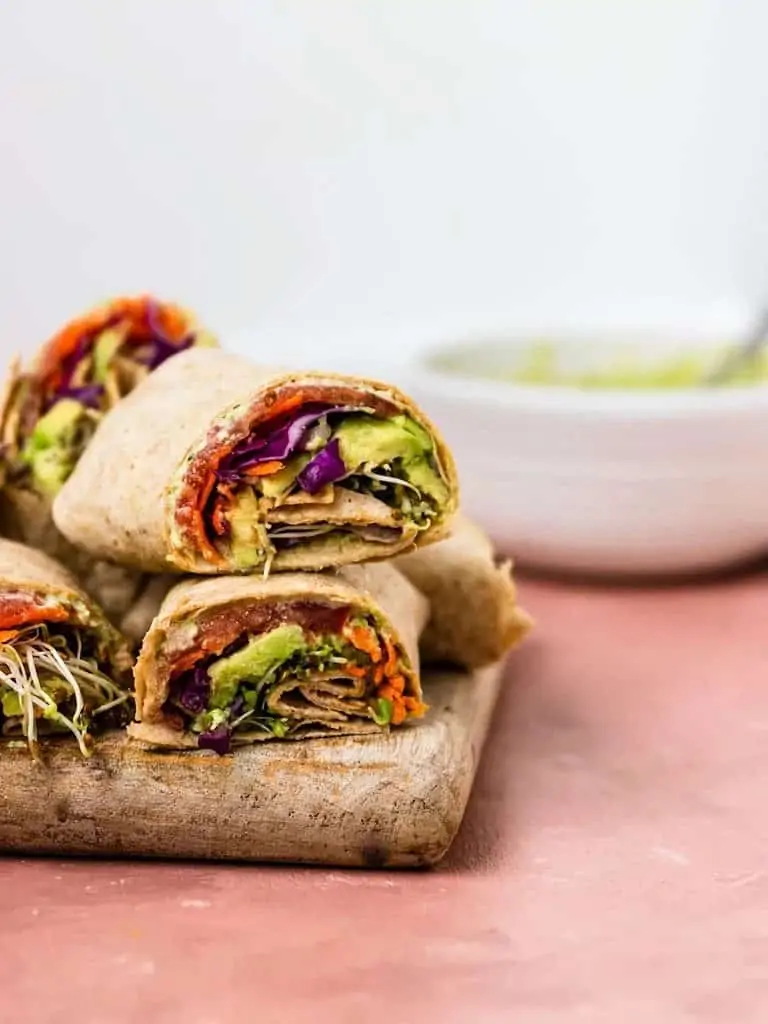 If you think spice is nice, then these Chipotle Tofu Wraps from Vegan Yack Attack are for you! The tofu can also be cooked well in advance as part of a weekly meal prep plan!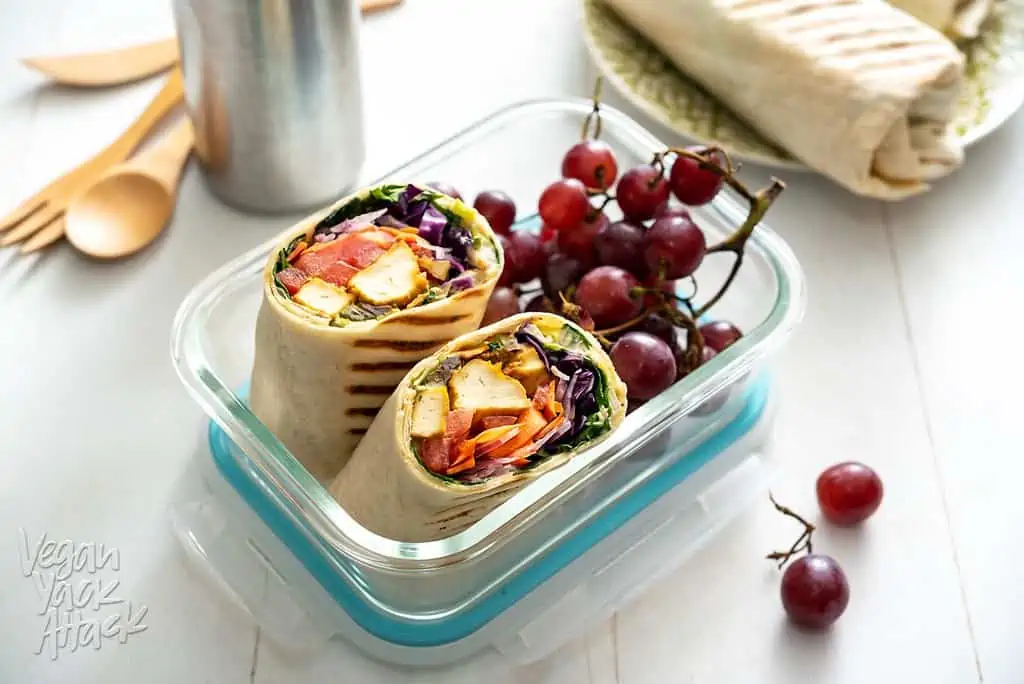 Tempeh lovers, this one's for you! This smoky tempeh avocado wrap from Healthy Happy Life comes together in just a few minutes and is packed with flavor, protein, and texture with a "secret sauce" made from sriracha, maple syrup, and vegan mayo. Creamy, tangy, and oh-so-delightful, add some tomato for a wrapped version of a vegan BLT!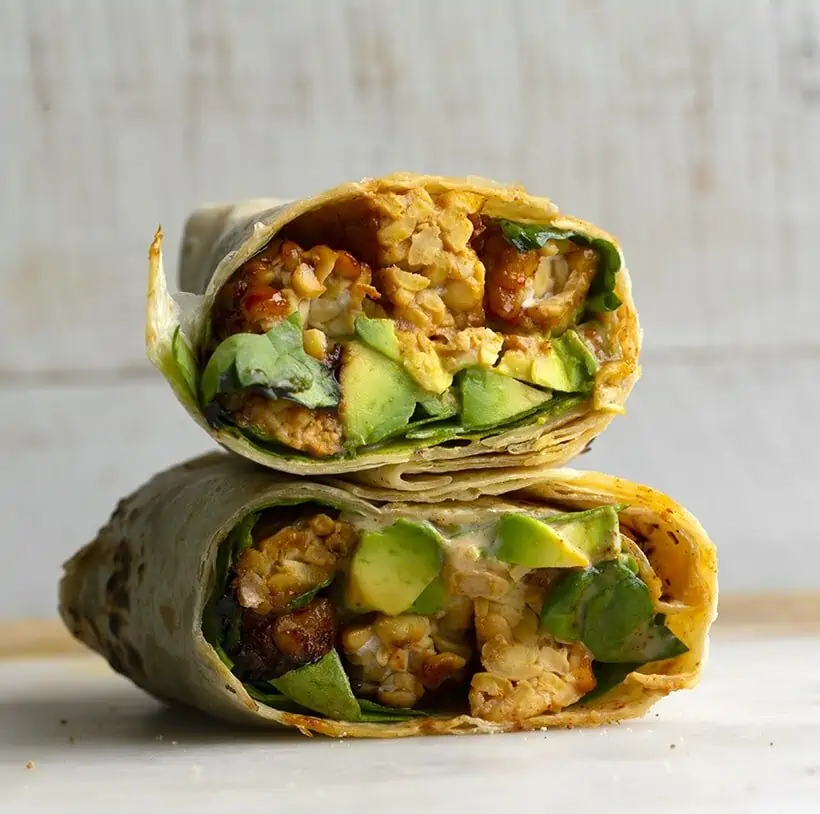 Inspired by the Starbucks snack, this quinoa and black bean wrap from The Viet Vegan is not only totally vegan but also won't cost you $9! Filling, cost-effective, and naturally soy-free, this copycat recipe also features melted vegan cheese, making it way better than any trip to Starbucks!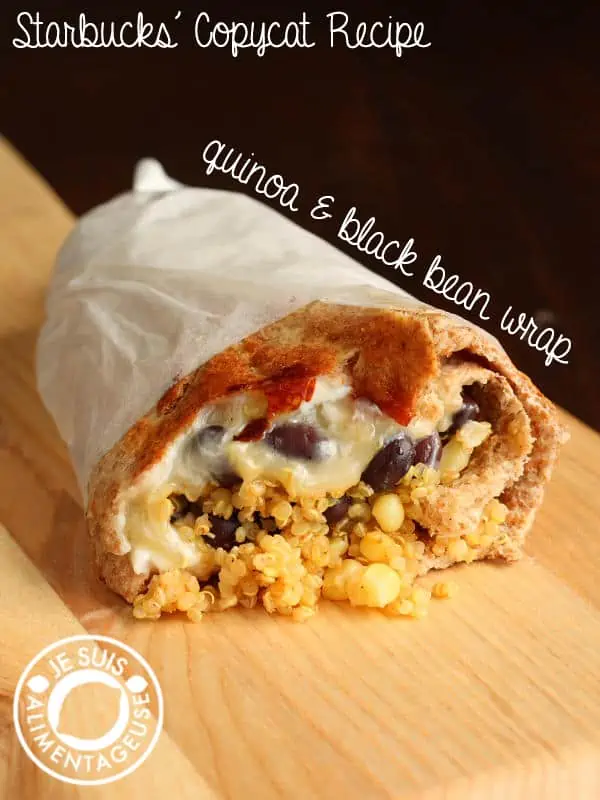 Chickpea tuna salad is so versatile. It can be used on sandwiches, in wraps, in lettuce ups, or eaten as a lunchtime side dish. It's easy to make and can be stored in the fridge for days on end, so it's perfect for meal prep.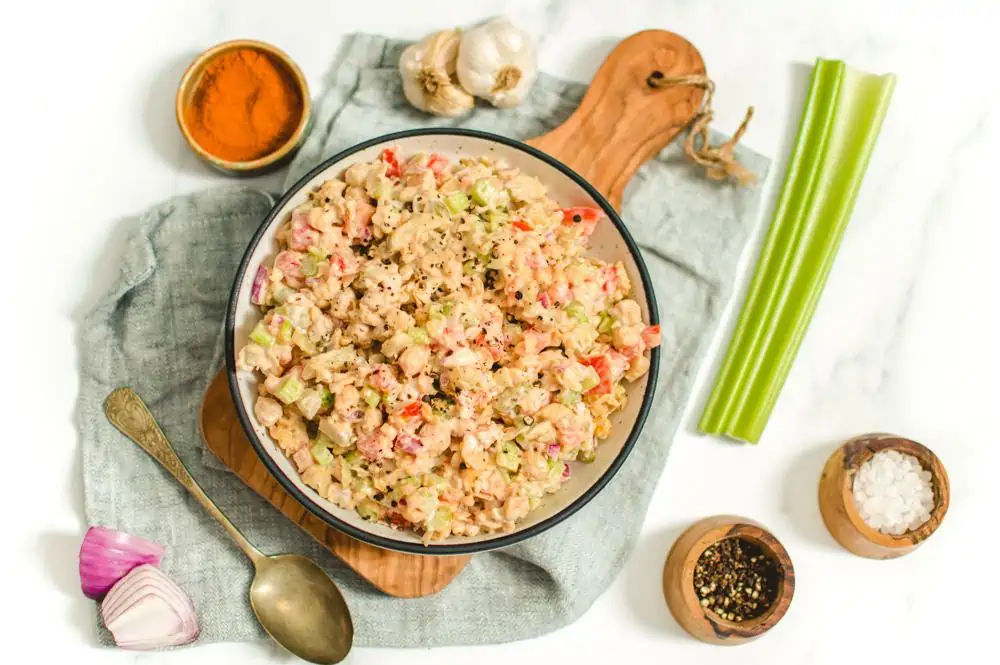 Had enough chickpea tuna? Create an even more creative veggie wrap with marinated artichoke heart tuna salad! It's absolutely delicious and again works well for almost any vegan lunch meal you can dream up. A wrap, sandwich, open-faced sandwich, and beyond.
Our classic BLT sandwich made with smoky eggplant bacon can easily be made into a wrap! Just swap the bread for tortillas or lavash wraps. Fill them up, add any of your favorite extra toppings, roll them up, and lunch is served!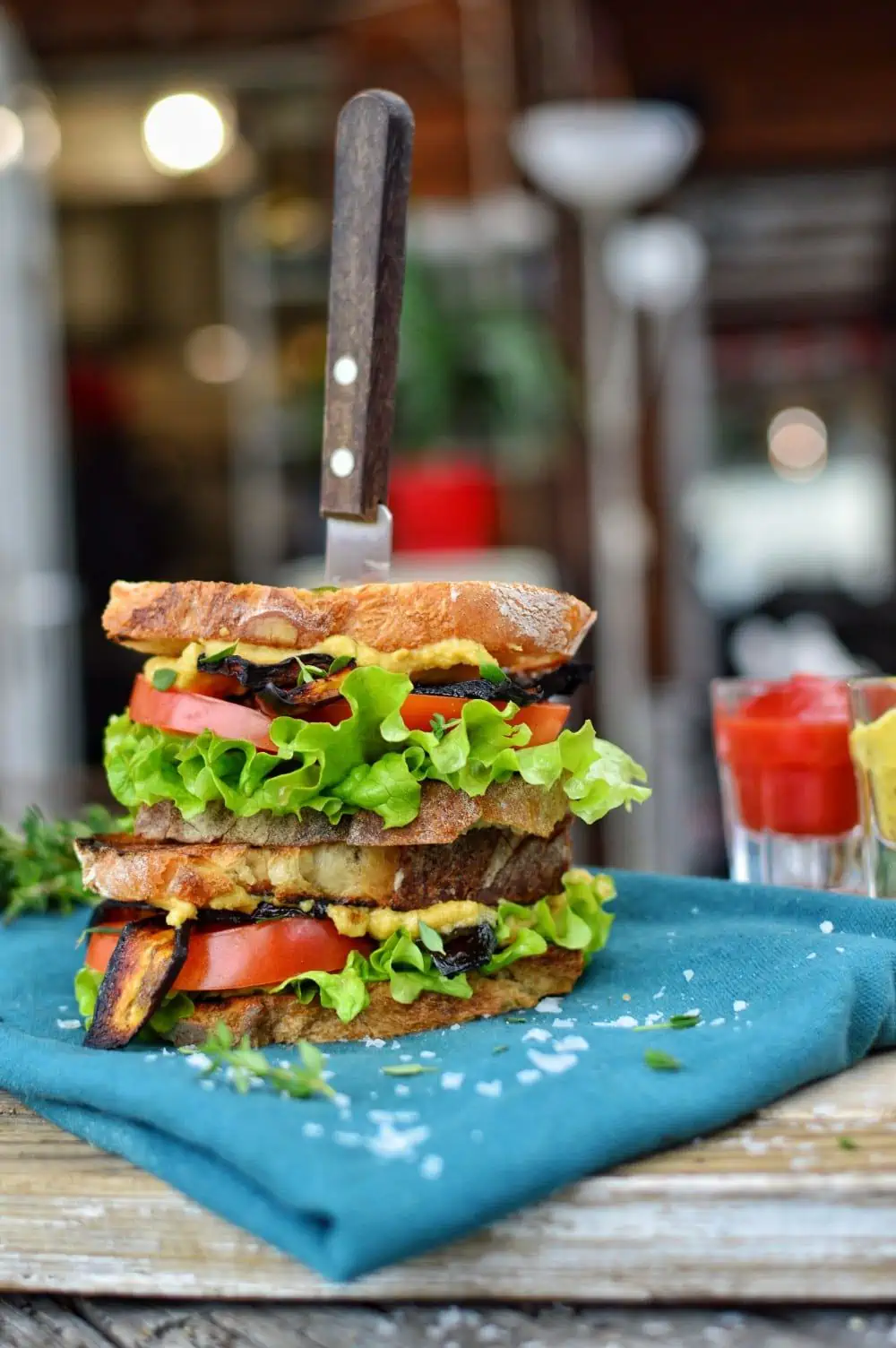 And that's a wrap on our vegan wrap guide! We hope you rolled away with some hefty inspiration for vegan wrap ideas to incorporate into your life! Have any favorites you'd like to shout out? Let us know in the comments below!
More Vegan Meal Ideas
This vegan wraps guide was written by Amanda Meth and edited by Michelle Cehn. We hope it gives you enough vegan wrap ideas to keep you inspired for months (or years) to come! Please note that this article may contain affiliate links which supports our work at World of Vegan.