When it comes to savory and satisfying sides, rice is right up there at the top of the list. This simple grain is delicate on the digestion, quick to make, and easy to find. We're totally confident that you'll find at least a few favorites (and maybe more!) in this vegan rice recipes collection.
The flavors range from mild to medium to spicy and the recipes are inspired by Asian, Mediterranean, Indian, Thai, Japanese, Mexican, Jewish, and American cuisines. There's something for everyone! Challenge yourself to experience all of the flavors from around the world every night of the week with these delicious rice dishes.
All of the vegan recipes with rice below are:
Vegan
Vegetarian
Plant-based
Dairy-free
Gluten-free
Cholesterol-free
Super delicious!
Let's get to it!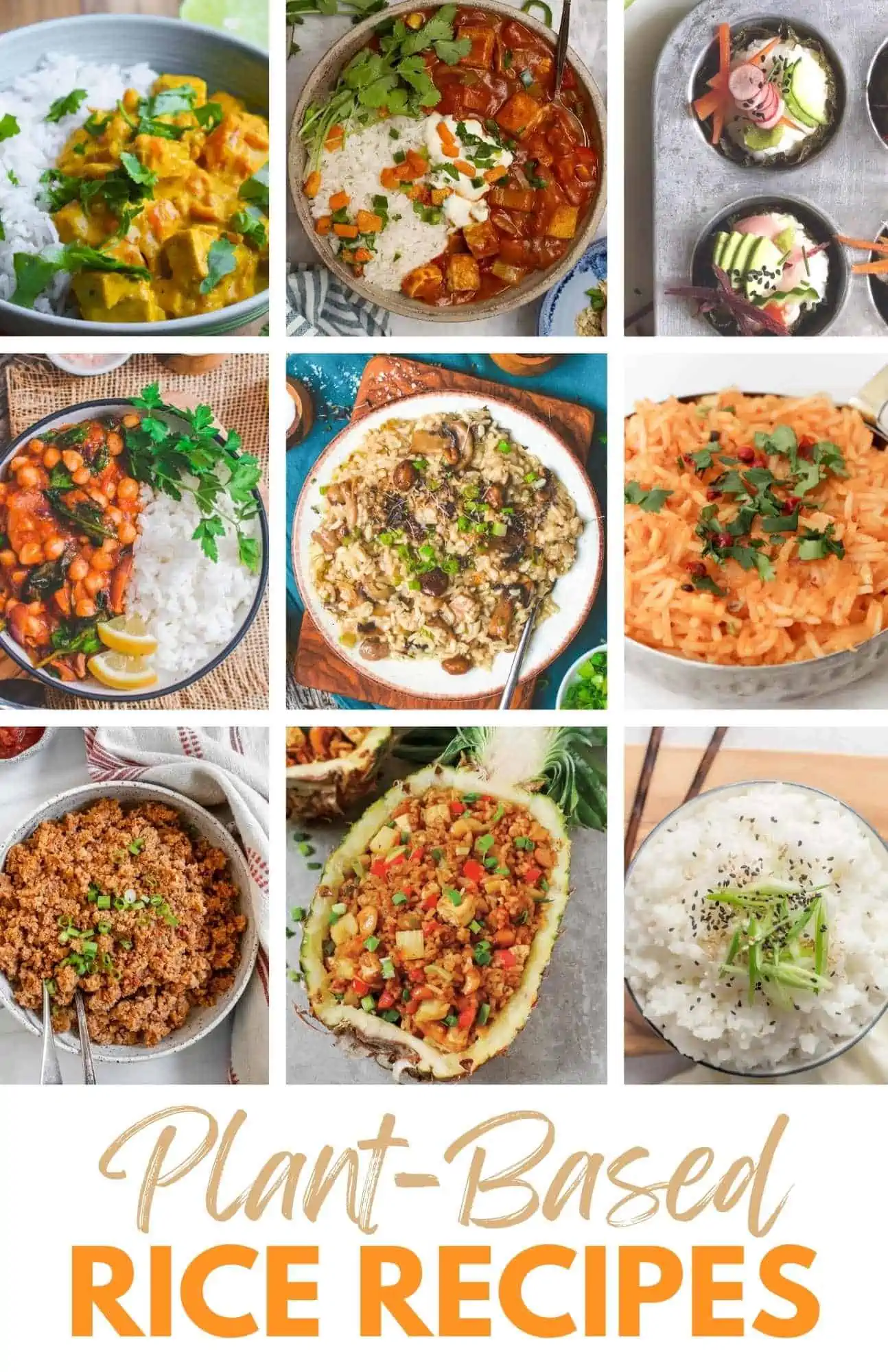 Fun Facts About Rice
Rice is grown on every continent except Antarctica
All rice starts out brown. White rice is actually brown with the outer bran layer removed.
Different countries eat different amounts of rice––Americans eat about 200 pounds, Asians consume 300 pounds, and the United Arab Emirates eats at least 450 pounds, while the French eat less than 10 pounds per year.
Popular Types of Rice
Long-Grain Rice:
American White
Basmati rice
Carolina Gold
Jasmine rice
Wild rice
Short and Medium-Grain Rice:
Arborio rice
Bomba rice
Sushi rice
What Kind of Rice is Best for Fried Rice?
Any type of long-grain white rice is best for stir-frying because it holds its form and texture well. This rice is light and fluffy, so it mixes with vegetables and other additions with ease. Short-grained rice is good for sushi or puddings because of its sticky consistency.
Vegan Rice Recipes
A serious staple for any Asian household, steamed sticky rice is used as a basis for most dishes. Once you learn how to make steamed rice the right way, you'll never go back. This simple side, with its single note, makes a fantastic pairing with pretty much any flavor. A must have recipe for every kitchen!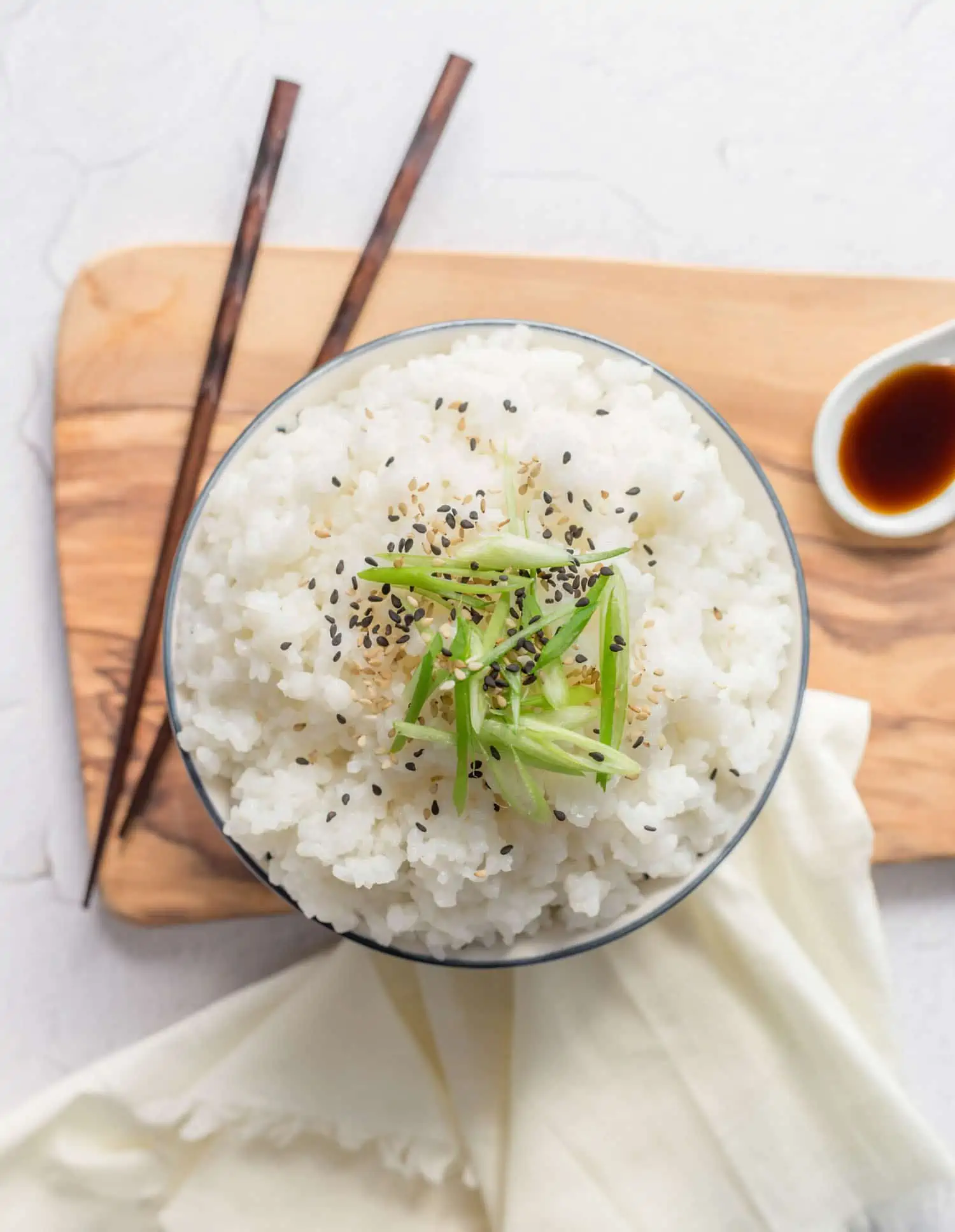 The rich tomato aroma, accented with onion and garlic is out of this world. Cooking Mexican rice is ridiculously easy and the flavor is hard to beat. We love to serve this rice with tacos, burritos, enchiladas, or even just alongside a large salad. Add a dash of hot sauce and you'll be in heaven!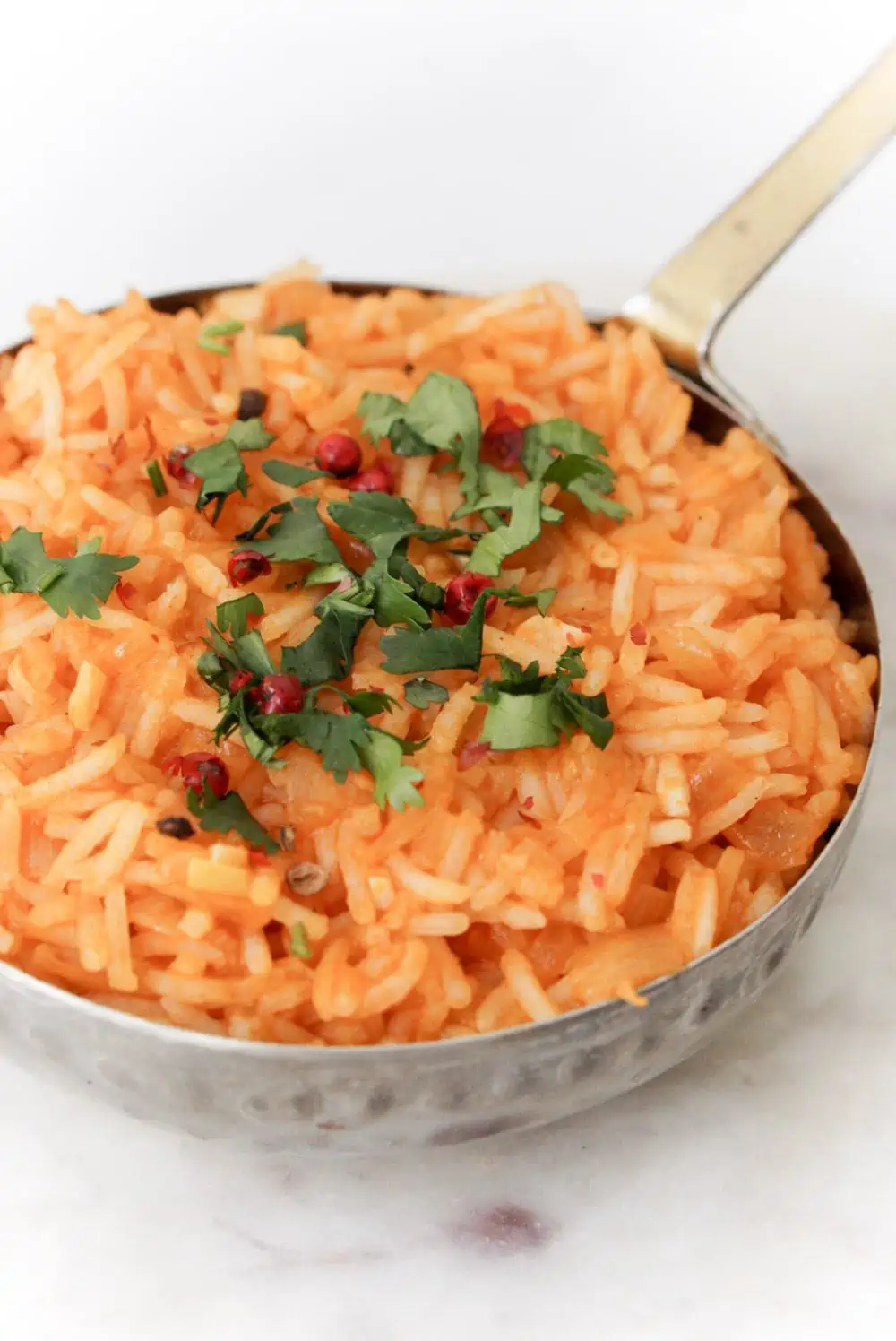 Sweet, savory, and super colorful, this rice recipe is a thrill to taste. This dish is not only fantastic in flavor, but way better (and cheaper) than any take-out. We love cooking up this Thai recipe with leftover jasmine rice and on-the-verge vegetables. Perfect for food prep and reheats wonderfully.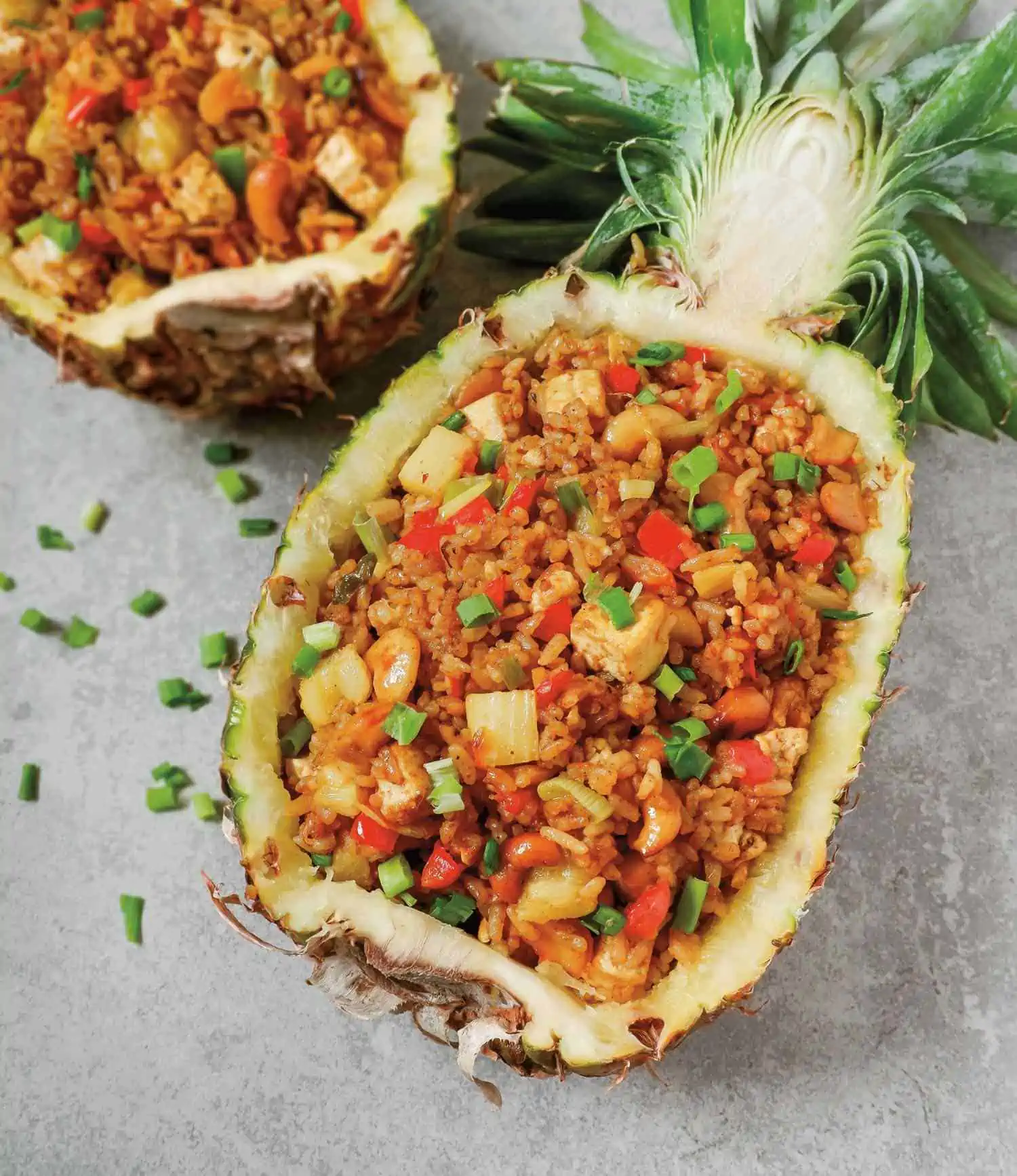 Even if you're not a mushroom-lover, we think you'll fall head over heels for this rich risotto. The incredible depth of flavor is mesmerizing and the creaminess of the mushroom sauce can only be described as decadent. This delightful dish can be varied by using different vegetables or adding a plant-based protein or luscious legumes on the side. A sensational choice when searching for a really fancy recipe to impress family and friends.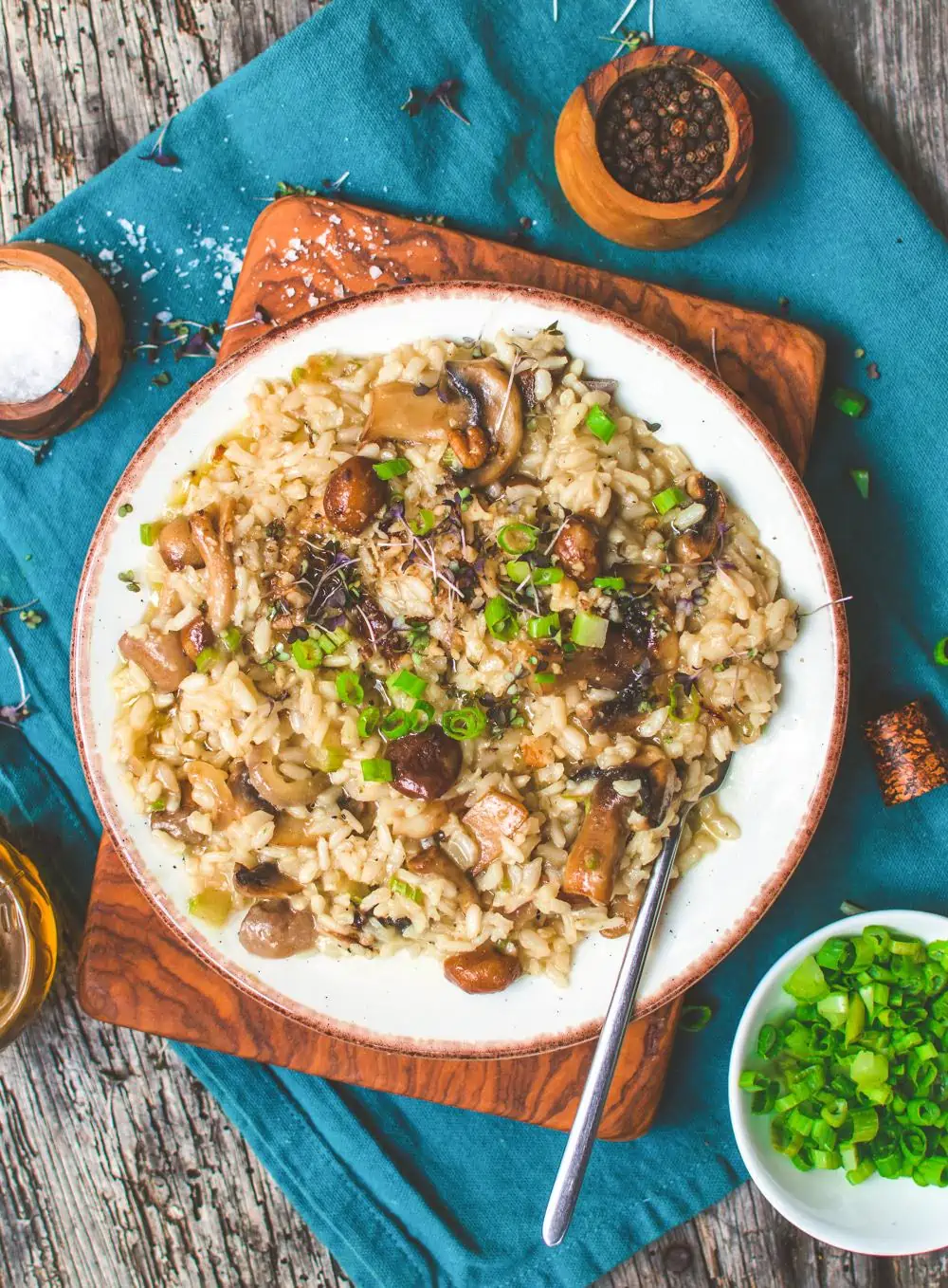 A traditional Jewish recipe revisited in vegan style! Crispy cabbage leaves are filled with enticing spices, cooked rice, and tomatoes, then rolled up and simmered to perfection. This soothing dish filled with simple ingredients is sure to satisfy any stomach. Make sure to add it to your list of essential supper meals.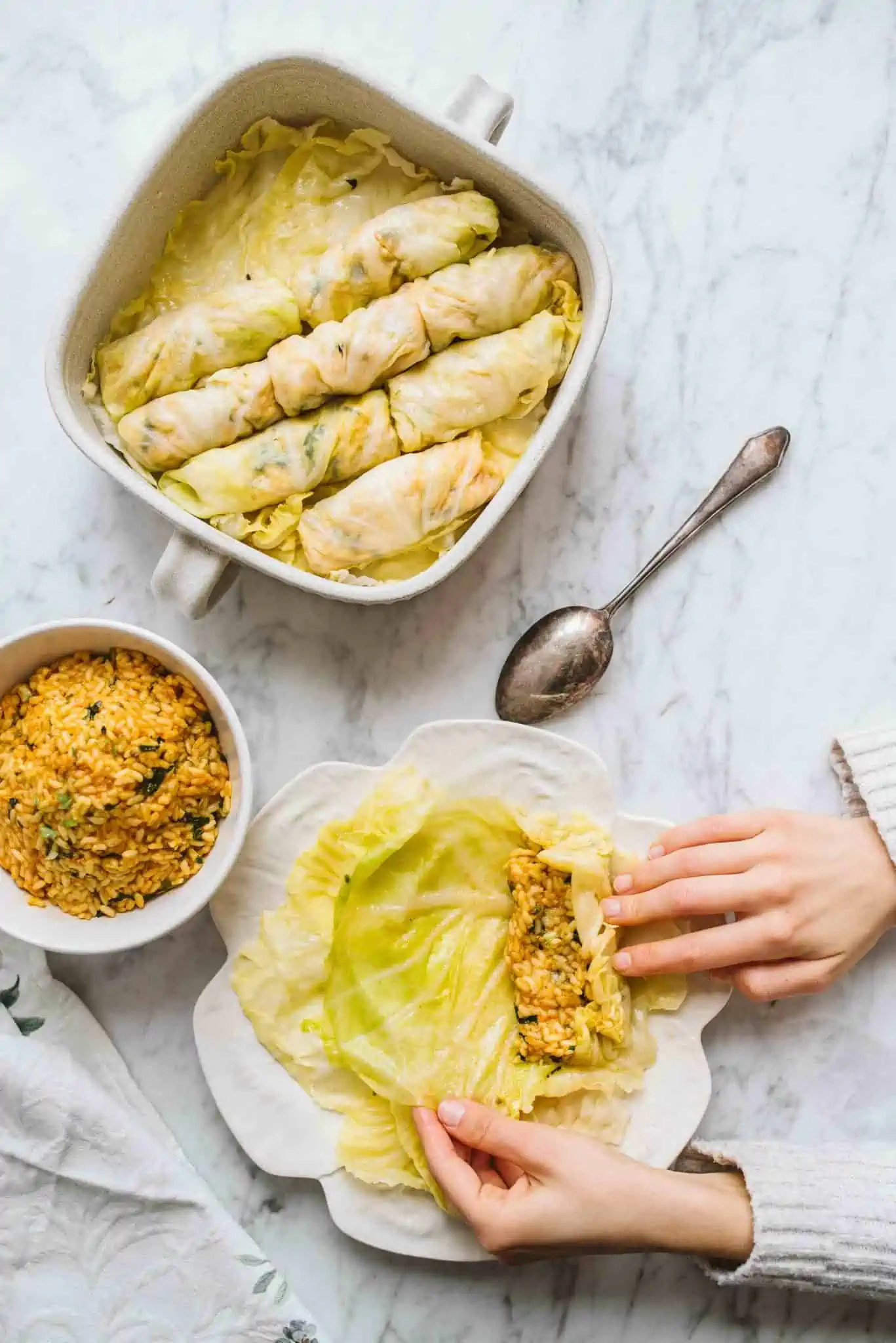 A unique and hearty recipe that is fun to make, full of protein and fiber, and is a great snack for kids to take on-the-go. Add a side salad, a few chopped veggies, or a sweet mixed fruit cup and you've got yourself a quick and delicious lunch. The warm spices and appealing texture truly transform this recipe into something special.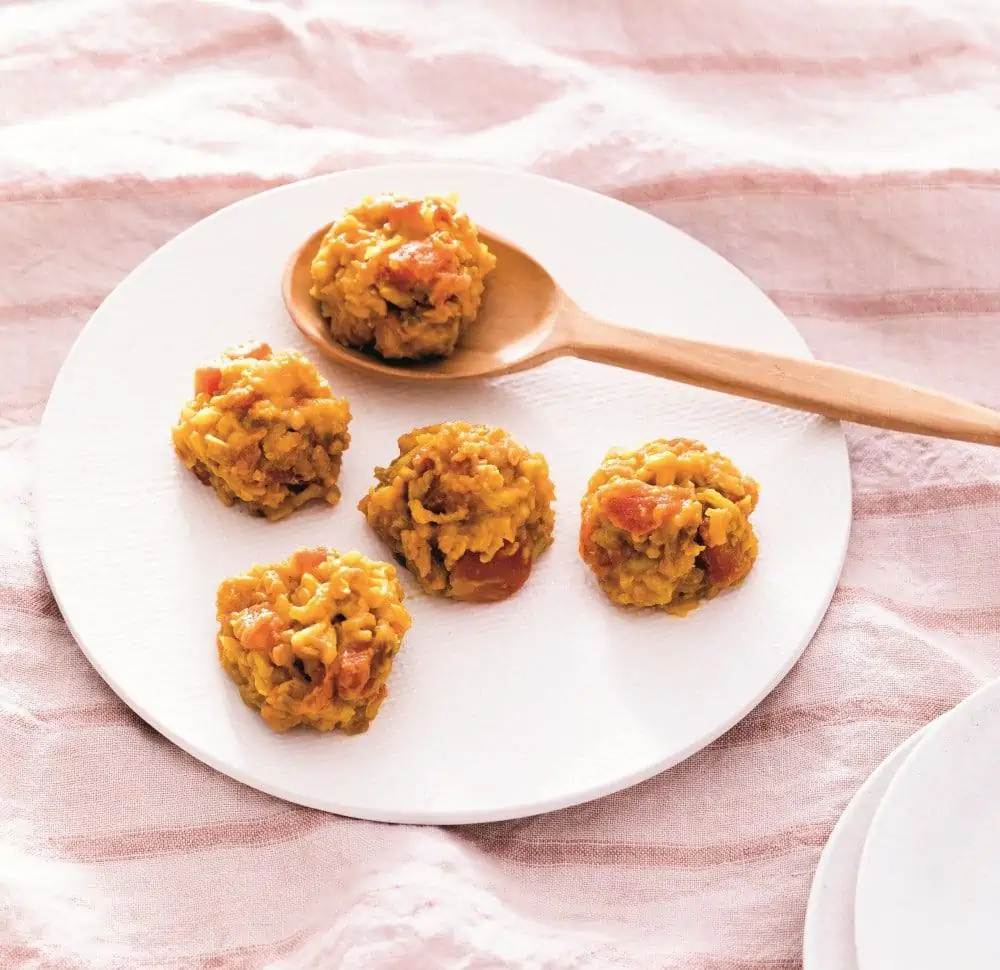 This rice recipe is not only appetizing, but adorable to boot. You'll love creating these small, but scrumptious, cupcakes––a perfect way to introduce newcomers to the world of vegan sushi. Adding your own toppings is almost the best part because the vegetable variations are endless! Finish with your favorite sauce (or maybe make them all) and enjoy an entire pan without guilt. Healthy, fun to make, and oh-so-good.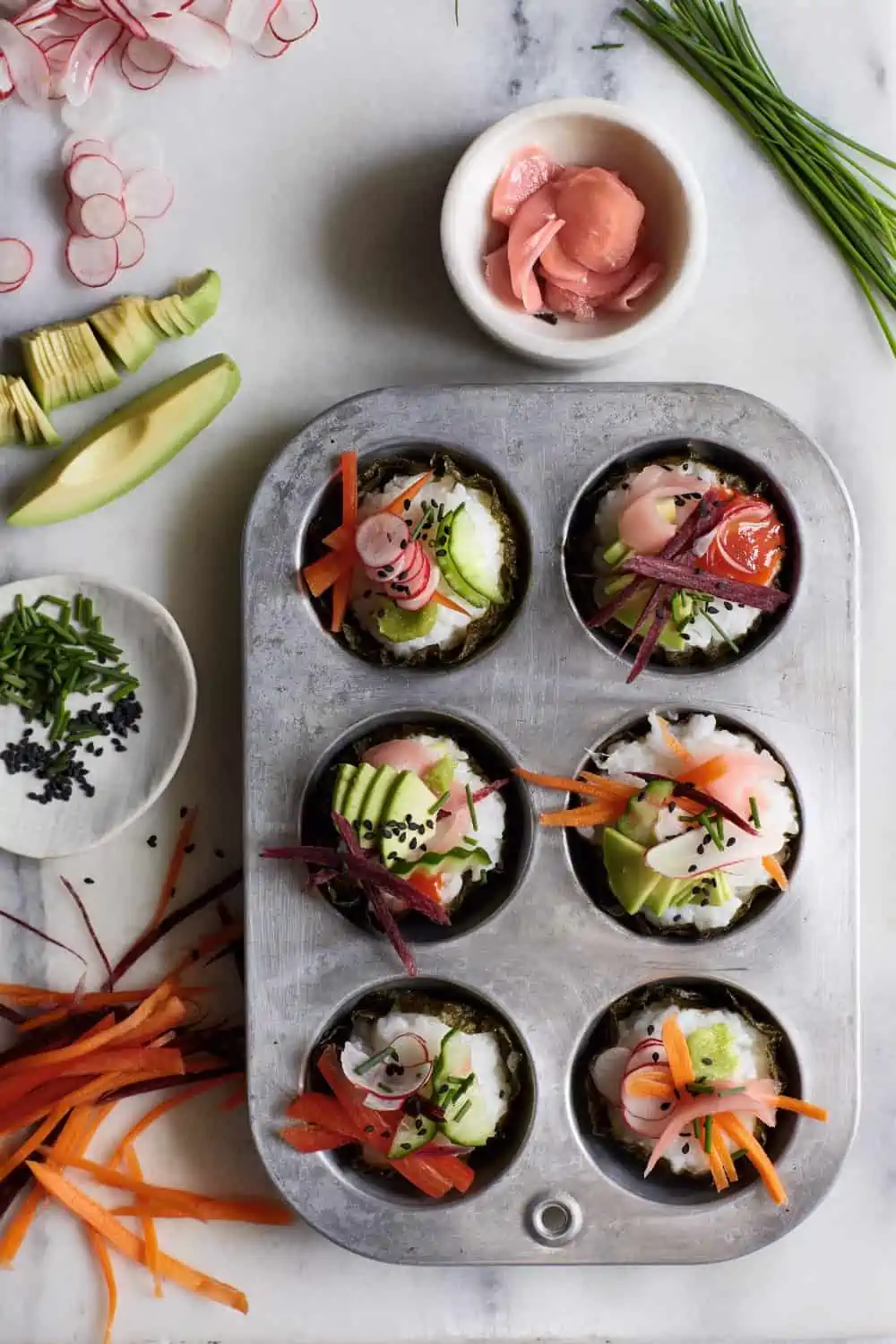 Delicious Dishes to Serve Over Rice
If you often crave take-out, this sizzling Chinese green beans recipe will soon become your best friend. The silky and spicy dark brown sauce will make your mouth water while the crisp, bright string beans stimulate your senses. Serve over steaming, white sticky rice along with a cup of hot, black oolong tea for the ultimate Asian-inspired experience. A fast favorite!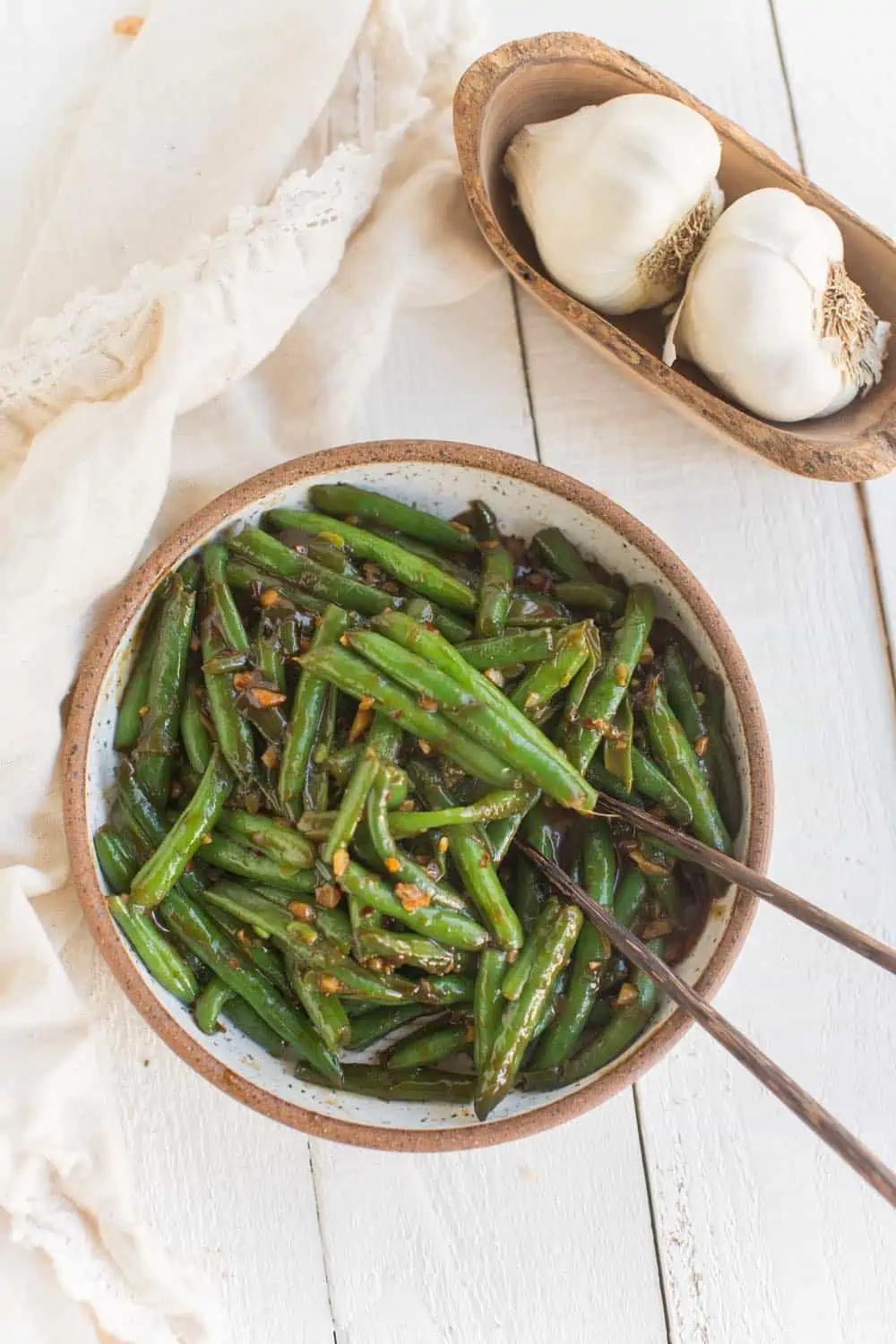 If you love curries and potatoes, this recipe was made for you. Cubes of delectable tofu and many varieties of vegetables are mixed with a creamy, coconutty sauce and chunks of soft Yukon Gold potatoes. Once this vegetable-laden yellow curry is complete, serve over a bowl of steamed brown or basmati rice in a big bowl. The most comforting curry you'll ever eat!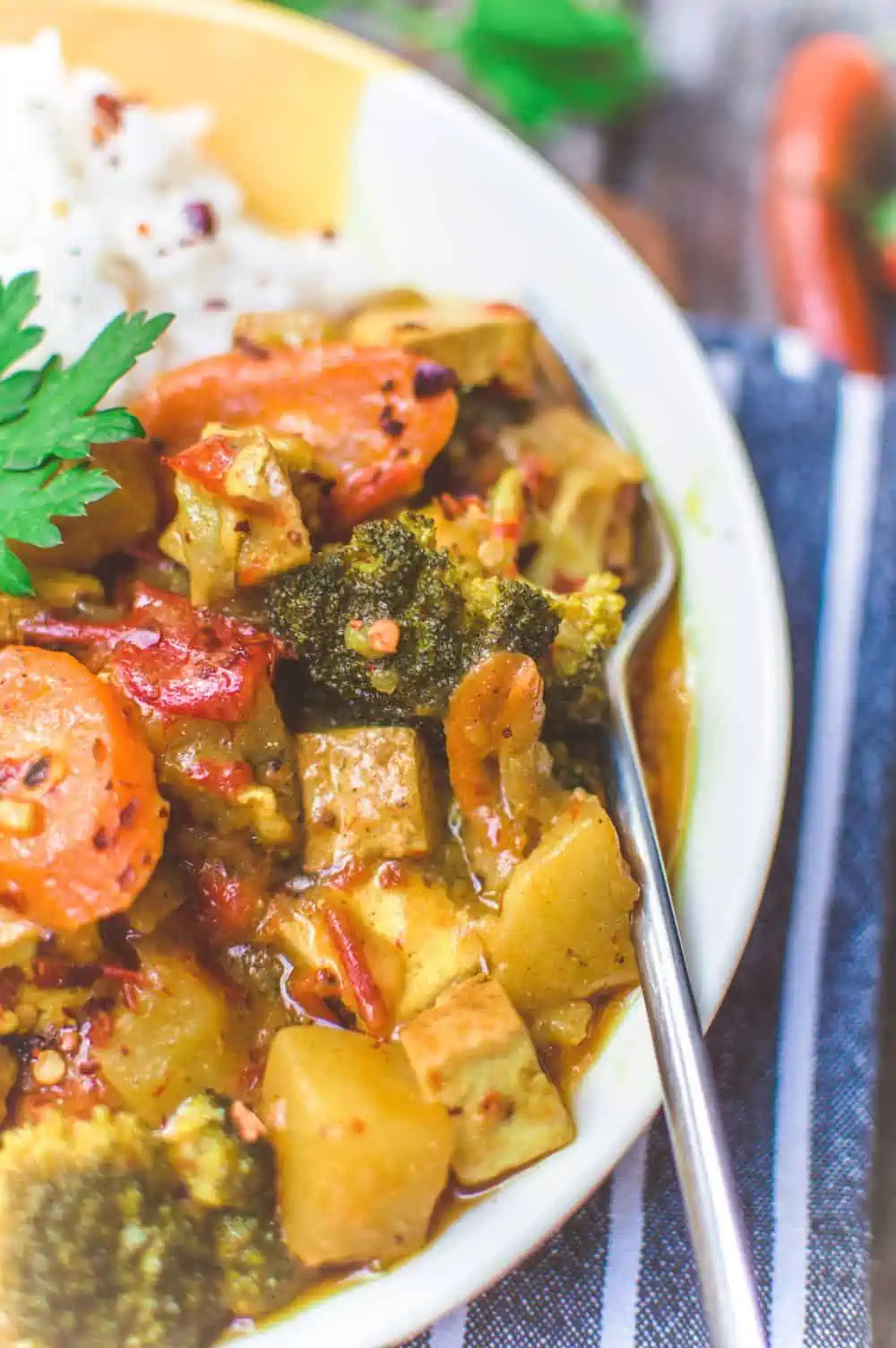 The simplest budget friendly ingredients come together in this quick-fix vegan dinner. A delightful mix of chickpeas, tomatoes, onion, spinach, and spices creates a perfectly flavorful protein-rich topping for a bed of rice or any of your favorite grains.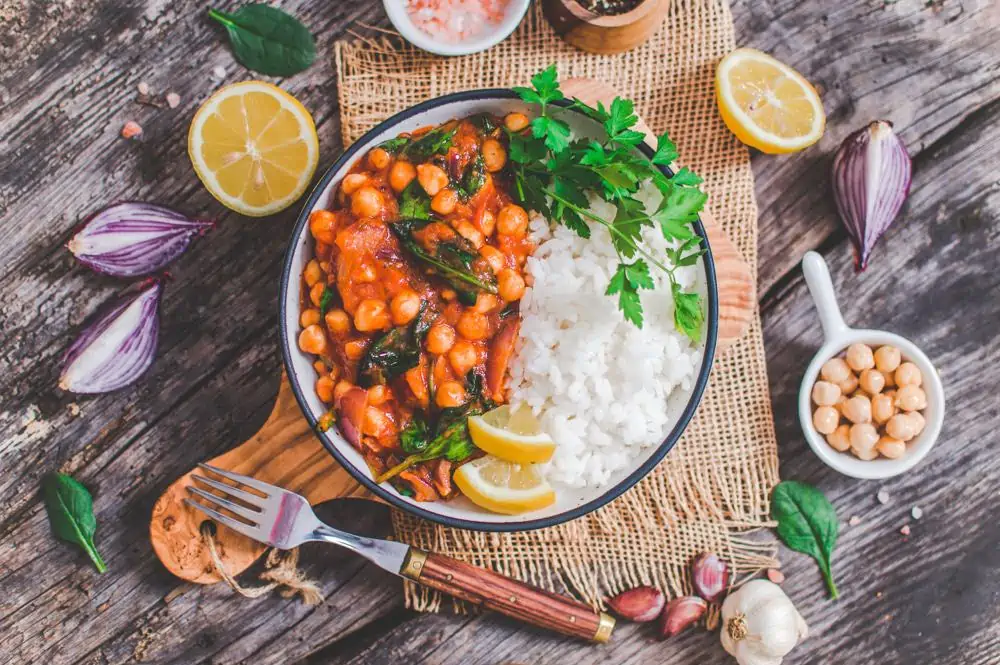 If you love Indian food, you'll be a front-row fan of this vegan butter chicken made from tofu instead of birds! The flavorful stew-like, curry-like sauce pairs delightfully with rice—white rice, brown rice, wild rice, or any rice you have on hand.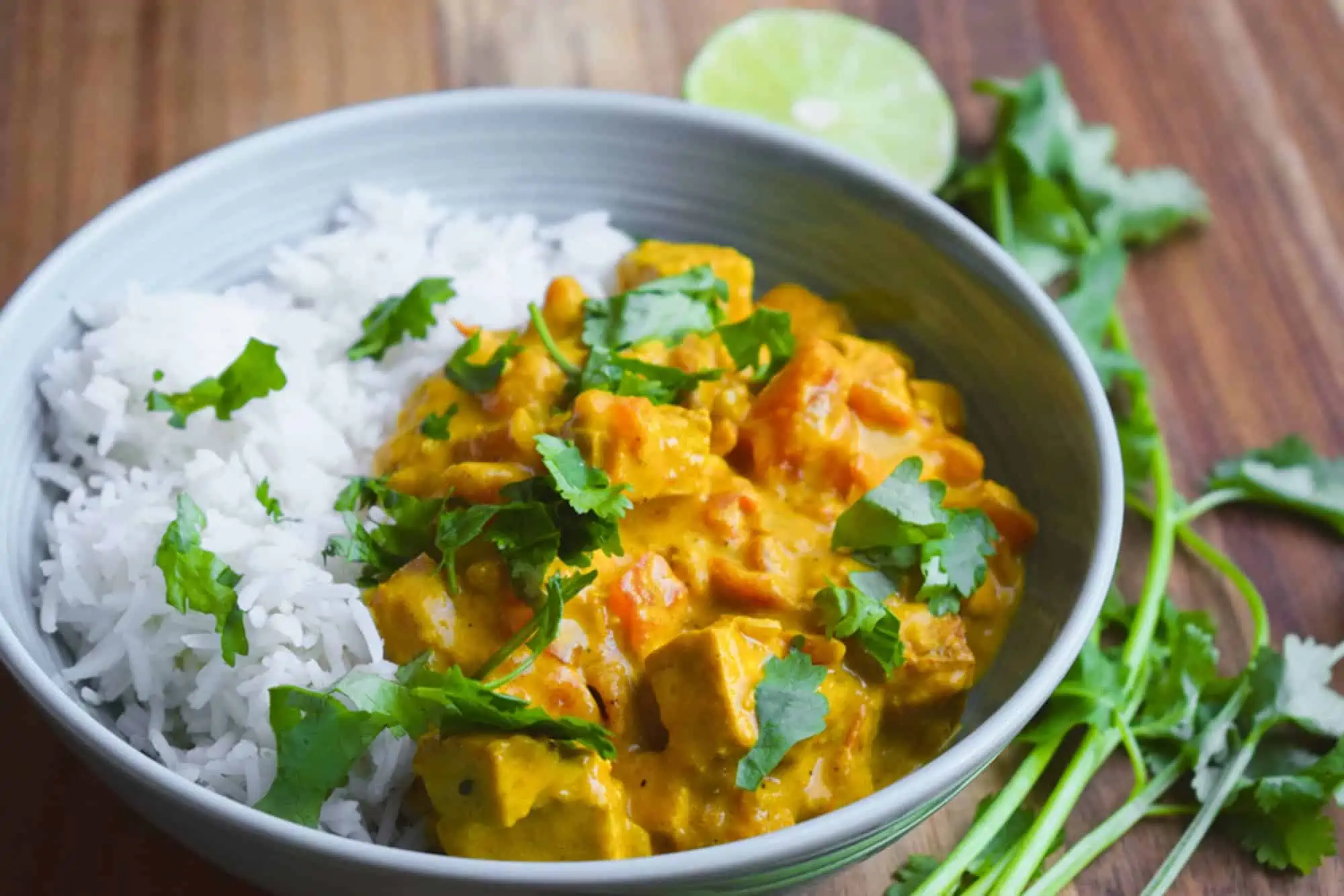 What's better than a rainbow of veggies over a pillowy pile of rice? Not much, in our book. Every color you eat comes with different nutrients and phytonutrients which benefit your body while that rainbow array truly brightens up the soul.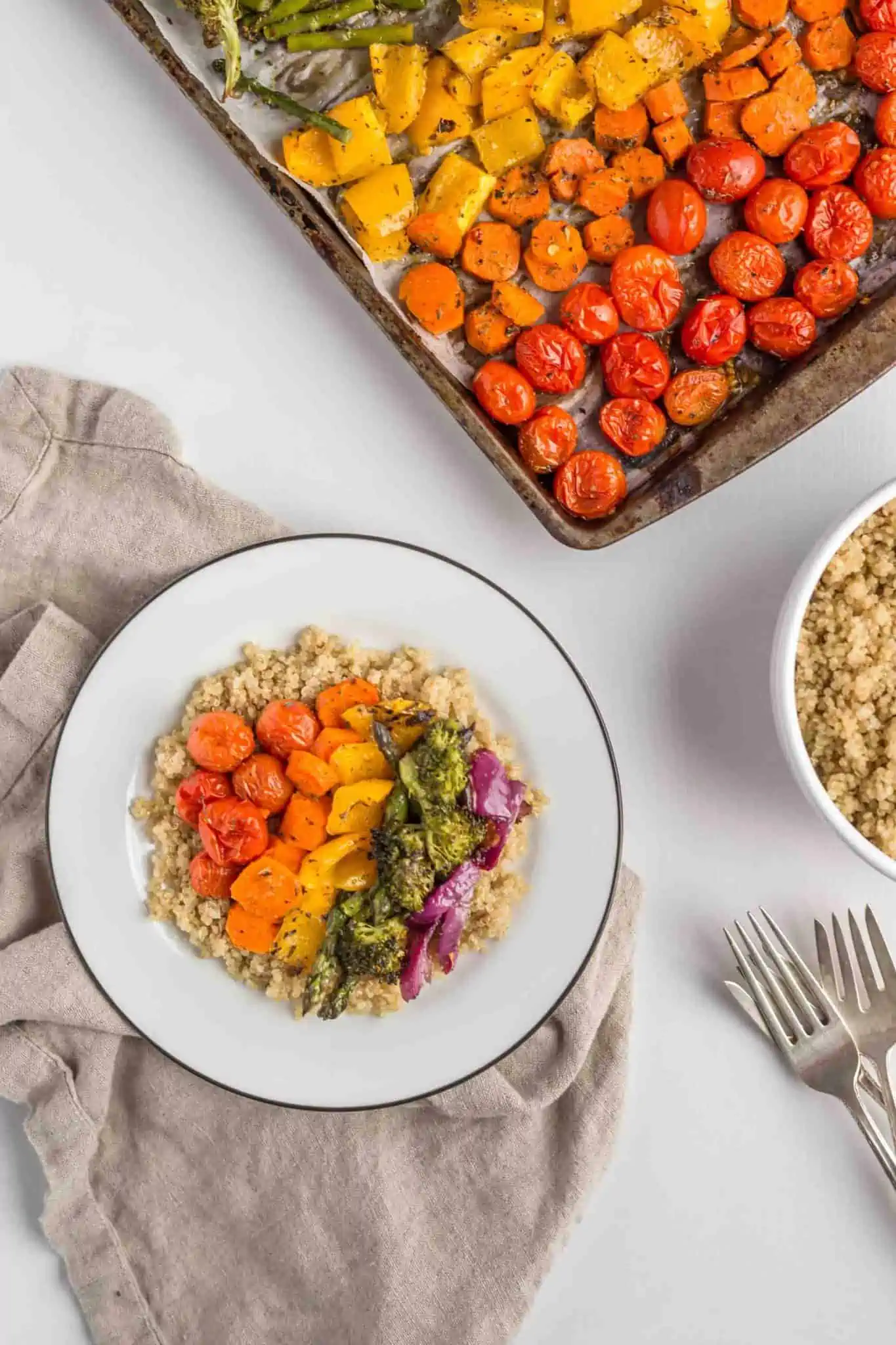 Favorite Vegan Rice Recipes From Other Plant-Based Bloggers
Keri's plant-based Jalfrezi is completely on point. It's as tempting as take out, but is way healthier due to the baked (not fried) tofu. The chili pepper sauces gives the most amazing kick to the dish, while the rice helps to soak up all of the aromatic sauce. If you haven't tried this version of Indian curry, now is the time! You'll love it.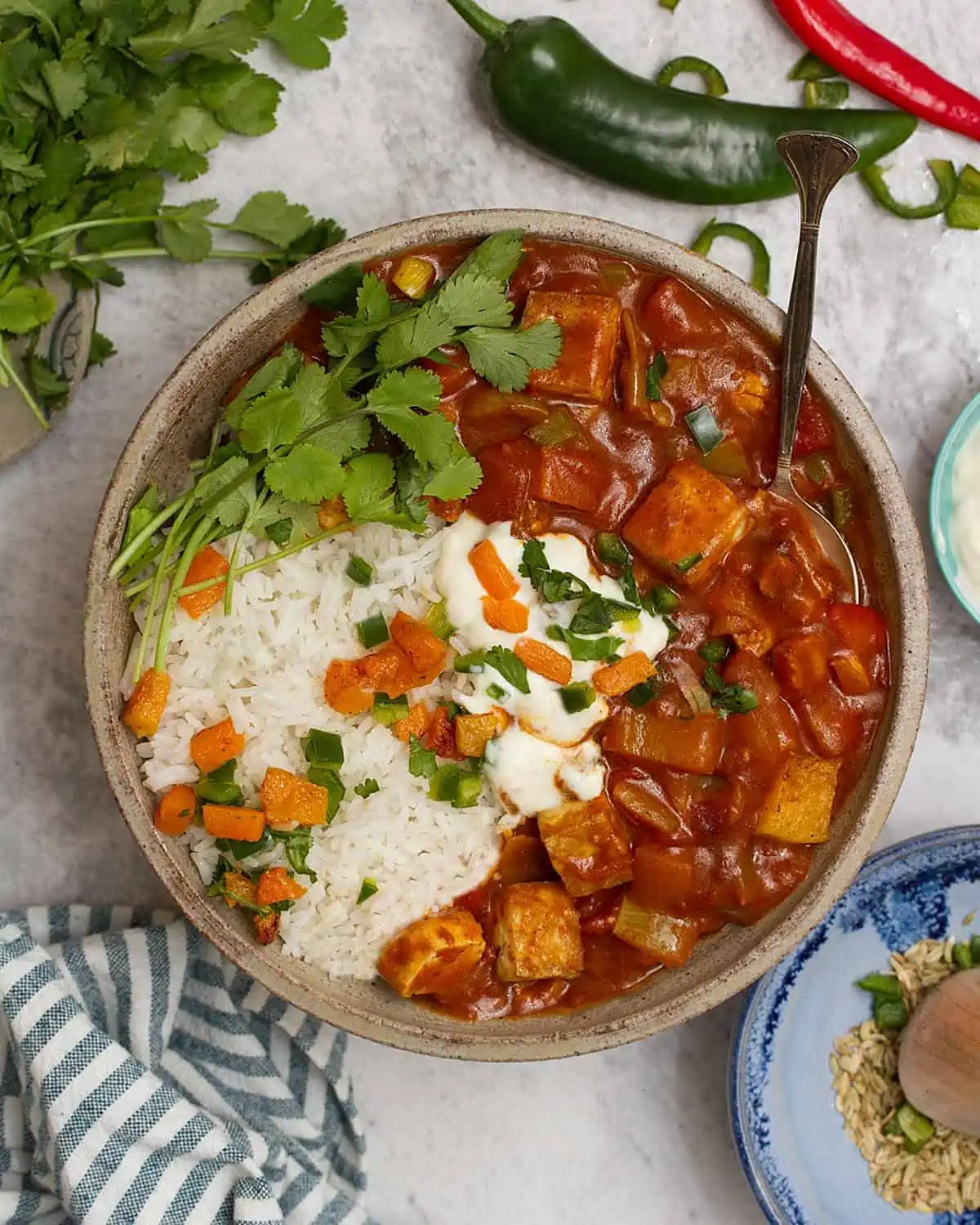 Gus & Joaco created a mouthwatering Mediterranean twist to this classic family favorite. These satisfying stuffed peppers are filled with vegan cheese, Italian herbs, brown rice, and a variety of delicious vegetables. The added tofu gives this dish an extra punch of protein. We can't remember the last time we drooled so much over a recipe photo!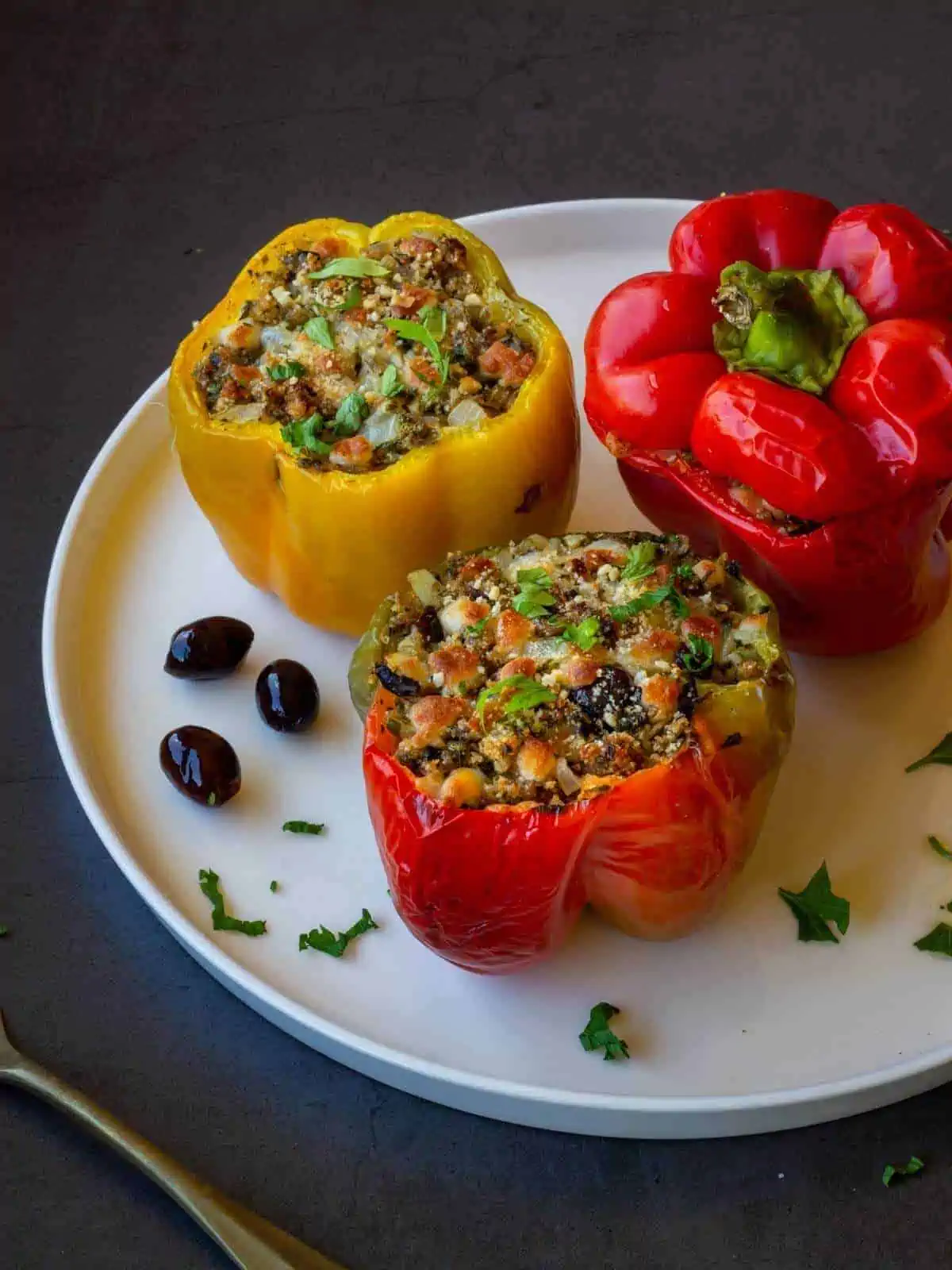 Our dear friend, Toni, shows how to concoct a Spanish-style rice dish from a head of cauliflower with the addition of any store-bought or homemade salsa. The result is savory and uber-healthy, being made with only cooked vegetables. The spices are divine and truly make this recipe special. For any grain-sensitive soul, this recipe is for you.
More Glorious Whole Grain Recipes to Try:
Vegan rice recipes and photos are from our recipe contributors as well as Alfonso Revilla and Zhoro Apostolov. All rights reserved. Article written by Gina House and edited by Michelle Cehn and Amanda Meth. Please note that this article may contain affiliate links which helps support our work at World of Vegan.