Clamoring for a classic dish to cook? We've got you covered! There's nothing so satisfying as a familiar and fantastic dish for your famished family. A rich and creamy sauce is the foundation of any stroganoff and we've been able to create it with cashews! Vegan Mushroom Stroganoff for the win! It's plant-based, dairy-free, cholesterol-free, and even soy-free! And you can easily make it gluten-free by using wheat-free noodles.
Apart from the cashew cream, this dish takes no time at all to prepare. Quick, easy, and incredibly enjoyable. Just add some mellow mushrooms, perfectly cooked pasta, and a selection of spices to the mix for a mouthwatering meal!
How to Serve Up This Vegan Mushroom Stroganoff
Pasta Possibilities – Although egg noodles are traditional for this dish, any noodle shapes satisfy this rich and velvety recipe. Fettucini, linguine, manicotti, rigatoni, or even farfalle would work well.
Mushroom Maniac? Not enough mushrooms? No problem! Add as many thinly sliced mushrooms as you wish! Just keep in mind that you may have to add extra cashew cream to your creation.
Boost with Broth – If you want an extra boost of flavor, consider adding a bouillon cube to the pasta water or substituting some vegetable broth for the water in the cashew cream.
Great with Greens – You can never go wrong with a super-fresh salad as a side. You'll hike up the nutrition and add an additional texture to your already sumptuous supper.
Strong & Savory – To add an even more savory sensation to this dish, add a tablespoon of tamari, a tease of dried thyme, or a sprinkle of nutritional yeast.
A Little R&R – When pasta is not your preference, pair the stroganoff with some fluffy rice pilaf, crispy roasted potatoes, or even a mountain of mashed potatoes.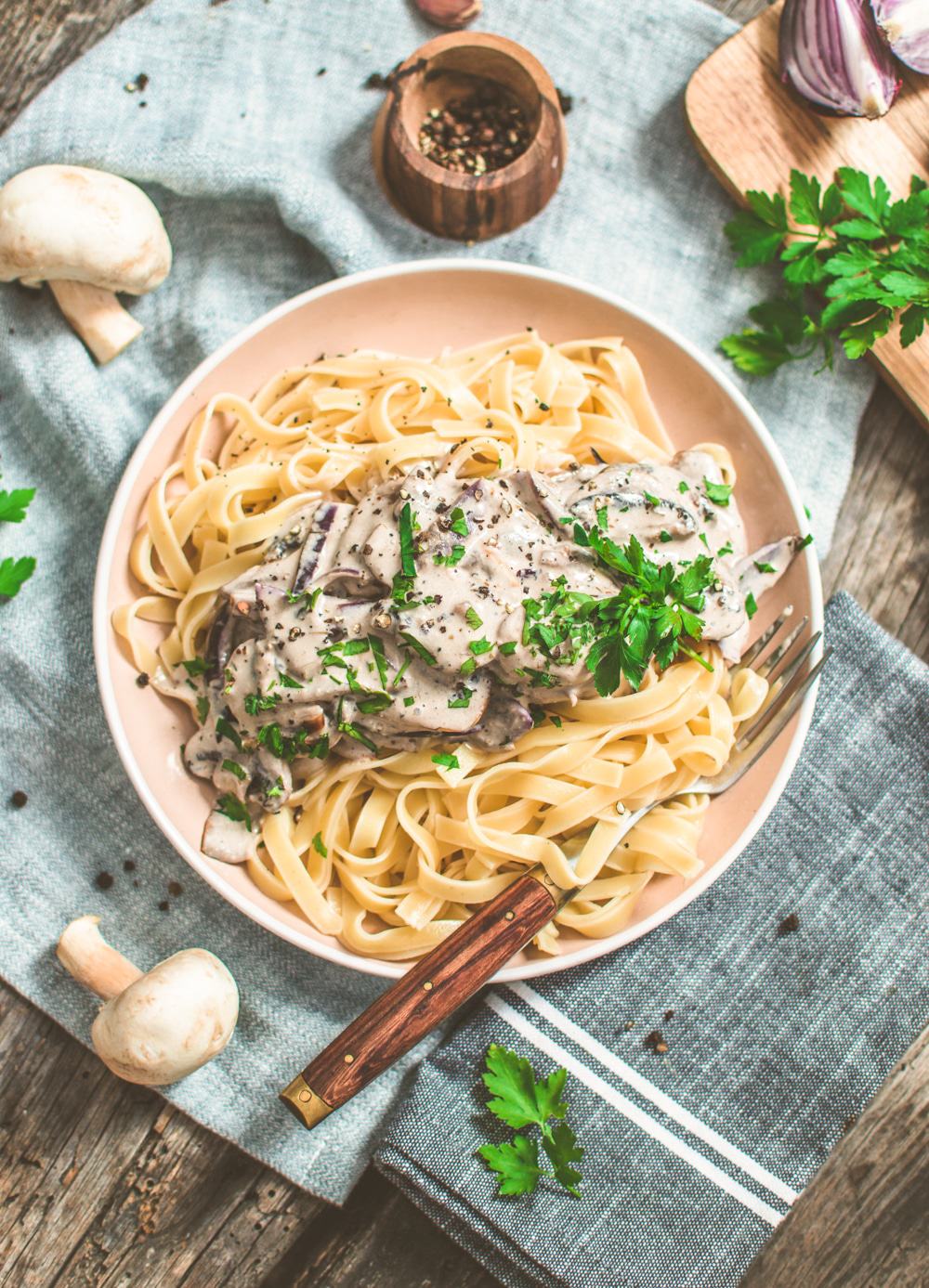 The History of Mushroom Stroganoff
Did you know that the original stroganoff recipe originated in mid-19th century Russia? It was named after one of the members of the Stroganoff family and the recipe was featured in the book A Gift for Young Housewives. This recipe used a roux made with prepared mustard and broth, but added no mushrooms, onions, or alcohol. Later on, stroganoff was served alongside rice or potatoes, but not noodles.
Make Way for Mushrooms!
Although mushrooms are technically a type of fungi, people are fascinated by them and find all kinds of ways to figure them into meals. Fleshy and firm, mushrooms make the best meat substitute. When cooked, they emit a deep brown broth and a sultry, savory flavor that adds a delightful depth to any sauce.
Mushrooms are known for nutrients such as selenium, beta-glucans, B vitamins, copper, and potassium. They are not only fat-free but also full of fiber and low in sodium. While these fungi might be fine on their own, marinating makes them even more meal worthy.
Because mushrooms are like simple sponges, they will soak up any sauce you pour over them. The flavor becomes intensified and the texture becomes tender. Our vegan mushroom stroganoff recipe makes mushrooms come alive with great gusto!
Cozy Vegan Comfort Food
Why do we find mushroom stroganoff so calming and comforting? Is it the richness of the vegan cream sauce? The enticing, earthy flavor? Possibly the pleasing act of picking up the pasta with a swirl and a twirl? Whatever the reason, the merging of these main ingredients creates magic in the mouth.
Plan the perfect dinner party around this divine dish. You only need to concoct your cashew cream ahead of time (the day before would work well!) and thinly slice your mushrooms. When your guests arrive, just sauté the mushrooms, season the sauce, and serve over some pasta! Priyatnogo appetita! (That's Russian for "enjoy your meal!")
The Taste that Travels Around the World
It's amazing that this delicious dish is popular all over the world! The changes made as it circled the globe are fascinating.
France adds onions to the recipe and optional tomato paste
China adds rice and omits the sour cream
United States prefers wide pasta noodles
Britain uses a white wine sauce
Brazil prepares their version with tomato sauce and a side of white rice or shoestring potatoes
Sweden and Finland use different proteins and also add pickles
Japan loves their stroganoff with white rice, butter, parsley, and a spoonful of soy sauce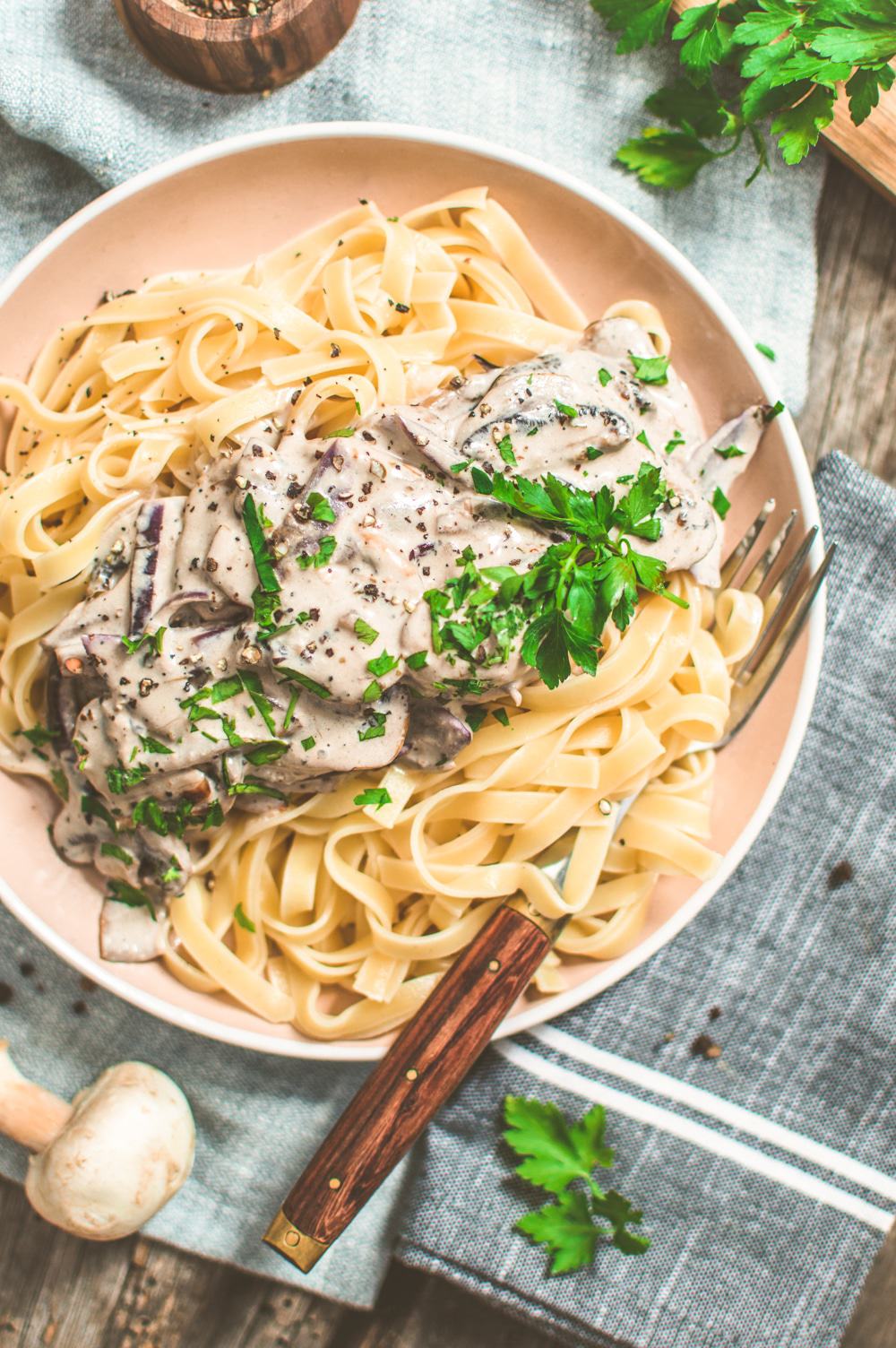 Leave Room for Your Mushroom Stroganoff Leftovers
Easily store any extra stroganoff in a glass container or ceramic dish. If you have any amount of unused cashew cream, make sure to keep that as well. Pour into a mason jar and refrigerate until needed. This simple sauce will be super helpful to have on hand for reheating stroganoff the next day or for creating a quick Cozy Cream of Broccoli Soup! You can even add it to your morning smoothie.
To reheat, you can either microwave a perfect portion for a minute or two or place the amount you wish in a saucepan and heat on medium for 10 minutes (or until heated through). Make sure to stir gently and frequently. You may also wish to add a little bit of water (or leftover cashew cream) when reheating.
More Delicious Vegan Dinner Recipes to Try:
*Requires Advance Prep
1 cup raw unsalted cashews , (soak for at least one hour and drain)
2 cloves garlic
1 teaspoon salt
¾ cup water
4 cups cooked tagliatelle noodles, reserving ¾ cup of the pasta cooking water for later in the recipe (check the ingredients as some tagliatelle noodles contain egg—fettuccini noodles will work too)
2 tablespoons olive oil
1 small red onion, peeled and thinly sliced
1½ cups sliced button mushrooms
½ teaspoon black pepper
½ cup pasta water
Fresh parsley, chopped, for garnish
2 Wedges of lemon, for garnish, to squeeze on top
Soak the cashews for at least 1 hour (but ideally overnight). To do so, place the raw cashews in a medium bowl and cover with water. Set aside uncovered at room temperature. The cashews are ready when they break apart when pressed between two fingers. Drain and dispose of water.

Add the soaked cashews, garlic, salt, and ¾ cup of fresh water to a blender and blend on high speed until completely smooth, about 3 minutes. Stop, scrape down the sides of the blender, and process again for 1 minute. Set this cashew cream aside.

Heat up your sautéing pan to high heat and add the olive oil. Once hot, add the onions and mushrooms and sauté for 3 minutes, stirring regularly. Add pepper.

Pour in the blended cashew cream and lower the heat to medium. Add up to ¾ cups of the reserved pasta water (the water you cooked the noodles in) to the pan, until you have your desired sauce consistency. Let that thicken for about 2-3 minutes, mixing regularly, and then remove from heat.

Serve over the cooked tagliatelle (or fettuccini) noodles, sprinkle with fresh chopped parsley, and plate with a wedge of lemon.
Note: If you don't have tagliatelle, feel free to use fettuccine or any other noodles instead.
Calories: 814kcal | Carbohydrates: 82g | Protein: 24g | Fat: 47g | Saturated Fat: 8g | Polyunsaturated Fat: 8g | Monounsaturated Fat: 27g | Trans Fat: 0.1g | Cholesterol: 60mg | Sodium: 1195mg | Potassium: 857mg | Fiber: 7g | Sugar: 9g | Vitamin A: 51IU | Vitamin C: 16mg | Calcium: 81mg | Iron: 6mg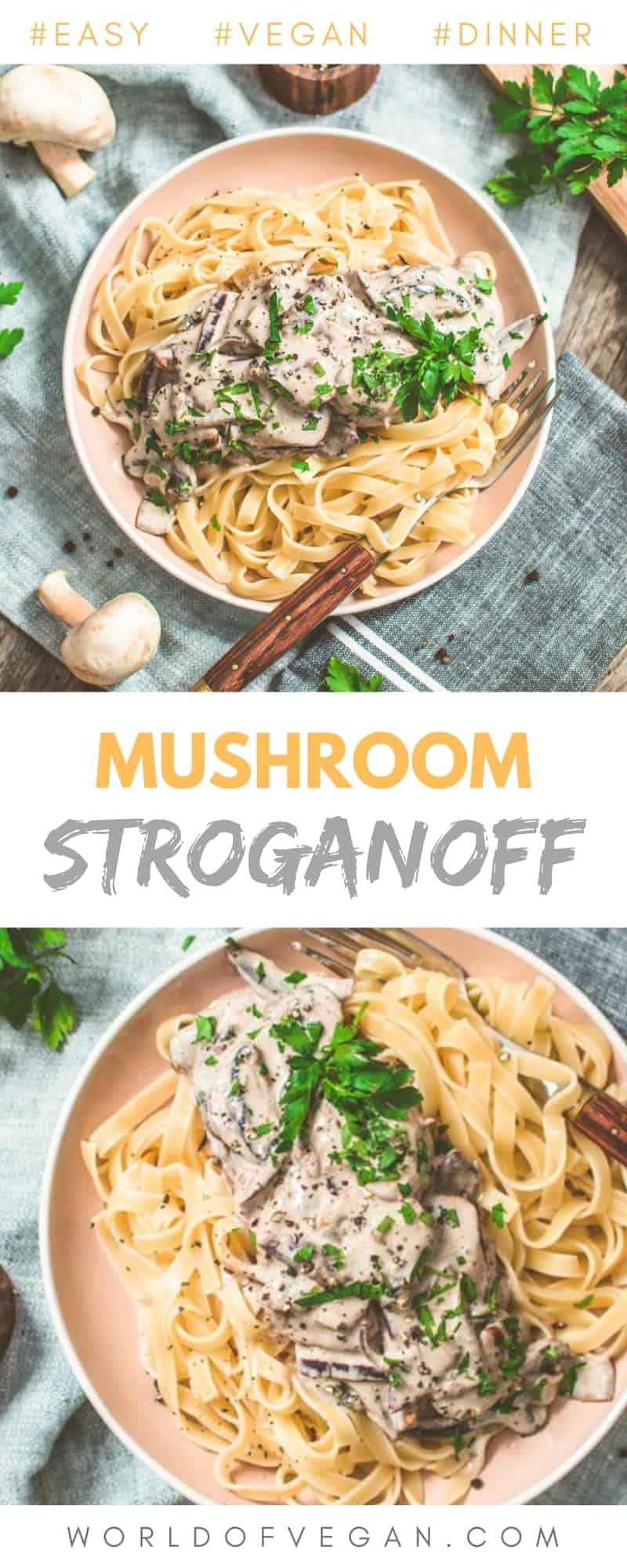 We want to thank our amazing recipe testers J.J. Steele, Taylor Gillespie, Aubree Summers, and Nicole Benson for helping us perfect this recipe!
This Vegan Mushroom Stroganoff recipe was developed and photographed by Zhoro Apostolov for World of Vegan. Copyright of World of Vegan™, all rights reserved. Please note that this article may contain affiliate links that support our work at World of Vegan.