We constantly hear from readers who feel intimidated by their Instant Pot pressure cooker. We're excited to share this insanely simple Instant Pot pasta with plant-based meatballs—it's the perfect intro to vegan pressure cooking!
The EASIEST Instant Pot Pasta You'll Ever Make!
This easy Instant Pot pasta was designed for beginners. Here's why we love it so much:
How to Serve Up This Instant Pot Pasta
I'm sure you're no stranger to serving pasta, but here are a few suggestions for ingredients you can add or tweaks you can make. As always, make it your own or use our ideas to inspire your own creative concoctions!
How to Store Your Leftover Pasta
Any of your Instant Pot pasta leftovers can be placed in a covered container and placed in the refrigerator. They should last for up to 3 days. When re-heating, add a tablespoon of water (or, better yet, more pasta sauce) to the mix, stir well, and cook until heated through. Either 1-2 minutes in the microwave or about 5 minutes over medium/low on the stovetop would work.
You could even place any leftover pasta into an oven-safe container and cover it with a thin layer of baby spinach and vegan shredded cheese. Bake at 350 degrees for about 20-25 minutes, checking frequently to make sure the cheese doesn't burn.
Leftovers can also be frozen for up to 2 weeks if placed in an airtight, freezer-safe container. You can store them in glass containers or you can even use a Stasher bag for this––the mega bag size is so handy and you can reheat right in the bag itself!
A Great Beginner Instant Pot Recipe for Newbies
Have you been putting off preparing food in your Instant Pot? How long has it been sadly sitting on your kitchen counter—or even still in the box collecting dust? We're hoping to help you to be brave today and finally break open the box and make this delicious super-easy vegan Instant Pot pasta for dinner. It's the perfect Instant Pot meal for beginners.
A good friend of mine bought me an Instant Pot for Christmas a few years ago. For the first five or six months, it just sat there, in the kitchen, staring at me with its diabolical, digital doodads and gruesome gadgetry. I don't know what it is about new appliances, but I was actually scared of using this one.
Maybe it was flashbacks of Audrey Hepburn's exploding saffron rice (from my favorite movie, Breakfast at Tiffany's), or perhaps the Dalek-like shape of the machine had me in fear for my life? I'm not exactly sure why I was so intimidated, but the solution was to just make something. Anything! And I did. This is how I did it.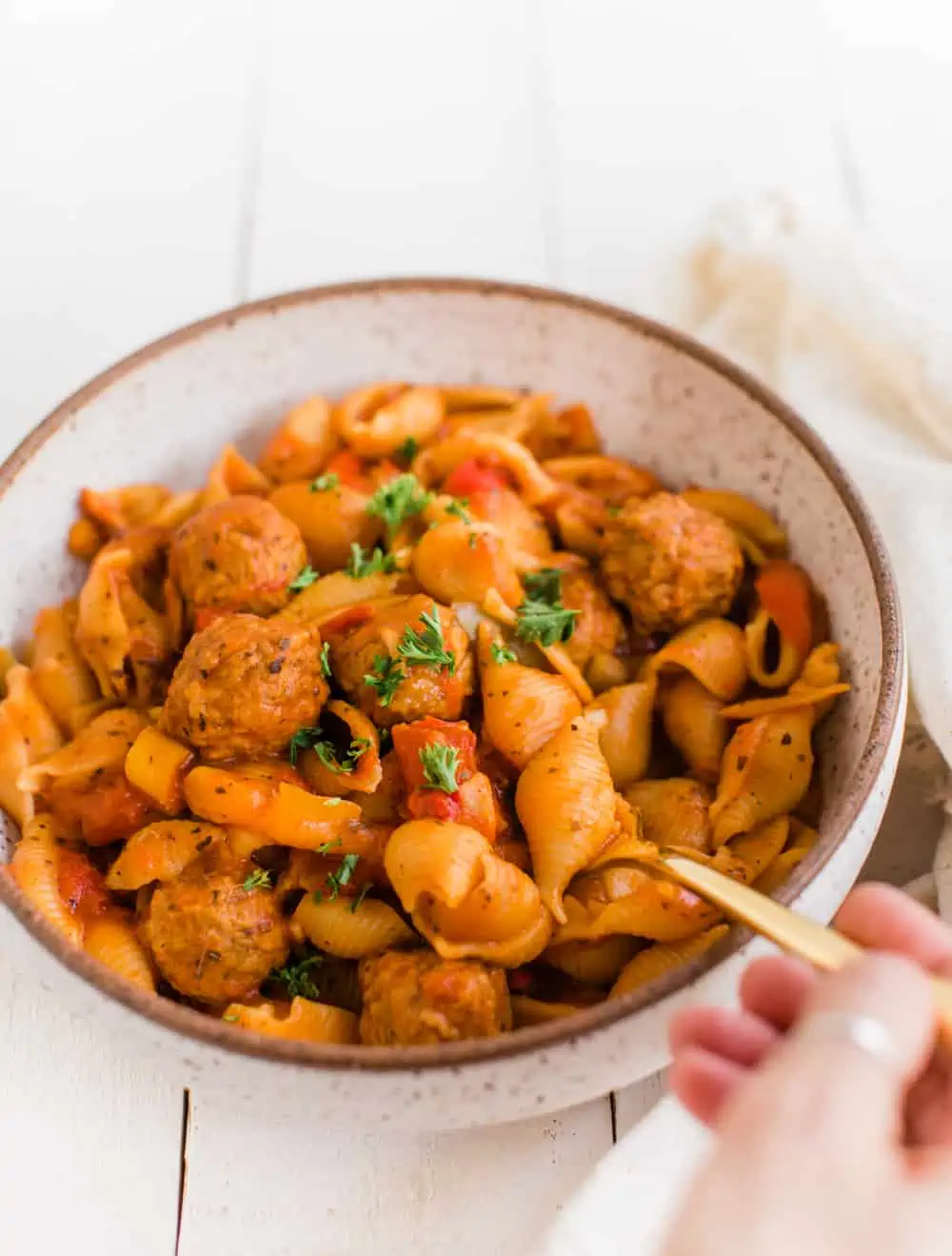 Take the Instant Pot Plunge
Now that you know I can totally sympathize with your situation, let's get cooking! The best way to tackle the terrifying transition between Instant Pot in a box and Instant Pot full of pasta, here's what we're going to do:
Get the box. Open the box. Take out your Instant Pot. Take a deep breath.
Look over the instructions quickly or as thoroughly as you wish. Put aside for later or bedtime reading.
Take the stainless steel insert out of the base and wash with warm soapy water. Rinse well. Do the same with the cover. Dry both with a clean cloth.
Find a good spot for your pot, preferably close to an electrical outlet. This doesn't have to be its final destination. You only have to use it for about 30 minutes and then it can be washed and put away until you need it again.
Assemble your ingredients and we're ready to rock!
You can also get a quick 'how and why' tutorial on using your Instant Pot (or other pressure cooker) HERE.
More Inspiring Instant Pot Recipes:
You've got this! We believe in you! If you're still feeling pumped up and passionate about using your Instant Pot, check out these simple and enticing recipes for more one-pot meals.
We also have an article featuring some of the most innovative vegan Instant Pot recipes from around the web that's absolutely worth perusing. Enjoy!
More Plant-Based Meat Recipes
1 16-ounce box pasta, we used medium shell pasta, but it also works well with rice and bean pastas like brown rice, chickpea, red lentil, and black bean pasta
1 25-ounce jar pasta sauce, or 24-ounce jar
24 ounces water
1 package frozen vegan meatballs, about 8-12, depending on size
2 cups frozen sliced bell peppers, or your favorite frozen veggies
¼ cup finely chopped parsley, for garnish (optional)
Add dry pasta to your Instant Pot or other pressure cooker.

Add the entire jar of pasta sauce.

Fill the pasta sauce jar with water and add to the mixture.

Add in your veggie meatballs and frozen veggies and stir well.

Place the lid on the Instant Pot, making sure that the lever is in the sealed position, and lock in place.

Press MANUAL and adjust time (using the down-arrow) to 4 minutes. When the Instant Pot is starting to cook, you will hear a "beep." You can now let the Instant Pot do its thing for the next 25 minutes or so.

When you hear the "beeping" indicator that the Instant Pot is done cooking, allow the pot to sit for 5 minutes or wait until the screen reads "L005."

Move the lever to release and allow the remaining steam to exit the Instant Pot.

Press the "Keep Warm/Cancel" button and carefully remove the lid. The food inside will be hot and still steaming.

Stir your pasta and serve!

*Works best with all pasta except linguine and spaghetti shapes.
Calories: 11kcal | Carbohydrates: 2g | Protein: 0.5g | Fat: 0.1g | Saturated Fat: 0.03g | Polyunsaturated Fat: 0.1g | Monounsaturated Fat: 0.01g | Sodium: 8mg | Potassium: 90mg | Fiber: 1g | Sugar: 2g | Vitamin A: 1325IU | Vitamin C: 50mg | Calcium: 8mg | Iron: 0.3mg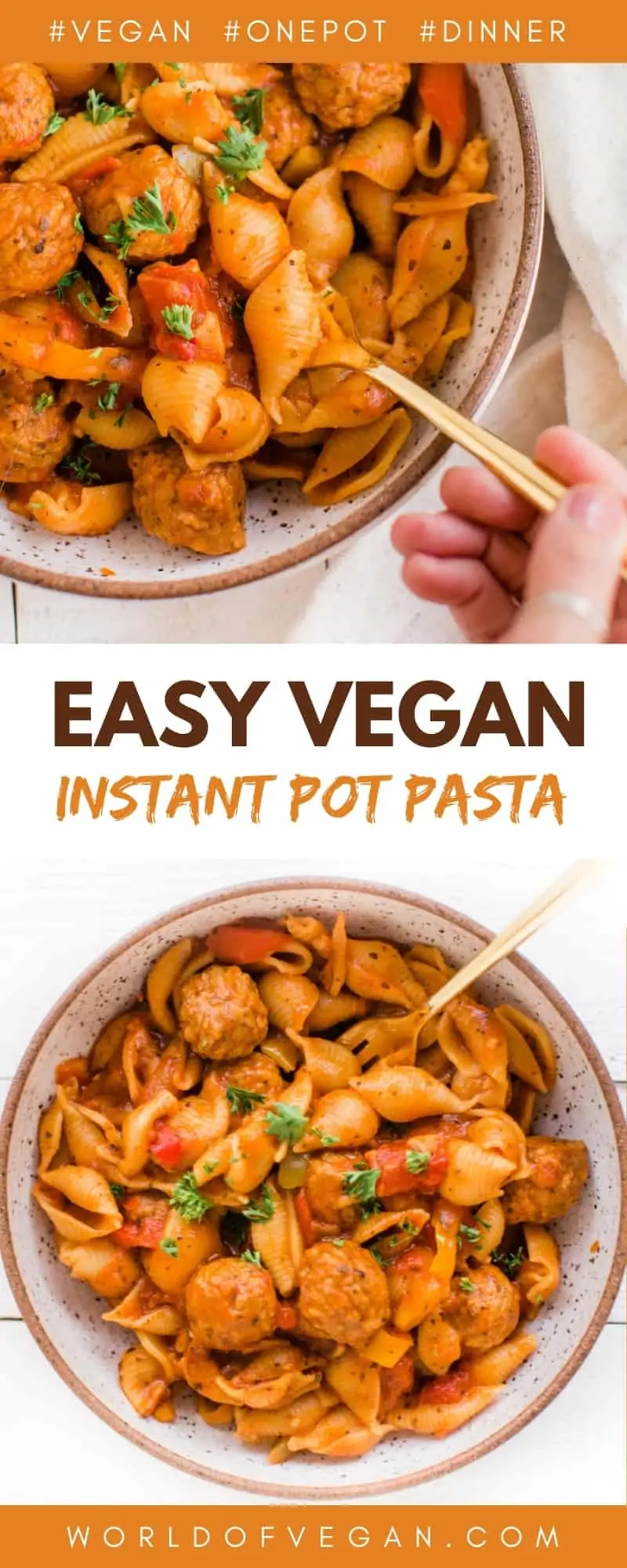 This easy vegan Instant Pot pasta recipe was developed and written by Gina House and edited by Amanda Meth. Content copyright World of Vegan, all rights reserved. Photos by Michelle Cehn. This simple vegan one pot dinner recipe includes affiliate links when available and shopping through these links supports World of Vegan.