Step into the cozy embrace of autumn with our Pumpkin Milkshake—a delightful rendition inspired by Jamba Juice's coveted pumpkin smash smoothie, but with a healthy twist.
This recipe embodies the essence of fall, blending the comforting flavors of pumpkin pie into a creamy, guilt-free indulgence. Savor the nostalgia and warmth of the season in each sip, while knowing you're treating yourself to a nourishing treat!
Why You'll Love This Pumpkin Milkshake
Fall in a Glass: Experience the comforting and nostalgic flavors of fall with every sip, reminiscent of a slice of pumpkin pie in liquid form.
Healthier Indulgence: Indulge guilt-free with this recipe, crafted to provide the delightful taste of a milkshake while maintaining a healthier twist through wholesome ingredients.
Easy and Quick: Enjoy a hassle-free preparation process that takes just a few minutes, making it a perfect go-to recipe for a cozy evening treat or unexpected guests.
Customizable and Versatile: Tailor the spice levels and sweetness to suit your palate, and experiment with various toppings and garnishes to make it uniquely yours.
Perfect Seasonal Treat: Whether you're hosting a fall-themed gathering or simply craving a taste of the season, this pumpkin milkshake is a crowd-pleaser that embodies the spirit of autumn.
Key Ingredients
Frozen Bananas: Using frozen bananas not only imparts a creamy texture to the milkshake but also eliminates the need for ice cream, keeping the shake thick, chilled, and more nutritious. Make sure your bananas are ripe and spotty before freezing—this is when they're the sweetest!
Pumpkin Puree: Pumpkin puree is the heart of this recipe, bringing in the quintessential fall flavor and a rich, velvety consistency. Opt for 100% pure pumpkin puree without added sugars or flavorings.
Vanilla Extract: Vanilla extract enhances the overall flavor profile, adding a sweet and aromatic note to complement the pumpkin and spices. Choose a high-quality, pure vanilla extract for the best taste.
Pumpkin Pie Spice: A blend of cinnamon, nutmeg, ginger, and cloves, pumpkin pie spice delivers the classic autumnal taste! You can typically find this pre-blended in most grocery stores but feel free to make your own, adjusting the spice mix to suit your preference, balancing the warm and aromatic elements.
Cinnamon: Ground cinnamon amplifies the spicy and warm notes in the milkshake, harmonizing with the pumpkin and other spices. It contributes to the distinct taste reminiscent of pumpkin pie.
Soy milk: Unsweetened soy milk serves as the dairy-free base, providing a creamy texture while allowing the pumpkin and spices to shine. You can substitute with any unsweetened non-dairy milk of your choice, such as almond milk or oat milk.
How To Make This Pumpkin Pie Milkshake
1. Before starting, prepare the frozen bananas. Peel and chop ripe bananas, then place in a freezer-safe bag or container and freeze for at least a few hours before using.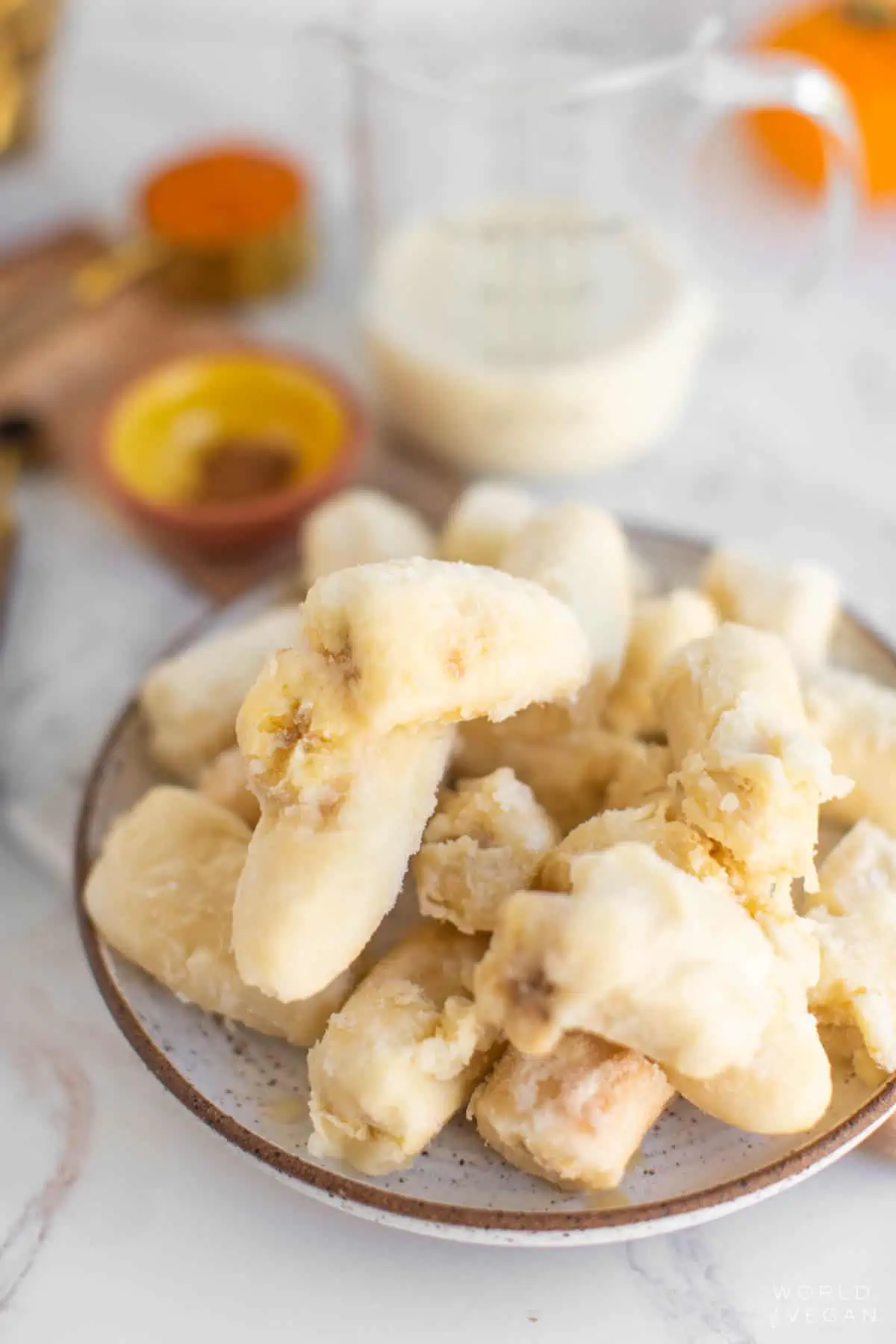 2. When ready, place the frozen bananas, pumpkin puree, vanilla extract, pumpkin pie spice, ground cinnamon, and unsweetened soymilk into a high-powered blender equipped with a tamper.
3. Start the blender on low speed and use the tamper to gently push the ingredients down into the blades. Gradually increase the speed, blending until the mixture turns completely smooth and creamy. Ensure all ingredients are well incorporated.
4. Pour the smooth and luscious pumpkin milkshake into glasses. Garnish with a sprinkle of cinnamon or a dollop of vegan whipped cream if desired. Savor this delightful taste of fall and enjoy each sip!
Tips And Tricks
Ripe Bananas for Creaminess: Use ripe bananas with brown spots for optimal creaminess and natural sweetness in the milkshake. They blend more easily and impart a smoother texture.
Pre-Freeze Bananas: Ensure the bananas are sliced and frozen in advance. Pre-freezing the bananas not only enhances the creamy texture but eliminates the need for adding ice or ice cream to the milkshake.
Adjust Spice Levels: Tailor the amount of pumpkin pie spice and cinnamon to suit your taste preferences. Start with the recommended amounts and adjust accordingly for a personalized flavor profile.
Consistency Control: Pay attention to the milkshake's consistency during blending. Add more soy milk if a thinner texture is preferred, or blend longer for a thicker, creamier shake.
Leftovers
If you're serving a group or want leftovers, double the recipe and store any extra milkshake in the refrigerator for a delicious treat the next day. Shake or stir before consuming.
Serving Suggestions
Although this pumpkin pie smoothie is super tasty on its own, there's always room for personalization with different toppings and presentation to truly make it your own!
Experiment with Toppings: Have fun with toppings! Consider adding crushed graham crackers, a drizzle of caramel sauce, or a few toasted pumpkin seeds for an extra crunch and visual appeal.
Rim with Cinnamon Sugar: Before pouring the milkshake, dip the rim of the glass in a mixture of cinnamon and sugar!
Straw or Spoon? Your Choice: Offer both straws and spoons to accommodate preferences. Some might enjoy sipping the milkshake through a straw, while others may prefer spooning it like a thick dessert.
More Pumpkin Recipes You'll Love
This irresistible pumpkin milkshake is a true embodiment of the season's warmth and delight. As you take that first sip, you'll find yourself transported to a cozy autumn day, surrounded by the comforting aroma of pumpkin pie. Whether it's a quiet night in or a gathering of loved ones, this pumpkin shake is sure to be a crowd-pleaser, delivering smiles and memories with each creamy gulp!
4 frozen bananas, peeled and roughly chopped
⅓ cup pumpkin puree
½ teaspoon vanilla extract
½ teaspoon pumpkin pie spice
¼ teaspoon cinnamon
⅔ cup soymilk, unsweetened
In a high powered blender with a tamper, add the frozen bananas, pumpkin puree, vanilla extract, pumpkin pie spice, cinnamon, and soymilk. Blend on low, using the tamper to push everything down into the blades, and let run until completely smooth and creamy.

Pour into glasses and enjoy!
Tips:
If you don't have a high-powered blender, you can use a food processor!
Make sure the bananas are very ripe and spotty when you peel and freeze them—that's when they are the sweetest!
Calories: 265kcal | Carbohydrates: 61g | Protein: 5g | Fat: 3g | Saturated Fat: 1g | Polyunsaturated Fat: 1g | Monounsaturated Fat: 0.4g | Sodium: 44mg | Potassium: 1046mg | Fiber: 8g | Sugar: 32g | Vitamin A: 6817IU | Vitamin C: 28mg | Calcium: 139mg | Iron: 2mg
Pumpkin Milkshake photos by Michelle Cehn.