Packed full of fresh vegetable goodness, green smoothies are obviously nutritious, but this mango spinach smoothie is particularly delicious! Tender and mild spinach makes it an easy way to sneak that extra serving of greens into your diet while simply enjoying a sweet and refreshing tropical treat. Creamy frozen mango and ripe banana join forces to create a taste sensation that you'd swear was made from decadent ice cream.
This simple smoothie showcases mango's sweet, tropical, tart taste, making it the star of the show. If not for the brilliant emerald green hue, you'd never know it was full of spinach! Get the whole family on board with a brand new blend without any struggle.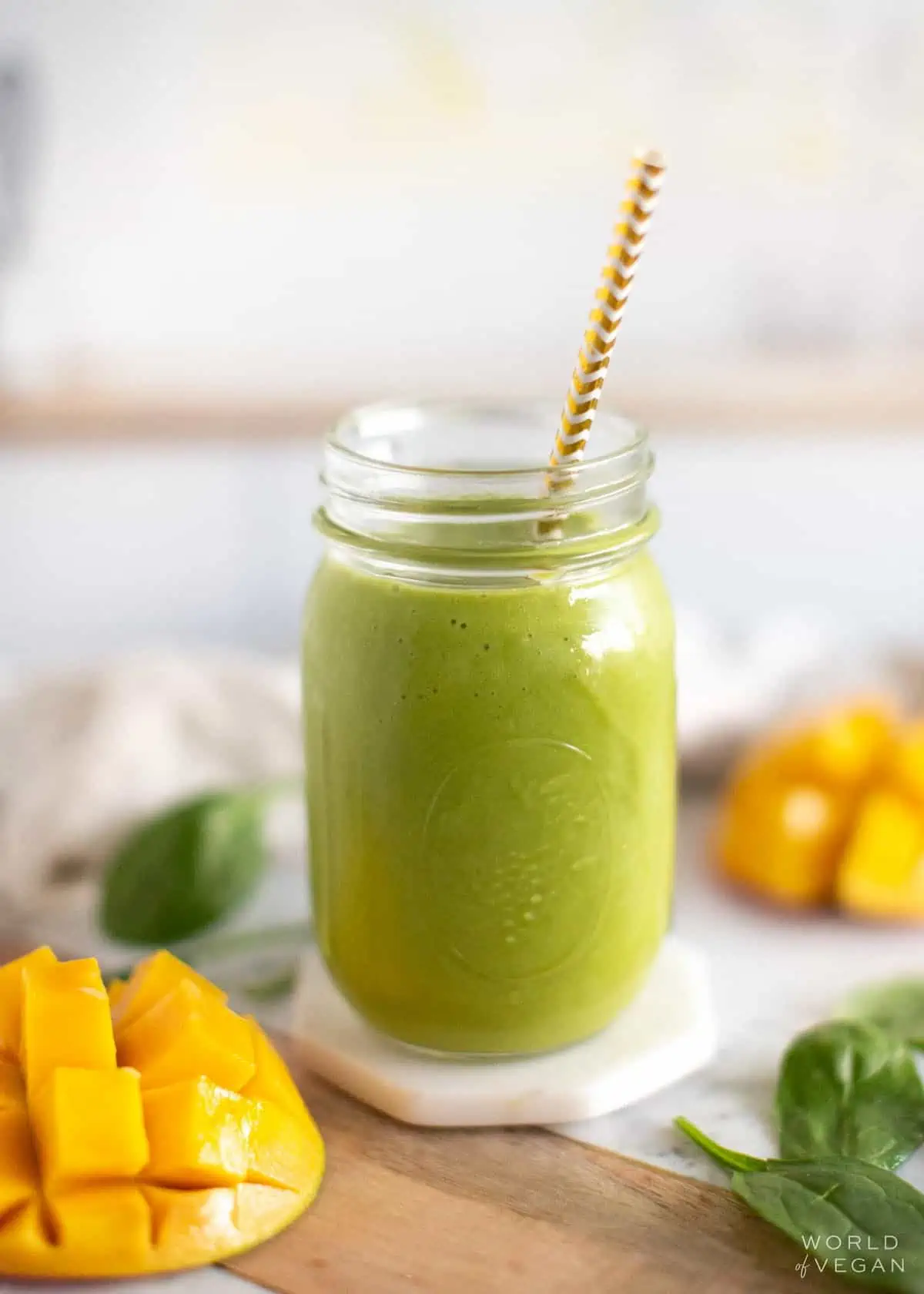 Why You'll Drink Up This Healthy Spinach Smoothie
Forget passing food trends like cleanses or low-carb diets; green smoothies are smart staples that are here to stay. Anyone and everyone can enjoy a tall glass, even if you balance it out with a plate of French fries for dinner! Here are more reasons to love this easy mango spinach smoothie:
Just four simple ingredients. All you need is fruit, greens, and soymilk; really, that's it! These are essentials you can find at any grocery store and can keep stocked on a tight budget, too.
Ready in five minutes or less. No matter how busy the day gets, there's no reason why you can't feed yourself and your family well with this almost instant recipe in your repertoire.
Grab and go breakfast, snack, or after workout recharge. There's no bad time to enjoy this quick blend. It's light and refreshing, yet still substantial and satisfying enough to tide you over until the next meal. Pack it up in an insulated tumbler and you're ready to tackle the day!
Spinach and mango smoothie benefits are better than only taking multivitamins. Don't stop taking your supplements of course, but you'll be able to fortify your daily recommended allowance to hit all your nutrition goals. Spinach is rich in vitamins and minerals, especially high in iron, vitamin C and E, potassium, and magnesium to aid in digestion, immunity, bone health, and so much more.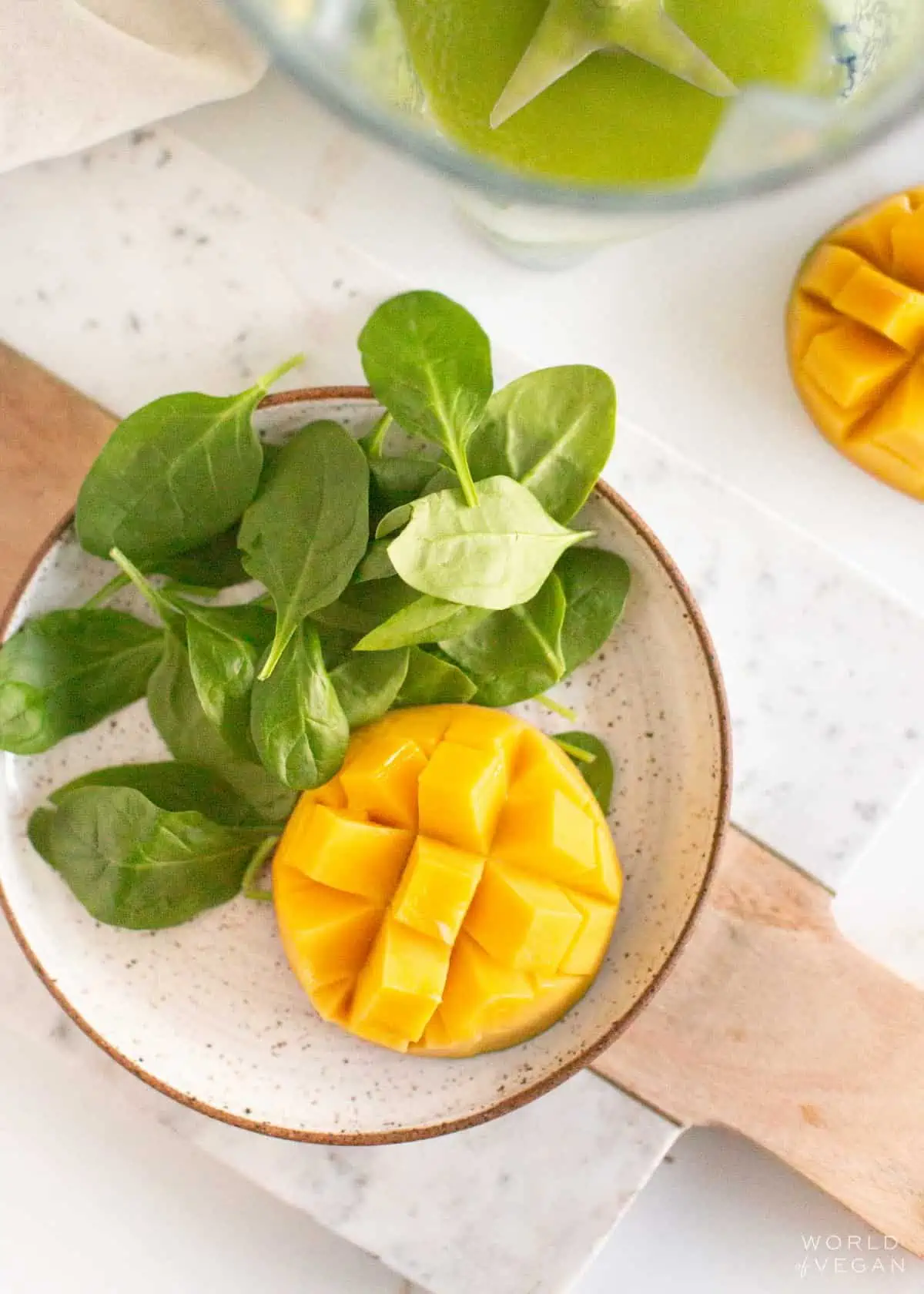 Essential Ingredients
No need to make a trip out to the specialty store: You have everything you need right at your fingertips at any supermarket nearby.
Soymilk: Plain, unsweetened soymilk is ideal for a rich, full-bodied base without any added sugars. Feel free to substitute your favorite non-dairy milk instead, whether that's oat milk, almond milk, coconut milk, or something else entirely.
Spinach: Pack your spinach tightly to get an accurate measurement. It can compact a lot, as you'll see if you've ever tossed a handful into a hot skillet!
Banana: Let your banana get super spotty and ultra ripe. This ensures you maximize its natural sugars and skip over additional sweeteners entirely.
Mango: Frozen, cubed mango is the key to creating the perfect frosty texture without resorting to sugary sorbets or sherbets. You can even buy fresh mangoes in season and freeze them for safe keeping, to make sure you're ready to whip up an amazing smoothie whenever cravings strike.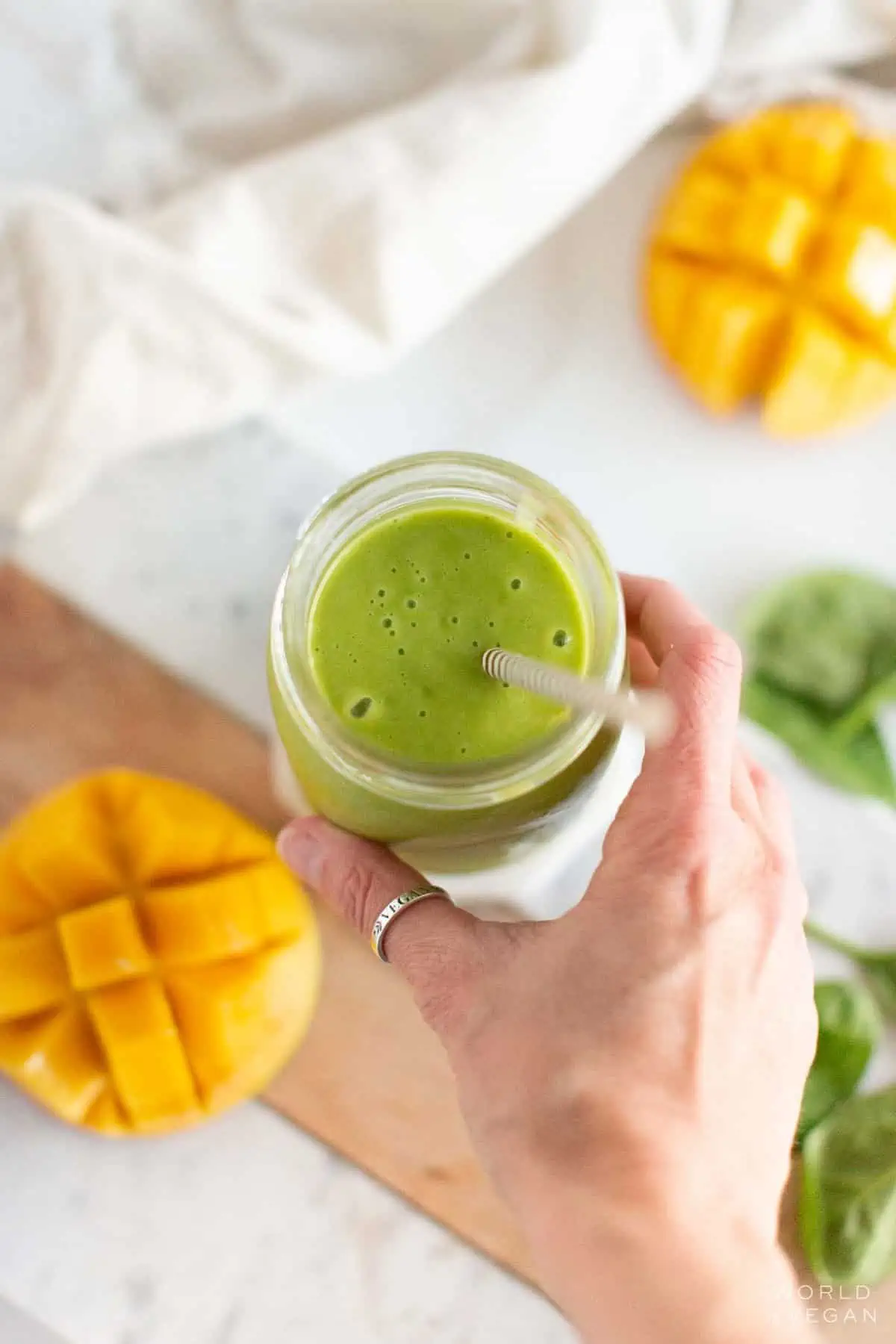 How To Make A Spinach Smoothie
Making the best spinach smoothie isn't rocket science, but it can be daunting if it's your first green smoothie blend. Don't worry! You'll be able to make a drink that can rival your local café with the push of a button.
Step One: Place the plant milk and spinach in your blender first. Puree on high speed to create a bright green milk.
Step Two: Add the frozen mango, followed by the ripe banana, peeled and sliced into thick coins. Blend again until completely smooth and creamy.
Step Three: Make sure there are no flecks of spinach remaining before pouring into a glass and raising a toast to your delicious treat!
FAQs
Do I need a high-powered blender to make this banana spinach smoothie?
Not at all! While it's helpful to make the process quicker and easier, you can absolutely use a basic blender to get the job done. It may take a bit longer to blend completely smooth; just be patient and be prepared to stop and scrape down the sides of the canister with a spatula a few times if some ingredients seem to be sticking there. 
Can I use frozen spinach instead of fresh spinach?
Frozen veggies are often just as good as fresh, and that's certainly the case here! For the best results, make sure you thaw the spinach first and drain it very thoroughly to prevent the smoothie from becoming too thin or watery. You'll want to squeeze it well in a fine mesh sieve to extract all the excess liquid. 
How long can a mango and spinach smoothie keep in the fridge?
Drink your green smoothie masterpiece right away to enjoy the best textures and flavors. Sometimes life gets in the way, of course. If that happens, you can stash any leftover smoothie in the fridge in an airtight glass jar for up to one day. For longer term storage, you can freeze it in an ice cube tray, transfer the cubes to a zip top bag when set, and then re-blend it with an extra splash of soymilk when ready to serve. 
Can I make this smoothie recipe without the banana?
If you're not a fan of bananas, you're in luck! You can very happily substitute 1 – 2 ripe, pitted peaches or nectarines for an equally creamy, uniquely flavorful approach. In a pinch, you could increase the total amount of mango to 2 – 2 ½ cups overall instead. Don't be afraid to experiment and customize your blend to taste!  
Additional Flavors And Add-In's
For extra protein, flavor, or to just up the overall nutrition with more superfoods and make this a mini meal for extra strenuous days, try these power-up options:
Hulled hempseed hearts
Spirulina powder
Matcha powder
Almond butter
More Healthy Smoothie Recipes To Try
1 cup soymilk
½ cup spinach, tightly packed
1½ cups frozen mango chunks
1 large ripe banana, super spotty
In a high-powered blender (like a vitamix), add the plant milk and spinach and blend into a green milk.

Add frozen mango and ripe peeled banana and blend again until thick, smooth, and pale green in color with no spinach flakes visible. Enjoy!
Calories: 379kcal | Carbohydrates: 77g | Protein: 11g | Fat: 6g | Saturated Fat: 1g | Polyunsaturated Fat: 3g | Monounsaturated Fat: 1g | Sodium: 134mg | Potassium: 1319mg | Fiber: 9g | Sugar: 57g | Vitamin A: 5099IU | Vitamin C: 123mg | Calcium: 379mg | Iron: 2mg