I'm beyond excited to share this insanely scrumptious vegan fettuccini Alfredo from my new book, The Friendly Vegan Cookbook. I might go as far as to say that this is the best recipe I've ever developed.
You see, fettuccine Alfredo was one of my favorite dishes growing up, and because of that I was eager to re­create and perfect it vegan­-style. This veganized version is just as decadent as the kind I grew up eating, except that it's made entirely from plants!
The thick, creamy, flavorful vegan Alfredo sauce comes together like magic and beautifully blends with the long, luxurious fettuccini noodles. It's also made without a drop of butter. Most Alfredo recipes call for upward of half a cup of butter, however you'll see that's totally unnecessary.
I hope you enjoy this delicious plant-based dinner recipe, which has already become a favorite in many households, and is a regular comforting meal in my own.
One-Pot Wonder
I love a good one-pot meal, and we've shared several here at World of Vegan. For instance…
With less hassle and less cleanup, one-pot meals are a great way to embrace minimalism in the kitchen. So you'll be glad to know that this entire vegan fettuccini Alfredo dish is cooked up in a single pot! Yup, even the pasta, which is cooked right in the cream sauce.
This Vegan Alfredo is Actually Healthy? More, Please!
Fettuccini Alfredo is traditionally made with loads of heavy cream, butter, and cheese, and because of that is not usually a dish you want to over-indulge in. But friends, this version is shockingly healthy!
The fat in this plant-based Alfredo sauce comes from raw almonds which are blended up to create an extra creamy milk, and it's thickened with a dash of cornstarch (instead of globs of cheese). Neat, right? And yet…it tastes just as good as the unhealthy kind! It's one of those life-hacks like banana nice cream—taking something unhealthy and making is healthy without sacrificing yumminess.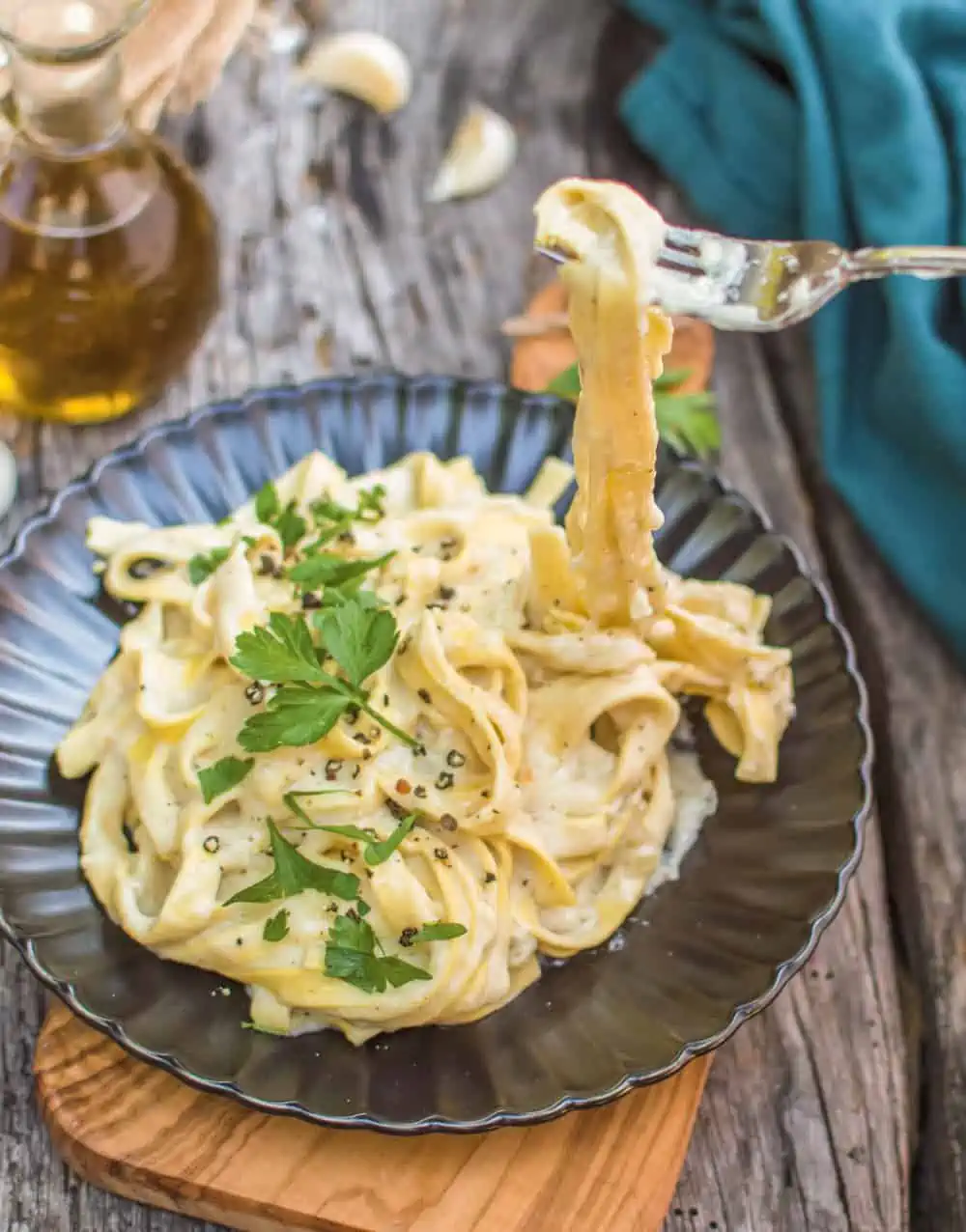 The Star Ingredients In Vegan Fettuccini Alfredo
Raw Almonds
The creaminess in this dish comes from almonds. If you can, you'll want to choose raw unsalted almonds. Other types of almonds (such as roasted almonds) will work too, but they may impart a more nutty flavor.
Vegetable Broth
We call for low-sodium vegetable broth and then add salt later in the recipe—but you're welcome to use regular veggie broth (or bouillon cubes and water) and skip the added salt later! I often use Better Than Bouillon and water in place of packaged broth since it's a more eco-conscious option.
Cornstarch
Cornstarch is an amazing thickener, and a little goes a long way! I always have a package of cornstarch in my pantry just for our healthy mac and cheese recipe, our one-pot pasta, and this fettuccini Alfredo—all dishes I make often.
Other Ingredient Notes
Olive Oil
Any type of vegetable oil will work in this recipe, but my preference is extra virgin olive oil for an extra classic Italian feel.
Yellow Onion
We use an entire medium onion which provides a delicious savory base of flavor. I like to dice the onion up quite small so it is barely noticeable in the final dish, but if you prefer bigger onion chunks, you're welcome to give it a rough chop.
Garlic
This is a dish for garlic lovers, and leans on garlic for much of the flavor. Garlic cloves vary in size, so if you're a fellow garlic lover, be sure to pick out big cloves, or else add in a few more smaller ones!
Fettuccini Noodles
To make classic vegan fettuccini Alfredo, you'll need fettuccini noodles, of course! Most packaged, shelf-stable fettuccini noodles are vegan. But if you're buying fresh noodles, be sure to check the ingredients because every once in a while egg sneaks in. You can also swap in other types of noodles when you make this dish, like linguini or spaghetti or whatever pasta you have on hand.
Fresh Parsley
While parsley isn't an absolute necessity for this dish, adding a fresh green leafy garnish really finishes the dish. It ups the visual appeal and adds a nice flavor dimension. But if you're not a fan of parsley or don't have any on-hand, feel free to leave it off!
1 cup raw, unsalted almonds
3 cups plus 2 tablespoons of water, divided
1 tablespoon extra-virgin olive oil
1 medium yellow onion , diced
5 large cloves garlic, minced
4 cups low-sodium vegetable broth, or the equivalent amount of vegetable bouillon and water
1 16-ounce package of fettuccine
4 teaspoons cornstarch
1 tablespoon salt, only if using low-sodium broth
1 teaspoon ground black pepper
Freshly cracked black pepper to taste, for garnish
½ cup finely chopped fresh parsley, for garnish
Using a high-­powered blender, blend the almonds and 3 cups of water until a creamy milk forms. Over a large bowl, pour the liquid through a nut milk bag to strain out the pulp, and gently massage the bag until all the milk has passed through and only a thick crumbly clump of almond pulp remains. Set aside the silky ­smooth almond cream and discard the pulp (or save it to use in another recipe).

Heat the olive oil in a large pot over medium heat. Add the onion and garlic and sauté for 2 to 4 minutes, until soft and fragrant.

Add the vegetable broth and homemade almond milk, increase the heat to medium-high, and bring to a boil.

Add the fettuccine to the pot and cook uncovered for the amount of time suggested on the package or until the noodles are cooked and tender. This will take 9 to 12 minutes but can vary depending on the type of pasta you use. Stir the pasta frequently to prevent it from clumping and sticking to the bottom of the pot.

While the pasta is cooking, mix the cornstarch and 2 tablespoons of water in a small bowl until the cornstarch dissolves.

Two minutes before the pasta is done, add the cornstarch and water mixture, salt, and ground black pepper to the pot. Cook for 2 to 5 minutes, until the sauce, starts to thicken.

Turn the heat off and allow the pasta and sauce to rest on the stove for 5 minutes to thicken. If the sauce is still very liquid, turn the heat on while mixing the pasta and sauce for another 1 to 2 minutes—but keep in mind that the sauce will continue to thicken with time.

Plate the pasta and garnish with the cracked black pepper and parsley.
Calories: 141kcal | Carbohydrates: 9g | Protein: 5g | Fat: 11g | Saturated Fat: 1g | Polyunsaturated Fat: 2g | Monounsaturated Fat: 7g | Trans Fat: 0.003g | Cholesterol: 0.1mg | Sodium: 880mg | Potassium: 183mg | Fiber: 3g | Sugar: 2g | Vitamin A: 318IU | Vitamin C: 7mg | Calcium: 64mg | Iron: 1mg

The Friendly Vegan Cookbook
This recipe is just one of the 100 veganized family favorites you'll find in The Friendly Vegan Cookbook. Other recipes you can look forward to in the book include:
Spinach Artichoke Dip
Spicy Udon Noodle Soup
The Best Vegan Pot Pie
Our Perfected Tofu Scramble
…and 100 more. My co-author Toni Okamoto and I are the best of friends in real life and love having fun in the kitchen. We're exited to help you cook up some magic in your own home and help you feed your family, your friends, and any vegan naysayers you'd like to impress. You can order a copy of the book here!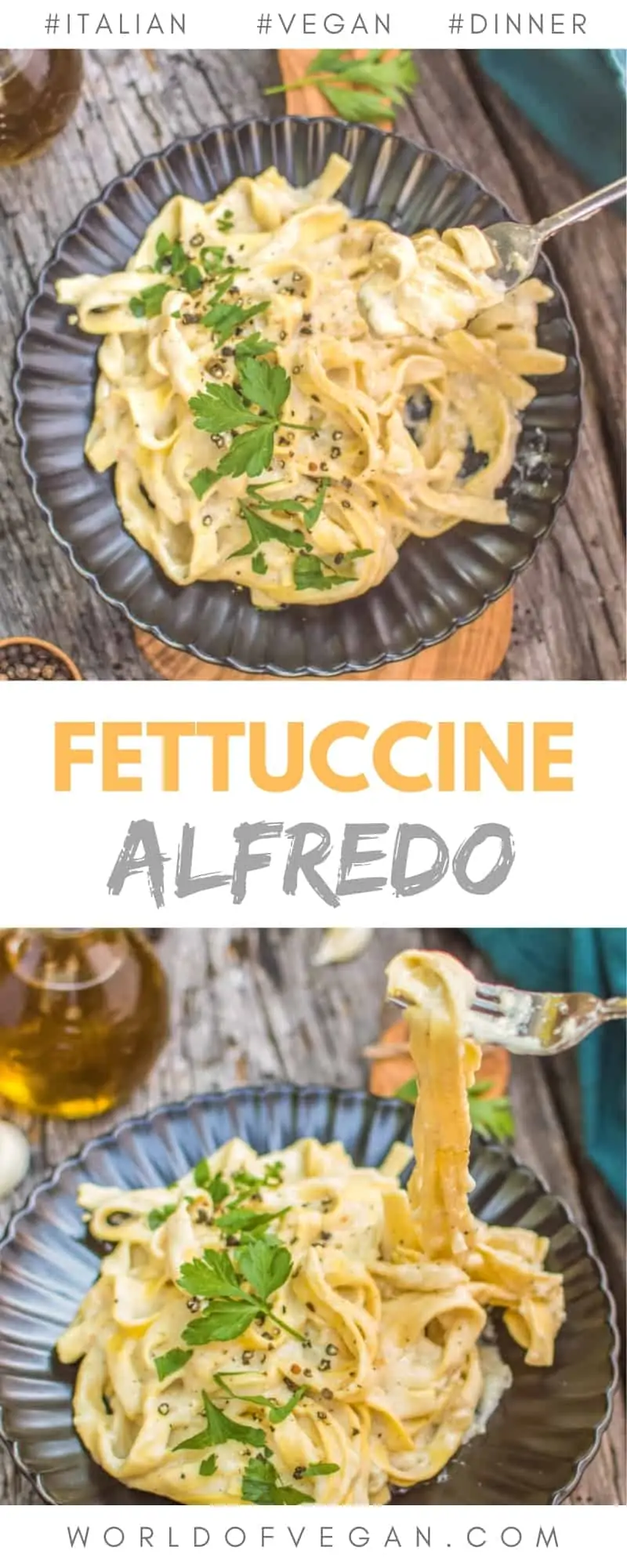 More Vegan Pasta Recipes
Don't miss our round-up of the best vegan pasta recipes and our full lineup of vegan dinner recipes for more plant-based dinner inspiration!
Vegan Fettuccine Alfredo recipe comes from The Friendly Vegan Cookbook by Michelle Cehn and Toni Okamoto, with permission from BenBella Books, 2020, all rights reserved. Photos by Zhoro Apostolov. Please note that this article contains affiliate links.