Craving some classic comfort food with simple steps and even simpler ingredients? A mini vegan vegetable pot pie is the perfect treat for your plant-based belly. The light, flaky pastry is stuffed full of flavorful veggies and smothered in a rich, creamy gravy. You'll wonder, "How can this possibly be vegan?" Even after sinking your teeth into this satisfyingly savory snack, you won't believe how close this perfect little pot pie is to the original. This recipe can be made for any time of day, any time of year, whenever your craving strikes.
First step: gather your ingredients! Scour your pantry for the essentials: flour, oil, onion, water and vegetable bouillon—and, if you're lucky, you'll already have a handy canister of crescent rolls in the refrigerator. Snag a bag of frozen vegetables (your choice!) out of the freezer and you're good to go.
You'll start by lining your muffin tin with crescent roll dough, and then you'll fill each dough pocket with your frozen veggies before adding the glorious gravy. Once that portion of perfection is added, you can fold the edges of the delightful dough towards the center and your beauties are ready to be baked!
Portion out your pies as soon as they're out of the oven—but be warned, they may not even make it to the table! If you're willing to wait, you can fill your plate with delicious vegan sides like mountains of mashed potatoes, sizable spoonfuls of gravy, and perhaps a sassy steamed vegetable like broccoli or green beans.
You won't regret trying this remarkable recipe. Better yet, bake these for non-vegan friends and enjoy their delighted reactions! If you or your friends love cozy comfort food, this will be a repeat hit recipe for everyone.
The Origins of the Pot Pie
Did you know that pot pies were originally from Greece? The great Greeks baked theirs with an open pastry shell and called them "Artocreas." The settlers who migrated to the United States in the early 19th century brought a version of this beloved recipe with them. They are made almost the same exact way now as they were then, including identical ingredients such as flour for thickening, crispy crust, flavorful broth, and vibrant veggies.
The most common additions to the popular pot pie recipe are crunchy carrots and celery, diced onion, sweet peas, and some sort of protein. Options for creating this culinary dish include baking in the oven, in a skillet over a stovetop, or even cooking over a campfire! In the Pennsylvania Dutch region, they omit the crust and add in dumpling style dough, noodles, or perfectly poached potatoes. Clearly, there are endless ways to personalize this savory supper!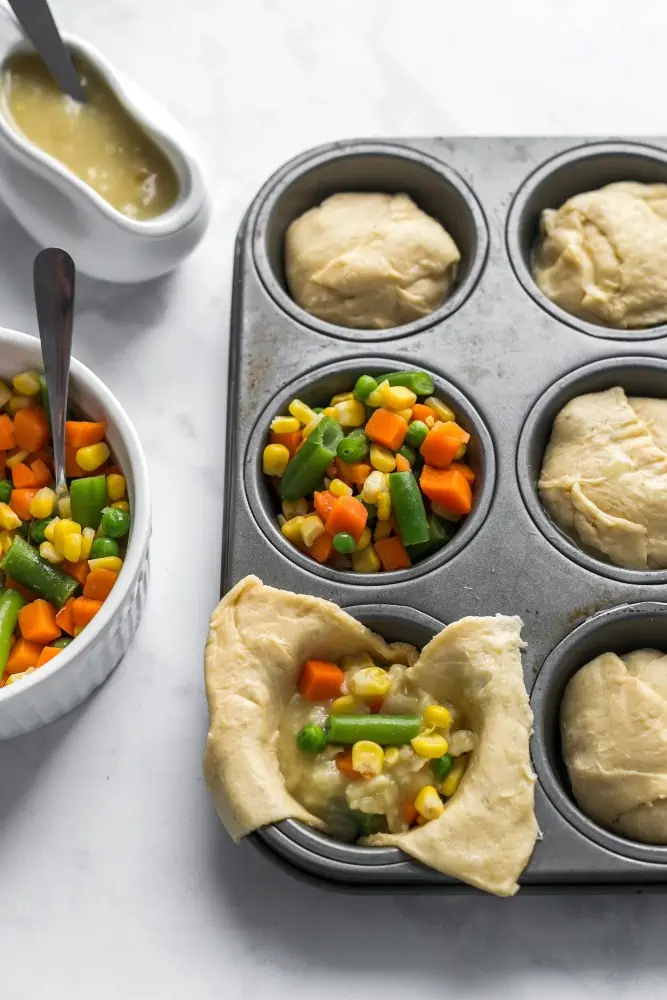 Star Vegan Vegetable Pot Pie Ingredients
Crescent Rolls – The firm and flaky crust we all know and love! Because of their terrific triangular shape, these are very versatile for producing our pretty pot pies. If you like more crust, you could try adding a solid square (instead of a triangle) to the muffin mold and have more dough for the top.
Mixed Veggies -The best part of bags of mixed veggies is convenience and choice. Don't like corn or peas? No problem! Substitute mushroom and pearl onions. If you prefer to skip frozen, you can easily dice up some fresh from the garden! Prefer adding a plant-based protein instead of veggies? Perfect! Pre-cooked and portioned tempeh, tofu, or even Tofurky would work well.
Flour – The Thickening Master! Without flour, your gorgeous gravy would be very sad indeed. It would be really runny, terribly thin, and missing that particular texture that makes gravy glorious. Another option would be arrowroot powder in identical amounts.
Vegetable Bouillon – If flour is the thickening master, then bouillon is the Flavor Queen! A cube of this concoction (or a scoop of Better Than Bouillon) will elevate your vegan pot pies to an ecstasy of deliciousness. The splendid combination of salt and seasonings truly creates the flavor foundation for this dish. Note: If you're in a pinch and can't find a vegan bouillon, you can add a similar amount of salt and a mixed medley of dried turmeric, parsley, pepper, celery salt, Italian and poultry seasoning (which does not contain any animal products), plus a nip of nutritional yeast or "nooch."
Onion – The mild and aromatic bite of onion adds another dimension to this dish. Easily swap the yellow onion for a sharp and sweet red, a savory scallion, or even a spicy shallot! If this flavor or texture is not for you, just leave it out. You could simply substitute a dash of onion or garlic powder, a little pinch of ginger, or even an herbal mix of rosemary, thyme, and cheerful chives.
How to Serve It Up
If you try this Mini Vegan Vegetable Pot Pie, let us know what you think by leaving a comment and rating below! Be sure to follow along on Pinterest, Instagram and Facebook for even more vegan recipe inspiration.
1 package Original Pillsbury Crescent Rolls, 8 pieces
1 cube vegan bouillon
2 tablespoons oil 
⅛ cup chopped yellow onion
2 tablespoons flour
1 cup water
1½ cups mixed frozen or fresh veggies
Preheat oven to 375 degrees. Line a greased cupcake tin with dough triangles as demonstrated in the video.

Boil the water and bouillon cube until a broth forms, then set it aside.

Over medium heat, pour oil and onion into a small sauce pan and cook until the onions become translucent. Lower the temperature, add flour and stir until your roux has a smooth consistency. Add water and bouillon cube and stir over low heat until it thickens into a delicious gravy. Set aside.

Spoon a small amount of frozen veggies and gravy into each dough-lined cupcake tin (careful not to over-fill) and wrap the dough to cover the top.

Bake for 12-14 minutes or until golden brown. This will take a little longer than the crescent roll package directions say. Be sure to bake long enough for the dough to be fully cooked on the inside and outside.

Remove from oven and let cool for five minutes before carefully removing each pot pie from the pan with a knife or fork and serving.
Calories: 161kcal | Carbohydrates: 18g | Protein: 2g | Fat: 10g | Saturated Fat: 3g | Polyunsaturated Fat: 3g | Monounsaturated Fat: 3g | Trans Fat: 0.01g | Sodium: 324mg | Potassium: 78mg | Fiber: 1g | Sugar: 3g | Vitamin A: 1733IU | Vitamin C: 4mg | Calcium: 10mg | Iron: 1mg
Simple Storing
These pot pies are really best enjoyed fresh. But any mini vegan pot pies that are not immediately ingested can be stored in a sealed glass container in the refrigerator for a day or two. When ready to be eaten, you can pop the pies in the oven (or toaster oven) at 375 degrees for 5-10 minutes, or until heated all the way through. Be careful to watch them carefully, so that the tops of the crust do not burn.
More Classic and Comforting Recipes to Try:
We want to thank our amazing recipe testers Anne Sparks, J.J Steele & Nicole Benson for helping us perfect this recipe!
Mini Vegan Pot Pies recipe by Toni Okamoto and food photos by vegan food photographer J.J Steele. Copyright of World of Vegan™, all rights reserved. Please note that this article may contain affiliate links that support our work at World of Vegan.